Frac'ing: It's only done with kittens & cream, perfectly sweet & safe!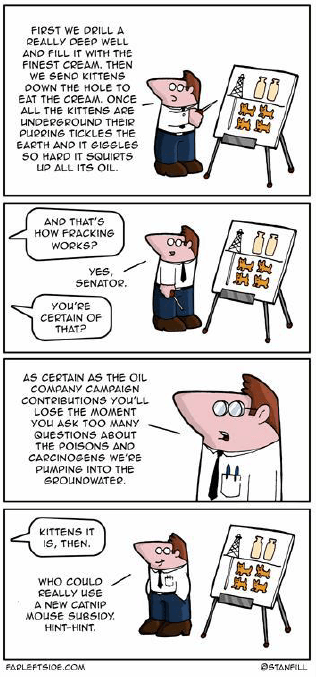 What's in fracking chemicals? Energy nonprofit demands answers by Beth Burger, Sept 16, 2019, The Columbus Dispatch
Ohioans could be exposed to dangerous chemicals that state laws don't require drilling and fracking companies using them to disclose, according to a report issued by a nonprofit organization.
"Ohio and 28 other states have enacted rules that require some public disclosure of fracking chemicals. However, most if not all of these rules have exceptions that allow well owners to withhold chemical identities as trade secrets," according to a report by the Partnership for Policy Integrity, a group based in Pelham, Massachusetts, that specializes in energy policy.
"We looked at Ohio's records and found trade-secret chemicals being used extensively in eastern Ohio in oil and natural gas wells, which could be some of the same trade-secret chemicals that the (U.S. Environmental Protection Agency) has health concerns about. We can't say that definitively because the identities are secret," said senior counsel Dusty Horwitt, who wrote the report.
"But it's entirely possible that some of these chemicals could have effects that EPA identified like neurotoxicity, developmental toxicity, lung toxicity, kidney toxicity and liver toxicity," Horwitt said. "People need to know. People have a right to know, and first responders have a right to know if they might be exposed to those types of chemicals."
… According to the Ohio Department of Natural Resources, that law "requires chemical disclosure during all aspects of the initial drilling process and during hydraulic fracturing, while adhering to existing federal and state trade-secret/proprietary laws."
"Meaning, every individual chemical constitute is disclosed," said Matt Hammond, executive vice president of the association, in an emailed statement to the Dispatch. [Pfffffft! Except for those hidden under trade secrets and the many brazen corporate refusals to disclose chemicals – even when ordered to by the courts! All nicely enabled by non-regulating regulators and oil-patch pimp politicians. Encana continues to violate Alberta's Rules of Court and the Order by Justice Wittmann, refusing to release to Ernst for her lawssuit (Encana illegally injected 18 Million litres secret frac fluid brew into her community's drinking water aquifers on one gas well alone) ]
Yet getting disclosure of the chemicals is a high bar to clear, even for first responders.
"It's my understanding from reading law that they have to file a lawsuit and win to get the information," Horwitt said.
People can be exposed to the chemicals through leaks, spills, air emissions, the migration of underground fluids from injection wells where fracking wastewater is disposed of, or the migration of oil and gas at production wells. People also can be susceptible when "brine" — a chemical-laden waste byproduct of fracking — is spread on roads as a de-icer, according to the report.
"Chemicals comprise only a small percentage of fracking fluid. But due to some chemicals' high toxicities and the staggering quantities of fracking fluid, a small percentage of chemicals in today's wells could equal enough volume to contaminate billions of gallons of water if the chemical leached into the water supplies," according to the report.
The nonprofit, along with other environmental organizations, filed a request for records on screening of the chemicals by the U.S. EPA. The agency turned over thousands of records for 153 chemicals that showed there were health concerns for at least 109 of them, according to the report.
The industry has argued that hydraulic fracturing adheres to [DE]regulations and [VOLUNTARY] guidelines.
"As an industry, our first priority is that of the environment we all share," Hammond said. "Anti-oil and gas groups push this false narrative that we don't care. We do care; this is not just where we work, this is home, and that is why safety always comes first. We have and will continue to advocate for laws and policies like Senate Bill 315, that make Ohio the toughest, fairest and most transparent regulatory framework in the country." ["Fairest" ! Ya, for polluting law-violating companies!]
The EPA signed off on 62 of the 109 chemicals being used in oil and gas wells. Of the 62, companies concealed from the public the names of 41 of the chemicals, according to the report.
Belmont County had the most wells — 328 — injected with at least one secret fracking chemical, but Carroll County had the most secret fracking chemical injections, at 3,504, according to the report.
Houston-based Encino Acquisition Partners, which acquired the wells of Chesapeake Operating Inc., used the chemicals the most, injecting unnamed chemicals 5,787 times into 474 wells.
… "It could take years before those chemicals move from oil and gas wells into water wells or other water sources where people could be exposed to them," Horwitt told The Dispatch. "If the contamination occurs, it could be almost impossible to clean up. And that's one of the reasons why it's so important that scientists and regulators know these chemical identities so that they can test regularly for them in groundwater, and through other pathways."
"TRADE SECRET" CHEMICALS INJECTED NEARLY 11,000 TIMES AT OIL AND GAS WELLS IN OHIO by Julie Grant, Sept 15, 2019, alleghenyfront.org
… Some first responders like Silverio Caggiano, fire battalion chief with the Youngstown Fire Department are concerned that this is leaving the public at risk in emergencies. Caggiano has been a hazardous materials technician for more than 28 year and was an original member of the Ohio Hazardous Materials and Weapons of Mass Destruction Technical Advisory Committee.
He says his hazmat team usually gets a warm welcome from local industries that use potentially dangerous chemicals. Most want to coordinate emergency planning.
"When we get to a facility, we're used to, 'Here's everything we got. You guys are the rock stars, help us out,'" he said.
Emergency planning ensures that if there's an explosion or a fire, the hazmat team knows what chemicals are used at a facility, and how to respond.
But according to Caggiano, oil and gas companies aren't interested in sharing information about all their chemicals with the local hazmat team.
"Fracking is a whole different deal," he said. "We've made attempts many times to talk to these frack industries and they don't want to work with you."
Fracking companies use chemicals for everything from limiting the growth of bacteria, to preventing corrosion of well casings. Ohio laws enacted in 2010 and 2012 require drillers to disclose the chemicals they use.
But, there's a loophole – oil and gas companies don't have to identify chemicals they consider "trade secrets."
… Adam Schroeder, a spokesperson for the Ohio Department of Natural Resources, Division of Oil and Gas Resources Management said in a recorded audio statement, "Owners are required to disclose product by supplier trade name, chemical name and maximum concentration. An owner may designate certain information as trade secret and withhold it from reporting."
According to Schroeder, while most fracking chemicals are disclosed in Ohio, 16-percent have been reported as trade secrets since 2012.
"The state can access information from well owners if there's a spill or other emergency," he said. "Critical safety information is always available and any additional information can be requested and accessed if necessary." [EXCEPT ONLY AFTER THE EMERGENCY IS LONG OVER, AND FIRST RESPONDERS, DRINKING WATER, ENVIRONMENT, COMMUNITY PUT AT RISK, HARMED AND OR POLLUTED]
But Caggiano calls this a "pseudo disclosure." That's because in an emergency, Caggiano says he doesn't have time to send an email to ODNR, and wait for a response.
GOOD LUCK ON A FRIDAY, ANY DAY!
THIS IS HOW THE "BEST IN THE WORLD" "WORLD-CLASS" REGULATOR (AER) RESPONDS (NOT) IN ALBERTA TO A FRAC EMERGENCY: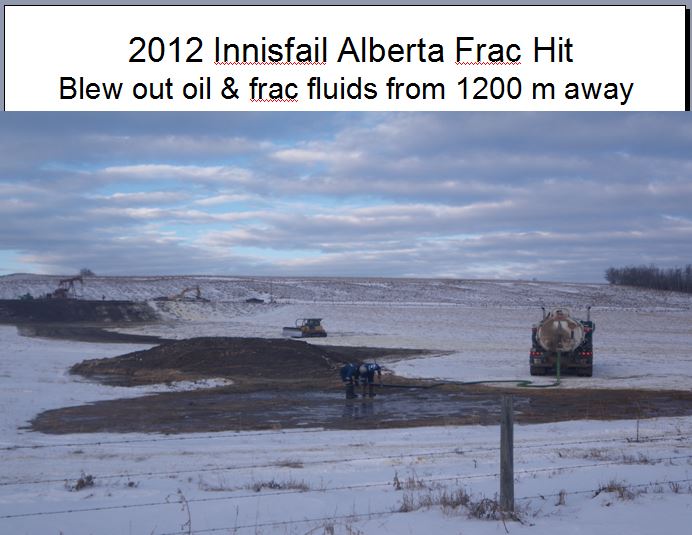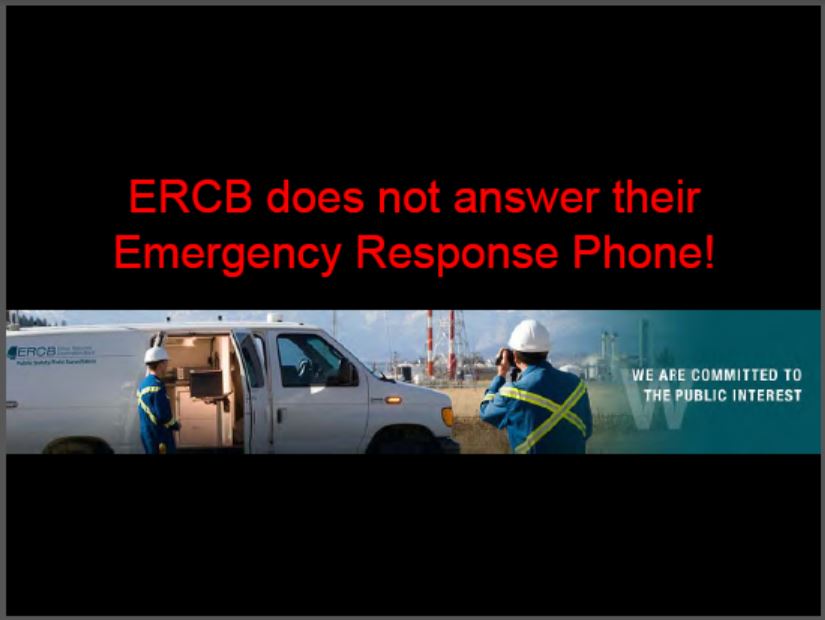 ERCB is now AER
His hazmat team needs to know immediately whether to use water to put out a fire, or something else.
Caggiano gives the example of a gas well fire in Monroe County in 2014. It took days for the state to provide chemical information.
"Three days later they finally got some information. Not three minutes, not three hours, three days," he said. If there is an incident in Mahoning, his county, "It's useless to me."
Tens of thousands of gallons of chemicals spilled into a tributary of the Ohio River as a result of that gas fire, including some that were considered trade secrets. More than 70,000 fish were killed.
… In an email statement, Mike Chadsey, director of public relations for the Ohio Oil and Gas Association, dismisses Horwitt's report and writes, "Ohio is, and always has been, a full chemical disclosure state."
Secret Fracking Chemicals a Concern for Ohio by Mary Schuermann Kuhlman, Sept 16, 2019, Public News Service – OH
COLUMBUS, Ohio — Troubling information has been uncovered about the use of so-called classified chemicals in fracking operations in Ohio. Using mapping and data analysis by FracTracker Alliance, new research from the Partnership for Policy Integrity shows the oil and gas industry injected potentially toxic chemicals more than 11,000 times into roughly 1,400 fracking wells between 2013 and 2018.
Report author Dusty Horwitt, senior council at the Partnership, said there's cause for concern.
"EPA regulators have found that many secret chemicals have health risks," Horwitt said. "And there are multiple potential pathways of exposure, including leaks and spills, underground migration, also road-spreading of these chemicals. "
Ohio law allows well owners to conceal chemical formulas as trade secrets, which Silverio Caggiano, battalion chief at the Youngstown Fire Department, said ties the hands of first responders who need to act fast in a spill or explosion.
"We depend upon being able to quantify and qualify the product that we're dealing with so we know how to mitigate it," Caggiano said. "If I don't know what it is, I can't identify its physical properties and how I'm going to take care of it, or how to protect people."
Under the federal Toxic Substances Control Act, first responders can request trade secret chemical identities in emergencies in a written statement. But Caggiano argued by the time such a request is answered and approved, it's typically too late.
The industry has claimed trade-secret provisions prevent competitors from stealing their formulas. Horwitt countered there is a way for companies to protect their chemical information without keeping the public in the dark.
"Drilling companies can make their chemical identities available to the public in a random list, so that their competitors would not be able to reverse-engineer that list of chemicals into the products that they're putting into their wells," Horwitt said.
Caggiano said he isn't opposed to fracking, but feels the industry is being given a free pass.
"Long after these companies have grabbed their money and went back to wherever they came from, the body count is going to start. Farmer Jim is going to have problems; he's going to have leukemia, his wife's going to have breast cancer, their daughter is going to give birth to a kid that may have birth defects," Caggiano said. "And these companies are going to be long gone, and we're going to be stuck with the problems."
According to the Environmental Protection Agency, chemicals used in fracking can cause irritation to skin and lungs, and can be toxic to nerves, organs and human develop
Ohio law allows drilling companies to hide chemical identities, even from first responders; EPA records suggest secret fracking chemicals pose serious health risks
Drilling companies injected at least one hydraulic fracturing ("fracking") chemical with an identity kept hidden from the public into more than 1,400 oil and gas wells drilled in Ohio between 2013 and 2018, according to a new report from Partnership for Policy Integrity (PFPI) with mapping and data analysis from FracTracker Alliance. This groundbreaking in-depth analysis of secret fracking chemical use in Ohio shows that according to public records, companies injected undisclosed fracking chemicals 10,992 times into 1,432 wells, utilizing a law that allows these chemical identities to be concealed as trade secrets. The report includes an interactive map that allows readers to locate these wells drilled in eastern Ohio in the Marcellus and Utica shale formations.
The report details evidence compiled by the U.S. Environmental Protection Agency (EPA), including data released to PFPI in response to a Freedom of Information Act request, which indicates that these chemicals could have serious health effects including irritation to skin and lungs, liver toxicity, developmental toxicity and neurotoxicity. As a result, the widespread use of secret fracking chemicals poses serious health risks for people living near Ohio's oil and gas wells and to first responders who cannot access the chemical identities under Ohio law unless they file and win a lawsuit.
Access the interactive components of this report including opportunities to take action, at www.fractracker.org/projects/ohio-secret-chemicals.
"First responders risk our lives enough without having to be exposed to secret chemicals," said Silverio Caggiano, battalion chief with the Youngstown Fire Department and an original member of the Ohio Hazardous Materials and Weapons of Mass Destruction Technical Advisory Committees. "Keeping us uninformed not only puts our guys at risk, it prevents us from knowing how to protect the public during emergencies when we typically have only thirty minutes to determine how to contain a chemical spill."
The health risks from secret fracking chemicals extend to thousands of Ohioans who might be exposed through pathways including the spreading of drilling and fracking wastewater on roads to suppress dust and to remove snow and ice, leaks and spills related to disposal of billions of gallons of wastewater in underground wells, and illegal dumping of wastewater. This wastewater comes not only from Ohio but also from wells in Pennsylvania and West Virginia. In 2014, a fire at a natural gas well in Monroe County caused tens of thousands of gallons of chemicals to spill, including secret fracking chemicals. Fluids from the site flowed into a nearby tributary, where an estimated 70,000 fish subsequently died.
"The use of so many secret and potentially toxic chemicals is deeply troubling to communities where the oil and gas industry operates or wants to pump its wastewater underground," said Annette McCoy, Trumbull County NAACP President. "How are we supposed to protect ourselves if we don't know what we could be exposed to?"
"When EPA regulators believe that dozens of secret chemicals used in oil and gas wells pose health risks, the public and first responders have a right to know these chemicals' identities and where they are being used" said PFPI Senior Counsel, Dusty Horwitt, the report's author. "Under Ohio's lax regulations, people could be exposed to toxic chemicals from oil and gas drilling and might not find out until it is too late."
"Secret exposure to chemicals that our own EPA reports as a potential hazard to human health is unconscionable," said Alan Lockwood, MD, a national board member of Physicians for Social Responsibility who lives in Oberlin. "Healthcare professionals can't possibly treat patients properly, make protective public health plans and decisions, and protect first responders without knowing what chemicals are in the environment."
Exposure risks may be increasing. New oil and gas wells have grown significantly in terms of vertical and horizontal length and hydraulic fracturing fluid injected. According to public records, in 2017 companies fractured the average well in Ohio with about 13 million gallons of water, and at least one has used more than 70 million gallons, dwarfing the 18 million gallons of water that Youngstown delivers each day to its 175,000 customers. Chemicals comprise only a small percentage of fracking fluid. But due to some chemicals' high toxicities and the staggering quantities of fracking fluid, a small percentage of chemicals in today's wells could equal enough volume to contaminate billions of gallons of water if the chemicals leached into water supplies. The report also shows that the use of secret chemicals in Ohio's oil and gas wells extends to the drilling process that precedes fracking and often involves boring directly through groundwater.
"Thousands of secret chemicals are being injected into oil and gas wells throughout Ohio. In many cases, even workers on site have no idea what chemicals they are using in these proprietary blends," said Matt Kelso, FracTracker Alliance Manager of Data and Technology. "This is a real obstacle to those trying to understand the exposure risk, whether through spills, groundwater contamination, or off-gassing of potentially hazardous materials."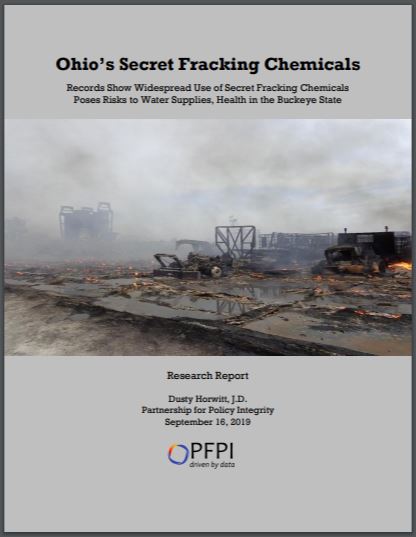 Download the report here.
Refer also to:
TINY DOSES OF GAS DRILLING CHEMICALS MAY HAVE BIG HEALTH EFFECTS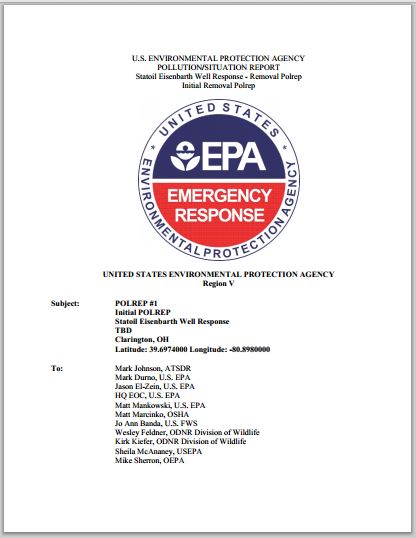 1.1.2.2 Description of Threat
Over 16 different chemicals products were staged on the Pad at the time of the explosion and subsequent fire. Materials present on the Pad included but was not limited to: diesel fuel, hydraulic oil, motor oil, hydrochloric acid, cesium-137 sources, hydrotreated light petroleum distillates, terpenes, terpenoids, isoproponal, ethylene glycol, paraffinic solvents, sodium persulfate, tributyl tetradecyl phosphonium chloride and proprietary components. As a result of fire-fighting efforts and flow back from the well head, significant quantities of water and unknown quantities of products on the well pad left the Site and entered an unnamed tributary of Opossum Creek that ultimately discharges to the Ohio River. Runoff left the pad at various locations via sheet flow as well as by two catch basins located at the northwest and southeast corners of the well pad.
Too Late: Federal Report Details Chemicals Used At Statoil Frac Site after the toxic and radiological chemicals including Cesium-137 "went up in a giant inferno"
There are practical reasons for not treating the fracking formulas like CIA secrets, Wyrostok pointed out.
"Say a truck going through a town in West Virginia crashes or ruptures, and no one knows what the chemicals are. How do the first responders react to that? They don't know what's in that truck."
Landowners have a hard time testing their well water for contaminates if they don't know what they're looking for, he said, noting that doctors would have to ask the companies what chemicals might be making their patients sick. No one knows how long the company might take to respond, Wyrostok said, or even if it would. Plus, if the doctors find out what the chemicals are, the new rule would forbid them from telling anyone, he added. "Basically, it's a gag order," he said.
****
And why the need to keep toxic, carcinogenic drilling and frac'ing chemicals secret, as they get dumped on our foodlands, into waterways and drinking water aquifers, onto roads, in parks, vented into our air, harm workers, first responders and hospital workers etc?
Why was a 2012 Health Canada Report, admitting significant health hazards and risks to groundwater and air from hydraulic fracturing, kept from the public? And still keeps it from the public?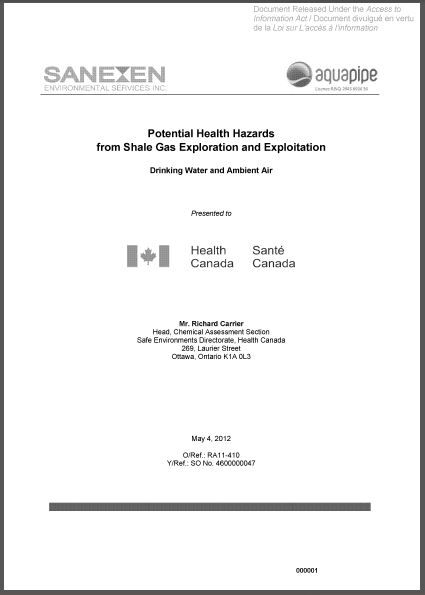 Environmental causes of childhood cancers 'grossly underestimated.' In Canada, toxic chemicals used by oil and gas industry are exempt under CEPA (1999)
Alberta Health is too cowardly to show up to public information meetings on the harms of frac'ing and refuses to answer emailed questions too! (email hidden; JavaScript is required is Ernst's email)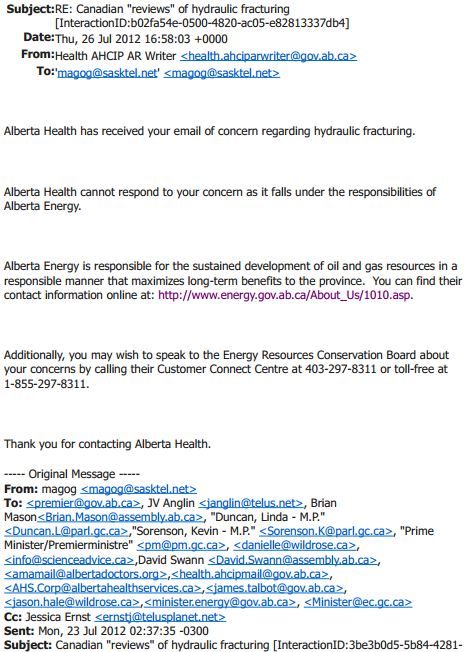 Fracing's long reach: New Study says Fracking Wells Could Pollute The Air Hundreds Of Miles Away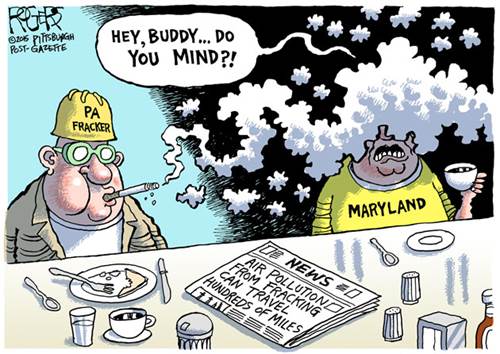 Fracking chemical used in US linked to organ damage
New Study: Frac chemical mix causes disturbing changes in breast tissue; Low levels of chemicals used in unconventional oil & gas production cause abnormal mammary glands and pre-cancerous lesions
New Peer-Reviewed Paper: A systematic evaluation of chemicals in hydraulic-fracturing fluids and wastewater for reproductive and developmental toxicity
Elaine Hill: Unconventional Natural Gas Development and Infant Health: Evidence from Pennsylvania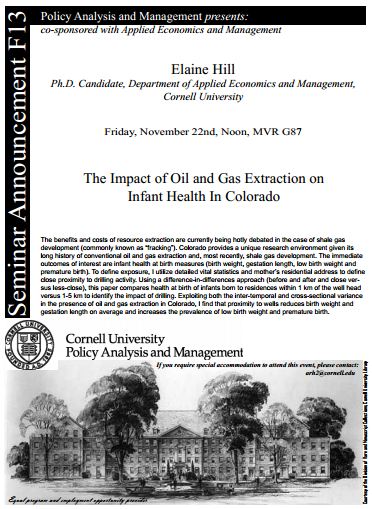 Fracking Truth to Fracking Power
Elaine Hill: Link Between Low Birth Weight and Fracking, Says New Research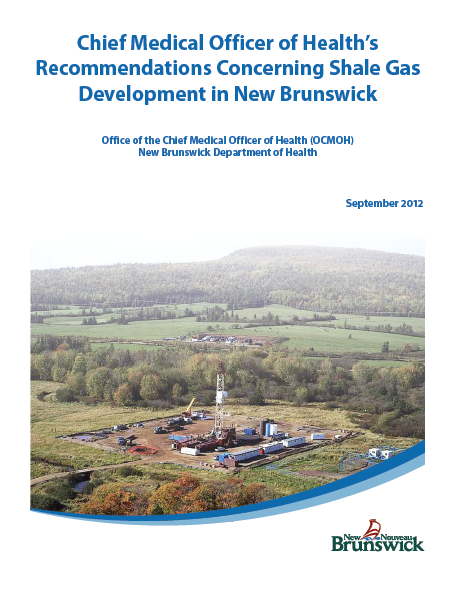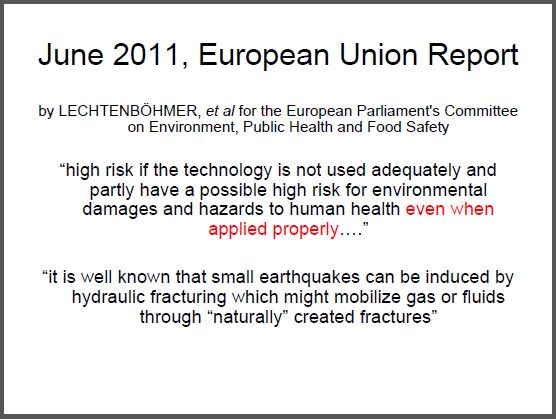 For many years, drillers have insisted that they do not use toxic chemicals to drill for gas, only guar gum, mud, and sand. While much attention is being given to chemicals used during fracking, our findings indicate that drilling chemicals can be equally, if not more dangerous.
In 2008, Cathy Behr, a Colorado emergency room nurse at Durango Mercy Regional Medical Center was working the day shift when a gas driller worker, Clinton Marshall, arrived complaining of nausea and headaches.
Marshall had spilled "fracturing fluid" on his clothes and boots and the smell apparently was overpowering and sufficiently strong that they evacuated the emergency room.
Cathy Behr, without protection, had meanwhile spent just ten minutes tending to Mr. Marshall. A few days after this ER visit, Behr appeared jaundiced and began vomiting fluid and having difficulty breathing.
Behr's husband took her back to the emergency room where she was diagnosed with multiple organ failure, including liver failure, respiratory distress and erratic blood counts. She was admitted to the ICU with the presumptive diagnosis of poisoning from an unknown chemical. The chemical was and is still considered to be a proprietary formula by the producer, Halliburton, a gas industry leader. It was later revealed to be a product with the trade name, Zetaflow. Halliburton noted that Zetaflow increases gas production by 30% and threatened that it would pull its secret sauce out of Colorado if it was forced to reveal what was in it. …
The law exempts gas companies from disclosing the nature of contaminants from fracking flowback which are often laden with toxic heavy metals or radioactive isotopes. The modus operandi of the gas industry is tied to non-disclosure and confidentiality agreements, making research into the health effects of fracking virtually impossible. In a world where we insist on evidence-based medicine, we prohibit this when it comes to gas drilling chemicals.
2008: A Toxic Spew: The near death – by frac chemicals – of emergency room nurse Cathy Behr collection of articles
2008: Gas industry secrets and a nurse's story
[An] emergency room nurse named Cathy Behr wanted to tell Colorado's Oil and Gas Conservation Commission the story of how she nearly died after being exposed to a mystery chemical from a gas-patch accident. Regulators said she wasn't scheduled to testify and they didn't want to hear it. But anyone concerned about natural gas development should listen.
Behr, who works in southern Colorado, at Durango's Mercy Regional Medical Center,
fell ill last April after being exposed for 10 minutes to a gas-field worker who had come
into the ER, his clothes damp and reeking. He'd come into contact with one of the
"secret formulas" drillers use to hydraulically fracture oil- and gas-bearing formations. Within minutes of inhaling the nauseating fumes coming off the worker, Behr lost her sense of smell. (She later told her story to the Durango Herald, a daily paper that has done excellent reporting on the incident: durangoherald.com.) The ER was locked down and the room ventilated by firefighters. But when Behr went home after her 12-hour
shift, she still couldn't smell anything. Then the headache she'd developed got worse. A week later, her liver, heart and lungs began to shut down. She spent 30 hours in intensive care. Although the company that makes the frac'ing fluid provided Behr's doctors with what it calls "'Material Data Safety Sheets"' at the time of the incident, it refused to provide more specific information to the hospital once she fell ill, according to the Herald.
Her intensive-care doctor had to guess what to do as he tried to keep her alive.