Wales votes against shale gas fracking by Reuters, February 4, 2-15, Yahoo News
The Welsh parliament has voted against the use of shale gas fracking in Wales, just one week after Scotland passed a fracking moratorium, highlighting growing discontent with the British government's push to tap shale gas resources. A proposal against shale gas fracking was voted through in the Welsh Assembly late on Wednesday, effectively making it impossible for shale gas developments to receive planning permits in Wales.
Spotlight on UK Government as Wales joins Scotland with
fracking ban February 4, 2015, Press Release by Friends of the Earth
Responding to the news that the Welsh Government will introduce a moratorium
on fracking in the country, Friends of the Earth's Energy Campaigner Donna
Hume said:
"The Westminster Government needs to catch up with Scotland, Wales and many
other areas of the world and bring in a moratorium on controversial
fracking.
"Fracking is bad for the climate and involves serious risks for health and
the local environment.
"Fracking in the UK is looking increasingly like a lame duck. It's time
the Government stopped trying to get this damaging and unpopular industry off
the ground and started prioritising energy efficiency and renewable
energy."
The Welsh Government confirmed that it supports a Plaid Cymru motion for a fracking moratorium during a debate on Wednesday (4 February 2015). This follows a similar commitment from the Scottish Government last week.
Welcoming the Assembly Decision to Oppose Extreme Energy in Wales February 4, 2015, Press Release by Frack-Free Wales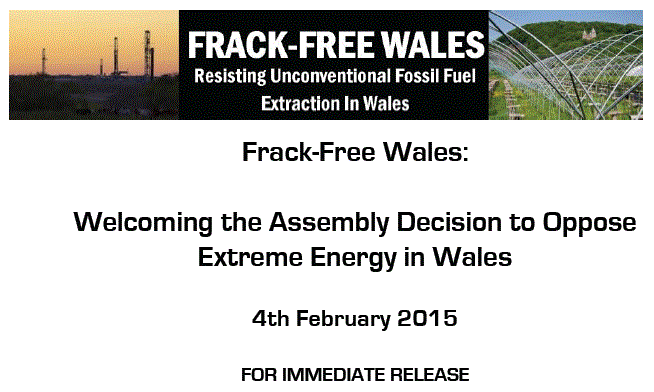 Frack-Free Wales are delighted to announce that Members of the Welsh Assembly
Government have listened to the voice of its population and overwhelmingly agreed to
Plaid Cymru's motion that states that the National Assembly for Wales:
1. Notes that Wales has historically made a substantial contribution to the
UK's energy portfolio.
2. Regrets the provisions within the UK Government's Infrastructure Bill
that will allow fracking companies to drill beneath Welsh homes without
permission from property owners.
3. Believes that energy should be fully devolved to the National Assembly for
Wales and that the Welsh Government should have the power to block
fracking.
4. Calls on the Welsh Government to do everything within its power to
prevent fracking from taking place in Wales until it is proven to be safe in
both an environmental and public health context.
This motion, approved by a margin of 37 to 16 votes, does not in itself place a
moratorium on extreme energy extraction in Wales. It is, however, a huge step in the
right direction. It is extremely positive that the motion received cross-party support.
We are grateful to those Assembly Members that have actively engaged and listened
to our concerns, Llyr Gruffydd AM, Bethan Jenkins AM, Mick Antoniw AM and Peter
Black AM in particular, but there are many others.
As the United Nations Environmental Program reported in 2012 unconventional gas
drilling has resulted in 'observed impacts on the environment and human health that
raise legitimate public concerns'1. These impacts include but are not limited to: seismic
activity; poisoned water tables; the injection of dangerous and unidentified chemicals
into the ground under our homes at high velocity; well fracture leading to methane
(CH4) escape which is 34 times more potent than carbon dioxide and a marked
increase in traffic and noise pollution.
At Frack-Free Wales our purpose is to democratically and peacefully resist this
dangerous intrusion by transnational corporations onto our lives. We are part of a vast
community of campaigners in Wales, the UK and beyond, who work tirelessly to resist
extreme energy extraction everywhere.
"There will always be resistance to these dangerous practices from local
people. Politicians should give up trying to appease oil and gas lobbyists and
chancing their luck. We require a ban on fracking and an urgent investment
in renewable energy, not generous tax breaks to a dying industry that harms
civilization. Isn't it about time Westminster listened to us?'
Frances Jenkins
– Frack Free Wales
Contact:
[email protected]
Frances Jenkins +44 (0) 29 20217 684
1 UNEP (2012) Can We Safely Squeeze the Rocks?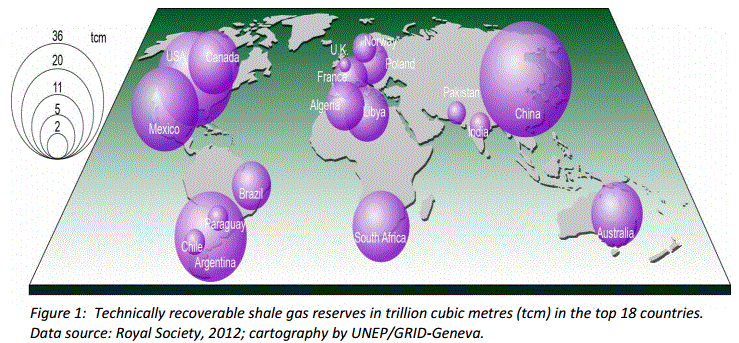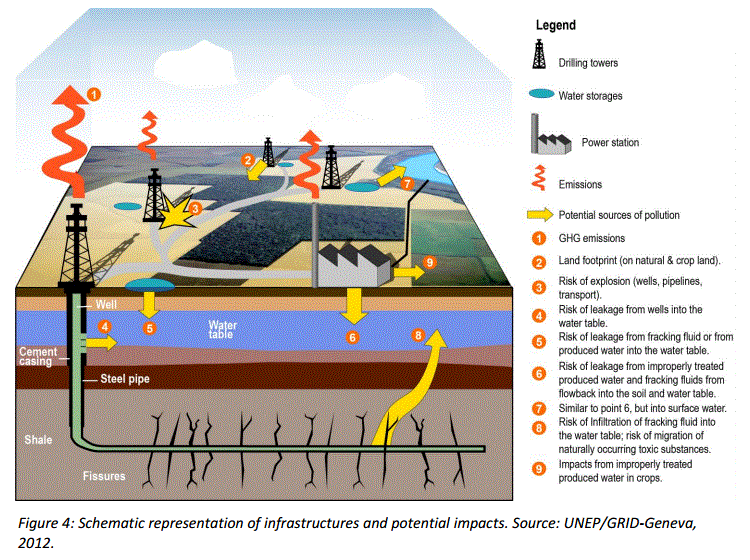 Scottish Government introduces fracking moratorium Press Release by Friends of the Earth Scotland, January 28, 2015
This afternoon Energy Minister Fergus Ewing laid out the Scottish Government's latest policy on unconventional gas and fracking, introducing a moratorium on the industry in Scotland while a full health impact assessment and public consultation is carried out.
Dr Richard Dixon, Director of Friends of the Earth Scotland, said:
"Fergus Ewing's announcement today is huge victory for the communities, individuals and groups who have been campaigning to stop this dirty industry in Scotland. This moratorium is a very big nail in the coffin for the unconventional gas and fracking industry in Scotland. Any serious examination of the mounting evidence will inevitably lead to a ban. The Scottish Government has acted decisively today to protect communities across the country and the environment from this unnecessary industry.
"It is great news that Dart Energy's plans for commercial coalbed methane at Airth are included in this moratorium. The Government's decision today is testament to the perseverance of people and communities around the country who have tirelessly fought this industry in recent years. …
Mr Ewing announced that a full health impact assessment, consultation with communities and further work to strengthen planning and environmental regulation would be carried out, and that a moratorium on the industry would be in place until completion. He added that the Scottish Government would shortly provide further details of the timescales of this work. Mr Ewing also confirmed that it would be inappropriate to grant any planning permissions for unconventional gas while this work is being carried. This means at least considerable delay if not the end of Dart Energy's plans for commercial coalbed methane at Airth, near Falkirk. Thousands of people locally and across the country opposed this development and Friends of the Earth Scotland fought alongside the community at a public inquiry last year. Canonbie, where 19 planning permissions for coalbed methane extraction exist, is also protected by the Government's new policy, which will stop any new environmental permits being issued to allow this development to advance.
However, the moratorium announced today is not comprehensive as it does not include underground coal gasification, a method whereby coal is set alight underground and gas collected at the surface.
"We are disappointed that underground coal gasification has been excluded from this moratorium. This desperate method of extracting yet more fossil fuels involves setting coal seams alight deep underground and has been linked to serious pollution in recent trials. Going after new fossil fuels is the last thing we need in the context of the latest, urgent warnings from climate science, and is not a responsible action for a country trying to meet its targets."
Notes to Editors
1.Scottish Government statementhttp://news.scotland.gov.uk/News/Moratorium-called-on-fracking-1555.aspx
2. Background information on unconventional gas and fracking is here:http://www.foe-scotland.org.uk/unconventionalgasshortbriefOct2014 and a myth-busting document is here: http://www.foe-scotland.org.uk/FrackingMythBuster
3. Reaction to Scottish Labour's announcement on Saturday: http://www.foe-scotland.org.uk/Scottish-Labour-fracking
4. Reaction to SNP MPs' commitment to vote for a moratorium on fracking:http://www.foe-scotland.org.uk/SNP-fracking-vote
5. Energy firm announces plans to extract gas from under the waters of the Firth of Forth using underground coal gasification (November 2014)http://www.bbc.co.uk/news/uk-scotland-scotland-business-29987033
6. Friends of the Earth Scotland is:
* Scotland's leading environmental campaigning organisation
* An independent Scottish charity with a network of thousands of supporters and active local groups across Scotland
* Part of the largest grassroots environmental network in the world, uniting over 2 million supporters, 74 national member groups, and some 5,000 local activist groups.
www.foe-scotland.org.uk
Fracking 'to be suspended in Scotland' by Scott MacNab, January 28, 2015, The Scotsman
A MORATORIUM on fracking in Scotland has been imposed by the Scottish Government amid growing concerns over the environmental and health implications. … Energy minister Fergus Ewing told MSPs yesterday that "no planning permission will granted" for fracking schemes to extract underground oil and gas while a series of government investigations are carried out to assess its effect.
The moratorium in Scotland comes two days after David Cameron reaffirmed his commitment to fracking and MPs voted against a similar suspension of operations.
The UK government grants licences but ministers in Scotland can withhold consent through the planning system.
Petrochemical giant Ineos, which owns the Grangemouth refinery, has a £645 million plan to drill for shale. It warned earlier this week of dire consequences if it does not get government backing.
Mr Ewing told MSPs yesterday that a mass public consultation exercise will be undertaken to gauge Scottish public opinion on fracking.
Environmental regulations and planning guidance will also be tightened up, while a full public health assessment is to be carried out to address safety amid concerns that the process can cause earthquakes and contaminate groundwater supplies.
"Given the importance of this work, it would be inappropriate to allow any planning consents in the meantime," Mr Ewing said yesterday.
"I am therefore announcing today a moratorium on the granting of planning consents for all unconventional oil and gas developments, including fracking.
"This moratorium will continue until such time as the work I have referred to today has been completed."
•'Ban fracking until major concerns are addressed'
Environment minister Aileen McLeod will now instruct environment watchdog Sepa that no new "controlled activity regulation" licences should be granted in relation to fracking. There are currently two applications in the planning system for Airth, near Falkirk, including a coalbed methane scheme involving up to 22 wells which attracted thousands of objections. They will now be put on hold.
Mr Ewing added: "The Scottish Government has taken a considered and evidence-based approach to unconventional oil and gas and fracking.
"I have listened carefully to concerns raised by local communities and environmental campaigners. We have put in place robust environmental regulation, tougher planning rules and successfully opposed the UK government's plans to end Scottish householders' rights to object to drilling under their homes.
"We recognise that local communities are likely to bear the brunt of any unconventional oil and gas developments, particularly in terms of increased traffic and related emissions and noise impacts.
"These are issues that must be researched further."
Last night, Ineos said it "understood the importance of consultation to assess the impact of unconventional oil and gas". It went on: "We welcome the Scottish Government's decision to manage an evidence-based approach and the opportunity for Ineos to provide detailed information and expertise as part of this process." …
MPs voted overwhelmingly against a moratorium on Monday after the Commons' environmental audit committee called for an end to fracking until more is know about its potential impact. …
Ken Cronin, chief executive of UK Onshore Oil and Gas (UKOOG) said: "Onshore gas and oil will benefit the Scottish economy, not only directly with jobs created through oil and gas extraction, but also indirectly, as oil and gas is a critical raw material for the chemicals industry at facilities such as Grangemouth.
"A whole range of experts including public health bodies in the UK, the Chartered Institution of Water and Environmental Management and the Royal Society and the Royal Academy of Engineering have all concluded that any health and environmental risks can be managed in a well-regulated industry." [How does one "well regulate" an industry that refuses to be regulated and when regulators refuse to enforce their regulations and deregulate while publicly promising the opposite?] …
Environmental campaigners also cautiously welcomed the moratorium. WWF Scotland director Lang Banks said: "While this rightly puts a hold on fracking for now, we hope the final decision will be to rule it out completely." [Emphasis added]