Typical of the oil and gas industry: Is XTO's new definition of "explosion" – a loss of control, uncontrolled manner – to try to down play the incident?
Compare to:
2015 03 12; Jack Shawn Eyles, 28, from Kelowna, dies fracking in NE BC for Calfrac (Nitrogen Pumping Division) on Progress Energy Canada Ltd. Site: "Not an explosion as we usually think, but an explosive or sudden release of extremely high pressure"
2017 09 08: They didn't call it fracking when a young man died
Crews Rush To XTO Well Blast Near Powhatan by Casey Junkins, February 16, 2018, The Intelligencer
XTO well blast near Captina Creek by Casey Junkins, Feburary 16, 2018, theintelligencer.net
POWHATAN POINT –XTO Energy fracked at least 40 natural gas wells in Belmont County without any major problems, but the Exxon Mobil subsidiary's luck ran out with a Thursday morning blast at the Schnegg pad near Captina Creek.
XTO spokeswoman Karen Matusic said the company would provide hotel rooms for about 100 residents who evacuated the area within the 1-mile radius of the fire, which occurred around 9 a.m. Thursday as the company worked to frack a fourth well on the Schnegg pad.
"We had a loss of control, which led to a combination of gas and brine coming out of the well," Matusic said. "No one was hurt."
Exxon Mobil reported earnings of $8.4 billion from Oct. 1-Dec. 31. Matusic said anyone who lives within the 1-mile radius of the Schnegg pad in need of shelter or other assistance should call 1-855-351-6573. [But who is going to pay to monitor and then fix subsequent leaking natural gas underground getting into groundwater and basements of the school, homes, businesses?]
"All the folks who have evacuated will have hotel rooms in St. Clairsville or Moundsville if they need them," she added.
In Ohio, both the state Department of Natural Resources and state Environmental Protection Agency have certain regulatory authority over oil and natural gas drilling. Steve Irwin, ODNR spokesman, said the combination of methane and brine flowing out of the well in an uncontrolled manner created the flames.
Methane is the most common component of Marcellus and Utica shale gas streams, while most commercially marketed "natural gas" is methane. Brine can be a mixture of salt, water and other materials.
As of late Thursday, contractors worked to keep pollution from flowing into Captina Creek, as well as Cats Run.
"We are assessing that," Irwin said of whether any pollution reached either stream. "We are putting booms into the creek to prevent anything that may be in there from spreading."
"We're doing everything we can to keep it out of the creek," Matusic said.
When asked if they would classify the incident as an explosion, Matusic and Irwin settled on the description, "well control incident."
Matusic emphasized no one was injured, while she said Wild Well Control contractors would report to the scene to extinguish the fire.
Though preliminary reports indicated a mudslide contributed to the problem at the well, Matusic said she could not confirm this, while Irwin said it was too early to tell.
According to ODNR, XTO produced natural gas from at least 40 separate wells in Belmont County last year. Most of the company's operations are in the southeastern quadrant of the county near areas such as Powhatan Point, Shadyside and Bellaire.
"Thank goodness we've had a good record here. However, one incident is one too many for us. Safety is a top priority for XTO," Matusic said.
Lou Gray, a resident of Town Run Road outside Powhatan Point, lives just inside the 1-mile radius of the evacuation area. He walked into the Powhatan Church of Nazarene Fellowship Hall Thursday afternoon after his daughter told him officials were evacuating the area.
"The only thing I heard was the blow off of the gas," Gray about the well pad.
Gray said he was initially directed to go to the Powhatan Point Municipal Building and officials at that location advised him to go to the Church of Nazarene along Ohio 7. Gray said he was stopping at the fellowship hall temporarily until he could get back out to where other family members live so he could take care of family pets.
Staff Writer Scott McCloskey contributed to this report. [Emphasis added]
Officials evaluating options for containment after explosion, fire on well pad by Kate Davison, February 15th 2018, WTOV9 Fox
BELMONT COUNTY, Ohio — A command center has been set up where officials are evaluating their options for containment after an explosion and subsequent fire at a well pad off State Route 148 in Powatan Point on Thursday morning.
The well pad was being operated by XTO Energy, which has a team from Texas at the site on Cat's Run Road.
The safety of residents is a paramount concern. State route 148 remains closed. A 1-mile radius evacuation is in place and first responders are asking for your patience.
"Right now we're having a lot of trouble with people coming home from work who want to get valuables and their dog, and their cat, medicine and stuff like that," Powhatan Point Fire Chief Thomas Nelms said.
"Right now, a lot of people are cooperating with us."
"We're paying for people to stay in hotels in the local area, we've been dealing with landowners, we're sorry for any inconvenience we've caused local landowners. We want to pay for anything they have had to pay out of pocket. We have a claims line, and we have about four hotels where we have rooms for them to go," said Karen Matusic, public & government affairs manager, Appalachian District, XTO.
Kate Davison
✔
@KateWTOV9
CLAIM LINE: for those who've been impacted by evacuations, call 855-351-6573
Meanwhile Powhatan Elementary will be closed Friday, and this situation looks like it will continue throughout the weekend.
No one was injured in the explosion, but gas continues to flow from the pad.
The EPA is evaluating the air quality and monitoring the water in nearby Captina Creek.
The mitigation team cannot work at night for their own safety.
Once the air quality is determined, officials will assess the evacuation area. They may allow some residents to come home.
Worst case scenario, they could increase the evacuation radius to 2 miles, which includes two-thirds of the village of Powhatan. [Emphasis added]
Evacuations underway after Powhatan gas well fire by D.K. Wright, Updated: Feb 15, 2018, WTRF
A mandatory evacuation is in effect for a one mile radium around a well pad on Cats Run Road in Belmont County after a gas leak ignited, causing a fire that is still burning.
According to EMA Director Dave Ivan, officials are taking air quality samples and will be monitoring the situation all night.
At this time, there is no time table on when this will be over.
Residents who have been impacted by this gas well fire can call the official claims line at (855) 351-6573. Residents who have evacuated and need somewhere to stay for the evening are able to get a hotel voucher from XTO Energy.
UPDATE:
XTO Energy will be bringing in a well control team from Texas after a "loss of containment" resulting in a gas well fire Thursday morning in Powhatan.
Officials reportedly went door to door to residents and businesses within a two-mile radius suggesting that they evacuate. Evacuations are voluntary at this time, not mandatory. They are using an abundance of caution during this time.
According to Karen Matusic, XTO Public, said that they hate that this happened to the community [If true, XTO would never have forced the community to live near their wells or facilities or put the community's children at risk in their school], but they are appreciative of the community being so welcoming.
Officials are in the process of setting up a claims line for everyone affected. 7News will keep you updated once that number is released. Officials are also setting up hotel rooms for those that need them.
Matusic said that there was no estimated time for residents to be allowed back at their homes.
XTO Energy is working with local county and state law enforcement to secure the roads.
At this time, State Route 148 in Powhatan is closed
ODNR has released a statement about the incident:
ODNR was notified at 9:38 a.m. of a potential incident on a XTO Energy well pad outside of Powhatan Point in Belmont County. ODNR, OhioEPA, and local authorities are all on scene working to mitigate the situation. The well is currently on fire and the local authorities have evacuated a one-mile radius.
A well control company will be onsite soon and will work to get the well under control. At this time, no injuries have been reported and we'll continue to monitor the situation from onsite.
State Representative Jack Cera is on the scene, because he wants to make sure all of the people living in the area are being taken care of properly.
ORIGINAL:
Belmont County emergency management officials are gathering at Cat's Run in the Powhatan area.
Officials say there is a leak at an XTO well pad on Cat's Run due to a mudslide, causing "free-flowing natural gas" in the area.
They are staging at the intersection of State Route 148 and Cat's Run.
EMA Director Dave Ivan says his team is on the scene, but they are too far away to describe exactly what is happening.
He says the area around the well is cordoned off.
Ivan said, "We're evacuating people out of the area, and there's smoke in the air."
Belmont County Sheriff Dave Lucas urges anyone in the area to use extreme caution. [Emphasis added]
Well pad explosion, fire forces evacuations in Powhatan Point area by Kate Davison, February 15th 2018, WTOV9 Fox
News reporter Kate Davidson:
"We've been asked to leave our current location. This is a very dangerous developing situation. … You can hear the hiss of natural gas, you can see the smoke, there is also a rumbling. … I've been told there isn't a quick fix for this issue. … The state route is closed."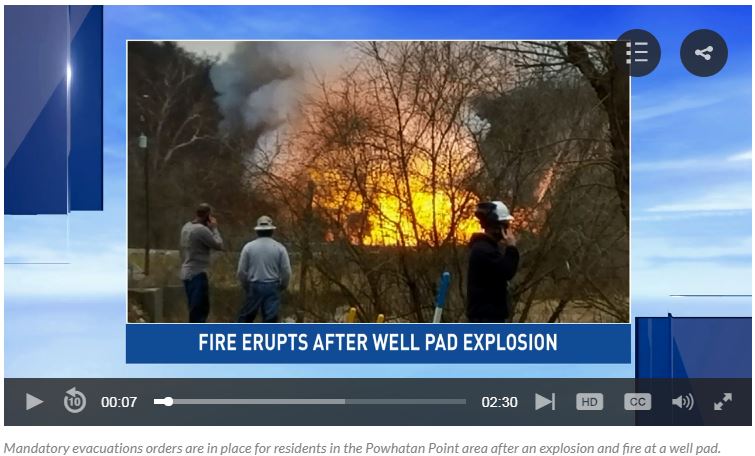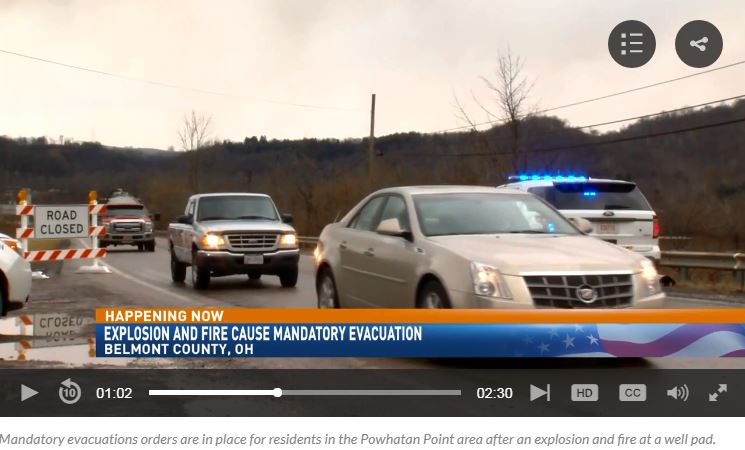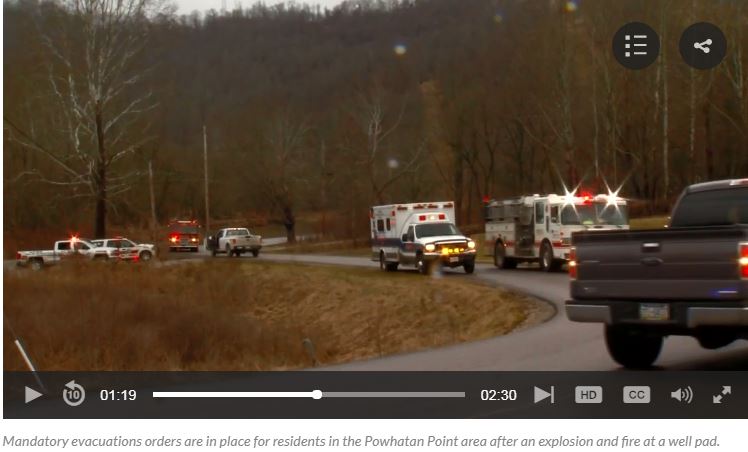 It happened off State Route 148 and has drawn first responders from all over the county.
There is a mandatory 1-mile evacuation radius from the well pad on Cat's Run Road for local residents that may be expanding as the day goes on.
The hiss of natural gas, along with a rumbling, can be heard, and the smoke can be seen. 
An XTO spokesperson says at approximately 9 a.m., XTO lost containment on a gas well pad on Cat's Run. Emergency response procedures were activated and the site itself has been evacuated with the exception of response team personnel.
Locally, there are police from many different agencies and Belmont County EMA has set up a staging area next to the golf course.
"They called and said that they had an actual explosion with no fire at the well pad," Powhatan Point Fire Chief Thomas Nelms said. "So we came out to see what we had. We were here about a half hour, and actually now we have a fire on a well pad.
"We're going to evacuate a 1-mile radius of this area, and they're going to go to the city building, and they're going to disperse to five different places people can stay: Nazarene Church, Masonic Temple and a couple of other places."
Officials say there isn't a quick fix for this issue. It could be a day, or days before the leak is contained.
They're asking residents who are forced to evacuate to report to the Powhatan Village building where more information will be given to them.
UPDATE WITH PHOTOS. Day 3: Powhatan residents remain displaced; XTO Fails to Contain Methane Leak
[Refer also to:
2013 12 19: First criminal case against a Shale firm opens for toxic frac waste spill/leak/dumping; XTO Energy Inc., subsidiary of Exxon Mobil Corp. hires three law firms to defend itself
2014 08 14: XTO Energy cited for taking water out for fracking; "All of us who've lived around here have been watching this lake go down for a very long time"
2016 06 21: One dead, two injured in North Dakota well explosion/fire
One worker was killed and two others were seriously injured in an explosion and fire at an oil well in western North Dakota, authorities said.
The McKenzie County Sheriff's Department said 52-year-old Johnny Stassinos of Rock Springs, Wyo., died Saturday afternoon from injuries suffered that morning at a well site operated by XTO Energy Inc. near Watford City.
The department's statement issued Monday said Daniel Montes, 28, of Fruita, Colo., and Richard Maheu, 27, of Rock Springs, Wyo., were airlifted to the Regions Burn Center in St. Paul, Minn., where they were listed in critical condition.
The men suffered third-degree burns to 70 percent of their bodies, said Eric Brooks, director of the U.S. Occupational Safety and Health Administration's office in Bismarck.
Authorities said 40-year-old Justin Pyle of Grand Junction, Colo., was treated for minor burns to his face at a Watford City hospital and later released.
… Houston-based XTO Energy is a subsidiary of ExxonMobil. XTO Energy spokeswoman Suann Guthrie said the men were contractors working for companies that do maintenance on oil wells.
Guthrie said XTO Energy has been working with regulators to determine the cause of the explosion.
The men were on a workover rig that's used to perform maintenance at an oil well. An initial investigation found there was a breech in a gas pipe that ignited, state and federal investigators said.
"There was a split in a pipe, and there was an explosion," Brooks said. Investigators were on the scene Monday attempting to find the cause of the breech and the source of the ignition, he said.
Bill Suess, an environmental scientist with the state Health Department, said no oil or gas escaped from the well. … ]