Attention private well owners in Kneehill County by Nathan Crosby, May 16, 2015, Drumheller Online
Some private wells in Kneehill County are showing high levels of chemicals that may be harmful over a long period of time.
Recent water testing results have shown water from some of the private wells contain higher than recommended levels of naturally occurring selenium and uranium.
"The amount that we saw would be dangerous to your health if it was consumed over a large number of years," said Central Zone Medical Officer of Health, Dr. Ifeoma Achebe.
The levels detected don't present any immediate risk to health, however, they're above the guidelines for drinking water quality in Canada.
Alberta Health Services (AHS) is recommending that all private well water owners/users in the areas north of Twp Road 31-0, south of Twp Road 33-0, east of Range Road 24-0 to the Red Deer River, and west of the Red Deer River to Range Road 24-0 submit a sample from their private water well, to AHS, for trace metals testing.
The results will take around four weeks to be returned.
This one-time testing will be offered free of charge, to individuals in the above noted geographic area only, over the coming months. Results of this testing will provide AHS with additional information necessary to assess the potential for long-term risks and advise residents of any need for additional actions.
Residents in the affected geographic area will be receiving information packages from AHS, via mail, within in next couple weeks; however, beginning today, private well water users/owners in the affected area can pick up water samples bottles from AHS Public Health at the Three Hills Health Centre (1504 2 Street N) for this testing.
Private well water users/owners can also contact AHS Environmental Public Health's office in Drumheller at (403) 823-3341) for additional information.
Municipal water supply in Kneehill County is not impacted by this issue.
[Refer also to:
Seismic work, gas wells and coal mining concerns me.

We have lost a water well to seismic activity in the past.

The last well I had was perfect for 12 years and then seismic came through my land but was outside of "minimum distance". My well turned bad, very sour. They would do nothing.

Oil company drilled well 1/2 mile south. We had water problem for about 2 months (mud in water).

The water on the acreage was real good water and it was soft water. The one well was drilled in 1925 and water was good

until the oil company came around and ruined 2 wells.

The first water well was ruined about two years ago. I think we drilled (contractor) the second well and the oil company ruined it in a year. Water is impossible to drink and dogs and cats were very sick. The vet animal doctor said the water is poison (beaver fever) and said do not use water.

The oil company will not do anything to clean up.

The farmers got money for their well and we got the cost of trying to fix things (well)

and it is eating the plumbing.

You should go and see for yourself. Cats and dogs were very sick and vets are not cheap.

Our well did not have sulphur smell at all until seismic activity on property approx. 3 years ago.

There is an oil well about 1 1/2 miles NW of my yard, and every time they work … I get gas in my well and lots of it. If you turn the tap on you can ignite the gas with a lighter and it will burn. They told me that since I'm over a mile away I don't qualify for monitoring my well when they work over the oil well.

I do not believe oil and seismic companies have strict enough rules when drilling for oil and gas. I had an oil company wanting to drill for gas, and

where they chose to drill was on a water aquifer.

I convinced them to move finally, but they said they could cement around the pipe. How do they know what goes on 40-200 feet underground?

To my relief they abandoned drilling the well.

Oil and Gas development and seismic activity by oil and gas companies has had a huge impact and its time industry and government quit denying its impact on our wells. We had tested our water through the health unit and then seismic went by our property, our water changed so we sent it for testing again. We contacted the seismic company who denied their activity had impact but sent someone to test our water. They did not know we had had our own testing done. They showed us the results they had – we showed them ours which were significantly different.

They became quite hostile, bullying and belittling us to cover up their "fudged" water test results.

We hired a lawyer and it was settled

BUT we often wondered what would have happened had we not conducted our own pre (which was sheer luck that we had done this) and post seismic tests.

We have a problem with the coal mines by us as the water table is dropping and we have already lost a spring that was very reliable as a water source. I feel it is only a matter of time before our wells begin having problems and Alberta Environment has been unwilling to care or help us.

Within the first 4 years of the well, I would have answered differently.

Then PetroCanada started drilling for gas and the taste went sour.

Our well water is also monitored by a local oil company.

Oil well drilled 2-3 years ago have caused my well to smell + taste like petroleum.

Well was very good (high volume, very soft, a little sulphur smell) then an oil-gas well drilled in area. Water unfit to drink.

I have a severe allergy to sulphur and cannot drink it for this reason.

As more oil and gas wells were drilled in the surrounding area, the sulphur has gotten stronger so now I no longer use it for cooking or drinking and have to buy drinking water.
| | |
| --- | --- |
| | Seismic activities have caused numerous wells in the area to collapse. My elderly parents also had their well collapse and then had to fight to get it re-drilled. This took several months. The well was fine for over 40 years, until the seismic crew came along the county road. My parents barely had enough water to flush the toilet, and not enough to have a bath, or shower. They had to haul water from another well, for several months. They were finally able to get some help through the farmer's advocate. We are all very concerned about what will happen if coal bed methane production gets approval in our area. We do not use chemicals on our property or pesticides. We believe in protecting our environment and know how important our water quality is. We also know about spills that are covered up by drilling companies and other borderline unsafe/illegal activities by some of these companies. There needs to be more monitoring of these activities. |
Our concern is the disturbing of our wells by all the oil and gas wells in the field around us and in our field too.

In the area in which I live there is no close activity of oil, gas drilling therefore I have no immediate need of worry. But would be concerned in the event of exploration activity.

I am concerned with all the sour gas wells being drilled within a 4 km distance from my well. There have been 4 in the last 3 years.

I am becoming more concerned about seismic and drilling activity causing problems with well water.

We have a lot of seismic drilling and activity around us. This has caused a lot of problems for neighbouring old wells. We are good. Survey should include questions about oil field problems.

I am concerned about our underground water becoming contaminated or our well going dry due to oil or gas exploration.

I am concerned about drilling rigs being allowed to drill wells to supply their water for drilling a gas or oil well. They use large quantities daily and I feel this should NOT be allowed.

Drilling surface hole on oil and gas wells can contaminate underground water and destroy underground streams.

I have had my water tested or it was fit for human consumption. I am more concerned about seismic and well drilling ruining my well.

I am concerned with over use of our aquifer, i.e.: oil companies using fresh water.

Concern about oil and gas company.

I have heard that drilling of oil/gas wells in my area can ruin a good water well that does concern me.

We are very concerned about the effects of oil + gas exploration + drilling, especially coal bed methane drilling!

I think it would be useful to land owners like myself that use the wells for household, livestock and general agriculture purposes to have the information about the specific formation we derive our water from. … A lot of this information is very difficult to find. It should be public knowledge. I have been involved in the oil/gas industry for the [many] years. … I want to know where the water is flowing in the formations we are testing. … I am not into politics what so ever but if whoever reads this could give me a name of a person I could talk to about my concerns I would be very appreciative. I'm sure everything is just fine and in order. I'm just curious.

When I talk to people whom I work with in the energy sector I receive vague answers.

When I approach the agriculture sector I find the people are more negative towards the energy sector. Like this is our water and nobody should use it. Oil – Pollution versus Agriculture – Husbandry manner. Now you can see my concern in regards to honest answers. I happen to be in both. Thank you for your time.

We have water tested before + after gas drilling in the vicinity +

keep the reports.
I am very concerned about the effect of the drilling and piping of oil and gas in this vicinity in regards to contamination of aquifers and/ or ground water.

I am strongly concerned about what oil and gas companies can do to the aquifer that my water is drawn from.

Oil recovery is also using potable water resulting in loss of the H2O that will never be recovered.

Am concerned about potential contamination to aquifers in the area due to the excessive oil/gas facilities.

Clean water is the most important "thing" we need from the ground in Earth. More important that oil-gas-coal, etc. We can exist without oil-gas but not with no water.

Why is good potable water ever used in extraction of oil? Is this water not lost for future use forever?

Wonder about impact of seismic blasting and coal methane activities.

We're concerned about oil well-drilling activity, extracting methane gas from coal beds with the danger of polluting water wells; the vast number of pipelines throughout the province, many of them decades old, eventually eroding and releasing their contents into the ground waters; sour gas wells drilled adjacent to dwellings and water wells; flaring, contributing to air, soil and water pollution by acid rain;

enormous quantities of fresh water contaminated for all time by oil discovery activities

; wasteful practices of water use, e.g. irrigation systems.

Very conscious of seismic and gas well drilling in the local neighbourhood. I don't like the idea of acid bracing used in gas wells.

Fresh water shouldn't be used to increase oil well production anymore. Water is too valuable to be used this way.

I am concerned with widespread purchasing of H2O by oil and gas companies in our area and the removal of that volume forever more from our cycle of water. Sure hope we don't lose our well water due to increased depletion and/or drilling activity in the area, esp since our water witcher only found there to be one underground stream supplying our 1/4 section and we're currently tapped into that. Living during a 3 yr drought sure emphasized the value and absolute necessity of water.

Can't do without it!

Concerned about the effects of chemical contamination from oil and gas production that is

constantly increasing in the area.

Recognize that the dewatering seams contribute to gasification of water wells beyond what agriculture and domestic users can contribute. Dewatering deeper water can release gas upward through to surface water.

We need to understand contamination better. Better methods of maintenance of existing wells in a positive step.

Lost circulation of drilling fluids for O&G can have serious consequences for surface users of water. [Fracing] production zones of wells with acids and chemicals has serious consequences and risks are unaddressed. This is large scale contamination when things go wrong.

I worry about oil companies and seismic activity affecting the quality and quantity of my water.

I am very worried that seismic blasting or drilling for oil or gas in this area might ruin my water or even divert the flow of underground water so that I might lose all of my water supply.

Oil and gas drilling and seismic impacts to water wells is much more damaging than everyone thinks.

A lot of the water aquifers have been ruined because of oil drilling and cracking the formations where water runs gets contaminated with sulphur and other contaminants. But these university-degreed people will not accept a layman's experience with the water problems over the years.

Our farm is located in a natural gas field and we strongly feel the water wells should be tested before any other distilling is done in the area.

Concerns due to oil wells or other. How will this affect the present – future of our water system?
Brazeau County
Our well is drilled through a corner of an old oil field remote sump. Alberta Environment won't look into it.
Clearwater County
Would like to see limited use of water by oil companies. Greater testing radius of water wells around drilling wells.
County of Two Hills
The government should realise that water is the most precious of resources, and quit bending to the will and when of the largest polluters, the oil industry, which despite commercial, is the largest user and water of it.
County of Vermilion River
I am most concerned that oil well drilling in my area could pollute the water aquifer. The Co's do a fair job in testing to protect the potable water but stricter regulations and supervision wouldn't hurt.
M.D. of Foothills
My only concern with my well is coal bed methane gas development in the area as this has ruined many water sources already and our government seems unwilling to address it.
M.D. of Foothills
Seismic activity has no regard for water wells. Recent activity was gentler than previous dynamite seismic which did damage to our well. No responsibility upon seismic companies, non government, municipalities.
M.D. of Foothills
The MD of Foothills, provincial government does not take any responsibility for protecting private farm water wells from seismic activity or any other o/s damaging sources. The MD actually encourages seismic activity in the area.

M.D. of Smoky River
I feel that the government regulations are too lax and allow too many gray areas for oil and gas industries to get away polluting our water resources. The few studies that have been done do not go back to be used as written in stone practices. We need info dating back 100 years or more and only Hudson Bay fur trading posts kept logs on water ways and rivers, those records should be used as some guidelines when needed, and not only computer models of some 10-20 years
M.D. of Willow Creek
Alberta Environment took the side of the oil company in our case. They never even came out to talk to us or look at our farm. It is certified organic and would never have surface chemical from nitrates or fertilizer to cause problems. But it was easier to brush us off! Why would we be absolved of all costs to fix the well? It was abandoned.
Mountain View County
Water is more important than oil! We can't live without it! Seismic blasting has caused problems on our land causing flowing wells which were difficult to plug off. Oil well drilling too has caused water to transfer from one aquifer to another at another level and mixed the water and caused iron bacteria to move. Any energy activity nearby – get your well tested before & after, so if there is a problem the energy company can have a new water well drilled for you without a hassle. Make sure people know to have water available by a driller well before they purchase land and build a house in rural areas. Some counties are allowing 2 acre parcels- not enough for a well and a septic field. Water should be available by pipeline to some rural areas
Parkland County
Energy explorations should be closely monitored so that there is no contamination or other affects to local well water.
Ponoka County
What should be done about water wells is stop the shallow gas wells from being dug. Facing (?) these shallow gas wells is wrecking our water. The government doesn't give a damn as long as they are collecting money. Makes good for higher wages at the top.
Rocky View County
We need to watch the oil and gas industry closely. The EUB is a joke! When oil and gas collapsed my well environment was very good to work with, if not for them I would have been left holding the bag.
Special Area No. 2
Start monitoring oil and gas industry closer. Isotope testing, etc.
Strathcona County
The damage to ground water and over consumption by the oil and gas industry is an abomination and the Alberta government in their protection/ support of the industry regardless of the consequences, is deplorable. Having a robust environment is more important that lining our pockets with the riches of the oil revenues particularly when they (oil resources) are being squandered and essentially gifted to large oil interests (but that is a different course of discussion).
Sturgeon County
Please: Do not attempt to recover methane gas in our area…
Wheatland County
The rules for drilling oil and gas wells need to be tighter in regards to water wells.
Wheatland County
The EUB is doing their job on protecting water wells and surface water; more guidelines are needed for gas and oil.
Yellowhead County
I would like to see surface wells not used in oil and gas wells drilling or to replace the gas and oil. A number of surface well have dropped in volume in this area.
…
How many waste injection wells in Alberta get inspected by the AER? 
Science be damned, EnCana wants to inject waste into drinking water aquifer
New Peer Reviewed Study: Elevated levels of methanol and heavy metals may be from fracking in Texas, Water contamination highest near frack sites
Water wells near gas drilling more likely to have heavy metals, study finds
Private water wells near natural gas drilling in North Texas' Barnett Shale gas field are more likely to be contaminated with heavy metals than those farther from gas operations, a study at the University of Texas at Arlington has found.
Water contamination highest near natural gas drilling
Breaking but not surprising. Levels of contaminants are highest within 3 kilometers which is 1.8 miles! Areas outside the Barnett Shale do not have the same elevated levels.
Elevated levels of heavy metals may be from fracking in Texas
Elevated levels for most of the metals were not found outside active drilling areas or outside the shale.
Potential well water contaminants highest near natural gas drilling, UT Arlington Study says Press Release by UT Arlington, July 26, 2013
A new study of 100 private water wells in and near the Barnett Shale showed elevated levels of potential contaminants such as arsenic and selenium closest to natural gas extraction sites, according to a team of researchers that was led by UT Arlington associate professor of chemistry and biochemistry Kevin Schug. … Environmental Science & Technology Thursday. The peer-reviewed paper focuses on the presence of metals such as arsenic, barium, selenium and strontiumin water samples. Many of these heavy metals occur naturally at low levels in groundwater, but disturbances from natural gas extraction activities could cause them to occur at elevated levels.
Researchers gathered samples from private water wells of varying depth within a 13 county area in or near the Barnett Shale in North Texas over four months in the summer and fall of 2011. Ninety-one samples were drawn from what they termed "active extraction areas," or areas that had one or more gas wells within a five kilometer radius. Another nine samples were taken from sites either inside the Barnett Shale and more than 14 kilometers from a natural gas drilling site, or from sites outside the Barnett Shale altogether. The locations of those sites were referred to as "non-active/reference areas" in the study. Researchers accepted no outside funding to ensure the integrity of the study. They compared the samples to historical data on water wells in these counties from the Texas Water Development Board groundwater database for 1989-1999, prior to the proliferation of natural gas drilling.
…
On average, researchers detected the highest levels of these contaminants within 3 kilometers of natural gas wells, including several samples that had arsenic and selenium above levels considered safe by the Environmental Protection Agency. For example, 29 wells that were within the study's active natural gas drilling area exceeded the EPA's Maximum Contaminant Limit of 10 micrograms per liter for arsenic, a potentially dangerous situation. The areas lying outside of active drilling areas or outside the Barnett Shale did not show the same elevated levels for most of the metals.
…
Some of the most notable results were on the following heavy metals:
Arsenic occurs naturally in the region's water and was detected in 99 of the 100 samples. But, the concentrations of arsenic were significantly higher in the active extraction areas compared to non-extraction areas and historical data. The maximum concentration from an extraction area sample was 161 micrograms per liter, or 16 times the EPA safety standard set for drinking water. According to the EPA, people who drink water containing arsenic well in excess of the safety standard for many years "could experience skin damage or problems with their circulatory system, and may have an increased risk of getting cancer."
Selenium was found in 10 samples near extraction sites, and all of those samples showed selenium levels were higher than the historical average. Two samples exceeded the standard for selenium set by the EPA. Circulation problems as well as hair or fingernail loss are some possible consequences of long-term exposure to high levels of selenium, according to the EPA.
Strontium was also found in almost all the samples, with concentrations significantly higher than historical levels in the areas of active gas extraction. A toxicological profile by the federal government's Agency for Toxic Substances and Disease Registry recommends no more than 4,000 micrograms of strontium per liter in drinking water. Seventeen samples from the active extraction area and one from the non-active areas exceeded that recommended limit. Exposure to high levels of stable strontium can result in impaired bone growth in children, according to the toxic substances agency.
Fracking study: Researchers find elevated levels of heavy metals 

Researchers at the University of Texas at Arlington say there are elevated levels of arsenic and other heavy metals close to natural gas extraction sites in the Barnett Shale area of North Texas, according to a news release from the school Friday. Several scenarios — including disturbances from fracking, lower water tables from drought, removal of water used for fracking or industrial accidents such as faulty gas well casings — could release the dangerous compounds into shallow groundwater. … Arsenic, barium, strontium and selenium occur naturally at low levels in groundwater. But the release says fracking activities could elevate their levels. The results from the peer-reviewed study were published online by the journal Environmental Science & Technology. … Samples were gathered from 100 private water wells of varying depths within a 13-county area in or near the Barnett Shale during four months in summer and fall of 2011.
An evaluation of water quality in private drinking water wells near natural gas extraction sites in the Barnett Shale Formation by Brian E Fontenot, Laura R Hunt, Zacariah Louis Hildenbrand, Doug D Carlton, Hyppolite Oka, Jayme L Walton, Dan Hopkins, Alexandra Osorio, Bryan Bjorndal, Qinhong Hu, and Kevin Albert Schug inEnviron. Sci. Technol., Just Accepted Manuscript • DOI: 10.1021/es4011724 • Publication Date (Web): 25 Jul 2013
"We also found selenium and strontium at elevated concentrations, with selenium detected exclusively within two kilometres of natural gas wells."
Avner Vengosh, a Duke University geochemist, is serving on an expert panel for the U.S. Geological Survey while it begins to look into the quality of produced oil-field water from Kern County. His data are "only preliminary," but he has found "high levels of vanadium, chromium and selenium" in the samples of wastewater he has tested…. Those levels are consistent with data from oil- and gas-produced water from other basins in the U.S., according to Vengosh.
West Virginia: Leaking injection wells pose serious threat in Fayette County
During a highly charged April 21 permit hearing for Lochgelly horizontal hydrofracturing (frack) waste injection wells, many pointed comments were voiced.
Among them was that of Tom Rhule, communications director for West Virginia's Mountain Party: "This isn't about politics, it is about survival." The injection wells at Lochgellly are leaking. Frack chemicals have been found in a nearby tributary upstream from the Oak Hill, Fayetteville and Lochgelly water intake. A letter to former Sen. Rockefeller from the state Department of Environmental Protection states they are not coming from closed waste pits.
The wells have no conclusive safety tests and their drilling logs indicate that one well goes through a Sewell coal mine which connects to other mines. Leaks can be forced up into that mine and, from there, travel to the river and aquifers through tunnels. These wells are not alone, according to the EPA, there are 759 such poorly overseen wells in West Virginia. This is a statewide emergency.
Rhule noted that the DEP and the EPA are so underfunded that injection well inspection is almost nonexistent, so we must protect ourselves. …
To a near-standing ovation, Mary Rahall, a Fayette mother, also spoke: The bigger issue, she said, is radioactivity. Radiation over 3,000 picocuries per liter was found in that wastewater — but only 60 pci/L is the upper limit for industrial waste, as reported by both the U.S. Geological Survey and the permit application itself.
How about the 18 feet of sludge in the pits? She continued that we are blocked from knowing what's in the waste by Senate Bill 243, and further, the Environmental Quality Board, at the request of the DEP, prohibited USGS scientists from testing the sludge or wastewater.
…
Rhule also pointed out that geologic testing indicated that these wells should never have been converted into waste wells in the first place.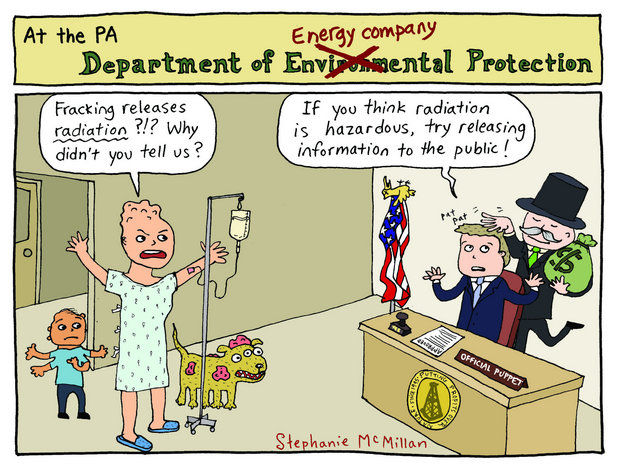 Fracking criticism spreads, even in Alberta and Texas, Canadian, U.S. studies raise concerns that chemicals used in process make people sick
"It was beautiful up until fracking started," said Nielle Hawkwood. Nielle and Howard Hawkwood say their ranch outside Cochrane, Alta., northwest of Calgary, hasn't been the same since 2009, when fracking began.
Water started tasting strange and cows began to die off in large numbers. Instead of an average of two to three cows per year, they were losing closer to 20. By the spring of 2011, Nielle Hawkwood noticed her hair falling out in clumps every spring.
They had their soil tested and found a three-fold increase in the amount of chlorine, nitrogen and phosphorus. The testing also showed a large increase in the concentration of strontium and uranium.
Santos CBM in NSW Australia contaminates aquifer with uranium at 20 times the safe drinking water levels; Regulator does not test for thorium, radon and radium! Thorium and radon are known to cause lung cancer
Coal seam gas: EPA tells Santos to keep tabs on Pilliga radioactive water by Peter Hannam, March 12, 2014, The Sydney Morning Herald
Environment regulators recommended Santos monitor radioactive elements in its future coal-seam gas operations in the Pilliga Forest despite not seeking such readings once unsafe levels of uranium were found in a contaminated aquifer.
On Tuesday, the Environment Protection Authority said it had not sought data on the levels of thorium, radon and radium – products of uranium – once Santos told it in March last year about leakage from a waste water pond. The aquifer was found to contain uranium at 20 times safe drinking levels and the EPA fined Santos $1500.
… The readings "should have rung alarm bells", said Mariann Lloyd-Smith, a senior advisor for the National Toxics Network. "It would have been sensible to go back and test the radioactivity of the water." Thorium and radon were known to cause lung cancer, she said, adding these materials could also spread by wind once the water they were suspended in evaporated. [Emphasis added]
Santos coal seam gas project in NSW Australia contaminates aquifer by Sean Nicholls, March 8, 2014, The Sydney Morning Herald
A coal seam gas project operated by energy company Santos in north-western NSW has contaminated a nearby aquifer, with uranium at levels 20 times higher than safe drinking water guidelines, an official investigation has found. It is the first confirmation of aquifer contamination associated with coal seam gas activity in Australia – a blow to an industry pushing state and federal governments for permission to expand. …

The EPA says it launched an investigation after routine testing in March last year by Santos of groundwater around the project – which remains in the test well stage – detected "elevated levels of total dissolved solids and slightly elevated levels of other elements". … The investigation concluded the pond liner was of "poor quality, which resulted in the integrity of the liner being questionable". On Friday, EPA chief environmental regulator Mark Gifford confirmed the contamination was caused by water leaking from the pond and that lead, aluminium, arsenic, barium, boron, nickel and uranium had been detected in an aquifer at levels "elevated when compared to livestock, irrigation and health guidelines".
…
"We now have proof that coal seam gas mining contaminates groundwater and aquifers, flying in the face of the industry's claims," Mr Schneiders said.
… "Here is definitive proof that coal seam gas pollutes aquifers," he said. [Emphasis added]
Current perspectives on unconventional shale gas extraction in the Appalachian Basin
Each well produces around 1,000 tons of drilling waste (ground up rock and drilling mud) that may contain a variety of salts, heavy metals, and naturally occurring radioactive materials (NORM) most notably uranium, radium, and radon.
Hudson's Hope issues water quality advisory as heavy metals detected
A water quality advisory has been issued by the District of Hudson's Hope, in northeast BC. Residents are being warned not to drink or use water from Lynx and Brenot Creeks.
The district advises against using it for "drinking water, livestock watering, and irrigation due to the presence of heavy metals at concentrations above the Canadian Water Quality Guidelines."
"Boiling water will not make the water potable," the district warns. Abstain from using the water until further notice.
The contaminants discovered include:
aluminum
arsenic
barium
cadmium
chromium
iron
lead
manganese
uranium
The source of the contamination – and whether it is related to local shale gas activity – is unclear at the moment.
Public Health Experts Call on Governor to Study Fracking's Impact on Cancer-Causing Radon Levels Before Making a Decision On Whether to Allow Drilling
According to the EPA and the Centers for Disease Control and Prevention (CDC), radon, a naturally occurring radioactive gas, is the nation's second-leading cause of lung cancer, after smoking. Radon is a radioactive decay product of radium, which, in turn, is a decay product of uranium and thorium, elements that are often located deep underground.Radon is colorless, tasteless and odorless. It is created only by radioactive decay and can be eliminated only by further radioactive decay. It has a half-life of 3.8 days and does not burn or react chemically. Radon's radioactive decay products include polonium, a radioactive solid that decays by emitting high-energy alpha particles that damage lung tissue and cause cancer. Radon can accumulate in homes and other buildings by migrating from the ground through cracks and holes in a building's foundation. However, the CDC recognizes that radon can also collect in homes through the indoor use of natural gas that was previously trapped in underground deposits of uranium- and thorium-bearing rock.[4]
The New York Department of Environmental Conservation and U.S. Geological Survey have previously reported that the Marcellus shale contains both uranium and thorium and the Survey has noted that "the Marcellus is readily identified on geophysical logs by its high gamma-ray signal," a form of radiation.[5] Moreover, the Survey recently released preliminary sampling data from a limited number of natural gas wells that confirmed that natural gas from the Marcellus shale contains radon.
Harms unknown: health uncertainties cast doubt on the role of unconventional gas in Australia's energy future by Alicia Coram, Jeremy Moss and Grant Blashki, The Medical Journal of Australia 2014
However it is wastewater, which contains naturally occurring contaminants that are difficult and costly to remove (as well as fracturing and drilling fluids), that poses a greater human and environmental health risk. There are many documented and anecdotal cases of spills, failures of holding dams, and the accidental and planned release of contaminated wastewater in Australia and the US. Natural contaminants present in wastewater can include heavy metals and radioactive materials, which have serious and well known health effects. Uranium and heavy metals have been shown to be mobilised by fracturing and drilling chemicals.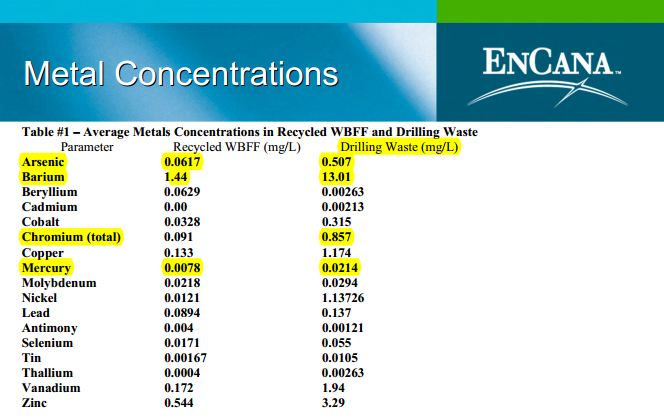 Metals, including selenium, in Encana frac and drilling waste at Suffield, 2005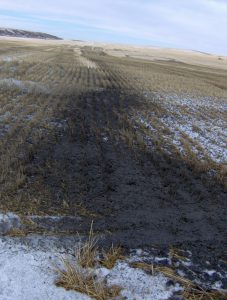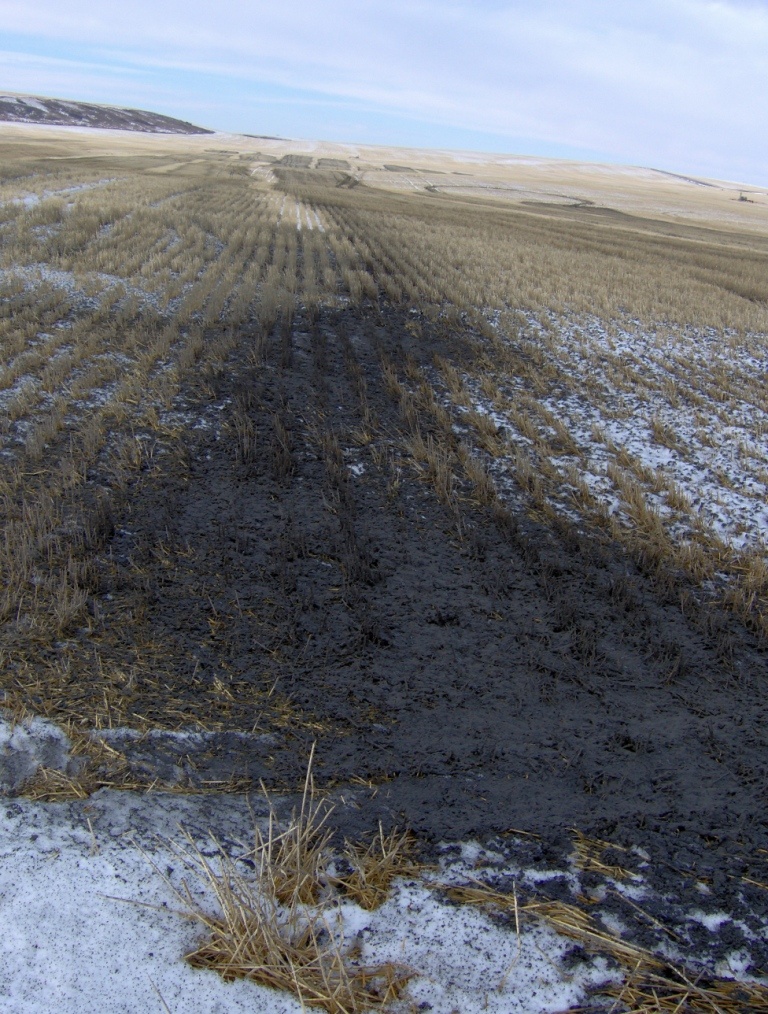 Encana drilling waste dumped at Rosebud, 2012
1,000+ Health Professionals Call on President Obama to Stop Fracking
Fracking wastewater—often laced with heavy metals (e.g. lead, arsenic) and radioactive materials (e.g. radon, uranium)—has leached from hundreds of waste pits into groundwater.
Is There a Regulator in the House? Through the Fracking Rabbit Hole with Nova Scotia Environment
The Health Canada guidelines for acceptable exposure used by the provincial Environment department are now decades out of date. Considering the wide distribution of subsurface uranium at the same depths as shale beds, and that the first two fracked test wells in the province turned up wastes with elevated levels of radioactive materials
Fracking, Has the USGS Been Co-opted?
The recent USGS radon measurements were also inconsistent with the concentrations of uranium and radium in Marcellus shale measured by the USGS in 1980 (Leventhal J, et al, USGS, "Geochemistry of trace elements and uranium in Devonian shales of the Appalachian Basin," 1981; Open File Report 81-778).
Testing by USGS Demonstrates Contaminants Are Still Present in EPA Deep Monitoring Well Water Near Pavillion, Wyoming 
The chemical contaminants detected by USGS in the water from MW-01 that corresponded to gas drilling activities and hydraulic fracturing include Diesel Range Organics, Gasoline Range Organics, Methane, Ethane, Propane, Uranium, Radium 226, Radium 228, Cadmium, Chromium, Lead, Phenol and the PAHs including Naphthalene and Pyrene compounds.
The report also identifies a number of risks to human health, water and the natural environment from fracking wells. These risks included:
– Widespread pollution of groundwater, rivers and lakes with dozens of cancer-causing fracking compounds and other "highly toxic" pollutants such as benzene, hydrochloric acid and isopropanol.
– Accidental release of underground uranium and other radioactive elements into the water and soil.
… A study by the University of Buffalo in the US last year also raised concern about the possible release of underground uranium and other radioactive compounds when rocks are cracked up with hydrochloric acid.
Radon threats are grounds for precaution
This gas is from shale that often contains significant quantities of uranium, as well as the products of its radioactive decay, including radium and radon, a colourless, odourless, and intensely radioactive gas.
Pennsylvania: Zimmerman lawsuit says drilling polluted water
PERFECT BASELINE TESTS
Baseline tests on Zimmermann's water a year before drilling began were "perfect," he said. In June, water tests found arsenic at 2,600 times acceptable levels, benzene at 44 times above limits and naphthalene five times the federal standard. Soil samples detected mercury and selenium above official limits
Both she and her husband, who works in oilfield services, have recently lost crowns and fillings from their teeth; tooth loss is associated with radiation poisoning and high selenium levels, also found in the Schilkes' water.