The Study: Unconventional Gas and Oil Drilling Is Associated with Increased Hospital Utilization Rates by Thomas Jemielita , George L. Gerton , Matthew Neidell, Steven Chillrud, Beizhan Yan, Martin Stute, Marilyn Howarth, Pouné Saberi, Nicholas Fausti, Trevor M. Penning, Jason Roy, Kathleen J. Propert, Reynold A. Panettieri Jr. July 15, 2015, PLoS ONE 10(7): e0131093. doi:10.1371/journal.pone.0131093
Hydraulic fracturing linked to increases in hospitalization rates in the Marcellus Shale Press Release, July 15, 2015, University of Pennsylvania School of Medicine in EurekaAlert.org
Pennsylvania residents in counties with high well density more likely to be admitted for suite of ailments
Hospitalizations for heart conditions, neurological illness, and other conditions were higher among people who live near unconventional gas and oil drilling (hydraulic fracturing), according to new research from the University of Pennsylvania and Columbia University published this week in PLOS ONE. Over the past ten years in the United States, hydraulic fracturing has experienced a meteoric increase. Due to substantial increases in well drilling, potential for air and water pollution posing a health threat has been a concern for nearby residents.
To address this issue, researchers from two Environmental Health Science Core Centers (EHSCC) of the National Institute of Environmental Health Sciences — the Center of Excellence in Environmental Toxicology (CEET) at Penn's Perelman School of Medicine and the Center for Environmental Health in Northern Manhattan at the Mailman School of Public Health, Columbia University, examined the link between drilling well density and healthcare use by zip code from 2007 to 2011 in three northeastern Pennsylvania counties.
Using databases that contained over 198,000 hospitalizations (which includes multiple hospitalizations for the same person), the team examined the top 25 specific medical categories for hospitalizations, as defined by the Pennsylvania Health Cost Containment Council. They associated these categories with residents' proximity to active wells. Two of the counties — Bradford and Susquehanna — saw a significant increase in drilling activity over this time period, while the control county, Wayne, experienced no drilling activity due to a ban on drilling in that county because of its proximity to the Delaware River watershed.
"This study captured the collective response of residents to hydraulic fracturing in zip codes within the counties with higher well densities," said senior author Reynold Panettieri, Jr., MD, a professor of Medicine and CEET deputy director.
"At this point, we suspect that residents are exposed to many toxicants, noise, and social stressors due to hydraulic fracturing near their homes and this may add to the increased number of hospitalizations. This study represents one of the most comprehensive to date to link health effects with hydraulic fracturing."
However, the authors caution that more study is needed to determine how specific, individual toxicants or combinations may increase hospitalization rates. For example, the increase in cardiology hospitalizations could be related to an increased exposure to air pollution such as diesel exhaust and fine particulate matter; however, this would require personal monitoring studies to measure exposure to specific toxicants, Panettieri notes. "Our findings provide important clues to design epidemiological studies to associate specific toxicant exposures with health end-points."
[How long are experts willing to let families be oil and gas industry toxic experiment guinea pigs?]
Their findings revealed that cardiology and neurologic inpatient prevalence rates (the proportion of a population found to have been hospitalized per 100 residents per year) were significantly higher in areas closer to active wells, as determined by the proximity of wells to a person's home and their density as defined by the number of active wells per square kilometer. In addition, increased neurologic inpatient prevalence rates were associated with higher well density. Hospitalizations for skin conditions, cancer, and urologic problems were also associated with the proximity of dwellings to active wells.
The team found that 18 zip codes had a well density greater than 0.79 wells per square kilometer, and residents living in these zip codes were predicted to have a 27 percent increase in cardiology inpatient prevalence rates for each year this specific active well density existed compared to Wayne County residents where there is no drilling. The researchers aim to look at specific types of health problems within these broad categories in the future. [Emphasis added]
[Refer also to: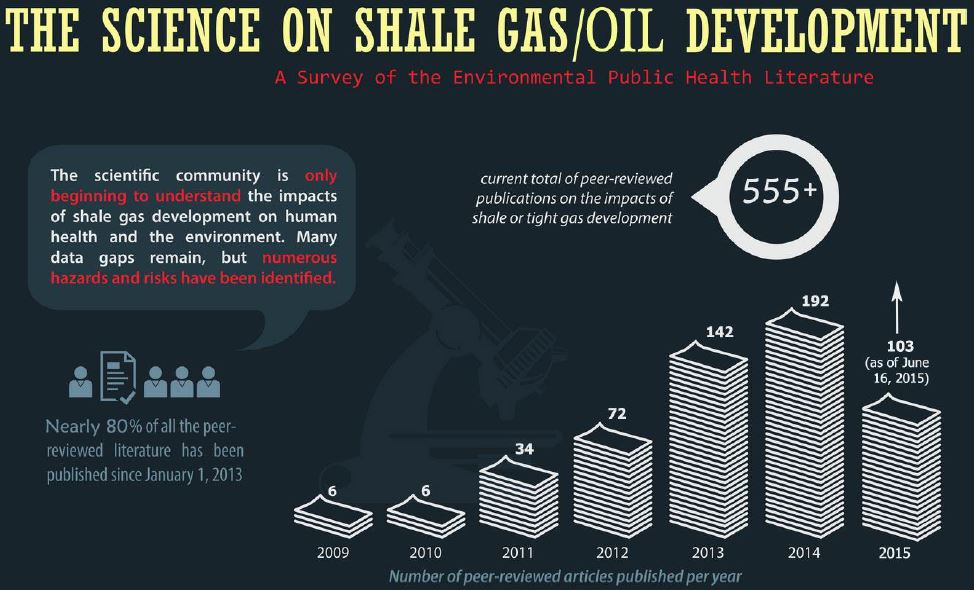 Fracing's long reach: New Study says Fracking Wells Could Pollute The Air Hundreds Of Miles Away
Massive study finds health, safety and environmental uncertainties regarding fracking's dangers have 'grown worse over time'
Secondhand Smoke: "Pollution from our fracking wells in Pennsylvania may be drifting down to Maryland, raising ethane levels in the state to unhealthy levels"
Texas: The Parrs still waiting for their $2.9 Million frac win against Aruba Petroleum for harming their health. How many years will the system delay?
British Medical Journal publishes letter by 20 high profile medical and public health experts calling for ban of "inherently risky" frac industry; Medact's new report concludes: fracking "poses significant risks to public health"
MUST (LONG) READ! Special Issue of Journal Environmental Science and Health, Part A: Toxic/Hazardous Substances and Environmental Engineering: Facing the Challenges – Research on Shale Gas Extraction
More peer-reviewed studies indicating health harm from fracing and natural gas production, Dogs "found to be particularly sensitive, suggesting both health concerns for the animals and new ways to track pollution through animals' exposures"
New York State to ban fracking because of red flags to public health. Health Commissioner Howard Zucker: "Would I let my child play in a school field nearby? After looking at the plethora of reports, my answer would be no."
Fracking might be as damaging as thalidomide, tobacco and asbestos, UK's Chief Scientific Adviser warns in new report: "In all these and many other cases, delayed recognition of adverse effects incurred not only serious environmental or health impacts, but massive expense"
Frac'ing could threaten air quality, workers' and public health, University of Maryland report says
Sounds like Alberta! Pennsylvania health officials ordered to ignore fracking-related health complaints, Former Department of Health employees say they were forbidden to talk about drilling
Don't allow drilling and fracking to destroy our clean water in Lethbridge and county; 1,000+ Health Professionals Call on President Obama to Stop Fracking
Why was a 2012 Health Canada Report, admitting significant health hazards and risks to groundwater and air from hydraulic fracturing, kept from the public?
With law violations, hazards, waste dumping, air noise land water pollution, permanent water loss, community division, adverse health impacts, lies, fatalities, enabling regulators politicians courts, massive subsidies, PR Panel urges industry to change frac 'conversation'
'Naturally Occurring' Pollutants From Fracking Called 'Serious Concern', could be very harmful to environment and human health
Alberta family, the Daunheimers near Didsbury, suing Angle Energy for $13 million for causing harm to health, property, financial status, personal safety and water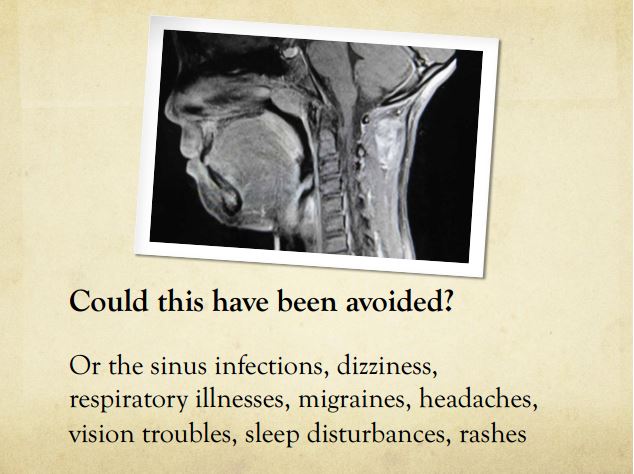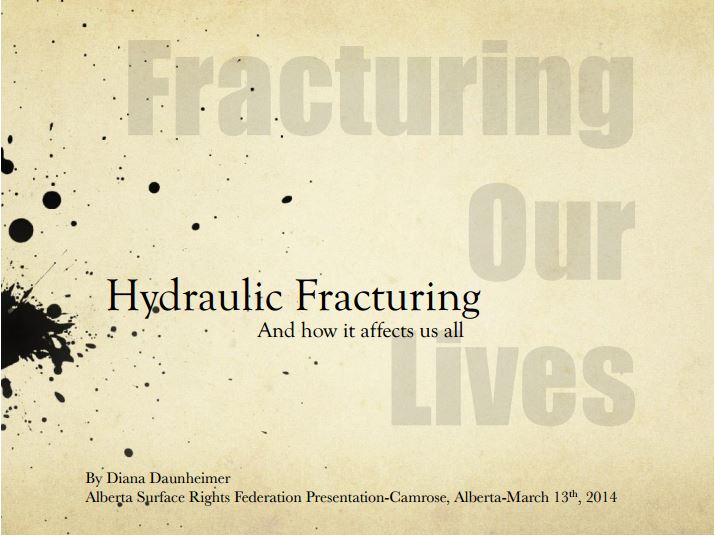 Slides from Diana Daunheimer presentations
ERCB (now AER) and AESRD ["Alberta Health Couldn't make it"] answers questions about fracking