Drilling Grilling:  We don't want you here; a group of Hells Angels would be more welcome by Katie May, December 6, 2013, Lethbridge Herald
Dissent was the key message a Calgary-based oil company heard during a second public consultation session in Lethbridge Thursday evening. A steady stream of local residents stopped by the Lethbridge Lodge Hotel to share their opinions on a controversial proposed fracking site drilling three wells for oil and gas within city limits – a project Lethbridge City Council has already denounced. Representatives from Goldenkey Oil Inc. held the open house a day after concerned residents packed city hall in protest of the project. David Hill, a consultant for Goldenkey, said the company wasn't invited to that meeting, but that he's interested in hearing people's feedback and answering their questions.
Major concerns he's heard have revolved around fracking, water usage and protection, and the city's future expansion. The company has proposed drilling in West Lethbridge, near current homes, and Hill said he's been talking to the city about this plan for almost two years. "We hear the people, and I feel for those who don't want this here. Where I guess I'm coming from is a real technical basis for that and what is it that we can do to mitigate that? We're just pursuing this geological formation that happens to be within the city limits. We would not choose to be in the city limits except that this is where the geological feature happens to be, we think. It may not be there. It's a high-risk well in terms of whether we're going to find anything, so we wait to see what happens," Hill said.
When she seized an opportunity to speak to Hill, former city councillor candidate Rena Woss didn't mince words. "I just want to say that we don't want you here. A group of Hells Angels would be more welcome," she said. Others didn't go quite that far. Another former councillor candidate, Martin Heavy Head, said he thought the consultation – a follow-up to Goldenkey's earlier public meeting at the end of October – was a step in the right direction but that it glossed over potentially negative effects the project could have on personal and environmental health. "It feels like a very positive and Goldenkey-friendly presentation, but there's no possible or likely downsides being presented."
He said he's concerned about the company's proposed use of University Drive as a dangerous goods route and about fracking risks such as earthquakes. "I'd like to see the municipality stonewall this as much as possible and make it so it's not equitable for the company to do it," he said. "I'd like to see this project not happen, just because there is an overwhelming negative impact felt throughout people who live by these wells (in other areas) who have experienced this, who live with this, who know this."
Big oil, big problems? by Nick Kuhl, December 5, 2013, Lethbridge Herald
Howard and Nielle Hawkwood, whose Cochrane area ranch is in close proximity to dozens of wells, were at city hall Wednesday to share their story at a meeting expressing concerns over the proposed project to drill for oil on the westside.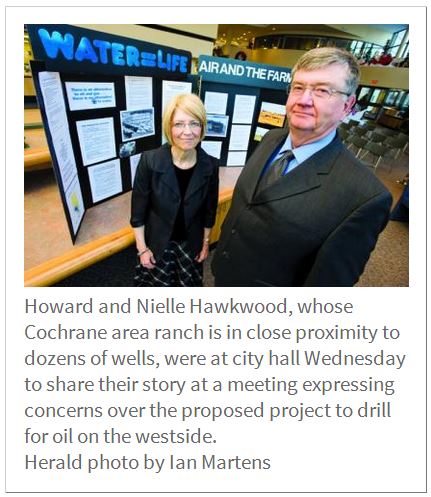 Howard and Nielle Hawkwood own a picturesque 1,440-acre property just northeast of Cochrane. But not all is what it seems. The Hawkwoods have experienced health problems, dead cattle and earthquakes causing property damage in the past three years – all, they say, as a result of fracking operations and more than 80 oil wells just upwind from their ranch. The couple were two of the guest speakers during an open house, community engagement and panel discussion, organized by a concerned group of Lethbridge residents, Wednesday evening in the atrium at Lethbridge City Hall. The session was the latest in a series of movements opposed to the proposed operation by Goldenkey Oil Inc., which is anticipated to make its formal request next month to drill at sites within city limits on the westside. "We're trying to give people an opportunity to hear unbiased information – so information from engineers and scientists who aren't on the Goldenkey Oil payroll," said event organizer Sheila Rogers.
"The people with Goldenkey Oil told us that there's nothing to worry about and everything will be fine. But we're not so convinced on that. We know that there are many dangers associated with fracking." Speakers included Braum Barber, an engineering instructor at Lethbridge College, Jim Byrne, chair of geology at the University of Lethbridge, and environmental scientist Brynn Choquette. They talked about how air pollution from flaring, water contamination and semi truck traffic in neighbourhoods could occur in Lethbridge should Goldenkey's request be approved.
The Hawkwoods, meanwhile, discussed the series of issues that began soon after fracking started about five and six kilometres to their west in 2009. Since they live on a ridge, which they said is level with the top of the nearby flare stacks, they are affected anytime a west wind is blowing. The flaring has caused hair loss to Nielle Hawkwood, to the point that she now wears a wig, as well as skin, eye and respiratory irritation. "As the time went on my symptoms got worse," she said, adding she went to a dermatologist and was told something had affected her immune system. "So we know from some of the chemicals that they use in fracking that there are effects on people's immune systems."
In the fall of 2012, the Hawkwoods lost 18 cattle. They also noticed an off taste in their own drinking water, which is drawn from a ground well source. They then tested the water, as they had done for years, and observed that the chloride levels had doubled. "I've actually checked all my neighbours' water," Howard said, adding he has also had his horse barn wrecked and his grain bins packed solid due to the underground vibrations. "Everybody's got the same problem."
The Hawkwoods have contacted the Alberta Energy Board and have written to politicians, but nothing has happened. They said most of their neighbours are trying to sell their properties.
"They're frightened and they want to leave, or they've been affected," Nielle said. "There's a neighbour to the south of us – he has prostate cancer, his wife lost her hair, their two teenage daughters lost their hair; they've abandoned the house and told the real estate agent to get what you can for it."
"I think the government knows what the problems are and they're refusing to act," she continued. "They're not acting in Albertans' interests, they're acting in the oil companies' interests. This is not right. This is not safe. Fracking is not safe."
"They don't tell you the truth," Howard added. "I'm afraid that you're going to have a lot of sick people here in Lethbridge. This is going to be a major problem." [Emphasis added]
More on the Hawkwoods and other Albertans harmed by hydraulic fracturing: 
What Lies Beneath: CCTV America Investigation into Hydraulic Fracturing Interviews Alberta landowners, including former oil engineer, fracing fumes damaging health
FrackingCanada Fracking Rocky View County
[Reportedly, there were 300 attending the event and another 100 at the open house]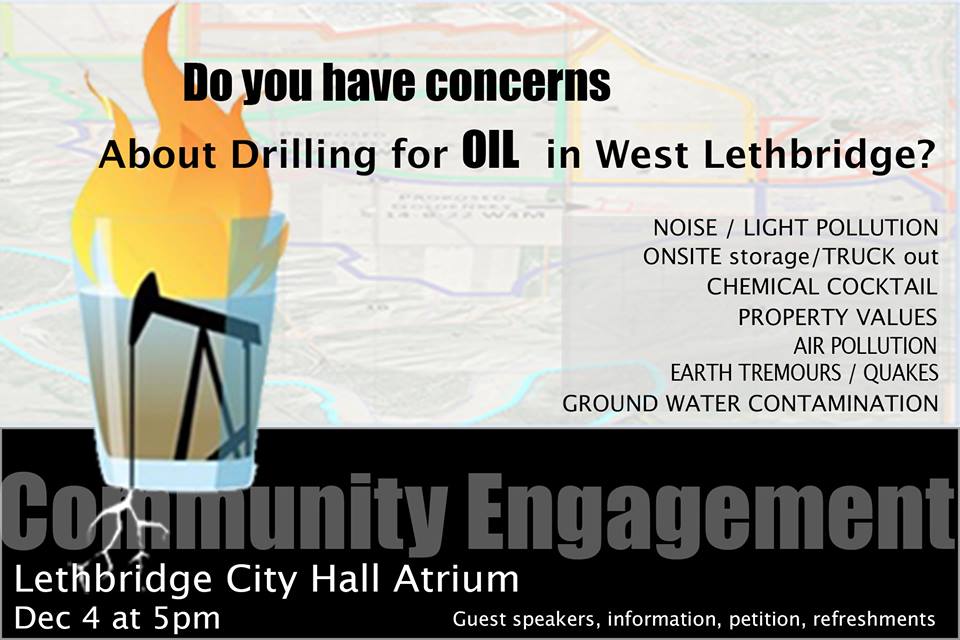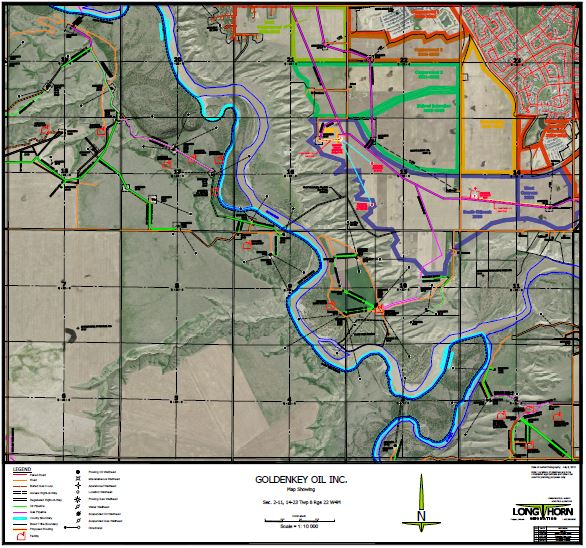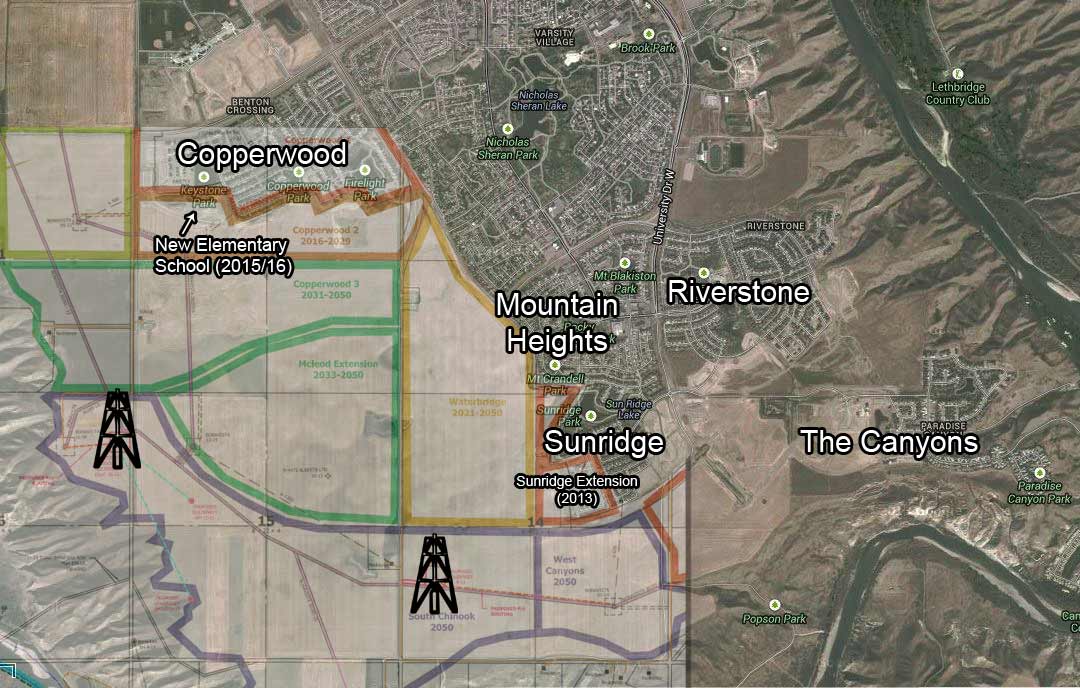 [Refer also to:
Radon — #9 In "Top 10 Toxic Ingredients Used By The Fossil Fuel Industries"; Cochrane Alberta home tests high for radon
Lobby group PSAC and 11 fracking companies try, with dishonesty, to calm public fears with new voluntary code of conduct, that isn't really new
Promises promises promises, Alberta government "hopes" to finally have long promised environmental monitoring panel running by early 2014
West side landowner Jenny Skinner and Sheila Rogers, Chair Lethbridge branch Council Canadians protests oil drilling by Goldenkey Oil in Lethbridge
McKillop Church gets in on fracking debate with information session in Lethbridge, Alberta; opposition to oil exploration in the city continues to grow
Oil drilling with possible hydraulic fracturing and secret chemicals in Lethbridge city limits is cause for concern
Open house tries to allay fracking fears
Alberta to complete review on urban oil drilling, Planned well in Calgary suburb sparks controversy
CEO of Gastem says ecology activists are fascists and states that 'nobody' in Alberta complains about drilling wells, Le pdg de Gastem qualifie les militants écologistes de "fascistes"
Wheatland County (Alberta) Councillors call for Fracking Halt until Protective Methods are Developed
Council opposes oil & gas drilling in city
Seismic event in southern Alberta: could it be an earthquake
NDP: government must conduct independent review of fracking as water allocation outpaces scientific assurance
NDP want scientific review of fracking
NDP voicing concerns in Lethbridge about gas fracking
Frack Protester Lois Frank has charges stayed
Oil, gas drilling could come at a price
Front Page: 'Frack hell is imminent'
Lethbridge locals protest fracking
Lethbridge locals protest fracking, Protesters band together in southern Alberta to ask for a province-wide ban on the drilling practice ]