Alberta announces new cancer-care plan by Keith Gerein, April 30, 2013, Edmonton Journal
Reduced wait times, more effective treatments and improved rates of prevention are among the major benefits Alberta patients can expect from a new provincial cancer strategy, the Alberta government said Tuesday. The plan, Changing Our Future, is the blueprint that will guide the province's efforts over the next 17 years to tackle a growing health menace while keeping public spending under control.
…
Currently, the province records about 16,500 new cancer cases each year. By 2030, that number is expected to jump 65 per cent to 27,000 cases annually. "And the last time I looked, it's not likely we can expect a 65-per-cent increase to our budget," said Dr. Paul Grundy. "How are we going to cope with that?" Grundy is the senior vice-president and medical officer for CancerControl Alberta, a new division of Alberta Health Services responsible for bringing all cancer facilities and programs under one roof. One of his major responsibilities will be to make the system more efficient, since the new strategy does not envision any short-term funding increase. He said the goal of keeping costs in check will require a drop in the number of cancer cases, in part through better prevention efforts. This includes initiatives to reduce alcohol and tobacco use, improve diet and exercise, and control sun exposure and artificial tanning — all of which have an impact on the risk of contracting the disease. "If you look at the total amount of time and dollars out of the budget we've devoted to cancer prevention, it's actually pretty small," Grundy said. "We really do need now to change the focus to shift more of our dollars and time to address the issue of prevention. It is key to the success of this plan." [Emphasis added]
[Refer also to:
In famous flaming water case, regulator to argue 'no duty of care' to landowners or groundwater
Email from Alberta Health Services to Jessica Ernst responding to questions about health impacts from hydraulic fracturing.
The Campbells: "….we were told by Alberta Environment to shock chlorinate our well (adding chlorine to kill bacteria) and we did – three times in two years!! Then we found in information published by Health Canada, adding chlorine to methane gas creates trihalomethanes and chloroform which are known to be toxic."
Source:  FrackingCanada How the West was Lost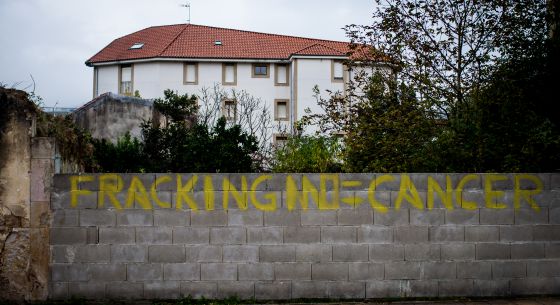 Source: El Pais
Trican Donates $5 million for cancer research