Mass. Senate Passes 10-Year Fracking Moratorium Press Release by Environment America, June 10, 2016
Boston, MA. – The Massachusetts Senate approved a bill yesterday to place a ten-year moratorium on fracking and the disposal of fracking wastewater in the Commonwealth.
"Across the country, fracking is polluting drinking water and making families sick," said Ben Hellerstein, State Director for Environment Massachusetts. "We applaud Senate leaders for taking steps to ensure this dirty drilling and its toxic waste never come to Massachusetts."
… In a single year, fracking across the country produced at least 14 billion gallons of wastewater containing toxic and often radioactive elements — wastewater for which there is no known failsafe disposal or treatment method.
Although fracking is not currently happening in Massachusetts, the Hartford Shale, a rock formation under the Connecticut River Valley, may contain deposits of gas suitable for drilling.
"The harm caused by fracking has no place in Massachusetts," said Senate President Pro Tempore Marc R. Pacheco. "Fracking releases harmful chemicals into our air while contaminating fresh groundwater, causing seismic events, flaring methane and severely harming public health." 
A growing number of documented cases show individuals suffering acute and chronic health effects while living near fracking operations — including nausea, rashes, dizziness, headaches and nose bleeds. Additionally, methane leaks from fracking wells and associated infrastructure are a significant source of global warming pollution.
"When an industry group held a seminar a few years back about fracking in the Hartford Basin, I immediately filed a bill to prevent this activity," said Representative Denise Provost. "The Connecticut River Valley is heavily dependent on well water, and its surface waters provide much of the drinking water for Greater Boston. A fracking ban is essential to protect our irreplaceable water resources."
More than 1,000 health professionals have called on state and federal officials to protect the public from the harms posed by fracking.
"Massachusetts has long been a leader when it comes to promoting clean energy and stopping global warming. A ban on fracking is a great way to continue our record of leadership," [Meanwhile in Alberta, Notley's NDP put Rancher Nielle Hawkwood's frac ban resolution last on the list (#66) at the NDP's 1st Annual Convention.] said Hellerstein. "Now, it's up to the House and Governor Baker to finish the job."
If the senate-passed bill becomes law, Massachusetts would become the latest along the East Coast to restrict the dirty drilling practice. Vermont and New York have banned fracking, and Maryland has enacted a moratorium of its own. 
"Fracking has been a rolling environmental disaster across the country, poisoning waterways and marring landscapes," said Rachel Richardson, Stop Drilling Program director for Environment America, the national federation of Environment Massachusetts. "We're glad to see Massachusetts take steps to avoid fracking's destruction, and we hope more states will follow suit."
###
Environment America is a federation of state-based, citizen-funded environmental advocacy organizations. Our professional staff in 27 states and Washington, D.C., combines independent research, practical ideas and tough-minded advocacy to overcome the opposition of powerful special interests and win real results for the environment. Environment America draws on 30 years of success in tackling environmental problems.
[Refer also to: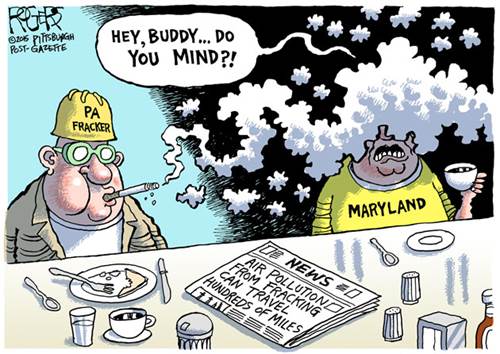 2015: Secondhand Smoke: "Pollution from our fracking wells in Pennsylvania may be drifting down to Maryland, raising ethane levels in the state to unhealthy levels"
2015: Maryland Senate Passes Bill, 93-45, To Declare Fracking An "ultrahazardous and abnormally dangerous activity"
2015: Maryland amendment that would have removed words "ultrahazardous and abnormally dangerous" describing fracing from bill holding companies liable for damages fails by 20-26 vote
2014: Frac'ing could threaten air quality, workers' and public health, University of Maryland report says
2013: Detailed scoping report: Potential public health impacts of natural gas development and production in the Marcellus Shale in Western Maryland
2013: Maryland Delegates: Children's Environmental Health Report Provides Fuel for Change to protect children from fracking chemicals
2013: Bill Would Ban Fracking in Massachusetts for 10 Years
2012: Springfield Massachusetts Natural Gas Explosion, 18 Injured, 42 Buildings Damaged
2012: Consumer Groups and Lawmakers Call for Statewide Fracking Ban in Maryland
2011: Maryland Sues Gas Company for Fracking Spill
2011: Maryland AG to sue Chesapeake Energy over Pennsylvania well leak ]