Industry urged to change hydraulic fracturing 'conversation' by Rachael Seeley, Editor, Unconventional Oil & Gas Report, February 18, 2014, Oil and Gas Journal
The oil and gas industry needs to change the conversation about hydraulic fracturing by engaging with the public to demystify the process and highlighting efforts to reduce the environmental footprints of drilling and completion. This was the message delivered by a panel of public relations experts at Petroleum Connection's Clean Frac'ing Conference in Houston.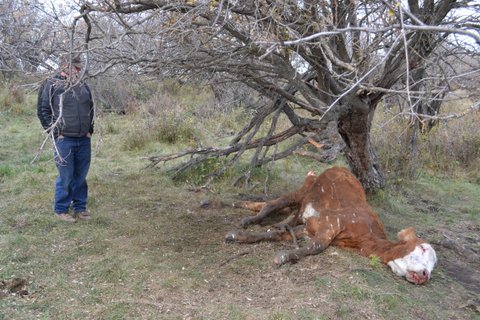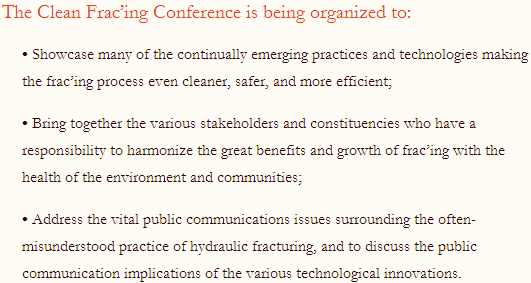 David Holt, spokesperson for the Consumer Energy Alliance, asked why the term "environmentalist" is applied only to opponents of oil and gas development. "We're all environmentalists," he said. "No one wants to destroy the environment."
Richard Levick, chief executive officer of the communications firm LEVICK, said critics have been allowed to define the conversation about hydraulic fracturing, and the industry now faces crises of branding and trust.
Ernst flaming water featured on National Geographic's May 9, 2011 coverage of the study that linked fracing and drilling to methane contamination in drinking water wells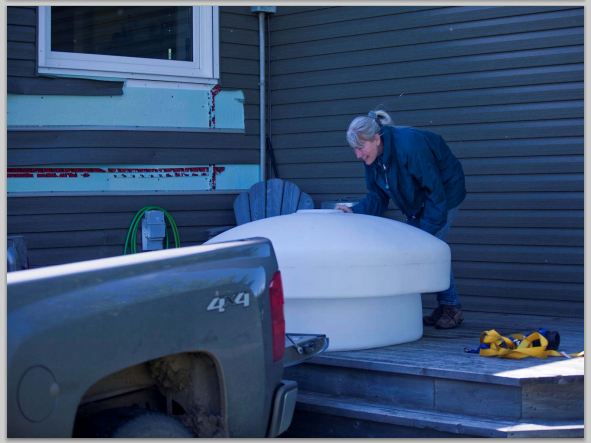 2013: Jessica trying to load her water tank. Hard and heavy work for one person. Encana frac'd the Rosebud drinking aquifers in March 2004. Jessica still lives without safe water.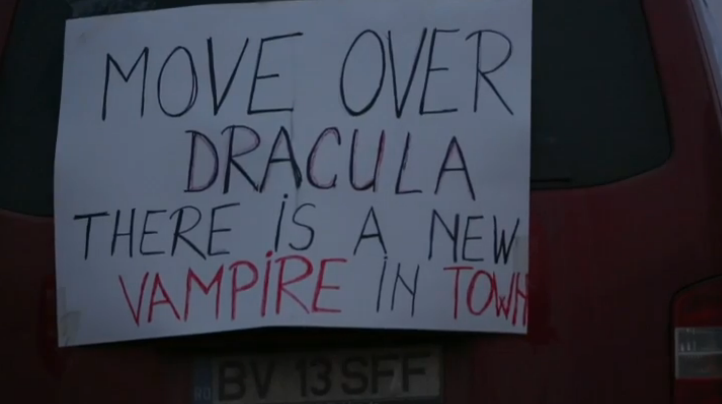 Above snap from Romanian peasants' revolt against hydraulic fracturing, Chevron tries to bribe with yoghurt
Public fear of fracing is motivated by emotions, Levick said. "This is not a factual argument. Perception trumps reality 100% of the time."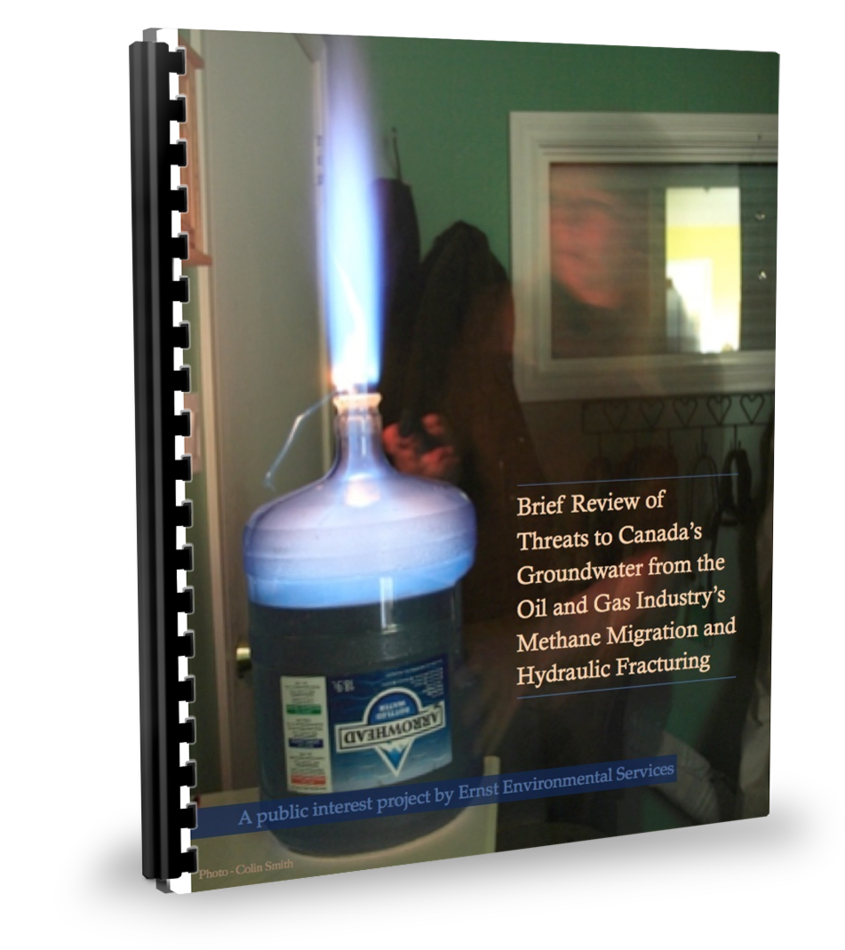 He recommended humanizing the industry by enlisting third parties to share ways they have benefited from unconventional oil and gas development. For instance, Levick suggested creating a video highlighting the story of a retiree on a limited budget who is not forced to choose between purchasing food and heating his home due to the affordability of US natural gas. [And what when his water is frac'd? Who pays then?]
Levick said people are more receptive to ideas seen as coming from peers than they are to technical explanations about the facts of energy development, as this carries the implication of ignorance on the part of the listener.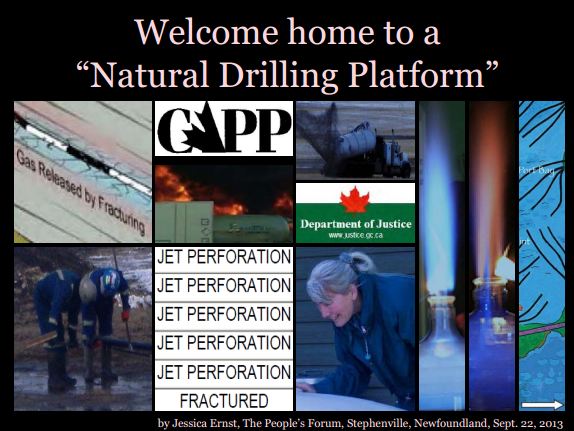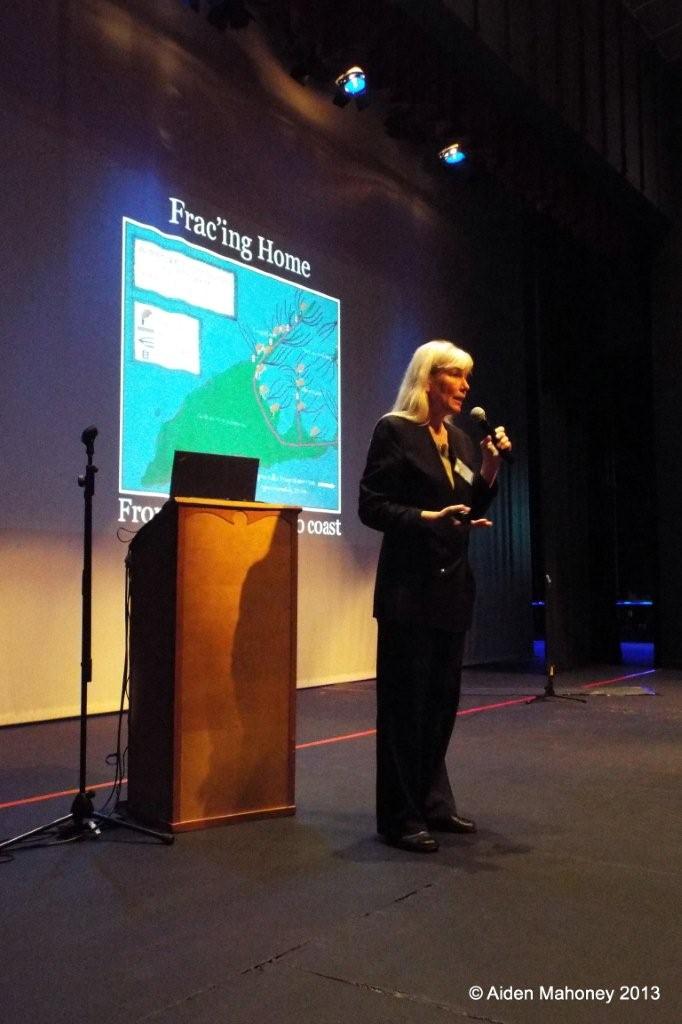 Jessica presenting to over 400 in Stephenville, Newfoundland, September 22, 2014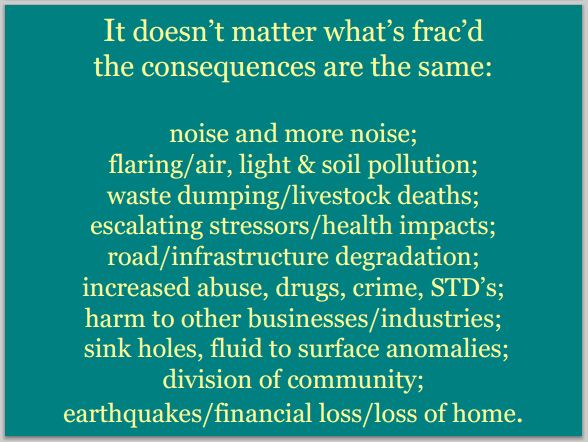 "What's missing?" Jessica asked the audience.
"Water contamination!" yelled the audience.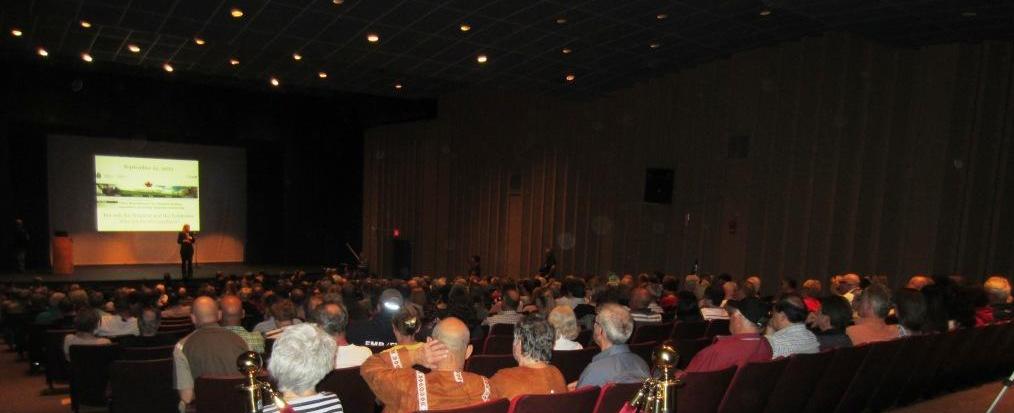 Engaging the public
George Stark, spokesperson for Cabot Oil & Gas, said his company is working to engage the public in a dialogue about energy development. "We've allowed the emotion of the opposition to dictate the conversation," he said. Cabot, a large producer in the Marcellus shale, received an unprecedented, positive response to an annual picnic it began hosting in the region 4 years ago. A few hundred people were expected at the inaugural event, Stark said, and more than 2,500 people showed up. Attendance at the picnic in 2013 exceeded 10,000. Stark said that is part of a larger effort under way at Cabot to demystify hydraulic fracturing. The company has also invited community leaders, elected officials, and members of the media to witness frac jobs.
Obie O'Brien, vice-president of government affairs for Apache Corp., stressed the importance of explaining hydraulic fracturing in nontechnical language.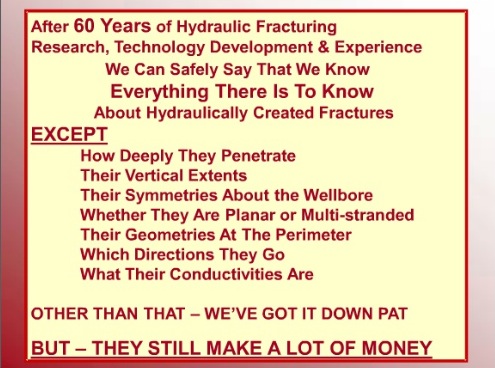 2008 industry presentation in Tulsa Oklahoma
He asked, "If I put a bottle in front of you and I told you it had 12 oz of dihydrogen oxide, would you drink it?" Describing water in this manner gives people pause, he said, in much the same way that listing the chemical composition of additives used in frac fluid does. O'Brien recommended highlighting instead the fact that frac fluid contains ingredients found in common household cleaning products, like liquid soap.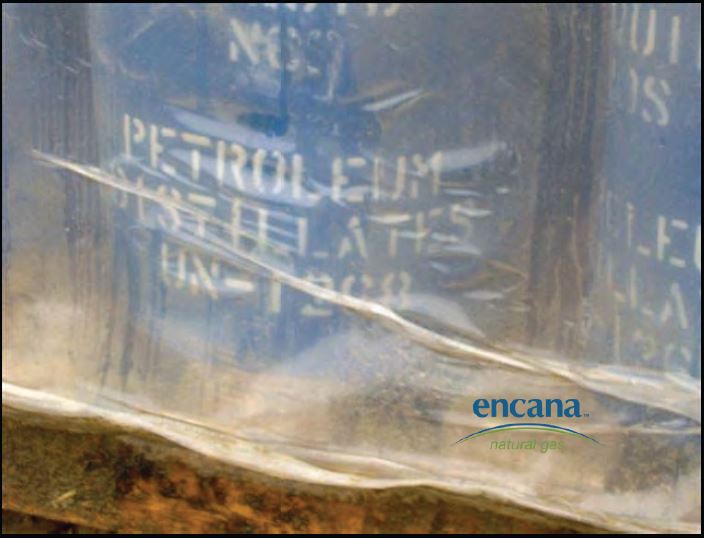 Pallets of petroleum distillates on Encana lease near Rosebud
600 litres of methanol sits on a frack truck near Cochrane, Alberta
Hugo Gutierrez, spokesperson for Marathon Oil Corp., said some fear of hydraulic fracturing stems from a lack of information and context. He pointed to exaggerated views about how much hydraulic fracturing strains water supplies.
While the actual claim on water supplies is relatively low, Gutierrez said, many producers, like Marathon and Apache, are working to reduce the amount of fresh water used in hydraulic fracturing operations. "I think we've got a good story to tell," he said. "But it needs to be simplified and told to a large body of people." [Emphasis added]