De Blasio signs Levin bill to ban fracking products, Council member says it will safeguard water supply by Paula Katinas, September 2, 2016, Brooklyn Daily Eagle
….New York has become the first city in the country to ban the use of oil waste products obtained through the controversial process of hydro-fracking.
Mayor Bill de Blasio signed into law a bill prohibiting the use of oil and natural gas waste products in the city.
The products are often used to de-ice roadways in the winter, officials said.
The bill, which was sponsored by Councilmember Stephen Levin,

seeks to protect New York City communities from toxic pollutants while at the same time safeguarding the water.
… The waste associated with hydro-fracking and other natural gas and oil extraction processes often contains radioactive elements like radium, carcinogens such as benzene, and other chemical additives, according to Levin, who said that without adequate protections in place, pollutants could leak into the drinking water.
The mayor signed Levin's bill on Aug. 31. The new law will go into effect 90 days from that date.
Levin (D-North Brooklyn) said the law breaks new ground in the effort to keep New York environmentally sound.
"This legislation will protect New York City communities from toxic pollutants and ensure cleaner water for generations to come and I hope that other legislative bodies will follow suit. All New Yorkers will benefit from their steadfast commitment to protecting our environment," Levin said in a statement.
New York state banned the practice of hydro-fracking in 2015, but Levin said byproducts of hydro-fracking are under-regulated and have been used to remove ice on roadways in cities and towns across the state.
Sean Dixon, the staff attorney for Riverkeeper, the organization that looks after the Hudson River, called the legislation a milestone.
"In the absence of a statewide ban, several New York's municipalities have stepped up, prohibiting these toxic oil and natural gas wastes in their wastewater treatment plants, water bodies and landfills, and have banned its use to de-ice roads. Now, we applaud the New York City Council for extending these same protections to its 8.5 million residents and their roads, parks, waterways and environment," Dixon said.
Specifically, the city's new law will:
Prohibit the discharge of any oil or natural gas waste to any surface water bodies located within the city or to any wastewater treatment plant located within the city.
Ban the application of any oil or natural gas waste upon any road, property or landfill located within the city.
Require all city contracts for the construction or maintenance of a city road to include a provision stating that no materials containing oil or natural gas waste will be used.
Councilmember Costa Constantinides (D-Astoria), chairman of the Council's Environmental Protection Committee, said Levin's bill will help ensure public safety.
"This type of hazardous substance does not belong in our landfills. This legislation helps us keep our environment clean and maintain our public health,"

he said.
In June, the U.S. Environmental Protection Agency established a new rule to prevent disposal of wastewater from hydro-fracking at public sewage plants [Emphasis added]
ADVERTISEMENT? NORM Waste Management, Best Practices and Disposal Options [VOLUNTARY?] for Western Canada by Tab Cuthill, P. Eng., RSO, Secure Energy Services Inc., September 01, 2016, Alberta Oil Magazine
No longer available at Alberta Oil Magazine. Available without images here.
Naturally Occurring Radioactive Material (NORM) in the oil and gas industry as a result of unconventional multi-stage horizontal fracturing into shale deposits.
SECURE Energy Services' Class I Hazardous Waste Landfill near Drayton Valley, Alberta was recently granted regulatory approval and licensed for NORM disposal. This is the first and only licensed NORM disposal facility in Alberta.
Shale deposits have higher levels of Uranium and Thorium source material than other sedimentary rocks. Uranium and Thorium decay products include Radium-226 and Radium-228 isotopes. These isotopes are soluble and brought to surface in production water and fracture flow-back fluids which then precipitate out and concentrate as radioactive scales and sludges.
Secure Pembina Landfill location …
… The remediation of NORM impacted flare pits, waste ponds and contaminated soils with these higher levels of radium require specialized handling, waste treatment and disposal options. One of the key aspects of successfully completing a remediation project involving radium impacted waste is to have a NORM Exposure Control Plan which meets the requirements of provincial Occupational Health and Safety Regulation in protecting workers from overexposure of NORM and ensuring that the site is surveyed and tested below Unconditional Derived Release Limits for diffuse NORM sources at the end of the project. This means having appropriately trained and qualified personnel and survey instrumentation on location to provide documented NORM Awareness Training to third party contractors, establishing control areas to restrict access and minimize the spread of contamination, decontaminating third party equipment prior to release and ensuring that all waste leaving location is properly packaged, manifested and transported to licensed facilities. [In reality, how often does that happen in Alberta or Saskatchewan?]
As NORM impacted volumes grow, one of the key management issues for NORM remediation projects is the lack of licensed and approved disposal options for NORM waste. In Western Canada, up until July 2016, there was only one licensed landfill in British Columbia capable of handling solid NORM waste, however, this landfill is restricted to very low levels of Radium 226 which often does not meet the needs of shale play remediation projects. In terms of NORM impacted liquids and sludges, licensed disposal is limited to two salt caverns in Saskatchewan.
The lack of approved NORM disposal facilities often prevent oil and gas operators from finding a suitable disposal option for NORM impacted waste streams. As a result, NORM waste is either being transported extremely long distances across provincial jurisdictions or the waste is sent to unlicensed waste processing facilities that do not have trained personnel to monitor and manage the NORM waste. [Third option? Dumped on foodlands, roads and in waterways?]
[Why did Alberta Oil Magazine post no credit for who created the above map? It's missing numerous oil and gas areas with NORM, notably in central and south central Alberta, eg, the Fish Scale Shales targeted by Encana (and now likely Ember, because Encana sold most of its Chinook Business Unit to Ember) are reported by industry to be radioactive.]
To address this issue, SECURE Energy Services' Class I Hazardous Waste Landfill (Pembina Landfill) near Drayton Valley, Alberta was recently granted regulatory approval and licensed for NORM disposal. This is the first and only licensed NORM disposal facility in Alberta. The Pembina Class I Hazardous Waste Landfill is engineered and designed to address the higher radium content being found in non-conventional shale plays and to ensure oil and gas operators have licensed and suitable disposal options.
Frequently Asked Questions
What is NORM?
Naturally Occurring Radioactive Material (NORM) is material found in the environment that contains radioactive elements of natural origin.

In the oil and gas industry, the main source of NORM is radium coming to the surface in produced water streams.
Where can you dispose of NORM?
SECURE Energy Services Pembina Class I Landfill, located 24 km northwest of Drayton Valley, Alberta.
How is NORM regulated?
The handling and disposal of NORM within Canada is

regulated

by the provincial and territorial governments.

[Which means nothing because Canadian "regulators" look the other way when oil and gas companies break bad, feigning to regulate from time to time to impress the world if bad photos spread in social media or if before the Supreme Court of Canada]

The transport, import and export of NORM must follow Canadian Nuclear Safety Commission (CNSC) regulations.

[Refer to comment in pink above]
How is NORM detected?
A NORM screening survey using sensitive radiation detectors is the

only

way to know if your facilities and equipment are NORM impacted.

It is recommended that a certified NORM Technician be utilized to perform gamma surveys,

 

[But not mandated for the oil and gas industry?]

which are quick and inexpensive to complete.
Do we accept NORM from out of province?
Yes, non-hazardous <70 Bq/g.
What forms of NORM are accepted?
We can accept the full range of NORM impacted solids including filters, tank bottoms, soils, pigging waste, PPE, demolition waste, and non-usable / non-recyclable equipment. [Emphasis added]
***
MUST READ article in Mountain View Gazette, August 30, 2016
Didsbury landfill taking 120,000 tonnes of oil and gas industry waste contaminated soil to use as cover. What a way to take industry's toxic waste and make taxpayers breath and pay for it!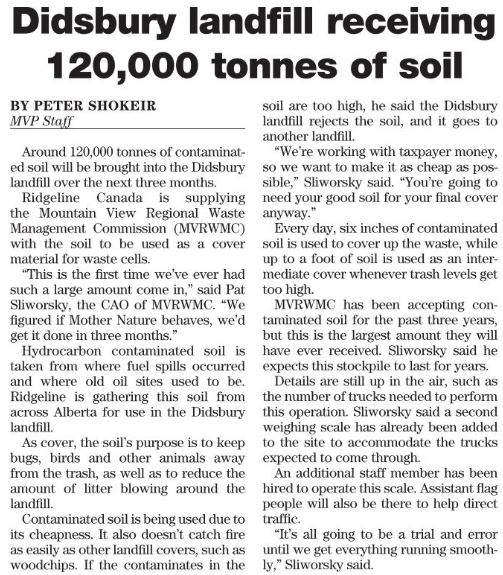 Think of the lungs of the dump workers and community's children.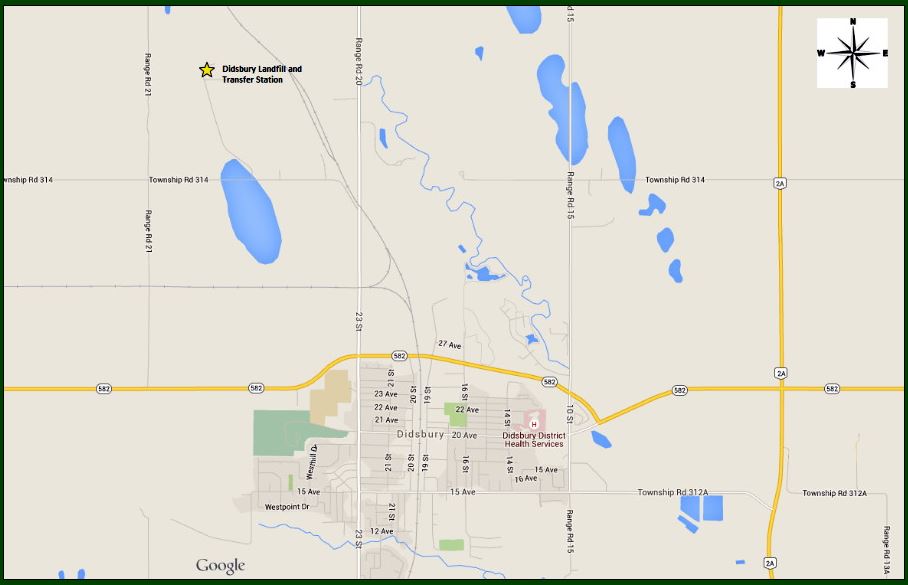 Dump Map from Mountain View County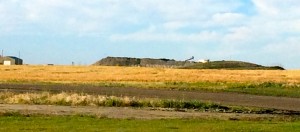 Didsbury oilfield waste pile
***
BELOW, A FEW OF MANY EXAMPLES OF OIL AND GAS INDUSTRY WASTE DUMPING REALITY IN CENTRAL ALBERTA, ON FOODLANDS!
2011:
Encana unlined waste pits at Rosebud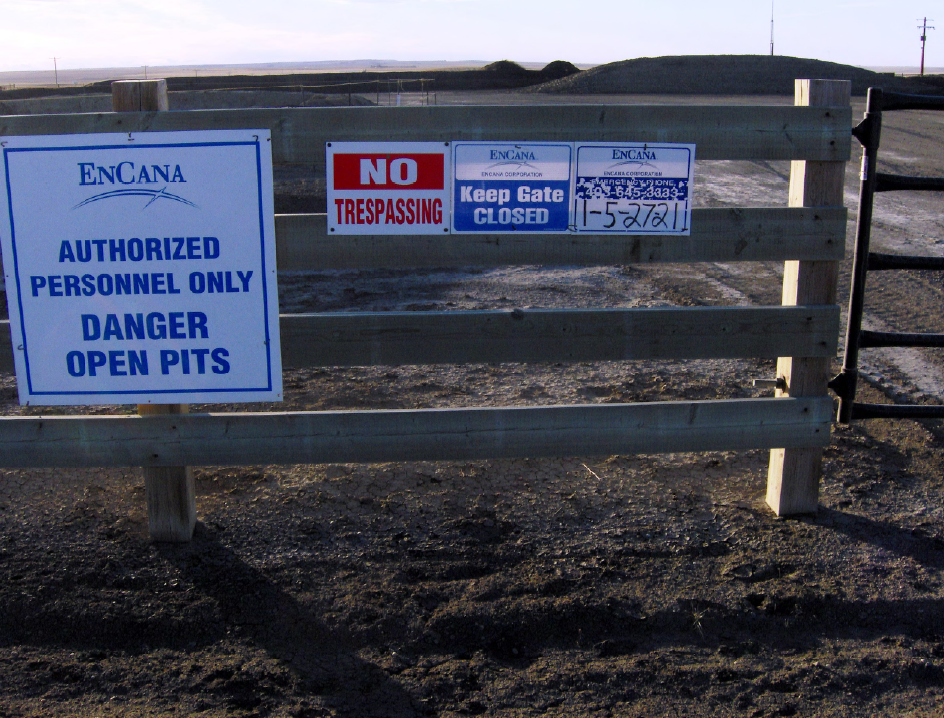 2011 Encana dumping its waste at Rosebud on cropland: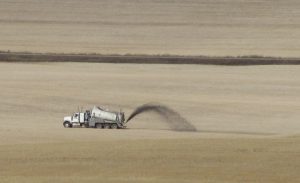 From this drilling operation under Ernst's already frac contaminated land: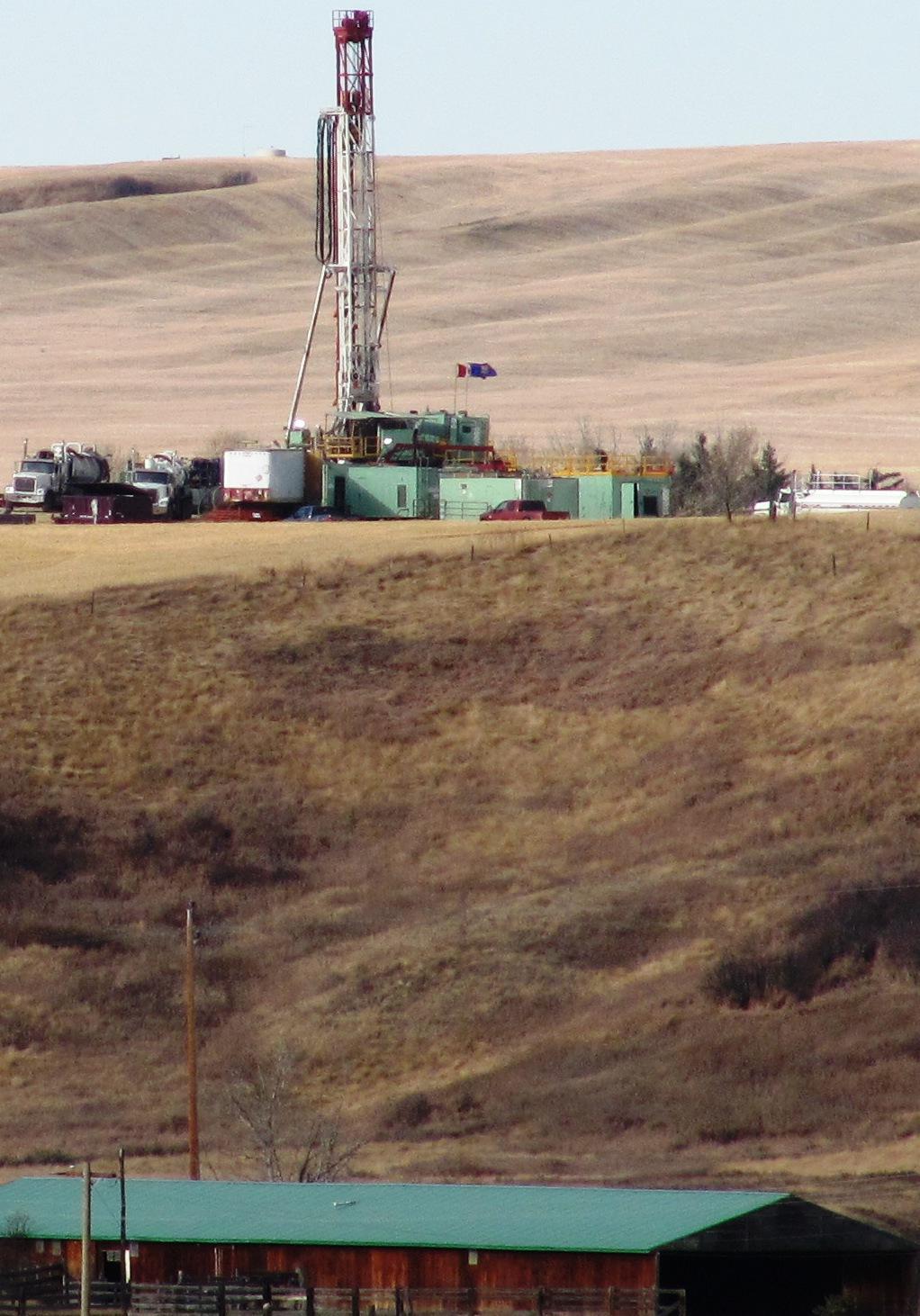 The barn on Ernst's property where her dangerously contaminated water well is. Encana illegally frac'd the community's drinking water aquifers in 2004 while politicians and their staff (including current NEB Chair Peter Watson, then Deputy Minister Environment), the AER and Alberta Environment fraudulently covered it up and bullied and abused harmed citizens trying to shut them up. In Ernst's experience, now Chair of the NEB Peter Watson was the nastiest of them all.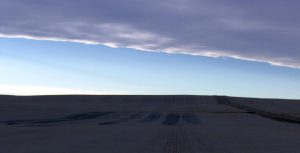 2011 Encana dumped waste strips on food land at Rosebud, Alberta, just east of where the company illegally frac'd the community's drinking water aquifers in 2004
2012:
Encana dumping its waste in the same foodland field above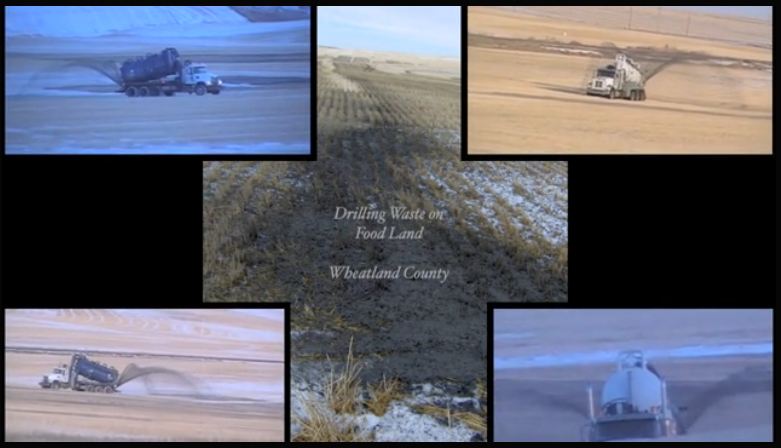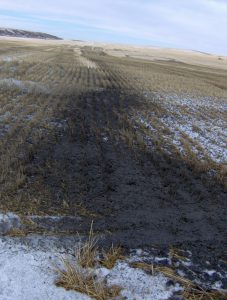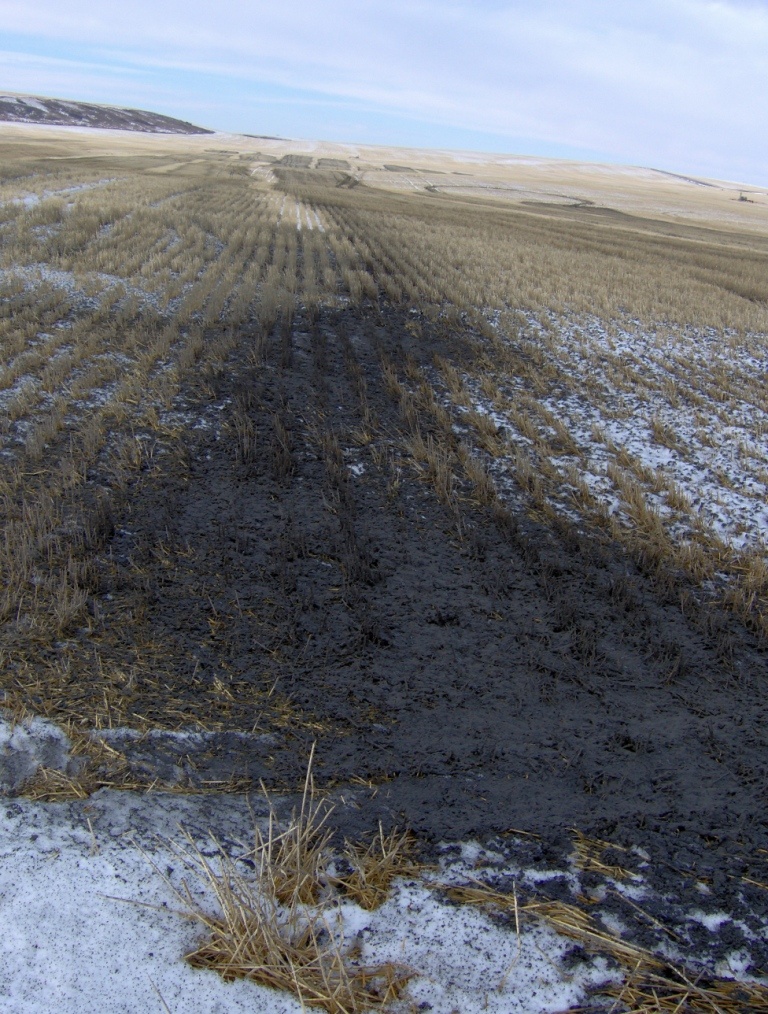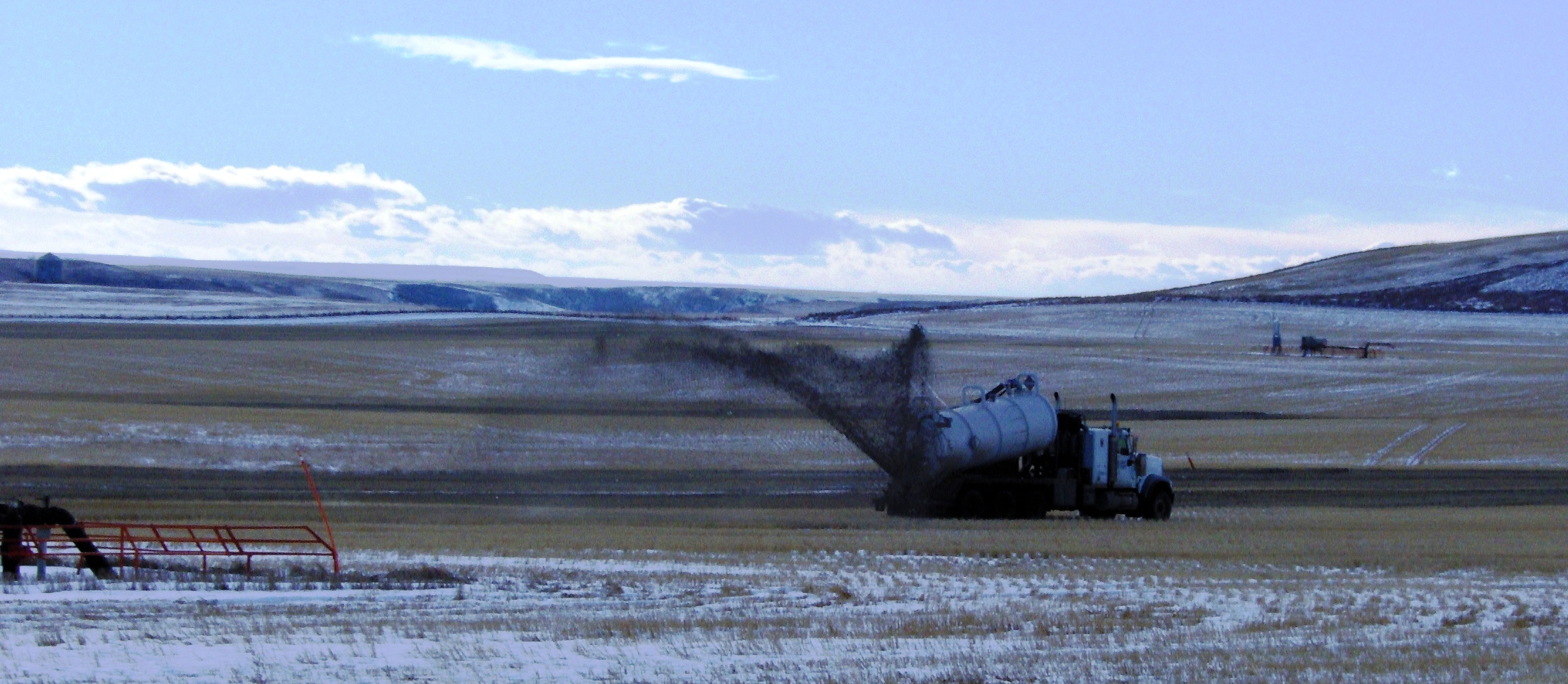 Below, photo just north of Calgary. All dumping blessed by the legally immune, bad faith and gross negligence operating, Charter violating, "No Duty of Care" AER?

How do you like  your toast?
With BTEX & hot by NORM?
***
Pennsylvania "regulators" OKs use of gas drilling waste on hunting club road by Associated Press, August 31, 2016, Bakken.com
State regulators are allowing nearly 4,000 tons of natural gas drilling waste to be used in a road project in north-central Pennsylvania. StateImpact Pennsylvania reports (http://n.pr/2bVa1fW) the Department of Environmental Protection has approved a plan from waste handler Clean Earth Inc. to use the materials on a road at the Bobst Mountain Hunting Club in Lycoming County.
StateImpact, a project of radio stations WITF and WHYY, says it's the first time drill cuttings are being used in an area that is not an industrial site.
The waste dirt and rock from drilling deep underground may contain chemicals and naturally occurring radiation. Most ends up in landfills. [Emphasis added]
[Refer also to:
2006 09 08: BJ Services New Brunswick radioactive frac blowout document (Part 1 of 4), Corridor Resources put in mailboxes of landowners and concerned citizens Penobsquis, New Brunswick The BJ Services frac'ing equipment was in the final stages of the stimulation operation when a washout of a segment of the frac iron occurred (piping between the pump trucks and the wellhead). (Part 2 of 4) (Part 3 of 4) (Part 4 of 4)
2006 Spill site in Penobsquis New Brunswick is free of radioactive waste, says Corridor Resources An official with the Department of Environment said it has never had to deal with a radioactive spill before. It has handed the case over to the Canadian Nuclear Safety Commission. A spokesman for the commission said the company stated that it had disposed of the substance properly, but it hasn't verified this claim by visiting the site.
2011 08 08: Fracking: New York State Health Department Radiation Now in Discussion
'2012 09 03: 'Fracking brine' Gas-well waste full of radium
2012 09 17: Hunt launched after Halliburton loses radioactive rod in Texas desert, Fears rod containing americium-241/beryllium could fall into hands of terrorists after employees of US oilfield services company lost it in transit between oil wells
2012 09 14: Halliburton's Misplaced Radioactive Cylinder: 'Do Not Handle'
2012 09 14: Radioactive device for fracking is lost
2012 09 14: FBI Clears Halliburton Crew in Loss of Radioactive Tool
2012 09 28: Fracking Wastewater the new NORM in Nova Scotia? Colchester County Council Considers Application to Treat Frack-Wastewater
2012 10 03: Radioactive Fracking backwash frustrates oilman
2012 10 19: Radioactive Frac Wastewater worries in Windsor
2012 11 13: Loosing the Yellow Monster: Fracking and Radioactivity
2012 11 29: Triangle Petroleum fracking radioactive waste water cleanup target missed in Nova Scotia
2013 04 02: Radioactive Drilling Waste Shipped to Landfills Raises Concerns
2013 05 17: Colchester County Appeals Committee Unanimous Vote: Fracking waste water banned from Debert sewers, Atlantic Industrial Services wanted to dump 4.5 million litres of radioactive frac waste
2013 10 02: Dangerous levels of radioactivity found at fracking waste site in Pennsylvania, Hundreds of disposal sites for frac wastewater could be similarly affected
2013 10 04: Fracking produces annual toxic waste water enough to flood Washington DC, Growing concerns over radiation risks as report finds widespread environmental damage on an unimaginable scale in the US
2013 10 11: Pennsylvania regulator allows radioactive, toxic drilling waste dumped as fill in city
2013 12 10: What to do with all the oil field dregs, some of it radioactive, some of it toxic, and there's more and more of it
2013 12 22: BP, Chevron Accused Of Illegally Dumping Toxic Radioactive Drilling Waste Into Louisiana Water
2014 03 14: Rachel Maddow Show: illegal radioactive dump site found in remote North Dakota town, Noonan mayor angry over situation with radioactive filter socks
2014 02 25: North Dakota frac'd Bakken radioactive oilfield waste spilling out of trailers parked on rural land near Watford City: When the filter socks are "that orange color, we know they're hot"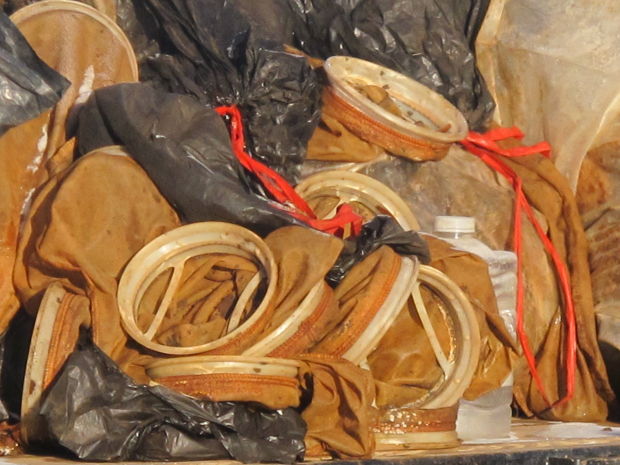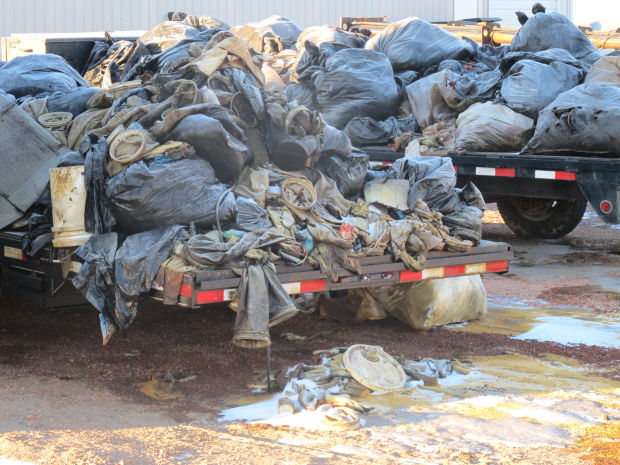 2013 04 23: Out Of Control: Nova Scotia's Experience with Fracking for Shale Gas, Analysis Reserve Pit Sludge from Fracing for Radioactive Material
2013 06 07: Radioactive water from Lancashire fracking site
2014 01 08: Pittsburgh stands against fracking but toxic chemicals and radioactive frac wastes don't respect city ordinances
2014 02 01: OILFIELD WASTE MUST WATCH: Julie Weatherington-Rice, PhD Soil Science, Drilling Radioactive Waste Alert Public Forum
2014 02 24: Mr. Bob Willard with Alberta AER was on the Lethbridge City Council expert panel on urban drilling.  When a young lad asked about the waste, Bob said it will be put into tanks and likely hauled away to Pincher Creek.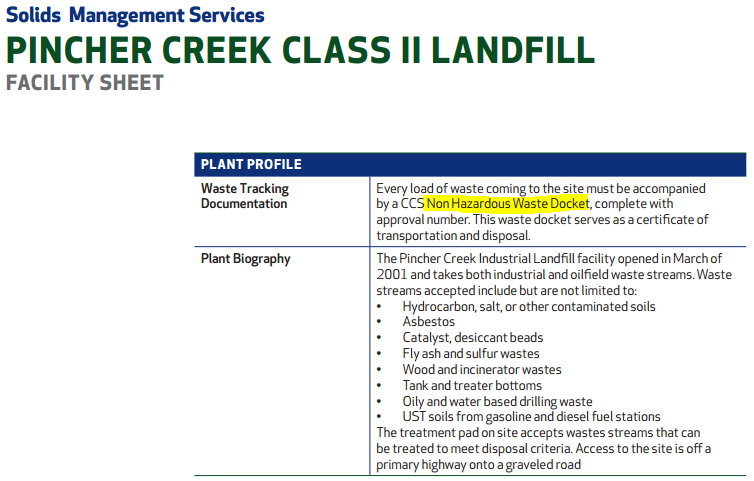 2014 08 19: Connecticut: Three Year Fracking Waste Ban Signed into Law; Meanwhile, Michigan takes Pennsylvania's Radioactive Frac Waste
2014 08 27: Toxic Insanity: DEP issued permit to Range Resources for experimenting, adding radioactive waste to aggregate for paving well pads and access roads
2014 04 29: Dual Trucking suspected of dumping radioactive Bakken frac waste in Montana ordered to stop, but doesn't, says waste will go to Canada
2015 03 27: maryland Senate Passes Bill, 93-45, To Declare Fracking An "ultrahazardous and abnormally dangerous activity"
2015 03 10: Oil companies sued over man's death allegedly tied to radioactive materials in drilling pipes
2016 05 10: THREE NEW STUDIES: FRAC WASTE CONTAMINATES WATER AND SOIL, SOME FOR THOUSANDS OF YEARS
2016 06 06: Federal Justice Donald Rennie: "Protection of the environment is, unequivocally, a legitimate use of the criminal law purpose." Tarsands giant Syncrude loses court fight against rules
2016 06 08: BC Frac Waste Injection Gone Awry? Toxic Landslides Raise Alarms about Fracking, Site C, Almost two years after slides began carrying heavy metals into creeks, few answers
2016 06 11: Massachusetts Senate Passes 10-Year Moratorium on Fracking and Disposal of Frac Wastewater in the Commonwealth. Senate President: "Fracking releases harmful chemicals into our air while contaminating fresh groundwater, causing seismic events, flaring methane and severely harming public health."
2016 06 12: Meet Alberta's Radioactive Ranchers: Nielle and Howard Hawkwood. Timing is everything. Why did AIMCo (ATB/Heritage Fund connected) announce $200 Million (bailout?) investment in "Quite leveraged" Calfrac on same day NDP Rural Caucus try to get Nielle Hawkwood's frac ban resolution on floor of NDP's Annual Convention?
2016 06 15: UK fracking firm plans to dump likely radioactive frac waste into the sea, Ineos company emails reveal huge amounts of frac waste need to be dumped
2016 06 15: Will waste water kill fracing? EPA bans disposal of frac waste at public treatment plants. Injecting it causes seismicity, recycling it is costly, using it to irrigate and landspraying it contaminates food, dumping it into waterways kills fish, pits filled with it leak, breathing it in aerosols corrodes lungs. What will companies do with it?
2016 08 03: In Texas, wastewater spills [intentional?] get less scrutiny. In Alberta, do they get any?