Pennsylvania health officials ordered to ignore fracking-related health complaints, Former Department of Health employees say they were forbidden to talk about drilling by Lindsay Abram, June 23, 2014, Salon
Live near one of the more than 6,000 fracking wells drilled in Pennsylvania within the last six years? Suffering from skin rashes, nausea or nosebleeds, and worried that nearby drilling is to blame? Don't bother calling the Department of Health, which apparently isn't concerning itself with these sorts of things. … And according to a damning report from NPR State Impact, the state has dealt with that lack of information about the health risks of fracking not by studying the health risks of fracking, but by ignoring the problem and hoping it goes away.
According to two former workers with the state Health Department, who are now retired, employees who received phone calls from residents concerned about health risks were ordered to ignore them:
"There was a list of buzzwords we had gotten," [Tammi Stuck, who retired from the Department of Health two years ago] said. "There were some obvious ones like fracking, gas, soil contamination. There were probably 15 to 20 words and short phrases that were on this list. If anybody from the public called in and that was part of the conversation, we were not allowed to talk to them."
Normally, when fielding calls, Stuck would discuss the caller's problem, ask about symptoms, and explain what services the department or other agencies could offer. However, for drilling-related calls, Stuck said she and her fellow employees were told just to take the caller's name and number and forward the information to a supervisor. "And somebody was supposed to call them back and address their concerns," she said, adding that she never knew whether these callbacks occurred. Sometimes, Stuck said, people would call again, angry they had not heard back from anyone from the department. …"People were saying: Where's the Department of Health on all this?" Stuck said. "The bottom line was we weren't allowed to say anything. It's not that we weren't interested."
Marshall Deasy, who retired last June after putting in 20 years of service at the Bureau of Epidemiology in Harrisburg, said that in his office, talking about natural gas development was considered "taboo."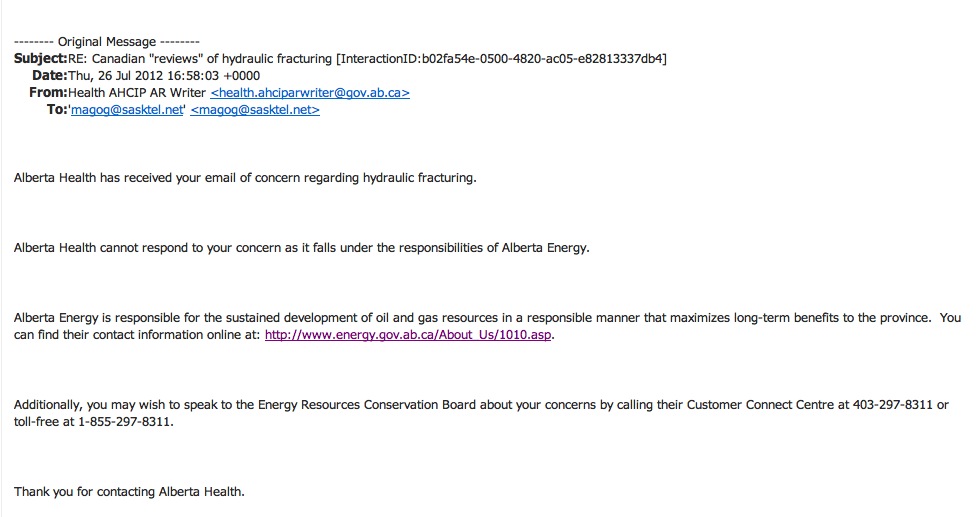 In other words, the agency appears to be treating the idea that fracking could cause health problems like some sort of crazy conspiracy theory — a categorization that's kind of hard to justify, considering the peer-reviewed research linking air and water pollution from oil and gas drilling to a bevy of health concerns. In Dallas, a jury [and upheld by the judge] recently awarded a family $3 million for damage caused by drilling near their property, including "physical pain and suffering."
…
If there isn't more research to help establish such a link, it could be because this is an emerging field, and because the industry's had a vested interest in keeping such information quiet — in cases in which residents have fought drillers and won, the terms of their settlements are often accompanied by gag orders.And if no health impacts have been documented in Pennsylvania, that could be because the state has yet to conduct even one study dedicated to this purpose. Of the over $630 million the state has raised through its impact fee, which is distributed among agencies involved in regulating drilling, one expert interviewed said that "not one penny" has been allocated to the Department of Health. Gov. Tom Corbett declined to comment. [Emphasis added]
Hormone-disrupting activity of fracking chemicals worse than initially found by June 23, 2014, Endocrine Society in Science Daily
Many chemicals used in hydraulic fracturing, or fracking, can disrupt not only the human body's reproductive hormones but also the glucocorticoid and thyroid hormone receptors, which are necessary to maintain good health, a new study finds. The results were presented Monday at the joint meeting of the International Society of Endocrinology and the Endocrine Society: ICE/ENDO 2014 in Chicago.
"Among the chemicals that the fracking industry has reported using most often, all 24 that we have tested block the activity of one or more important hormone receptors," said the study's presenting author, Christopher Kassotis, a PhD student at the University of Missouri, Columbia. "The high levels of hormone disruption by endocrine-disrupting chemicals (EDCs) that we measured, have been associated with many poor health outcomes, such as infertility, cancer and birth defects."
… In earlier research, this group found that water samples collected from sites with documented fracking spills in Garfield County, Colorado, had moderate to high levels of EDC activity that mimicked or blocked the effects of the female hormones (estrogens) and the male hormones (androgens) in human cells. However, water in areas away from these gas-drilling sites showed little EDC activity on these two reproductive hormones.
The new study extended the analysis to learn whether high-use fracking chemicals changed other key hormone receptors besides the estrogen and androgen receptors. (Receptors are proteins in cells that the hormone binds to in order to perform its function.) Specifically, the researchers also looked at the receptor for a female reproductive hormone, progesterone, as well as those for glucocorticoid — a hormone important to the immune system, which also plays a role in reproduction and fertility — and for thyroid hormone. The latter hormone helps control metabolism, normal brain development and other functions needed for good health.
Among 24 common fracking chemicals that Kassotis and his colleagues repeatedly tested for EDC activity in human cells, 20 blocked the estrogen receptor, preventing estrogen from binding to the receptor and being able to have its natural biological response, he reported. In addition, 17 chemicals inhibited the androgen receptor, 10 hindered the progesterone receptor, 10 blocked the glucocorticoid receptor and 7 inhibited the thyroid hormone receptor.
Kassotis cautioned that they have not measured these chemicals in local water samples, and it is likely that the high chemical concentrations tested would not show up in drinking water near drilling. However, he said mixtures of these chemicals act together to make their hormone-disrupting effects worse than any one chemical alone, and tested drinking water normally contains mixtures of EDCs.
"We don't know what the adverse health consequences might be in humans and animals exposed to these chemicals," Kassotis said, "but infants and children would be most vulnerable because they are smaller, and infants lack the ability to break down these chemicals." [Emphasis added]
Slides below from presentation by Geoffrey A. Clark and Colin Murray WorkSafeBC:
Complete WorkSafeBC presentation
Toxicological review of the possible effects associated with inhalation and dermal exposure to drilling fluid production streams by Alison Searl and Karen S Galea, August 2011, 1 Institute of Occupational Medicine Research Report TM/11/04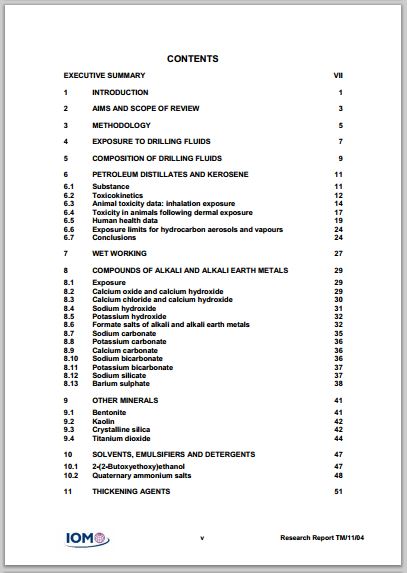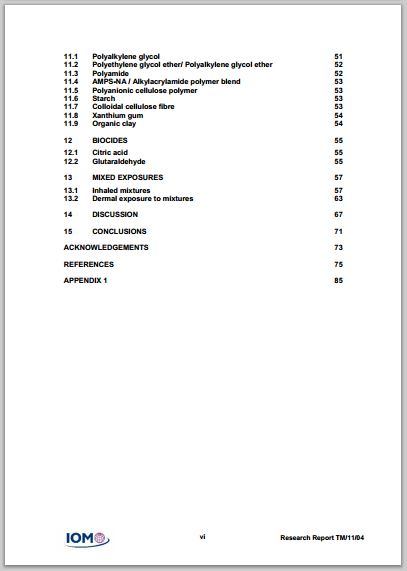 [Refer also to:
Alberta Government, regulators, health agency and company silent for years as groundwater contamination spreads and families poisoned
ANOTHER ALBERTA COVER UP? Alberta Government had report of sulfolane leak and excedance since 2009, no fines or punishments against company levied, watchdog did not tell residents
"No Duty of Care" legally immune even for Charter violations Alberta Energy Regulator "sweeps" tarsands operations for two weeks. And when the sweep is done, then what?
Four Fatalities Linked to Used Fracking Fluid Exposure During 'Flowback,' NIOSH Reports
Big Oil, Bad Air: Where has the College been all these years? Why not SUPPORT ALL ALBERTA DOCTORS treating citizens and workers poisoned by oil and gas? Alberta College of Physicians and Surgeons tells Peace River doctors it will support them in face of intimidation
Alberta workplace fatalities close to record numbers in 2013, led by a near doubling of fatalities caused by occupational disease
Julie Weatherington-Rice, PhD Soil Science, Drilling Radioactive Waste Alert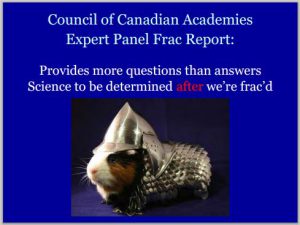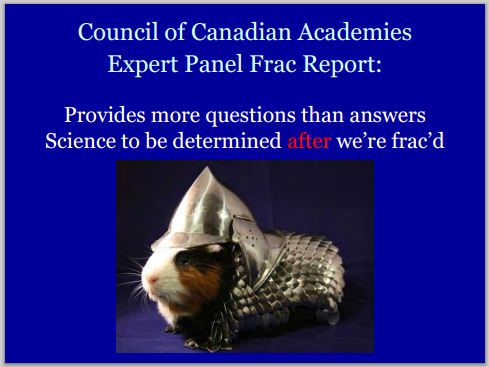 Slide from Ernst presentation in Courtenay, BC
Where's Alberta Health as community water towers, water managers, ranchers, industry gas-in-water-testers and water wells explode and or breath sour gas in their showers, and regulators drill water monitoring wells but get no water – just methane and ethane and let the gas dangerously (and illegally) vent near homes?
And waste is dumped?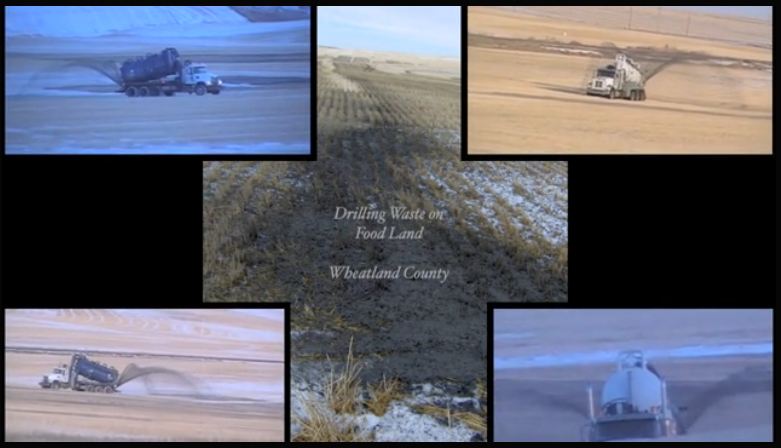 Above snap from FrackingCanada Short Film Home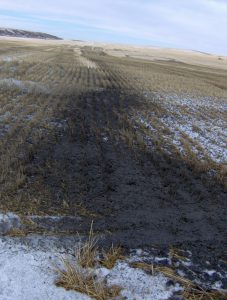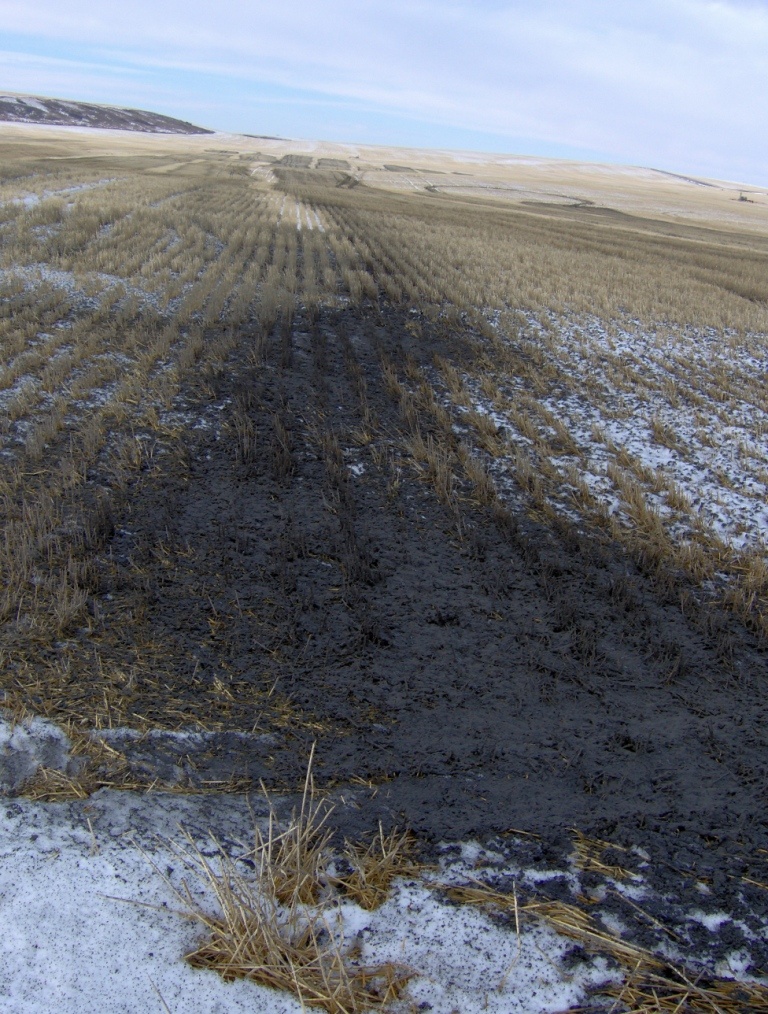 Encana drilling waste dumped on food land at Rosebud, 2012