Only a frac ban will protect health, livability by Dr. Adam Briggle, July 15, 2014, Denton Record Chronicle
I've heard some crazy claims about fracking in Denton.
The industry has said Denton residents are terrorists. The head of Texas' oil and gas regulatory agency (a man who is funded by the very industry he is supposedly watching over) even implied that Russia was behind our proposed fracking ban.
Yet the craziest thing I've heard is that Denton should adopt "reasonable regulations" rather than a ban on fracking.
Now, actually, I used to believe that, too. For years, I worked with fellow citizens and city leaders to write rules that would make fracking compatible with our community.
But there is a problem: We already have 270 gas wells in the city limits and over 30 percent (one-third!) of Denton's land area is platted for gas well development. Our city ordinance does not apply when existing wells are re-fracked or when new wells are fracked on these platted sites.
Like jackals circling their prey, the industry says they have the right to frack as many wells as they want in our town in perpetuity. We tried to write reasonable rules. But we were too late.
Today, fracking is being done within 200 feet of homes. And this can happen again and again. Our local rules do nothing to stop it, and the state rule-makers are too busy collecting "man of the year" awards from the oil and gas industry to protect communities.
The future for Denton with "reasonable regulations" is the wholesale industrialization of neighborhoods. One Denton neighborhood sued the industry for chemical trespass that has devalued their property. Parents there had to keep their kids indoors for weeks because the toxic fumes were so overwhelming. Children got nosebleeds, breathing problems and headaches. One pregnant mother told the City Council, "There is no escaping the harmful chemicals. … We feel like prisoners in our own home."

This is anything but reasonable. We can either have fracking or we can have a safe and healthy city. We can't have both.

Of course the industry ignores all the problems with fracking and speaks only to its economic benefits. I can speak to that, too, because Denton has done far more than its part for the state's economy. Even if we crammed all of Texas' gas wells into the 7 percent of the state's land area that is urban, Denton would still host more than three times the number of wells as the average city in that extreme scenario. And even when the ban is in place, we'll continue to do our part (with existing wells still in production).
Actually, maybe the craziest thing I've heard is that fracking is a boon for Denton's economy. In fact, though we do more than our share for the state, we have reaped very little local economic gain.
Tax revenues from Denton gas wells amount to less than 1 percent of the city's budget. The mining sector employs just 0.27 percent of Denton's workforce.
And most of the appraised mineral values (a proxy for royalties) from Denton gas wells are owned by outsiders. Fracking operators, none of which are based in Denton, take over 70 percent of the wealth. Absentee mineral owners take over 20 percent more. Denton families own just 2 percent of the mineral wealth being pulled from under our soil.
Meanwhile, Denton residents are the ones paying the health costs. Gas wells emit toxic and carcinogenic chemicals. Fracking causes much of the smog-forming ozone that gives Denton the worst air quality in the state and alarmingly high rates of childhood asthma.
There have been spills in Hickory Creek, and a blowout in Denton last year spewed over 1,200 pounds of volatile organic compounds (including cancer-causing benzene) for 14 hours, forcing the evacuation of nearby homes.
Peer-reviewed science verifies the harms of fracking. Shamefully, like Big Tobacco, the fracking industry is playing the denial game. Instead of investing in better practices, they invest in misinformation campaigns. With their un-neighborly ways, they have brought this ban on themselves.
As the industry looks to export American gas, driving up production, Denton's bad situation will get worse.
It's a fracking perfect storm: The only industry allowed in residential areas (not even bakeries have that leeway) is also the only industry allowed to emit non-disclosed, unmonitored chemicals. The result: The most toxic and secretive industry operates the closest to places where children live and play.
Even according to the industry's own estimates, the cost of banning fracking will amount to a mere fraction of a percent of Denton's annual budget. Yet, still all they talk about is how much revenue we stand to lose from the ban. In so doing, they are putting a price tag on us — treating us like just another commodity. They are putting a price on our children's health and safety, our right to enjoy our property, and the livability and character of our Denton.
What are these things worth to you? And why do they think we'd sell them so cheaply? [Emphasis added]
ADAM BRIGGLE is vice president of the Denton Drilling Awareness Group, which is running Frack Free Denton. He is also a faculty fellow in the Center for the Study of Interdisciplinarity and an associate professor in the Philosophy and Religion Studies Department at the University of North Texas.
Hundreds Expected At Meeting To Decide Fracking In Denton by Andrea Lucia, July 14, 2014, CBSDFW.COM
The City of Denton will draw statewide attention Tuesday as it considers a petition to become the first city in Texas to ban fracking. If approved, the ban could have a ripple effect not only in the state but across the nation.
City council meetings generally don't attract a huge crowd but Tuesday should be an exception. In fact, Denton is preparing an overflow room for attendees. Some 500 people are expected to show up as the council a petition to ban hydraulic fracturing (fracking) for natural gas.
Ed Ireland, the executive director of the Barnett Shale Energy Education Council said, "I think a lot of people are saying, that's never happened in Texas. I mean, this is Texas. We're an oil and gas state." [It never happened in oil and gas soaked Alberta either, until Calgary and Lethbridge found out they were about to be frac'd]
Ireland is set to speak before council Tuesday, presenting a study of the ban's potential impact commissioned by the Fort Worth Chamber of Commerce. An economic research firm, The Perryman Group, released the report Monday, one day shy of an expected council vote, claiming a ban could cause "significant economic and fiscal harm." The study found the City of Denton would lose more than $250 million in business over the next 10 years, while the rest of the county and state would lose an additional $103 million. "It has an impact on the state budget.  The city of Denton is not isolated from what goes on beyond its borders," said Ireland. Denton City Council Kevin Roden, however, believes the study overstates its findings. "If we stop fracking tomorrow, our economy is not going to implode," he said. According to Roden, less than two-percent of the city's property tax revenue come from natural gas and less than .3-percent of the city's jobs are in the oil and gas industry.
Questioning the Fort Worth Chamber's interest in Denton, Roden posted a map online showing where oil and gas company headquarters are located.
The city leader also floated a counter argument that a ban on fracking could result in an economic boom. "If you're looking to attract young people and the jobs that come along with them, tech jobs, for instance, a city that is pro-environment is something that you want," he said. The Denton City Council will have three options at the meeting Tuesday – it can tomorrow adopt the ban as an ordinance, dismiss it, or let voters decide at the polls in November. [Emphasis added]
Denton to vote on fracking ban by myfoxdfw.com, July 15, 2014
The city of Denton may be the first in Texas to ban the controversial practice of fracking for oil and natural gas. An environmental group brought nearly 2,000 signatures to the city council last month. Fracking involves injecting water and chemicals into the ground to force out the natural gas. Some people who live near the wells blame it for health problems. If the city council refuses to approve the ban, it will go on the November ballot.
[Refer also to:
Denton Drilling: A Blog by Adam Briggle "Yes, We Can Say No."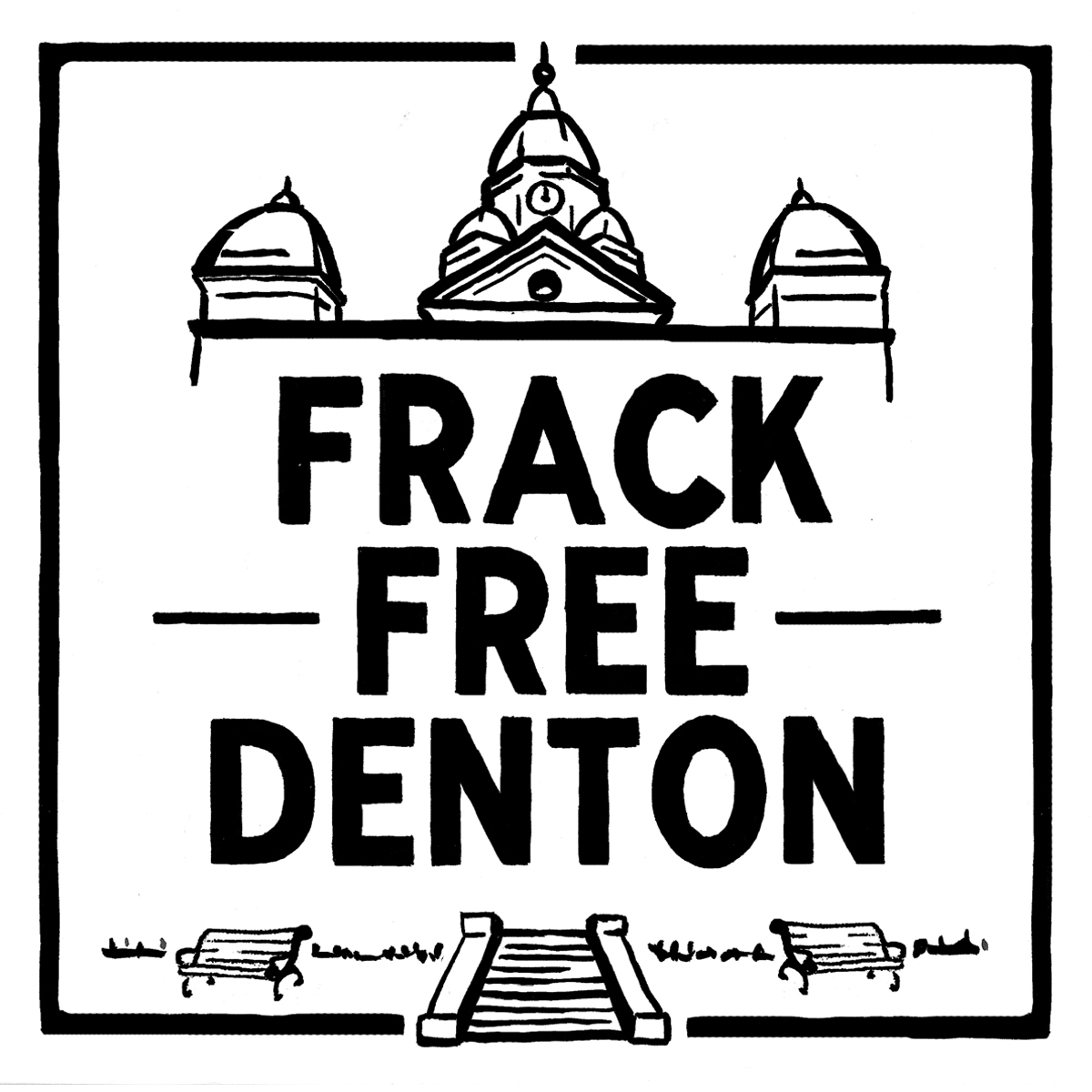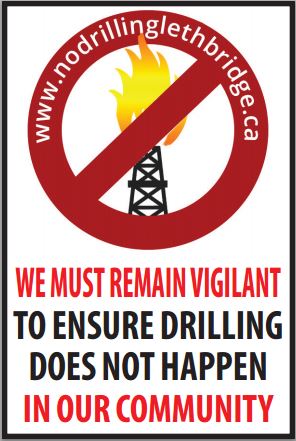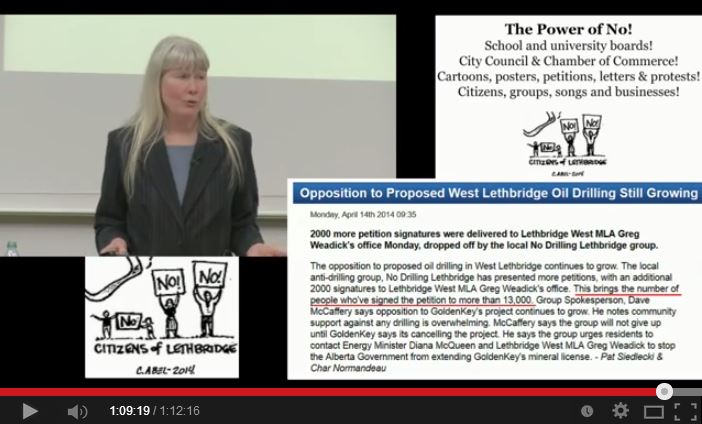 In Bad Faith presentation by Jessica Ernst in Lethbridge, March 25, 2014
Lethbridge Chamber of Commerce opposes Goldenkey Oil's bid to drill: demands Alberta government order moratorium on all urban drilling
February 2014: More than 700 citizens attend Lethbridge City Council urban drilling panel
September 2013: Kaiser kills Calgary Royal Oak drill and frac for oil 400 metres from homes, Residents in Calgary community celebrate after Kaiser Energy scrapped urban frac plans but worry 2,300 metres is not far enough ]