Recent court rulings: Range Resources responsible for disclosing chemicals by Emily Petsko, June 16, 2014, Observer Reporter
Range Resources will be held responsible for disclosing a full list of products and chemicals it used at a Marcellus Shale gas-drilling site in Amwell Township, according to a pair of recent rulings.
Both a state Environmental Hearing Board judge and Washington County President Judge Debbie O'Dell Seneca ruled last week Range Resources is in the best position to obtain the list of chemicals, including proprietary substances, from its manufacturers.
A Washington County Court order in November 2013 required Range Resources' suppliers – about 40 contractors and subcontractors – to provide that list. According to O'Dell Seneca, the suppliers could not or would not comply.
Range Resources is the defendant in a lawsuit filed by three Amwell Township families who claimed they suffered health problems attributed to drilling activity and an impoundment at the company's Yeager well site on McAdams Road.
O'Dell Seneca waited to give her opinion until a related decision was filed by Judge Thomas W. Renwand through the Environmental Hearing Board.
Renwand wrote in his opinion last week that Range Resources is in noncompliance with a July 2013 board order to release any and all products used at the Yeager site. He said Range Resources is "in the best position" to obtain information from its manufacturers because the company purchased the products and "exercised control over their usage."
Renwand said the board believes Range put a "minimum of effort" into obtaining the list of products.
"A company with the status and size of Range could have exercised much more influence with its suppliers to obtain information about the chemical composition of products it uses at its operation," Renwand wrote in his opinion.
He said the board finds it "particularly troubling that neither Range nor the Department of Environmental Protection is fully aware of the chemical composition of products being used during gas drilling and hydraulic fracturing operations."
Renwand said Range Resources provided a list of products in April 2014 that covered "a more limited scope" than what was ordered by the board last summer. The company hired forensic company R.J. Lee Group to determine the chemical make-up of products used at the Yeager site through reverse engineering.
According to the board opinion, R.J. Lee analyzed seven products out of the more than 100 products that were identified as potentially being used at the Yeager site.
Those seven products, according to Range in the court opinion, were the only ones that "potentially contained a hazardous constituent" and also were identified as proprietary by the manufacturer. According to Range, those products were not used as hydraulic fracturing additives.
"Ultimately, however, R.J. Lee was able to analyze only one of the seven products it identified as being potentially hazardous," Renwand wrote. "The other six products are either no longer manufactured or have been relabeled. For two of the products that are no longer available, R.J. Lee analyzed what it deemed to be a 'comparable product' but not the original."
Range Resources spokesman Matt Pitzarella said the fact that some chemical products have changed is not unique to natural gas drilling.
"Some chemical solutions have changed since they were used, including gasoline, engine coolants and engine lubricants," Pitzarella said in an email response. "The same could be said for the average garage or kitchen cabinet."
Pitzarella said the company has released all chemicals [Where are they then? Range sounds like the Alberta Energy Regulator/Encana] it uses in the hydraulic fracturing process and is reviewing its options to appeal the court's decision.
Some Marcellus Shale manufacturers have argued that Act 13, the state's law governing oil and gas drilling, serves as legal protection for proprietary information or trade secrets. The state Supreme Court in December ruled that zoning provisions of Act 13 were unconstitutional, but the validity of key provisions of the law are currently being considered in Commonwealth Court.
One major provision heading back to the lower court involves a medical gag rule restricting the information doctors can relay to patients about the potential health effects of natural gas drilling. [Emphasis added]
[Refer also to: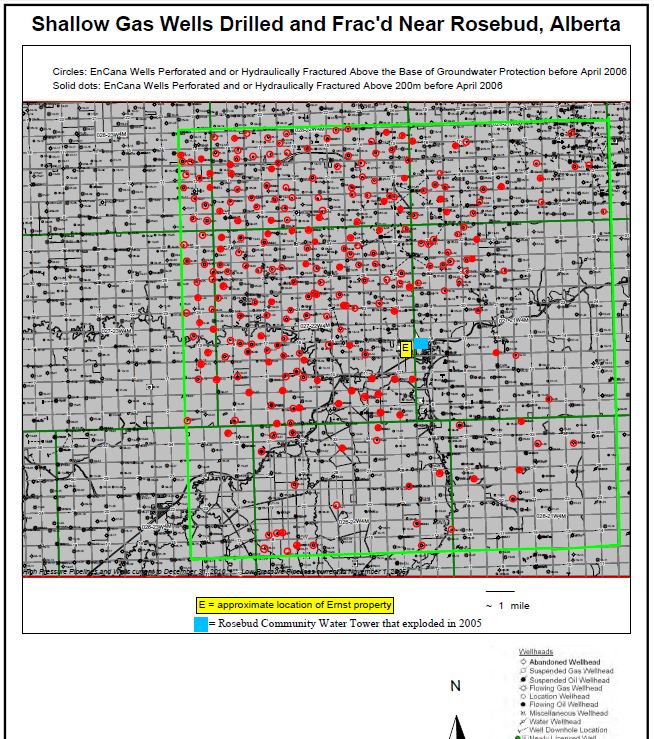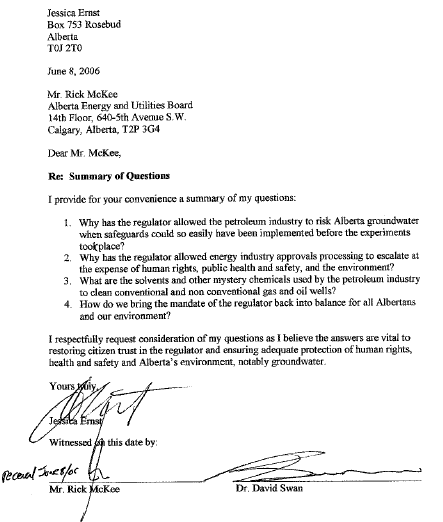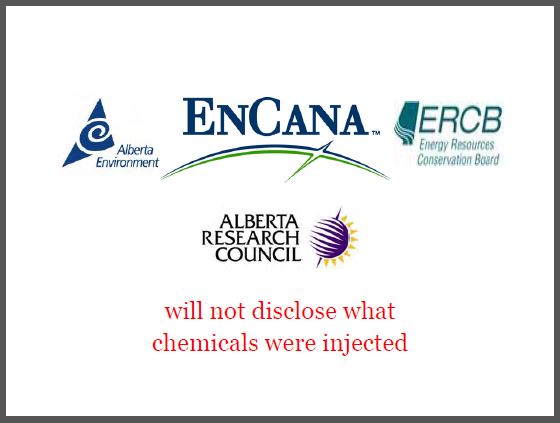 Slide from Ernst presentations
To this day, June 19, 2014, Encana, the Research Council (now Alberta Innovates-Technology Futures), the ERCB (previously EUB, now AER), and Alberta Environment (now AER) refuse to disclose what chemicals Encana injected on about 200 gas wells frac'd above the Base of Groundwater Protection. They claim Encana only injected nitrogen, pure as the air we breath.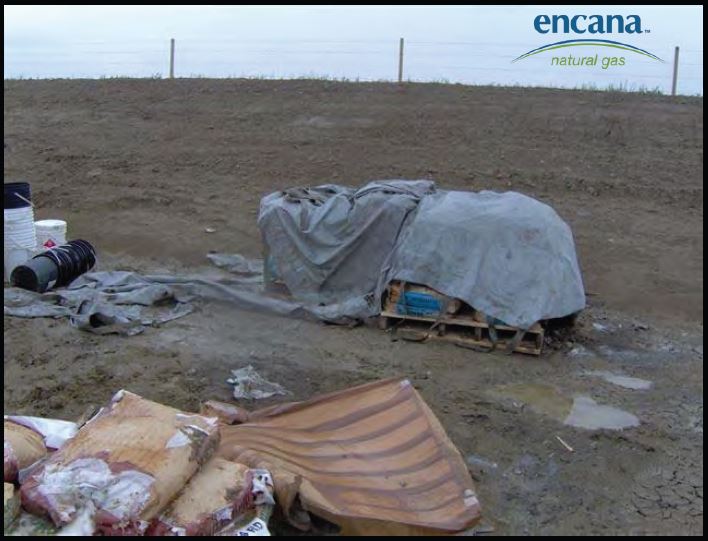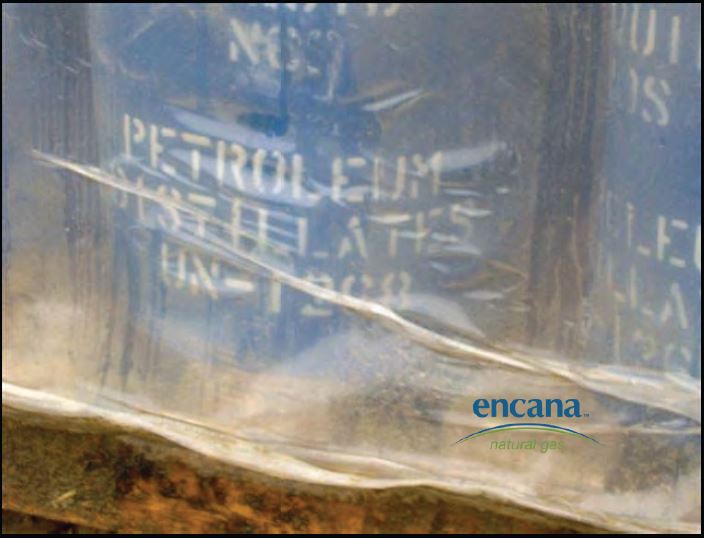 Photos: Chemicals on Encana lease near Rosebud in 2006.