A Rocky View councillor opposed a declaration in support of making clean air and water and safe food a human right.
"The one that bothers me in this is the right to clean air," said Coun. Lois Habberfield.
"There are a lot of people who don't like the dust that is created by a gravel extraction," she added. "(but) gravel extraction needs to happen somewhere."
[Alberta Dust Pollution Reality Check:

2011 Oil and gas industry dust in Wheatland County

Oil and gas industry dust in Rocky View County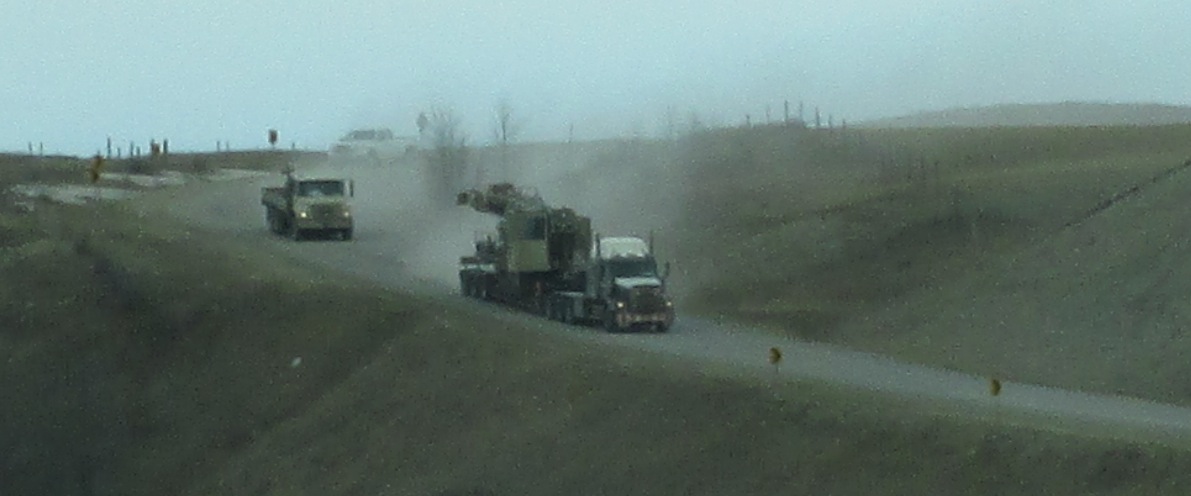 Oil and gas industry dust in Rocky View County
Endless non-dust oil and gas industry emissions, many carcinogenic: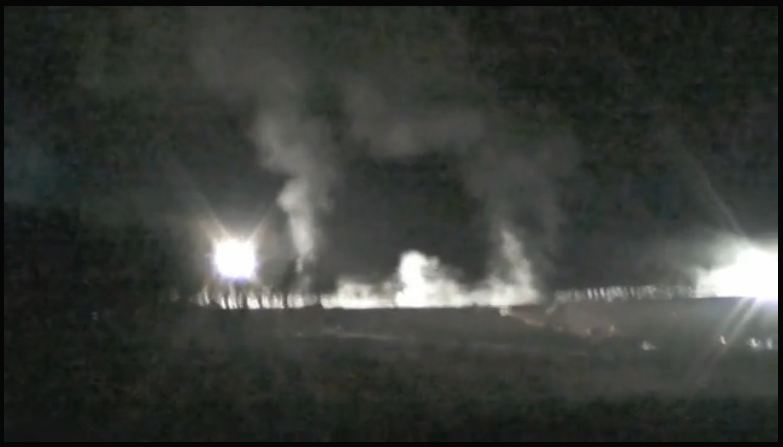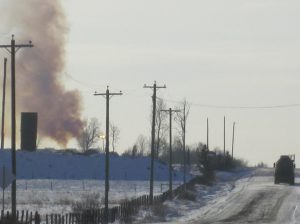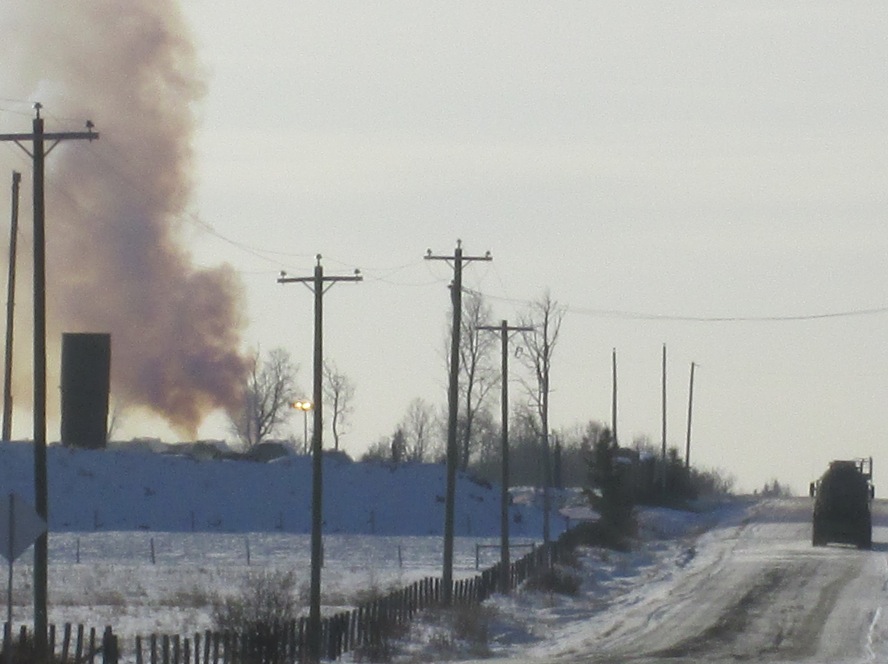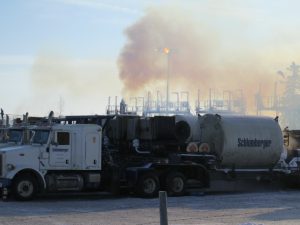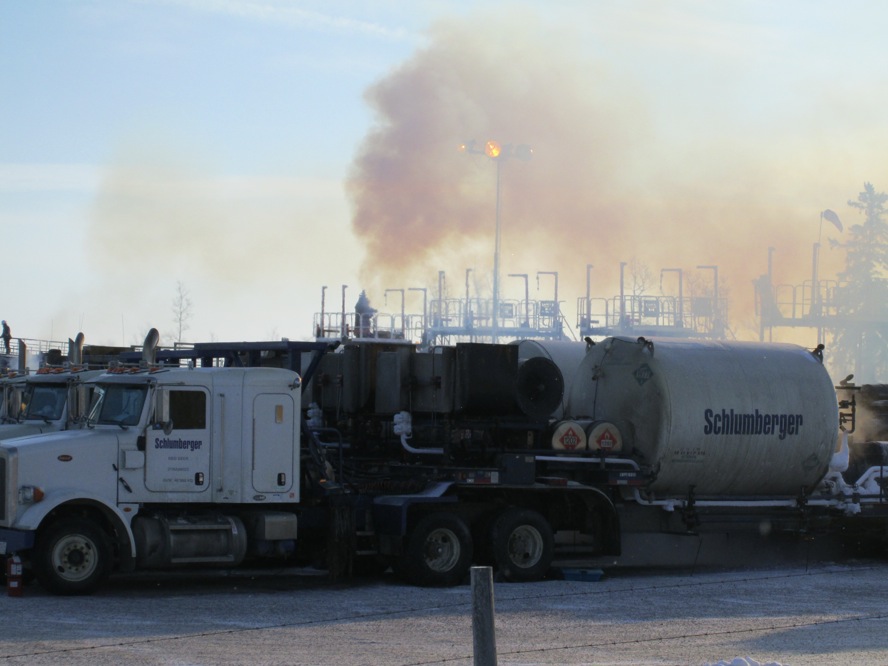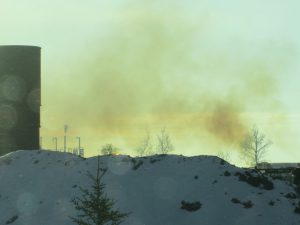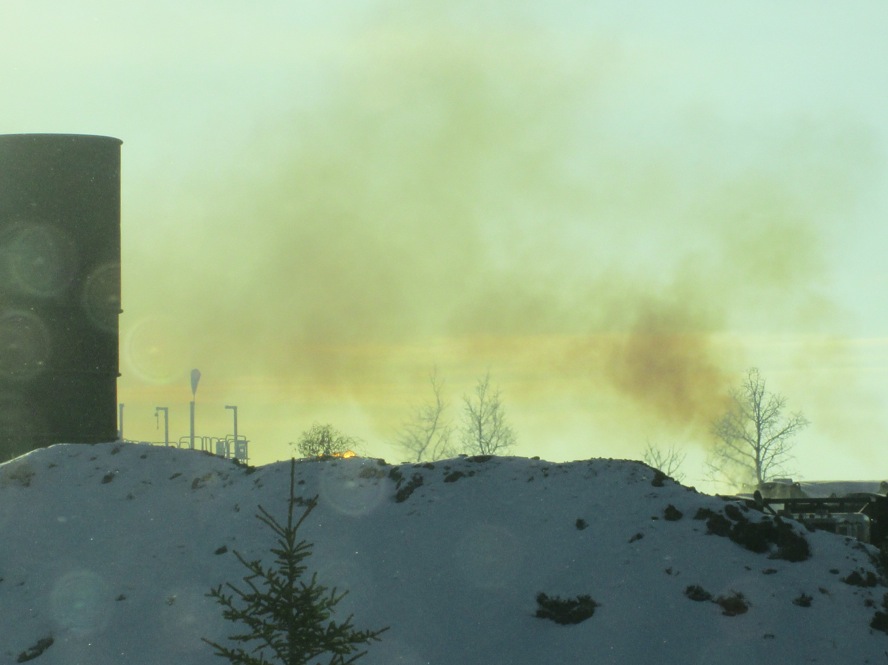 Photos of industry fracing air and families in Alberta municipalities by FrackingCanada

And what of the oil and gas industry facilities poisoning families in Rocky View County?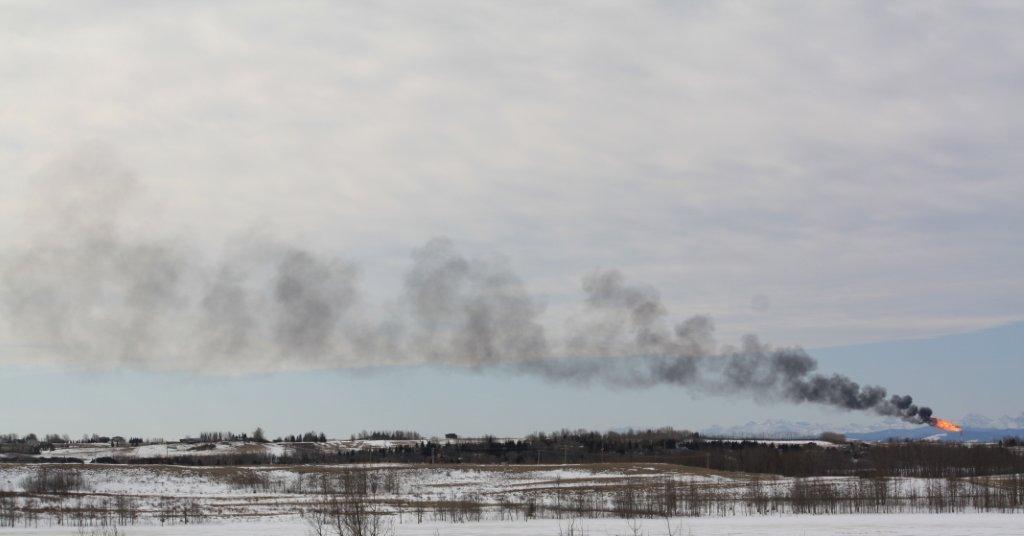 March 12, 2014: Cochrane Interpipeline Gas Plant NW of Calgary
Have a nice hold-your-breath day. End Air Pollution Reality Check]
Coun. Margaret Bahcheli disagreed.
"This is one of our basic rights," she said. "This is an important declaration that our residents deserve. Let's start somewhere."
By a 5-3 majority, councillors meeting as members of the Policy and Priorities Committee (PPC) voted to take no action [what else is new in Alberta?] in support of the inclusion of environmental rights in the Canadian Charter of Rights and Freedoms.
An administrative report told Committee members that hydraulic fracking and gravel extraction are prominent within Rocky View County's borders.
As a result, the report stressed, "Environmental concerns are bound to emerge." [To emerge" or already have? Reportedly Rocky View County frac poisoned citizens have publicly raised concerns in council meetings.]
Bahcheli, as well as councillors Jerry Arshinoff and Liz Breakey voted against the motion to take no action.
"I do not know how anyone could argue against it," Arshinoff said.
***
"The one that bothers me…is the right to clean air."

Alberta Municipal Councilor Lois Habberfield

***
Coun. Earl Solberg was absent at the July 5 PPC meeting.
Coun. Eric Lowther supported receiving the information only.
"I think it's a step in the right direction," he said.
Last December, the Lochend Area Residents group made a presentation to the Committee and requested its support for making clean air and water a constitutional right.
[Since 2010!!] Residents have been complaining about noise, flaring, water wells and odour to provincial agencies since fracking and flaring activity started in the north Rocky View area bisected by Lochend Road. [AND HOLDING PUBLIC INFORMATION WORKSHOPS AT THEIR OWN EXPENSE AND TIME!

Complete POWERSAlberta August/September 2011 poster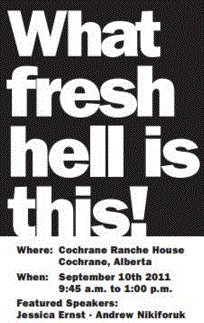 Complete August/September 2011 POWERSAlberta press release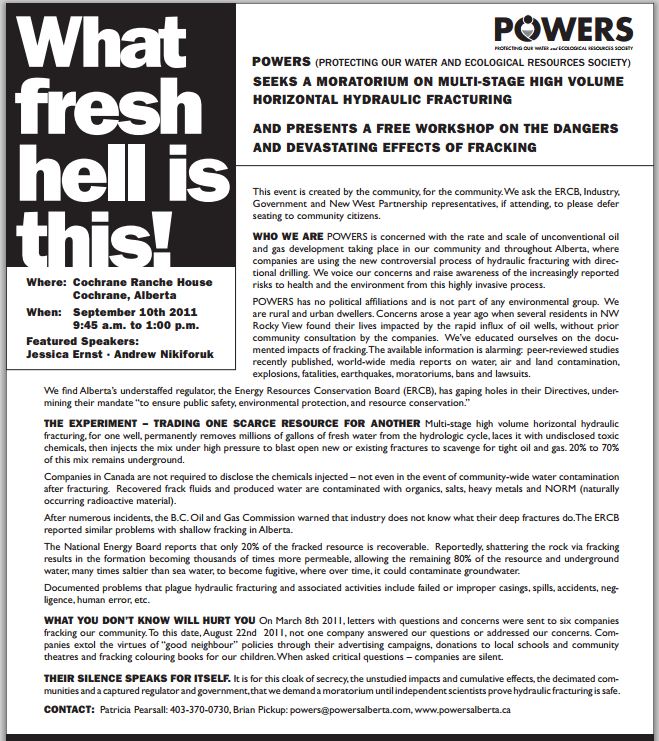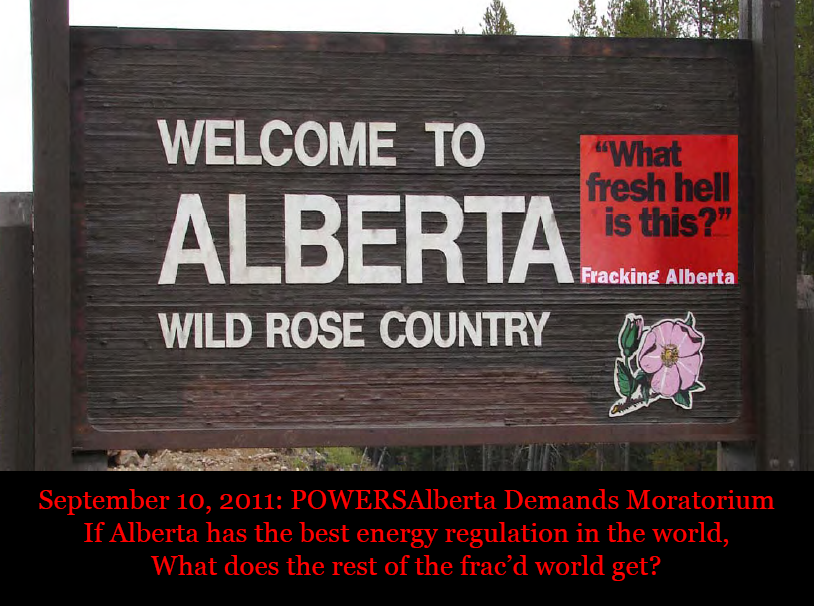 Slide from Ernst presentations
[What good is Canada's Charter if the AER gets to violate it to help the oil and gas industry rape and pillage profits unhindered and unregulated? The Alberta Court of Queen's Bench and Court of Appeal ruled that the AER is completely legally immune, even for acts in bad faith and gross negligence, and even for violating the Canadian Charter of Rights and Freedoms. Opposite to the Alberta courts, the Ontario Court of Appeal ruled that the Charter trumps provincial agencies and laws. What will the Supreme Court of Canada say about Ernst's valid Charter claim against the AER?]
Lochend Group member Nielle Hawkwood attended the meeting and briefly spoke to the Committee. She was disappointed by the result.
"I am sorry (councillors) don't feel they can help," she said.
Fracking and related flaring, Hawkwood said, "Is polluting our air and contaminating our water."
Reeve Greg Boehlke did not see any value in signing the declaration as a County.
"It's following an initiative that just creates motherhood and apple pie feelings, and really does not have substance," he said.
Boehlke said Rocky View is already taking many initiatives in favour of the environment.
[BY ENABLING FRAC CONTAMINATION OF FAMILIES AND THEIR DRINKING WATER LIKE THIS?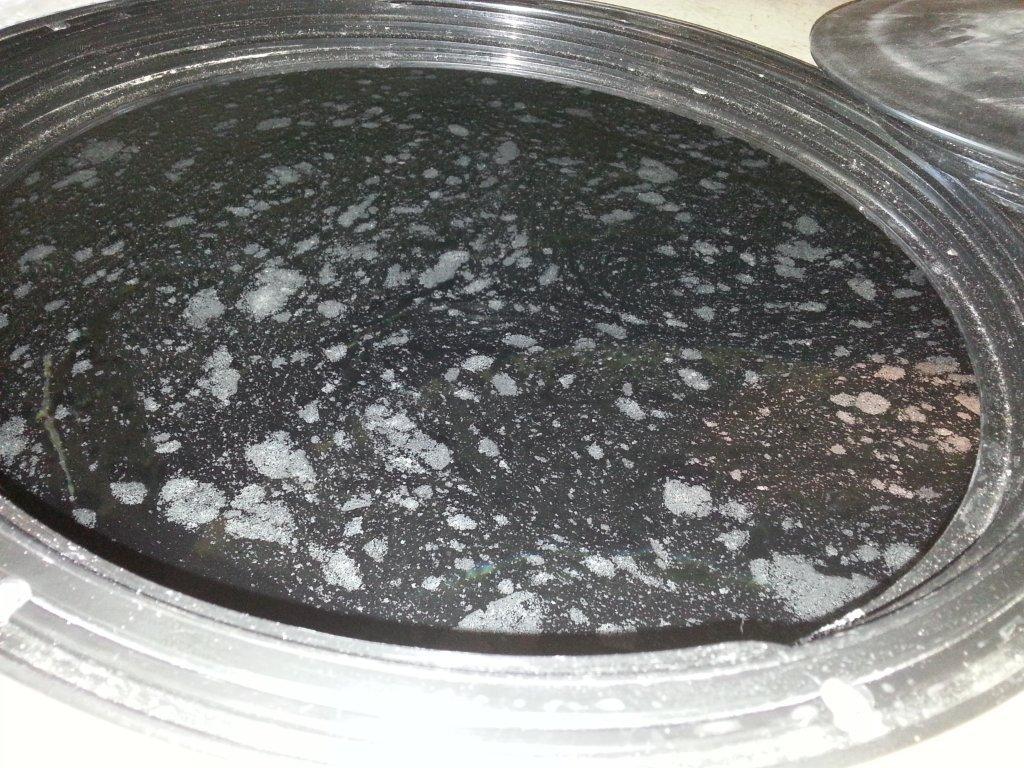 Photos above and below are of a family's frac'd drinking water supply in Rocky View County. Hurry up! Drink up! Don't let the water corrode you on the way down.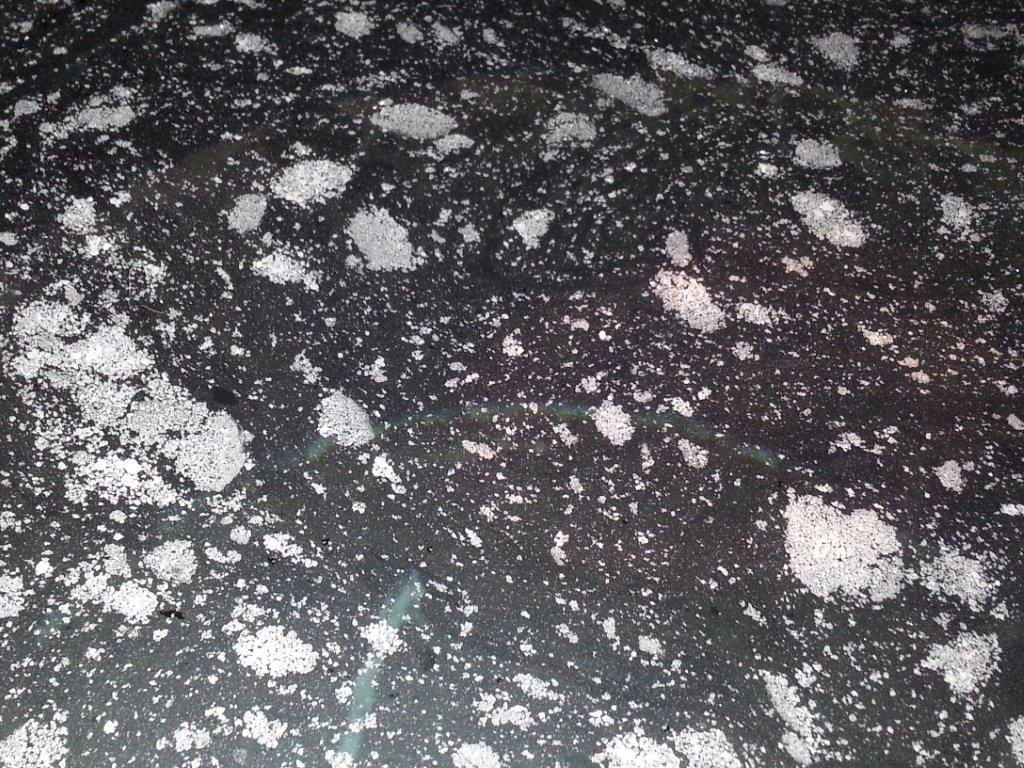 Rocky View County, like Wheatland County and all other counties in Alberta, gets F – on their frac'd environments. ]
"I do not think we need to sign on to be a follower of a group that thrives and lives off the government and the taxpayer just so that they can pound on the table and say how clean air is our right," he added.
Coun. Bruce Kendall pointed out that out of 3, 643 Canadian municipal entities only 130 have signed the declaration.
That number, Kendall added, "Does not represent an overwhelming percentage. It leaves 3,513 municipalities that haven't yet adopted that."
PPC Chair Rolly Ashdown went further.
"Picking up the plaque and following around on legal protest, I do not think that's our position or what we should be doing," he said.
Coun. Liz Breakey saw nothing wrong with expressing support for clean air, clean water, safe food, access to Nature, and the ability to know about pollutants and contaminants. [Then why are Canadians who ask for all chemicals secretly injected by the oil and gas industry and spewed into the air to be publicly disclosed, and raise concerns about their frac poisoned children, air, water, land, homes and farms, defamed and discredited as "anti-frackers," activists, radicals, terrorists, etc. by politicians, regulators, env NGOs and in Canada's corporate controlled media?]
Signing the declaration, she said, is "My preference because I think it would be ground breaking (and) I do not think it ties us to anything that we are not doing anyway."
A motion by Coun. Lowther to hear from Lochend Residents Group member Nielle Hawkwood and receive information about the group's proposed moratorium on fracking and flaring activity until its effects become known met with enough support from his peers.
"I do remember the presentation back in December and being quite moved by it," he said.
Hawkwood told the Committee there was little documentation on fracking when activity started in the Lochend area.
"Now there are more than 685 papers,"

she said.
"The vast majority of these peer-reviewed, scientific papers overwhelmingly state the harms of this practice for public health, for air quality and for water quality."
[The council let Nielle give them the reference for those papers]
The Healthy Environment Declaration
… An administrative report noted the Committee could declare the belief that everyone has the right to clean water, clean air, safe food, and a healthy living environment.
Over 135 Canadian municipalities, including Jasper and Camrose in Alberta, have already made such declarations.
The report told Committee members that "the aim is to make waves at the local level so that provincial and federal government can initiate real change on the constitutional level."
However, the report recommended the Committee to avoid signing the declaration.
"Given the County's lack of jurisdiction over activities such as hydraulic fracking, the purpose of Administration's recommendation is to avert any unrealistic expectations that may arise from adopting such a declaration." [Emphasis added]
It would have been reassuring to learn that a majority of Rocky View councillors values citizens' right to a healthy environment.
It was not going to happen in Rocky View County.
Instead, citizens heard elected officials advance a plethora of excuses justifying their refusal to endorse a Declaration in support of clean water, clean air and safe food.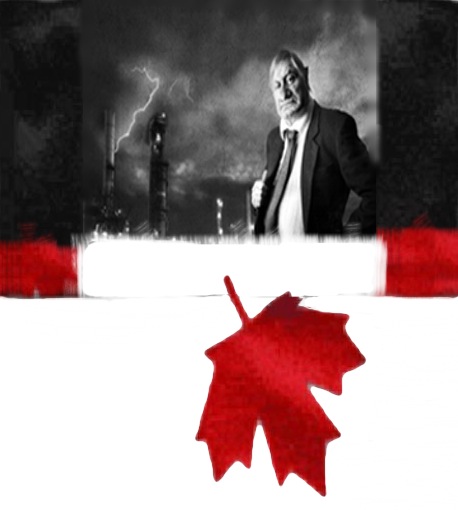 The Declaration was submitted to the County's Policy and Priorities Committee made up of the nine members of Council, following a request of Lochend Area Residents concerned with the impacts of fracking and flaring activity.
… A Council's Declaration in support of the initiative would have been a sign that a majority of members are concerned by the well-being of those who elected them. After all, if Rocky View residents cannot be ensured clean air and water, who else could?
But for Committee Chair Rolly Ashdown, making such a declaration would be akin to Council attending a street protest.
Reeve Greg Boehlke said endorsing the Healthy Environment Declaration would mean "following" as opposed to "leading." [Time for Reeve Boehlke to go to leadership school and learn what being a leader means?]
For another councillor, support from too few municipalities across Canada—an opportunity to lead?—was the problem.
… Lack of jurisdiction on oil and gas extraction, which is provincially regulated, was mentioned as a reason to avoid taking position.
A shocking statement, however, came from Coun. Lois Habberfield.
She objected to endorsing the Declaration on the basis it may hurt gravel extraction—which, unlike oil and gas, is subject to municipal approval.
"There are a lot of people who don't like the dust that is created by a gravel extraction (But) gravel extraction needs to happen somewhere," she said, adding mitigation of adverse effects may be attempted but not always be effective.
[Mitigation of adverse impacts is not about "attempting" to mitigate, it's about actually mitigating impacts. If the "attempts" fail (usually because the corporation is too cheap to appropriately, completely and adequately mitigate with municipalities and regulators too cowardly and cheap to "regulate" or inspect and monitor regularly and fastidiously over the long term and enforce mitigation plans or promises), other attempts are to continue until mitigation of harmful impacts succeed. The oil and gas and gravel extraction industries know this all too well, so do Alberta regulators and municipalities]
The statement did not come from a rookie official but from a strong voice—that of the longest-serving member of Council, who was entrusted with deputy reeve and reeve responsibilities within the last 15 years.
To make things worse, Habberfield's statement comes at a time when Rocky View works on its

first-ever

Aggregate Resource Plan, which will set standards for gravel extraction across the County.
After publicly declaring bias, this councillor's participation in the gravel extraction policy process becomes problematic—to say the least. [Emphasis added]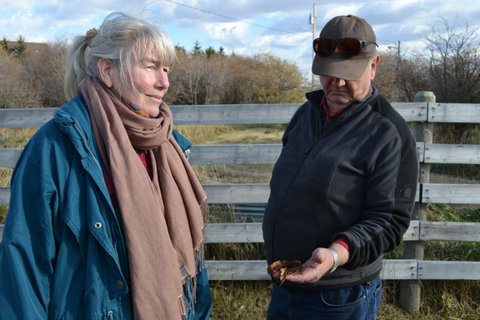 2013: Lochend rancher Howard Hawkwood (husband of Nielle Hawkwood mentioned in above articles) shows Jessica Ernst pollution that developed in his water supply after nearby hydraulic fracturing.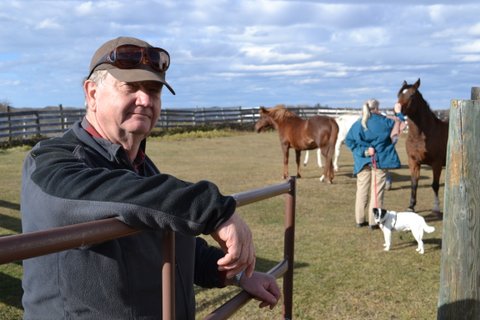 The horse in front is Loki. The one behind is Jack who died of cancer. Veterinarians couldn't figure out why he would have the huge intestinal cancer that he had. Jessica's dog Magic (in the photo), died a few weeks after this photo was taken. Photo by David Kattenburg.
Ernst's and Hawkwood's contaminated drinking water, like that for Ann Craft, Campbells, Zimmermans, Jacks, and many others in Alberta frac fields, remains contaminated, with regulators and politicians (on every level) dancing every which way to avoid fulfilling their responsibilities and ensure safe water in their jurisdictions.
Clean air declaration out of bounds for Rocky View
Air pollutants from Pa. oil and gas sites continue to rise by Susan Phillips, August 17, 2016, PA State Impact
Air pollutants from Pennsylvania's natural gas production sites increased from 2013 to 2014, according to data released Wednesday by the Department of Environmental Protection. The air inventory data for shale gas production relies on information submitted by the industry, and includes emissions from compressor stations that utilize gas from coal beds, conventional, and unconventional wells. Although the number of well sites reporting information to the DEP dropped by 2.7 percent from 2013 to 2014, the number of pipeline related infrastructure sites increased by 12 percent.
Sulfur dioxide emissions saw the greatest jump, increasing 40 percent over 2013 levels. Sulfur dioxide contributes to acid rain, and causes respiratory problems including asthma. Other air pollutants that contribute to public health impacts also increased, including nitrogen oxides, particulate matter, sulfur dioxide, and volatile organic compounds.
… Critics of the inventory data say the figures are inaccurate due to outdated calculation methods and a lack of verification. Recent studies that used fly-overs to measure methane for example, show a gap between the data collected directly from the source, and the data calculated by industry for these types of inventories.
The 2014 shale gas emissions inventories include increases of 18 percent for nitrogen oxides, 25 percent for both fine particulate matter and volatile organic compounds (VOC's), and 19 percent for carbon monoxide.
Particulate matter causes heart attacks, asthma, and difficulty breathing. It can be fatal for people with heart and lung disease.
VOC's cause a number of symptoms including eye, nose and throat irritations; headaches, nausea, as well as liver and kidney damage.
An epidemiological study conducted by the Johns Hopkins School of Public Health and recently published in JAMA, using medical records from the Geisinger Health System, found that people with asthma face a larger risk of asthma attacks if they live near heavy gas drilling activity in Pennsylvania, compared to those who don't.
Although methane and carbon monoxide emissions had decreased in the 2013 inventory, for 2014 those pollutants were up by 19 percent for carbon monoxide, and 1 percent for methane, a potent greenhouse gas. The Wolf administration announced new measures to control methane emissions in January but they have not yet been enacted.
… The Clean Air Council's Matt Walker says inventory data is not reliable and likely underestimates the pollution. It is not measured with instruments, but is based on engineering calculations.
"Even the best self-reporting is not adequate because the formulas are out of date," Walker said. "Nobody knows how much the oil and gas industry is emitting in Pennsylvania. Nobody."
The DEP did conduct an air quality study in southwestern Pennsylvania that used actual instrumentation to measure emissions. DEP spokesman Neil Shader says the report is now being reviewed by the Pennsylvania Department of Health and the federal Agency for Toxic Substance and Disease Registry. Shader says he expects that study to be released this fall.
DEP only began collecting this air inventory data from shale gas producers in 2011. A year later, pipeline operators were required to report emissions data from compressor stations. The agency then expanded their required emissions reporting in 2013 to operators of compressor stations that transport coal-bed methane.
Air pollutants can leak from various stages of the natural gas production and transportation sector.
In addition to well sites and compressor stations, industry reports data from dehydration units, pump seals and valves, heaters, pneumatic controllers and pumps, engines, tanks, pressurized vessels and impoundments, and venting and blow down systems. [Emphasis added]
[Refer also to:
2016 07 18: 8-year frac health study shows fracking associated with increased asthma attacks: "Those who lived closer to a large number or bigger active natural gas wells were significantly more likely…to suffer asthma attacks" … "The highest risk for asthma attacks occurred in people living a median of about 12 miles from drilled wells. The lowest risk was for people living a median of about 40 miles away."
2016 06 14: Elevated Cancer risks surround oil & gas drilling. Fracking is bad for your health says Israel Health Ministry official; Frac flowback stage causes greatest air pollution; WORLD-WIDE STUDY: One in three strokes caused by air pollution
2016 05 18: Concerned Health Professionals Ireland call for frac ban: 'Extremely strong" evidence fracking harms human health
2016 05 12: Another New Peer-Reviewed, Published Frac Health Harm Review: Harmful chemicals used in, produced by unconventional oil & gas pose serious threat to infants & children
2016 05 01: Albertans still don't know what toxic oilfield chemicals their children are breathing. When will companies be ordered to fully disclose all chemicals, including trade secrets, before racing toxic truck loads through school zones, by hospitals, where children play, and before injected, spilled, dumped, spread on foodlands, flared, vented, spewed from endless facilities?
2016 01 05: New Study Confirms Fracking Wastewater Is Cancer-Causing. "Barium and Strontium were elevated in frac flowback water exposed cells." Encana and Alberta government testing showed barium & strontium doubled in Ernst's water after Encana's illegal aquifer fracing
2015 11 23: Prevent Cancer Now calls out AER's Health Fraud! "The AER has no jurisdiction for human health, and Alberta is famed for a chill against the medical community linking ill health to petrochemicals."
2015 07 25: Pennsylvania Study Links Fracking to Health Hazards in Fetuses, Infants, Young Children: 35.1% more cancer in children ages zero to four in heavily frac'd counties. Compare to AER's belittling, dismissive health study in the Lochend
2015 05 01: Fracing's long reach: New Study says Fracking Wells Could Pollute The Air Hundreds Of Miles Away
2015 04 08: "It looks like fracking has unearthed an unbargained for and serious cancer risk in peoples' homes." John Hopkins study links radon levels in Pennsylvania homes to fracking: "These findings worry us"
2013 10 30: Study: Toxic Chemicals, Carcinogens at Levels Far Exceeding Federal Limits Near Frac Sites, Will almost certainly lead to cancer increase in surrounding areas
2013 12 18: Hormone-disrupting chemicals found in ground and surface water at fracking sites, Peer reviewed study of fracking sites in Garfield County Colorado finds chemicals linked to infertility, birth defects and cancer
2013 11 29: Several families taking Baytex to court over toxic emissions; Buyout packages allegedly silence Albertans struck with industry-related cancer
2013 04 30: Alberta announces new cancer-care plan, but won't stop hydraulic fracturing or disallow trade secrets of the toxic chemicals injected
2012 11 01: Silent killer: Health Canada urges testing homes for cancer-causing radon
2011 12 11: Frac Company Trican Donates $5 Million to Fight Childhood Cancer What did Trican know then, that Alberta families did not?