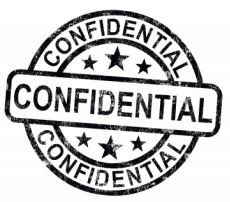 Credit for the "confidential" stamp on page 8 goes to Stuart Miles/123rf.com
Legal Fractures in Chemical Disclosure Laws, Why the Voluntary Chemical Disclosure Registry FracFocus Fails as a Regulatory Compliance Tool by Kate Konschnik with Margaret Holden and Alexa Shasteen, April 23, 2013, Harvard Law School
Summary
In its current form, FracFocus is not an acceptable regulatory compliance method for chemical disclosures. The registry's shortcomings – and opportunities for improvement – fall into three categories:
(1) Timing of Disclosures. State laws attach penalties to a company's late submittal of, or failure to submit, chemical disclosures. However, FracFocus does not notify a state when it receives a disclosure from a company operating in that state. Nor can most states readily determine when a disclosure is made. As a result, states cannot enforce timely disclosure requirements.
(2) Substance of Disclosures. FracFocus creates obstacles to compliance for reporting companies. For example, by not providing state-specific forms, FracFocus leaves companies to figure out how to account for state disclosure requirements not covered by the FracFocus form. FracFocus staff does not review submissions,and states usually do not receive the form; factors that may encourage some companies to under-value careful reporting. Meanwhile, no state sets minimum reporting standards for FracFocus. In fact, were FracFocus to disappear entirely, most states using the registry would have no backup disclosure methods readily identified and available to them.
(3) Nondisclosures. Trade secret protection iscritical in orderto reward development of unique products in the marketplace. However, three characteristics of a robust trade secret regime prevent overly broad demands for this protection: substantiation by the company, verification by a government agency, and opportunity for public challenge. FracFocus has none of these characteristics; operators have sole discretion to determine when to assert trade secrets. As a result, inconsistent trade secret assertions are made throughout the registry. [Emphasis added]
FracFocus has 'serious flaws,' Harvard study says by Mike Soraghan, April 23, 2013, E&E News
A study by a new Harvard University policy initiative says the FracFocus.org website has "serious flaws" as a means of disclosure for hydraulic fracturing chemicals used in oil and gas production, and state governments shouldn't be relying on it. The study says FracFocus has a one-size-fits-all approach that doesn't account for different state requirements, prevents many kinds of searching and gives drilling companies too much leeway to miss deadlines or withhold information as trade secrets.
"States have written tough disclosure requirements, backed by robust public information laws," said Kate Konschnik, policy director of the Harvard Environmental Law Program. "However, when those same states direct companies to report to FracFocus, they give up a lot of oversight authority. Meanwhile, the public's ability to seek additional information or challenge trade secret claims is lost when an agency is not in possession of the disclosures." … Disclosure of hydraulic fracturing chemicals is now required in 18 states. Of those, 11 allow or direct drilling companies to report on FracFocus. … The administrative costs of the website are paid by the American Petroleum Institute and America's Natural Gas Alliance, and industry officials say it is the best means of disclosure. Many of the aspects of FracFocus criticized by the Harvard study are supported by oil and gas industry groups.

'An impenetrable interface'
The report , titled "Legal Fractures in Chemical Disclosure Laws," echoes the complaints of open-government groups, environmentalists and the Obama administration's "fracking" study panel that FracFocus has serious flaws as means of government-made disclosure. It comes as the Obama administration is expected to endorse FracFocus as a means of disclosure of the fracturing chemicals used on federal public lands (EnergyWire, Feb. 8).
The study says FracFocus "fails as a regulatory compliance tool" because government agencies that use it give up control to the website and the companies. … And, the study says, the site lets operators decide when to conceal chemical ingredients as trade secrets. Because of that, the report says, trade secret claims are widely inconsistent.
Those inconsistencies can be difficult to detect because FracFocus requires users to open the disclosures one at a time as PDF documents, rather than letting users see data on multiple wells in a spreadsheet.
The report calls it "an impenetrable interface that prevents users from accessing more than one disclosure form at a time, thereby virtually eliminating any real search functionality."

The Harvard researchers used data from the environmental group SkyTruth that "scraped" the information from the site and put it in tabular form. They found that companies often claimed trade secret protection for chemicals at one well that they had already disclosed at another.  [Emphasis added]
Fracking disclosure site has 'serious deficiencies,' study says by James Osborne, April 23, 2013, Dallas News
A government-mandated website on which oil and gas companies list chemicals they pump into the ground at hydraulic fracturing sites has "serious deficiencies," according to a study by Harvard Law School released Tuesday.
The study found FracFocus.org lacked transparency and gave companies "overly broad" authority to determine what they can exclude in the name of trade secrets. The report also asserted there was little to no oversight…. [Emphasis added]