2022 01 22: Another 5 Star review, by Patrick McCauley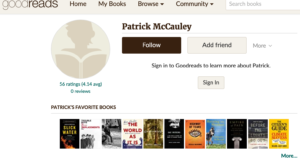 2021 12 12: Another 5 Star review, by janet

2021 03 06: From a Pennsylvania resident:
One of the very few books I've read 'cover to cover' in the past 10 years!
2020 06 09 Review by Lorne Cheeseman on Goodreads:
As someone who was born and raised in Alberta I was disgusted and ashamed of my home province as I read this book. While focusing on a particular case the book goes into enough detail about fracking and gas extraction in general to give a good background about this technology. The technology while dubious is far outweighed in the book by the wanton disregard by the petroleum industry and government. If anyone thought that government agencies were there for the people this book will change their mind. The book is well written with just enough technical details to help understand what is going on along with a good balance of the human drama of the people affected. It was an easy read and once I got going became harder and harder to put down.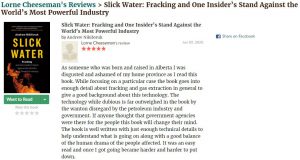 2019 07 17: Note from BC Canada:
I read slick water and was blown away it is an amazing book and I am busy giving copies to anyone I can find. I just want to say you are my personal hero you have so much strength and courage!
2018 03 11 Note from Ireland: Hi Jessica, was celebrating International Women's Day with Ger last night so thought Id give her a pressie – a book charting the work of a remarkable woman. N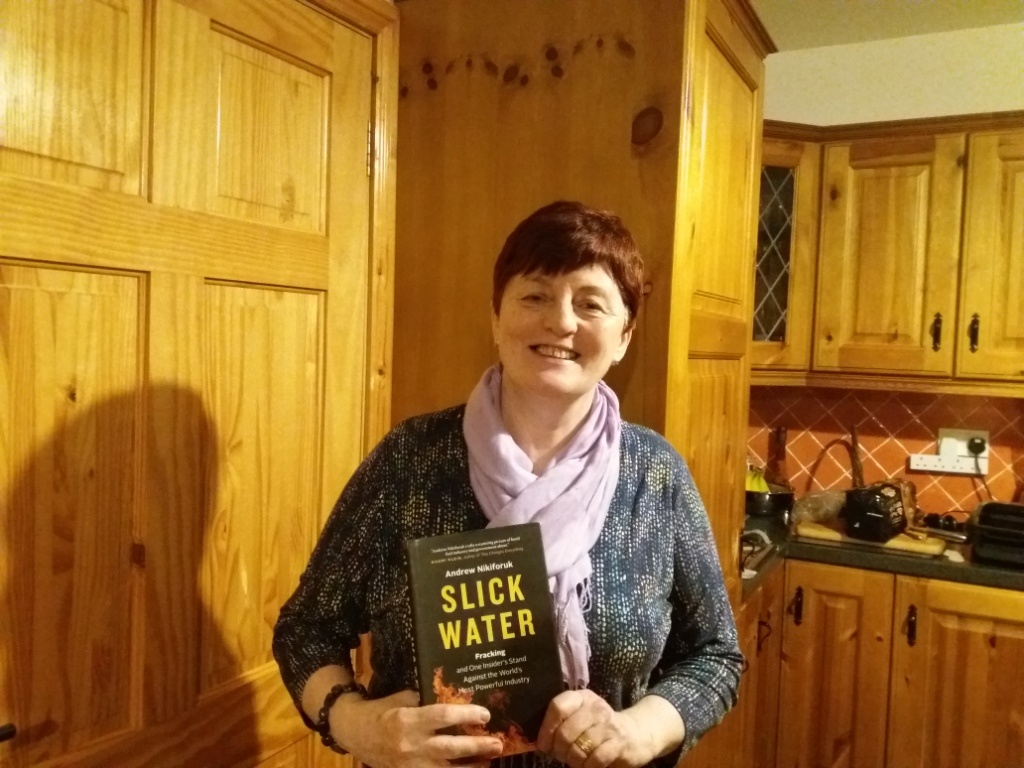 Photo and text posted with permission
Slick Water: Fracking and One Insider's Stand against the World's Most Powerful Industry by award-winning investigative journalist Andrew Nikiforuk, originally published in Canada September 18, 2015 by Greystone Books

2017 01 16: Acclaimed Canadian author lays out dirty back story of fossil fuel industry and government by Warren Bell, National Observer
Jessica Ernst, the biologist who on Friday lost a split decision in the Supreme Court of Canada over suing the Alberta Energy Regulator, is no ordinary person.
And she hasn't really lost, because the SCC did not argue on the merits of her case, but rather rejected the procedure that led her case to their door.
…
Since the book was written, Ernst gained leave to have her case heard by the Supreme Court of Canada, where she sought justice for herself and for the tens of thousands of ordinary citizens – farmers, ranchers, First Nations, rural citizens and small town residents – who have been harmed by fracking operations not only in Alberta, but all over the world.
Author Nikiforuk reveals that one determined person can, against almost insuperable odds, take on one of the most opulent industries in the world – and win. It will make you cheer, but only after it has angered you and stirred up almost unbearable suspense regarding the eventual outcome.
… Nikiforuk's meticulously researched book draws on court documents, scientific research, media reports, expert analysis, eye witness testimony, and industry insider information to paint a picture of an industry that is brutal in its methods, and fully aware of the inconsistencies, unintended consequences and misdeeds that are part of its everyday operations. At times, they are besotted with a combination of hubris and entitlement enhanced by the fulsome co-operation they receive from various government regulatory bodies.
You will also see an industry that is very, very wealthy, and has a network of well-placed friends in the regulatory domain.
The oil and gas industry shares methodologies and attitudes with its corporate cousins in the pharmaceutical industry, chemical industry, tobacco industry, the agrichemical industry, factory farming industry, and any and all sectors dominated by global corporate interests. All of them tend to see themselves as above the laws that apply to regular citizens (in fact, they often help re-make those laws to suit their own particular ends).
… Nikiforuk's book, Slick Water, is filled with riveting stories – of sickened landowners and their animals, of corrosive and sometimes lethal eruptions from subterranean fracking, of old well sites the leak and simmer with noxious fumes and poisons, of incessant and invasive noise from drilling and compressors that shatters peaceful rural lives. Most disturbing of all, perhaps, are the stories of endless legal manipulation of injured and/or bankrupted citizens, directed at buying them off and most important, muzzling them with gag orders.
The following excerpt will show you why reading this book will dispel forever any illusion you may hold of a benign and honourable business of fossil fuel extraction.
What follows is the transcript of the essential parts of a revealing candid conversation that took place in 2013 between a lawyer representing the Alberta government and a worker from the fossil fuel industry seeking information from him on behalf of his mother.
The lawyer was Glenn Solomon, senior partner in the law firm Jensen Shawa Solomon Duguid Hawkes LLP, hired in 2011 to defend the government-run Energy Resources Conservation Board (ERCB) against claims that it was not fulfilling its mandate to protect the rights of the citizens of Alberta. The ERCB is the predecessor of the AER – the Alberta Energy Regulator – which Jessica Ernst is suing.
Glenn Solomon's law firm has strong ties to the federal Conservative Party and the Alberta government.
…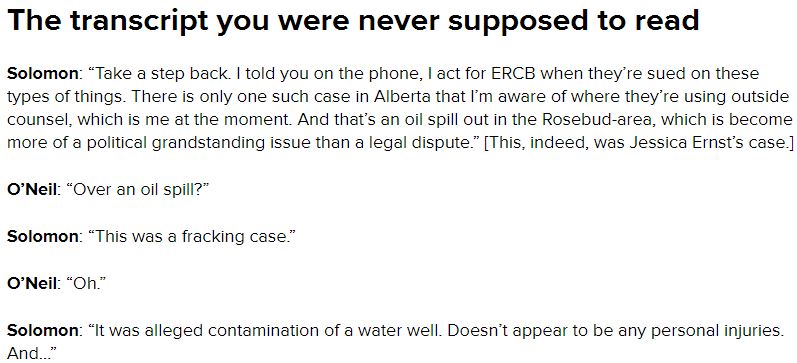 …
If Jessica Ernst had won her case before the Supreme Court of Canada, fracking companies would be running scared, because their protector and advocate, the Alberta Energy Regulator – and all similar government agencies — would no longer be able to cover up for them. The legal landscape around fossil fuel extraction would have instantly been changed forever, and ultimately, the physical landscape in which we live would have been changed also.
But this brave and stubborn woman is not giving up, and the Supreme Court decision does not shut the door to other legal actions against both regulators and industry. In fact, the fact that it was a narrowly split decision opens the door for further actions which address the technical glitch that allow industry a brief reprieve.
…
Click to read entire review at National Observer
2016 10 04: Winner of the Lane Anderson Award, Adult category: Alanna Mitchell for Malignant Metaphor, on confronting cancer myths.
[Lane Anderson Award] Judges commented [on Slick Water]: "Remarkable biography interwoven with the science and environmental impact of [fracking]…incredibly well-researched..I finished it angry."
…
The Lane Anderson Award is administered by Christopher Alan of [the law firm] Gowlings in Toronto. [Lane Anderson Award does not disclose who their judge(s) is/are]
2016 09: Andrew Nikiforuk wins Rachel Carson Environmental Book Award Honourable Mention for Slick Water
Nikiforuk connects dots from coast to coast in the United States and Canada, making a bold case for this claim: "Men do not understand the courage of ordinary women."

The Society of Environmental Journalists is proud to present the winners of the 2015-2016 Awards for Reporting on the Environment. SEJ's journalism contest is the world's largest and most comprehensive awards for journalism on environmental topics.
***
Rachel Carson's dedication in her 1962 book, Silent Spring:
To Alberta Schweitzer
who said
"Man has lost the capacity to foresee
and to forestall. He will end by
destroying the earth."
***
2016 09 12: Andrew Nikiforuk wins USA National Science in Society Award for Slick Water. "NASW's Science in Society Journalism Awards honor and encourage outstanding investigative and interpretive reporting about the sciences and their impact for good and ill."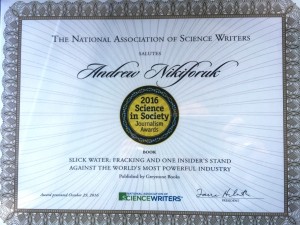 The judges said, "Here's an excellent book with a strong protagonist who carries the narrative and turns a potentially wonky and bureaucratic matter into a page-turner. The author is facile with the science, and also with the story telling."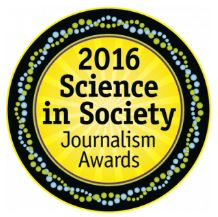 They added, "We found it a compelling read with clear, crisp writing. We were struck not just with the main character's amazing persistence in pursuing justice against all odds, but also the author's persistence as he nailed down the details. We came away inspired."
The final judging committee consisted of Thomas Hayden (Stanford University), Martha Mendoza (Associated Press) and Gene Russo (Proceedings of the National Academy of Sciences).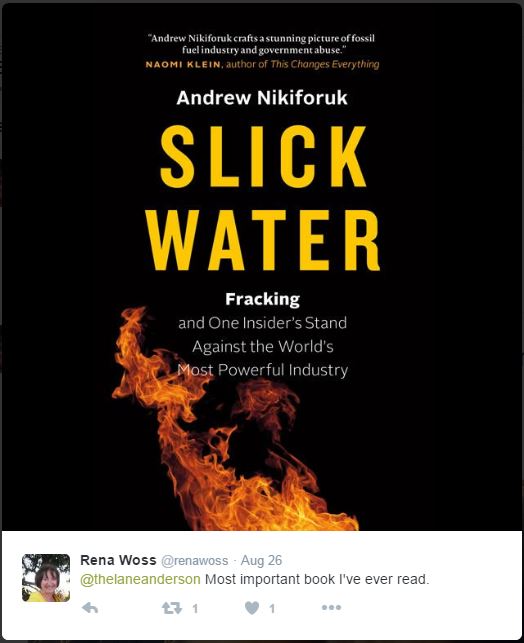 2016 08 24: Andrew Nikiforuk's "Slick Water" a Finalist for 2015 Lane Anderson Awards

The Lane Anderson Award was created by the Fitzhenry Family Foundation to honour great science writing in Canada. There are categories for adults and young readers. The winner in each category receives $10,000.
2016 08 24: Finalists for 2015 Lane Anderson Awards Announced

We're excited to announce the finalists for the best Canadian science books written in 2015! On September 30th, 2016, a winner will be selected in each category, adult and youth reader.
Adult Finalists:

Here's your chance to have your say and win the 2015 Lane Anderson Award finalists! Tweet your favourite finalist from either the Adult or Young Readers category and include the hashtag: #laneandersonaward
***

2016 06 04: Alberta Literary Award Winner: Andrew Nikiforuk's Slick Water wins Wilfred Eggleston Award for Nonfiction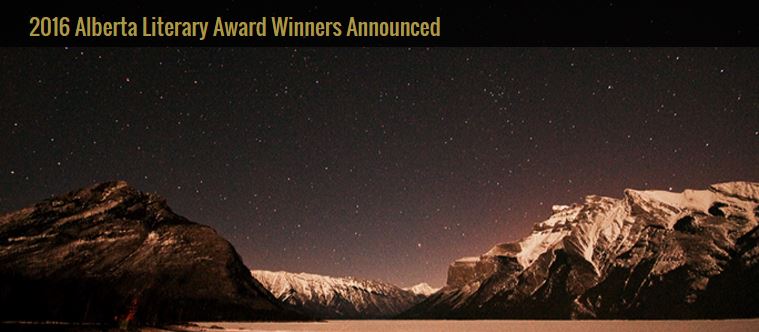 The Writers' Guild of Alberta Announces 2016 Alberta Literary Awards Shortlist
Our awards jurors deliberated on more than 200 submissions to select 25 finalists in eight categories. Finalists represent excellence in literary work written by Alberta authors and published or created in 2015. We encourage you to check out these fantastic titles:
Wilfrid Eggleston Award Shortlist for Nonfiction (Supported by Jane Stevens and the WGA Board of Directors) of $1500:
Stephen Bown (Canmore) – White Eskimo: Knud Rasmussen's Fearless Journey Into the Heart of the Arctic, Douglas & McIntyre
Will Ferguson (Calgary) – Road Trip Rwanda, Viking Canada (Penguin)
Andrew Nikiforuk (Calgary) – Slick Water, Greystone
2016 04: Writers' Trust of Canada Shaughnessy Cohen Prize for Political Writing Shortlist. Winner revealed April 20, 2016 at Writers' Trust Politics and the Pen Gala in Ottawa.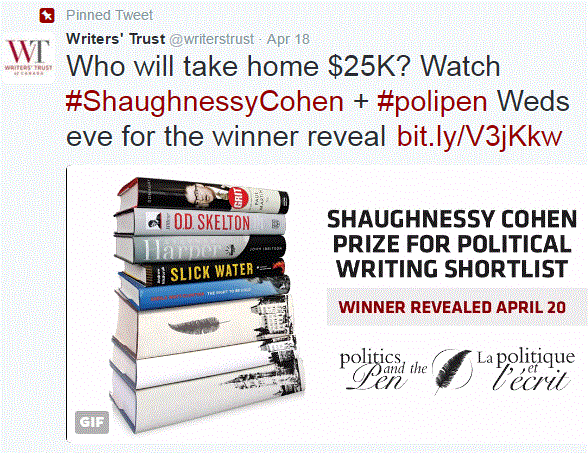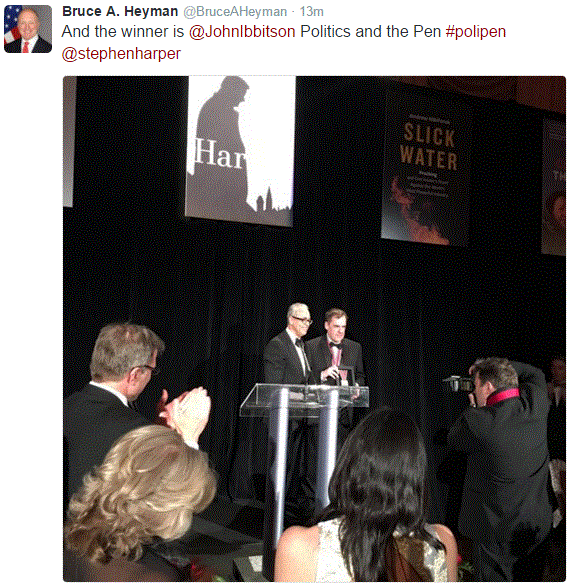 Andrew Nikiforuk and Doreen Docherty at the Writer's Trust Gala in Ottawa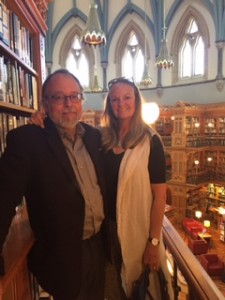 Andrew Nikiforuk and Doreen Docherty adding Slick Water to the Parliamentary Library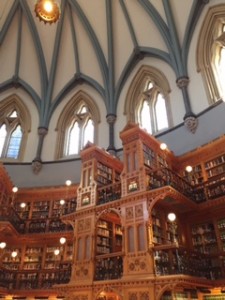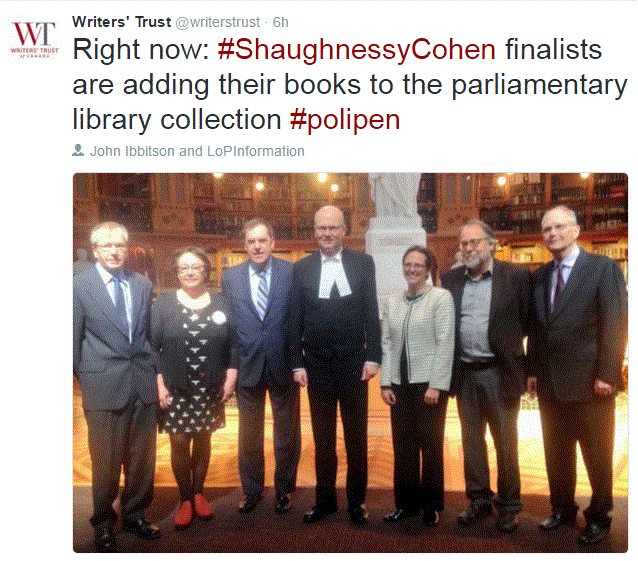 Slick Water is available in libraries, in stores and online at Greystone Books, Amazon.ca, Amazon.com, Amazon.uk, Amazon.com.au, National Library of Australia Bookshop, Amazon.de and more.
Summary below from Amazon.com:
The fossil fuel industry and many environmental groups tout hydraulic fracturing — "fracking" — as a panacea, with slick promises of energy independence, greenhouse gas reductions, and benefits to local economies. …
After energy giant Encana secretly fracked hundreds of gas wells around her home and her well water turned to a flammable broth, Jessica Ernst started asking questions. When she put forward evidence that Encana had violated laws by fracturing the community's drinking water aquifer, Ernst was falsely tagged as a bomb-making terrorist and visited by the government's anti-terrorism squad. Frightened but undaunted, she uncovered a startling history of liability, fraud, and intimidation, along with a willful denial of widespread groundwater contamination.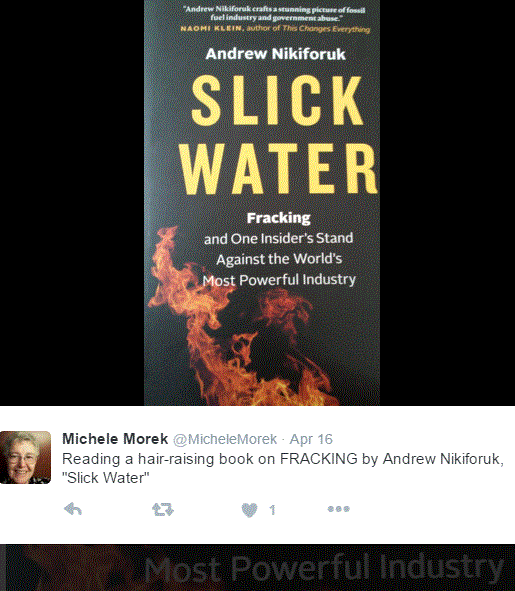 Slick Water Excerpt featured by OpenCanada.org, April 12, 2016:
'Is it worth a fight?'
While Ernst talked to rural Newfoundlanders, Brent O'Neil, an international oil-patch driller, sat down in Calgary with lawyer Glenn Solomon to get some legal advice. O'Neil's mother, Ann Craft, owned an eighty-acre farm near Ponoka, Alberta, and in 2012 her land got fracked. When Quicksilver resources worked over four shallow coal seams north of Craft's home, a fracture went out of zone, lifted up her front porch, and buckled several outbuildings. Alberta Environment had promised to investigate all the wells drilled within a two-kilometre radius, and also to catalogue the fracking fluids used. It had even ordered a hydrogeological study. But Quicksilver talked the regulator out of such rigor, and no proper investigation ever took place. To add insult to injury, a trucking company delivered tainted produced water to Craft's cistern. She bathed in the toxic brew, and it nearly killed her.
After two years of wrangling with the government, Brent O'Neil wanted to know what chances his mother might have if she sued the regulators for negligence. O'Neil taped his conversation with Solomon on his iPhone, because he planned to share it with his mother later.
"Take a step back," Solomon advised O'Neil in fatherly tones. "I told you on the phone, I act for ERCB when they're sued on these types of things. There's only one such case in Alberta that I'm aware of where they're using outside counsel, which is me at the moment. And that's an oil spill out in the Rosebud area, which has become more of a political grandstanding issue that a legal dispute."
"Over an oil spill?" asked O'Neill for clarification.
"This was a fracking case," Solomon replied.
"Oh," said O'Neill.
"It was alleged contamination of a water well. Doesn't appear to be any personal injuries. And …"
"Just groundwater contamination?" interjected O'Neill.
"Groundwater contamination," confirmed Solomon. He continued: "Encana is the oil company. They've said, 'We deny that we've done anything but we'll give you a lifetime supply of potable water anyway, because we just don't care and we don't want to fight with you.' You know, it's Encana, and they have all the money in the world. And Alberta Environment and the ERCB have been sued in that one as well. I can tell you it's a case that is seven years old. I haven't yet filed a statement of Defense because it's been tied up in preliminary application … because that's what happens when you start suing Alberta Environment and ERCB."
Solomon went on: "We keep on telling the plaintiff's lawyers, look, if you get rid of us [the dispute with the regulators], Encana is going to resolve this with you, cause they always do. That's what they do. Encana has said, "Look, you know, we're happy to pay for this, without admitting or denying liability … You know, it's … this is a rounding error on our balance sheet, for God's sakes. Would you stop being a nuisance?'"
"But the PR and the bad publicity that comes from it for everybody, is that even worth it?" asked O'Neill.
"Encana, ERCB, and Alberta Environment just don't care about that either," responded Solomon. "They just don't care about bad publicity because … what tends to happen is that the people who go yapping to the media are typically seen as nutcases."
O'Neill then asked a direct question. "On your experience with fracking and stuff, where, what's the success rate?" O'Neill noted that Quicksilver had had a claim filed against them by Dale Zimmerman, the Wetaskiwin farmer, involving fracking and groundwater contamination. "What's the Canadian climate for that kind of stuff? Is it worth a fight?"
"I'm not aware of any cases that have gone to trial where fracking damage has been successfully proved," Solomon replied. "But, again, most of these cases resolve. 'Okay, we damaged your water well. We'll just set you up with potable water through a tank system forever, because, you know, we just spent a million dollars drilling this well that we made a hundred million on. And it's costing us an extra three hundred thousand. We're okay.'"
Solomon elaborated on the industry's attitude: "'You know, we don't need to litigate with you, we don't even need to know that it was our fault. We're just happy to pay you. And by the way, by doing that you shut up, the regulators stay off our back, we get to do it again down the street.' And so that's the oil company approach on these [things]. The people who typically are suing are getting a lot of resistance, and it's a knock-'em-down, drag-'em-out brawl, where the oil companies are not resolving it. If you drag in the regulators, I can tell you from experience … it's Word War III. And Encana, Alberta Environment, and the ERCB, as it turns out, all have effectively unlimited resources. You know they have office towers full of experts. They have bank accounts full of cash. The cost of having even an army of lawyers is something that they wouldn't even notice, and they don't have to answer for it. So anyone who wants to pick that fight is literally crazy."
Q & A with Andrew Nikiforuk by Samara Canada: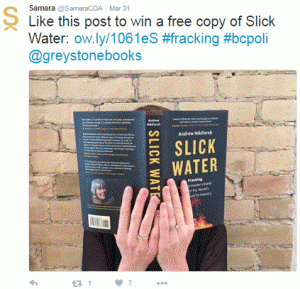 Tell us about the genesis of your book. How did you arrive at the subject?
I first stumbled across the story of Jessica Ernst in 2004 while working for the Globe and Mail. At the time I didn't realize that her story about contaminated water offered a dramatic preview of the shale gas revolution and its ruinous impacts on rural landscapes throughout North America. After the Canadian mainstream media largely ignored Ernst's story and the real science on hydraulic fracturing, I decided to put it all on the public record. The injustice of her case simply haunted me. In fact the book might be the only justice she finds in Canada.
How was the writing process? Did you face any challenges while writing your book?
The research and writing took a long time due to the complexity of the case. Much hidden science warned about the impacts of hydraulic fracturing decades ago but finding it took years of reporting. I also had much help from Jessica Ernst, an oil patch scientist. She is not only an excellent researcher but keeps meticulous records. The trick was to combine her legal story with a larger narrative about the science and history of a highly disruptive and controversial technology. Without Ernst's voluminous documentation, the book would not have been possible.
Who would you like to read this book?
First and foremost this book really explores the courage of women and how they confront brute force and the political abuse of power. Their courage differs so much from men. …
Why is your book important for Canadians and our political culture?
… It documents the failure of regulatory and government officials to uphold the law and investigate what appeared to be a simple case of groundwater contamination. But Ernst's case clearly reveals that industry's liabilities extend well beyond groundwater contamination and include gas migration, land fragmentation and thousands of leaky hydrocarbon wells. As such it is a classic case about the abuse of power by government officials in a petro state—and all to protect their central revenue earner. It is also a reminder that one uncompromising individual, who refuses to settle out of court, can expose systemic political and industrial corruption in unpredictable and civil ways.
Q & A with Andrew Nikiforuk by The Hill Times: Kate Malloy:
"Democracies die without uncomfortable truth-seekers like Jessica Ernst. How could you not like a story like this? It is inspiring. Everyone should take notice."
Joan McEwen Vancouver, Canada: Writer/lawyer/author of Innocence on Trial: The Framing of Ivan Henry—a wrongfully convicted man.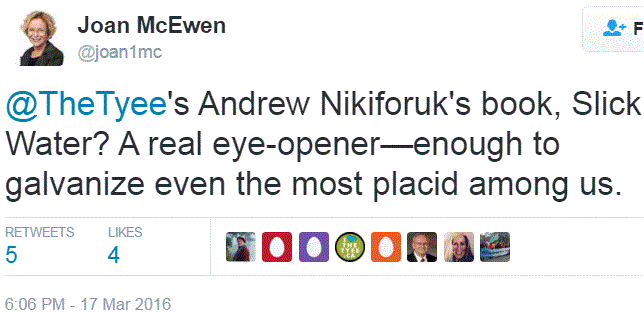 Reviews: 
In a dynamite example of investigative journalism, muckraker Nikiforuk…chronicles the environmental devastation wrought by the hydraulic fracking industry in Alberta and beyond. … In 14 gripping chapters, Nikiforuk follows Ernst's multi-pronged assault on Big Energy, from hiring brass-knuckled lawyers, to exhaustively cataloguing the gas industry's illegal shenanigans, to performing chemical tests on "slick water," fracking's toxic by-product. Nikiforuk peppers his rich narrative with a wealth of historical context about corruption in the industry he examines, making this book essential reading for every human whose soul is not clouded by methane or coated in oil.
Australian Book Review: Monash University Lecturer Ruth A. Morgan
Geologically and politically, as Ernst warned an Irish community, '[F]racking brings a war that knows no borders.'
… Her story echoes that of American marine biologist Rachel Carson, who withstood the ridicule of the chemical industry in the 1960s after the publication of Silent Spring (1962). Like Carson, Ernst is attuned to the widespread ecological and intergenerational impacts of fracking. Literary scholar Rob Nixon describes such forms of environmental degradation as 'slow violence'.
Nature, International weekly journal of science: Barbara Kiser
This meticulously researched study by journalist Andrew Nikiforuk lifts the lid on the costs of that vast geological-engineering experiment, fracking. It centres on Canadian environmental impact assessor Jessica Ernst, who in 2005 found explosive levels of methane in her well water, fingered the culprit as fracking and launched a legal battle. Interwoven with her story is a deft history of fracking from the 1850s (when torpedoes and nitroglycerin were used) through the 1960s (nuclear explosions) to modern hydraulic fracturing.
The book should be required reading for every MLA.
… But it is the human story — that of Jessica Ernst, a one-time energy industry consultant whose well water became heavily contaminated after Encana conducted numerous fracking operations in the aquifer that supplied her and other residents in and around Rosebud, Alberta, with their water — that is the most compelling, heart-breaking and anger-inducing.
And not just because of the shoddy, dismissive attitude that the energy company had when it came to what impacts its operations might have on peace and quiet and on water quality. More troubling by far is the almost complete lack of meaningful action, incompetence and acts of overt hostility and intimidation visited on Ernst by members of the Energy and Utilities Board (EUB), Alberta's then energy industry regulator, provincial environmental officials, and the RCMP.
… Eleven years after Ernst's problems first began and nearly eight years after lawyers filed her lawsuit, Ernst is still awaiting justice. The slug-like pace of the legal proceedings coupled with the drying up of all opportunities for her to work in the oil patch means that Ernst is draining her life's savings in the fight. But she is not backing down. Blessed with an encyclopedic memory and a willingness to go to the wall to extract information from a government that holds onto it about as stubbornly as a shale rock formation holds onto its trapped gas, Ernst has armed her lawyers with a wealth of information that may one day set a precedent that tens of thousands of other landowners living in harm's way will thank her for.
… Fourteen years ago, Nikiforuk wrote Saboteurs. Subtitled Wiebo Ludwig's War Against Big Oil, the book recounted the horrors visited upon numerous rural landowners by encroaching natural gas operations, and in particular the toxic legacy of "sour" gas.
… Fourteen years into her battle with Encana and the Alberta government, Ernst is still very much on her own lonely path, continuing to remain strong in the face of government and industry adversity. She shows no signs of stopping. And there isn't a shotgun in sight.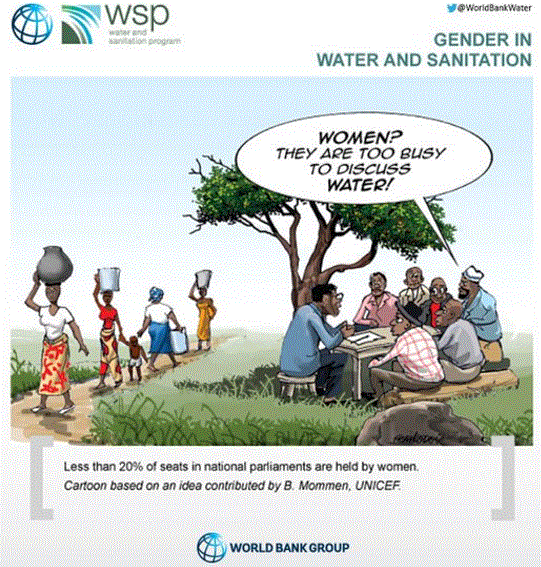 Blogborgcollective: Robin Mathews
A commanding aspect, linking widely disparate events and occasions, is caught in one of the most sparkling (if it may be called that) chapters entitled "The Police Come Calling".
… Calling themselves members of the National Security Enforcement Team (?), RCMP officers first called Jessica Ernst by telephone and were told by her not to visit her property. Days later, they arrived at her home unannounced and without any kind of Warrant. The visit – one may speculate – had a number of purposes. To frighten and coerce Jessica Ernst. To urge her into naming sympathizers. To please the federal government led by Stephen Harper, and to please the (then Eternal) Conservative government of Alberta, and the Encana Corporation, and the cowardly lawyers of Alberta who would have been pleased to see Ernst frightened away from legal action.
… To this day, the new People's Government of Alberta [NDP] has not lifted a finger to lessen the injustice under which Jessica Ernst staggers.
Indeed, the Alberta NDP government has approved the continuing role of Gerard Protti, former vp of Encana Corporation and former president of the Canadian Association of Petroleum Producers as top man at the Alberta Energy Regulator.
Slick Water is not only an educational read devoid of confusing legal and environmental jargon, it also features a powerful protagonist to represent the problem.
… Throughout the book, there's a subtle feminist undertone: Ernst is living proof that powerful men shamelessly and egregiously muzzle women, simply because they can. But Nikiforuk also demonstrates that practically nothing can stop Ernst – if a door is slammed in her face, she'll fearlessly knock its hinges off in her determined quest for justice.