Families Seek Court Injunction Against Tar Sands Producer, Alberta Energy Regulator probe into Peace River emissions sparked in part by Tyee investigation by Andrew Nikiforuk, December 26, 2013, TheTyee.ca
Two of five families forced from their homes by chronic air pollution from oil sands facilities in Peace River have filed a court injection to stop Baytex Energy from using the atmosphere as a toxic garbage dump. The injunction application, now before Court of Queen's Bench, seeks to stop the company from venting toxic gases from 86 bitumen storage tanks in the Reno Field just south of the town of Peace River for a period of eight months. "Baytex leaves the top hatches open on its processing tanks and the aerosol plumes make you dizzy, gives you the worst headache you can imagine, makes your throat and nose sore and lots of other bad health effects," said Alain Labrecque, one of the family seeking an injunction. "The whole place smells like solvents and tar," added Labrecque in a press release. He moved his family away from their home nearly two years ago.
The storage tanks, where bitumen is heated up to 176 Celsius, releases a variety of pollutants including diphenyl, alkybenzenes, benzothiophene, dibenzothiophenes, fluorine, naphthalenes, phenanthrene, pyrene, tetralin, volatile organic compounds (VOCs) and other toxic substances, says the scientific literature.
Baytex Energy, a Calgary-based firm, has repeatedly argued that it is following Alberta's regulations about venting and flaring but the regulations actually say nothing about the venting of bitumen from storage tanks. Former energy minister Greg Melchin serves on Baytex's board.
…
"The way we have been impacted and treated is not good for anyone," added Labrecque. The government and energy industry are trying to convince Canadians, President Obama, and the rest of the world that our oil sands can be developed responsibly, both environmentally and socially. But that's not our reality. And that needs to change right now."
…
After more than two years of protests by local citizens the Alberta Energy Regulator (AER) is holding a public inquiry into the "odours and emissions" released by heavy oil operators such as Baytex in the Peace River region. The investigation was sparked, in part, by a Tyee investigation.
…
Once vented into the air these toxic fumes can travel for miles. [Emphasis added]
Families hope new video will help fight bitumen extraction, Complaints of health problems prompts injunction to close Baytex Energy's Peace Country facility by CBC News with files from Kim Trynacity, December 24, 2013
A court injunction has been filed to force a controversial heavy oil extraction facility in the Peace Country to shut down. As CBC News first reported, several families in the area have complained about mysterious health problems after the facility opened. Mike Labrecque says he has to wear a gas mask when he visits his Peace Country property, which he moved out of two years ago. The Baytex Energy site employs a relatively new process of extracting bitumen from beneath the ground called Cold Heavy Oil Production with Sand, or CHOPS. Heavy oil  is pumped from the ground and stored in heated tanks which produce emissions that form an aerosol-type plume. Some families have left the area, claiming that the emissions have caused various health problems. Mike Labrecque moved away from his property two years ago after he lost weight and had difficulty breathing.
Labrecque and other families have filed an injunction to stop Baytex Energy from operating 86 vented bitumen storage tanks. The stop-work order would last eight months — enough time to add equipment to capture emissions.

Video was released this week showing emissions from the storage tanks not visible to the human eye. The infrared images were captured by an inspection team with the Alberta Energy Regulator, which visited the site between April and July.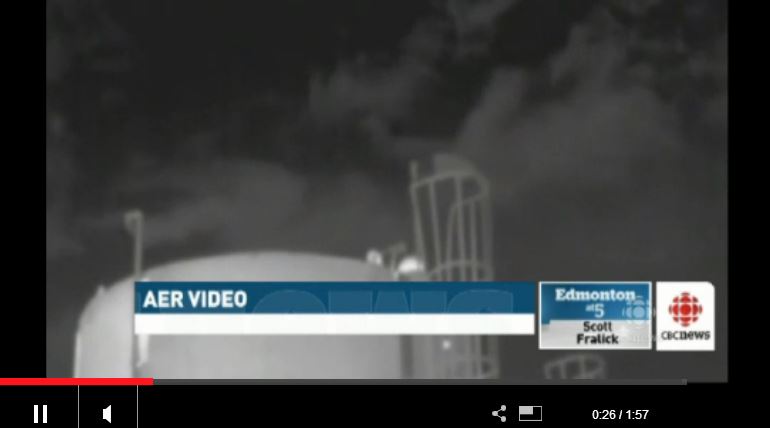 Infrared footage taken by the Alberta Energy Regulator (AER) shows invisible emissions 1:57 Min.
"This is occurring at a time when Alberta and Canada and the industry are trying to send a message to the world — that oilsands can be developed responsibly. And the action of this company and the experience of these people says otherwise," said the families' lawyer, Keith Wilson. Baytex insists it has improved the safety of its process. The injunction is expected to be heard in a Peace River courtroom in two weeks. Meanwhile, a public inquiry into CHOPS starts at the end of January. [Emphasis added]
Fed up with fumes: families ask court to stop heavy oil producer by Bob Weber, The Canadian Press, December 24, 2013, The Calgary Herald
An Alberta family that says it was forced to leave its home due to intolerable smells from a nearby heavy oil producer has turned to the courts to try to get the sickening odours to stop. "It's necessary to try and bring the venting of these emissions to an end as quickly as possible," said Alain Labrecque, who is asking a Peace River court for an eight-month injunction to shut down 46 wells owned by Calgary-based Baytex Energy (TSX:BTE).
A Baytex spokesman said Monday that tests last spring showed no exceedances of provincial air-quality guidelines. Andrew Loosley said the company is continuing to co-operate with an inquiry called by Alberta's energy minister. "We are in compliance with all applicable regulations," Loosley said. In an affidavit filed with the injunction request, Labrecque writes that he, his wife and two children are accustomed to living alongside the energy industry and for years had no problems with the wells in the Reno field near their farm in northwestern Alberta. He says odours began in 2011 after Baytex bought the wells, which use an unusual method of heating bitumen in above-ground tanks to extract the oil. "By March 2011, the odours and noxious fumes continued to get worse," Labrecque writes. "Karla and I continued to experience severe headaches and other heath impacts. The dizziness and loss of balance continued, but other impacts started, including sinus congestion, muscle spasms, popping ears, memory loss, numbness in the hands and side of the nose, constipation/diarrhea, vomiting, eye twitching, fatigue and other impacts. A number of these symptoms began to show up in our kids as well and we became even more concerned."
Baytex's operations have also been a concern in the nearby community of Three Creeks, where several families citing similar health complaints have also left their farms.
Baytex is the only operator in the Reno field. Hearings that are part of the inquiry are scheduled to begin Jan. 21. A report is due by the end of March. But no matter what the hearing concludes, its recommendations are likely to take months to implement. "It could be into the summer of 2014, or into the fall or later, before these families get any opportunity to get some relief," said Keith Wilson, the lawyer for the Labrecques. "That's just too long."
Documents submitted along with the injunction request suggest that the bitumen produced in the area is higher than normal in sulphur, which is a common source of bad smells. "The possibility that the high sulphur content of the bitumen produced in the Three Creeks and Reno areas might have something to do with the complaints of odours is reinforced by an analysis of the odours and the description of the odours," said a Dec. 13 report produced for the Alberta Energy Regulator. Another report for the regulator casts doubt on Baytex's air-quality measurement. It notes there was some question as to whether the company scaled back its operations during the time the measurements were being taken.That report also concludes that previous environmental studies "were of too poor quality to be useful."
Government figures show the amount of gas vented from a large area that includes Peace River has roughly doubled since 2010. Residents suggest Baytex's problems result from the company's attempts to increase production and heat its bitumen to higher temperatures in unsealed tanks. Loosley said the company is installing a pipeline to carry away some of the gases that could be causing the smells. "We've had lots of dialogue with the residents over the last number of years," he said. "We've been trying to do some improvements to those facilities on an ongoing basis."
The Labrecques are living in Smithers, B.C. — a whole province over from where his grandfather pioneered and where their house now stands abandoned. "It sucks, for sure," Labrecque said of their situation at a time of year when thoughts turn to family and home. "It does remind us of what our place was and where we should be, meeting with family and friends. It's definitely been tough."
A hearing on the injunction request is expected Jan. 15. [Emphasis added]
[Refer also to:

Snap from Stopbaytex. Stop Baytex is also on Facebook
Several families taking Baytex (Alberta oilsands company) to court over toxic emissions; Buyout packages allegedly silence Albertans struck with industry-related cancer
Baytex Gag Order and Can You Silence a Child? Inside the Hallowich Case; Peut-on empêcher un enfant de parler? Le cas des Hallowich
Baytex submits action plan to ERCB following accidental land spraying with crude oil
Judge stops US-record frack wells by Encana in Michigan
B.C. school kids in danger, can suffer DNA damage illness from leaking sour gas several km away, yet B.C. allows wells within 100 m (~330 feet) of schools while Dallas City Council votes in 1,500 foot setback from homes and wells!
School board in Lethbridge wants stakeholder status; School district opposes proposed oil-drilling and frac'ing project in west Lethbridge
Fort Chipewyan rare cancer cases cry out for study; Fort Chipewyan councillor latest resident diagnosed with rare cancer, 'How can this keep happening?'
Big oil, big fracing, big problems? The Hawkwoods frac'd in the Lochend: health problems, dead cattle and earthquakes causing property damage
Air Pollution and Cancer Spikes linked in Alberta; Alberta's Oil Legacy: Bad Air and Rare Cancers, Sickening carcinogens now saturate Industrial Heartland, study finds
December 17, 2013: Alberta family, the Daunheimers near Didsbury, suing Angle Energy for $13 million for causing harm to health, property, financial status, personal safety and water
"Any reasonable person in our situation would have been damaged by Angle Energy's breach in duty. Angle Energy continues to breach this duty by causing and continuing to allow hazardous chemicals to remain in the ground surrounding and beneath the plaintiff's property and in the Daunheimer residence water supply and allow the continual emissions from venting and instrument operations."
The statement outlines particular allegations of company negligence, including the following:
• failure to comply with the directives pertaining to public notifications and concerns.
• shoddy, incomplete or entirely absent record keeping that violates the minimum data requirements and other numerous mandates set out in the regulatory directives.
• non-compliant venting that put the health and safety of the plaintiff and her family at risk.
• non-compliant incineration of waste gases that put the health and safety of the Daunheimer family at risk.
• refusal to provide public documentation and request for meetings when the plaintiff frequently requested.
• not using reasonable care during operations to prevent contamination of the source aquifer for the Daunheimer property.
• Not using reasonable care in protecting well sites and associated above ground piping from strikes.
• failure to conduct reasonably diligent daily inspections and take appropriate measures to mitigate deficiencies on various well sites.
• failure to report known releases to the environment.
The suit also contends that 'in most of the dealings the plaintiff had with Angle they demonstrated disgraceful conduct and engaged in reckless and intentional acts of exclusion and transgressions when interacting with the plaintiff. Company executives and employees operated outside of the natural boundary of civilized decency and this caused distress and emotional harm to the Daunheimer family. [Emphasis added]