***
Half the work that is done in this world is to make things appear what they are not.
– E.R. BEADLE
No other industry can inject chemicals into drinking water,
– Robert Jackson
***
To access the paper and press review:
New peer-reviewed published paper by Digiulio & Jackson: Only one industry is allowed to inject toxic chemicals into underground sources of drinking water – hydraulic fracturing
Some recent background:
How creative will frac fraud get? Wyoming regulator hires Canadian frac patent holder Maurice Dusseault (why?), Blames nature, Copy cats Alberta regulators, gov't, Research Council (now Alberta Innovates), Ignores red flag indicators of petroleum industry contamination, Ignores that Encana frac'd drinking water aquifers like Encana did at Rosebud
Stanford Research: Fracking Has "Clear Impact" On Underground Water at Pavillion Wyoming, A case study of a small Wyoming town reveals that practices common in the fracking industry may have widespread impacts on drinking water by Rob Jordan, March 29, 2016, patch.com
Only one industry is allowed to inject toxic chemicals into underground sources of drinking water – hydraulic fracturing, or "fracking." Concerns about this practice have riled the U.S. political landscape and communities around the country, perhaps nowhere more so than in Pavillion, Wyoming, population 231.
A new study by Stanford scientists published in Environmental Science & Technology finds for the first time that fracking operations near Pavillion have had clear impact to underground sources of drinking water. The research paints a picture of unsafe practices including the dumping of drilling and production fluids containing diesel fuel, high chemical concentrations in unlined pits and a lack of adequate cement barriers to protect groundwater.
The well field has gone through several corporate hands since the 1960s, but various fracking operators have used acid and hydraulic fracturing treatments at the same depths as water wells in the area.
"This is a wake-up call," said lead author Dominic DiGiulio, a visiting scholar at Stanford School of Earth, Energy & Environmental Sciences. "It's perfectly legal to inject stimulation fluids into underground drinking water resources. This may be causing widespread impacts on drinking water resources."
… As part of the so-called frackwater they inject into the ground, drilling companies use proprietary blends that can include potentially dangerous chemicals such as benzene and xylene. When the wastewater comes back up after use, it often includes those and a range of potentially dangerous natural chemicals.
… The EPA report, which linked shallow fracking to toxic compounds in aquifers, was met with heavy criticism from the drilling industry as well as state oil and gas regulators. Three years later, having never finalized its findings, EPA turned its investigation over to Wyoming. The state released a series of reports without firm conclusions, and, as of last month, has said it has no firm plans to take further action. In the meantime, the federal Agency for Toxic Substances and Disease Registry has advised area residents to avoid bathing, cooking or drinking with water from their taps.
The new Stanford study goes a step beyond the 2011 EPA report to document not only the occurrence of fracking chemicals in underground sources of drinking water but also their impact on that water that is making it unsafe for use.
The ripple effect goes well beyond Pavillion.
… "The EPA has consistently walked away from investigations where people and the environment appear to have been harmed" by fracking's impact on groundwater, Jackson said. [Emphasis added]
Fracking Study Finds Toxins in Wyoming Town's Groundwater and Raises Broader Concerns, Study also finds companies fracked into underground sources of water and at much shallower depths than previously known, close to drinking water wells by Neela Banerjee, March 29, 2016, Inside Climate News
Over that period, about 11 million gallons of fracking fluid were injected into the ground
Hydraulic fracturing and other oil and gas operations contaminated the groundwater in Pavillion, Wyoming, according to a new study by Stanford University scientists. The findings raise concerns about possible water pollution in other heavily fracked and geologically similar communities in the U.S. West.
Pavillion has long been a flashpoint in the national debate over the potential impact of hydraulic fracturing, or fracking, on drinking water. Town residents began complaining of tainted drinking water in the 1990s, as oil and gas development boomed in the area. The Environmental Protection Agency released a draft study in 2011 indicating that oil and gas activities contaminated the town's water. But after blistering criticism from industry and Wyoming politicians, the EPA shut down its probe in 2013 and turned over sampling to state regulators. The state's studies have so far found no proof of contamination.
Published in Environmental Science & Technology, the Stanford study identified chemicals in Pavillion's water related to substances that companies reported using in local fracking operations and acid stimulation, an oil and gas production method. The researchers also found that energy companies frequently fracked at much shallower depths than previously thought, sometimes very close to drinking water wells. In addition, companies fracked into underground sources of drinking water, or USDWs, defined under federal law as aquifers that could supply a public water system. Fracking into USDWs is legal [It was not legal in 2004 in Alberta, now it is. Ever stop to wonder why the AER, Alberta Environment and government deregulated so as to intentionally not protect our drinking water from fracing?], but the oil and gas industry has long insisted that fracking occurs far deeper than where aquifers are located.
… Tests of nearby groundwater showed dangerous concentrations of diesel-related and volatile organic compounds, such as benzene, a known carcinogen, and the neurotoxin toluene. [Both found and ignored by regulators in Rosebud drinking water]
Written by Stanford visiting scholar Dominic DiGiulio and professor of earth sciences Robert Jackson, the study arrives as the EPA moves to finalize a sweeping, multi-year report on the impact of fracking on water. In a 1,000-page draft issued last June, the EPA concluded that fracking has not had systemic, widespread effects on drinking water. But since last fall, the agency's own panel of independent scientific advisors has disputed that conclusion and recommended that the EPA discuss in greater detail its investigations into water contamination in Pavillion and other communities.
DiGiulio was also one of the lead scientists on EPA's probe of Pavillion. He said the additional research he and Jackson did for their paper raised questions about groundwater quality in other parts of the West where fracking occurs. "Pavillion isn't geologically unique in the West, and I'm concerned about the Rocky Mountain region of the U.S.," DiGiulio said. "The impact on USDWs could be fairly extensive. Pavillion is like a canary in a coal mine and we need to look at other fields."
The study is based entirely on publicly available data, including EPA's water tests that began in 2008, and more than 1,000 drilling and production reports filed by industry with the state of Wyoming.
A small town in west-central Wyoming, Pavillion has been the site of densely packed oil and gas development since 1953, with the first well fracked in 1964 and the last one in 2007, according to the study. Over that period, about 11 million gallons of fracking fluid were injected into the ground, the authors estimated. The various fluids and acid stimulation recipes contained a range of chemicals, including hydrochloric acid, methanol and diesel. Many of the chemicals are neurotoxins and carcinogens.
Some of that fluid was pumped directly into underground sources of drinking water. In Pavillion, groundwater is drawn from a major aquifer called the Wind River Formation. For about 30 meters below the surface, the aquifer flows unconfined. Below that, to depths of a few hundred meters, water is present, although in disjointed pockets throughout the sandstone. In the eastern U.S., layers of shale often separate USDWs from fracking. But in Pavillion and other parts of the West, the layers of water and hydrocarbons are often not distinct.
"In USDWs, fractures need only propagate a short distance to cause impact," DiGiulio said in an email. [And, at Rosebud, Encana frac'd repeatedly, illegally, right into the community's drinking water aquifers, causing direct impact.]
According to the reports companies filed with the state, fracking and acid well stimulation grew shallower over time. As a result, about 10 percent of wells that were fracked or stimulated were within 750 feet of the deepest water wells, roughly the length of two football fields, the study showed. Half were within 1,800 feet. Industry has long insisted that fracking occurs miles below USDWs. There are no special protections required in most states for fracking at shallow depths.
"Thankfully, the formations where hydraulic fracturing actually is occurring…are isolated from USDWs by multiple layers and often billions of tons of impenetrable rock," Steve Everley, a spokesman for Energy in Depth, an industry group, told the Los Angeles Times in 2014.
USDWs are protected under the federal Safe Drinking Water Act. But in 2005, Congress exempted hydraulic fracturing from many federal laws including the drinking water protections, making it legal to frack into USDWs. The EPA could take action if it found that fracking's impact on a USDW endangered public health, though it hasn't yet. [In Canada, the federal government could take action too, with CEPA (1999), but so far, enables the drinking water contamination by fracing courtesy of propagandists Dr. John Cherry, Dr. Maurice Dusseault and other enabling "experts" appointed on the Harper Government's Council of Canadian Academies' Frac Panel in 2014, and recommending that Canadians are used as frac 'n tracked guinea pigs]
"With hydraulic fracturing into USDWs, the decision is being made that gas is more important than drinking water resources,

and that trade off is not well understood," DiGiulio said. "It is legal to do that

but it's not clear if the impact is legal,

and this paper is meant to raise discussion about it."
The risks to drinking water rise when fracking occurs so close to groundwater pockets, the study found. For example, cement between the casing pipe in the well and surrounding rock prevents fracking fluid, oil and gas from seeping into the earth. But cement work in Wyoming wells is relatively shallow, which means that oil and gas wells extend for hundreds of meters without a barrier between their casing and the geological formation, including water. Further, the researchers found reports of casing failures at several wells.
Groundwater in Pavillion generally flows downward deeper into the earth, but in a few places, subterranean pressure forces the water upward relatively fast. The researchers found instances of water bubbling up at well sites and complicating oil and gas production. [At Rosebud, frac'd fresh water gushed into a gas well at a rate of 8,000 litres a day, ruining the gas well, and resources at that well. AER looked the other way, instead of enforcing the laws in place at the time to prevent such harm and waste] "One of the reasons this is important is that it shows ways that fracking fluids can migrate upward to water wells much faster than people had thought," Jackson said.
To determine what was in Pavillion's groundwater, the researchers analyzed data collected from two monitoring wells that the EPA drilled into groundwater in 2009 and 2010. EPA's 2011 draft report was based in part on water samples from those two wells, and it showed alarmingly high levels of the carcinogen benzene in the water. The scientists also examined "substantial" amounts of data collected by the state of Wyoming after the EPA study was shelved. Taken together, the data show the presence of an array of chemicals unusual for groundwater but closely associated with fracking fluids.
For example, chloride concentrations in water samples from an EPA monitoring well were far above normal for the region. Compounds containing chlorides were used "extensively" in Pavillion's fracking operations, the study said. Extremely high levels of diesel-related organic compounds were found in the monitoring wells. Low molecular weight organic acids were detected in high concentrations in the monitoring wells. Those acids are a sign of hydrocarbon contamination of groundwater, according to the study.
"When you look at everything as a whole, it seems implausible that all this is due to natural conditions," DiGiulio said. "When you look at the compounds, it's a virtual fingerprint of chemicals used in the field."
… "Decades of activities at Pavillion have put people at risk," Jackson said. "These are not best practices for most drillers." [Emphasis added]
Former EPA lead investigator in Pavillion releases study linking fracking to water contamination by Benjamin Storrow, March 29, 2016, Casper Star Tribune
More than four years after he penned the explosive report linking fracking to contaminated drinking water outside of Pavillion, Domenic DiGiulio is releasing the study he always hoped the U.S. Environmental Protection Agency would: A rebuttal to the years of criticism levied against federal investigators.
The study by DiGulio and fellow Stanford University researcher Robert Jackson concludes much of the alarm over EPA's 2011 draft report was warranted. [Refer below to background links to see who squealed the loudest]
Poor well construction, the proximity of fracked wells to drinking water sources and the prevalence of unlined disposal pits, where diesel-oil based drilling muds and other production fluids were stored for decades, bolsters EPA's initial contention that natural gas operations were responsible for a polluted aquifer east of Pavillion, they say.
The researchers poured over more than 1,000 well files, including drilling and completion reports, regulatory actions and cement bond logs.

The files provide a link between the chemicals listed in frack treatment reports and compounds later discovered in two EPA monitoring wells, they say.
[As of March 29, 2016, Encana still has not complied with the court's ordered December 19, 2014 deadline for Encana to file all important and relevant records required in document exchange for the Ernst water well contamination lawsuit. Chemicals injected remain withheld by Encana, and details of nearly 1,000 Encana wells remain completely withheld also. Alberta Rules of Court do not even allow trade secrets. Ernst was ordered to file her documents by October 31, 2014, which she did.]
"We documented impact to a water resource as a result of hydraulic fracturing for the first time," DiGiulio said in an interview Monday. [Encana's fracing impacts to Rosebud's drinking water aquifers was documented years ago]
The researchers say the findings support calls to limit fracking at shallower depths where well stimulations are more likely to contaminate drinking water supplies.
Unlike many unconventional oil and gas plays, where fracking is conducted at deep intervals underground, Pavillion's gas wells were drilled to the same depth as nearby water wells.
"No state has any restrictions on how shallowly you can frack a well," Jackson said. "That needs to change."
The report comes as Wyoming regulators contemplate the next step in their own investigation into the Pavillion field and amid a growing barrage of criticism over the state's inquiry. A draft study released by the Department of Environmental Quality in December found little evidence of oil and gas pollution in water samples taken at 13 domestic water wells. [Funded by Encana, what else does one expect a state regulator to find?]
But the EPA, in a review of Wyoming's investigation released earlier this month, said the state lacked the data to support its claim that much of the pollution was naturally occurring and not attributable to gas production. Wyoming officials have called for additional study, but have yet to provide specific details on what that work would entail.
A spokesman for Encana Corp., the operator of the Pavillion Field, said numerous rounds of testing by state and federal regulators have produced "no evidence that the water quality in domestic wells in the Pavillion Field has changed as a result of oil and gas operations; no oil and gas constituents were found to exceed drinking water standards in any samples taken." [Who believes Encana?]
That DiGiulio and Jackson's study was released under the banner of Stanford University and published in the peer-reviewed journal Environmental Science and Technology is telling in its own right.
The draft Pavillion report DiGiulio authored for the EPA in 2011 created a national firestorm, attracting criticism from Congressional Republicans, Wyoming officials and industry representatives, who said the study was based on shoddy science. EPA dropped its investigation in 2013. DiGiulio, who worked at the agency for 31 years and served as lead investigator in Pavillion, retired the next year. He has been a visiting scholar at Stanford ever since.
A Star-Tribune investigation later showed EPA brass worried it could not successfully defend the study and chose to abandon it. [Could not, or would not take the heat?]
Many of the criticisms directed at EPA over the years went unaddressed by the agency, enabling misconceptions about the investigation to linger, DiGiulio said.
"When I retired the technical story wasn't fully told," he said."I think it's important for someone to sort through all the data and draw conclusions. And unfortunately that had not be done. That's what motivated me to try and review everything, including comments from industry."
DiGulio and Jackson analysis offer a competing narrative to the criticism directed at EPA by state regulators and industry representatives.
Industry critics once argued samples from EPA's groundwater monitoring wells should be discounted because of faulty construction.

But the compounds found in those monitoring wells are more commonly associated with fracking – not the cements used to encase a well, DiGiulio and Jackson say.
State regulators have said nearby natural gas wells were properly constructed. DiGiulio and Jackson documented five cases where wells failed after being fracked. The failures raise the possibility that fracking fluid could escape a well.
And water samples taken from EPA's monitoring wells more closely resembled produced water from gas operations than drinking water found throughout the Wind River Formation in Fremont County, belying the claim that the contamination was naturally occurring.
The Stanford researchers stop short of linking fracking to contaminated drinking water samples. Contamination found in domestic wells is more likely connected to 44 unlined pits, where production fluids were disposed between the 1960s and 1990s, they say.
"Cumulatively overtime that's a lot of fluid going into those pits," DiGiulio said. "If I lived in the Pavillion oilfield, I would be much more concerned about those pits. I would view hydraulic fracturing as a long term potential risk in need of further investigation. But if I actually lived out there, I'd be focused on those pits right now."
There is evidence, however, that fracking contaminated the aquifer underlying the Pavillion field. The distinction helps explain the the difference in Wyoming's and Stanford's findings.
Wyoming considered 13 drinking water wells, but did not review the findings from EPA's monitoring wells. In all, state investigators examined roughly a third of the well files in their review of the Pavillion field [DID ENCANA AND MAURICE DUSSEAULT DIRECT WHICH WELLS THE REGULATOR WAS TO REVIEW?], DiGiulio and Jackson say. The Stanford researchers also examined the remaining two-thirds of the documents.
The history of fracking, well failures and monitoring well results, among other factors, tell the wider story of a contaminated aquifer, they say.
"We've shown clear evidence of contamination to the aquifer itself," Jackson said. "Contamination to domestic water wells may have happened. We don't know. If you continue to do this, if you continue to allow this, you will have more problems, even with domestic water wells in the future."
And that points to what the researchers say is the wider problem. Frack jobs in Pavillion were often completed at depths ranging from 750 to 1,050 feet, or in close proximity to water wells. Unlike many horizontal wells, which can travel to depths beyond 15,000 feet, no layer of rock exists to keep frack fluid and water separate, increasing the risk of contamination overtime.
"The paper documents issues with well integrity at Pavillion," Jacksons said. "You don't have to have a problem with well integrity though, when the hydraulic fracturing is within a few hundred feet of domestic water wells, and when your surface casing is to shallow and you don't have cement in others." [Emphasis added]
Scientists Slam EPA For "Walking Away" From Fracking Pollution Study, Fracking contaminated underground water reservoirs in Wyoming, finds a study by the former EPA scientist who led a preliminary investigation there in 2011. EPA never followed up that investigation by Dan Vergano, March 29, 2016, Buzzfeed
EPA staff sampling a well for hydraulic fracturing contaminants Dominic Digiulio
Fracking polluted underground water reservoirs around Pavillion, Wyoming, confirms a study that follows up on a never-completed pollution investigation that the Environmental Protection Agency (EPA) walked away from in 2013.
"It's the study I would have done for the agency if I was still there," former EPA scientist Dominic DiGiulio, who headed the study, told BuzzFeed News. The study partly relied on EPA data that DiGiulio knew to request under freedom of information laws. "I can't say it was the one they would have published."
In 2008, residents of Pavillion in the Wind River Indian Reservation contacted the environmental agency over foul tasting well water near fracking sites there. An EPA draft report in 2011 found hydraulic fracturing, or fracking, fluids from natural gas wells had been injected into a deep drinking water reservoir, or aquifer, there. Uproar ensued, with other federal, state, and industry officials critical of the draft report, saying EPA monitoring wells were unreliable. Two years later, EPA said it would not release a final version of the draft report. "Nor does the agency plan to rely upon the conclusions in the draft report," it said.
The decision by EPA to retreat from its draft study at Pavilion "wasn't made by any of the scientists" at the agency, DiGiulio said, but rather by the agency's senior leadership. EPA eventually handed the investigation over to Wyoming, which has since produced three inconclusive reports.
… Concern about fracking chemicals migrating into drinking water has accompanied protests at Pavilion and in places such as Dimock, Pennsylvania. On Monday, the U.S. Geological Survey released a report concluding that underground disposal of waste fracking fluids in deep wells was triggering small to medium-sized earthquakes in states such as Oklahoma, putting 7 million people at risk for these "induced" quakes.
In the new study, published in the Environmental Science & Technology journal, DiGiulio and Stanford's Robert Jackson picked up where EPA left off, combining data from two agency monitoring wells and state reviews of natural gas wells, drilling pits, and drinking water wells. The researchers found that a wide range of chemicals from fracking wells injected into the Pavilion aquifer had migrated upward into higher layers of sandstone filled with untapped drinking water. The results confirm the 2011 draft EPA report and extend it by finding the first direct evidence of fracking fluids polluting a federally protected aquifer.
"No other industry can inject chemicals into drinking water," Jackson told BuzzFeed News. He criticized the EPA for "walking away" from the safety study of the pollution in Wyoming and warned that the findings from their independent study have implications for California, Colorado, and other Rocky Mountain states where shallow hydraulic fracturing, done at depths around 3,000 feet down or less, takes place. "It isn't only Wyoming where shallow hydraulic fracturing is a concern," he said.
The new study did not look at whether the contaminated fluids reached the drinking water in Pavillion, DiGiulio acknowledged, only finding that the dangerous chemicals are present in aquifers deeper down. To confirm that drinking water has been contaminated would require testing samples from local wells.
Doug Hock of Encana Oil & Gas Inc., which drilled 44 natural gas wells around Pavillion starting in 2004 to depths as shallow as 1,220 feet, made this point to BuzzFeed News in response to the study.
"Encana, together with the State of Wyoming, as well as EPA have conducted numerous rounds of testing and study in Pavillion," Hock said by email. "There is no evidence that the water quality in domestic wells in the Pavillion Field has changed as a result of oil and gas operations; no oil and gas constituents were found to exceed drinking water standards in any samples taken."
Encana provided $1.5 million to the Wyoming Natural Resources Foundation in 2014 to fund the state's investigations around Pavillion.
The new study also shows that pits retaining drilling debris, unlined until the 1990s, likely have polluted dozens of water wells near them around Pavilion. These pits are now lined at fracking wells, "but the pollution is still there," DiGiulio said.
The study is basically the one that federal agencies would have completed if the Pavillion investigation hadn't been turned over to Wyoming, independent hydrogeologist Daniel Stephens, based in Albuquerque, told BuzzFeed News. "If anything, my sense is that this report should be well received by EPA which came to a similar conclusion early on in their work," he said by email.
The study adds to criticism of EPA for similarly walking away from fracking pollution studies not only in Wyoming, but in Dimock, Pennsylvania and Parker County, Texas, Peterson said.
"EPA will review all applicable peer reviewed scientific literature that has been published since the release of the draft assessment," said an EPA statement sent to BuzzFeed by agency spokesperson Julia Valentine. "EPA plans to evaluate the Stanford paper as we are evaluating other recent literature."
The agency is also reviewing a nationwide fracking safety report released in 2015, which has come under criticism from its own scientific advisory board over its draft conclusion that there was no "widespread, systematic" impact of the drilling method on drinking water. The new report suggests that shallow fracking does pose a wider risk beyond Wyoming, DiGiulio said. [Emphasis added]
2016 03: EPA's detailed review of Wyoming's Report
A few MUST READ statements from the EPA's review ("The Report" is the Wyoming State's report):
The Report's characterization of the exceedances of standards or comparison values as a palatability concern rather than a health concern may leave readers unclear regarding the significance of these exceedances.
…
Of the 19 organic constituents identified in domestic wells, nine do not have CVs identified in the Report. This is an information gap that EPA suggests be discussed in the Report as it discloses the limitations to reaching definitive conclusions about potential health risks from drinking the water.
…
EPA also notes that additional MCL exceedances (i.e. benzene) have been documented in shallow groundwater based on monitoring well data from pits enrolled in Wyoming's Voluntary Remediation Program (VRP).
…
The Report concludes that "exceedances of drinking water standards or comparison values are generally limited to naturally occurring dissolved salts, metals and radionuclides" (p. 3), but there is limited supporting evidence demonstrating that all of these constituents were present historically in the area, and that they were present at similar concentrations to those detected. There is limited discussion in the Report that compares ranges of concentrations for the components found in historical data to components and concentrations in the wells studied. Historic data are primarily available for general chemistry parameters, and that data does indicate that the high levels of sodium and sulfate are characteristic regionally for the Wind River formation. However, there is limited or no historic data in the references cited in the Report to document naturally occurring levels of many other inorganic constituents such as arsenic, thallium, lithium and uranium, and the limited data suggest that the values seen in water wells are not consistent with background concentrations. For example, the WSGS Basin Study (WSGS 2012) shows that the median concentration observed in the six wells sampled for uranium was 0.54 ug/L, where the Report indicates that four water wells exceed the much higher value of 30 ug/L (Table 14A). Similarly, the 1995 USGS report on Fremont County water quality (USGS 1995) shows five arsenic samples, four with non-detects and one with 2 ug/L of arsenic, whereas the Report indicates that two of the sampled water wells exceeded the MCL of 10 ug/L. These values do not seem to corroborate that exceedances of inorganics are due to naturally occurring concentrations of these compounds. And there was no data for thallium or lithium in the references, so it is difficult to support a statement about naturally occurring levels with regard to the six wells exceeding the lithium CV and the five wells exceeding the thallium CV.
…
The Report discusses potential point-of-use treatment options that could be employed by residents, but only for inorganic compounds. Although "problematic water quality constituents" (p. 100) is not defined in the Report, constituents such as petroleum constituents, isopropyl benzene, tert-butyl alcohol, pesticide compounds, naphthalene, 2-butoxyethanol, methane and adamantanes might be considered problematic constituents and are missing from the table. EPA recommends the discussion of treatment options include treatment for organic contaminants present in water supply wells. The presence of both organic and inorganic compounds complicates potential treatment and typically requires multi-step treatment, which may be more costly and more difficult for homeowners to manage and maintain to achieve effective treatment.
…
The Report generally does not distinguish between free methane and dissolved methane when characterizing analytical results or discussing how dissolved phase and gas phase methane move within the subsurface. Understanding the behavior of methane in the subsurface is critical to the development of a conceptual model for contaminant fate and transport. Free gas can and does migrate through rock strata and liquids as a buoyant fluid. Alternatively, or additionally, dissolved methane would move according to the hydrologic conditions at the site. Methane in the gas phase would naturally migrate upward from deeper reservoirs. However, liquids containing dissolved methane could move according to groundwater flow direction both horizontally and vertically depending on the pressure gradient. For example, dissolved constituents including methane could move upward under an induced pressure drive from a high pressure zone to low pressure zone, as is reflected in some bradenhead pressure measurements or from pressures induced through hydraulic fracturing.
The Report characterizes the Pavillion gas field as a conventional reservoir (p.2). This statement should be modified or explained. Although there is some conventional development elsewhere in the Wind River Basin, Pavillion field development is from Cretaceous-Lower Tertiary tight sands, which is generally considered unconventional (see US Energy Information Administration https://www.eia.gov/oil_gas/rpd/tight_gas.pdf ).
…
Fluid Migration/Gas Well Integrity
The Report generally concludes gas is present in the shallow Wind River formation as a result of natural upward migration from source rock (though acknowledging that some potential contribution may have come from movement up gas wellbores); that gas was widely present in the shallow subsurface prior to energy development; and that there is negligible likelihood that hydraulic fracturing fluids have migrated upward to depths utilized by water supply wells. All of these conclusions would benefit from additional support.
Widespread historic presence of methane in shallow subsurface
The Report states that gas was widely present in the shallow subsurface prior to gas development (e.g. pp. 2, 77-79). To definitively conclude this one needs to be able to determine what the gas flux was prior to development and the present day flux. Current flux can be determined but it is, as the Report notes,extremely difficult to directly substantiate historical gas flux. There is limited data to support the conclusion that gas was widely present in the shallow subsurface. Reference is made to a 3-page excerpt from a 1951 Bureau of Reclamation annual report, which contains this single statement: "a satisfactory aquifer was found near the 500 foot depth, but potability of the water was destroyed by gas". The well in question is 2.5 miles from the nearest water supply well study area (PGDW20). The excerpt does not contain or reference any supporting data or information, and there is no indication as to whether the gas was in fact methane, or something else (such as hydrogen sulfide).  A USGS report covering the Midvale Irrigation District (a larger area encompassing the Pavillion field) noted the presence of hydrogen sulfide in the area: "The water from well A3-3-6cc, 270 feet deep, had a moderately low mineral content (272 ppm) but was reported unsatisfactory for drinking because of the strong hydrogen sulfide odor and the precipitation of sulfur… Although no gas analyses were made, the problem of hydrogen sulfide in water supplies, particularly in deep wells, was observed for new supplies in other tracts." (USGS 1959). Within the irrigation project area the USGS report identifies less than 20 water wells out of 359 water well logs that reported either "bad water" (eight well logs), "sulfur water" (nine well logs), or "sulfur water with gas" (two well logs). None of the wells with bad water, sulfur or gas were located within the Pavillion study area. In addition, the report evaluated over 50 water well logs from Township 3 North, Range 2 East which has a large portion of the study area. None of these wells recorded issues with water including no reports of "sulfur water" or "gas" within this area.
[Dr. Alexander Blythe with the Alberta Research Council, the regulators, and Encana fabricated the same make-believe to dismiss the methane in contaminated water wells at Rosebud, pointing to other contaminated water wells elsewhere historically as "proof" without providing any data to substantiate their fabrications, not even the legal land locations of those historically contaminated water wells]
The Report further points to the indication of gas-filled porosity at depths between 600 and 900 feet from three mud logs from gas wells drilled between 1965 and 1973 as evidence of widespread gas at shallower depths (p. 26), and cites EPA's 2011 Draft Report as the source. EPA was able to locate and review ten mud logs from wells drilled before 1995; the logs did not indicate gas shows within 300 meters of the surface. (EPA 2011).
The final line of evidence referred to as supporting this conclusion is a 2007 letter from WOGCC, which the Report characterizes as stating a finding that most of the wells had exhibited gas just below surface casing, with many around 500 feet, based upon cement bond and porosity logs for 29 gas wells. The letter is not included as an attachment, nor could EPA locate it on the WOGCC website. EPA suggests that the logs and analysis used to reach this conclusion be made available to public reviewers of this Report. It should be noted that cement bond logs are not relevant to identifying gas presence, as they are run after there is casing and cement in the wellbore. Porosity logs by themselves have limited ability to distinguish between freshwater and gas zones, as both hydrocarbons and fresh water are non-conductive; additional information beyond porosity logs would be needed to determine if non-conductive zones identified were fresh water or gas.
If in fact the presence of natural gas in the intermediate zone was known or believed, this would have alerted the permitting agency to the potential for pressures above hydrostatic head gradients to be present, highlighting the necessity for the entire wellbore to be cased and cemented to the surface (or above the surface casing shoe) in order to prevent gas and liquid migration either from the production zone or intermediate zones to shallower zones used for drinking water: "…sufficient surface casing shall be set to reach a depth below all known or reasonably estimated utilizable domestic freshwater levels…and shall be set in or through an impervious formation and shall be cemented…with sufficient cement to fill the annulus to the top of the hole…" (Rules and Regulations of the Oil and Gas Conservation Commission promulgated July 23, 1951; effective August 21, 1951). This regulatory language was applicable to most of the wells drilled in the field. Also, rules promulgated in 1993 and 2000 required that "surface casing shall be run to reach a depth below all known or reasonably estimated utilizable domestic fresh water levels and to prevent blowouts or uncontrolled flows" (Wyoming Chapter 3, General Drilling Rules, 1993 and 2000). Many wells in the area are Tribal mineral wells subject to BLM's Onshore Order #2 requirement for isolation of water containing up to 10,000 ppm of TDS, which is generally the case for the entire Wind River formation. The gas well integrity expert retained by Wyoming, Maurice B. Dusseault [Did Encana order the state to hire frac patent, conflict of interest "expert" Dusseault?], says the following in his report: "In modern well completion practice, this space [the bradenhead annulus] is intended to be cemented to the surface, or at least cemented a substantial distance above the surface casing shoe so that an effective flow seal exists between the two casings. Data from Pavillion Field reports show that primary cementing operations in many wells failed to lead to cement rising into the surface casing … In general, leaving an open annular space between the top of the production casing cement and the bottom (shoe) of the surface casing is not considered good practice (annum 2015), but wells drilled in the 2004-2005 campaign in Pavillion were not all cemented to above the surface casing shoe" (p. 13 Appendix G).
Source of gas in domestic water wells
The Report concludes that it is "almost certain" that part of the methane observed in water supply wells in the WDEQ investigation is naturally occurring and not a result of gas production (p. 78). This conclusion appears to be based solely on the limited data described above. There is often a question about prior gas migration or flux in regions producing hydrocarbon, particularly with gas reservoirs such as the Pavillion field that lack a clear confining layer above the hydrocarbon zone. In some cases it has been determined that even though there was prior migration of gas, energy development activities had increased the migration rate and volume causing noticeable increase in impacts (Coalbed Methane Development in the Northern San Juan Basin of Colorado-BLM 1999). The Report would benefit from a more robust basis for this conclusion and we encourage the development of a consistent conceptual model for the study area, and additional study to test key statements of finding. It would require multiple lines of evidence to distinguish whether the gas appearing in water wells is present due to natural migration or via movement up gas wellbores. Absent this, EPA recommends this conclusion be qualified to reflect the uncertainties inherent in the limited supporting data currently provided.
Source of gas in bradenheads
The Report concludes that bradenhead pressure and gas are most likely from non-producing intermediate zones within the Wind River formation. The Report states that the composition and isotope signature of the bradenhead gas is similar to the tubing or production gas, but then dismisses the potential for the gas to be sourced from the production zone without providing supporting information (pp. 70-73). The Report does not acknowledge or discuss the potential for gas to migrate up the wellbore from the production zone either through uncemented or poorly cemented annuli, or even to bypass sections of good cement by migrating through the formation around the wellbore. The Report points out that producing wells would be unlikely to allow gas migration due to the pressure sink induced by production, but does not consider shut in wells or wells that have been plugged and abandoned that do not have the induced pressure sink of a producing well. According to the information provided in Figures 12A-12K, four gas wells within the study area have been temporarily shut in, and nine have been plugged and abandoned, suggesting the importance of addressing the potential for gas wells not in producing status to allow gas migration up annuli.
This conclusion would benefit from additional investigation to provide a higher level of certainty. Improving the certainty of this conclusion is important for remediation already performed or under consideration as part of WOGCC's gas well integrity evaluation and follow-up. If the gas or liquids are sourced from intermediate zones placement of remedial cement would be located differently than if fluid from the production zone fluids is migrating up an open or poorly cemented bradenhead annulus.
…
Likelihood of movement of hydraulic fracturing fluids into shallower zones
The Report concludes that hydraulic fracturing fluids had a "negligible likelihood" of reaching shallower zones used for drinking water.
This conclusion relies primarily on the relatively small fracturing fluid volumes reportedly used in the field- "often less than 200 bbls". [!!!!!]
No data or reference is provided for the fracturing volumes. This conclusion lacks supporting data, and given the short vertical distances between water supply well depths and gas well fracture depths relative to other production areas across the country, may need qualification. The study did not provide any additional data to evaluate the chemistry of the interval between water supply well depths and hydraulic fracturing depths to assist in evaluating the potential for hydraulic fracturing impacts in this deeper zone, and existing data for this interval from USGS and EPA were not considered in the Report. If this existing data is not used, the Report could benefit from development of additional data from this interval to evaluate the potential for impacts of hydraulic fracturing in this deeper zone.
Some wells in the field exhibit shallow surface casing [Encana pulled same cheapness at Rosebud] and uncemented annular intervals; although the Report acknowledges that these conditions increase the likelihood of movement of groundwater or gas, it does not discuss or acknowledge the potential that these conditions could similarly enable movement of hydraulic fracturing fluids. In particular, the Report does not acknowledge or evaluate situations where older wells with shallow surface casing and open bradenhead annulus existed in close proximity to newer wells with hydraulically fractured zones at similar depths. For example, gas wells 44-10 (API 49-013-20879, http://wogcc.state.wy.us/Wellapi.cfm?Oops=ID6869&nAPINO=1320879 ) and 43-10B (API 49-013-22420, http://wogcc.state.wy.us/Wellapi.cfm?Oops=ID87031&nAPINO=1322420 ) are approximately 520 feet apart. Well 44-10 was constructed in 1978 and although the top of cement is at 1918 feet below ground surface (bgs), top of good cement is located 404 feet deeper at 2322 feet bgs. The nearby well 43-10B constructed in 2004 was perforated and stimulated at 1810 feet which is 555 feet (adjusted for elevation difference of 46 feet) above the top of good cement in nearby 44-10. In addition, PGDW23, a domestic water supply well, is approximately 780 feet from gas well 44-10 and PGDW44 is approximately 1775 feet from 44-10. It should be noted that 44-10 exhibited bradenhead pressure of 150 psi when tested, and flowed liquid from the bradenhead during the entire 15-day test, including 410 barrels of liquid in the first 8 hours. Bradenhead monitoring in nearby wells was not conducted during hydraulic fracturing to detect pressure changes in the bradenhead annulus of these offset wells. As a result, there is no data to determine whether such inter-well communication may have occurred under a hydraulic fracturing pressure regime. EPA was unable to locate any bradenhead pressure monitoring data collected from the Pavillion field prior to the beginning of EPA's investigation; when WOGCC initiated bradenhead monitoring efforts in 2012, some of the gas wells were found to have bradenheads which were not accessible and had clearly not been previously open.
There are some inconsistencies in the Report with respect to information on hydraulic fracturing depths: "hydraulic fracturing intervals typically start below 1,500 feet bgs but have been performed as shallow as 1,060 feet bgs…" and that the "shallowest depth that was hydraulically fractured within 1,420 feet of the 14 water-supply wells included in the study is 1,397 feet bgs". This is followed by a statement in the next paragraph that likelihood is negligible that hydraulic fracturing treatments have led to fluids interacting with shallow groundwater in the study wells based on volume of treatments and depth with "shallowest hydraulic fracturing is generally deeper than 1,500 feet bgs" (p. 2). These statements are inconsistent and the reader would benefit from clarification. EPA further notes that there are some inconsistencies between Table 4 of the Report and data available on the WOGCC website or contained in the WOGCC Gas Well Integrity Review Report. Tribal 44-3 is identified in the Gas Well Integrity Review Report as being located within 797 feet of PGDW30, yet it is omitted from Table 4 of this Report, "Oil & Gas Wells within 1,420 feet of Water Supply Wells". The WOGCC report also indicates that Tribal 44-3 was perforated and acid stimulated with 500 gallons of 15% HCl at 699-711 feet in 1999. Though a cement squeeze was subsequently performed and this interval cemented off [Encana did same to the wells it fractured into Rosebud drinking water aquifers!], it indicates stimulation occurred at a substantially shallower depth. Additionally, the data for depth of shallowest perforation in Table 4 of the Report do not all match data posted in the corresponding well files on the WOGCC website.
In summary, the data limitations and uncertainties discussed above suggest a need for additional investigation to provide support for many of the Report's conclusions related to fluid movement, gas source and well integrity.
…
The Report posits that detections of Diesel Range Organics (DRO) and Gasoline Range Organics (GRO) could reflect naturally occurring compounds rather than petroleum hydrocarbons. EPA believes additional analysis is needed to support this hypothesis, which seems to be based largely on the fact that the DRO chromatograms from domestic well water samples do not resemble chromatograms from laboratory standards for diesel fuel. In the Pavillion area shallow hydrocarbon sources have been present over an extended time. It would be unlikely that petroleum hydrocarbons released from pits or other sources and subject to environmental weathering and degradation over time would resemble a fresh diesel chromatogram. EPA compared chromatograms from DRO and GRO in the VRP pit monitoring wells to fresh diesel chromatograms and found them to differ significantly. EPA's Phase II analysis also identified the presence of C2-C10 straight chain hydrocarbons in domestic wells with DRO and GRO, confirming a hydrocarbon source for the DRO and GRO detections (EPA 2010). EPA suggests this Report is premature in suggesting that DRO and GRO detections may reflect naturally occurring organic matter rather than originating from the hydrocarbon reservoir.
The Report further observes that fresh petroleum fuels such as DRO and GRO consist almost entirely of non-polar compounds, and presents data from well water analysis done using a Silica Gel Clean-up (SGCU) method, which screens out polar compounds.Without understanding what those polar compounds are and whether they may be associated breakdown products of hydrocarbon compounds, EPA suggests that screening out those compounds does not provide an accurate understanding of what is in domestic wells water nor assist in discerning the source of the polar fraction.
The Report states that "reported DRO concentrations with SGCU compared with reported DRO concentrations without SGCU in groundwater samples collected in June and August 2014 reveals that in most cases, the reported DRO concentration with SGCU was less than the MDL (Table 14). This suggests that the reported DRO concentrations in many of the samples are attributable to, or were predominantly non-polar compounds." (p. 87) It appears that the authors may have meant to say that the remaining DRO exhibits chromatogram peaks reflective of predominantly polar compounds.
DRO and GRO were found in conjunction with other hydrocarbon compounds in previous EPA sampling (EPA 2009; 2010; 2014). EPA notes that the highest DRO and GRO concentrations were identified in gas well fluids sampled at the wellhead, and from shallow groundwater monitoring wells at VRP pit sites with demonstrated hydrocarbon contamination in groundwater. Additionally,products containing diesel fuel were used in hydraulic fracturing at Pavillion (EPA 2010). Encana, WYDEQ and EPA have all detected tentatively identified organic compounds for various wells tested in the study area. This may be another indication that hydrocarbon compounds have been degraded to by-products that are not easily identified with standard methods. For example, adamantane compounds were originally detected as Tentatively Identified Compounds (TICs) in domestic wells in EPA Phase I (EPA 2009). Subsequent sampling of water supply wells and VRP pit monitoring wells In EPA Phase II (EPA 2010) confirmed and quantified these compounds. Based on these observations, there may be more lines of evidence to suggest the DRO and GRO detections are associated with oil and gas activity.
The Report seems to suggest that biodegradation of dissolved unknown organic constituents by bacteria is a source of palatability concerns in domestic wells (p. 4). EPA notes that the highest levels of both DRO/GRO and of iron-related and other heterotrophic bacteria are those found in the shallow monitoring wells associated with VRP pits (EPA 2010). EPA concurs with the observed correlation between dissolved organic constituents and the proliferation of bacteria, but notes that the correlation does not establish that the source is degradation of non-hydrocarbon compounds. The Report notes that the dissolved organic compounds in some water wells (including dissolved gas) may be contributing to deteriorating water quality by promoting microbially-mediated reducing conditions resulting in increased mobilization of other constituents such as arsenic, and production of hydrogen sulfide (pp. 4 and 108). EPA concurs with this observation; however, the fact sheet accompanying the Report states: "…bradenhead pressures in several gas wells provide strong indication that gas and possibly liquid migration may be happening;however, there is no evidence that this migration has caused water quality issues." These statements appear to be contradictory, and EPA recommends the fact sheet statement be modified to reflect the lack of data demonstrating that the observed gas migration is not impacting water quality. EPA also notes that the highest arsenic levels were present in the VRP pit monitoring wells, which also had high concentrations of dissolved organics including petroleum hydrocarbons. This suggests that contaminant plumes from pits are a likely source of constituents such as arsenic and merit additional investigation (such as the installation of nested monitoring wells) to provide more definitive understanding of the vertical and lateral extent and the chemical composition of plumes associated with pits and their effect on domestic wells.
The Report mentions that TICs in PGDW05 were attributed to decaying organic matter (p. 7). There is no data or analysis to support this statement, and EPA recommends it be removed or qualified. For example,adamantane compounds were detected in PGDW05 and originally identified as TICs, and confirmed and quantified in subsequent EPA sampling. The Report further states that adamantanes, because they are widely recognized as a component of petroleum hydrocarbons, "…may be from naturally occurring gas." (p. 90) EPA notes that adamantanes were also found in VRP pit monitoring wells and in production fluids (Phase II Analytical Results Report, August 2010), suggesting those as likely sources. EPA recommends this statement be modified accordingly.
Although fuel spills can be a source of hydrocarbon contamination, there is no source comparability between a 50 gallon fuel tank that may have experienced incidental spillage, and a single unlined reserve or production fluid pit that received hundreds to thousands of barrels of fluids over a period of years and often decades (Figures 12A-12K illustrate that a number of oil-based mud reserve/production pits in the study area were operative for decades). In addition, there are at least eight pits that have been enrolled in the VRP cleanup program, reflecting documented groundwater contamination associated with these sources. It is important when assessing possible sources to consider the potential for those sources to impact groundwater based on constituents, volumes and duration of potential releases from those sources, and to reflect that potential in discussion and conclusions regarding potential sources.For example, if septic systems were a source of water supply well palatability problems, nitrate would be anticipated as a major constituent in sampling results. However, nitrate has not been a constituent of concern for most wells in the area, suggesting that domestic waste and fertilizer use are not contaminating groundwater within the study area.
The Report states that "2-butoxyethanol (2-BE) was reported at an estimated concentration of 3,100 J ug/L in the June 2014 sample collected from PGDW33. However, the reported concentration was near the MDL of 2,300 ug/l, and the analytical method employed (US EPA 8015A) uses a non-specific detector, so compound identification is less certain" (p. 89). The measured value is ~35% above the MDL, and it is unclear from the information provided why the identification of this compound is "less certain". The Report also states that "if present, potential sources of the 2-butoxyethanol reported in the sample from PGDW32 (sic) include the septic systems and surface releases" (p. 89). EPA notes that this reference to PGDW32 rather than PGDW33 appears to be a typo as 2-BE was not detected in PGDW32. EPA further notes that the pit located 577 feet from PGDW33 was utilized as an oil-based mud reserve pit and subsequently as a produced water/flowback pit for more than 20 years (Figure 12G). 2-BE was used as a constituent in fracturing fluids at Pavillion (EPA 2010) and may thus have been present in flowback managed in pits. It should also be noted that 2-BE was detected at 765-785 feet bgs in MW01 (EPA 2011). Given that there were no detections of E. coli and only low levels of nitrate (2.1 mg/L) in PGDW33, it seems that the pit may be a more likely source of this detection than septic system releases. [!!!!!!!!!!!!!]
EPA notes that some results for DRO and GRO were qualified as not detected (U) due to reported concentrations in the associated method blank or trip blank samples. The "B" qualifier should be used instead to avoid confusion and put the data in its proper context. EPA suggests these results be reviewed with respect to the magnitude of difference between the quality assurance (QA) sample detections (which could be due to lab issues) and the environmental samples, and reevaluated if that difference in magnitude is sufficiently large. EPA quality assurance and data validation protocols allow use of qualified data where the environmental sample detections exceed the concentration found in the blank based on the judgment of the investigator (http://www.epa.gov/sites/production/files/2015-03/documents/somnfg.pdf ). In addition, prior to discounting DRO results with associated blank detections, EPA suggests previous sampling events be reviewed to determine if DRO or GRO detections were seen only during events with blank contamination.
The inorganic chemistry data presented in the Report may not provide sufficient sensitivity for distinguishing sources of water potentially impacting the shallow zones used for drinking water and evaluating whether facilitated transport of formation water is or has occurred from deeper zones into shallower zones. Stable isotopes of strontium have been successful in this type of analysis, and EPA recommends consideration of more targeted tracers such as these to assess potential migration of formation water into shallow zones.
…
EPA offers some clarification with respect to domestic well sampling conducted by the Agency. EPA did not sample PGDW41B in 2009 as the Report indicates (p. 48). In January 2010, EPA's sample at PGDW41 was collected from the deeper well present at this location, rather than being a mixture of water from PGDW41A and PGDW41B, as the Report states (p. 59). Finally, the Report indicates that EPA hired a well service contractor to install a temporary pump/discharge line for PGDW41, and that this work may have contributed to DRO and TPH results in this sample (p. 88). EPA does not believe this to be the case. This sample was collected utilizing a SOP that called for flushing the water wells three well casing volumes to prevent sampling stagnant water so as to ensure there would be no artifacts from sampling components. These results were reviewed and validated without data flags and thus are considered valid data. Further, if artifacts from temporary sampling equipment were the source of DRO and TPH, it would not explain the fact that DRO is still present four years later.
…
The Report observes that monitoring and remediation at the pit locations are often limited to the zone of shallowest groundwater, reflecting the judgment that these zones are not hydraulically connected to the somewhat deeper sandstone lenses in which many domestic wells are completed. Yet, as is also pointed out, pump tests conducted in the area reflected hydraulic impacts (drawdown) in wells as deep as 662 feet and as much as a mile away. Without further analysis and the development of a conceptual model as described above, the pump test results suggest that investigation and/or remediation at pit locations needs to encompass deeper groundwater, preferably by employing nested monitoring wells at pit sites with known groundwater contamination to enable characterization of the plume depth profile The lack of sufficient data to characterize groundwater flow patterns and gradients that the Report notes makes it difficult to assess over what distance impacts to groundwater from pits might occur. … [Emphasis added]
SOME PAVILLION BACKGROUND:
Wyoming to test for same groundwater pollutants in Pavillion by Benjamin Storrow, June 12, 2014, Star-Tribune
State officials said Thursday that they intend to test the Pavillion area's groundwater fornearly all the potential pollutants examined by the U.S. Environmental Protection Agency in its study of the region's water supplies. That news drew criticism from some area landowners, who contend that their water was contaminated by a nearby natural gas field.They questioned state officials' decision to leave one pollutant off the list because only EPA laboratories tested for the chemical, a glycol surfactant.
"Why did we spend a year and a half ripping EPA apart to say we don't have EPA's capability?" said John Fenton, chairman of the Pavillion Area Concerned Citizens Association. Testing procedure has long been at the center of the controversy over the source of groundwater contamination east of Pavillion. A preliminary investigation by the EPA concluded that the cause was natural gas operations from a nearby field. But the agency's analysis was criticized for its procedure. Critics said water samples weren't tested in a timely manner, as called for under the agency's own guidelines, among other factors.
The EPA turned over its investigation into Pavillion to the state [and Encana] last year. The state investigation is divided into several parts. The Wyoming Oil and Gas Conservation Commission is studying the integrity of the natural gas wells and disposal pits where produced water is stored after production. The Wyoming Department of Environmental Quality is studying drinking water quality. [Want to bet they will say everything but fracing is to blame and let Encana entirely off the hook?]
Mark Thiesse, DEQ groundwater section manager, said there would be a "couple of minor differences" between the sampling done by DEQ and that done previously by EPA and the U.S. Geological Survey.
The state will also test for potential bacteria, pesticides and herbicides. [With which to blame the harmed families with as Encana, the regulators and Alberta Research Council (now Alberta Innovates-Technology Futures) did?]He noted that DEQ hired an independent third party to ensure all samples are treated in accordance with testing standards.
A long-standing criticism of the EPA study is that it did not account for the possibility of agricultural contamination.  [How often do farmers use frac chemicals and massive teams of pumper trucks to inject toxic brews under high pressure into the ground?]
The reason the glycol surfactant was left off the list is that only EPA labs tested for it, Thiesse said. [So what? Let the state do the sampling, then send the samples sealed with witnesses if the EPA is so untrustworthy, and let the lab there do the analysis. Simple.]  An EPA representative at the meeting later said the test had recently been approved for other labs.
"Everything we can think of we will look at," Thiesse said. "We don't have any focus, any preconceived views. [Want to make another bet the State is going to conclude what Encana told them to conclude, regardless of test results?] We're taking a fresh look at this."
None of the state's studies is expected anytime soon. The oil and gas commission's well integrity study is complete but is being reviewed by an independent expert.
The study will then be sent to Encana, the owner of the natural gas field in question, and the EPA for review before a draft is released to the public. [Emphasis added]
Groundwater Studies by rebecca, June 6, 2014, Riverton Radio
State officials say they're finishing up two studies into the cause of groundwater pollution in a central Wyoming gas field. They plan to allow independent experts, the U.S. Environmental Protection Agency and gas field owner Encana to review the reports before publicly releasing them. Meanwhile, the Wyoming Department of Environmental Quality plans to resample groundwater and meet with residents of the Pavillion area next week. [Emphasis added]
Wyoming: Gas field pollution studies for Pavillion nearly done, Officials will meet with Pavillion residents on June 12 by Mead Gruver, June 6, 2014, Star-Tribune
State officials planning to meet with homeowners affected by tainted groundwater in a central Wyoming gas field said they have finished one investigation into possible causes of the pollution and are wrapping up another. No further details have been released regarding what might have been learned since the U.S. Environmental Protection Agency implicated hydraulic fracturing in a 2011 report.
State officials intend to allow independent experts to review and comment on the state reports, followed by the EPA and gas field owner Encana.
A Wyoming Oil and Gas Conservation Commission consultant will make any necessary changes [Like Dr. Alexander Blyth did on the Alberta water contamination reports after Encana frac'd the Rosebud drinking water aquifers?] before the reports are released to the public, said Jeremiah Rieman, energy policy adviser to Gov. Matt Mead.
"We don't want to be in the position of providing draft conclusions that ultimately may change entirely based on other reviews that need to take place," [eg. Keep Encana and the rest of the oil and gas industry happy?] Rieman said Wednesday. He said he would push for the reports to be released "sooner rather than later."
On June 12, state officials plan to meet with residents near the tiny Fremont County community of Pavillion to discuss the studies and an ongoing program to supply affected homeowners with cisterns and trucked-in household water. [Where are Encana's aquifer repair teams?]
"I hope they have some good, new information," said Deb Thomas, of the group Pavillion Area Concerned Citizens. Some residents said their well water turned foul-smelling after gas development began to pick up in their area a decade ago.
In December 2011, the EPA announced it suspected that hydraulic fracturing had played a role in tainting the water. … The EPA never finalized the report or circulated it for peer review, however, and in June 2013, it handed over its investigation to Wyoming officials[funded by an Encana "donation"]. Now, three state studies of groundwater quality are each three to six months behind schedule.
The oil and gas commission has struggled to find suitable independent experts [that will agree to edit how Encana wants the reports?] to review the reports, while the commission has struggled with staffing issues, including a leadership change, Rieman said.
One of the state studies examined whether compromised gas well bores could have caused the problem. The state oil and gas commission forwarded a report on that investigation to an independent expert, David K. Dillon, of Centennial, Colorado, a couple of weeks ago. [Only one reviewer?]
Rieman said he intentionally hasn't read the report before it is finalized and could not comment on any findings.
Commission officials plan to complete a report on a second study in a couple of weeks. The commission has not yet chosen an independent expert reviewer [also only one?] for that investigation into whether old waste pits could have leaked pollution, Rieman said.
The two reports initially were due to be completed in December 2013.
Meanwhile, a Wyoming Department of Environmental Quality contractor plans to resample Pavillion-area water wells next week for a third study. Officials expect that report, initially expected to be done this September, to be finished in December. [Emphasis added]
The secret editing of "independent expert" Alberta Research Council's geochemist, Dr. Alex Blyth:
Justice Wittmann also questioned Ernst's lawyer Murray Klippenstein about the government's filing of a report by the Alberta Research Council that dismissed Ernst's water well case as insignificant.
The government claimed the report was an independent review that proved there was no merit in the Ernst case.
Klippenstein argued that such a filing of evidence was inappropriate at this time.
He also submitted a collection of Alberta Environment emails obtained through freedom of information legislation that he argued show the Alberta Research Council report was edited by Alberta Environment and not an independent review.
Hi Alec, some more comments on the Ernst report, that for some reason I failed to include below:
Pg 19 – not sure Wikipedia is a valid reference source, though I've been out of the academic scene for awhile.
Pg 19 … can you finish the sentence off …
Pg 23 – state reasons why …
Pg 27/28 – Mention that …
Pg 28 … Elaborate on …
Pg 3/9 … use …
Pg 5 … Can you tack on …
Pg 6 … needs to be corrected
Pg 8 – clarify units …
Please leave the Kenny well out for now, as you'll address it in other reports. Perhaps send me an updated draft before WE finalize.
Pg 5 3rd para – please reference …
Pg 8, 2nd para – a study of the potential for methane migration … is currently under investigation by AENV. WE plan to mention this study when WE roll out the complaint review findings, so perhaps WE should leave it out of this report.
Pg 11 … perhaps use …
Pg 31 … perhaps mention …
Also I attach a comment by Leslie Miller, which you may want to consider incorporating.
Hi Alec, just a couple of more comments on the Ernst report, please make the changes …
Hi Alec, Comments on the Signer report, please finalize and send report.
Pg 6 … please remove last sentence like before
Table 2 – please make sure …
Pg 14 … WE need to be prepared for the question …
Pg 32 – please expand …
Also, I like how you phrase things at the end of page 31 about propane/butane (last sentence) and wonder if you can use this wording in the Ernst report as well if it's not too late.
Steve
Steve Wallace, M.Sc., P.Geol.
Hydrogeologist
Alberta Environment, Groundwater Policy Unit
10th fl Oxbridge Place, 9820 – 106 Street
Edmonton, Alberta T5K 2J6
Phone: (780) 427-9759 Fax: (780) 422-4192
Dr Alexander (Alec) Blyth now teaches at the University of Waterloo:

2014: An Alberta government lawyer argued in court this week that Jessica Ernst's lawsuit on hydraulic fracturing and groundwater contamination should be struck down on the grounds that it would open a floodgate of litigation against the province.
"There could be millions or billions of dollars worth of damages," argued Crown counsel Neil Boyle.
Finally some good news for some harmed citizens at Pavillion; still no fix or good news for the aquifer there
John Fenton warns Australia: Coal seam gas industry's solution to underground pollution is to bury the proof
Former Wyoming regulator recants: Encana polluted the drinking water at Pavillion! Wyoming to spend another $400,000 for Pavillion to provide safe alternate water after refusing to for years, the money is from Encana's $1.5 Million donation
Encana builds water treatment facility in Wyoming after taking over funding of EPA study that showed Encana's frac'ing and waste pits contaminated drinking water in Wyoming
2013 Look Back: EPA abandons Pavillion investigation into fracking and groundwater contamination
Farmer Jeff Locker and his wife considering suing Encana Corp, preferring judge and jury over Wyoming state and regulator officials; three state reports on Encana and water contamination delayed to 2014
Encana funded and Encana-enabling-State led Pavillion area groundwater investigation begins
EnCana co-opts EPA's Study showing Encana's fracturing and pits contaminated drinking water at Pavillion, Wyoming
Fracking company Encana suspected of contaminating ground water at Pavillion Wyoming, takes control of investigation, EPA refuses to finalize study blaming fracking for water pollution
New Duke University Study: Methane and ethane found in drinking water near natural gas wells: study, Increased stray gas abundance in drinking water wells near Marcellus shale gas extraction
Wyoming regulators OK Encana waste well into aquifer used for drinking
Pavillion driller EnCana blasts EPA findings of hydraulic fracturing contaminating ground water and well water
EnCana shallow fracturing and contaminated water at Pavillion Wyoming, Tests, controversy, more testing
EPA fracking investigation in Wyoming revisited after objections, Validity of initial water sampling results confirmed
Fracking water at Pavillion again shows pollutants, EPA says
Wyoming Water Tests in Line With EPA Finding on Fracking
Phase V Documents, Pavillion Wyoming, Summary of Methods & Results (including Section A and B) released by the EPA October 10, 2012
EPA: Pavillion, Wyo., Natural-Gas Site Tests 'Consistent' With Earlier Data
The Entire Oil And Gas Industry Is Watching A Tiny Town In Wyoming
New Study Supports Water Contamination Due to Fracking, U.S. Geological Survey Verifies EPA Findings in Pavillion, WY
USGS Fracking Study Confirms Methane Contamination of Drinking Water in Pavillion, Wyoming
EPA retesting finds fracking-related groundwater contamination at Wyoming site
Technical Memorandum by Dr. Tom Myers on Assessment of Groundwater Sampling Results Completed by the U.S. Geological Survey
Busted, Part Deux! Fracking Chemicals Found in Wyoming Water Supply
Testing by USGS Demonstrates Contaminants Are Still Present in EPA Deep Monitoring Well Water Near Pavillion, Wyoming
USGS Aquifer Tests Near Pavillion, Wyoming Reveal Petroleum-Based Pollutants In Samples
Diesel in Water Near Fracking Confirms EPA Tests Wyoming Disputes
USGS: Groundwater-Quality and Quality-Control Data for Two Monitoring Wells near Pavillion, Wyoming, April and May 2012
Encana donates $60,000 to dorm upgrade at Wyoming State Fairgrounds
Pavillion cisterns a go, but aquifer repair teams nowhere to be see, not even from Encana
Few takers yet on cistern offer near Pavillion
Top Wyo Official says Pavillion fracking investigation motivated by greed
Wyoming official pins Pavillion pollution complaints on greed
In Land of Gas Drilling, Battle for Water That Doesn't Reek or Fizz
State offers water cisterns to residents near Pavillion
Fracking lessons, What Boulder County and the rest of gasland can learn from Pavillion's decade-long fight
State of Wyoming proposes cisterns for Pavillion residents but will not pay for the replacement water or hauling
Pavillion Area Concerned Citizens (PACC) statement on The AP Exclusive: Wyo. got EPA to delay frack finding
Analysis Confirms That Hydraulic Fracturing Caused Drinking Water Contamination In Wyoming
Review blames Encana's fracking for water contamination in Pavillion
TECHNICAL MEMORANDUM Review of DRAFT: Investigation of Ground Water Contamination near Pavillion Wyoming Prepared by the Environmental Protection Agency
Natural gas giant EnCana to submit own findings to U.S. environmental agency
Nature, not hydraulic fracturing, is to blame for smelly water in Pavilion, Wyoming, said Encana Corp. on Tuesday.…
On Tuesday afternoon the Washington, D.C. based environmental agency defended its findings, reiterating the chemicals found were common to hydraulic fracturing, were not naturally occurring, and had been used in the Pavillion field. 
Fracking Contamination 'Will Get Worse': Alberta Expert Dr. Karlis Muehlenbachs
Earlier this month the U.S. Environmental Protection Agency found that EnCana, the continent's second largest shale gas producer, had contaminated groundwater in Pavillion, Wyoming. Those findings, which contradict industry assurances, didn't surprise Muehlenbachs, who has studied leaking wells in Alberta's heavy oil fields for decades.…
"The way I read the EPA report, the surface casings were too short and that the cementing was inadequate and then they fracked at very shallow depths. It's almost negligence," says 67-year-old Muehlenbachs…. "They'll frack each well up to 20 times.
Each time the pressure will shudder and bang the pipes in the wellbore. The cement is hard and the steel is soft. If you do it all the time you are going to break bonds and cause leaks. It's a real major issue."…
Whenever methane leaks from one well into a neighboring wellsite, "industry says let's fix the leaks," says Muehlenbachs. "But as soon as the leaks enter groundwater, everyone abandons the same logic and technology and says it can't happen and the denials come out. In Alberta, it's almost a religious belief that gas leaks can't contaminate groundwater."…
Asked if Alberta's oil patch regulator or B.C.'s Oil and Gas Commission had approached one of the world's leading experts on how to fingerprint leaking gases from gas formations, Muehlenbachs replied quickly. "No," said Muehlenbachs. "No one pays any attention to me. The Alberta regulators are only interested in optimizing production." [Emphasis added]
December 8, 2011: EPA Releases Draft Findings of Pavillion, Wyoming Ground Water Investigation for Public Comment and Independent Scientific Review
EPA says fracking likely polluted Wyoming aquifer
Feds Link Water Contamination to Fracking
Alleged gas-drilling contamination of Wyoming well water scraps EnCana sale
Buyer nixes deal for EnCana's controversial Wyoming natural gas assets
November 13, 2011: Busted! Fracking Chemical Found in Wyoming Water Supply
Citizens Call for Investigation and Halt to Encana's Proposed Sale of Pavillion Gas Field
EnCana says drilling did not taint Wyoming water, says "extremely low" methane levels are naturally occurring
Asked about possible sources of contaminants found by the EPA, Hock said some may have come from water well components such as rubber washers. Methane found in some wells — which prompted officials to recommend ventilating bathrooms when showering — was at "extremely low" levels, indicating that it was naturally occurring, he said. "If this was related to oil and gas production wells, we would be seeing much higher levels of methane," Hock said. [Emphasis added]
[What does that Encana admission say about the extremely high and dangerous methane levels in Rosebud's drinking water?]
September 1, 2010: Pavillion, Wyoming-area residents told not to drink water
EnCana Oil and Gas USA, which operates oil and gas wells interspersed throughout the farm and ranch community, has agreed to provide funding to a third party which will provide treatment or an alternate source of drinking water.
2011 Encana breaks promise to disclose frac chemicals used in Pavillion Wyoming:

2010 Encana in Canada promises they provide complete chemical disclosure: 'Yes, We're Doing It Now' – Encana's Testimony to a Parliamentary Committee Stating Their Cooperation in Publicly Disclosing All the Chemicals Used in Fracking :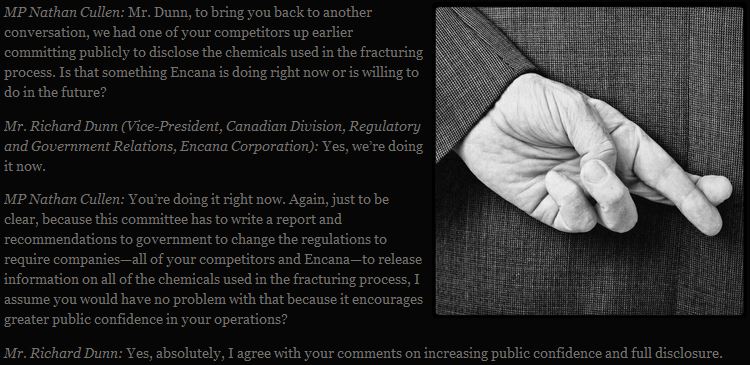 August 25, 2009 USA EPA: Chemicals Found in Wyo. Drinking Water Might Be From Fracking
EPA investigators explained that because they had no idea what to test for, they were relegated to an exhaustive process of scanning water samples for spikes in unidentified compounds and then running those compounds like fingerprints through a criminal database for matches against a vast library of unregulated and understudied substances. That is how they found the adamantanes and 2-BE.
An EnCana representative told the crowd that the company was as concerned about the contamination as the residents were, and pledged to help the EPA in its investigation.
Some people seemed confounded by what they were hearing.
"How in god's name can the oil industry dump sh*t in our drinking water and not tell us what it is?" shouted Alan Hofer, who lives near the center of the sites being investigated by the EPA.
"If they'd tell us what they were using then you could go out and test for things and it would make it a lot easier, right?" asked Jim Van Dorn, who represents Wyoming Rural Water, a nonprofit that advises utilities and private well owners on water management.
"Exactly," said Luke Chavez, the EPA's chief Superfund investigator on the project. "That's our idea too."
Now that the EPA has found a chemical used in fracturing fluids in Pavillion's drinking water, Chavez said the next step in the research is to ask EnCana for a list of the chemicals it uses and then do more sampling using that list. (An EnCana spokesman told ProPublica the company will supply any information that the EPA requires.) [Emphasis added]
July 10, 2008: Citizen EnCana The double life of Calgary's greatest corporation, Good Corporate Citizen or Evil Empire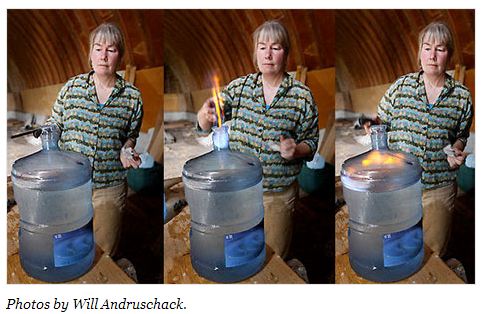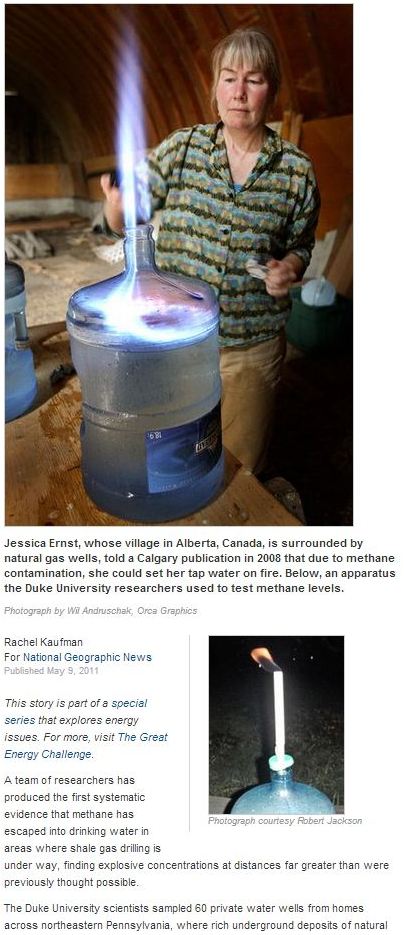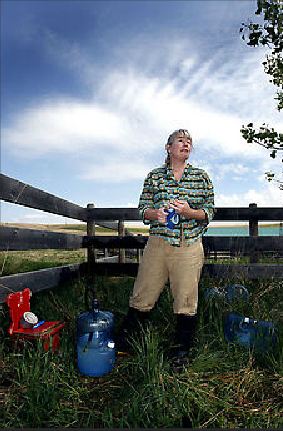 Ernst's contaminated water at Rosebud
Photos from Calgary Fast Forward's Encana slide show
February 1, 2008: Encana Randy Teeuwen to Casper Star Tribune re Louis Meeks' contaminated water, Pavillion Wyoming
January 1, 2008: Encana Passes the Buck on Contamination in Pavillion, Wyoming
***
MUST READ! EPA lags on drinking water oversight, New report by Govt Accountability Office (GOA) by Robin Bravender, March 28, 2016, E&E News
U.S. EPA isn't keeping proper tabs on whether drinking water wells are sufficiently protected from hydraulic fracturing, according to a new report from the Government Accountability Office.
"EPA has not consistently conducted oversight activities necessary to assess whether state and EPA-managed programs are protecting underground sources of drinking water," according to the GAO.
The report found that EPA's data weren't specific enough to determine whether water protection programs managed by EPA or states were meeting their annual inspection goals. GAO also found that state and EPA-managed programs didn't report data on violations completely or consistently.
GAO recommended — among other things — that EPA require programs to report well-specific inspection data, clarify guidance on enforcement data reporting and analyze the resources needed to oversee programs.
EPA generally agreed with the report's findings, according to GAO, but does not plan to require well-specific data or analyze needed resources. [Emphasis added]
EPA Needs to Collect Information and Consistently Conduct Activities to Protect Underground Sources of Drinking Water by Government Accountability Office GAO-16-281: Published: Feb 26, 2016. Publicly Released: Mar 28, 2016.
What GAO Found
The Environmental Protection Agency (EPA) has not collected specific inspection and complete or consistent enforcement information, or consistently conducted oversight activities, to assess whether state and EPA-managed Underground Injection Control (UIC) class II programs are protecting underground sources of drinking water. EPA guidance calls for states and EPA regions to report certain information and for EPA to assess whether programs are effectively protecting underground sources of drinking water, but the agency does not. Specifically:
EPA annually collects summary data from state and EPA-managed programs on the types of inspections they conduct. However, these data are not specific enough to determine the number of different types of inspections that states and EPA regions are to conduct to meet their annual goals. Such goals are specified at the well level (e.g., to inspect 100 percent of wells associated with emergency responses). Under federal internal control standards, managers are to compare actual performance to planned or expected results and analyze significant differences. Without well-specific data on inspections, EPA cannot assess whether state and EPA-managed programs are meeting annual inspection goals.
EPA collects information on unresolved significant violations of state and EPA-managed programs to determine if the agency needs to take action to enforce applicable program requirements. However, GAO's analysis of a nongeneralizable sample of 93 significant violations for fiscal years 2008 through 2013 found that state and EPA-managed programs did not report data on such violations completely or consistently. For example, of 29 such violations that had not been enforced after 90 days as required, programs reported 7 to EPA. According to EPA and state officials, the cause was inconsistent interpretations of EPA's reporting guidance. EPA officials said they are aware that the data reported on such violations are not complete or consistent, but the agency has not clarified in guidance what data programs should report. Until it does so, EPA does not have reasonable assurance that it has the data needed to assess if it must take enforcement action.
EPA has not consistently conducted oversight activities necessary to assess whether state and EPA-managed programs are protecting underground sources of drinking water. For example, GAO found in June 2014 that EPA does not consistently conduct oversight activities, such as annual on-site program evaluations. According to EPA guidance, such evaluations should include a review of permitting and inspection files or activities to assess whether the state is protecting underground water. In California, for example, EPA did not regularly review permitting, and in July 2014, after a state review of permitting, EPA determined that the program was out of compliance with state and EPA requirements. EPA officials said that they have few resources to oversee UIC class II programs, but EPA has not conducted a workforce analysis consistent with GAO's work on strategic human capital management to identify the resources needed for such oversight. Without conducting such an analysis, EPA will not be able identify the human capital or other resources needed to carry out oversight of the UIC class II programs to help ensure that they protect underground sources of drinking water.
Why GAO Did This Study
Since the early 2000s, increased oil and gas production has resulted in an increase in wastewater that must be managed properly. The majority of wastewater from oil and gas production is injected into underground wells known as class II wells. These wells are regulated to protect drinking water sources under EPA's UIC class II well program and approved state class II programs. EPA oversees state programs, and EPA regions manage programs in states without approval.
GAO was asked to review EPA's oversight of programs' inspection and enforcement information and activities. This report examines the extent to which EPA has collected inspection and enforcement information and conducted oversight activities needed to assess that class II programs protect underground sources of drinking water. GAO reviewed federal and state laws and regulations and EPA guidance and analyzed a nongeneralizable sample of significant violations. GAO interviewed EPA and state officials from programs in a nongeneralizable sample of eight states selected based on shale oil and gas regions, among other factors.
What GAO Recommends
GAO recommends that, among other things, EPA require programs to report well-specific inspections data, clarify guidance on enforcement data reporting, and analyze the resources needed to oversee programs. EPA generally agreed with GAO's findings, but does not plan to require well-specific data and analyze needed resources. GAO continues to believe that EPA should take both actions to better assess if programs protect underground sources of drinking water.
For more information, contact Alfredo Gómez at (202) 512-3841 or email hidden; JavaScript is required. [Emphasis added]
[Refer also to:
How creative will frac fraud get? Wyoming regulator dumps frac blame on nature, copy cats Alberta regulators, government, Research Council (now Alberta Innovates), ignores red flag indicators of petroleum industry contamination, ignores that Encana frac'd drinking water aquifers like Encana did at Rosebud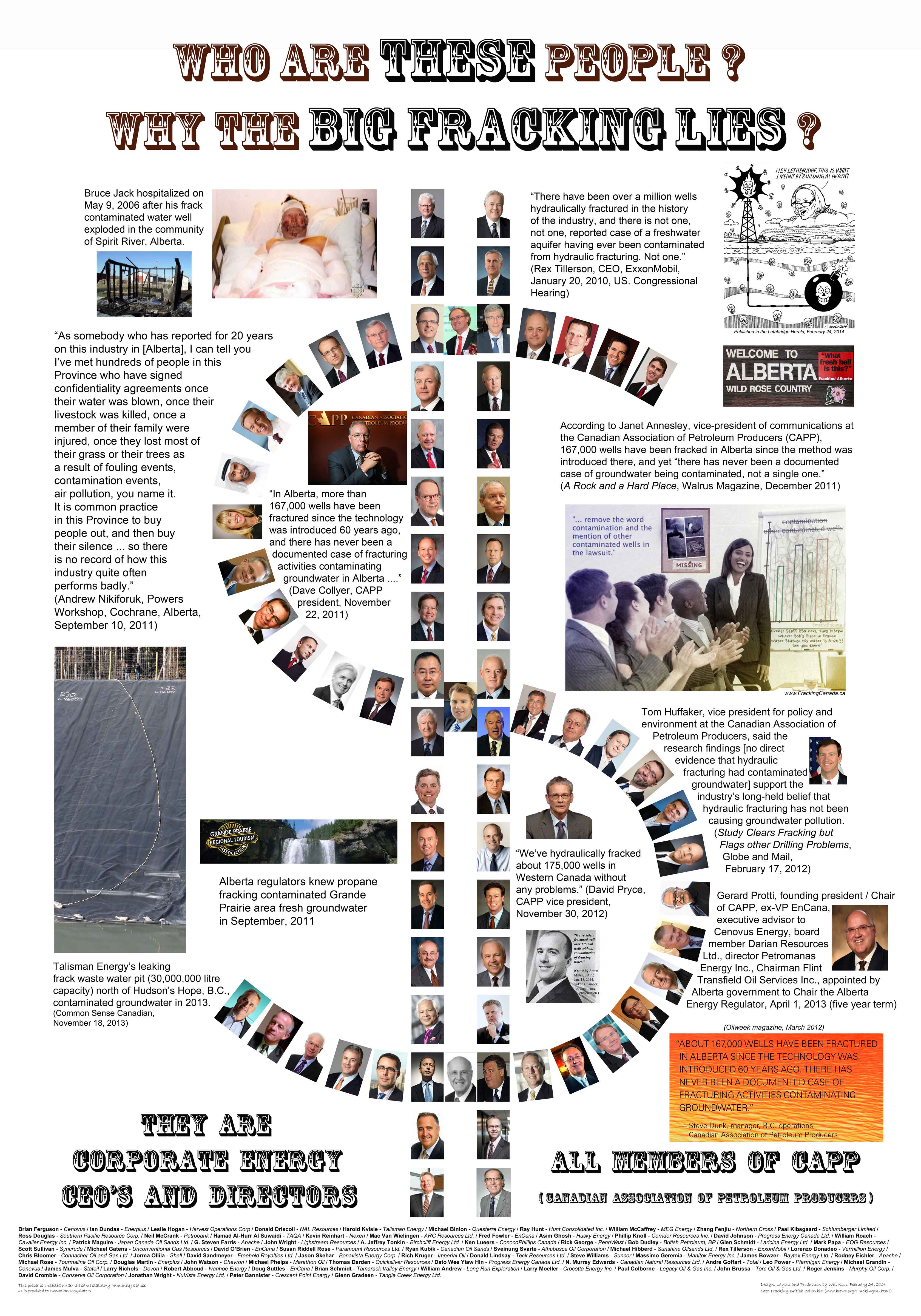 Big Lie Poster by BC Tap Water alliance, February 24, 2014