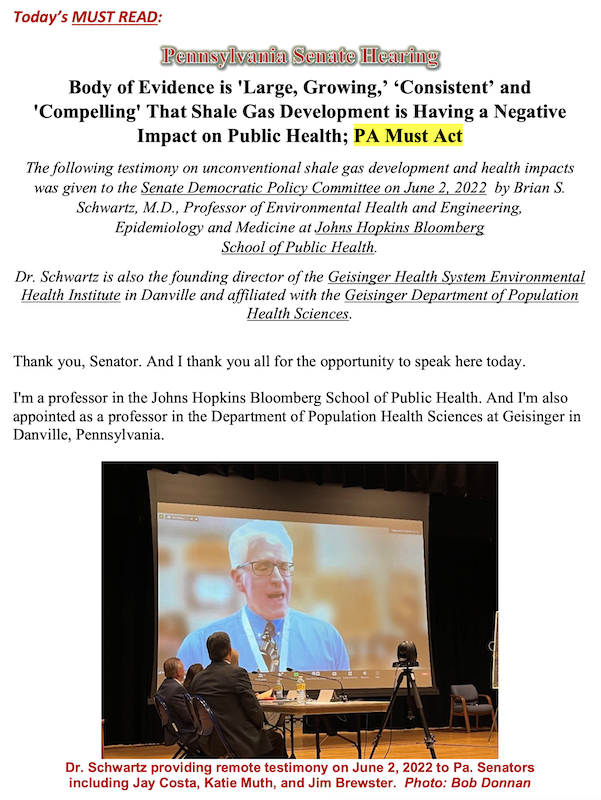 The following testimony on unconventional shale gas development and health impacts was given to the Senate Democratic Policy Committee on June 2, 2022 by Brian S. Schwartz, M.D., Professor of Environmental Health and Engineering, Epidemiology and Medicine at Johns Hopkins Bloomberg School of Public Health.
Dr. Schwartz is also the founding director of the Geisinger Health System Environmental Health Institute in Danville and affiliated with the Geisinger Department of Population Health Sciences.
Thank you, Senator. And I thank you all for the opportunity to speak here today.
I'm a professor in the Johns Hopkins Bloomberg School of Public Health. And I'm also appointed as a professor in the Department of Population Health Sciences at Geisinger in Danville, Pennsylvania.
And there at Geisinger, I am the founding director of the Environmental Health Institute, which we founded in 2007. And over the last 15 years, I've spent regular time in Danville.
We founded the Environmental Health Institute in 2007. So when this industry and its drilling took off in the late otss, you know, 2009, 2010, we were sort of in the right place at the right time.
And we were charged with evaluating how environmental exposures could be affecting Geisinger's patients.
I am a physician and an environmental epidemiologist, and I have led many studies of the fracking industry and health at Geisinger.
All of our studies are funded by the National Institutes of Health, which requires rigor and its funded science. And all of our research ideas are subjected to peer review before we're funded.
Finally, I've read the Environmental Health Project's report. I find it an excellent analysis, and I agree with its findings and conclusions. [Read more here.]
Large-Scale Industrial Project
I was asked to come here today to talk about the fracking industry and health.
This industry is a large-scale industrial engineering project that involves a number of impacts on communities and their environments.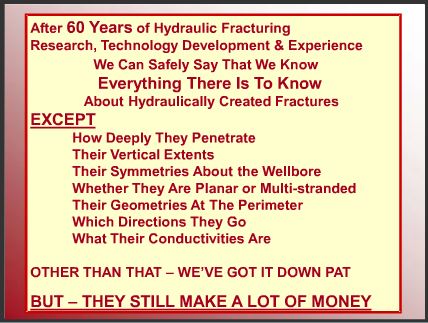 Ya, they make a lot of money via massive subsidies paid for by taxpayers and the harmed in the USA and Canada and via conning banks, investors and pensions (including AIMCo & Canada Pension Plan Investment Board).

It involves many steps over time, clearing land, building roads, preparing the surface, bringing in chemicals and large volumes of water, bringing in large and heavy equipment like drilling engines and compressor engines.
Then drilling and hydraulic fracturing. Receiving returned liquids and processing them at the surface. Receiving and processing gas at the surface.
Sending the gas through pipelines. And also a disposing of the waste stream.
And this requires monitoring of the safety of all of these steps.
Now, I'm using a shorthand calling this the fracking industry, but that's really kind of doing a disservice because that's just one short phase of this multi-phase and long-lasting industry.
Over 10,000 wells are operating in the state. And so this illustrates the huge scale of the impact.
As we think about how this can affect health, we have to think about all these accumulating effects and how this can happen over time.
What Do Communities Experience
Now, what's a community's experience?
They experience truck traffic and their diesel exhaust emissions, transient workforces, air pollution, including volatile organic compounds, particulate matter, ozone, oxides of nitrogen and fugitive methane emissions.
There's often large withdrawals of surface water. There can be groundwater impacts with chemicals and ending up in groundwater near these operations.
Importantly, these operations are very visible, not only is there truck traffic, but there's odor and vibration and light and noise.
Many of these visible things can cause stress and people who live around these.
And so what's important, as we think about health, is that we have a mix of exposures that can affect health in many ways.
And these can be cumulative and increase in their effects over time for both acute, that is, short occurrence, and then chronic health effects.
Multiple Peer-Reviewed Studies
And so, at this point there's quite a few studies. We've heard from the prior speaker about all the different studies that have been done.
My group at Geisinger now has nine peer-reviewed publications on fracking and health in top scientific and medical journals. [Read more here.]
These are peer-reviewed, which means that it's very difficult to pull a fast one on scientists because we have to respond to all of the comments that they provide to us after they review our manuscript before it is published.
The prior speaker spoke about distance, but when we look at fracking activity in communities, we're not only evaluating the distance, we're also evaluating the total number, the size of the wells in terms of the total depth and the gas production, the phase of the well development. And so it's not just about proximity.
We've studied a range of common, severe, and impactful health outcomes across the lifespan at virtually all ages.
We've done both electronic health record-based studies and questionnaire-based studies.
In the electronic health records, we go into the electronic health records on millions of patients in the Geisinger system over 20 years, but only about 12 or 13 during this industry.
We've studied asthma exacerbations. We find out when people with asthma went to the emergency room and went to get hospitalized and figured out what was going on in terms of fracking at that time.
We've looked at hospitalizations for congestive heart failure, adverse birth outcomes, including preterm birth, high-risk pregnancy, and birth weight.
We've looked at mental health in pregnant women and mental health diagnosis and treatment in adolescents, all with electronic health records.
So we know the date. We know when medications were prescribed. We know when testing was done. We know when diagnoses were obtained and provided by healthcare providers.
We've also done questionnaire-based studies and looked at a variety of symptoms like the other studies you heard about and have published several papers on nasal and sinus and headache and depression symptoms.
Many of the findings of our studies have been found before us or replicated by other investigators in Pennsylvania and other states.
Finally, this industry has fugitive emissions of methane and the burning of gas releases carbon dioxide.
And finally, many of the resources from this industry are going into plastics production.
And so all of these have very significant impacts on climate change. And climate change is happening now, it's affecting health now, and it's affecting the health of Pennsylvanians now.
So this industry has local, regional, and global impacts on health. And I want to emphasize that our studies are of Pennsylvania residents.
And while Maryland and New York have prohibited this industry, the state with the most health studies has not. And that is Pennsylvania.
Should We Believe The Findings
So I was asked– is there enough evidence? And should we believe these findings?
I think we should believe these findings.
In epidemiology and in public health, we look at the body of evidence. And the body of evidence is large, growing, and consistent.
Many people ask us to prove whether this industry is causing these problems, but epidemiologic studies cannot prove anything. We look at the body of evidence.
Don't forget that long after public health professionals concluded that cigarette smoking caused lung cancer, tobacco companies continued to claim that it had never been proven.
So this is just a common strategy used by industry to delay. And it is not a compelling reason not to act.
So why is the existing evidence compelling? Well, we have studies from many groups of independent investigators. We have studies using different study designs, including some that more formally evaluated causality using specific cause and effect frameworks.
There are studies from many parts of the United States, but as I said, most of the evidence is from Pennsylvania.
The studies that we have selected are biologically-plausible health outcomes where we study health outcomes that we do not expect could be affected by this industry.
We do not have to find anything, but when we pick outcomes that we believe could be, we do.
We find in our studies that as somebody's value of their unconventional natural gas development activity metric goes up, the risk or severity of the health outcome goes up.
And in epidemiology, we call this a dose response relation. And this is very important to find.
We also really evaluate the robustness of our findings.
As I often say, epidemiologists find stuff and then we try to make it go away. We try to control for cigarette smoking, and we try to control for other things. And if it goes away, we tend not to believe it.
But all of our findings are very robust.
Finally, nothing else has changed in this region as rapidly as the fracking industry in the same time and places.
The industry criticizes our findings but offers no alternative explanation for how all of these various health outcomes could be caused by something else.
They have not offered any plausible alternatives. They just claim that there's no proof of causation.
But there's certainly enough evidence to act.
As we've heard from prior speakers, we should be protecting public health.
As I said, the best studies on health impacts have been from Pennsylvania. And Pennsylvania has not acted.
And I'm here to tell you that there is sufficient evidence to act now.
Thank you.
Click Here for links to Geisinger research papers. Click Here to papers by Dr. Schwartz.
Environmental Health Project Recommendations
Key recommendations referred to by Dr. Schwartz in his testimony by the Environmental Health Project include–
1. Adopt a health-protective approach to shale gas development. Policy makers should halt or mitigate the risks to the community by preventing exposure to air and water contamination when there is uncertainty about its effects on residents, especially children, pregnant women, the elderly, and those with existing health conditions.
Primary consideration should be given to the people living within proximity to any shale gas facility, ensuring they are not exposed to levels of emissions harmful to themselves or their families.
2. Shift the burden of proof to industry and away from residents. Government agencies should require shale gas companies to disclose expected emissions to the public and to install monitoring equipment—the data from which should be made publicly available—to ensure that degradation of industry systems do not risk public health over time.
Agencies should establish such monitors and compliance of standards before granting permits. Further, agencies should appropriately classify waste streams based on the toxics they contain.
All waste must be tracked from cradle to grave and disposed in a fashion that prevents exposure to residents. Once operational, any company failing to comply with regulations and standards should lose its permits to operate.
3. Increase public participation in health decision making. People who live in proximity to shale gas development should be involved in decisions that affect their own health. This is especially true of those in underserved and underrepresented areas.
Government agencies should develop and maintain open channels of communication that allow residents to easily and without threat of retaliation share health information and harms related to shale gas development.
Departments of health should actively warn residents of the risks they face and provide advice to them and to physicians for how they can best protect themselves and others from exposure.
Departments of environmental protection should notify communities of any substantive changes to existing permits or permit applications, as well as any industry violations, so that residents and communities can better manage the associated health risks.
4. Fully fund and staff government agencies that protect public health. State departments of health and environmental protection should be adequately supported so that they can investigate and monitor the entire shale gas development process, from site preparation through waste treatment and sequestration.
Relying on industry to self-report emissions, waste, and health impacts does not provide adequate safeguards to public health.
5. Work toward a quick and just transition away from fossil fuels and toward renewable energies. Policy makers should take into account global and local health impacts, economic priorities, and environmental justice issues when making policy regarding shale gas development.
Fossil fuel extraction, transportation, processing, and consumption hastens the warming of the planet and exposes local residents and their families to numerous serious and documented health risks.
In addition to examining economic and social factors, a consideration of health impacts is central to any policy decision, especially when underserved and underrepresented communities are involved.
Click Here for more information. Click Here for full Environmental Health Project whitepaper.
Visit the Environmental Health Project website for much more information.
June 2 Hearing Testimony
For more information, a video of the June 2, 2022 hearing and copies of testimony, visit the Senate Democratic Policy Committee webpage.
NewsClips:
— PA Capital-Star: Western PA Residents, Advocates Urge State Lawmakers To Take Action Against Fracking
— Pittsburgh Business Times: Local Residents, Advocates Decry Health Impacts Of Natural Gas Drilling
Upcoming House/Senate Meetings:
— Who Is Protecting Taxpayers? House Committee Meets June 7 On Bills To Preempt Any Increase In Conventional Oil & Gas Well Bonding Amounts, Give Away Plugging Contracts With No Regard For Cost
— Senate Committee Meets June 8 On Bills To Change Erosion & Sedimentation Permitting For Oil & Gas Activities, Deep Mine Safety Requirements
— Senate Committee Meets June 7 On Bill To Prohibit Communities From Moving To Clean, Cheaper Energy Sources To Address Climate Change
Related Articles This Week:
— On-Site Conventional Oil & Gas Drilling Waste Disposal Plans Making Hundreds Of Drilling Sites Waste Dumps
— New Penn State Study Finds Runoff From Conventional Oil & Gas Wastewater Dumped On Unpaved Roads Contains Pollutants That Exceed Human-Health, Environmental Standards
— DEP Advises 18 Municipalities Where Road Dumping Of Conventional Oil & Gas Drilling Wastewater Is Occurring The Practice Is Illegal And Considered Waste Disposal [PaEN]
— Environmental Health News: Public Health In PA Ignored During Fracking Rush – Report [PaEN]
— Pittsburgh Business Times: Local Residents, Advocates Decry Health Impacts Of Natural Gas Drilling
— AP: As Natural Gas Expands In Gulf, Residents Fear Rising Damage
— Marcellus Shale Coalition Blog: Research Confirms Natural Gas Developed Responsibly, Safely [PaEN]
Related Articles:
— Middle Susquehanna RiverKeeper: May 24 Accident Kills Driver, Spills 4,620 Gallons Of Natural Gas Drilling Wastewater
— PA's Experience With New Pipeline Construction Shows State Laws Not Strong Enough To Prevent Environmental Damage, Protect Public Safety
— Dept. Of Health Visits Communities And Families Impacted By Shale Gas Development, Hears Firsthand Accounts Of Health Harms
— Shale Gas Development In PA Increases Exposure Of Nearby Residents To Air Pollutants, Setback Policies Not Effective
— Environmental Health News: Public Health In PA Ignored During Fracking Rush – Report
— Now On Demand: Physicians For Social Responsibility-PA Host Virtual Conference On Health Hazards Of Oil & Gas Industry In Pennsylvania
— Now On Demand: Videos From 2021 Shale Gas & Public Health Conference; Including Preliminary Results Of A Penn State Study On Health Risks From Road Spreading Conventional Drilling Wastewater
— Physicians For Social Responsibility Release 8th Compendium of Scientific, Medical, Media Findings On Risks, Harms Of Fracking And Oil & Gas Infrastructure
— Earthworks, FracTracker Alliance Release New Online Oil & Gas Threat Map; Find Natural Gas Facilities, Wells Near You
— 35 Senate, House Democrats Urge Gov. Wolf To Investigate Health Impacts Associated With Natural Gas Fracking
— Dept. Of Health Awards $2.5 Million Contract To University of Pittsburgh To Research Health Effects Of Hydraulic Fracturing In PA

Refer also to:
1982 Alberta: Sour gas and sickness; Smelly smelly run-around. Regulators/Health authorities, then and now, lie to the harmed, coddle the polluters. Alberta's Pollution Solution: Discredit the poisoned; call them crazy.

When I first spoke out about Encana's law violations in my community harming many, AER called me crazy (publicly and to media) to try to shame me away. When that didn't silence me, they judged me a criminal – in writing (without any evidence, no trial, no hearing, and no chance for me to defend myself – they didn't even give me the courtesy of informing that they were officially judging me). They enhanced their nastiness and bullying by copying their lie to police and Alberta's Attorney General.
When that failed to make me become a quiet obedient Albertan, they lied in their 2012 brief filed in court (written by outside counsel Glenn Solomon; it's against law society rules for lawyers to lie, accidentally or intentionally – but, Alberta lawyers lie, a lot, intentionally and get away it again and again with law society doing little but huff and puff), saying I was a terrorist, and thus I had no Charter rights so it was fine for my rights to be violated. Then Court of Queen's Chief Justice Neil Wittmann wrote in his ruling there was "absolutely" no evidence I was a terrorist but punished me and rewarded AER, making me pay legal costs for the regulator violating my rights and further, lying about me to the court. When AER and the Alberta courts were unable to stop or silence me, Supreme Court of Canada J Rosalie Abella took the lies deep into Hell. She pulled facts out of her corrupt ass, changed AER's calling me crazy, then criminal, then terrorist, to vexatious litigant – two years before I became a litigant. Miraculous ass-bound justice, Canada-style.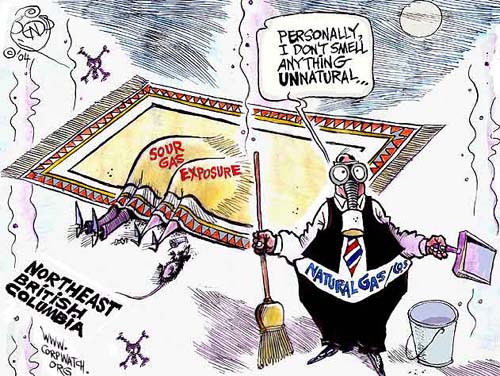 2001-onward: Encana/Ovintiv illegally frac's drinking water aquifers at Rosebud Alberta, invades them also elsewhere in Canada and in Pavillion Wyoming and Silt Colorado: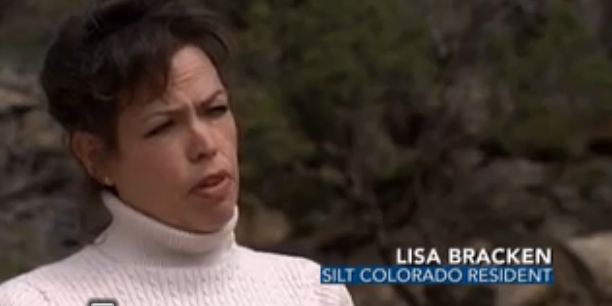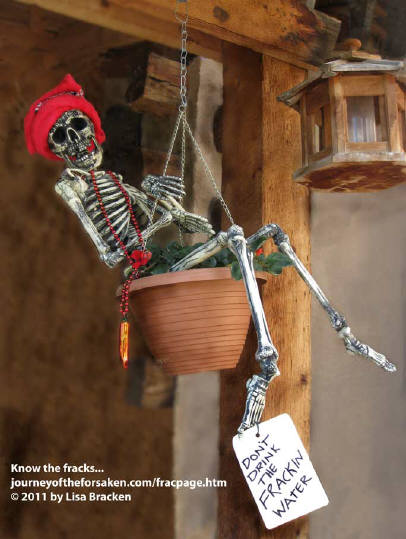 2011: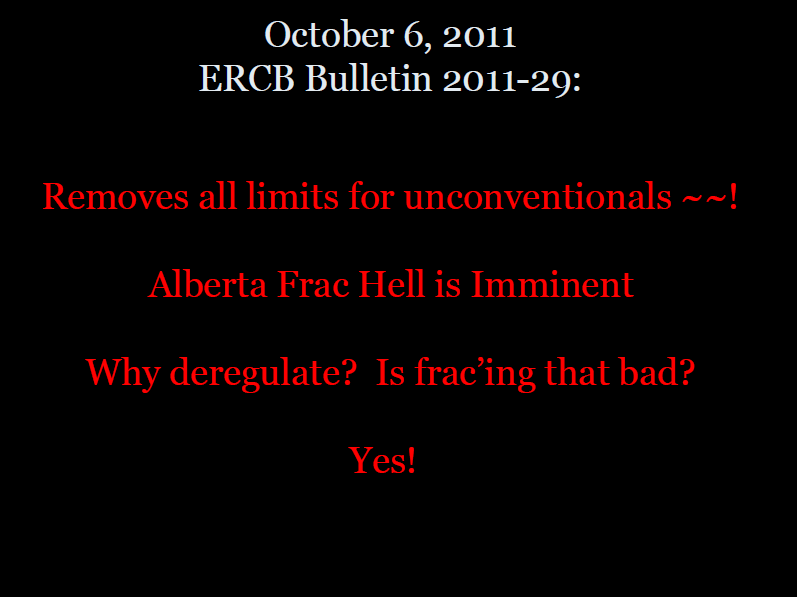 ERCB was the energy regulator in Alberta then, it was the EUB but when it got caught spying on innocent ordinary citizens, the gov't changed it's name to hide the growing scandal. After the Ernst lawsuit against the EUB, Alberta Environment and Encana went public, the gov't changed it to AER, removing its public interest mandate.
2012: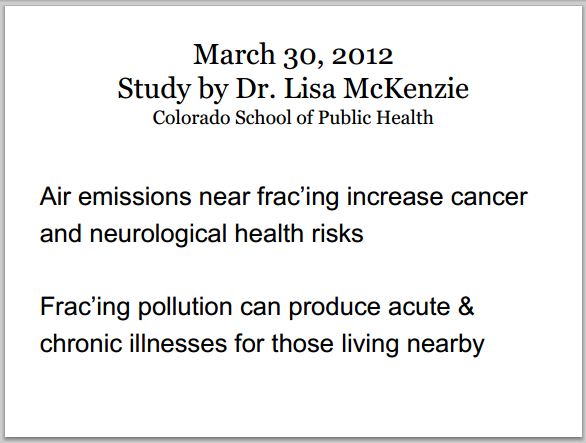 2012: This is how the judicial industry in Polluter-enabler Canada rules the rule of law: Province loses bid to force Abitibi to clean up contamination, Supreme Court of Canada ruled 7-2 against government
Why was a 2012 Health Canada Report, admitting significant health hazards and risks to groundwater and air from hydraulic fracturing, kept from the public?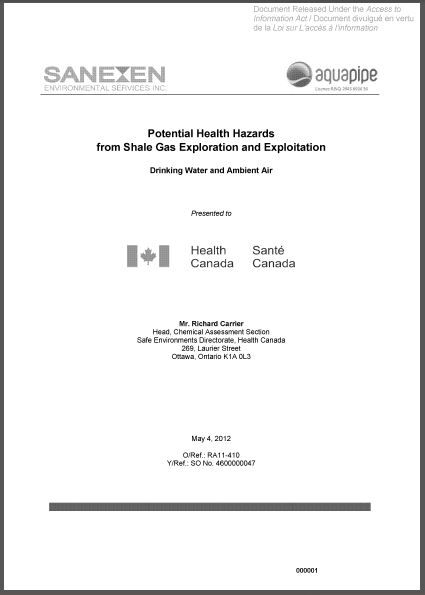 2012: 'The Death of Evidence' in Canada: Scientists' Own Words, Data distorted for 'propaganda' and other complaints against the Harper government
2012: New Brunswick Chief Medical Officer of Health Dr. Cleary speaks out on shale gas report after government says it will be kept confidential
2012: Shale gas report by health officer may remain secret, Dr. Eilish Cleary looked at potential health impacts of the shale gas industry
2012: Diagnosing the health risks of unconventional gas
2012: Canadian taxpayers could be on hook for Quebec fracking decision because of NAFTA Chapter 11 – protects corporations even if they risk health, the public interest and environment to take profit
2013: Hydraulic Fracturing in Canada, Federal Environment Commissioner Scott Vaughan Reports Concerns, List of Fracking Substances in Canada Still Secret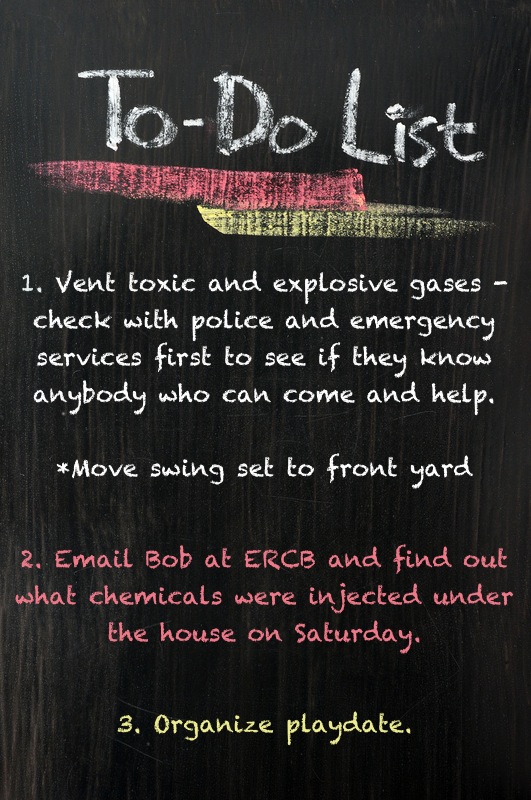 ERCB was EUB, ERCB before that, and after Ernst lawsuit went public, became AER, with gov't removing its mandate to regulate in the public interest.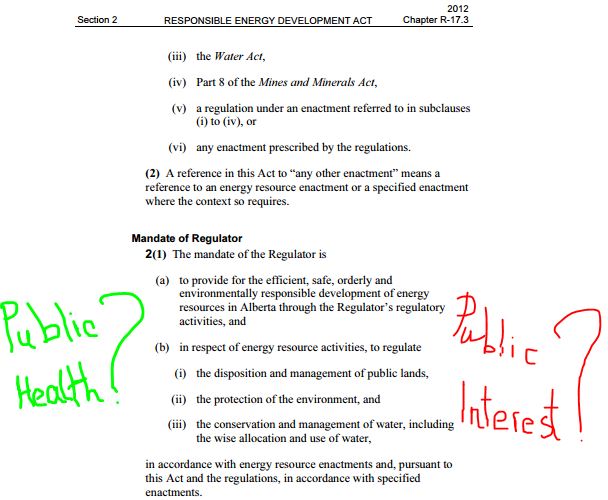 2013: Alberta Health Services to pay executive bonuses, says work 'already done' but refused to address concerns about serious negative health impacts caused by oil and gas drilling and hydraulic fracturing
2013: Alberta regulators ["Alberta Health Couldn't make it"] answers questions about fracking
2013: AER slams the door shut on Shawn and Ronalie Campbell (their water was frac'd by Encana in 2005; isotopic fingerprinting by U of A matched ethane, propane, butane and pentane in their water to the company's zones of production). Yes, that black stuff is their drinking water.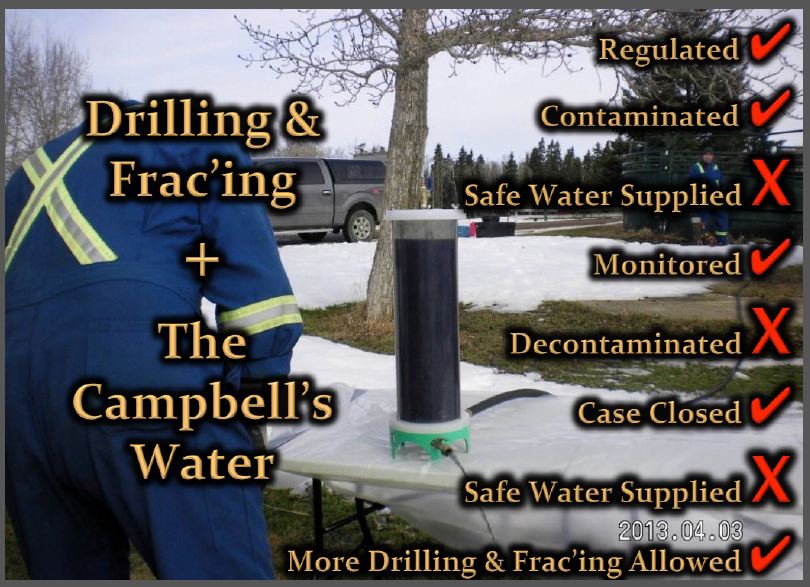 2013: Alberta family, the Daunheimers near Didsbury, suing Angle Energy for $13 million for causing harm to health, property, financial status, personal safety and water
2013: Canadian Courts Dismiss Protection for Owners of Polluted Lands & Waters, A horrible decision against Jessica Ernst, Landowner, Rosebud, Alberta, Canada
2013: Big oil, big fracing, big problems? The Hawkwoods frac'd in the Lochend: health problems, dead cattle and earthquakes causing property damage
2013: Order of Canada winner, head of NB Energy Institute and promoter of frac'ing, Louis LaPierre, lied about Ph.D and M.Sc.
2013: Extreme Levels of Benzene Floating Around Gas Wells and Compressor Stations; Fracking effects: A long-term study of drilling's impact shows harmful health effects
2014: Diana Daunheimer's frac lawsuit follows years of policing industry in her own backyard
2014: Diana Daunheimer Presents to Alberta Surface Rights Federation: Fracturing our lives and how it affects us all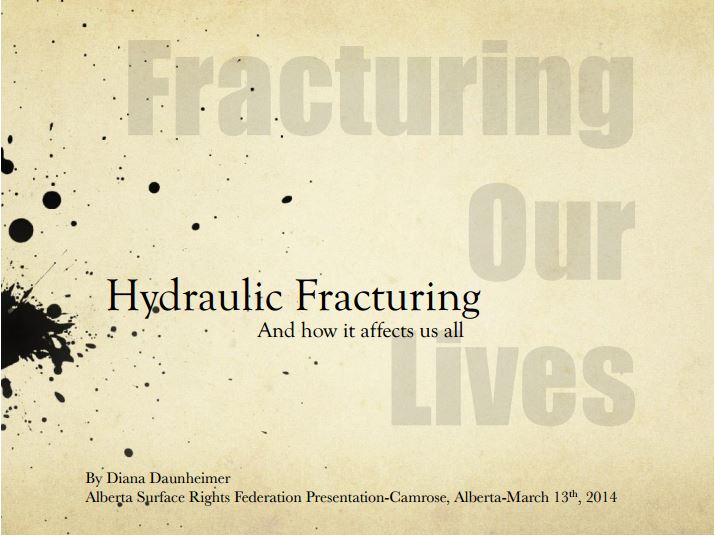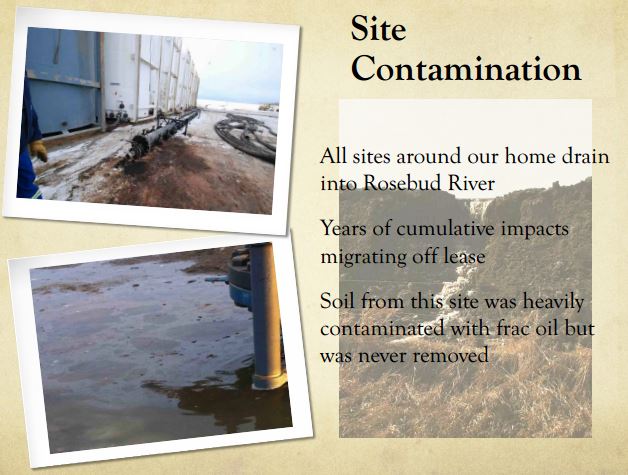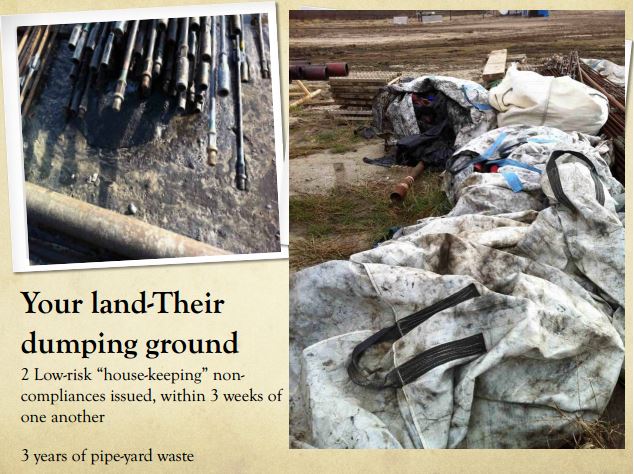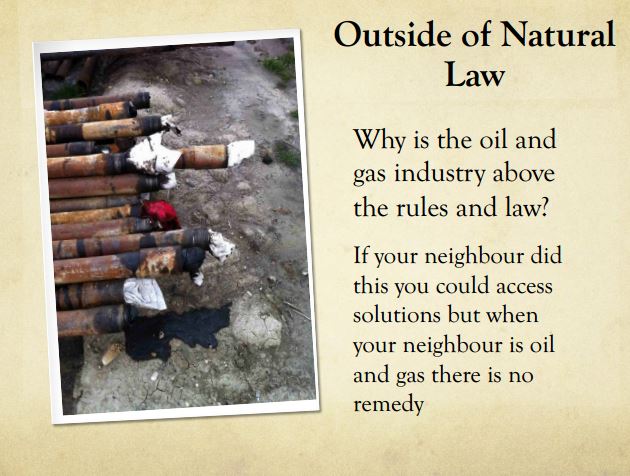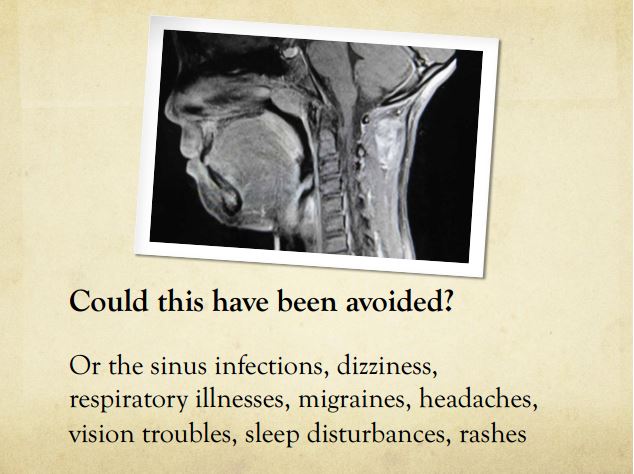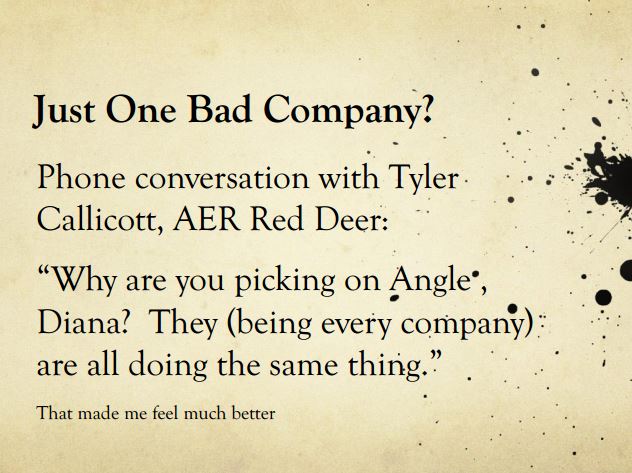 2014: MUST READ Diana Daunheimer: Alberta Energy Regulator should be ashamed, AER Directive 60 Deregulation as the frac poisons ramp up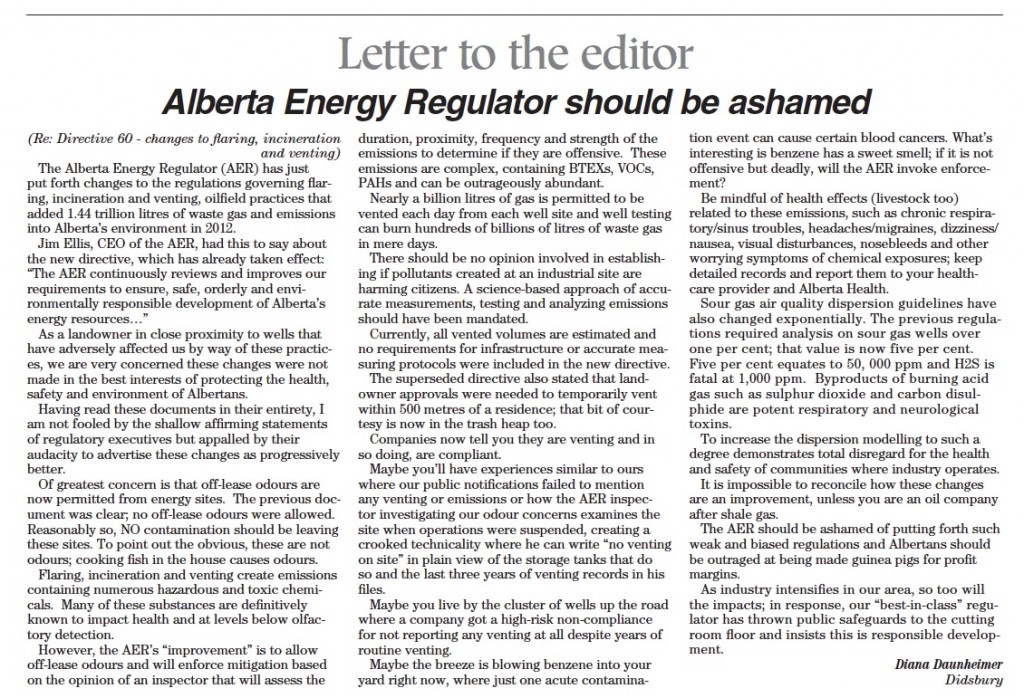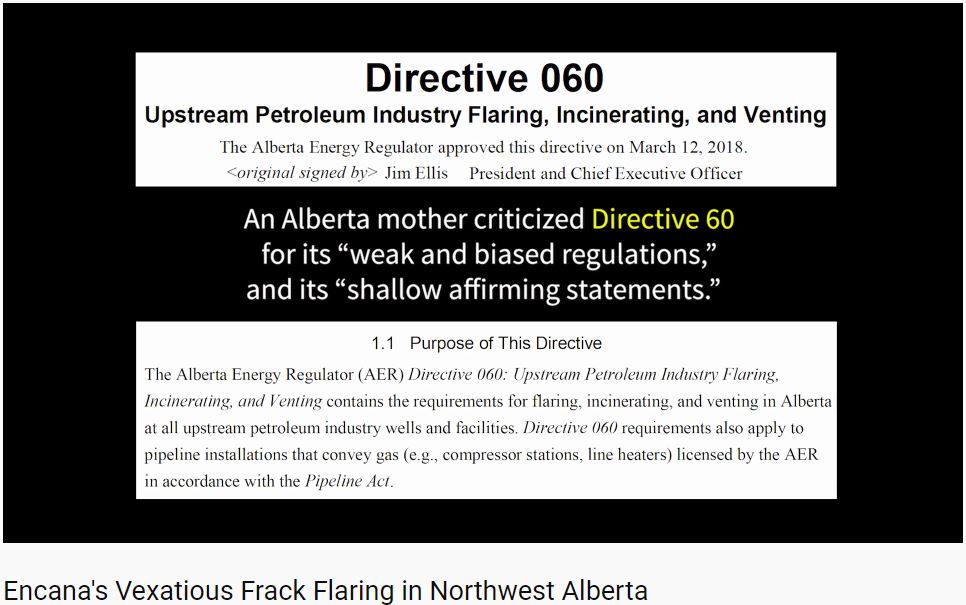 2014: New York State to ban fracking because of red flags to public health. Health Commissioner Howard Zucker: "Would I let my child play in a school field nearby? After looking at the plethora of reports, my answer would be no."
2014: New York State to ban fracking because of red flags to public health. Health Commissioner Howard Zucker: "Would I let my child play in a school field nearby? After looking at the plethora of reports, my answer would be no."
2014: UK Public Health Report Admits Harm for Residents Living Near Fracing: "lack of public trust and confidence, stress and anxiety from the uncertainty which could lead to poor mental wellbeing, noise related health effects, issues related to capacity for flowback waste water treatment and disposal"
2014: Fracking in the Red & Junk Bonds Backing Fracking Facing $11.6 Billion Loss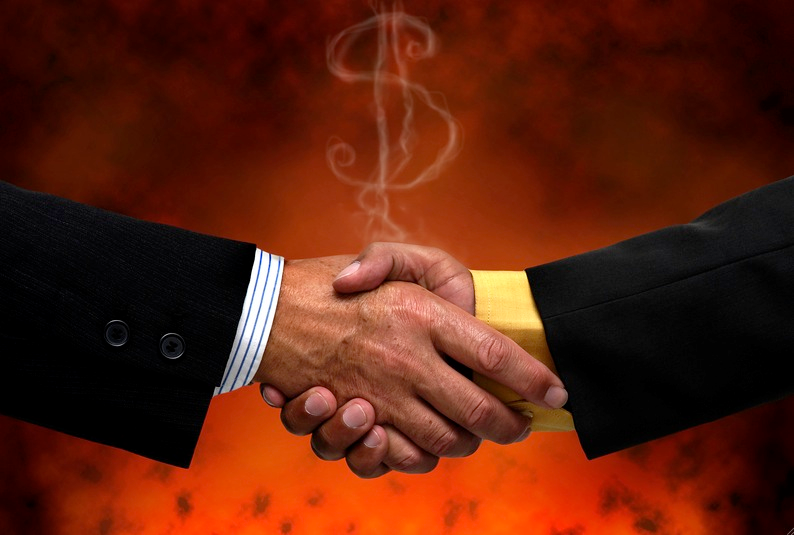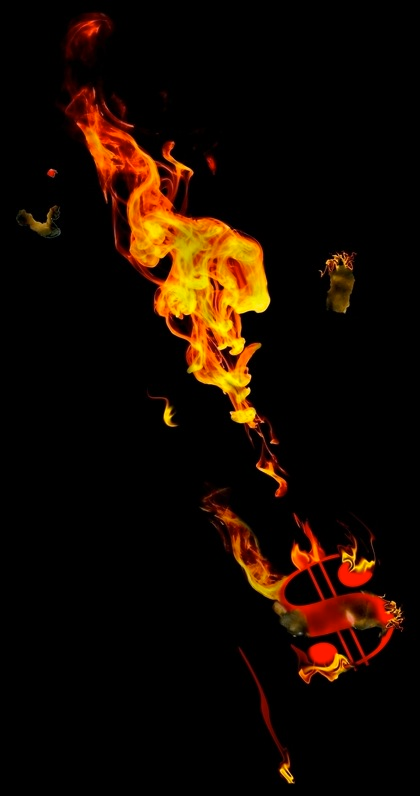 Images source: FrackingCanada How the West was Lost
2014: Governments across Canada failing to protect drinking water; Government betrays Ristigouche and 70 other Quebec municipalities that put bylaws into place to protect drinking water; Gastem attacks Ristigouche with $1.5 Million Lawsuit
2014: CHILDREN PLAYED IN THE FRAC SAND! Go Back in Time with Alberta Health: Officials Issue Advisory More than one Month after 580 Tonnes of Frac Sand Spilled in Bashaw
2014: Harper government enabling the frac harm cover up? Environment Canada criticized for leaving fracking chemicals off pollutant list saying not enough frac chemicals used – 362,000 litres of diesel invert lost underground near Alberta family home
2014: Fracking Data Woefully Lacking in Canada, Reports Council of Canadian Academies, So also reported the Canadian Council of Ministers of the Environment 12 years ago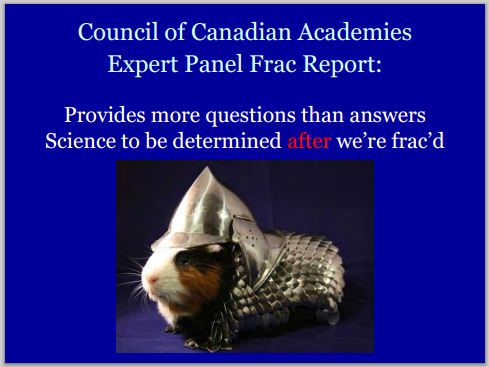 2014: Nikiforuk: What's Missing from Canada's Academic Fracking Debate? "The Gritty Truth."
2014: Sounds like Alberta! Pennsylvania health officials ordered to ignore fracking-related health complaints, Former Department of Health employees say they were forbidden to talk about drilling
2014: Health report: some Alberta doctors refused to treat families exposed to toxic emissions by Baytex in Peace Country, one lab refused to process a test; 10 day public hearing starts Tuesday
2014: Study: Toxic Chemicals, Carcinogens at Levels Far Exceeding Federal Limits Near Frac Sites, Will almost certainly lead to cancer increase in surrounding areas
2014: New Study: The more natural gas wells in an area, the more residents end up in hospital
2015: Not only do frac'ers pollute community drinking water and public health, they invade our pensions too (because frac'ing is a massive money loser)! Does it get any more terrifying than this? Encana dumping frac water wars on Canadian pensioners? Encana sells troubled Colorado assets for nearly $1 Billion US to entity 95% owned by Canada Pension Plan Investment Board
2015: Fracing's long reach: New Study says Fracking Wells Could Pollute The Air Hundreds Of Miles Away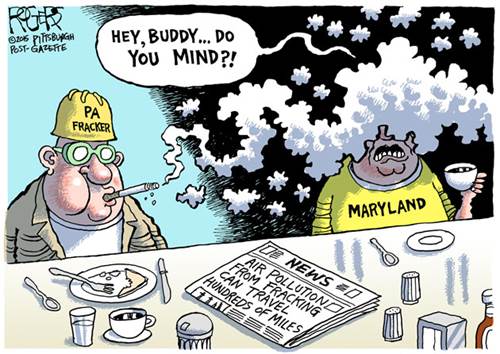 2015: Why so much frac fraud? Why is Health Canada hiding frac hazards to drinking water? Why publicly release pathogen harms, but not frac hazards and harms?
2015: Fracing Rerun in New Brunswick Government. Why? Did Jason Kenny and Senior Alberta Government Advisor, frac patent holder Dr. Maurice Dusseault complain that citizens aren't brainwashed yet like they are in Alberta?
2015: Pennsylvania Study Links Fracking to Health Hazards in Fetuses, Infants, Young Children: 35.1% more cancer in children ages zero to four in heavily frac'd counties. Compare to AER's belittling, dismissive health study in the Lochend
2015: Another new study showing frac harms to health: Hydraulic fracturing linked to increases in hospitalization rates in the Marcellus Shale
2015: Where were Alberta's Chief Medical Officers of Health, including Dr. Nicolas Bayliss? Where was Dr. James Talbot's "tremendous passion and knowledge" refusing to help Albertans poisoned by fracing, not warning others they're next? Nowhere responsibly seen like our health officials lying about SARS2, killing and sickening many.
2015: British Medical Journal publishes letter by 20 high profile medical and public health experts calling for ban of "inherently risky" frac industry; Medact's new report concludes: fracking "poses significant risks to public health"
2015: MUST (LONG) READ! Special Issue of Journal Environmental Science and Health, Part A: Toxic/Hazardous Substances and Environmental Engineering: Facing the Challenges – Research on Shale Gas Extraction
2015: British Columbia's Ministry Health withholding data, report of scientific research on how oil and gas operations are affecting human health in northeast communities; Refusing to release even under FOIP: "could be harmful to the financial interest of a public body"
2015: "It looks like fracking has unearthed an unbargained for and serious cancer risk in peoples' homes." John Hopkins study links radon levels in Pennsylvania homes to fracking: "These findings worry us"
2015: Dr. Alfonso Rodriguez challenging Pennsylvania's Act 13 Gag Rule which prohibits disclosure of frac chemicals, even by doctors treating patients poisoned by fracing unless they sign strict confidentiality agreements
2015: Cumulative frac harms: Who's looking? Canada Water Network? Synergy group extraordinaire with Alberta Government Bev Yee on the Board who helped cover-up Encana fracing Rosebud's drinking water aquifers?
2016: Albertans still don't know what toxic oilfield chemicals their children are breathing. When will companies be ordered to fully disclose all chemicals, including trade secrets, before racing toxic truck loads through school zones, by hospitals, where children play, and before injected, spilled, dumped, spread on foodlands, flared, vented, spewed from endless facilities?
2016: FrackLNG: Canadian Association of Physicians for the Environment (CAPE) calls on Canadian gov't to conduct Health Impact Assessment on hydraulic fracturing and Pacific Northwest LNG project Did it happen? No, of course not. This is rape & pillage Caveman Country. Instead, we get:
2016: U of Calgary, U of Alberta get $75 million *each* from Canadian taxpayers to legitimize (synergize) and spread AER/CAPP/petroleum industry propaganda, to enable continued devastation and harms to Alberta's environment, communities and people and spread them across Canada
2016: Environmental causes of childhood cancers 'grossly underestimated.' In Canada, toxic chemicals used by oil and gas industry are exempt under CEPA (1999)
2016: Yale School of Public Health: Fracking Linked to Cancer-Causing Chemicals; Pennsylvanians Against Fracking Call on Governor Wolf to Implement Statewide Moratorium on Fracking
2016: CEPA, Canada's main environmental law isn't working. Of course it isn't, the oil and gas industry is largely exempt while emissions of the most harmful chemicals are on the rise. Live in a frac field? Hold your breath, don't drink the water.
2016: 8-year frac health study shows fracking associated with increased asthma attacks: "Those who lived closer to a large number or bigger active natural gas wells were significantly more likely…to suffer asthma attacks" … "The highest risk for asthma attacks occurred in people living a median of about 12 miles from drilled wells. The lowest risk was for people living a median of about 40 miles away."
2016: Elevated Cancer risks surround oil & gas drilling. Fracking is bad for your health says Israel Health Ministry official; Frac flowback stage causes greatest air pollution; WORLD-WIDE STUDY: One in three strokes caused by air pollution
2016: Concerned Health Professionals Ireland call for frac ban: 'Extremely strong" evidence fracking harms human health
2016: Another New Peer-Reviewed, Published Frac Health Harm Review: Harmful chemicals used in, produced by unconventional oil & gas pose serious threat to infants & children
2016: This regulator-judicial plague infects jurisdictions globally, especially in Canada: Frac Captured State, Frac Captured Regulator, Frac Captured Courts? Colorado Supreme Court Strips Constitutional Right To Enact Local Fracking Bans: "It is beyond comprehension that the Colorado Supreme Court still fails to recognize the rights of people to live in a safe and healthy environment"
2016: New paper on unconventional natural gas development (excluding CBM/CSG) impacts: "At least 685 papers have been published in peer-reviewed scientific journals that are relevant to assessing the impacts of UNGD. 84% of public health studies contain findings that indicate public health hazards, elevated risks, or adverse health outcomes; 69% of water quality studies contain findings that indicate potential, positive association, or actual incidence of water contamination; and 87% of air quality studies contain findings that indicate elevated air pollutant emissions and/or atmospheric concentrations"
2016: Oil & gas & frac companies poisoning Alberta families, injecting toxic chemicals into community air, on roads & food land & in drinking water aquifers Go Free while Edmonton dry cleaner first person in Canada to get jail sentence for using dangerous chemicals
2017: Secrets secrets secrets by authorities, courts, companies! "The public has a right to know": Fracking companies don't have to disclose chemicals linked to health concerns
2017: Documents show EPA health concerns on frac chemicals kept secret, approved for use by companies near families & communities anyways: Intentional Environmental Racism by Regulators? Against everyone living frac'd?
2017: Journal of the American Medical Association Publishes Concerns about Fracking Contaminating Air and Drinking Water, and Harming Human Health!
2017: Cochrane Eagle Frack Poll & ACORRDS (Albertans Concerned Over Responsible Resource Development Society) looking for public awareness on frack impacts to human & animal health
2017: Texas: New Study by TAMEST, State's Top Scientists (mostly industry supporters, so findings especially damning): Drilling in Shale causes pollution, earthquakes, billions in road damages annually, billions in trucking industry damages annually, 75% increase in rural crashes involving commercial vehicles. Health & Climate Change Impacts Not Assessed. Why Not? Too terrible?
2017: Supreme Court of Canada took a year & a day to rule on Ernst v. AER, a much less complicated case! Texas Supreme Court rules in two months that energy regulator doesn't have exclusive jurisdiction over McAllen's radioactive contamination win against Sabine Oil & Gas Corp. (previously Forest Oil), Refuses to wipe out $22.7 million (US) arbitration award while Supreme Court of Canada punts Ernst's "valid Charter claim" against AER into outer space, orders Ernst to pay AER's legal costs
2017: MUST READ Amazing New study: Hazardous Chemicals Go Unregulated in Routine Oil and Gas Operations. Chemical regulations that govern hydraulic fracturing do not apply to numerous other uses of same chemicals on oil & gas development fields. (The toxic secrecy is much worse in Canada)
2017: Hypocrites! Health Canda wants "expanded powers" to strengthen regulation of natural health products but not toxic frac chemicals – not even to make companies disclose their secret frac brews to families breathing them! Not even to disclose Health Canada's own frac health hazard report!
2017: New peer-reviewed, published study by Lisa McKenzie et al, U Colorado School of Public Health: Childhood cancer linked to nearby oil and gas activity; People ages 5-24 diagnosed with acute lymphocytic leukemia more likely to live in areas with a high concentration of oil and gas activity
2017: Canada: Judge doesn't wait for trial, Rules doctor caused infections, issues summary judgement – without full hearing. Compare to Ernst lawsuit being dragged out year after year after year, merely on preliminary motions, with Alberta courts ruling AER is legally immune, even for acts in gross negligence & bad faith, owes harmed Albertans "no duty of care."
2019: Pollution could be damaging your brain, even leading to dementia but Health Canada still not making public their 2012 damning report admitting significant health hazards and risks to groundwater and air caused by frac'ing!
2019: New study says shale gas not worth it, not even for the jobs: "Air pollution from shale gas development activities in Pennsylvania, Ohio and West Virginia from 2004 to 2016 resulted in 1,200 to 4,600 premature deaths in the region" costing $23 billion. "Climate impacts produced mid-range costs of an additional $34 billion" while cumulative impacts on water and air quality, ecosystem, climate, labor markets and public health "are still largely unexplored and unaccounted for."
2019: New Colorado Frac Study showing health harms. Industry official: "There are no long-term health impacts related to oil and gas development." *Impossible* for any official to know that. If frac'ing causes short-term health harm via toxic chemicals, and harmed people continue living frac'd and poisoned by venting, flaring, leaking facilities, wells, uncleaned up spills as often happens in frac fields, the health harms become long-term.
2019: Remember Emergency Nurse Cathy Behr? Ohio, New Report: Widespread use of frac'ing and drilling chemicals risk water supplies and health. Companies injected undisclosed chemicals "10,992 times into 1,432 wells" enabled by the "law" that allows trade secrets, even from first responders.
2019: Alberta: More corporate welfare stench! 65,000 shallow gas wells qualify to get more than $23M in freebies from taxpayers. Again, not a penny for Albertans suffering frac quake damages, drinking water loss/contamination, health harm, loss of livestock etc.
2020: Kids tried to sue Canada over climate inaction. They lost, Not for the courts to decide, Harper Gov't appointed judge says. Kids plan to appeal. Bravo kids! I am grateful and in awe of you, but don't expect "justice" to be served by our oil-soaked Supreme Court of Canada, or your Charter rights respected.
2020: New Study: Airborne radioactivity increases downwind of frac'ing; Particles released could damage health of residents nearby. Marco Kaltofen: "This investigation backs up its big conclusions with big data." Petros Koutrakis, Harvard TH Chan School of Public Health in Boston, led the study: "If you asked me to go and live downwind [of fracking sites], I would not go." What about the thousands of us that bought our homes before the health harming frac'ers invaded?
2020: New 8-Year Study: "Significantly increased odds of hospitalization among heart failure subjects in relation to increasing" frac'ing activity near them; 12,000 patients analyzed. Lead author, Tara McAlexander: "These activities — unconventional natural gas development and fracking specifically — are having negative impacts on the health of populations living nearby," thinks frac'ing needs to be banned. "We know enough to know that we shouldn't be doing this"
2020: New study concludes UK gov't ignored public health concerns while heeding frac and chemical industries. In Canada, authorities withhold official reports warning of frac harms; help frac'ers cover-up crimes and enable them to further harm families after they get sick. Most vile, AER's (no health mandate) Dr. Monique Dube (not a health professional) wrote lying "health" reports about frac'd familiesand unlawfully made them public online, via Synergy, etc.
2020: The biggest con ever? Millions of abandoned wells enabled by politicians, regulators & courts. Oil, gas 'n frac industry rapes, profits 'n runs, hangs the public with clean up, a climate menace & endless health harms & cruelty
2020: Cabot Oil and Gas gets frac'd! Pennsylvania AG Shapiro files 15 criminal charges, including 9 felonies, against Cabot for failing to fix gas wells that leaked methane over 9 square miles into 18 Dimock residential water supplies. "The Grand Jury presentments prove that Cabot took shortcuts that broke the law, and damaged our environment — harming our water supply and public health,"
2020: Another new study: Living near oil & gas wells tied to low birth weights in infants, adds to growing body of evidence linking proximity to oil & gas to adverse health outcomes, including heart defects, cancer …
2020: America's Radioactive Secret: Oil & gas wells produce nearly a trillion gallons of toxic waste a year in America. It could be making workers sick and contaminating communities (in Canada too). "Us bringing this stuff to the surface is like letting out the devil … It is just madness."
2020: Harvard researchers suggest not living within 12 miles of frac'ing – that puts much of rural Alberta and NEBC out of bounds for living (and parts of SK, MB and Ont)
2020: Landowner Vicky Simlik: Living frac'd in Farmington, NE BC. They frac you again, and again, and again, and again. The frac quakes harm you & your home again, and again, and again.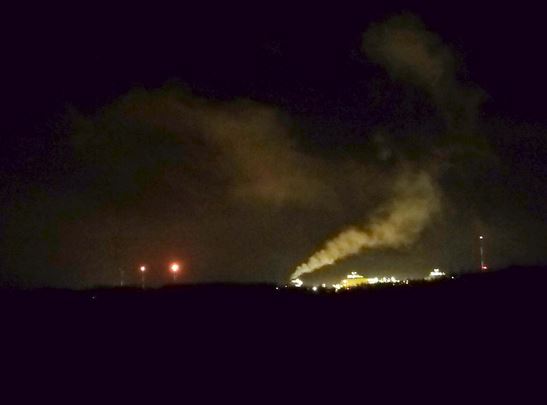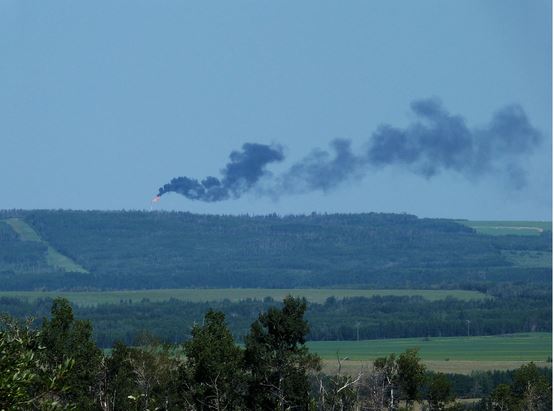 2021: Frac'd to Hell NEBC, Kiskatinaw area: After fracs were stopped, quakes keep shaking
2021: Barbara Wendeborn Brandom, MD: "There is no safe way to frack gas."
2021: Best letter to the Editor: "Fracking must be stopped. It poisons our drinking water and pollutes our air. … Health hazards cannot be prevented. … Laws do not protect people. No regulations protect people. The process is not safe. Fracking must be banned."
2021: New Report: "Nightmare Contaminant" Forever Chemicals (PFAS) Use in Drilling & Frac'ing in More than 1,200 Wells in Arkansas, Louisiana, Oklahoma, New Mexico, Texas, Wyoming between 2012 and 2020, including by Encana (in Canada too?). Records obtained from US EPA under Freedom of Information Act. Did Encana now Ovintiv inject PFAS into Rosebud and Pavillion drinking water aquifers?
2021: Resource Guide and videos for all sessions now available: 9th Annual Shale & Public Health (Dec 10, 2021) Conference by Halt the Harm Network and Physicians for Social Responsibility: "Cradle to Grave: The Reverberating Health Hazards of Oil and Gas Industry." Focus on workers' exposure to PFAS chemicals, radioactivity, and effects on their families, communities and beyond.
2021: Another study: Preliminary Results Find Increased Cancer, Health Risks From Road Dumping Drilling Wastewater, Especially For Children; Arsenic, lead, manganese, nickel, hexavalent chromium in road dust contaminated by wastewater
2021: Brilliant courageous Justin Nobel to PA DEP's Bureau of Radiation Protection at "Policy Hearing on Closing Hazardous Waste Loopholes" about oil & gas companies "screwing their own workers." Critical issue in frac fields, including in Canada, because of the massive volumes of radioactive waste generated (Radium 226 persists for 1,600 years)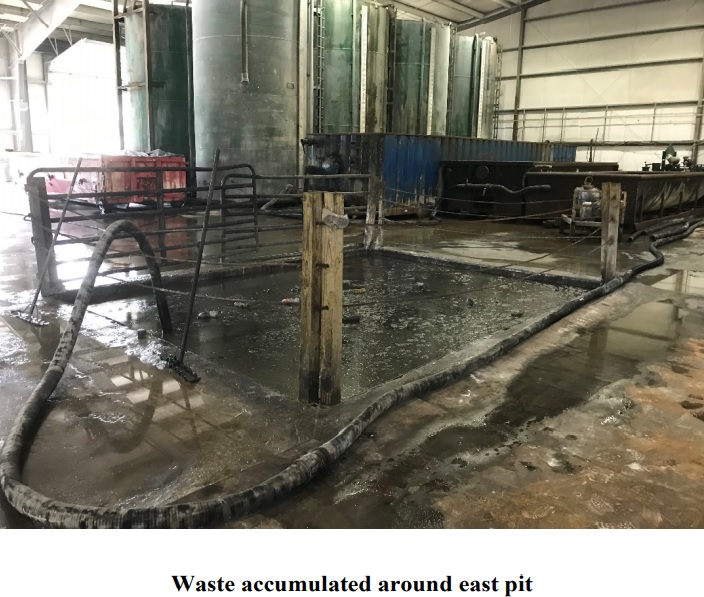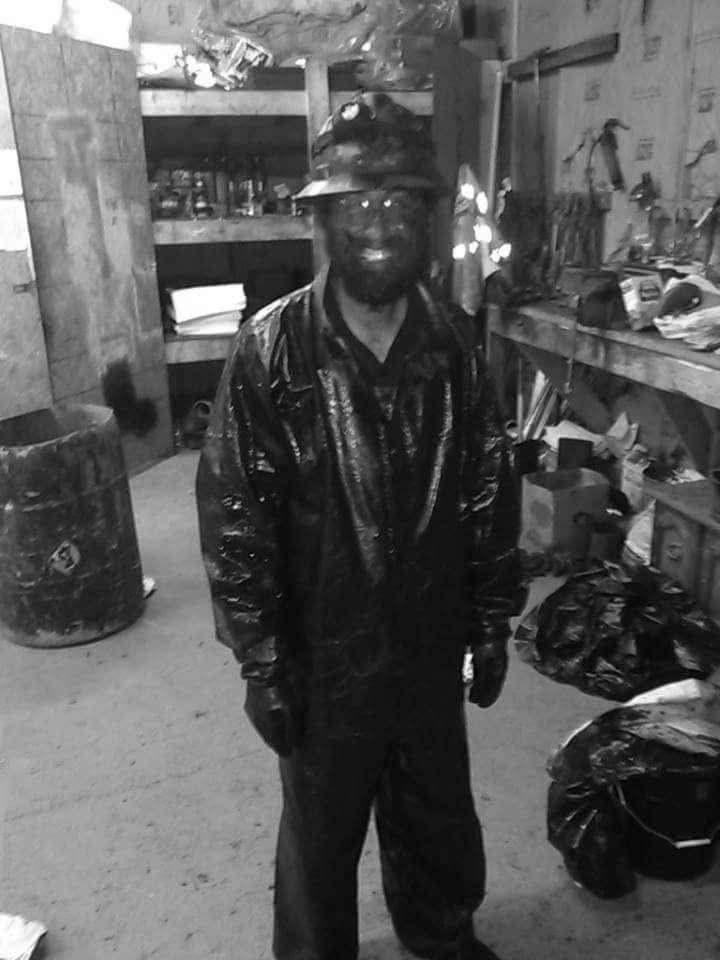 Worker covered in oil patch waste.
How Encana/Ovintiv dumps its waste near homes and farms at Rosebud, Alberta: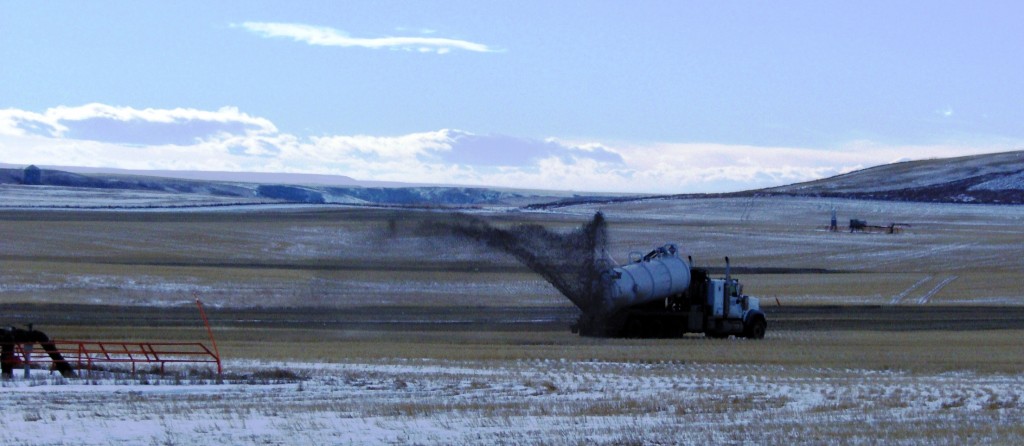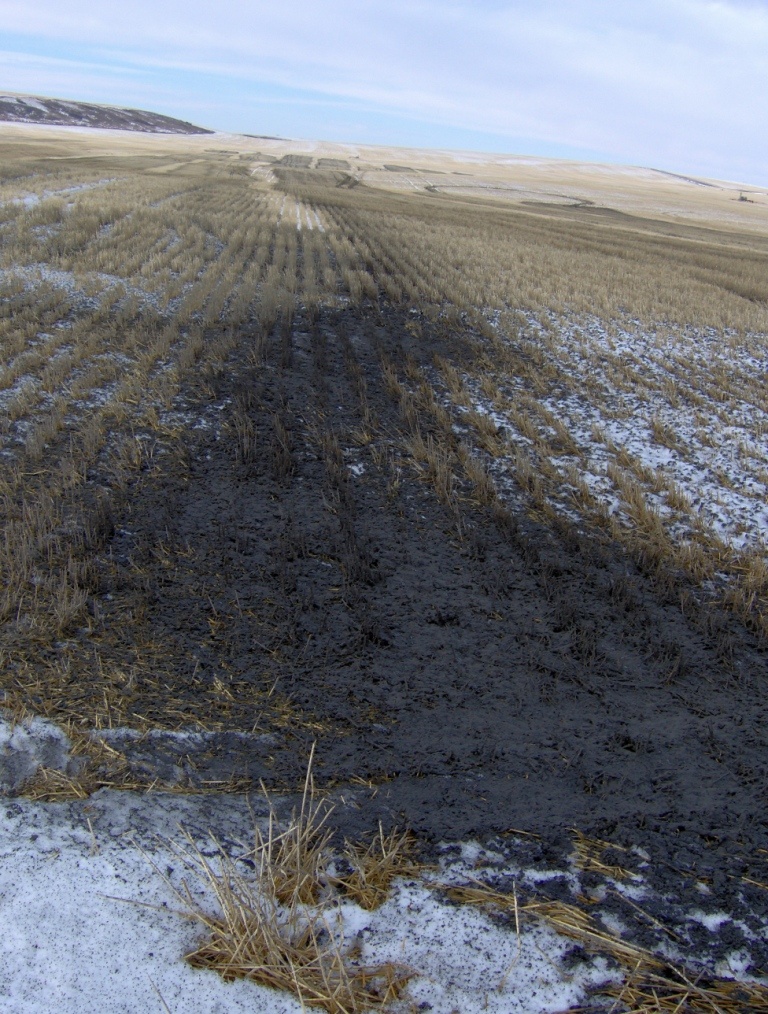 2021: Study: Increased cancer risk for oil patch workers and neighbours
2021: Does frac'ing kill kids?
2021: New study on frac'ing in NEBC, Peace River area: "Troubling" link between frac'ing and chemical contamination in homes; Living frac'd may harm your health. Massive new gas plant being built near those already impacted, expected to increase the number of frac'd wells from 10,000 to over 100,000.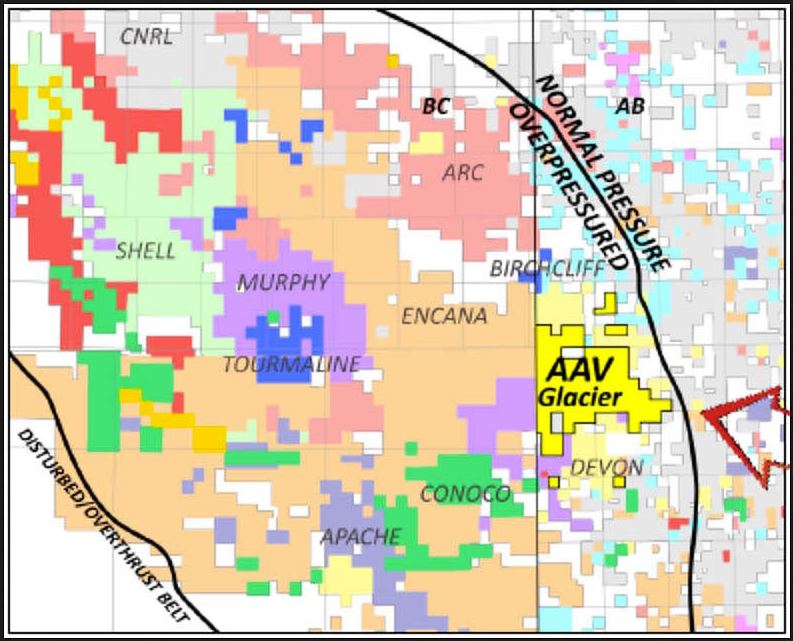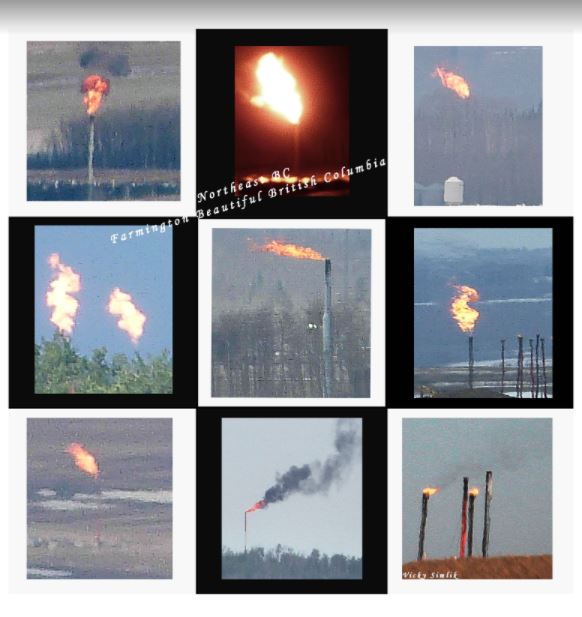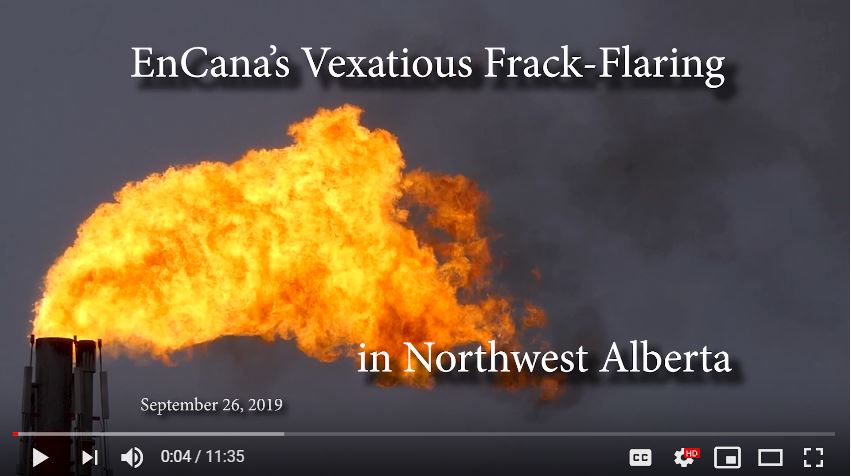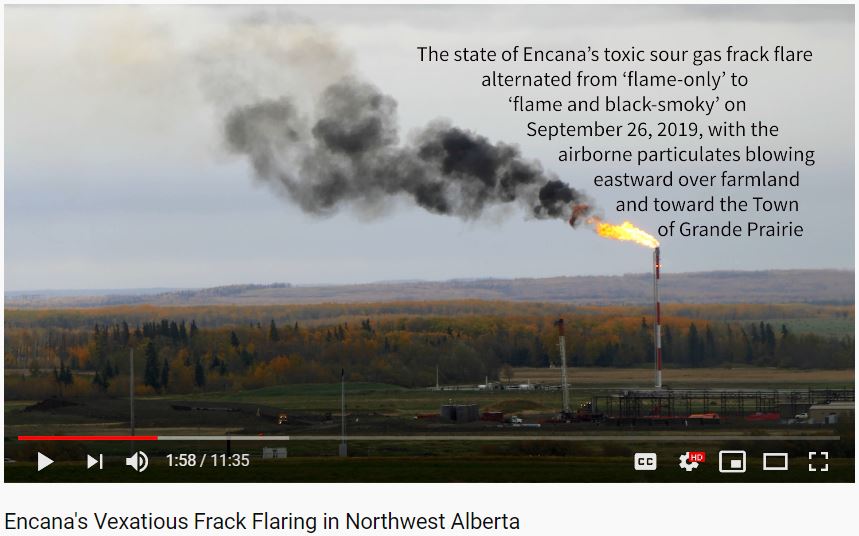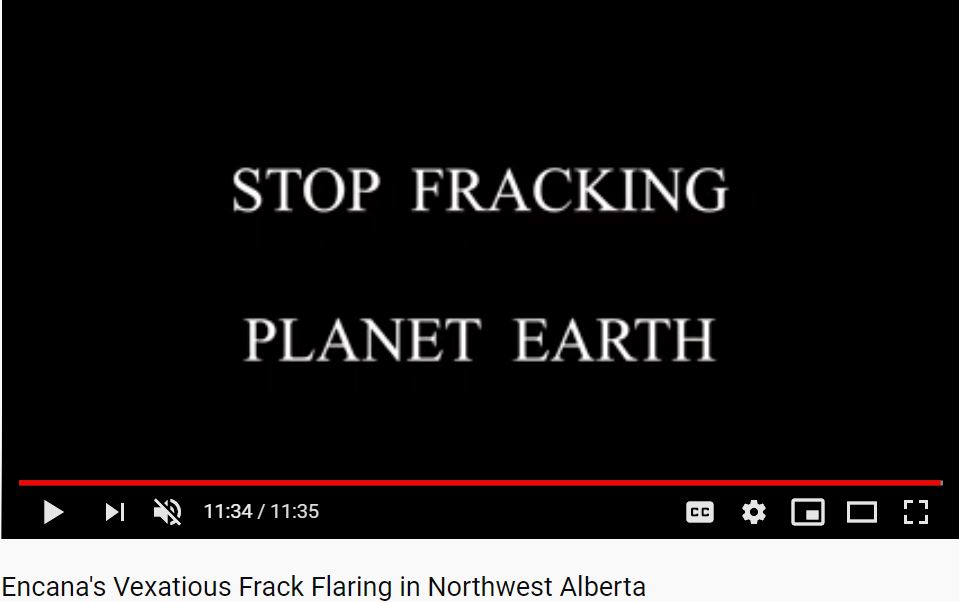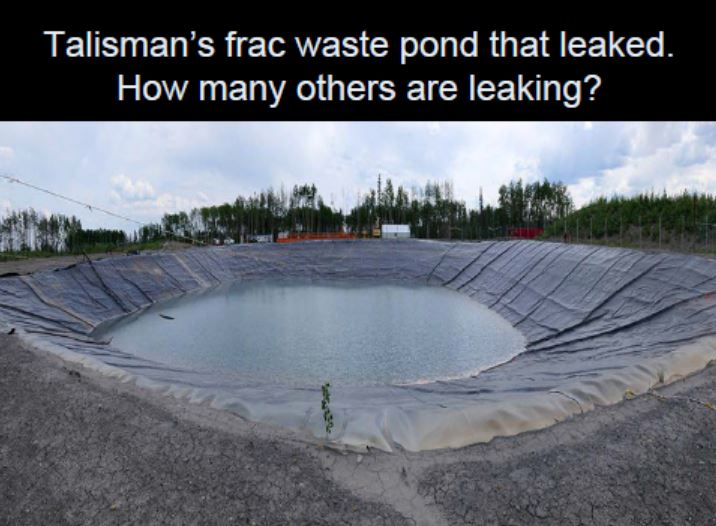 Photo and vexatious frack flaring clip by Will Koop, BC Tap Water Alliance
2021: New study: Effects of frac'ing on nearby surface water, not just groundwater, may be worse than previously thought; causing increased salts, including chloride, barium and strontium, altering composition. Researchers identified "robust association between new wells and water quality changes, triggering public health concerns."
2021: Best letter to the Editor: "Fracking must be stopped. It poisons our drinking water and pollutes our air. … Health hazards cannot be prevented. … Laws do not protect people. No regulations protect people. The process is not safe. Fracking must be banned."
2021: Oil Patch Strategy of Obstruction on PFAS use: "Commission another government study" while they poison us, Like Canada's Council of Canadian Academies' frac panel cowardly concluded
2021: Health Canada: Poisoning Canadians to please Monsanto/Bayer, the oil patch and frac'ers?
2021: Peace Region NEBC Canada, New Study: Cumulative frac development and earthquakes: Warning by Allan Chapman: Bigger frac quakes coming, may kill and destroy; Pathetic 100% industry funded and controlled OGC enabling the horrific frac harms like AER, as usual.
2021: More Oil & Gas Industry Pollution Health Harm Cover-up. Kert Davies: "We've seen the oil and gas industry's disinformation campaign come full circle with the renewed attacks on research that tells us what we've known for decades – air pollution kills"
2021: Frac'ing Ontario? Wheatley (thermogenic corrosive) sour gas explosion injures 20, destroys two buildings, more, many families displaced. Still leaking, area remains at risk of more explosions like Hutchinson Kansas where two were killed in their home from industry's leaking gas migrating 7 miles. Chatham-Kent top administrator, Don Shropshire: "Our area has hundreds, if not thousands of abandoned gas wells. They stretch from Niagara Peninsula to Windsor." Also exploded from industry's gas 85 years ago. The community must be relocated. But, where?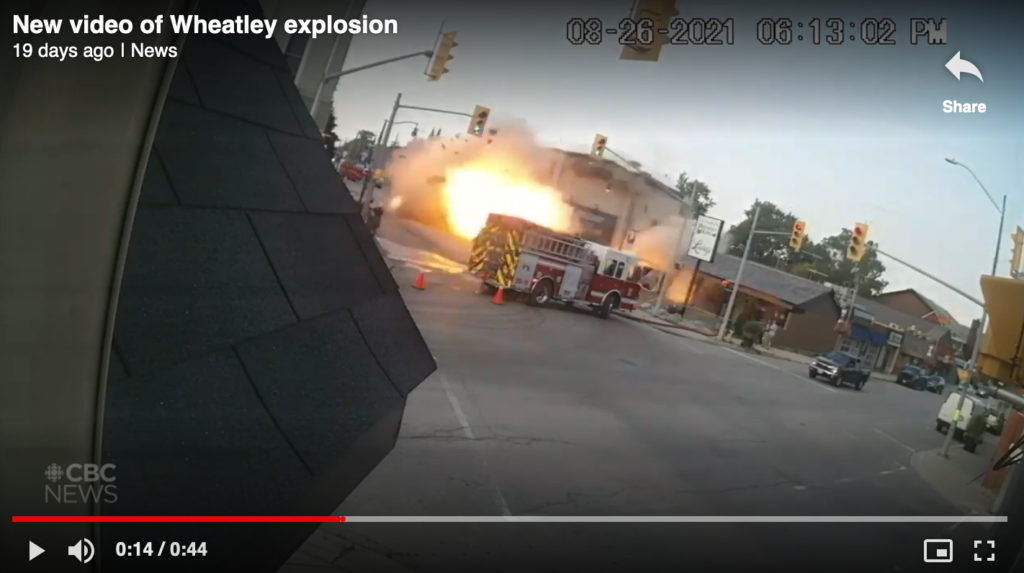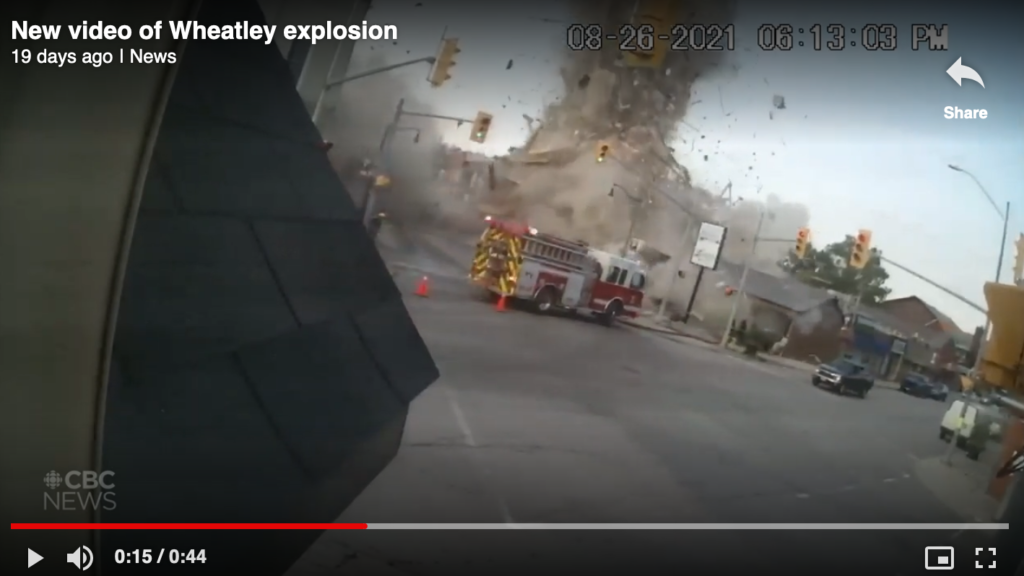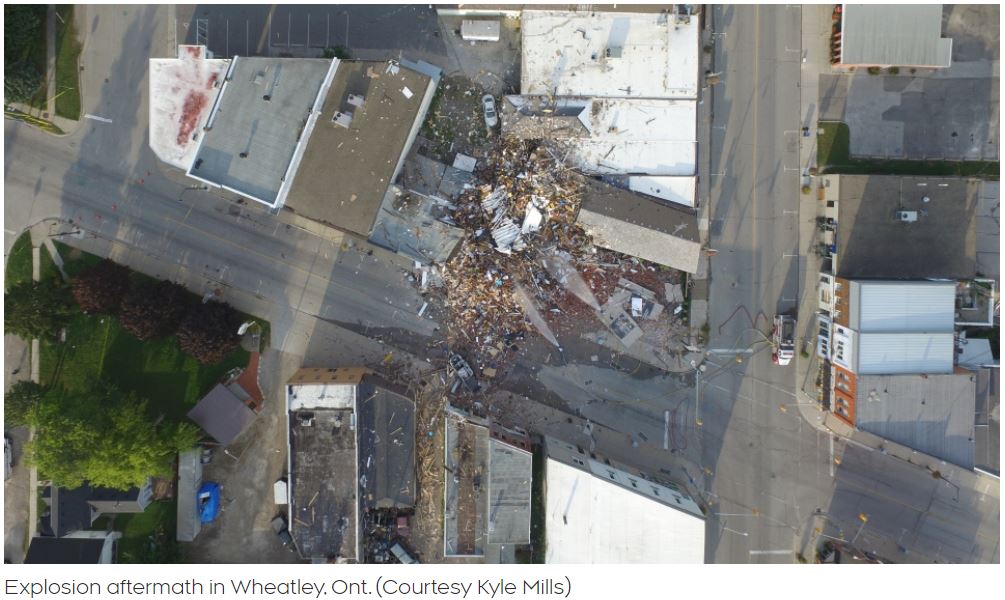 2021: Is Noise Pollution the Next Big Public-Health Crisis? Research shows that loud noise can have significant impact on human health and devastate ecosystems.
2021: Alberta, Two Hills Co: Fire, explosion *and injuries* at Secure Energy (recently merged with notorious Newalta Tervita) crude oil tank farm. *Area residents evacuated.* How toxic is the oil? Was it frac'd with mystery chemicals, PFAS? Any H2S? Was radioactive waste stored in what exploded? Are taxpayers funding the emergency response, as usual? More than 35 firefighters, and RCMP and EMS attended.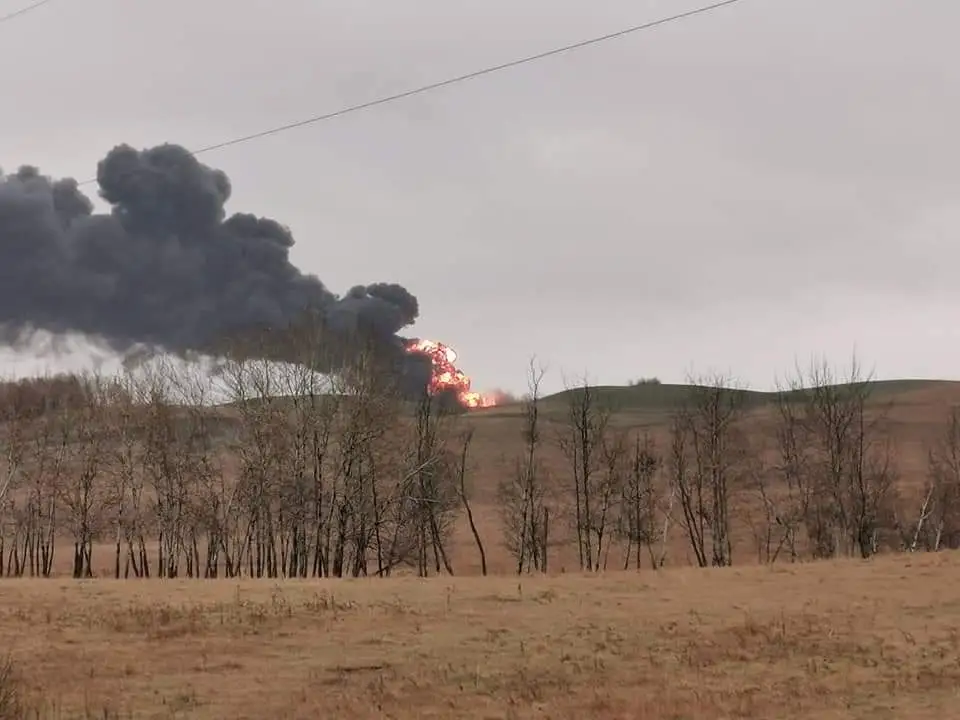 2021: New study on frac'ing in NEBC, Peace River area: "Troubling" link between frac'ing and chemical contamination in homes; Living frac'd may harm your health. Massive new gas plant being built near those already impacted, expected to increase the number of frac'd wells from 10,000 to over 100,000.
2021: New Investigation: Fractured: The body burden of living near fracking: Families in western Pennsylvania exposed to harmful chemicals; regulations failing to protect mental, physical, social health. In Alberta, doctors will not investigate if we are poisoned by oil/gas/frac'ing; will not take a blood test without politician permission And as the frac health harms worsen, the polluter serving UCP (strings managed by public-health-hating Steve Harper) is decimating Alberta Health; soon there will be no public health, just private health (via Harper's buddies – American for-profit corps) serving the rich.
2022 05 01: Compendium 8 on Harms of Frac'ing & Associated Infrastructure: "The only method of mitigating its grave threats to public health and the climate is a complete and comprehensive ban on fracking." No evidence was found showing "fracking can be practiced in a manner that does not threaten human health directly or without imperiling climate stability upon which human health depends."