A few important reality checks:
Colorado study shows toxic chemicals up to 2,000 feet from frac sites; Benzene (carcinogen), toluene (neurotoxin, notably damages the brain in children) and ethyltoluenes found at up to **10 times** recommended levels 500 feet from frac operations. "Secret exposure to chemicals that our own EPA reports as a potential hazard to human health is unconscionable."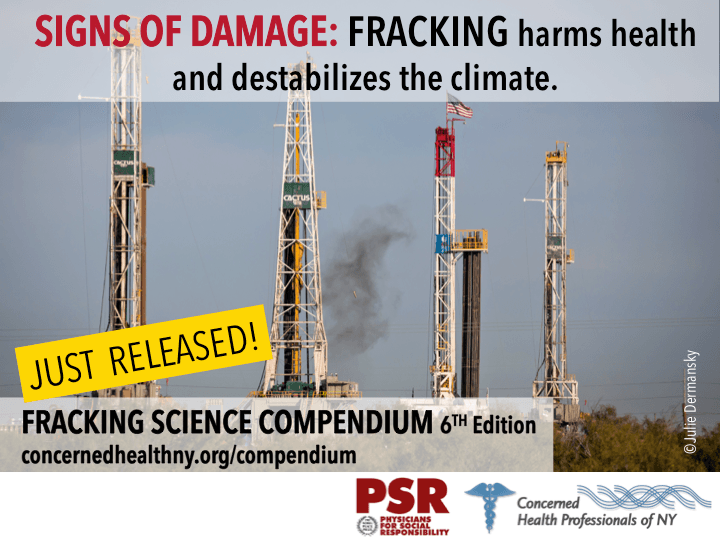 Air Pollutants From Fracking, Acidizing Threaten Public Health, Report Says; Oil Companies Used More than 45 Million Pounds of Toxic Chemicals in Los Angeles Area Over Past Year
Why was a 2012 Health Canada Report, admitting significant health hazards and risks to groundwater and air from hydraulic fracturing, kept from the public?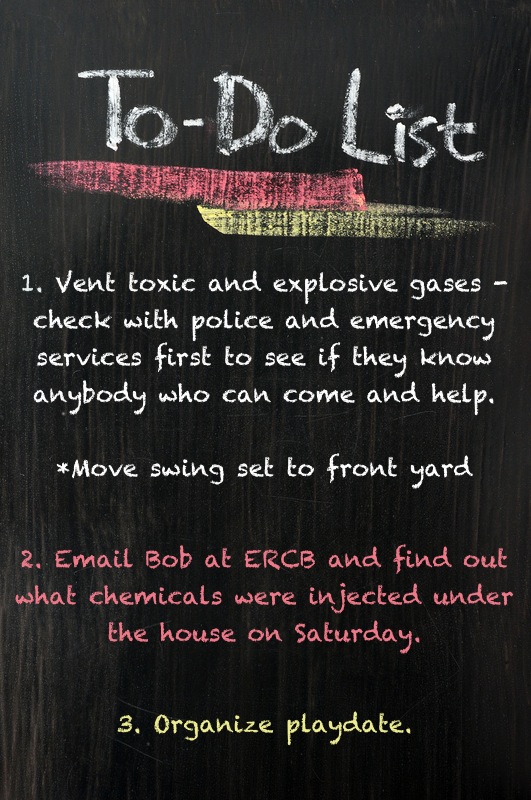 To Do List by FrackingCanada
Alberta Health's July 2012 response to Jessica Ernst's July 2012 concerns and questions regarding health harm from drilling/fracing and the CCA frac review: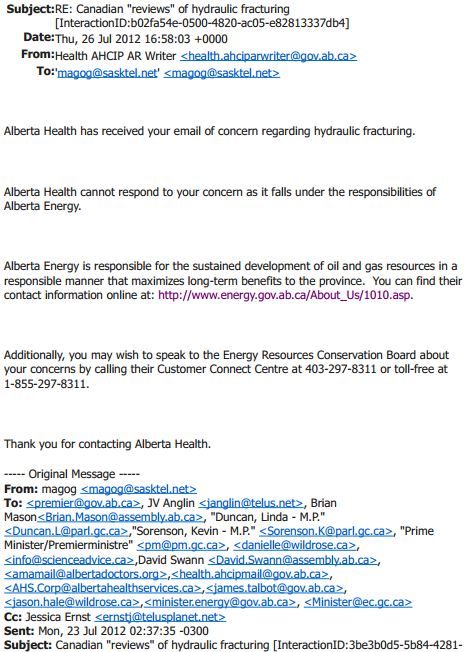 Watch this clip to see how ERCB/AER's Bob Willard punts health/toxic frac chemical concerns into the regulator's Permanent Deflection Loop, sending them spinning eternally round and round and round, as you and your loved ones get poisoned, while authorities enable the poisoning by calling for yet another study: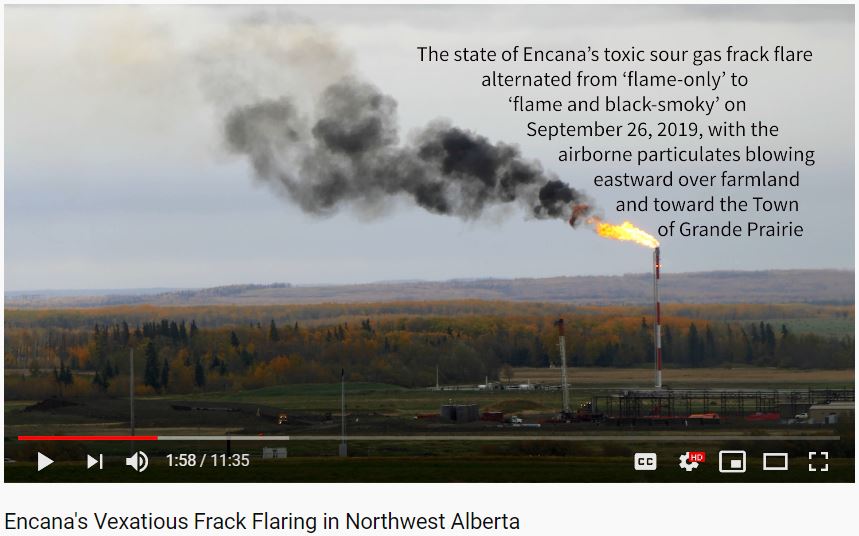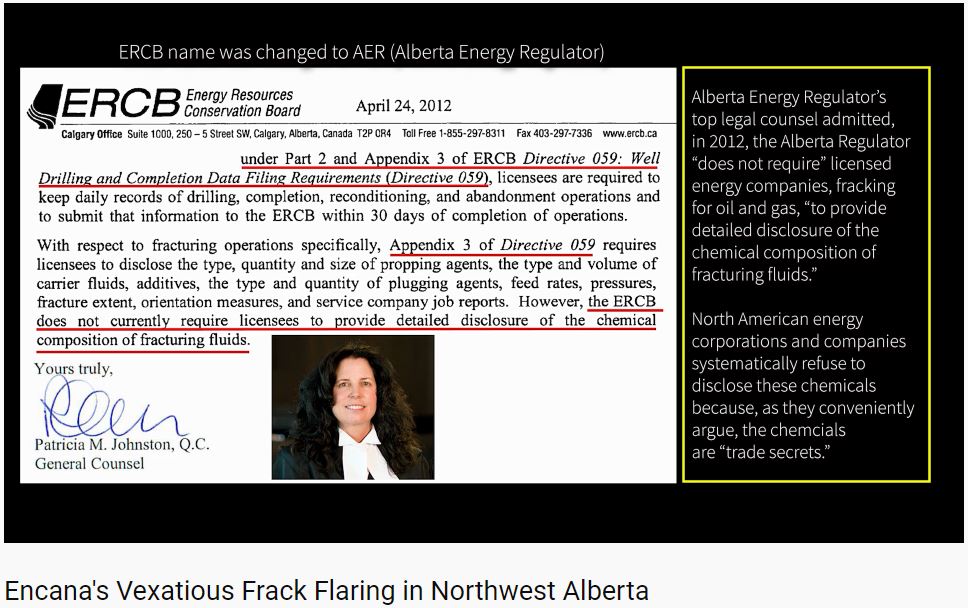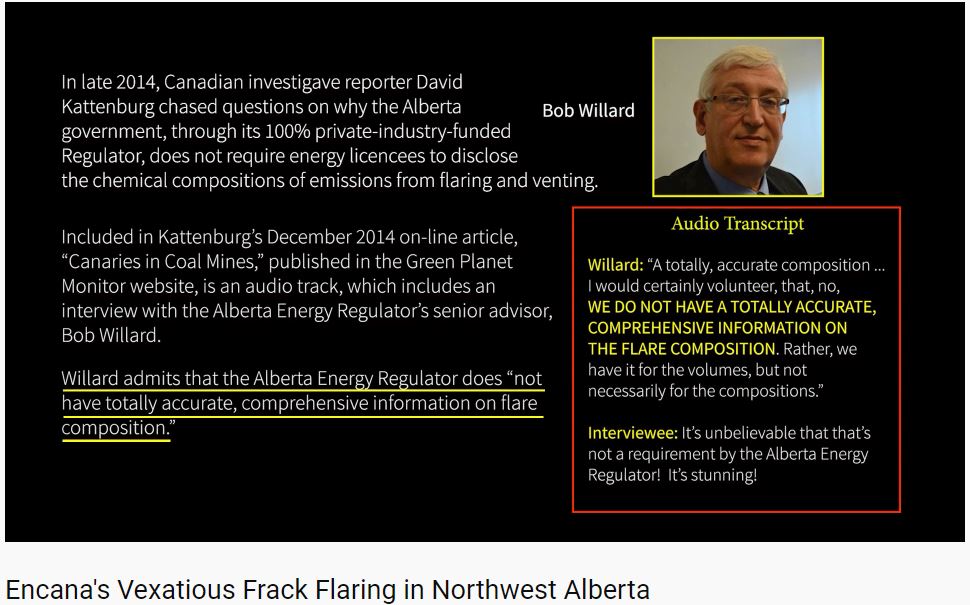 Why didn't the Canadian and Council of Canadian Academies authorities reviewing frac harms, release Health Canada's frac hazards report?
Hydraulic Fracturing in Canada, Federal Environment Commissioner Scott Vaughan Reports Concerns, List of Fracking Substances in Canada Still Secret
Environment Canada Keeping Nearly a Thousand Frac Chemicals Secret: Memo released through Access to Information Legislation
Harper government enabling the frac harm cover up? Environment Canada criticized for leaving fracking chemicals off pollutant list saying not enough frac chemicals used – 362,000 litres of diesel invert lost underground near Alberta family home
****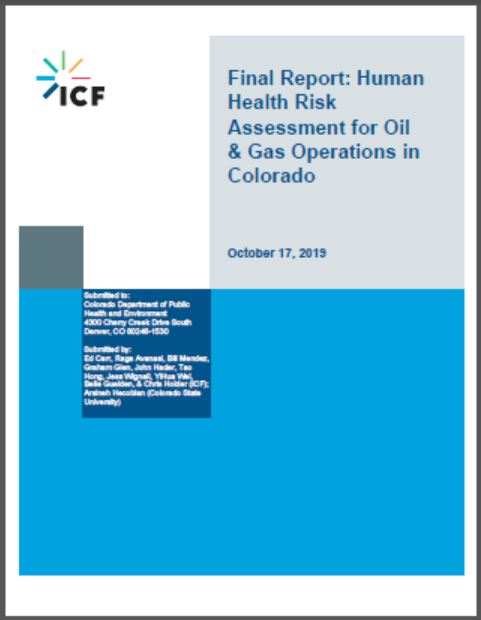 The study, 380 pages
Colorado to tighten oversight of oil and gas sites near homes in wake of study finding possible short-term health effects; Industry official: "There are no long-term health impacts related to oil and gas development" by Bruce Finley, Oct 17, 2019, The Denver Post
Colorado officials declared they will toughen their oversight of oil and gas drilling and fracking sites following the release Thursday of a multiyear scientific study that found industry operations may expose residents to unhealthy levels of benzene and other chemicals.
The Colorado Department of Public Health and Environment study concluded that people living within 2,000 feet of fracking sites could face an elevated risk of short-term health impacts — such as nosebleeds, headaches, breathing trouble and dizziness — in worst-case scenarios.
While benzene has been linked to cancer, state officials said the study, based on measuring of emissions and computer modeling, did not find a basis for predicting long-term health harm.
State regulators said they will immediately begin reviewing more strictly all industry applications to drill new wells within 2,000 feet of homes and start measuring air emissions around industry sites. [Upwind of them or warn the operators to shut down all facilities during testing? As is done in Alberta to get fraudulent results to enable the continued poisoning of families and livestock?]
"Before this," the Colorado Oil and Gas Conservation Commission was not involved in testing air pollution near homes, agency director Jeff Robbins said. "We're going to do that now. [A decade too late. who remediates the endless suffering of the many poisoned families and how?] We will use COGCC money."
Additionally, Colorado House Majority Leader Steve Fenberg, D-Boulder, on Thursday called for a comprehensive epidemiological human health study to collect data from across the state to evaluate how oil and gas development affects human health. [Calling for yet another study, enables the harms and pollution to continue. Integral, ethical professionals and authorities call for the poisoning to stop!]
After the study's release, Colorado Petroleum Council director Lynn Granger issued a statement saying protecting the health and safety of workers, communities where companies operate and the environment are top priorities for the industry. [Bullshit! If that were true, companies would never have started frac'ing, knowingly putting workers and families directly in harms way.] Granger claimed the study was "all based on modeling."
"As an industry, we rely on data, facts and science and look forward to working with CDPHE and the COGCC on actual air monitoring in the future, which is what should be used when developing policy and regulations," [Yes, of course! Just more delay to enable poisoning of communities by industry to brazenly continue. "Actual" monitoring is far too often industry-controlled, fraudulently completed,with data fudging to top the fraudulent monitoring off.] Granger said.
Colorado Oil and Gas Association president Dan Haley said at a news conference that companies are concerned the study will lead to delays in permitting new operations. [That's foolish to be concerned about. What they ought to be concerned about is permanent shut down of their poisonous abusive industry]
"There are no long-term health impacts related to oil and gas development," [See post headline] Haley said. "Policy needs to be based on real data, not modeling."
Officials with oil and gas commission could not immediately determine how many wells are located within 2,000 feet of buildings in the state.
State data shows that, since 2009, companies have drilled
1,689 wells within 500 to 1,000 feet of buildings;
534 wells within 350 to 500 feet;
317 wells within 150 to 350 feet; and
16 wells within 150 feet.
Push to cut emissions
This 380-page study commissioned by the state health department buttresses efforts under Gov. Jared Polis to impose tighter controls on air pollution from the oil and gas industry.
The findings jibe with complaints made to the health department since 2015 by 750 residents living near oil and gas facilities, state toxicologist Kristy Richardson said. About 60% of those complaints included reports of short-term health effects including headaches, trouble breathing and dizziness. [Some of the health impacts Ernst lives with in her frac-field home.]
The study is expected to help inform state policy for the industry because 2,000 feet is four times farther than the minimum 500-foot buffer zones required under current state "setback" rules.
"This study is the first of its kind because it used actual emissions data to model potential exposure and health risks," said CDPHE environmental programs director John Putnam. "While we pursue further research, we won't delay enacting stricter emissions standards for chemicals that cause human effects, ozone pollution and climate change. This study reinforces what we already know: We need to minimize emissions from oil and gas sources."
Community groups welcomed the study and the tilt toward stricter scrutiny — and called for a pause in new drilling activity near people. [which, of course, industry will never allow, and authorities are too chicken and puppet-strung to demand]
"Dozens of children living in close proximity to oil and gas have already documented off-the-charts levels of benzene in their blood," said Colorado Rising spokeswoman Anne Lee Foster. "Considering this and the corroborative data of the study, the state must pause oil and gas permitting and ensure that public health and safety is protected — as new legislation mandates."
At the oil and gas commission, Robbins said he will use his discretionary authority as director to give 39 pending industry applications to drill new wells within 2,000 feet of homes closer scrutiny and that he will contact companies that recently received permits for new drilling to encourage reasonable efforts to minimize air emissions. [What pathetic cowardly enabling "regulatory" bullshit is that? What company is going to heed being "encouraged" to poison people less?]
Building on 2017 study
The study builds on Colorado's 2017 health impacts assessment that was based on a review of 27 studies of people living near oil and gas operations — an assessment that found limited and inconsistent evidence of harmful health effects. State health officials made the study available to the public via state websites.
Colorado health officials under former Gov. John Hickenlooper repeatedly assured residents at the time that Colorado's approach to oil and gas operations near people was adequately protective.
The 2017 assessment also recommended "continued evaluation of health risk using more comprehensive exposure data," including the direct measurements of pollutants conducted by Colorado State University researchers at oil and gas sites. [This is the usual vile enabling song and dance to let industry continue their toxic operations. As long as the studies continue, so can the poisoning!]
A study report summarizes human health risk assessments based on that measuring of chemical emissions, which were conducted at 20 to 30 industry sites in western Colorado and along the northern Front Range.
CSU scientists collected data on 47 chemicals called volatile organic compounds, including benzene. For most of the chemicals, exposures were deemed safe. However, at the 500-foot distance, the highest estimated acute exposures for some of the chemicals — including benzene, toluene and ethyltoluenes — exceeded recommended levels by up to 10 times during oil and gas fracking operations, especially during what industry officials call "flowback activities" at smaller well pads, according to the study.
The scientists determined exposures also hit unhealthy levels at distances of 2,000 feet from some oil and gas facilities.
Study authors indicated they took a "highly conservative" approach in assessing health harm risks from oil and gas industry operations near homes, allowing for worst-case wind conditions and people who are often outside.
For people who are not regularly outside over more than a year, the risks of "chronic" health harm were found to be less severe for all the chemicals measured at the 500-foot distance — with the exception of those called trimethylbenzenes, which are released during the fracking, or hydraulic fracturing, that companies use to increase extraction of fossil fuels. The levels of harmful chemicals were found to be higher at smaller well pads.
Study authors did not address the health risks for people living near large multi-well pads. And they did not recommend a safe buffer zone distance that would be protective of public health.
Colorado residents who have complained for years about health effects said the study's findings legitimate their concerns.
"Scores of impacted Coloradans have long documented their experiences and health impacts of living with oil and gas with the state, and have been ignored," said Sara Loflin, director of the League of Oil and Gas Impacted Coloradans. "It is time that any proposed oil and gas development within 2,000 feet of a home or occupied building be put on hold and delayed or denied by the COGCC."
****
A few (hundreds on this website) more important reality checks below:
The health harms and risks were known years ago!
Industry officials likely knew them long before that.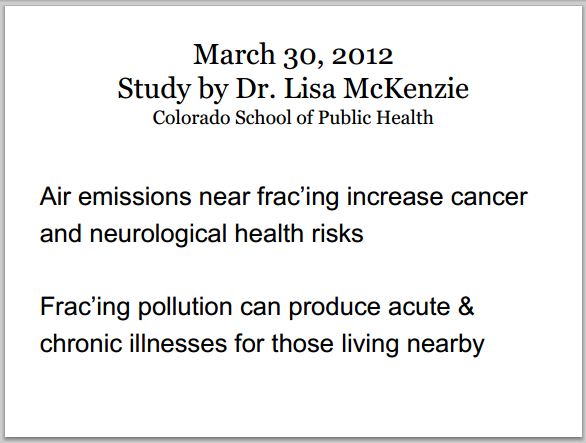 … Water samples near the fracking sites contained 'moderate to high' levels of 12 different chemicals used in fracking that have known endocrine disrupting activity and have been shown to play a role in causing infertility, cancer, birth defects and other diseases.
Children are particularly sensitive to the effects of these chemicals. Samples taken from the Colorado River, which collects drainage from fracking sites also had moderate levels of these same chemicals. By comparison little activity was found in sites remote from drilling.
More than 700 chemicals are used in the fracking process, and the health dangers of many of these are well established. I believe it is naïve and irresponsible to think that tons of these chemicals can be pumped into our environment and that there will not be eventual contamination of our underground and surface water reservoirs.
The fact that apparently so little contamination has been found in Alberta may well indicate a lack of sufficiently broad and rigorous monitoring.
My concern is that our children and grandchildren will pay the price for this reckless pollution of our environment.