2013 12 13: Pennsylvania Supreme Court Says It's Unconstitutional For Gas Companies To Frack Wherever They Want; Act 13, Gas Industry Takeover Law thrown out by State's Highest Court
"By any responsible account," Chief Justice Castille wrote, "the exploitation of the Marcellus Shale Formation will produce a detrimental effect on the environment, on the people, their children, and the future generations, and potentially on the public purse, perhaps rivaling the environmental effects of coal extraction."
The 2016 05 02 Colorado Supreme Court rulings:
¶53 The Oil and Gas Conservation Act and the Commission's pervasive rules and
regulations, which evince state control over numerous aspects of fracking, from the chemicals used to the location of waste pits, convince us that the state's interest in the efficient and responsible development of oil and gas resources includes a strong interest in the uniform regulation of fracking. ["Uniform regulation" meaning families and communities uniformly, knowingly poisoned by frac operations?] Article XVI, however, prevents operators from using the fracking process even if they abide by the Commission's rules and regulations, rendering those rules and regulations superfluous. Thus, by prohibiting fracking and the storage and disposal of fracking waste, Article XVI materially impedes the effectuation of the state's interest.
…
¶61 The Environmental Rights Amendment to the Pennsylvania Constitution provides:
The people have a right to clean air, pure water, and to the preservation of the natural, scenic, historic and esthetic values of the environment. Pennsylvania's public natural resources are the common property of all the people, including generations yet to come. As trustee of these resources, the Commonwealth shall conserve and maintain them for the benefit of all the people.
Pa. Const. art. I, § 27.
¶62 The Colorado Constitution does not include a similar provision, and the citizen intervenors have not cited, nor have we seen, any applicable Colorado case law adopting the public trust doctrine in this state. We therefore conclude that the inalienable rights provision of the Colorado Constitution does not save Article XVI.
Like the ban on fracking that we invalidated in Longmont, ¶ 54, Fort Collins's fracking moratorium renders the state's statutory and regulatory scheme superfluous, at least for a lengthy period of time, because it prevents operators who abide by the Commission's rules and regulations from fracking until 2018. In doing so, the moratorium materially impedes the effectuation of the state's interest in the efficient and responsible development of oil and gas resources. [How often do companies abide by the COGCC's rules and regulations and how often does the COGCC enforce their rules and regulations when companies violate them?]
Colorado's battle over regulating fracking shifts to ballot by Dan Elliot, The Associated Press, May 3, 2016, The Seattle Times
DENVER (AP) — Colorado's battle over who should regulate fracking — and how much — now shifts to the November election after the state Supreme Court overturned attempts by local governments to impose their own rules.
The court ruled Monday that a ban on fracking in Longmont and a five-year moratorium in Fort Collins are invalid because they conflict with state law. State officials and the industry argued the state has the primary authority to regulate energy, not local governments.
It wasn't the end of the debate, however. Coloradans face a loud and fierce campaign over fracking this fall if activists succeed in getting any constitutional amendments on the ballot to restrict oil and gas drilling or give local governments the authority to do so.
"We're taking them as a serious threat to responsible oil and gas development in the state of Colorado," said Karen Crummy, a spokeswoman for an industry-backed group called Protecting Colorado's Environment, Economy and Energy Independence.
"We consider all of these measures to be a ban on fracking," Crummy said. "We're going to fight."
…
Restrictions on fracking were proposed for Colorado's 2014 ballot, but they were withdrawn because of fears they would lead to a huge Republican turnout and hand several close statewide races to the GOP.
… Some of the proposed constitutional amendments would clamp specific restrictions on the oil and gas industry, such as minimum distances between wells and homes. Others would grant local governments more regulatory power. Because they're constitutional amendments, they would supersede Monday's Supreme Court ruling.
Olson's group and others are still gathering petitions to get their amendments on the ballot. If they succeed, they will face a well-financed campaign to defeat them.
By the end of last year, the pro-industry group, Protecting Colorado's Environment, Economy and Energy Independence, had $746,000 on hand, according to state records.
[Protecting Colorado's Environment, Economy and Energy Independence is an industry group:
Oil and gas issue committee raises $2.1 million
A political issue committee formed to oppose ballot initiatives that attempt to limit or ban hydraulic fracturing has raised $2.1 million, according to a report filed Monday with the Colorado Secretary of State's Office.
Protecting Colorado's Environment, Economy and Energy Independence, formed by Anadarko Petroleum Corp. (NYSE: APC), Noble Energy Inc. (NYSE: NBL) and other oil companies, received contributions from Calfrac Well Services Corp., PDC Energy Inc. (Nasdaq: PDCE) and Whiting Petroleum Corp. (NYSE: WLL).
The largest contributions came from Noble Energy, Anadarko and Whiting Petroleum, which contributed $500,000 apiece. ]
Two groups supporting the constitutional amendments to restrict fracking reported they had less than $15,000 combined on hand this spring. Their reports covered a different period than the industry group's.
"What we know is that industry has already been advertising nonstop," Olson said. "What we know is they will put everything against it. But what we also know is that we have very few options left to protect Colorado's health, safety and welfare." [Emphasis added]
Officials in Boulder, Broomfield counties weigh impact of fracking ruling on their bans by John Fryar, May 2, 2016, Longmont Times Call
A district court judge likely will proceed to invalidate Broomfield's voter-approved fracking moratorium in light of Monday's Colorado Supreme Court decision, according to Bill Tuthill, attorney for the city and county of Broomfield.
Officials from the city of Boulder and Boulder County, however, said that as of Monday afternoon, their legal staffs still were studying the implications the state's high court rulings might have on that city's and county's current moratoria on accepting and processing any new applications for oil and gas exploration.
The Colorado Oil and Gas Association — an industry organization that had sued Longmont over its voter-approved fracking ban and Fort Collins over its voter-approved fracking moratorium — won both cases when the Supreme Court announced Monday morning that its justices had upheld lower-court decisions against that ban and that moratorium.
Later Monday, Colorado Oil and Gas Association officials called on other local governments — including Broomfield, Boulder and Boulder County — to voluntarily withdraw, or at least cease enforcement of, any such moratoria.
COGA still has a district court lawsuit pending over the five-year fracking moratorium Broomfield voters approved in 2013, although a district judge last June put that lawsuit on hold pending the higher-court rulings that came on Monday.
But Tuthill said in a Monday afternoon interview, "there's no reason to believe that the court won't invalidate our moratorium."
Tuthill said such an order is now "just a formality" and that he expects the district court judge in that case to issue one.
The Colorado Oil and Gas Association hadn't sued the city of Boulder or Boulder County. But COGA president Dan Haley said in an interview that, "We think the law and the Supreme Court rulings were very clear" about how local governments cannot ban or impose lengthy moratoria on hydraulic fracturing.
'Possible next steps'
Boulder spokeswoman Sarah Huntley said City Attorney Tom Carr was reviewing the state Supreme Court ruling to determine whether it applies to Boulder's current voter-approved moratorium.
Carr "plans to advise City Council soon and then we'll explore possible next steps," Huntley said.
Boulder County commissioners issued a statement Monday expressing their disappointment with the Supreme Court decisions. But they said that the impacts on the county's oil and gas regulations — and the county's current moratorium on accepting new applications for oil and gas operations in unincorporated parts of the county outside municipal boundaries — "will need further analysis."
Monday's rulings were "pretty specific to Longmont and Fort Collins," county board chairwoman Elise Jones said in an interview, and the state high court's decisions are being studied to see how they may pertain to Boulder County government's regulations and the current moratorium that had not been set to expire until July 1, 2018.
"We're going to do everything we can" to protect Boulder County residents' public health and the county's air and water quality when it comes to the impacts of oil and gas development, Jones promised.
"Like all other Colorado communities that regulate oil and gas development, we need to take a close look at our existing regulations before we take any action to change our stance on fracking in unincorporated Boulder County," Jones and her fellow commissioners said in their joint statement.
'Within the bounds of this new law'
In June 2013, Boulder's City Council adopted an emergency ordinance imposing a moratorium until June 3, 2014, on accepting and processing any new applications for city permits that would allow oil and gas exploration, including any drilling on city-owned open space properties as well as anywhere within the city.
In August 2013, the Boulder council advanced a question to that November's election ballot, asking the city's voters whether to extend that moratorium until June 3, 2018, unless a two-thirds majority of the council decides to lift it at some point after June 2016. A majority of Boulder voters in that November 2013 election approved the moratorium.
Boulder County commissioners originally adopted their moratorium on processing new development permits for oil and gas operations in February 2012. That's been extended several times since, most recently in a November 2014 resolution that would keep the moratorium in place through mid-2018.
Asked what COGA might do if Broomfield, Boulder and Boulder County don't voluntarily end their moratoria, Haley said: "We have not made that decision yet."
Mark Mathews, an attorney for COGA, said during a telephone news conference that if local governments such as Boulder County don't withdraw their moratoria, or at least state that they won't be enforced within their jurisdictions, it would be open for any party, including COGA, to file for an injunction to compel them to comply with the Supreme Court rulings.
Haley said in a news release that "we look forward to working with Longmont, Fort Collins and other local communities to find a balance [by intentionally poisoning residents?] that allows for responsible oil and gas development while still meeting the needs of local communities under Colorado's already rigorous regulations." [Rigorously deregulated and rigorously unenforced by the COGCC to protect polluters and enable frac harms?] 
Boulder County commissioners said in their statement: "Knowing that this issue remains of great concern to our residents, we pledge to continue to do everything we can to protect the interests of our community members within the bounds of this new law." [Emphasis added]
Colorado High Court Rules Local Bans on Fracking Are Illegal by Dan Frosch, May 2, 2016, Wall Street Journal
The Colorado Supreme Court ruled Monday that municipalities can't bar hydraulic fracturing, a long awaited decision in a legal battle that has rippled across this energy rich state.
In a pair of rulings, Colorado's high court found that measures passed by the cities of Fort Collins and Longmont that sought to halt the controversial drilling technique known as fracking "were preempted by state law and, therefore… invalid and unenforceable."
The decisions uphold lower court rulings ….
The legal dispute dates back to 2012, when voters in Longmont approved a ban on fracking. A year later, Fort Collins voters passed a five-year moratorium on the practice.
But two district court judges subsequently ruled that the bans were illegal under state law, after the Colorado Oil & Gas Association filed a pair of lawsuits seeking to overturn them. The Supreme Court took up the case after both cities appealed.
In a statement, Fort Collins said that while it was still reviewing the ruling, "it is clear that the Supreme Court has found that the Fort Collins moratorium on hydraulic fracturing is in operational conflict with Colorado law."
Longmont Mayor Dennis Coombs said, "The case did not end as the city hoped, but we respect the Supreme Court's decision."
Energy industry groups, meanwhile, lauded the decisions.
"This is not just a win for the energy industry but for the people of Colorado who rely on affordable and dependable energy and a strong economy," said Dan Haley, president and chief executive of the Colorado Oil & Gas Association. "It sends a strong message to anyone trying to drive this vital industry out of the state that those efforts will not be tolerated."
The American Petroleum Institute said the ruling "protects private property rights, which are a main driver for the energy renaissance in this country."
The fight over fracking also has unfolded elsewhere around the country as municipalities have similarly sought to limit or bar fracking and the energy industry has tried to beat back such efforts.
Last year, for example, Texas Gov. Greg Abbott, a Republican, signed a law prohibiting fracking bans, making it harder for local municipalities to limit where oil and gas wells are drilled. The measure was passed in response to a fracking ban passed by the north Texas city of Denton.
Other states have taken a variety of stances on fracking, according to the National Conference of State Legislatures.
In 2015, New York banned fracking statewide. Conversely, the Ohio Supreme Court ruled last year that the state has the exclusive authority to permit oil and gas drilling, limiting local government power on the issue. [Emphasis added]
Environment [and communities and public health] be damned: Colorado Supreme Court overturns community bans on fracking by Sputnik, May 2, 2016, Scott (Sign of The Times)
Colorado Supreme Court overturned a local law approved in the city of Fort Collins imposing a five year ban on fracking and struck down an outright ban on fracking in the city of Longmont, according to official statement.
Laws in the US state of Colorado that regulate fracking in the state's oil and natural gas industry supersede laws approved in two local communities to ban the practice, the state Supreme Court ruled on Monday.
In the first of two rulings, the Colorado Supreme Court overturned a local law approved in the city of Fort Collins imposing a five year ban on fracking, saying "the moratorium is preempted by state law and is, therefore, invalid and unenforceable."
In a second related ruling, the Supreme Court struck down an outright ban on fracking in the city of Longmont, which the court also said was pre-empted by state law.
Fracking is used in nearly every oil and gas well in the state, according to a press release by the Colorado Oil and Gas Association, which filed the lawsuit. Banning the practice would effectively shut down the state's production of fossil fuels. [Emphasis added]
Colorado Supreme Court Strips the Constitutional Right To Enact Local Fracking Bans Press Release by Earthworks, Food & Water Watch, Our Longmont, Sierra Club, May 2, 2016, Common Dreams
Landmark Decision Favors Oil and Gas Industry Over the Rights of Coloradans
Denver, CO – Today, the Colorado Supreme Court struck down the rights of Coloradans to protect their health, safety and wellbeing from fracking through the use of local bans. The justices denied residents their "right of enjoying and defending their lives and liberties; and of seeking and obtaining their safety and happiness" as outlined in the Colorado Constitution, by determining that oil and gas development is pre-empted by the state. This decision overturns the democratically enacted measure to ban fracking passed overwhelmingly by Longmont residents in 2012 and strips all Coloradans of their Constitutional right to say "no" to fracking in their communities in order to prevent problems inherent in fracking, including air pollution, health complications, water contamination and reduced property values.
"It is beyond comprehension that the Colorado Supreme Court still fails to recognize the rights of people to live in a safe and healthy environment," said Kaye Fissinger, President of Our Health, Our Future, Our Longmont. "The state has declared that fostering oil and gas development is in its interest.
That the court apparently equates a government interest superior to human rights is a severe slap in the face. Our country's founding fathers are most certainly turning over in their graves," Fissinger said.
In 2012, residents in Longmont passed a city charter amendment, Measure 300, which banned fracking and the disposal of its waste products, including injection wells within city limits, to protect homes, schools and public parks. The local ban passed with an overwhelming 60 percent majority despite being outspent 30-1 by the oil and gas industry. Governor Hickenlooper and the oil and gas industry sued Longmont over this democratically enacted measure.
"Today's decision deals a devastating blow not just to Longmont residents, but to all Coloradans who have been stripped of a democratic process that should allow us the right to protect our health, safety and property from the impacts of this dangerous industrial activity," said Lauren Petrie, Rocky Mountain Region Director with Food & Water Watch.
After appealing the District Court's ruling in 2015, the Colorado Court of Appeals petitioned the Colorado Supreme Court to hear this case. In an unprecedented decision, the Colorado Supreme Court agreed to hear this case and listened to oral arguments in December, 2015, leading to this historic decision.
"Straight out of Orwell's Animal Farm, the Colorado Supreme Court just decided that the oil and gas industry is 'more equal' than other industries," said Earthworks energy program director Bruce Baizel. "Turning democracy on its head, today's ruling prohibits local communities from deciding whether and how to balance their health against the fracking industry's profits."
Physicians, Scientists & Engineers for Healthy Energy conducted an analysis of peer-reviewed studies on the impacts of fracking and shale gas development. It found that 21 of 25 papers published on the health impacts show potential risks or actual adverse outcomes, including increased incidence of cancer and birth defects associated with living in close proximity to oil and gas wells. The group's survey also showed that 33 of 48 water quality studies find either the potential for, a positive association with, or direct evidence of water contamination. In addition, 30 of 34 focused on air quality found elevated levels of air pollution, and that children are especially vulnerable to exposure to such pollution, according to the scientists.
As these inherent harms of fracking become ever-clearer, Governor Hickenlooper's failed task force—formed in 2014 as a way to keep several anti-fracking measures off the ballot—has left municipalities frustrated as proposals to drill continue to encroach closer to homes and schools. In Adams County, a recent proposal to drill several new mega-facilities could place fracking wells within 100 feet from homes and a middle school. The Governor's task force has failed to provide Coloradans with a way to protect their homes, families and futures from this dangerous, industrial activity.
"As a retired RN I am horrified that we continue to allow this toxic industry to operate next to our homes and schools," said Karen Dike, of Rocky Mountain Chapter of Sierra Club. "The Colorado Supreme Court ruling discounts the inherent rights of the people of this state to have clean air to breath, fresh water to drink, land free of contamination and safe places to live, go to school and work. The ruling places profit of corporations before people and will allow the continuing toxic onslaught of this dangerous industry."
For More Information:
Contacts:
Lauren Petrie, Food & Water Watch – 720-663-0735, email hidden; JavaScript is required
Kaye Fissinger, Our Longmont – 303-678-7267; 818-237-7943 (cell), email hidden; JavaScript is required
Bruce Baizel, Earthworks – 970-799-3552, email hidden; JavaScript is required
Colorado Supreme Court Rules Against Cities' Fracking Limits by Grace Hood, May 2, 2016, Colorado Public Radio
The Colorado Supreme Court on Monday struck down two cities' limits on fracking.
The industry group Colorado Oil and Gas Association (COGA) challenged the cities of Longmont and Fort Collins after voters passed rules suspending or outlawing that method of extracting natural gas and oil.
In two separate rulings on Monday, the Supreme Court called the cities' limits "invalid and unenforceable" because state law trumps the local ordinances.
"The Oil and Gas Conservation Act and the Commission's pervasive rules and regulations …

convince us that the state's interest in the efficient and responsible development of oil and gas resources includes a strong interest in the uniform regulation of fracking,"

the court wrote in the Longmont ruling.
The city's voters in 2012 passed an outright ban on fracking, the process of injecting sand, water and a proprietary mix of chemicals underground to extract oil and natural gas.
Likewise, the court found that Fort Collins' five-year moratorium, which voters approved in 2013, renders state regulations "superfluous" until 2018.
"In doing so, the moratorium materially impedes the effectuation of the state's interest in the efficient and responsible development of oil and gas resources," the court wrote.
Local rights advocates had pointed to a section of the state constitution that says that citizens' inalienable rights "reign supreme over any state statute." But the court dismissed the argument.
"We are not persuaded," the court wrote in the Longmont ruling. "…under the citizen intervenors' interpretation of the inalienable rights provision, no local regulation alleged to concern life, liberty, property, safety, or happiness could ever be preempted, and thus, such local regulations would always supersede state law."
The ruling will have an impact on other Front Range communities — including Broomfield, Lafayette, and Boulder — that have approved restrictions on fracking. [Emphasis added]
Colorado Supreme Court rules state law pre-empts local fracking bans, Supreme Court rules that Longmont, Fort Collins bans on fracking are "invalid and unenforceable" by Bruce Finley, May 2, 2016, The Denver Post
Colorado's Supreme Court ruled Monday that Front Range cities' push to limit oil and gas development near people is a matter of state law and therefore "invalid and unenforceable."
The court ruled that Fort Collins' five-year moratorium within the city limits is "a matter of mixed state and local concern and, therefore, is subject to preemption by state law. Applying well-established preemption principles, the court further concludes that Fort Collins's moratorium operationally conflicts with the effectuation of state law."
It said the same in Longmont's 2012 ban on fracking.
The court rulings came 144 days after justices heard arguments.
Colorado residents again are pushing ballot initiatives to restrict hydraulic fracturing, or fracking, the technique of injecting chemicals, sand and millions of gallons of water to remove oil and gas from deep underground.
And industry groups advocate increased extraction, by drilling wells right under neighborhoods if necessary.
Until now, Colorado law has given state authorities an overriding interest in orderly production of oil and gas. State lawmakers created the Colorado Oil and Gas Conservation Commission to oversee industry operations. [Same industry-controlled set up in Canadian provinces]
The legal battles over state versus local power arose after Longmont leaders in 2012 imposed rules for oil and gas activity. Colorado's attorney general at the time, John Suthers, sued the city. And Longmont voters responded by banning fracking.
In 2013, Fort Collins voters passed a five-year moratorium on fracking inside city boundaries.
State attorneys, joining the oil and gas industry, argued that [industry controlled] regulators should have the final say in conflicts over drilling and that the local measures negate this state power. Gov. John Hickenlooper and state officials contend county, city and town authorities lack the power to regulate oil and gas.
On the other side, attorneys representing Fort Collins and Longmont argued that

local measures enacted to shield residents did not prevent companies from producing.
Lower courts in Boulder and Larimer counties overturned the ban and moratorium. Longmont and Fort Collins pushed their cases to the Colorado Court of Appeals, asking to have the ban and moratorium restored. Last August, the appeals court asked the Colorado Supreme Court to rule.
Monday's rulings will build on the 1992 Voss case where the court determined Colorado's interest in oil and gas development was strong enough to override a municipal ban in Greeley.
Supreme court justices who heard arguments from Longmont and Fort Collins noted that law and industry technology have changed since 1992. The justices indicated they'd be exploring whether Colorado's interest is "sufficiently dominating" and what test courts should use to decide.
The Voss ruling did not totally pre-empt what local government can do without impeding state interests.
The attorneys were watching to see whether this latest ruling will be narrow or broad, anticipating greater legal clarity on an issue spurred by the domestic drilling boom.
Colorado has emerged as a leading oil and gas producer with more than 50,000 active oil and gas wells and more than 45,000 inactive wells where land must now be restored. [Emphasis added]
[Refer also to:
TTIP: Chevron lobbied for controversial legal right as 'environmental deterrent'
US oil company wanted EU-US trade deal to give foreign investors the legal right to challenge government decision, documents show by Arthur Neslen, April 26, 2016, The Guardian
Chevron lobbied the EU to give foreign investors the legal right to challenge government decisions in a major US-EU trade deal because it would act as a deterrent against laws such as fracking bans, the Guardian can reveal.
Environmentalists have long-warned that the Transatlantic Trade and Investment Partnership's (TTIP) investor state dispute settlement (ISDS) commercial courts risk a regulatory chill, with governments backing away from measures limiting fossil fuel extraction for fear of lawsuits. But this is the first time that a major oil firm has corroborated their fears.
…
"ISDS has only been used once by Chevron, in its litigation against Ecuador," say the minutes of a meeting in April 2014 between unnamed Chevron executives and European commission officials, which the Guardian obtained under access to documents laws. "Yet, Chevron argues that the mere existence of ISDS is important as it acts as a deterrent."
Chevron has explored for shale gas in Romania and Poland in recent years, though it has since withdrawn the shale projects in both countries.
The company is currently pursuing a $9.5bn suit against Ecuador's government at an ISDS court in the Hague, for allowing indigenous people to sue the firm – for the same amount of money – over allegedly illegal practices dating back more than 20 years.
"Chevron's case is often used as an example not to have ISDS," say the minutes, which include commentary by EU officials. "This is a misperception since the case clearly proves the exact opposite. The company is raising awareness on this issue in Brussels and has handed over a more detailed analysis of the case."
…
"This document [the minutes] shows that the power to use investment arbitration as a shackle on environmental regulations is a key reason why multinationals like Chevron defend them," said Cecilia Olivet, a researcher at the Transnational Institute and member of the presidential commission auditing Ecuador's bilateral investment treaties.
"Pressure on public budgets means the mere threat of a multi-million dollar international arbitration lawsuit can make governments reluctant to implement social or environmental protection measures that could affect the interests of foreign investors."
…
Under fair and equal treatment provisions, these panels can rule against social and environmental laws enacted by national parliaments, where these conflict with a company's profit expectations at the time that an investment was made.
In one high profile case, the US company Lone Pine is suing the Canadian state of Quebec for $250m over a fracking ban, under Nafta treaty provisions. But campaigners say that the regulatory chill effect can be more subtle.
New Zealand postponed plans to introduce stricter rules on cigarette labelling in 2013 after lawsuits by Philip Morris International against Uruguay and Australia in ISDS tribunals.
The city of Hamburg agreed to relax clean water rules in 2011 after an arbitration investment suit by Vattenfall, while Canada reversed a ban on the toxic chemical MMT and agreed a $13m payment in 1998, as a result of an ISDS claim by Ethyl.
…
Peter Kirby, a partner in the Canadian law firm Fasken Martineau described ISDS tribunals as: "a lobbying tool in the sense that you can go in and say, 'OK, if you do this, we will be suing you for compensation.' It does change behaviour in certain cases."
The issue has provoked fierce opposition, with an estimated 35,000 people protesting the new trade rules in Hannover over the weekend, during a visit by President Obama.
Redacted minutes of separate meetings between the commission and executives from BP, Shell and ExxonMobil in December 2013 show that the fossil fuels industry as a whole strongly backed an EU-US free trade deal.
BP was the "most outspoken" supporter, describing TTIP as "the opportunity to discuss energy and competitiveness in an international context" and welcoming the new global energy trade rules that could result.
The minutes say that "it appeared, however, that especially the transparency rules and to a lesser extent the offshore safety rules are rather of concern for the companies."
BP and ExxonMobil said that they would also like to see TTIP deal with renewable energy subsidies, planned EU regulations on tar sands and the 1920 Jones Act, a US law which allows sailors injured at sea to claim compensation, among other things.
The firms mentioned that they would relay the information they had been given by EU officials to their colleagues in Washington DC and might come back with "further requests". [Aka demands?]
In the documents, the commission appears keen to win the oil firms' lobbying clout to an EU initiative to lift a US embargo on crude and gas exports.
The minutes list meetings planned by EU officials with Total, GDF Suez, Repsol, OMV, EDF, Areva, Eurogas and the Association of Oil and Gas Producers.
The commission also planned to "reach out further" to ConocoPhillips, and to Chevron.
The Health and Environmental Alliance and Centre for International Environment Law this week launched a new campaign calling for EU legislation on toxic chemicals to kept out of any TTIP trade deal. [Emphasis added]
2016 05 01: Albertans still don't know what toxic oilfield chemicals their children are breathing. When will companies be ordered to fully disclose all chemicals, including trade secrets, before racing toxic truck loads through school zones, by hospitals, where children play, and before injected, spilled, dumped, spread on foodlands, flared, vented, spewed from endless facilities?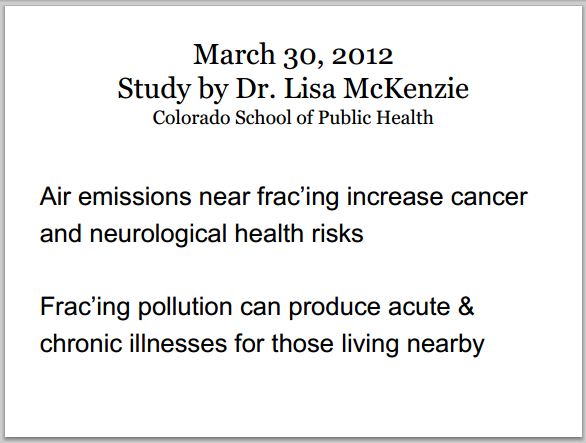 Slide from Ernst presentations