From Page 9 of the report (at the time of Encana's illegal aquifer fracs in 2004 in Alberta, and aquifer fracs in Pavillion Wyoming, there was no Fracfocus yet. After it was implemented with great halleluja, propaganda, pomp and circumstance in Canada, companies often include trade secrets in their Fracfocus filings, sometimes listing all chemicals injected as secret):
Encana Corp., once one of Canada's largest oil companies, disclosed the use of nonionic
fluorosurfactant in four wells in Texas in 2014-2015. Encana moved its corporate headquarters to the U.S. in 2020 and changed its name to Ovintiv.42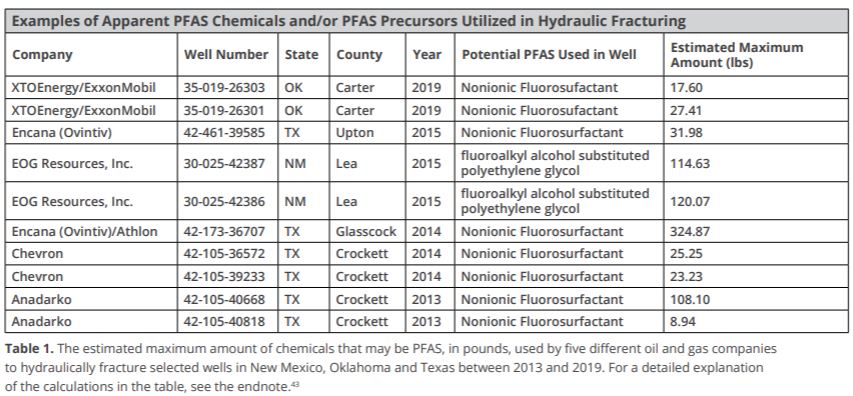 From Page 15:
Robert Delaney, a geologist who until his retirement in November 2020 led an initiative for the Michigan PFAS Action Response Team to address contamination of PFAS at U.S. Department of Defense sites in the state, said that communities should be very concerned about the use of PFAS in oil and gas drilling. Delaney spent 36 years working in natural resource protection for the state of Michigan and first warned state officials about the looming problem with PFAS in 2012, though unrelated to oil and gas extraction.114 PFAS, he said,
disperses all over, it doesn't break down, and the levels at which it is dangerous are so, so low. It becomes an enormous problem. I call it a nightmare contaminant. I used to think that benzene, TCE (trichloroethylene), polyvinyl chloride were the really nasty ones to deal with, and then I saw these.115
From Page 20:
Locating Where PFAS Chemicals Have Been Used: An Ongoing Challenge
As previously stated, PSR was able to locate oil and gas wells where PFAS or potential PFAS were used, at least some of which might be chemical P-11-0091. But confidentiality claims and other hurdles make it extremely difficult for the public to know for certain where this particular chemical or other oil and gas chemicals associated with PFAS have or are being used. …
Yet in many cases, as is the case with chemical P-11-0091, all these searches are impossible because the chemical's CAS number, specific chemical name, and trade name are redacted as trade secrets.
Exemptions under state rules provide several additional ways for oil and gas companies or chemical makers to shield from public scrutiny the use of oil and gas chemicals. For example, state rules typically allow well operators to withhold chemical identities from the public as trade secrets, just as chemical manufacturers or importers are allowed to do under federal law. So even if a chemical importer decided to remove CBI protection from the chemical's identity under federal law, a well operator could still assert that the identity was a trade secret under state rules.156 State rules also typically do not require chemical manufacturers or importers to disclose their chemicals at all.157 There is some evidence that manufacturers and importers may not provide all their fracking chemical identities to well operators or owners, who bear the burden of public disclosure under state rules.158 In any case, if chemical manufacturers do not disclose fracking chemicals to well operators or owners, these actors cannot disclose the chemicals to the public.159 Finally, most state rules do not require public disclosure of chemicals used in the drilling process that precedes fracking.

Canada doesn't either. Same secrecy in cementing, perforating, acidizing and servicing chemicals used.

From Page 22:
….residents of western Pennsylvania … had sued well owner Range Resources after suffering health impacts and the deaths of animals that they believed were caused by Range's drilling operations near their homes. The residents requested from Range, among other pieces of information, the full list of chemicals used nearby. Range failed to provide the plaintiffs with a full list despite a court order that was in effect for several years. … A judge declined to sanction Range for failing to comply with the order. The inability to obtain the chemical identities made it more difficult for the residents to establish that Range had harmed them and may have influenced two residents to sign a confidential legal settlement that, Griswold wrote, "left both of them feeling angry and defeated."164
***
Webinar July 12, 2021, noon Eastern time (USA and Canada). Register here
Exposé on use in frac'ing of previously unknown, highly dangerous chemicals.
NEW REPORT: FRACKING WITH "FOREVER CHEMICALS" July 12, 2021
PSR is proud to publish Fracking with "Forever Chemicals," a report presenting previously unpublicized evidence that major oil and gas companies, including ExxonMobil and Chevron, have used per- and polyfluoroalkyl substances (PFAS), or substances that could degrade into PFAS, in hydraulic fracturing ("fracking") for oil and gas in more than 1,200 wells in six U.S. states.
Toxic in minuscule concentrations, these man-made chemicals accumulate inside the human body and do not break down in the environment – hence their nickname, "forever chemicals." Various PFAS have been linked by the U.S. EPA to low infant birth weights, effects on the immune system, cancer, and hormone disruption.
Read the New York Times coverage here.
Register here for our web-based briefing on the report's findings — today, Monday, July 12, noon Eastern time. Speakers include:
Dusty Horwitt, author and researcher. Horwitt, now consulting for PSR, has researched chemical use in the oil and gas industry for over a decade. His reports and investigations have received media coverage in the New York Times, Dallas Morning News, Pittsburgh Post-Gazette, Charleston Gazette, and ProPublica.
Linda Birnbaum, board-certified Ph.D. toxicologist and former director of the National Institute of Environmental Health Sciences.
Silverio Caggiano, recently retired Battalion Chief and hazardous materials expert with the Youngstown, Ohio fire department.
Wilma Subra, Louisiana-based chemist and MacArthur Foundation "Genius" award winner who has spent decades working to protect people from oil and gas-related pollution.
Representatives of the press will have the opportunity to direct questions to the speakers.
The use of PFAS and/or PFAS precursor substances in oil and gas operations adds a highly potent substance to an already long list of toxic chemicals used in drilling and fracking. Join PSR in calling on the U.S. EPA to take immediate steps to protect us from those chemicals, starting with a moratorium on PFAS use for oil and gas extraction. Add your name to our letter to EPA here.
FOR IMMEDIATE RELEASE
CONTACT: Barbara Gottlieb | email hidden; JavaScript is required | 301-806-6826
New Report from Physicians for Social Responsibility Indicates PFAS Use in Fracking in More than 1,200 Wells in Arkansas, Louisiana, Oklahoma, New Mexico, Texas, Wyoming between 2012 and 2020
Broader Geographic Use is Possible, but Confidentiality Claims by Chemical and Drilling Companies Prevent Full Investigation; Exxon, Chevron Among the Companies Using Chemicals Identified as PFAS or Potential PFAS
EPA Approved a Chemical for Use in Oil and Gas Extraction Despite PFAS Concerns and Link to PFAS Polluter Dupont
Washington, DC – A new report, released today by Physicians for Social Responsibility (PSR), presents evidence that oil and gas companies including ExxonMobil and Chevron have used per- and polyfluoroalkyl substances (PFAS), and/or substances that can degrade into PFAS, in hydraulic fracturing ("fracking") for oil and gas in more than 1,200 wells in six U.S. states between 2012 and 2020.
The report also notes that, due to the lack of full disclosure concerning chemicals used, PFAS could have been used in additional states and in drilling and other extraction techniques that precede the underground injections known as fracking.
PFAS have been linked to cancer, birth defects, pre-eclampsia, and other serious health effects. Toxic in minuscule concentrations, they accumulate inside the human body and do not break down in the environment – hence their nickname, "forever chemicals."
Evidence related to the use of PFAS or PFAS precursors in oil and gas operations has not been previously publicized.
The report, Fracking with "Forever Chemicals," also documents the U.S. Environmental Protection Agency (EPA)'s approval of three chemicals for use in oil and gas drilling and/or fracking, despite EPA's written observation that the chemicals could degrade into substances similar to PFOA, the most infamous PFAS, highlighted in the 2019 feature film Dark Waters. EPA regulators wrote,
EPA has concerns that these degradation products will persist in the environment, could bioaccumulate or biomagnify, and could be toxic (PBT) to people, wild mammals, and birds based on data on analog chemicals, including PFOA and [REDACTED].
One of these chemicals was used commercially for unspecified purposes as recently as 2018, according to EPA records. …
"The evidence that people could be unknowingly exposed to these extremely toxic chemicals through oil and gas operations is disturbing," said Horwitt. "Considering the terrible history of pollution associated with PFAS, EPA and state governments need to move quickly to ensure that the public knows where these chemicals have been used and is protected from their impacts."
"It's very disturbing to see the extent to which critical information about these chemicals is shielded from public view," added Barbara Gottlieb, PSR's Environment & Health Program Director. "The lack of transparency about fracking chemicals puts human health at risk." "PFAS have negative health effects, including cancer, that encompass virtually every system in the human body: the immune system, our reproductive systems, the liver, kidneys," stated Birnbaum. "The potential that these chemicals are being used in oil and gas operations should prompt regulators to take swift action to investigate the extent of this use, pathways of exposure, and whether people are being harmed."
"Fire departments are scrambling to get rid of firefighting foam with PFAS in it because EPA says it's toxic," said Caggiano, who retired in June 2021 and has trained with fire-fighting foam that contains PFAS. "So if it's too dangerous for us to use, why should oil and gas companies get to use it?" Youngstown is located near oil and gas production wells and underground injection disposal wells where oil and gas companies inject wastewater from their operations for permanent disposal.
"There's a potential for [PFAS] to contaminate a huge amount of water or soil or sediment if it were to spill on the surface," Subra noted. "It doesn't take much to be present in those media to be a threat to health."
The report is available to be downloaded at www.psr.org/frackingchemicals.
For much of the past decade, oil companies engaged in drilling and fracking have been allowed to pump into the ground chemicals that, over time, can break down into toxic substances known as PFAS — a class of long-lasting compounds known to pose a threat to people and wildlife — according to internal documents from the Environmental Protection Agency.
The E.P.A. in 2011 approved the use of these chemicals, used to ease the flow of oil from the ground, despite the agency's own grave concerns about their toxicity, according to the documents, which were reviewed by The New York Times. The E.P.A.'s approval of the three chemicals wasn't previously publicly known.
The records, obtained under the Freedom of Information Act by a nonprofit group, Physicians for Social Responsibility, are among the first public indications that PFAS, long-lasting compounds also known as "forever chemicals," may be present in the fluids used during drilling and hydraulic fracturing, or fracking.
In a consent order issued for the three chemicals on Oct. 26, 2011, E.P.A. scientists pointed to preliminary evidence that, under some conditions, the chemicals could "degrade in the environment" into substances akin to PFOA, a kind of PFAS chemical, and could "persist in the environment" and "be toxic to people, wild mammals, and birds." The E.P.A. scientists recommended additional testing. Those tests were not mandatory and there is no indication that they were carried out.
"The E.P.A. identified serious health risks associated with chemicals proposed for use in oil and gas extraction, and yet allowed those chemicals to be used commercially with very lax regulation," said Dusty Horwitt, researcher at Physicians for Social Responsibility.
The documents, dating from the Obama administration, are heavily redacted because the E.P.A. allows companies to invoke trade-secret claims to keep basic information on new chemicals from public release. Even the name of the company that applied for approval is redacted, and the records give only a generic name for the chemicals: fluorinated acrylic alkylamino copolymer.
However, an identification number for one of the chemicals issued by the E.P.A. appears in separate E.P.A. data and identifies Chemours, previously Dupont, as the submitter. A separate E.P.A. document shows that a chemical with the same EPA-issued number was first imported for commercial use in November 2011. (Chemours did not exist until 2015, though it would have had the responsibility to report chemicals on behalf of its predecessor, Dupont.)
There is no public data that details where the E.P.A.-approved chemicals have been used.
But the FracFocus database, which tracks chemicals used in fracking, shows that about 120 companies used PFAS — or chemicals that can break down into PFAS; the most common of which was "nonionic fluorosurfactant" and various misspellings — in more than 1,000 wells between 2012 and 2020 in Texas, Arkansas, Louisiana, Oklahoma, New Mexico, and Wyoming. Because not all states require companies to report chemicals to the database, the number of wells could be higher.
Nine of those wells were in Carter County, Okla., within the boundaries of Chickasaw Nation. "This isn't something I was aware of," said Tony Choate, a Chickasaw Nation spokesman.
Nick Conger, an E.P.A. spokesman, said that the chemicals in question were approved a decade ago, and that amendments to laws since then now required the agency to affirm the safety of new chemicals before they are allowed into the marketplace. He said the redactions in the documents were mandated by a statute protecting confidential business information. The Biden administration had made addressing PFAS a top priority, he added, for example by proposing a rule to require all manufacturers and importers of PFAS since 2011 to disclose more information on the chemicals, including their environmental and health effects.
Chemours, which has in the past agreed to pay hundreds of millions of dollars to settle injury claims related to PFOA pollution, did not provide comment.
An Exxon spokesman, in response to questions regarding whether it uses the chemicals, said, "We do not manufacture PFAS."
Chevron did not respond to a request for comment.
The presence of PFAS in oil and gas extraction threatens to expose oil-field employees and emergency workers handling fires and spills as well as people who live near, or downstream from, drilling sites to a class of chemicals that has faced increasing scrutiny for its links to cancer, birth defects, and other serious health problems.
A class of man-made chemicals that are toxic even in minuscule concentrations, for decades PFAS were used to make products like nonstick pans, stain-resistant carpeting and firefighting foam. The substances have come under scrutiny in recent years for their tendency to persist in the environment, and to accumulate inside the human body, as well as for their links to health problems like cancer and birth defects. Both Congress and the Biden administration have moved tobetter regulate PFAS, which contaminate the drinking water of as many as 80 million Americans.
Industry researchers have long been aware of their toxicity. But it wasn't until the early 2000s, when the environmental attorney Rob Bilott sued Dupont for pollution from its Teflon plant in Parkersburg, W.Va., that the dangers of PFAS started to be widely known. In settlements with the E.P.A. in the mid-2000s, Dupont acknowledged knowing of the dangers of PFAS, and it and a handful of chemicals manufacturers subsequently committed to phase out the use of certain kinds of PFAS by 2015.
Kevin A. Schug, a professor of analytical Chemistry at the University of Texas at Arlington, said the chemicals identified in the FracFocus database fell into the PFAS group of compounds, although he added that there was not enough information to make a direct link between the chemicals in the database to the ones approved by the E.P.A. Still, he said it was clear "that the approved polymer, if and when it breaks down in the environment, will break down into PFAS."
The findings underscore how, for decades, the nation's laws governing various chemicals have allowed thousands of substances to go into commercial use with relatively little testing. The E.P.A.'s assessment was carried out under the 1976 Toxic Substances Control Act, which authorizes the agency to review and regulate new chemicals before they are manufactured or distributed.
But for years, that law had gaps that left Americans exposed to harmful chemicals, experts say. Furthermore, the Toxic Substances Control Act grandfathered in thousands of chemicals already in commercial use, including many PFAS chemicals. In 2016, Congress strengthened the law, bolstering the E.P.A.'s authority to order health testing, among other measures. The Government Accountability Office, the watchdog arm of Congress, still identifies the Toxic Substances Control Act as a program with one of the highest risks of abuse and mismanagement.
In recent days, whistle-blowers have alleged in the Intercept that the E.P.A. office in charge of reviewing toxic chemicals tampered with the assessments of dozens of chemicals to make them appear safer. E.P.A. scientists evaluating new chemicals "are the last line of defense between harmful — even deadly — chemicals and their introduction into U.S. commerce, and this line of defense is struggling to maintain its integrity," the whistle-blowers said in their disclosure, which was released by Public Employees for Environmental Responsibility, a Maryland-based nonprofit group.
David R. Brown, a public health toxicologist and former director of Environmental Epidemiology at the Connecticut Department of Health, said the E.P.A. was "expressing concerns at a level that should have caused alarm." Particularly concerning, he said, was that at oil and gas wells, "you're putting the chemicals into a high temperature, high pressure environment and that's highly reactive."

And some companies, eg Encana/Ovintiv, illegally frac'd directly into community drinking water aquifers in use by families, with EPA formally acknowledging it and the subsequent contamination of drinking water supplies. Did Encana/Ovintiv inject forever chemicals? Is that why the company refused to heed the Rules of Court, refused to release to me in court-ordered document exchange, all chemical additives the company drilled, cemented and frac'd with in my community? I spent nearly half a million dollars in legal fees, court ordered costs, and expenses I paid directly, and still do not know what toxic chemicals my loved ones and I bathed in, ingested and breathed venting out of the water taps along with massive amounts of frac'd gas. Encana/Ovintiv knows we bathed in contaminated water for years because of the company lying and denying it frac'd our aquifers. And what of the thousands of times frac waste was/is directly injected into drinking water aquifers, with state regulator approval, such as in California?

Mr. Conger, the E.P.A. spokesman, said the agency was committed to investigating the whistle-blowers' complaints.
The concerns add to the risks posed by hundreds of chemicals used in drilling and fracking, which involves boring deep holes into the earth, and then injecting millions of gallons of water, sand and chemicals into rock formations to unlock oil and gas deposits.
In a 2016 report, the E.P.A. identified more than 1,600 chemicals used in drilling and fracking, or found in fracking wastewater, including close to 200 that were deemed carcinogens or toxic to human health. The same E.P.A. report warned that fracking fluid could escape from drill sites into the groundwater and that leaks could spring from underground wells that store millions of gallons of wastewater.
Communities near drilling sites have long complained of contaminated water and health problems that they say are related. The lack of disclosure on what sort of chemicals are present has hindered diagnoses or treatment. Various peer-reviewed studies have found evidence of illnesses and other health effects among people living near oil and gas sites, a disproportionate burden of which fall on people of color and other underserved or marginalized communities.
"In areas where there's heavy fracking, the data is starting to build to show there's a real reason for concern," said Linda Birnbaum, the former director of the National Institute for Environmental Health Sciences and an expert on PFAS. The presence of PFAS, she said, was particularly worrisome. "These are chemicals that will be in the environment, essentially, not only for our lifetimes, but forever," she said.
Hiroko Tabuchi is an investigative reporter on the climate desk. She was part of the Times team that received the 2013 Pulitzer for explanatory reporting. @HirokoTabuchi
A few of the comments:
Joe B.Center City:
We need to end the EPA and start over. The agency has been captured by corporate polluters. When will the damaging rapaciousness end?
Elise Mills, Berkeley, CA:

Even the state of California has this fracking problem where unknown chemicals are legally allowed to be pumped into our soils and aquifers. It is high time to put a stop to these companies ruining our water sources and environment just to make another buck.
Twain's Ghost, Rocky Mountains

"The documents, dating from the Obama administration, are heavily redacted because the E.P.A. allows companies to invoke trade-secret claims to keep basic information on new chemicals from public release."
How is it that the concerns of corporations are placed above the well-being and safety of people?
Because our so-called "leaders" are bought and paid for by these corporations.

and, because those "leaders" appoint our judges, our courts are bought and paid for too, if not more so.

We need to end how campaigns are run and financed, and close down any and all ability to influence elected officials with money. Let's begin by reversing the absurd declaration that "Money = free speech" as decided in Buckley vs. Valeo by the SCOTUS in 1976, and further reaffirmed with Citizens United. These rulings have warped into unrecognition our democracy, tilting the playing field completely towards the rich and powerful. Until we undo this unequal system, we will continue to live under an oligarchy, not a democracy.
The power of the oil and gas industry is immense. John D. Rockefeller launched an empire that has only grown bigger, while becoming less visible, and spawning offshoots which themselves have become gargantuan. This industry has laughed at attempts to rein it in, flicking Congress and regulatory agencies away like they were flies. And even though millions of Americans are at risk because of the threats posed by drilling and fracking, there is nothing being done to protect them.
The assertion that America is broken has a lot of merit.
Diane, NM:
So, when do congressional members get named for dirty deeds resulting from their failure to do their jobs? At the time of approval there were strong grassroots efforts in both Colorado and New Mexico to disclose the chemicals used in fracking. Nope. Instead the secret chemicals were approved. Ken Salazar, then Secy of Interior, now ambassador to Mexico, wouldn't stand up. Mark Udall and Michael Bennet from Colorado ducked and bobbed in the Senate. Tom Udall and Jeff Bingaman from New Mexico joined them in bending over for the oil and gas industry. Now Senator Hickenlooper was then Colorado's governor. In testimony before the US Senate Panel on Energy and Natural Resources in February 2013, he DRANK fracking water to prove that the substances were safe and didn't need to be disclosed. If that media stunt doesn't hasten his end, it should follow him to his grave. Ship of Fools are still rolling along. It sure isn't motivation to Get Out The Vote (Bennet is up and running in '22).
James Klimaski, Washington DC:

The actions of the people who approved these chemicals should be considered criminal and the Justice Department needs to investigate them including the corporations that pushed them on the public. And isn't this the same stuff used to poison the Marines and their families at Camp Lejeune?
Shelley, Toronto

Think it's time the EPA had a rebrand, perhaps to the EPPA – the Egregious Polluters' Protection Agency.
njglea, Seattle:
The EPA has been under constant attack by BIG oil and investors since it's inception. They do not want any rules to get in the way of their profits.
That is why OUR world is burning up and flooding out. That is why the artics are melting. That is why smog covers much of OUR earth.
The insatiably greedy, morally/ethically bankrupt, socially unconscious 0.01% and their 9.9% operatives must be stopped NOW.
WE THE ;PEOPLE must not let them further destroy OUR lives, countries and world.
NOW is the time to strengthen OUR EPA and enforce the rules. OUR lives depend on it.

That won't do any good. It's obvious that there are no rules, laws or enforcement of them, that make frac'ing safe. And our regulators and the polluting frac'ers know it.

SaHa, Indiana:

All the real crooks sit high and look low to dump their poisons.
Mark, Hartford:

Why is even one word redacted? Trade secrets? For poison in our groundwater? Why on EARTH is that a secret?
macrol, usa:

Big oil will gladly eat their young if there's profit in it.
Greg, CA:

"An Exxon spokesman, in response to questions regarding whether it uses the chemicals, said, 'We do not manufacture PFAS.'"
In other news, when Exxon was asked if they extract oil from the ground answered, "We do not bake baklava".
Julian Fernandez, Dallas, Texas:
So, the chemicals used in the fracking process are dangerous and last forever?
Anti-fracking groups in multiple states have been reporting this FOR YEARS! Since the process was developed! And they were ignored and derided as Cassandras.
Well, here we are 20 years later and the water tables of Pennsylvania, north central Texas, and Ohio have been polluted beyond reclamation in exchange for two decades of diminishing returns on a fuel we need to stop using… yesterday.
Gkhan, WA:

The law that allows companies to hide the identity of chemicals that poison us, our children, and the environment is an abomination. Secrecy is not allowed in food ingredients, and it is only allowed in much more dangerous, longer-lasting chemicals because the of the nonstop political lobbying of DuPont, Chemours, and other chemical makers.
Secrecy provides a protective dome over their whole ugly operation. The first step towards ending the disgraceful history of them using all of us as guinea pigs is to crack that dome of secrecy wide open.
Jim Bob, Xanadu:

Jail time for the EPA executives

and state/provincial deregulators and their enablers – politicians, judges, academics, experts, etc.

that oversaw this is the only acceptable outcome.
Todd Eastman, Putney, VT:

Fracking fluids have been used as a way to dispose of chemical waste for years.

And, nuclear waste too?

Dick Cheney worked hard to develop the Halliburton Loophole, a twist of law that protected the manufacturers and fracking firms from having to divulge the chemicals used in their fracking fluids.
HL, Falls Church, Virginia:

Wait. What?
What happened to "fracking is harmless"?
Ruby, Malta:

The metaphor alone of injecting chemicals into our mother earth- of once again"fixing" the feminine- should have put us all on high alert.
Rudran, California:
The Republicans, the chemical industry and some right wing judges form a deadly cabal in our country that has killed and continues to maim and kill millions of our fellow citizens. Whether it is smoking, or pesticides or these chemicals, this cabal profits when Americans die by the thousands knowingly exposed to danger every day. We need the death penalty for this cabal; The executives in RJReynolds, Monsanto, Du Pont and the [lawyers] and judges who kept them in business as well as the politicians who supported them should be prosecuted and executed in public. …
EmmaB, Chilton:
The government is bought and sold by private enterprise. The people who run these corporations couldn't care less if you and your family die of cancer as long as the money keeps flowing. When they completely destroy the earth, all the billionaires/trillionaires will fly away to the space stations and leave all of us peasants die.
Angela California:
There is a good documentary called The Devil We Know all about the history of PFAS and their manufacture by DuPont. It shows the impacts on the community surrounding their chemical plant in West Virginia, including interviews with workers who got cancer and had children with birth defects. It also examines the EPA's involvement with the approval of the chemicals. It's terrible, but a very informative movie.
citizen vox, san francisco:

It was Ian Urbina's "Drilling Down" (NYT 2011) that so clearly revealed the corruption of the EPA by the oil companies Most shocking to me was his documentation of industry dictating to the EPA which scientific reports would be accepted by this "regulatory" agency. "Drilling Down" was printed in, as I recall, three multipage sections in the Times. It is the most memorable of all news reports; I strongly recommend it for current readers.
Would that a parallel series be written on the influence of industry on the FDA and DEA. It is a fact that our government is too underfunded to conduct its own research on new drugs, so that essential role is given over to the manufacturers. (This is analogous to parents writing college recommendations for their own children.) And those that prescribe meds are fooled. One physician was lauding a new medication on rounds; I asked for disclosures of the funding of the study: it was the pharmaceutical industry. And we know how the Sacklers took advantage on physicians who are not politically astute.
The CDC has been prevented from conducting gun research for decades. When Obama issued an executive order for CDC to resume gun research, CDC still demurred, fearing loss of funding.
These are just three of the egregious evidence that our government is run by and for those with money aka power. The name for this type of government is either an oligarchy or a plutocracy, it is not democracy.
Nancy Loeb, Portland Oregon:
It was particularly bad with Dick Cheney who pushed fracking hard and blocked any public information on the chemicals used. The extractive industry has gotten away with severe degradation of the environment then they walk away with the money and the victimized citizens are victimized again by having to pay for the cleanups.
The greed that dominates all other emotions appears to be a terminal characteristic of the human race.
Ian MacFarlane, Philadelphia PA:

Until we understand just how much the fiction of religious myth controls our actions there is little hope that we will ever confront the very similar myths woven into the fabrics worn by both business and government.
Brittany Alexander, Pittsboro, NC:

I live in an area with the highest PFAS in the US. Our town has zero accountability for providing clean, safe water for the community. I am absolutely disgusted by this and the lack of attention being given. Thank you for bringing this to light. I would sincerely appreciate for attention behind given to the fact that reverse osmosis systems are required for safe drinking water and are on individual citizens to expense.

Reverse osmosis does not remove all toxic contaminants, one example: toluene, a neurotoxin, goes through the membrane

So now, safe drinking water is a privilege. Not a right.
David Jacobson, San Francisco:
The EPA's name should be Every Pollutant Allowed.
Edward, Wichita, KS:

For the illumination of the general reader, the reporting should also include the profits made by the offending company as well as the fines. Millions of dollars sound like a lot until you see the billions reaped. Most of these companies consider such fines just the cost of doing business. And they get written off their taxes. B/t/w, thanks Governor Cuomo, for banning fracking in NYS. But remain vigilant — the vultures are still circling.
unreceivedogma, Newburgh NY:

I was very active in the effort to keep fracking out of NY State, and in the effort to document the harm being done In Pennsylvania by fracking, from 2008 through 2013.
I was hired by the EPA to help guide them to suspected well water contamination sites in the northeastern and southwestern part of Pennsylvania.
They held a press conference at the home of a resident in Dimock and announced that the water in many of the suspect wells was safe to drink. After the conference ended, the director in charge of the study pulled one of the residents aside on his way out and said "don't ever drink the water!"
So this news about what happened under Obama's EPA comes as no surprise to me.
It is worth noting that Hilary Clinton was actively promoting sale of US natural gas overseas. I once ran into her at an antique store in lower Manhattan and had an opportunity to tell her personally how many New Yorkers felt about fracking. She would not engage on the topic.
Please note also that Lisa P. Jackson was the head of the EPA from 2009 until 2013. She has a chemical engineering background, and attended Tulane University on a scholarship funded by Shell Oil.
At the end of the day, Obama is a neoliberal, and he was much more inclined to serve oil and gas interests than most Democratic voters understood him to be.
Kate, Oregon:

While much of the country is under frightening drought conditions, to the point that farmers in the Klamath Basin in Oregon are being denied irrigation water for their crops, I can't help but dwell on the "millions of gallons of wastewater" that are permanently ruined for human use.
I hope this means that fracking will be immediately suspended pending further review (and then banned permanently.)
Harry Haff, Prescott. AZ:
These report must be issues without any redacted material. The proprietary nonsense was Cheney's idea so his former company could get in on the boom.
Alison, Ontario, Canada:

Never, would you see an oil rig smack in the middle of a suburb like this in Canada. …

A few reality checks: County, Province to cohost meeting about oil and gas drilling in and near Alberta's most expensive postal code
Alberta municipalities have no power over oil and gas development within city limits
Ontario has numerous frac sites in suburbs, years ago already had thousands of frac'd wells, all nicely hidden by lying politicians, saying there is no frac'ing in Ontario.

Edward, Wichita, KS:
@Alison there's a good chance that those who live in these McMansions own shares in the oil companies.
JB, MA:
Meanwhile, taxpayers and water utility ratepayers are paying for the cleanup of their water supplies…
Cheryl, Yorktown:

The New York State Department of Transportation was using fracking wastewater to"salt" roads in winter despite the secrecy and worry about the chemicals it might contain.
Could the Times reporters please find out if this is current policy? Over use of salt alone is problematic; knowing application of toxic materials is indefensible.
James All around NYC:
Big Oil controls America. They got us into Iraq to steal the oil, I mean, to protect American interests, sorry, and they've basically wrecked the environment of the planet, with our undivided help, of course. Polluted drinking water, the ocean on fire, what more will it take to, as a nation, to invest in energy that won't kill the planet and poison our people?
RPC, Philadelphia:

"But it wasn't until the early 2000s, when the environmental attorney Rob Bilott sued Dupont for pollution from its Teflon plant in Parkersburg, W.Va., that the dangers of PFAS started to be widely known."
On point, I recommend anybody who is interested to see "Dark Waters" — the 2019 film starring Mark Ruffalo as Bilott, along with Anne Hathaway and Tim Robbins among others. Excellent film. And along with this article, will rile you up — as it should.
carolz, nc:

@RPC Mark Ruffalo was a leader of the fight to save NY from fracking. He held rallies in NYC. It seems so long ago.
Mary Ann, Seattle:
It's my understanding that this problem goes back farther than the article indicates. I'm surprised that the author could write this history with no mention of Dick Cheney, who had a big hand in helping oil companies dance around early regulation of their chemical use by this bogus claim about "proprietary" formulas. This was reported on at the time in certain media outlets. In my disdain for Cheney, this issue has always been top of the list.
Danielle, Washington, D.C.:
… That fracking was putting poisonous chemicals into people's drinking water (and making people ill) is, frankly, old news. There were movies made about it, for Pete's sake. People wanted/needed the money from their ground rights, and they sold them to the oil companies, and here we are.
Eva, Colorado Springs:
I worked as a "frac rat," and I can say that I frequently observed chemicals used in fracking spilled on the ground With the physical effort involved, work speed required, and high pressure place on lines , it was absolutely inevitable. The containment ponds used to backflow a well after fracking were often inadequate and poorly lined. Some of the chemicals used (for example, high concentrations of acids) were difficult to breathe around. I was a brand new college graduate, and I wondered about all these things, but was too busy trying to fit in, and assumed all the chemicals had been shown ultimately to be harmless, despite contrary evidence in front of me. Obviously, I was wrong.

How Encana/Ovintiv stored chemicals near my community of Rosebud, including in the rain: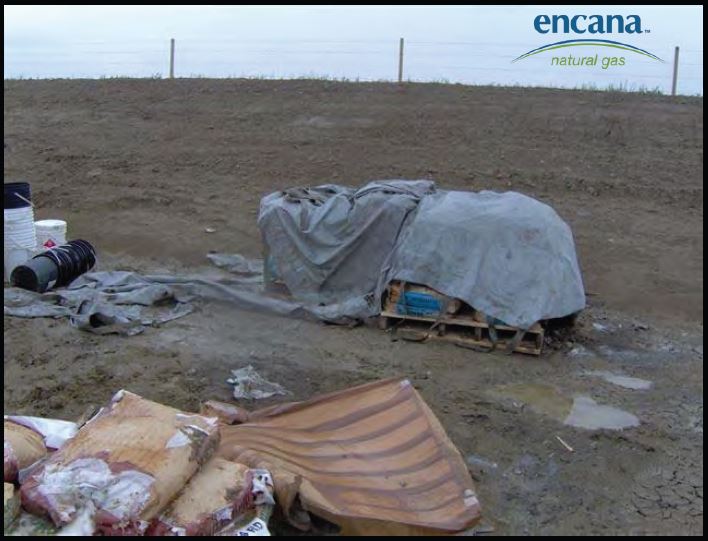 How Encana/Ovintiv gets rid of it's waste in my community: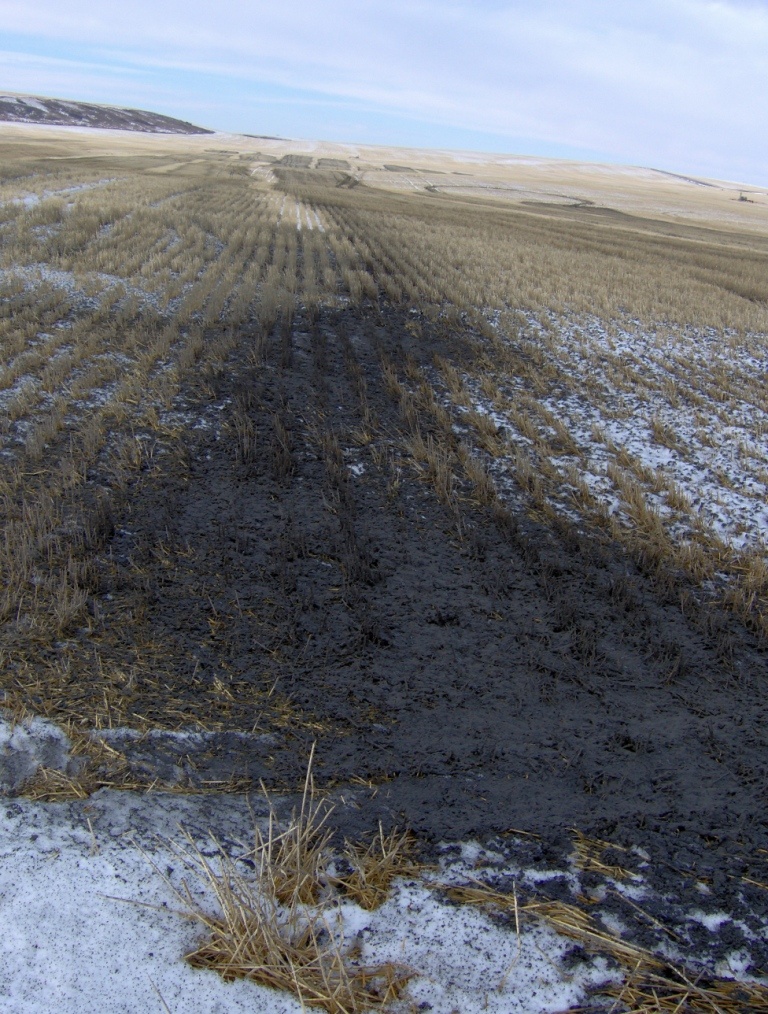 How Alberta's energy regulator, AER, let's companies get rid of toxic waste in the Lochen, a rich community NW of Calgary: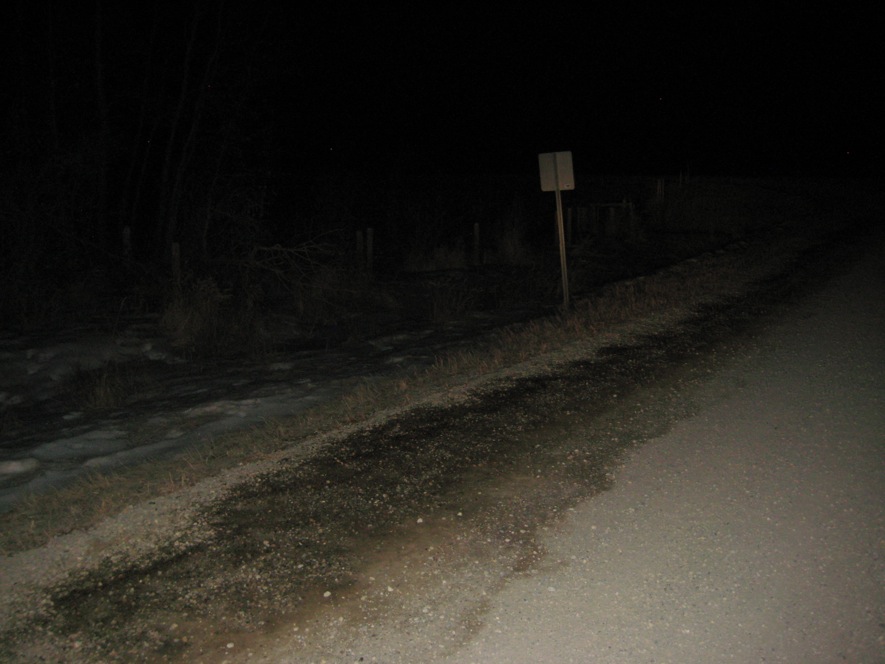 ZenDen, New York:

Having been involved in the successful Anti-Fracking campaign in NY, some of this history is well known. Much of the cover up comes from the Bush-era when Dick Cheney and friends made it extremely difficult to find out what chemicals were being used for fracking. Then they would turn around and argue that it could not be proven that their chemical soups were toxic or contaminating watersheds because the source of the chemical could not be proven. The perfect cover to avoid responsibility.
Those living closer to frack sites were basically expendable and still are along with future generations who will suffer the long tern effects. Nothing can be proved!
Nineteenth century robber-baron/anti-life thinking is still alive and well in this country and the Biden administration is to be commended for proposing changes to the way business is done in this country.
Chili, Agee:

Knowing a person who worked in this department at that time, I can tell you that they cared about nothing but getting out of work at 5pm and having every other Friday off. It's pathetic but the employees at the level of government who are doing the day-to-day work just don't care as long as their pensions vest.
Sara, Maine:
This makes me want to SCREAM.
CJ Thompson, USA:

Anything for a dollar. Now, our families pay the price. Those in Government and EPA who knew and downplayed the toxic effects of these chemicals should be imprisoned. Adults and Children sickened. Babies born with defects.
We wonder why so many people have the "autoimmune" diseases and cancers. Forever chemicals.
I have seen the documentaries where people can light there tap water on fire after a "fracking installation" moves in. These companies make there money and leave there chemical mess. These abandoned sites are left to spew methane.
Steve Jones, Charlotte

Hold SOMEONE accountable.
We cannot live without water.
Carol G., Silver Lake, OH:

@Steve Jones I agree. I would add that we can't live with contaminated water.
Easy Goer, Louisiana:

This is outrageous. Besides the PFAS, fracking has to stop.
You can't beat the Exxon spokesman who said, "We do not manufacture PFAS." That's like Remington Arms saying "We do not pull triggers".
Jim, PA

Well duh. The minute the oil and gas companies petitioned to keep their fracking fluid formulations secret, only a rube would believe it was for market competition reasons. The ONLY purpose in keeping them secret was because the companies knew they were toxic, and this was just a strategy for kicking the can of liability down the road. Even if the remaining companies are held liable, the executives have already stashed their dirty money in a secret Caymans bank account and they won't be held responsible.
Let's not pretend there was ever a legitimate reason for doing this. And let's also keep in mind that fracking fluid injection is the only industrial activity where companies are allowed to discharge literally anything they want into the environment without reporting it. And why, exactly?
TJ Goodfellow, Albany, NY:

Activists, scientists and environmentals have been raising the alarm about PFOA's and fracking for years. It turns out they were right. Yet corrupted government executive officials and legislators and energy companies

And judges

have gone on their merry little craven and murderous ways. It is time for a complete overhaul to make sure all of our public officials and regulators are committed environmentalists. Getting to green a.s.a.p. is no longer arguable.

Refer also to:
2010: Natural Gas Operations from a Public Health Perspective by Theo Colborn, Carol Kwiatkowski, Kim Schultz, and Mary Bachran, accepted for publication  September 4, 2010, in International Journal of Human and Ecological Risk Assessment 17 (2011): 1039-1056.
For many years, drillers have insisted that they do not use toxic chemicals to drill for gas, only guar gum, mud, and sand. While much attention is being given to chemicals used during fracking, our findings indicate that drilling chemicals can be equally, if not more dangerous.
2011: Urbina, The New York Times: Drilling Down, Deep Frac'ing by Kaiser Gas Co Contaminated West Virginia Water Well Rendering it Unusable and There May Be More Gagged by Nondisclosure Agreements
Council of Canadian Academies Expert Frac Report: Provides more questions than answers, Science to be determined after the fracs
Fracking Data Woefully Lacking in Canada, Reports Council of Canadian Academies, So also reported the Canadian Council of Ministers of the Environment 12 years ago
The Big Lie Continues – in Parliament, Even after release of frac report by Council of Canadian Academies: Intervention concernant les risques de l'exploitation de gaz de schiste
2014: Fracking is dangerous, harms health, contaminates groundwater and it can and has been proven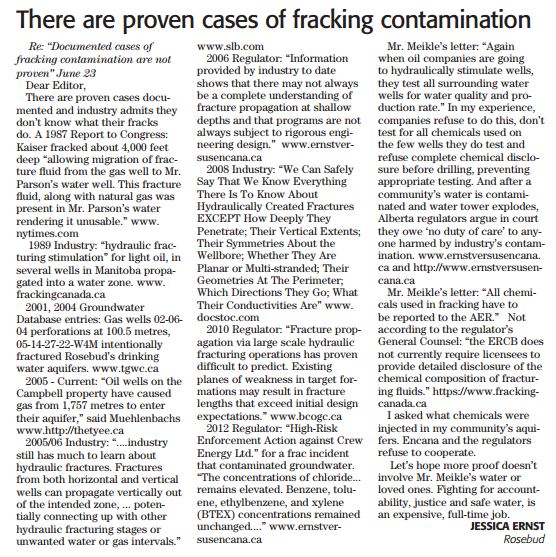 THREE NEW STUDIES: FRAC WASTE CONTAMINATES WATER AND SOIL, SOME FOR THOUSANDS OF YEARS
After years of delays & after reporting 1.5 years ago that industry (Encana) frac'd drinking water aquifers in Pavillion Wyoming & Rosebud Alberta & contaminated water wells with natural gas, etc, & reporting numerous other water supplies contaminated by frac'ing, US EPA's Final Frac Report expected "soon."
Alberta issues 40 water shortage advisories while continuing to let frackers inject hundreds of millions of gallons fresh water losing much of it from hydrogeological cycle forever. Worse, Notley Govt is subsidizing frac industry's water abuses while making frac contaminated families live without safe water
US EPA Releases Final Frac Report: Rosebud Alberta drinking water aquifers frac'd, water wells contaminated with gas. EPA's late edits to 2015 draft frac report downplayed the risks, contradicted the evidence, called "bizarre" & "irresponsible." Like Alberta regulator official, Steve Wallace, secretly editing "independent" drinking water contamination reports to protect illegal aquifer frac'er Encana?
Frac Water Orgy Announced by AER's Mark Taylor (ex-manager Encana who lied to Rosebud, said Encana would never frac their drinking water). No Wonder AEP is Taking Water Licences Away from Farmers/Ranchers: AER grants 10 year blanket approval water licences; Companies need not know where they will frac, or how much they will frac or where they'll get their water from. Companies "expected" to look at sources other than fresh drinking water, eg hydrocarbon contaminated groundwater, but not if contaminated with methane!
'Dark Waters' Staring Mark Ruffalo, Tells the True Story of Rob Bilott, the Lawyer Who Took DuPont to Court and Won.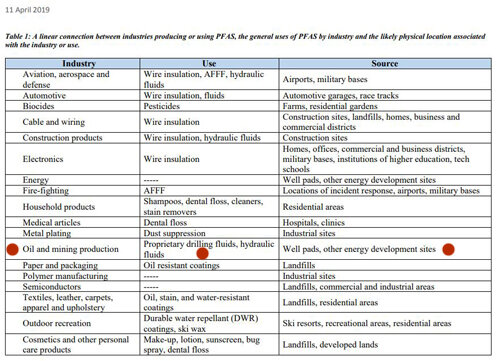 PFAS: Industry — Use — Source
Oil and mining production
Proprietary drilling fluids, hydraulic fluids
Well pads, other energy development sites
Source: Pa Department of Environmental Protection PFAS Sampling Plan
Poisoned water & corporate greed: Attorney Robert Bilott on his 20-year battle against Dupont that inspired the film Dark Waters. Imagine if Ernst had strong ethical courageous moral steadfast lawyers like Mr. Bilott instead of weak betrayers Murray Klippenstein & Cory Wanless.