Snap of stats taken July 5, 2017: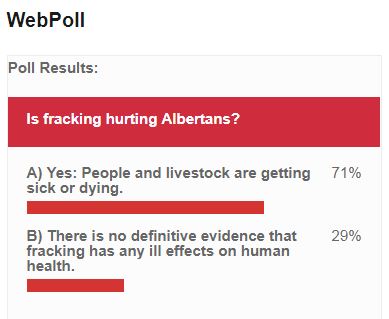 Results as of July 1, 2017, just past midnight
ACORRDS (Albertans Concerned Over Responsible Resource Development Society) looking for public awareness by Lindsay Seewalt, Jun 29, 2017, Cochrane Eagle
A small army of rural Cochranites say they are tired of being ignored and having their voices overshadowed by the oil and gas industry.
Following several years of trying to create awareness around what they believe are critical human and animal health concerns stemming from the extraction process of horizontal drilling and hydraulic fracturing – better known as "fracking" – some residents in the Lochend area northwest of Cochrane have put together a society to add weight to their voices.
The group – ACORRDS (Albertans Concerned Over Responsible Resource Development Society), which met Wednesday night at RockPointe Church in Bearspaw – is comprised of individuals who are frustrated with the province's regulation (or lack thereof) of industry fracking of tight oil wells and their proximity to human habitation.
Fracking is the process of drilling lateral wells, using high-pressure liquid chemicals to penetrate tight rock formations to extract shale gas. Much of the controversy around the process is due to the open air flaring that occurs, emitting chemicals into the air.
"I think the oil and gas industry has had too much power in this province and I hope this government and future governments will take steps to move beyond fossil fuels," said Nielle Hawkwood, who has lived and ranched in the Lochend area for some 40 years with her husband, Howard.
The couple is among the founding members of ACORRDS – which was registered as a non-profit Alberta society in late 2016. The intent of the society is to promote education and public awareness.
Nicknamed the "radioactive ranchers" by Canadian journalist Andrew Nikiforuk, the pair has been featured in the media for their journey – which began not long after fracking practices ramped up in the Lochend region in 2009.
According to the Hawkwoods, when fracking increased, their well water pressures rose, algae stopped production in their animal troughs and they began to lose some of their cattle unexpectedly.
After the loss of an alarming percentage of their herd in 2013 – around 10 per cent – the Hawkwoods had their soil tested and discovered it was testing high for radioactive materials. Soil samples were taken from the centres of dead spots and from areas of normal growth about 18 inches away. "Dead" samples contained more than three times as much chlorine as "healthy" samples. Significantly higher levels of uranium and strontium were also found.
Simultaneously, Nielle began to experience significant health problems herself – kidney malfunction and hair loss. While doctors told her it was due to aging, her symptoms drastically subsided by late 2015 – when fracking subsided in response to a declining market.
Nielle learned early on her health concerns were shared by many of her neighbours – like Daniel and Elaine Thomas.
"The oil and gas industry in Alberta is absolutely out of control due to the lack of regulation by the provincial government," said Daniel Thomas, a Lochend area resident who has also worked in the oil and gas industry as an engineer for some 30 years.
Thomas said at its height in 2011 to 2014, with dozens of operational oil wells in the region, he and his wife, Elaine, experienced similar health concerns to what the Hawkwoods did: hair loss, headaches, dizziness and muscle pain.
He likens how the industry operates to a "great Ponzi scheme" – where wells are fracked, sold to "unsuspecting investors" and then when the market, tanks the wells are abandoned, leaving behind a mess for residents and taxpayers to foot the clean-up bill.
"From the broader and historical perspective, there are some long-time industry players who should or would be considered as criminals given their actions and inactions that have caused some unconscionable levels of hurt to many rural Albertans."
Thomas said he has seen better, safer practices in developing and third world nations, but concerns are silenced in a province where so many feed their families as a result of the industry.
The Lochend Industry Producers Group (LIPG) is comprised of the main operators in the region: Ridgeback Resources Inc., Pengrowth Energy Corporation, Tamarack Valley Energy and ORLEN Upstream Canada.
According to Larry Stewart, chair of the LIPG, post-2008 (when LIPG began operations in the region) there were "approximately 170 wells drilled … of these 140 are in production."
Stewart said the current market points to minimal predicted activity over the coming year and maintains the LIPG adheres to the "high standards and regulations by the Alberta Energy Regulator (AER)" including "numerous onsite inspections."
Stewart said the LIPG takes all community concerns related to health seriously and that a regional health study conducted by the AER, with the help of member companies and area residents did not reveal significant health concerns.
"The AER put out that report and we, as a group, objected to it," explained Nielle, emphasizing the report did not account for the health claims made by her and her neighbours.
According to the AER's website, fracking rules since 2012 "require licensees to comply with enhanced requirements to report amounts and sources of water and chemicals used in every hydraulic fracturing job."
It also states the operator must reveals contents of fracturing fluids used to the AER upon request and that all "fracturing fluids used above the base of groundwater protection be nontoxic."
Patricia Pearsall-Pickup shakes her head.
The Cochranite reflects on her own experiences of taking on the industry after she and husband, Brian Pickup, found themselves landowners in the Lochend region following the passing of his mother.
With plans to honour her late mother-in-law by building a cottage for underprivileged children on their 18 acres of land near Westbrook School, the couple quickly learned what fracking was all about when an oil well was to be drilled 300-metres from where they had planned to build the cottage.
Initially motivated to take the oil company to task for drilling on wetland sharing their property, the couple said they battled with the AER on the basis that the drilling posed risks to the threatened northern leopard frog species.
After attending a Rocky View County council meeting, Pearsall-Pickup connected with another area resident who introduced her to the process of fracking and her own research began.
"I couldn't believe what I was reading," remembers Pearsall-Pickup, pointing to countless alternative scientific reports linking fracking to various health ailments – including impacts on endocrinology systems of children and rare cancers.
This prompted Pearsall-Pickup to form POWERS (Protecting Our Water and Ecological Resources Society). The society held a forum in the fall of 2011, calling for a moratorium on fracking; there have been other anti-fracking groups in the region over the last few years.
But taking on big oil was no small undertaking, according to Pearsall-Pickup.
Neighbours were pitting against one another –some were on board with the intention of POWERS while others wanted nothing to do with speaking out against an industry that was the source of their livelihoods or bringing negative attention that could impact property values in the area.
Without concrete scientific evidence to back claims made by herself and fellow community members, the society's undertaking to spread awareness became onerous.
"It was like pulling teeth … this is Alberta and (people) are afraid of the industry."
Pearsall-Pickup began to experience hair loss around 2011. By 2014, she learned she had vaginal cancer.
Following extensive chemotherapy and radiation, Pearsall-Pickup lives to tell her story and said she wants people to read up on recent health reports coming out linking vaginal cancers, other rare cancers and other health ailments to those living near frack wells.
She said she does not have the energy to get involved directly with ACORRDS but commends the Hawkwoods for their continued efforts.
Regan Boychuk is another ACORRDS board member with years of experience steeped in opposition to fracking, government royalty reviews and the status of orphan wells.
The former research manager with the University of Alberta's Parkland Institute, Boychuk is now an independent researcher. He served on the oil sands expert group to advise the NDP's royalty review panel last year.
Known for his critique of the Progressive Conservatives' historical handling of the oil and gas sector, Boychuck said he has tried to work with NDP Premier Rachel Notley's government – only to uncover that the current government has pandered to the industry's lobbyists.
"There's a great deal of science behind fracking and the dangers it imposes … hundreds of Albertans have learned the hard way."
All parties interviewed by the Cochrane Eagle reiterated the overwhelming concern that there is very little scientific research available for Albertans on fracking and that alternative research reveals troubling news about fracking and the links to animal and human health.
Four out of 10 Canadian provinces currently have bans on fracking: New Brunswick, Newfoundland, Nova Scotia and Quebec.
American states of Maryland, New York and Vermont have also banned fracking either permanently or temporarily in recent years.
Members of ACORRDS are welcoming new members to reach out through the group's Facebook page.
June 1, 2017
As Andrew N. said in his talk quoting from a book (On Purity by Timothy Snyder):
"…somebody has to, it is easy to follow along; it can feel strange to say or do
something different but without that unease there is no freedom.
Remember Rosa Parks. The moment you set an example, the spell of the
status quo is broken."
Andrew's quote: And that is what Jessica has done for this province.
Marion's quote: And that is what Jessica has done for every country, province and territory she is invited to speak in.
I'm so proud of you. I hope you are well, happy and active today and, at peace with yourself.
Blessings,
Marion Sampson
Port au Port/Bay St. George Fracking Awareness Group