Fracking sand spill sparks health advisory in Bashaw, Alta., Children were seen playing in the fracking sand, which can be hazardous after repeated exposure – WHY DID THEY WAIT SO LONG TO ISSUE ADVISORY? by CBC News, July 25, 2014
AHS: Industrial spill confirmed in Bashaw: important precautions urged
Officials are warning of a potential public health risk after children were seen playing in spilled fracking sand at an industrial area in the central Alberta town of Bashaw.

A container holding the sand collapsed near the CN railway in mid-June and wasn't cleaned up for a month, Alberta Health Services said.
Frac sand is a very fine crystalline silica material that could easily be mistaken for sand suitable for use in children's sandboxes or playgrounds, AHS said.
One or two exposures to the sand would not cause any ill effects, said medical officer Dr. Deana Hinshaw. "But having repeated exposure over long periods of time, breathing in that dust can cause damage to the lungs," she said. "We know that there were children playing in it and so there's a small possibility that somebody might have thought this was regular sand and could be used for a home sandbox, that kind of thing." Hinshaw said anyone who took the sand should wear protective clothing [and a respirator] to collect and contain it and take it to a landfill. [Emphasis added]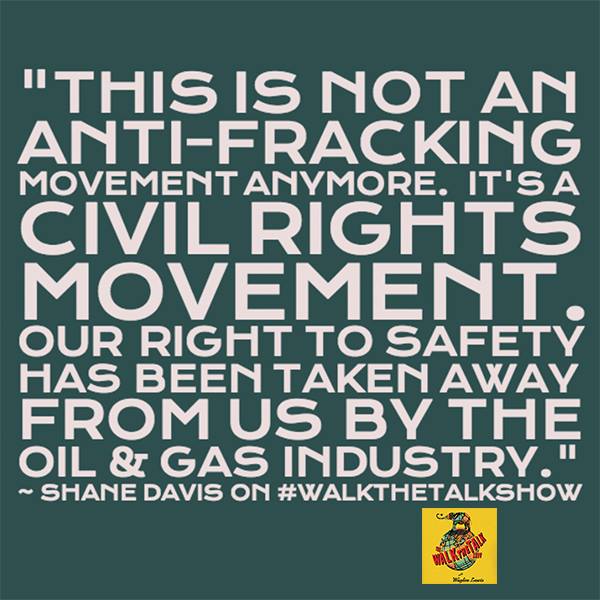 Industrial spill of frac sand in Bashaw prompts health warning by Emily Mertz, July 24, 2014, Global News
After confirming the public may have been exposed to an industrial spill of frac sand, Alberta health officials have issued an advisory for residents.
[Isn't it a little late to be warning residents more than a month after the spill? And why still no warning from Health or any of the regulators to Rosebud residents and the 40,000 to 50,000 annual visitors that Encana injected 18 million litres of frac fluid into Rosebud's drinking water aquifers?]

The spill happened on June 17 at the Wild Rose Country Commodities site near the CN railway in the town of Bashaw. Officials say it involved about 580 tonnes of frac sand. Alberta Health Services says the spill has been cleaned up, but is asking any individuals who may have removed sand from the site to take the following precautions [WHY WARN WORKERS TO DO THIS AFTER THE CLEAN UP IS ALREADY COMPLETE? Is Alberta health trying to avoid a lawsuit?]:
– Dampen the sand by misting with water to control dusts and the transmission of airborne particulates
– The material should then be securely bagged and disposed of at a municipal landfill
– Do not inhale the dust which may be created during the handling of the product
– Wear goggles and respiratory protection
– Wash clothing and footwear after handling materials; and
– Keep children away from the area while handling the material
Frac sand is a very fine crystalline silica (quartz) material and can easily be mistaken for sand that can be used in children's sandboxes or playgrounds. AHS says direct exposure to it – or inhalation of it – can pose a health risk. However, it says limited, short-term exposure isn't expected to cause serious health effects. Anyone who believes they may have been exposed to the material should contact AHS Environmental Public Health at 1-877-360-6366. [Emphasis added]
Alberta issues health advisory to residents after frac sand spill, Alberta Health Services officials said about 580 tonnes of frac sand spilled June 17 in Bashaw, Alta by Cleantech Canada, July 24, 2014, Red Deer Advocate
Health officials have issued an advisory for residents of a central Alberta town more than a month after a spill of sand used in fracking.

Alberta Health Services (AHS) says the spill happened June 17 at the Wild Rose Country Commodities Inc. site near a Canadian National Railway Co. (CN) site in the town of Bashaw, between Calgary and Edmonton. Officials say it involved about 580 tonnes of frac sand.
AHS says the spill has been cleaned up, but advised anyone who removed sand from the site to take precautions. [What? Go back in time?]
Frac sand is a very fine crystalline silica material and can easily be mistaken for sand used in children's sandboxes or playgrounds.
…
The United States Occupational Health and Safety Administration (OHSA) says hydraulic fracturing sand contains up to 99 per cent silica.

Breathing silica can cause silicosis, a lung disease where tissue around trapped silica particles reacts, causing inflammation and scarring and reducing the lungs' ability to take in oxygen.

Workers who breathe silica day after day are at greater risk of developing silicosis. [Emphasis added]
[Refer also to:
NIOSH reports on worker exposure to crystalline silica during hydraulic fracturing [what about families living next door?] July 16, 2014
Although worker safety hazards in the oil and gas extraction industry are well known, there is very little data regarding occupational health hazards during hydraulic fracturing operations; for example, whether workers are exposed to toxic chemicals at hazardous concentrations. [What about families living nearby, without any safety equipment and no respirators, especially in windy places like Alberta?]
…
Crystalline silica, in the form of sand ("frac sand"), plays a major role in the hydraulic fracturing process. Each stage of the fracking operation typically involves hundreds of thousands of pounds of "frac sand." The sand is used as a proppant to hold open the fissures created by hydraulic fracturing and allow the gas to flow out of the shale into the well.  Moving, transporting and refilling thousands of pounds of sand onto and through sand movers, along transfer belts, and into blenders generates considerable dust, including respirable crystalline silica, to which workers [and families living nearby] can be exposed.
Silicosis
Inhalation of fine dusts of respirable crystalline silica can cause silicosis.2 Silicosis is an incurable but preventable lung disease. Mortality statistics undercount silicosis cases. Still, death certificates document that an average of 162 individuals died annually from or with silicosis in the U.S. over the period 2000-2005.3 The disease typically develops after long periods of exposure and progresses gradually. However, rapidly fatal cases of acute silicosis resulting from very intense exposures over only a few months or years are well documented among sandblasters, tunnelers, miners, and some other occupational groups.2 Crystalline silica has also been determined to be an occupational lung carcinogen4,5 and there is evidence that inhaling respirable silica dust causes chronic obstructive pulmonary disease (COPD), chronic renal (kidney) disease and various autoimmune diseases. Individuals with silicosis are known to be at higher risk of tuberculosis and several other respiratory infections.
Silica Dust Levels
NIOSH collected 116 air samples at 11 different hydraulic fracturing sites in five different states (AR, CO, ND, PA and TX) to evaluate worker exposure to crystalline silica.  At each of the 11 sites, full-shift personal-breathing-zone (PBZ) exposures to respirable crystalline silica consistently exceeded relevant occupational health criteria (e.g., the Occupational Safety and Health Administration (OSHA) Permissible Exposure Limit (PEL), NIOSH Recommended Exposure Limit (REL), and the American Conference of Governmental Industrial Hygienist's (ACGIH) Threshold Limit Value (TLV®)).   At these sites, 54 (47%) of the 116 samples collected exceeded the calculated OSHA PELs; 92 of 116 (79%) exceeded the NIOSH REL and ACGIH TLV.  The magnitude of the exposures is particularly important; 36 of the 116 (31%) samples exceeded the NIOSH REL by a factor of 10 or more. The significance of these findings is that even if workers are properly using half-mask air-purifying respirators, they would not be sufficiently protected because half-mask air-purifying respirators have a maximum use concentration of 10 times the occupational health exposure limit. [and families living nearby without any respirators?]
Based on these results, NIOSH concluded that an inhalation health hazard existed for workers exposed to crystalline silica at the evaluated hydraulic fracturing sites. NIOSH notified company representatives of these findings and provided reports with recommendations (listed below) to control exposure to crystalline silica. We recommend that all hydraulic fracturing sites evaluate their operations to determine the potential for worker exposure to crystalline silica and implement controls as necessary to protect workers. [And families and communities, what protection do they get?]
Based on workplace observations at each of the 11 hydraulic fracturing sites, NIOSH researchers identified seven primary points of dust release or generation from hydraulic fracturing equipment or operations. These included the following locations or equipment:
Dust emitted from "thief" hatches (open ports on the top of the sand movers used to allow access into the bin)
Dust ejected and pulsed through side fill ports on the sand movers during refilling operations
Dust generated by on-site vehicle traffic, including sand trucks and crew trucks, by the release of air brakes on sand trucks, and by winds
Dust released from the transfer belt under the sand movers
Dust created as sand drops into, or is agitated in, the blender hopper and on transfer belts
Dust released from operations of transfer belts between the sand mover and the blender
Dust released from the top of the dragon's tail (end of the sand transfer belt) on sand movers
Protecting Workers
Given the magnitude of silica-containing, respirable dust exposures measured by NIOSH, personal respiratory protection alone is not sufficient to adequately protect against workplace exposures. A combination of product substitution (where feasible), engineering, administrative, and personal protective controls, along with worker training, is needed to control workplace exposure to respirable silica during hydraulic fracturing. Working with industry partners, NIOSH researchers have identified the following controls, some simple, and some more complex, that can be implemented in a variety of ways.
Use a less hazardous non-silica proppant (e.g., ceramic) where feasible.
Use local exhaust ventilation for capture and collection. Cyclones dust collectors and a portable baghouse connected to thief hatches  can capture dusts as they are generated. NIOSH researchers have developed two conceptual phase controls for this source of dust generation. The first is a mini-baghouse assembly that could be retro-fitted over the existing thief hatch openings. The baghouse takes advantage of the positive pressure generated by sand filling which inflates the bag and dust control is achieved as a filter cake develops on the inside the baghouse fabric. The design is envisioned to be self-cleaning as the filter cake would fall back into the sand container as the fabric collapses when air pressure is released after bin filling.
Use passive enclosures at points of dust generation.  Install stilling curtains (also called staging curtains) around the bottom sides of the sand movers to limit dusts released from belt operation. Stilling curtains can be made of clear thick plastic (including heavy plastic strips) or other appropriate materials to contain dusts. Enclosures can also be considered along and at the ends of the sand transfer belt (dragon tail).
Minimize distances between the dragon tail and T-belts and blender hoppers. Minimizing the distance that sand falls through the air can help minimize dust generation.
Replace transfer belts with screw augers on sand movers. This involves Prevention-through-Design considerations for engineers and equipment designers when new sand movers are manufactured or are rebuilt and will require more extensive engineering and mechanical retrofitting. NIOSH has an active program that encourages Prevention-through-Design considerations so that occupational health and safety aspects (such as dust control) are built into equipment during the design phase.
Use amended water (e.g., containing chloride and magnesium salts) to reduce dust generation on roads into and at the well site. Do not use well brines for dust control.
Mandate use of cam-lock caps for fill ports on sand movers. When sand mover bins are being filled, sand dust is pulsed from the fill port on the opposite side of the sand mover. Mandating that cam lock caps be secured in place can help minimize dust generation.
Use administrative controls. Limit the number of workers, or the time workers must spend, in areas where exposure to high concentrations of silica can occur.  Consider options for remote operations to remove employees from areas where exposures can occur. [And families trying to live next door to frac operations?]
Provide worker training. Hydraulic fracturing workers should be trained on the hazards of crystalline silica and the steps they should take to limit dust generation and reduce the potential for exposure.
Monitor workers to determine their exposure to crystalline silica. Conduct PBZ air sampling on workers engaged in activities where "frac" sand is used.  Documenting worker exposures is important to verify the need for controls, determine the efficacy of controls that have been implemented, and ensure that the appropriate respiratory protection is used as an interim control until engineering controls can be implemented.  This information is also useful for worker training and informing workers about their exposures. Employers should consult with an occupational safety and health professional trained in industrial hygiene to ensure an appropriate sampling strategy is used.
…
References and more at link
OSHA calls for silica limit: Proposed silica limit would hurt fracking industry, American Petroleum Institute says
The American Petroleum Institute is one of about 80 organizations and industry groups that will speak in Washington, D.C., at hearings stretching from Tuesday through April 4. The hearings are a part of the rulemaking process before a rule is made final.
OSHA has proposed cutting the limit of exposure to silica to 50 micrograms of respirable crystalline silica per cubic meter of air as averaged over an eight-hour day.
The inhalation of crystalline silica particles can cause silicosis, lung cancer, chronic obstructive pulmonary disease and kidney disease, according to OSHA.
Currently, OSHA enforces 40-year-old permissible exposure limits (PELs) for silica in general industry, construction and shipyards. It estimates the proposed rule,if implemented, would save 700 lives and prevent 1,600 cases of silicosis a year. But industry groups say the rule is not well-researched and that the health effects aren't sufficiently proven to warrant the new limit.
…
API and IPAA assert the proposed exposure limits are economically infeasible for much of the fracking industry. "In drafting the OSH Act, Congress never intended to protect employees by putting their employers out of business," they write.
The organizations assert that in a "rushed analysis" of the industry, OSHA underestimated the costs the rule would have for the fracking industry to comply.The costs of following the rule would "create profound detrimental economic consequences as companies — large and small — struggle to implement control technologies that are not commercially available, not effective, cannot be used in conjunction and, in some cases, do not exist," the organizations wrote.
Exposure to silica is common in construction — airborne silica dust occurs with cutting, sawing, drilling and crushing of concrete, brick and block — and about 1.85 million of the 2.2 million workers exposed to respirable crystalline silica are in the construction trade, OSHA estimates. The rest are exposed through general industry, including about 25,000 in the oil and gas industry. More than 16,000 of those workers are currently exposed above the proposed levels.
…
The U.S. Chamber of Commerce filed its own comments, charging OSHA with building its rule on "a chain of assumptions." It urged OSHA to withdraw the proposal because employers won't be able to keep up with the costs not applicable to foreign competitors, Chamber spokeswoman Blair Latoff Holmes said in a statement. … "Of particular concern is that silica (in the form of sand) is a key component in the fracking industry and this proposal would be unworkable in that industry," Latoff Holmes wrote.
Silica sand is a common proppant in frac fluid, and usually constitutes about 4.5 percent of the mixture, according to API. Frac site workers are exposed to high concentrations of respirable silica dust as they work with fracturing fluids, according to OSHA. Sources of exposure on the frac jobs include dust ejected from thief hatches on sand movers, released from conveyor belts under the movers, dust generated by truck traffic and created as the sand is dropped into or agitated in the blender hopper, OSHA said in its analysis.
One fracking services company with a large presence in North Dakota, Sandbox Logistics, is testifying in support of the rule because it'd be good for business. Its product would bring companies in compliance with the proposed rule, spokesman Cameron Oren said. The sandboxes are a gravity-fed way to transport frac sand that nearly eliminate the dust associated with blowing off sand from a trailer to a storage vessel on-site.
OSHA estimated, based on its research, that 88 percent of frac workers would require more controls to comply with the proposed rule. It recommends compliance through "local exhaust ventilation" systems on thief hatches and conveyors, adding a water misting system and providing operator booths for the most exposed workers. [Emphasis added]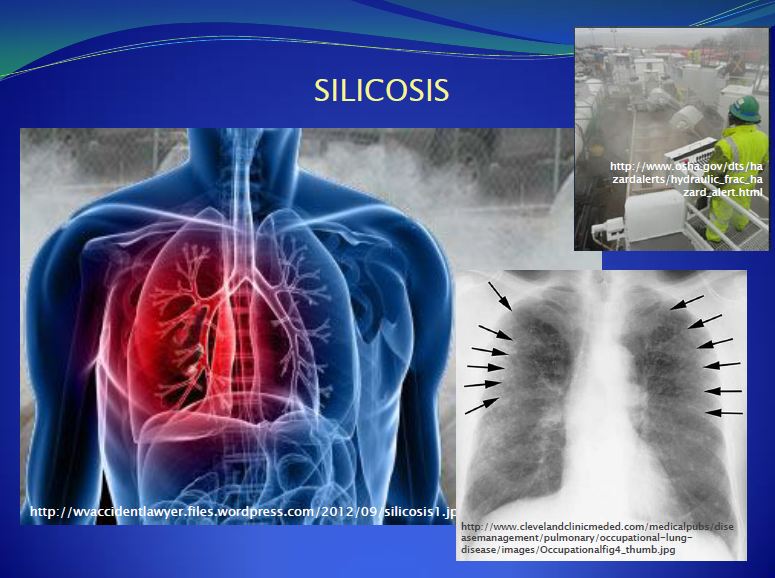 Slide above by Larysa Dyrszka MD, September 2013
ANOTHER COVER UP? Alberta Government had report of sulfolane leak and excedance since 2009, no fines or punishments against company levied, watchdog did not tell residents
Alberta Government, regulators, health agency and company silent for years as groundwater contamination spreads and families poisoned
Alberta Health Services tells residents within 5 km of South Rosevear Gas Plant not to use water from their wells because of "possible" solvent contamination; Says nothing to residents living in danger from known explosive levels of methane contaminating well water and homes!