Jessica Denson@JessicaDenson07 Oct 11, 2023:
MASSIVE WIN!! In the midst of dark times, it was a beautiful & victorious day in a New York courthouse, where Judge Gardephe ordered our class action settlement into law, forever voiding hundreds of Trump NDAs.
Massive victory for truth & democracy! No more excuses for silence!
Protect Democracy@protctdemocracy:
NEW: @JessicaDenson07's victory to free herself from the 2016 Trump Campaign's illegal NDA now holds the force of law & applies to all signers.
This means no candidate for public office may hide critical info from the public behind overly broad NDAs.
Our client @JessicaDenson07:
"From what began as one woman's fight, the excuses for silence have been lifted, and this illegal barrier between truth and the American people is forever removed. Democracy dies in fear and silence, but only if we let it. We refused, and we won."
This decision is a significant win for our democracy by establishing a bright line for all future candidates who might attempt to silence staff and prevent critical information from reaching voters.
As Protect Democracy's John Langford noted: "Robust and open debate is the lifeblood of our democracy and today's ruling affirms that principle."
jason lincoln jeffers@shamanartist:
This girl is a SUPERHERO in every definition of the word, tweeps.
Go Jess.
And I am not joking
Lorenzo L. Brown@LLBROWN7047: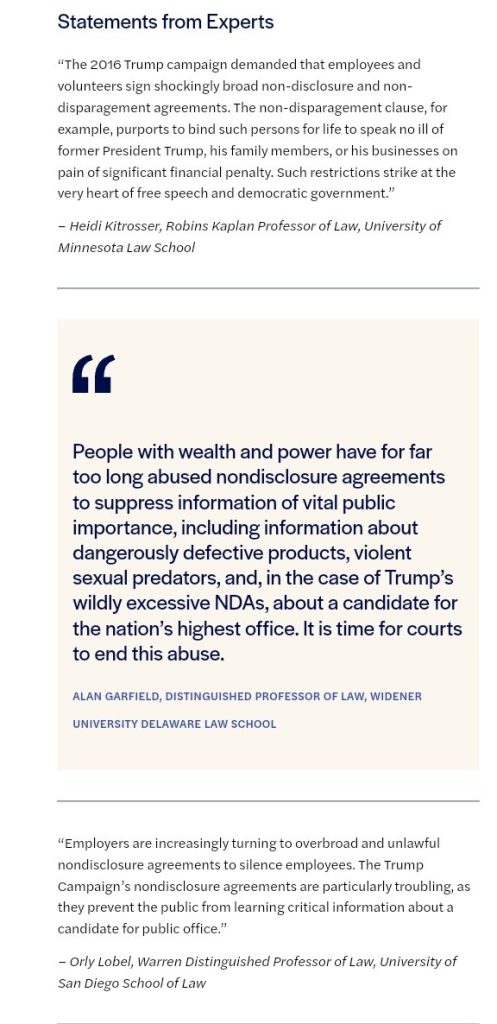 Iso@Misteriso61:
I never understood how can nda could stop someone testifying in court when subpoenaed !
Trump NDA Killer Denson Delivers FINAL BLOW to Trump in Court Just over 1 hour by Lights On with Jessica Denson, Oct 19, 2023, Meidas Touch

Well worth the time to watch the entire show

Lights On with Jessica Denson Silenced no more!! Jessica Denson and her legal team just scored a sweeping victory invalidating hundreds of Trump NDAs, forever freeing silenced workers to speak the truth about Donald Trump and his campaign. In their first-ever joint interview, Jessica's lawyers David K. Bowles, John Langford, and Joe Slaughter join her to recap the incredible journey she started alone, Trump's illegal use of non-disclosures, and the massive implications of their victory for free speech, accountability, and democracy.
Support Jessica Denson's legal fund here: http://thejessicadenson.com/donate
Subscribe to Jessica's Youtube: @JessicaDenson07

Refer also to:
2023: Rape Religion might bankrupt San Diego catholic diocese with $550Million US in settle 'n gags (that already paid $200Million in 2007 for other rapes) after lifting statute of limitation is followed by 400 lawsuits alleging priests raped kids. Parishioners will need to give more of their life savings into donation plates to keep pedophile priests raping their kids. Why not stop enabling evil and stop attending the catholic church?
2021: The Rule of Gag: Alberta Rules of Court Amendment Regulation (AR 36/2020) *confidential* dispute resolution (ADR) for civil actions. USA: "Lighting strike more likely than forced arbitration win." Of 60 million employees *forced* into arbitration, only 282 awarded damages. "The U.S. Supreme Court drew a road map to give immunity to these corporations."
2021: AG Josh Shapiro: 48 Criminal Charges against Energy Transfer (prev Sunoco) for polluting "lakes, rivers, and our water wells" and putting Pennsylvanians' safety at risk, 45 charges for "illegally releasing industrial waste at 22 sites in 11 different counties." Executive Deputy AG Jennifer Selber: "Non disclosure orders are a hinderance to criminal investigations and prosecutions."
2021: Sacrificed in frac zones: "Something just blew up!" Again and again and again. Another frac harmed family settles 'n gags, enabling plenty more harms to come for many more.
2021: More settle 'n gags to keep polluting us?
2020: Frac'ers rape the rule of law and gag Canadian First Nations under the guise of "Benefit Agreements"
2020: New in Canada: Federally appointed judges' expenses to be made public for first time, But judges are objecting and get away with pissing on the rule of law and lying in rulings. Why would they heed a law ordering them to disclose expenses that we pay for?
2020: Murray Sinclair defines the oil & gas industry's most evil tool: Coastal Gaslink Pipeline Ltd.'s community-benefits agreements with elected Indigenous chiefs and councils are "Promise payment for silence" aka gag orders.
2020: Gillian Hnatiw, Canadian lawyer, female: "Fundamentally, the law is about power – who has it, who gets it, and how they are allowed to wield it. … Yet evidence of misogyny remains all around us. Lest anyone forget, there is a self-confessed sexual predator in the White House. … In Canada, we're not faring a whole lot better…. All of our political leaders are men."
2020: The Rule of Law: One for the rich and or 'well connected' (nudge, nudge, wink, wink) and another for the average 'Joe'. Edmonton lawyer Shane Stevenson facing drunk driving causing death charges at centre of major lawsuit against him and Dentons Law Firm. Lawyers working drunk is common. How many judges work drunk? What's the relationship between ordering gags (to cover-up crimes by the rich) and addiction?
2019: The legal games rape on, enabled by judges & lawyers; Weinstein reaches $25m settlement with more than 30 women, he won't have to pay anything to his accusers or admit any wrongdoing. That's a great deal, for him (and the lawyers).
2019: Non-Disclosure Agreements "are, indeed, an ugly instrument."
2019: How is settle and gag a "big win" for anyone but the human rights violating company eager to reopen their mine?
2019: Another frac 'n gag to cover up frac damages? Cuadrilla signs non-disclosure agreement with UK's national earthquake monitoring agency, British Geological Survey, to 'destroy confidential documents' and release operational data only at company's request
2019: "Justice" rears its farcical head, yet again. Radio reporter obtains judge-ordered frac harm settlement 'n gag, but court stifles him! $3M settlement accidentally made public for 8 plaintiffs against Range Resources & ten other codefendants. Two plaintiffs feel "angry and defeated" by their settlement.
2019: Is AER making those who "leave" sign gag orders with payouts to keep secret the dirty goings on at the "Brotherhood" and Orphan Well Get-Out-of-Jail-Free Club? Nicely enabled by Alberta gov't pretending to "clean" house while ramping up deregulation for industry to pollute and harm more?
2019: Trump administration sued for failing to release Gulf of Mexico frac records. Administration quietly issued more than 1,700 waivers of offshore drilling safety rules adopted after deadly 2010 BP Deepwater Horizon explosion and oil spill.
2019: Watch out Canada! Standing united, Australian newspapers black out front pages to fight against increasing govt secrecy laws, penalizing whistle blowers and criminalizing journalism. "The truth is, those in power don't want the public to know what they're up to and are shutting down transparency and accountability to serve their own interests"
2019: Remember Emergency Nurse Cathy Behr? Ohio, New Report: Widespread use of frac'ing and drilling chemicals risk water supplies and health. Companies injected undisclosed chemicals "10,992 times into 1,432 wells" enabled by the "law" that allows trade secrets, even from first responders.
2019: "Justice" system loves a good cover-up? Parents of Rocky View public school district student strangled by non-breakaway lanyard (donated by a corporation), settle lawsuit, keep dollar amount secret. Media seeks gag opened; Alberta court slams the door shut to ensure others filing lawsuits settle 'n gag too, knowingly keeping the public (and our children) in harms way.
2019: All the world's not a stage, it's a pedophile ring! Is Rod MacLeod's **ungagged** legal victory against basilian pedophile priest why catholic/extreme right white lawyers took over Ontario's law society a year later? To keep vatican's Pedophile Ring & "Silent Shuffle" busy? Jury was blunt: "Put children in harm's way – grossly negligent. … Betrayal of trust with the community."
2019: "Klippenstein, admittedly, 'would not be the person' he is 'without freedom of thought and expression,' so where's his outrage at the legal suppressing of those freedoms – aka gag orders? And who would he be then, with his mouth legally taped shut?" Comment to Andrew Nikiforuk's article in The Tyee on Klippenstein & Wanless quitting
2019: Pennsylvania escalating youth cancers in frac fields, Excellent response to Marcellus Shale Coalition's latest propaganda: "We get it Mr. Spigelmyer, your job is to sell fracking…. We know the facts on the carcinogens your industry produces as do you, the endocrine disrupting chemicals it hides, and all the gagged litigants who held the smoking guns."
2019: Another oil company, Rex Energy, bites the frac dust: After 7 years, Woodlands Pa residents still have no water. But some got cash to keep quiet. How cruel is that? As cruel as Encana giving money to some residents at Rosebud Alberta, but not others, and most disgusting, refusing to stop frac'ing into drinking water zones after the community's water got frac'd.
2019: Oil company Anadarko's quick secret settlement with families in Firestone Colorado home explosion that killed two, injured two and damaged a neighbouring home later bought by Anadarko; Investigation found Anadarko guilty, not nature.
2019: Chester County, Pennsylvania: Tormented by Hell Holes (sink holes), Then your home bought out & family gagged
2019: Do you want fairness, equality, diversity, inclusion in Canada's legal profession? In 2019, 85% of the legal profession in USA is white and mostly male. No wonder so many sexual assault victims are re-victimized in court by judges and known convicted pedophiles are granted licence to practice law! No wonder our environment is underrepresented and unjustly served with vile demented gag orders.
2019: "Unconscionably Unjust!" "Beyond the Pale!" Legal gag at it's most vile: Protecting known multimillionaire pedophile Epstein and entire network, aided & abetted by? Lawyers! "Non-prosecution deal" gave Epstein and his pedophile ring immunity from all federal charges. How many churches & law societies? Will lawyers & judges hammer out another humdinger of a gag to make sure the world never finds out?
2019: Addicted to Gag: What gives with these abusive judges?
2018: Outrageous frac company Cabot Oil & Gas Suing Victim of Its Own Pollution for Speaking Out, Pennsylvania resident Ray Kemble sued by the company that polluted his water
2018: Another frac lawsuit bites the dust, Frac'd & contaminated aquifers for Pavillion Wyoming community not yet repaired: Jeff & Rhonda Locker settle with Encana & gag on their contaminated drinking water
2018: Drilling, Frac'ing, Mining, Spills, Corporate Law Violations & Toxic Waste Dumping Everywhere with Water Gone or Gone Bad Everywhere too. Where are the courts? Busy gagging the harmed, protecting the water abusers and their enablers – the "regulators."
2018: Doug Hendren: Fracking is Everywhere; We've got gag orders, no tape recorders, … 'Cause the judge says that it ain't legal, Walking 'round, talking to people.
2017: Challenge to all frac harmed citizens that settled & gagged, especially if ordered so by judges: Break your gag order! Weinstein scandal puts nondisclosure agreements in spotlight, sparks criticism that such gags allow powerful companies and individuals to stave off scrutiny to continue abusive practices "down the street" as AER's outside counsel Glenn Solomon so aptly puts it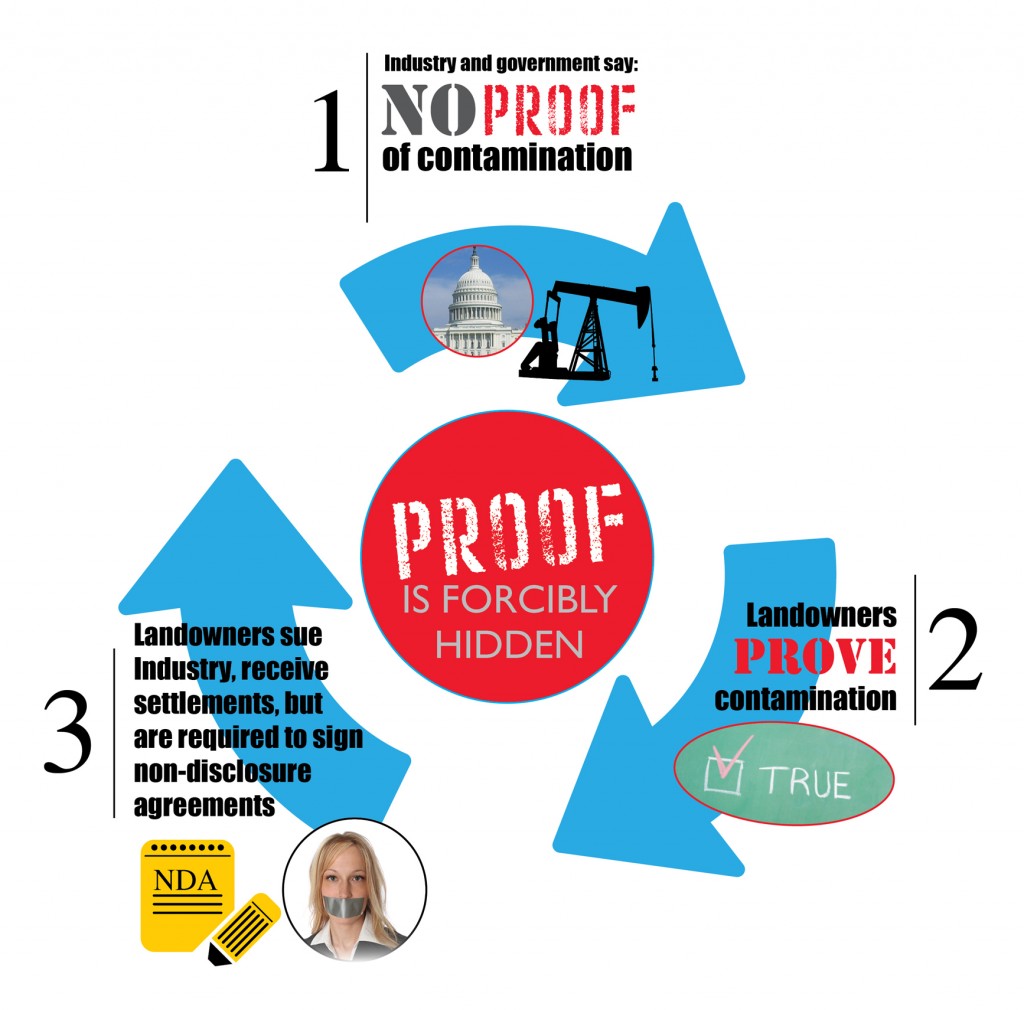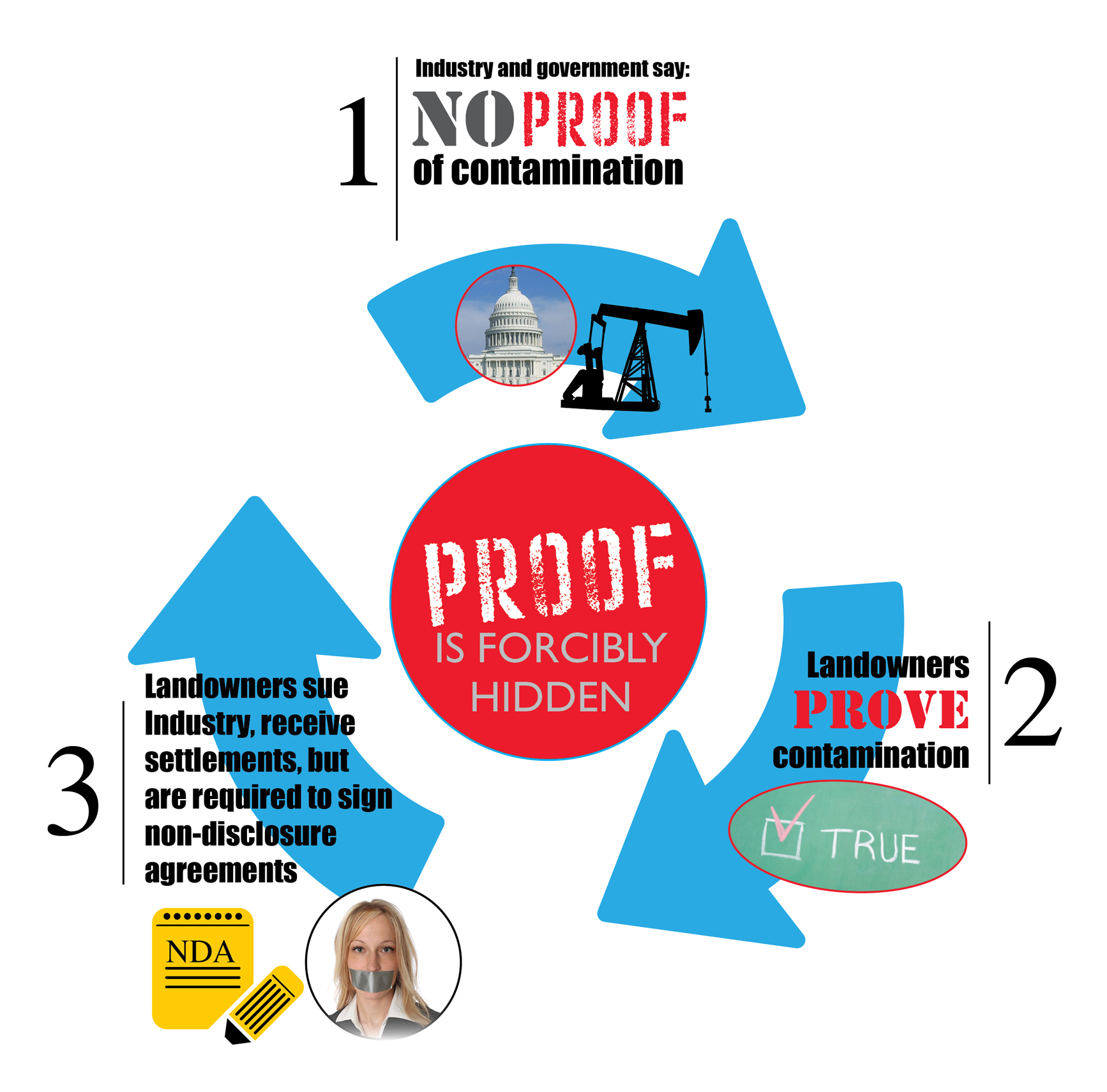 2017: "Unf*ck the system." Alberta's Neanderthal "Justice" system assaults sexual assault victims. "The judge in this troubling case was none other than former Deputy Justice Minister Ray Bodnarek, a PC loyalist appointed as a judge by former PC Justice Minister Jonathan Denis who himself resigned under troubling allegations of domestic violence." Commenter: "So who exactly is the crown protecting by blocking the publication of the victim's name?" Another commenter: "My guess…..the 'system'. It stinks and it's all because of the judges & lawyers."
2017: The Poison Papers: Documenting the Hidden History of Chemical and Pesticide Hazards in the United States, Makes public 100,000 pages of chemical industry secrets and regulator collusion. "We didn't think of ourselves as environmentalists, that wasn't even a word back then," Van Strum said. "We just didn't want to be poisoned."
2017: Solicitor-client privilege often stymies the release of public records, and that may be a problem. And it is, for the citizens with drinking water contaminated by the oil and gas industry!
2017: Another frac harm lawsuit gags: Settlement reached between two Oklahoma oil and gas companies and Prague resident Sandra Ladra injured in 2011 earthquake
2017: Now it's oilmen who say fracking could harm groundwater. How many oilmen settle & gag when their water is contaminated or vertical wells are destroyed by frac'ing?
2017: Another Settle & Gag to Keep Details Under Alberta's Toxic Rug? Prairie Mines & Royalty (previously Obed) Fined $4.5 Million For Spilling Toxic Waste, Contaminating Athabasca River; Encana Fined Nothing for Breaking the Law, Fracturing, Contaminating Rosebud's Drinking Water Aquifers
2017: Are lawyers at fault or Canada's inaccessible legal system (that inhumanely pushes settle & gag – even regarding threats to public health & safety like Encana illegally fracking a community's drinking water supply – to keep ordinary people out of the "justice club" for the rich & corrupt)?
2017: After Supreme Court of Canada denies Ernst her guaranteed Charter right to seek remedy for her valid Charter claim against the AER, Judge acquits activist who bared breasts at Montreal Grand Prix: 'It's a victory for freedom of expression,' but not if you are exposing Encana illegally frac'ing & contaminating your community's drinking water supply with the "regulator" violating your rights trying to intimidate & gag you
2016: Albertans still don't know what toxic oilfield chemicals their children are breathing. When will companies be ordered to fully disclose all chemicals, including trade secrets, before racing toxic truck loads through school zones, by hospitals, where children play, and before injected, spilled, dumped, spread on foodlands, flared, vented, spewed from endless facilities?
2016: Q & A with Andrew Nikiforuk by The Hill Times: "Democracies die without uncomfortable truth-seekers like Jessica Ernst. How could you not like a story like this? It is inspiring. Everyone should take notice."
2016: The arsonists of Fort McMurray have a name; "Cone of Silence" over Fire Ravaged Fort McMurray: "Anybody allowed access…had to sign non-disclosure agreements not to share what they saw."
2016: "The Alberta Model" Greedy & Gagging in Nova Scotia: Triangle Petroleum leaves taxpayers to clean up frac sites & waste pits, Gags Energy Dept
2016: Another Alberta farm family poisoned by the oil and gas industry, and their Alberta lawyer Kieth Wilson, settle & gag & betray the public interest: The Sakens settle with Bonavista Energy after area aquifer and farm at Edson contaminated with toxic chemicals. Where's the AER? Where's the punitive fine? Where's Alberta's Energy Minister? On another cushy trip to China with Encana?
2016: AER issues another order against Bonavista Energy Corporation for contaminating drinking water aquifers and soil near Edson with sulfolane. Where did the Sakens go? Did they settle & gag?
2016: Big Legal Victory in Pennsylvania: Supreme Court rules 2012 law unfairly gave frackers illegal "special" treatment; Declares Act 13 an unconstitutional "special law" benefiting specific groups or industries, including its "physician gag order" restricting health-care professionals from getting information about chemicals that could harm their patients
2016: The Many Harms of Synergy Pound On: McLeod Lake Indian Band settles and gags, pulls out of lawsuit. BC Hydro: "the details of the (Impacts Benefits Agreement) are confidential."
2016: More Frac Fraud: Stealing from a School District, then Gagging it. Texas Attorney General Orders Chesapeake & School District Confidential Settlement Agreement Opened
2016: Jury awards two Dimock Twp. families $4.24 million after Cabot offered a few thousand to Gag & Settle; Cabot plans appeal alleging 'improper conduct' by the families' lawyer
29015: Dr. Alfonso Rodriguez loses lawsuit that challenged Act 13 of 2012: "medical gag rule" for "medical professionals to learn the ingredients in fracking fluid if the information is used to treat patients"2015: Dr. Alfonso Rodriguez challenging Pennsylvania's Act 13 Gag Rule which prohibits disclosure of frac chemicals, even by doctors treating patients poisoned by fracing unless they sign strict confidentiality agreements
2015: Range Resources Appeal to keep Frac Chemicals Secret in Pa Lawsuit Denied; PA Superior Court Orders Range Resources, Halliburton, et al to divulge frac fluid ingredients…Again
2015: Superior Court hears arguments on release of frac chemicals; Range Resources appealing 2013 Court Order to release all chemicals
2015: If frac'ing is safe & wonderful, why so many gag orders, why is fracking killing hope, people, fish, animals, vegetation, water, air, soil, and busting caprock? Why so much fraud by regulators, politicians, companies, NGOs, experts, academics etc covering up murderous corporate crimes: threats, bullying, abuse; dropping rodent shit into water wells of the harmed; trespassing, home invasions, interrogations of harmed families by police; intimidation; "terrorist" labeling to violate rights of citizens filing lawsuits? George Bender "died of a broken heart" says family.
2015: Tara Australia Residents Want Out: Brutal betrayals, Greed & Gag Orders, Losing Health & Home. Synergy Strikes, Again.
2014: Most Alberta freedom of information requests get no results, 'No records exist' for two-thirds of users; "It's the most hellish process"
2014: "No disclosure" under Freedom of Information Legislation: "Only in Conservative Alberta would a public body, tasked with consulting the public, in public, keep its rules around how to do that secret"
2014: North Carolina legislators look to criminalize disclosure of fracking fluids; Group considers suing to stop fracking; "How could they ask us to subsidize our own demise?"
2014: Alberta Fort McKay First Nation reaches deal, signs Gag Order, drops lawsuit against Athabasca Oil Corp
2014: Shell May Nix $90M Legal Settlement With Carson, California, Contaminated with Methane and Benzene, Because Gag Order Breached
2014: Federal court dismisses doctor's lawsuit over Pennsylvania's Act 13 "gag rule"
2014: Access Denied, How the government of Alberta obstructs requests for public information
2014: GAGGED in Alberta! New Progressive (?) Conservative code of conduct directive likened to gag rule
2014: I will not Synergize or Gag and Settle presentation by Jessica Ernst at Our Water ~ Our Future 2014, May 23 & 24 in Courtenay, BC
2014: Safety over Secrecy Act Introduced by U.S. Senator might limit corporations gagging plaintiffs harmed by fracing

It didn't happen, of course.

2014: BIG SECRET: LOTS OF TAP WATER CONTAMINATION CASES CAUSED BY FRACING, CONVENIENTLY HIDDEN FROM THE PUBLIC! Legal brief filed with court in Harrisburg, PA, regulator "practice" not to issue violation notice, fines, formal contamination determinations where shale gas/frac companies reach private ("gagged") settlements with water well owners
2014: Baytex Finally Successful, Gags & Settles Poisoned Alberta Families: Does a lawyer-touted "positive outcome" of displacing and gagging poisoned families, stop the poisoning? "Our house is contaminated…there's a smell now…Part of the torture of all this is not only abandoning our farm, but the health experts…told us we shouldn't bring anything (with us)."
2013: Several families taking Baytex (Alberta oilsands company) to court over toxic emissions; Buyout packages allegedly silence Albertans struck with industry-related cancer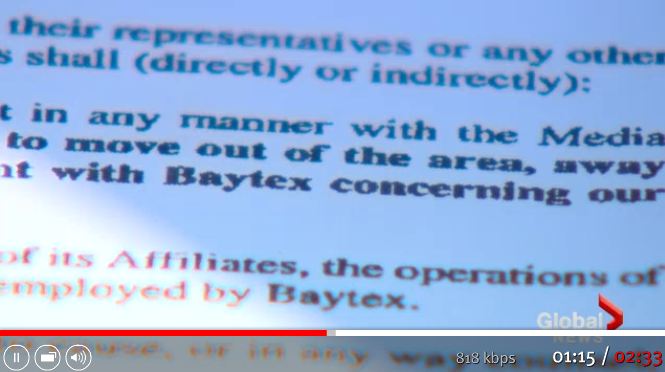 2013: Buyout packages allegedly silence Albertans struck with oil and gas industry-related cancer
2013: AER's outside counsel, Glenn Solomon, was recorded giving legal advice to a frac-harmed Alberta family by Ponoka. White is transcript of what he said, orange is what the harmed landowner said. Solomon arrogantly admitted how the oil industry uses gag deals with potable water through a tank system forever" to shut up the harmed so that companies can keep polluting other families down the street: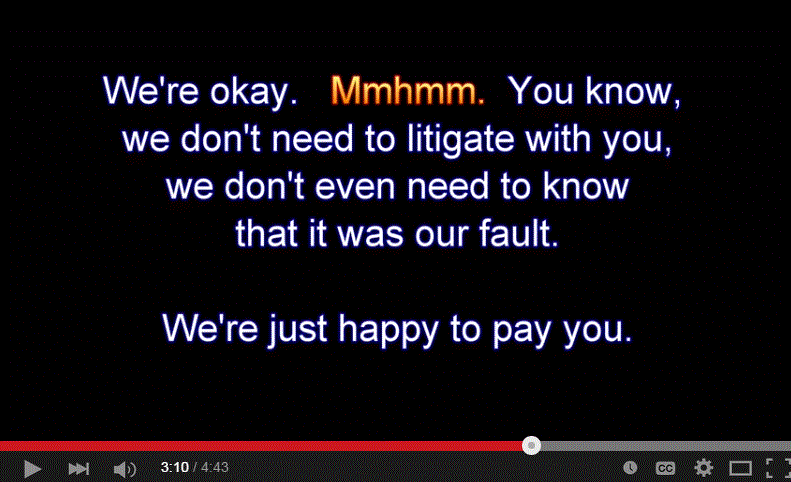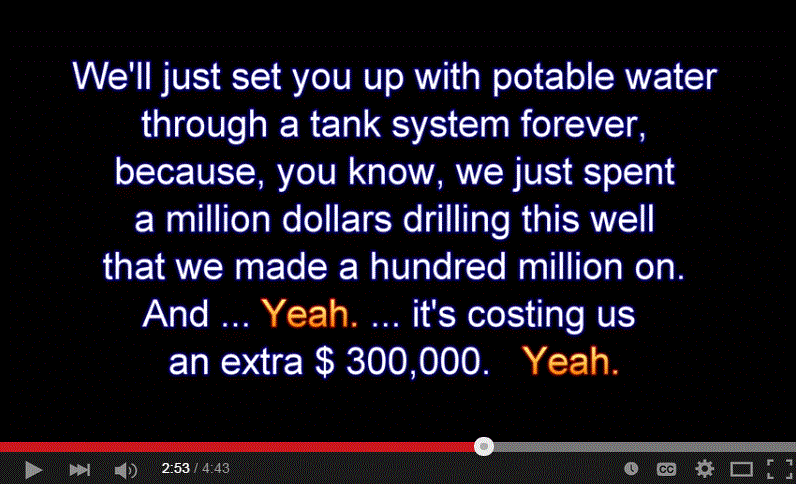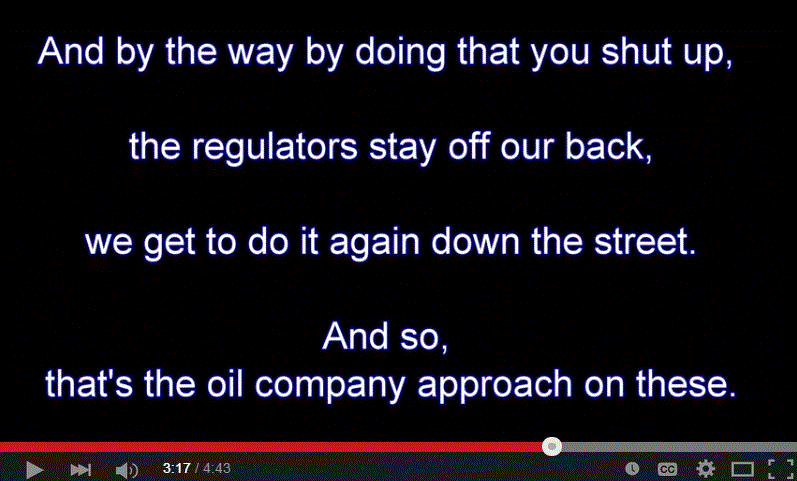 More details on sordid oil patch lawyer Solomon here:
The Nightmare of Ann Craft: Fracked, then Poisoned
Ann Craft's Fracking Nightmare: A Top Lawyer's Startling Counsel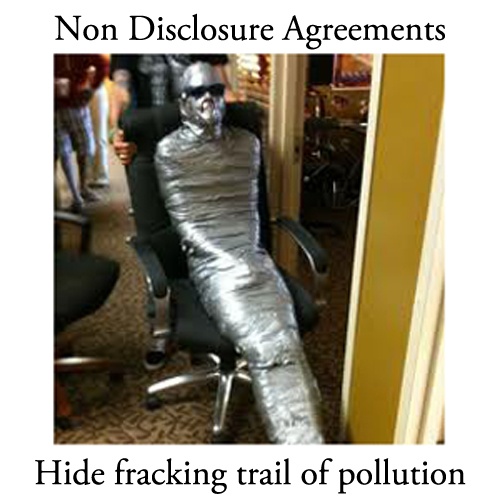 2013: Baytex Gag Order and Can You Silence a Child? Inside the Hallowich Case; Peut-on empêcher un enfant de parler? Le cas des Hallowich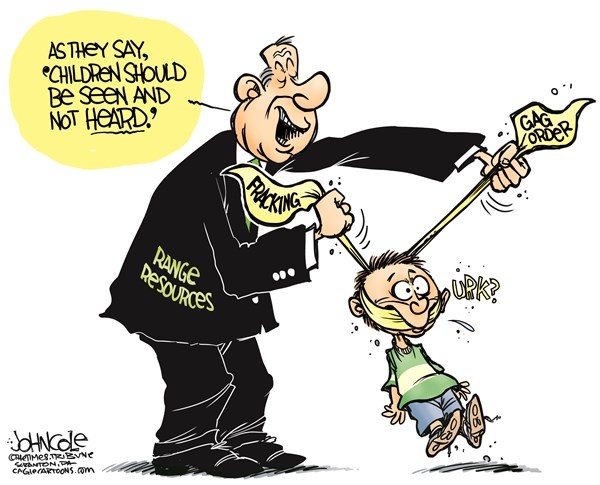 2013: Children given lifelong ban on talking about fracking,Two Pennsylvanian children will live their lives under a gag order imposed under a $750,000 settlement
2013: The Colbert Report on Fracking Flaming tap water and the Hallowich children Gag Gift by Range Resources; Fracking Gag Orders For Kids Go Too Far
2013: Court reveals how shale drillers, Pittsburgh-area family agreed, Washington County documents detail couple's settlement
2013: Pennsylvania Judge Orders Records Opened in Fracking Case, Gas Industry Loses Fight to Keep Fracking Pollution Case Secret
2013: Known mafia tactics used by drilling and fracking industry, Lifelong 'frack gag': Two Pennsylvania children banned from discussing fracking
2013: Confidential agreement should have been part of Washington County Marcellus Shale case record, Newly released transcript reveals details of lifetime gag order on Hallowich family, including their children
2013: Fracking 'silence' for life: Gag orders on children & censored government data
2013: Outcome of hearing for Step Back Inn owners on alleged confidentiality violation sealed, Tweeti and Linn Blancett faced sanctions for revealing settlement amount
2013: Drillers Silence Fracking Claims With Sealed Settlements
2013: Talisman frackwater pit in NE BC leaked for months, kept from public
2013: In Gasland sequel, fracking saga's pressure ratchets up but by the end many go silent with settlements and gag orders
2013: Halliburton Denied Texas Venue In $300M Fracking Secrets Suit
2013: How fracking's catch-22 shields the natural gas industry and throws citizens under the bus
2013: Gagged by B.C. Court of Appeal, fish-farm foe Staniford awaits decision by the Supreme Court of Canada on whether it will hear an appeal
2013: Steve Harper's Gag Orders Sweep While Canadians Sleep
2013: Canadian Government Gag Order for Scientists?
2012: Doctors fight "gag orders" over fracking chemicals
2012: Medical muzzling: Fracking-related gag order on doctors must be changed
2012: State's 'Medical Gag Rule' Called An Illegal Gift to Gas Drillers
2012: Doctor Sues Over Act 13 "Gag Rule"
2012: Local doctor sues over Pa. chemical gag rule, Dr. Alfonso Rodriguez says the state is preventing him from discussing fracking issues
2012: The Big Secret? Fracking Fluids
2012: Researchers: Gas industry secrecy obstructs public health
2012: FRACKING: Pennsylvania Gags Physicians
2012: Silencing Communities: How the Fracking Industry Keeps Its Secrets
2012: Newspapers' effort to open shale lawsuit supported by others
2012: Ruling advances Jessica Ernst's tainted water lawsuit, documents must be released, says Alberta information boss
2011: The New York Times: Drilling Down, Deep Frac'ing by Kaiser Gas Co Contaminated West Virginia Water Well Rendering it Unusable and There May Be More Gagged by Nondisclosure Agreements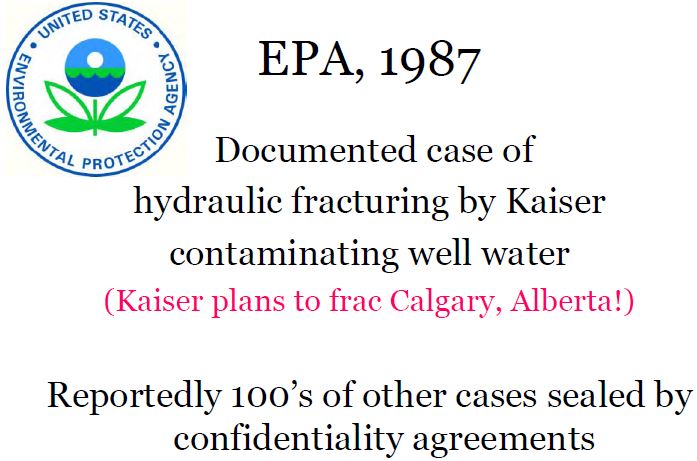 2011: Judge to consider making public confidential document from 2011 Marcellus drilling settlement
2007: Testimony on water contamination and non-disclosure of chemicals used in shallow hydraulic fracturing of coalbed methane wells in Alberta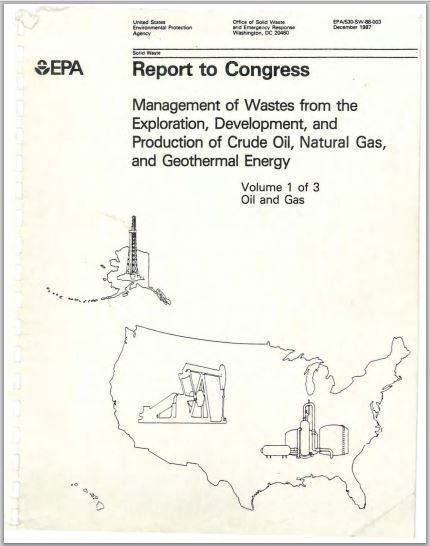 2007: Confidentiality Agreements, The Problem: Confidentiality agreements in lawsuit settlements can be harmful, even deadly, to the public