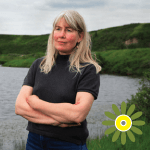 Bankruptcy is not a negative, it rewards raping churches and corporations by letting them walk from their crimes, sleazily and secretly hide/transfer rich assets to a new entity to start over fresh, sometimes under a new name/location. Sometimes judges even give the bankrupt $billions that don't exist while letting them walk from billions in debts and let them keep raping under existing corporate structure.
Too many churches are incredibly rich money laundering corporations which are not audited and do not pay taxes, and are protected by the rape-enabling legal-judicial industry. After courts (that the citizenry pays for) order bankruptcy, churches just shuffle their billions in assets and raping priests, bishops, cardinals, popes et al walk down the street (just like raping oil, gas and frac companies) to start raping all over again – and again and again and again. The nastiest rape enablers are the parishioners eternally plunking their savings into donation plates conned into thinking they'll get to heaven via giving money and sex trading their kids. As evil a set up as court ordered bankruptcies by oil, gas and frac companies to escape clean up after they rape communities and families for billions in profits.
Pedophile priests, bishops, cardinals, popes and their abusive rape-enabling parishioners need to be charged for their sex trade crimes and sent to prison, not protected by judges allowing legal escape via settle 'n gag and vulgar court-ordered/enhanced bankruptcies.
Wave of child sex abuse claims could bankrupt San Diego diocese, Hundreds of lawsuits alleging abuse by priests and others in the diocese have come to light after California lifted statute of limitation by Associated Press, 11 Feb 2023, The Guardian
The Roman Catholic Diocese of San Diego has said it may declare bankruptcy in the coming months as it faces "staggering" legal costs in dealing with some 400 lawsuits alleging priests and others in the diocese sexually abused children.
In a letter that was expected to be shared with parishioners this weekend, Bishop Robert McElroy said the cases were filed after California lifted a statute of limitations on childhood sexual abuse claims.
Assembly bill 218, which was signed into law in 2019, allows alleged victims to sue up until age 40. Also, beginning in 2020, it opened a three-year window for filing lawsuits without age limitations.
Most of the alleged abuse cited in the suits took place 50 to 75 years ago, and the earliest claim dates to 1945, Kevin Eckery, communications director for the diocese, said at a Friday news conference, KNSD-TV reported.
Eckery predicted that it would cost the diocese $550m to settle the cases, none of which have gone to trial.
In his letter, the bishop said none of the suits involve allegations against any currently serving priest.

Those are yet to come. Patience dear bishop, one step at a time.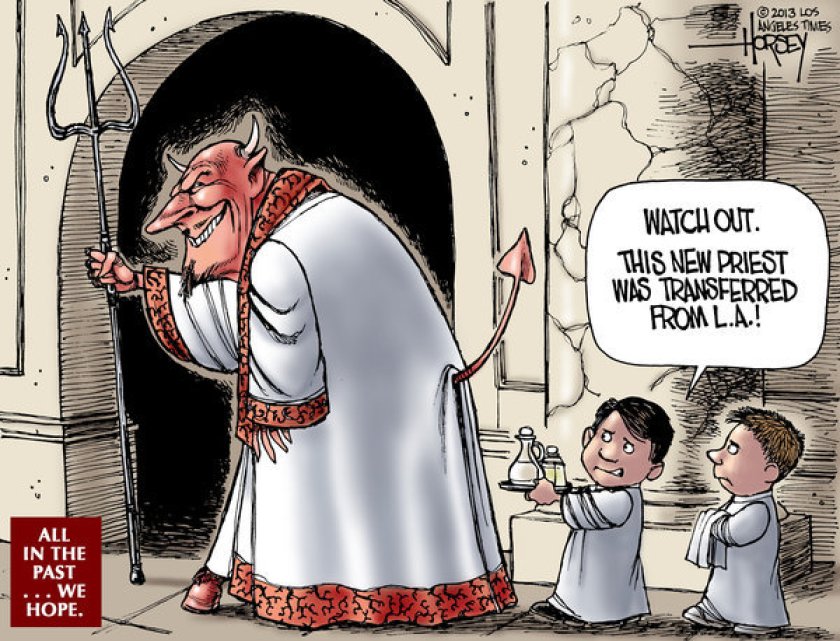 "This reflects the reality that the church has taken enormous steps to root out the sexual abuse of minors in its life and to promote the protection of minors," McElroy wrote.

Bull shit! That's frac talk. The world gets enough of it from oil, gas and coal companies, and their bought judges and lawyers. The church has done little but lie – a lot and shuffle its plentiful rapists from parish to parish to parish, buy off the raped families to silence them, again and again and again. And spew lying garbage like this to keep the donations rolling in whenever new lawsuits emerge. Pathetic cowardice, evil and greed.

Even so, the diocese is facing "staggering" legal costs and most of its assets were used to settle previous allegations with a $198m payout in 2007, McElroy wrote.
"Even with insurance, the diocese will not be able to pay out similar sums now," the letter said. "This challenge is compounded by the fact that a bill has now been introduced into the legislature that seeks to eliminate the statute of limitations entirely, leaving the diocese vulnerable to potential lawsuits forever."

It's high time. Bravo California. The church needs to quit whining and sell off some assets instead. It's the richest corporation in the world and ought not be allowed tax-free status. Better yet, the diocese ought to move to hell and con and serve the many lawyers over flowing Satan's Place.


Bankruptcy would "provide a pathway" for the diocese to

legally avoid compensating

compensate sexual abuse victims while continuing to run its ministries, the bishop said.
The diocese has more than 100 active priests and covers San Diego and Imperial counties, an area of more than 8,800 square miles with a Catholic population of nearly 1.4 million, according to its website.

*Bankruptcy is how oil and gas and frac companies avoid paying for their endless crimes against humanity and communities and families where they invade, with politicians and courts happy to oblige. Evil as hell, just like the catholic church.


Refer also to:
Long past time to end Rape Religion, start with the pedophile catholic church, most raping thieving violent criminal corporation on earth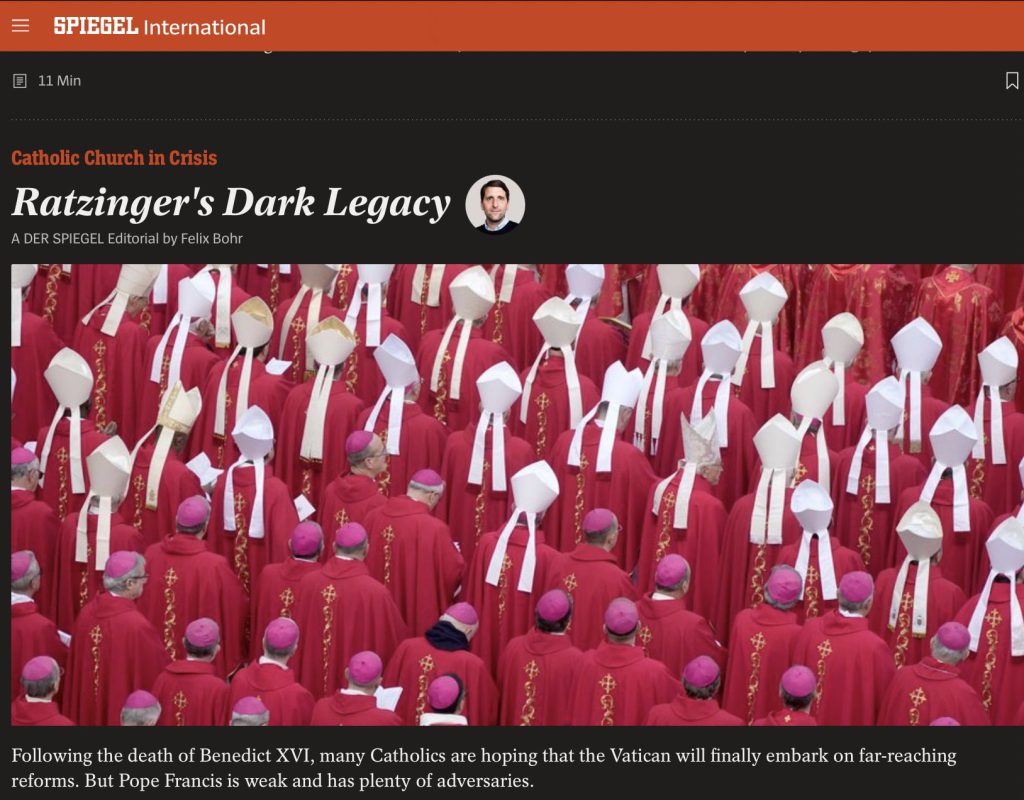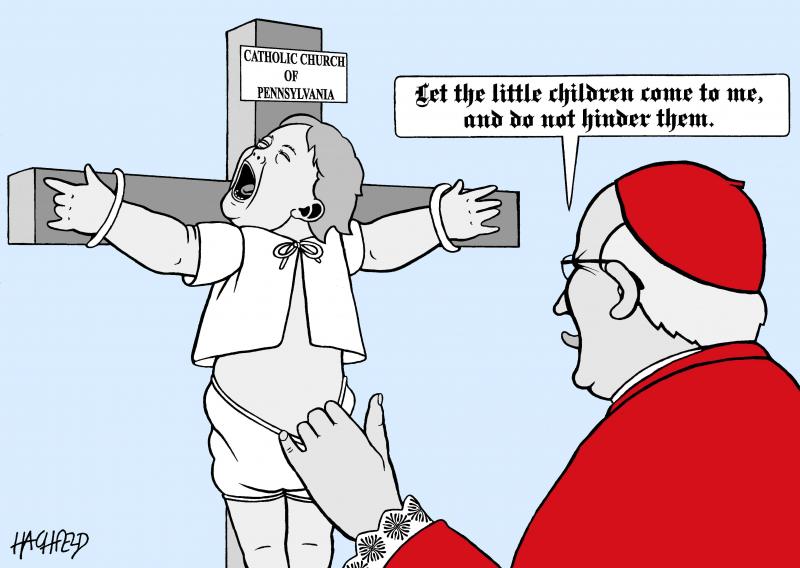 Catholic abuse legal reckoning: New wave of lawsuits could cost church over $4Billion!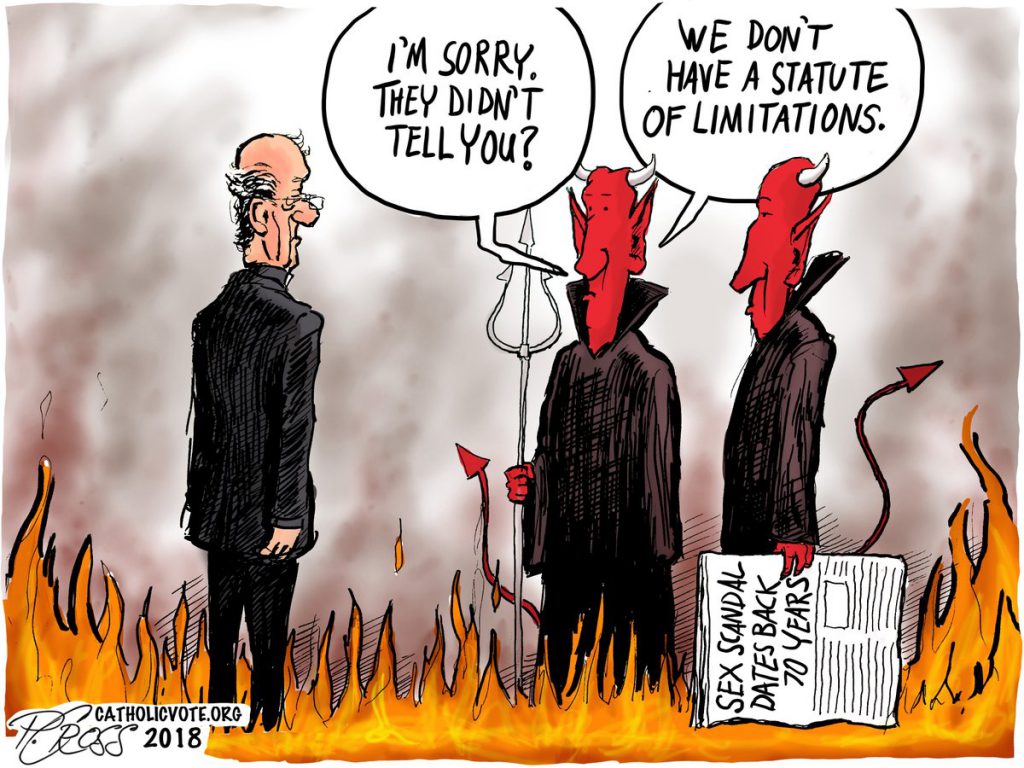 Enabling sexual predators? Enabling Canadian judges revictimizing sexual assault victims? Enabling Canada's demented abusive legal system? Threatening sexual assault victims to keep silent? Galling, throw-women-back-into-the-cave statements to Criminal Lawyers' Association by Canada's Chief Justice Beverley McLachlin

In my view, lawyers and judges are the most evil enablers of rape, including by priests.

Non-Disclosure Agreements "are, indeed, an ugly instrument."
Cornwall, Canada: Pedophilia victims given large settlements to get rid of their lawsuits, including 16 against Catholic Church, in all possibly totaling $70-100 Million with some individuals getting less than $20,000. "The Inquiry found the Catholic Church, police, the Ontario government and the legal system all failed to protect children from sexual predators."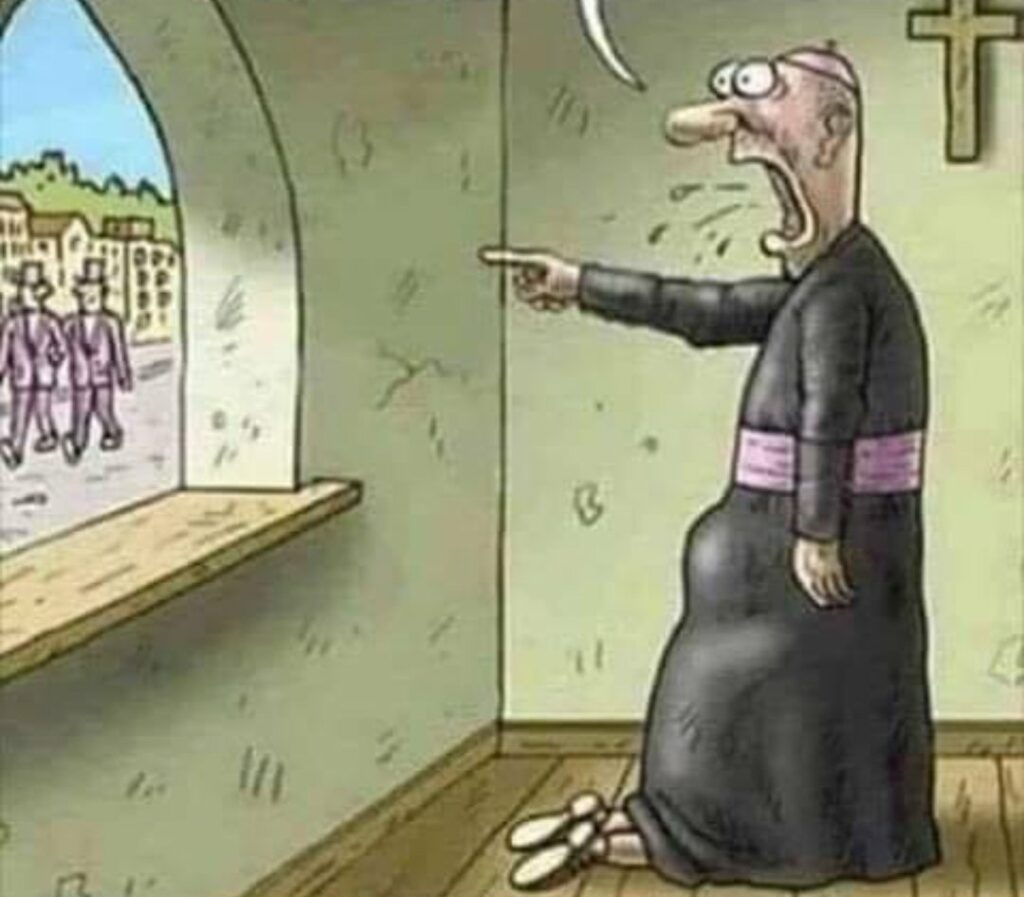 All the world's not a stage, it's a pedophile ring! Is Rod MacLeod's ungagged legal victory against basilian pedophile priest why catholic/extreme right white lawyers took over Ontario's law society a year later? To keep vatican's Pedophile Ring & "Silent Shuffle" busy? Jury was blunt: "Put children in harm's way – grossly negligent. … Betrayal of trust with the community." Meanwhile in Australia, the ultimate court-ordered gag order betrays the public's trust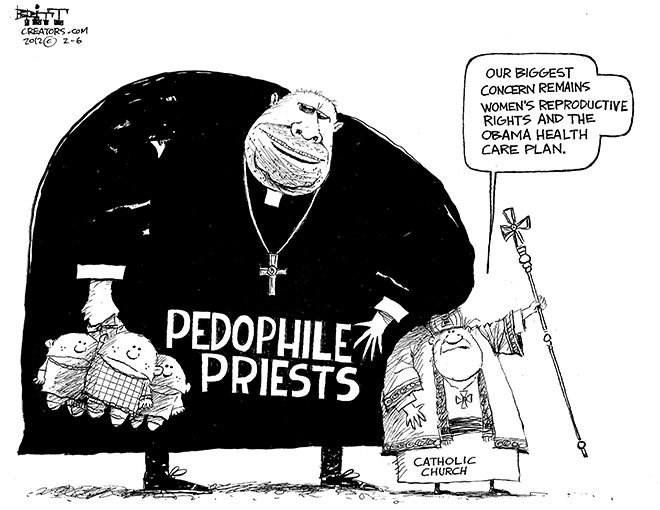 "Law Society of Ontario taken over by 'right-wing, fundamentalist religious zealots?'" Taken over by the catholic church to better protect and feed its sex-crazed, child-abusing "celibate" priests? Do white privileged people think loading up on religious self-righteousness and the church will hide the law society's pedophilia? It's not working.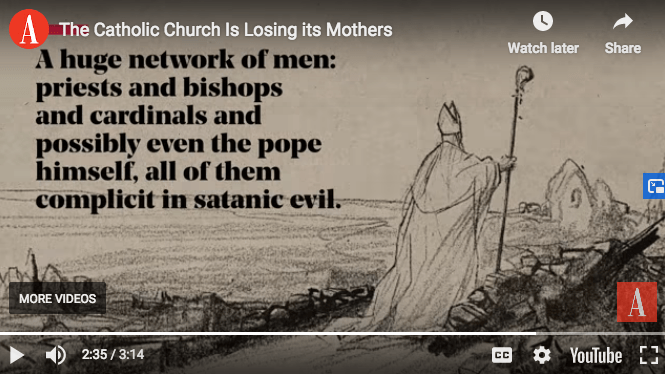 Catholic Pedophile Church in Action: Estimates of more than 10,000 child victims in France. "Their stories are a true memorial of pain. Entire lives have been devastated." Time to "cancel" Rape Religion?