Alberta silent on decisions about who speaks at energy hearings by Bob Webber, The Canadian Press, August 4, 2014, The Calgary Herald and Medicine Hat News
The Alberta government has refused to release documents on its decisions about who gets to speak at public hearings on energy development.
The issue of public input has generated increasing concern and at least one court case.
The Canadian Press filed a freedom-of-information request nine months ago seeking paperwork on the eligibility of groups or individuals to address Alberta Energy Regulator hearings. The request yielded 260 pages of correspondence, reports and briefing notes. Every page was blank.
"A package consisting of 260 pages with no disclosure" is how Alberta Environment's freedom-of-information office described the release in a letter received by the news agency last week.
The request was made after a Queen's Bench judge ruled in late 2013 that the department wrongly refused to grant an environmental coalition the right to appear at a hearing into a proposed oilsands development. The judge concluded that documents from a disclosure hearing suggested the group was shut out because of its critical stance on the oilsands.
Since that ruling, environmental groups and First Nations have been denied standing to speak at public hearings at least nine times. In one case, hearings on a proposed oilsands expansion were cancelled after six groups that had asked to speak were turned down.
The issue has spread beyond energy regulation. On June 25, the office of the province's consumer advocate was turned down after it asked to address an Alberta Utilities Commission hearing into alleged electricity price manipulation.
That same month, two aboriginal bands took the government to court after they were refused standing at Alberta Energy Regulator hearings.
Legal experts have voiced public concerns about what they call a restriction on public input. The judge in the case that brought the issue to light urged the government to draw its circle of consultation as wide as possible. 
Alberta Environment says the rules haven't changed, even though many of those shut out had previously been routinely granted the right to address hearing panels.
Wade Clark, director of policy and regulatory alignment for both Alberta Environment and Alberta Energy, said all documents were kept secret because they could reveal how legislation creating the new energy regulator was developed.
"What I'm referring to there are the various drafts of the legislation," he said. "That's the type of thing that's routinely not disclosed.
"As I interpreted the request, it related more to the deliberations during that time frame, which related to the (new) regulations and rules."
No officials during the time the request was under consideration suggested that interpretation to The Canadian Press. No attempt was made to clarify the request, although the news agency contacted the government numerous times to check its progress.
Clark suggested the ruling could be reconsidered.
"I think we could sit down and work out the wording (of the question)."
Rachel Notley, environment critic for the New Democrats, said the difficulty in getting information on how important decisions are made is typical of the governing Tories.
"Only in Conservative Alberta would a public body, tasked with consulting the public, in public, keep its rules around how to do that secret," she said. [Emphasis added]
[Refer also to:
April 17, 2012: Ruling advances Jessica Ernst's tainted water lawsuit, documents must be released, says Alberta information boss
 Rob Semeniuk, spokesman for Alberta Innovates-Technology Futures [previously Alberta Research Council], said the agency will comply with the order to refund the fees and release nearly 6,000 pages of documents.
"We thought we were doing the right thing by not supplying the information," Semeniuk said. … Encana did not respond to a request for comment. [Emphasis added]
Alberta Secrets?  The better to frac us with?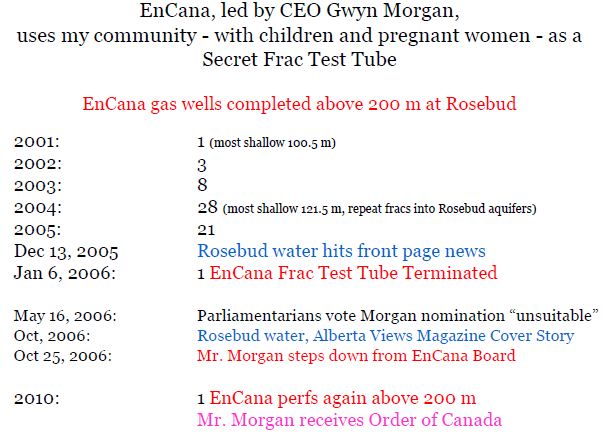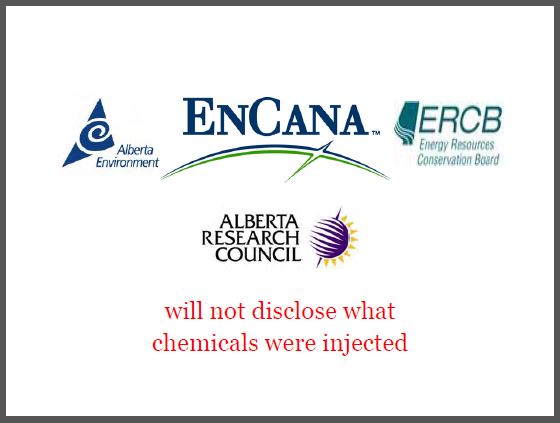 Will case management Justice Neil C. Wittmann get Encana to cooperate in document exchange for the Ernst lawsuit and provide all drilling, fracing, servicing, lost circulation, stop water treatment and acidizing chemicals injected, vented and flared, and dumped in waste by Encana around Rosebud? Encana's deadline to provide their data and records, is December 19, 2014.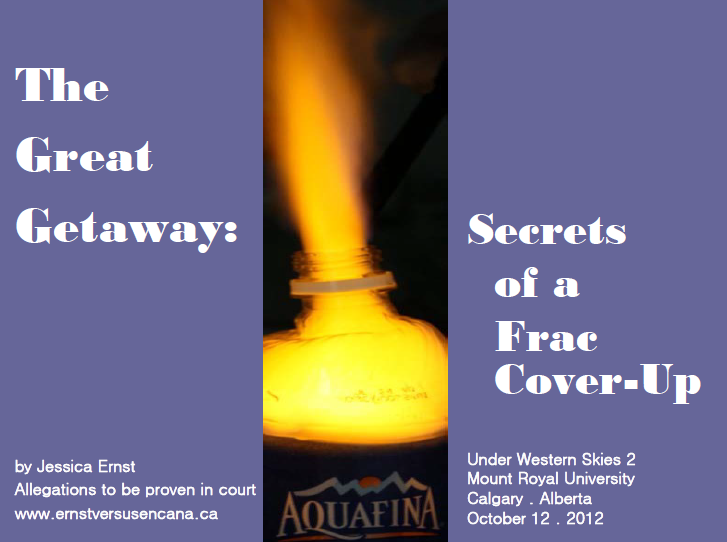 Slides from Ernst presentations