"We reject the notion that this was the best settlement that could have been achieved on behalf of the victims. It is shameful that $12m of the settlement is going to the lawyers for the directors who we alleged enabled Harvey Weinstein."
Weinstein is the poster boy for monsters, yet stands a chance of escaping consequences of his purported horrors by Rosie DiManno, Dec. 15, 2019, Toronto Star
No chance Harvey: the charges against Weinstein are so serious his zimmer-frame shuffle just doesn't cut it, The disgraced film producer made a career of coordinating awards campaigns. His transformation on Wednesday into an enfeebled, poverty-stricken pensioner was an extraordinary masterclass of detail and daring by Stuart Heritage, 12 Dec 2019, The Guardian
Oscar voters, clear your decks. There's a new titan in town. Yes, Adam Driver was raw and vulnerable in Marriage Story. Sure, Joaquin Phoenix managed to transform his entire body for Joker. But ask yourself this: have you ever seen a performer as completely dedicated to the sanctity of his craft as Harvey Weinstein was yesterday?
God, it was magnificent. When you think of Harvey Weinstein, a certain image appears in your mind. A big gruff bull of a man, stout and strong and powerful; a man who charged through life, stopping only to wildly overeat or ruin a director's carefully assembled vision or coerce a number of vulnerable women into uncomfortable sexual acts. That's the Harvey Weinstein you know.
But yesterday the world was forced to banish that image for ever. Because here was Weinstein the committed actor. Every detail of his courthouse appearance had been meticulously pored over in a doomed bid for unearned sympathy. A lesser sexual aggressor – a Louis CK, maybe, or a Kevin Spacey – would have opted for something subtle, like an eyepatch or a limp, in order to convince the judge that they no longer posed much of a threat.
Not Weinstein, though. The man went full Daniel Day-Lewis. True, your eye may have been drawn to his walking frame at first – a bold choice, certainly, but nobody ever won a court case with nuance – but it lingered at the tennis balls that had been clumsily placed over the legs. "Look at this poor wretch of a man," they said. "He can't even afford a walking frame that comes with adequate padding. He has to use tennis balls, like somebody's nan would."
His costuming, too, was impeccable. Look at his soft-soled shoes, like a slightly upgraded version of the plimsolls your four-year-old wears in PE class. Look at the too-long tie. See the tucked-in pocket flaps on his jacket. Pay attention to his hair, no longer origami-ed in a way that disguises the ravages of male pattern baldness. Notice, if you will, the meticulous way in which Weinstein's shirt collar has been folded over the lapel of his suit, making him look less like a powerful movie mogul and more like a long-lost relative given day release from the care home to attend the funeral of an old workmate.
Could you possibly imagine this frail shell of a man angrily masturbating into a plant pot? Of course you couldn't. This man, in such a situation, would fumble and scrape at his belt until his penis fell as limp and flaccid as the microwaved brisket he presumably eats for his dinner at 3.30pm every day.
And yet this is still Harvey Weinstein. The same Harvey Weinstein who was the recipient of dozens and dozens of sexual abuse allegations from women. The same Harvey Weinstein who was last year charged with rape, sex abuse and sexual misconduct. The same Harvey Weinstein who reportedly hired former Mossad agents to track his accusers and halt the publication of stories about his attacks. The same Harvey Weinstein who single-handedly inspired the #MeToo movement with his long and disgusting history of abhorrent behaviour. It's the same man. What a transformation! He's almost unrecognisable! Bravo!
That said, maybe he didn't go far enough. The allegations made against Weinstein are so severe that simply dressing and acting like a frail old man might not cut it. Perhaps, when his criminal trial begins next week, he could try a little harder. I want to see porridge stains on his shirt. I want to see loose dentures. I want him to lose control of his urinary functions mid-testimony, for crying out loud. This is his big moment. Does he want an award or not? [Huge thanks to The Guardian! Excellent and well deserved tribute to Mr. Weinstein. Too bad Jeffrey What's His Name is not alive to learn from it]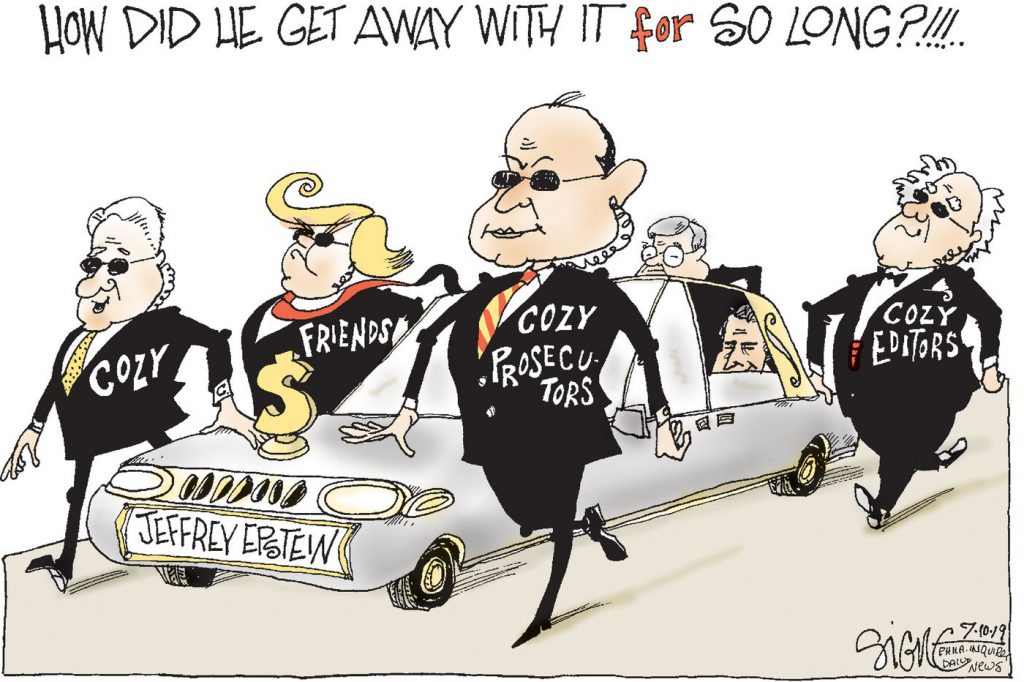 Weinstein accuser pushes back on proposed $25M settlement by Reuters, December 12, 2019, Toronto Sun
A lawyer for one of the women who brought lawsuits accusing Harvey Weinstein of sexual misconduct said Thursday that a proposed $25 million settlement for most of the Hollywood producer's alleged victims was unfair and designed to pressure her into accepting it.
Thomas Giuffra, who represents actress Alexandra Canosa, said after a hearing in Manhattan federal court that the accord set aside just $500,000 for his client, and that the money could be used to pay for Weinstein's legal defense if she did not accept it.
"Either you take the money or we're going to give the guns to the man who raped you," Giuffra said. Canosa intends to persist with her individual lawsuit against Weinstein.
Weinstein has been accused of sexual misconduct dating back decades by more than 70 women, which helped spark the #MeToo movement. He has said any sexual encounters were consensual.
Giuffra also criticized New York Attorney General Letitia James, whose predecessor Eric Schneiderman had sued Weinstein under state civil rights laws, saying she was "basically working for Harvey" by supporting the $25 million payout. [Did the rapist promise a big fat bonus to her if the deal goes through? Imagine a rapist getting more money out of a lawsuit than those he harmed.]
"At every turn, Attorney General James has been committed to securing the best outcome for all victims," a spokeswoman for James' office said in a statement. "Our office will fight to ensure that Harvey Weinstein's victims receive justice." [Ya right, "justice" for Harvey and no one else.]
The payout is part of a tentative $47 million settlement of nearly all civil cases against Weinstein and also covering claims against his bankrupt former studio Weinstein Co, people familiar with the matter said.
Weinstein is not admitting wrongdoing under the accord, which requires approval by a federal bankruptcy judge [wonder if the judge is a misogynist], and insurers would fund much of the settlement. The deal was first reported by the New York Times.
"None of us has any interest in strong-arming any survivor into the settlement," said Elizabeth Fegan, a lawyer representing nine Weinstein accusers and a proposed class of accusers, said in an email.
Fegan said 28 women have agreed to the settlement, and the proposed class could include many more. Class members could be eligible to receive up to $750,000 each, she said.
"We are proud of what we have accomplished for the survivors, and wish Ms. Canosa no ill will for her desire to continue to prosecute Harvey Weinstein," Fegan said.
Weinstein is scheduled to face a Jan. 6, 2020 trial in Manhattan on criminal charges of sexually assaulting two women, and has pleaded not guilty. [Will the courts let the rich raping sod off, as usual?]
Weinstein reaches $25m settlement with more than 30 women – report, If approved, settlement would bring most of the civil lawsuits pending against him to an end by Ed Pilkington, 11 Dec 2019, The Guardian
More than 30 women who were allegedly subjected to sexual misconduct by the disgraced Hollywood mogul Harvey Weinstein have reportedly reached a $25m settlement which, if approved, would bring to an end most of the civil lawsuits pending against him.
The New York Times reported on Wednesday that a tentative deal had been agreed involving Weinstein's numerous alleged victims in the US, Canada, Britain and Ireland. The proposal is awaiting final approval from the courts and from individuals involved, the newspaper says, but once those last hurdles are cleared payouts would be made by insurance companies handling the bankruptcy of the Weinstein Company.
Harvey Weinstein himself would not have to pay a penny to his accusers or have to admit wrongdoing under the terms of the settlement, the Times reports. The lack of personal accountability for the former movie producer has caused expressions of disappointment and anger from several of the women involved, though parties to the negotiations insist that the legal options open to them were limited.
"I don't love it, but I don't know how to go after him. I don't know what I can really do," the actor Katherine Kendall, who was allegedly sexually harassed by Weinstein in 1993, told the paper.
The pending settlement in the multiple civil lawsuits is by no means the end of Weinstein's legal woes. On 6 January his criminal trial is scheduled to open with jury selection in a Manhattan court.
The criminal charges against him include the alleged rape of a woman in 2013 and an accusation of forced oral sex on a similarly unnamed woman in 2006. Weinstein has denied any claim of nonconsensual sex, criminal or civil.
In August Weinstein was also charged with two counts of predatory sexual assault to allow a third woman, the actor Annabella Sciorra, to testify about an alleged rape in 1993. Though the statute of limitations has passed in that incident, prosecutors hope her testimony will demonstrate a pattern of behavior on the part of the defendant that will help secure his conviction.
Weinstein has been free on bail since his arrest in May 2018. On Wednesday his bail conditions were raised from $1m to $5m after the prosecution accused him of tampering with his electronic ankle monitor.
Lawyers for Weinstein, who arrived at court on Wednesday walking with the use of a frame, had claimed the irregular handling of the bracelet was innocently caused by "technical glitches".
The pending settlement in the civil lawsuits was revealed by Megan Twohey and Jodi Kantor, the two New York Times reporters who first broke the news of Weinstein's long history of alleged sexual misconduct in October 2017, sparking the #MeToo movement. The reporters went on to be awarded a Pulitzer prize and to write a bestselling book on the subject, She Said.
Aspects of the tentative deal will probably be contentious and have already prompted angry responses from some of Weinstein's alleged victims. In particular, more than $12m out of a total $47m package to close the Weinstein Company's affairs would feed back to Weinstein himself along with his brother, Bob, and other board members to contribute to legal costs.
According to the Times, two women involved in civil suits against the former producer, Alexandra Canosa and Wedil David, have refused to join the settlement and are challenging it. [Brava!]
In a statement, Douglas Wigdor, a lawyer for David, said: "We reject the notion that this was the best settlement that could have been achieved on behalf of the victims. It is shameful that $12m of the settlement is going to the lawyers for the directors who we alleged enabled Harvey Weinstein."
He added: "We plan to vigorously object to any provision that tries to bind victims who want to proceed with holding Harvey Weinstein accountable for his actions which is exactly what we intend to do."
Refer also to:
"Unconscionably Unjust!" "Beyond the Pale!" Legal gag at it's most vile: Protecting known multimillionaire pedophile Epstein and entire network, aided & abetted by? Lawyers! "Non-prosecution deal" gave Epstein and his pedophile ring immunity from all federal charges. How many churches & law societies? Will lawyers & judges hammer out another humdinger of a gag to make sure the world never finds out?
"It's the judges!" enabling rape and murder of women. No kidding. In Canada too.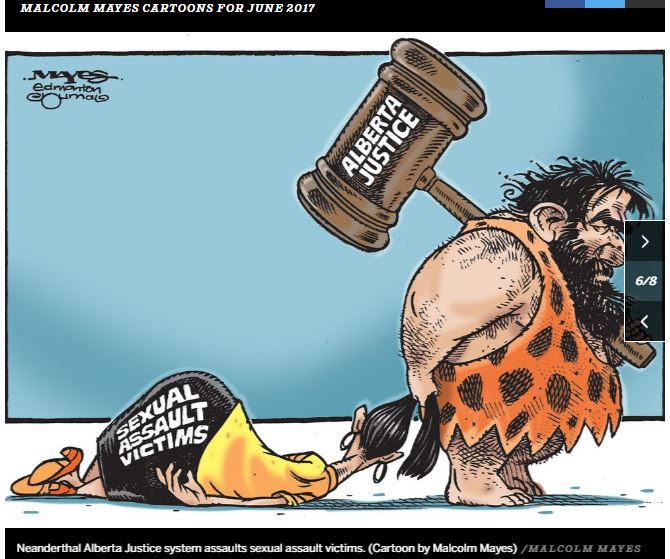 Canadian misogynistic "justice" ensures rapist paradise. Accused serial rapist Paul Batchelor, let off by Justice Beaudoin (elevated to the bench by Harper gov't), arrested after three new rape charges; now awaits trials involving nine women who don't know one another.
Non-Disclosure Agreements "are, indeed, an ugly instrument."
Canadian misogynistic "justice" ensures rapist paradise. Accused serial rapist Paul Batchelor, let off by Justice Beaudoin (elevated to the bench by Harper gov't), arrested after three new rape charges; now awaits trials involving nine women who don't know one another.
Know my Name. A Memoir. Chanel Miller. Horrific Sexual Assault. "Rape is rape." Another Judge Protecting the Rapist. Magnificent Courage. Magnificent Writing.
Would Justice Robert Beaudoin have let the rapist off if his daughter was one of the women raped? Ontario Crown serves Paul Batchelor notice of appeal, claims trial judge made errors. Errors or misogyny?
Misogynistic Justice. Rapist after rapist set free by Canadian judges. Think those judges will let you seek justice if your water is frac'd by Encana, enabled, covered-up by authorities with AER violating your Charter rights trying to terrify you into submissive silence, enabled by Supreme Court of Canada?
Bullying Canadian Caveman seeks judicial review to stay on the bench. Ex-Alberta-judge, Donald Norheim, appointed to the bench 27 years ago, seeks judicial review of losing his job because of his "completely inappropriate" beliefs, behaviours involving his views on Indigenous people and women, notably victims of domestic and sexual assault.
Do you want fairness, equality, diversity, inclusion in Canada's legal profession? In 2019, 85% of the legal profession in USA is white and mostly male. No wonder so many sexual assault victims are re-victimized in court by judges and known convicted pedophiles are granted licence to practice law! No wonder our environment is underrepresented and unjustly served with vile demented gag orders.
Errors or more judicial misogyny? Appeal panel rules trial judge 'erred,' issues convictions on 25 charges related to 18 complainants for Chatham-Kent violin teacher; Panel requested different trial court judge determine sentencing. Phew! It's about time.
No wonder Canadian "justice" is so often misogynistic, racist &/or abusive. Looking in the mirror: Harassment in legal workplaces
Unbelievable Gall! No wonder Canada's legal system is broken! Ex-Judge "sex hurts & why didn't you keep your knees together" Robin Camp seeks to practise law again in Alberta
"Unf*ck the system." Alberta's Neanderthal "Justice" system assaults sexual assault victims. "The judge in this troubling case was none other than former Deputy Justice Minister Ray Bodnarek, a PC loyalist appointed as a judge by former PC Justice Minister Jonathan Denis who himself resigned under troubling allegations of domestic violence." Commenter: "So who exactly is the crown protecting by blocking the publication of the victim's name?" Another commenter: "My guess…..the 'system'. It stinks and it's all because of the judges & lawyers."
What's with so many judges not keeping their lips together? Protecting rape & pedophilia rings? How are citizens to trust & respect judges with so many bad lips on the bench? "That judge didn't care about me," Julie Kirby, 23, one of Keith Vallejo's victims said Friday. "He only cared about the person he was convicting, and I think that is really kind of despicable."
Oh Canada! Once-imprisoned lawyer (for child pornography) one step closer to getting his licence to practise law in Ontario, Two out of three lawyers on Law Society of Upper Canada tribunal decide he's of 'good character.'
MUST WATCH! 'This Hour Has 22 Minutes' Sketch: "Judges: a danger to Canadian women"