Range Resources Hallowich Settlement Hearing Transcript
This 7-Year-Old Is Banned From Talking About Fracking—Ever by Kate Sheppard, August 2, 2013, Mother Jones
When a property owner reaches a settlement with an oil or gas driller, it's not unusual for the company to demand that the plaintiffs in the case agree to a gag order that bars them from talking about the agreement. But a recent case in Pennsylvania is unusual. That's because the gag order prohibited the 7- and 10-year-old children of a couple that sued several gas companies not only from talking about their specific settlement, but from mentioning fracking at all. Ever. Chris and Stephanie Hallowich reached a $750,000 settlement with Range Resources Corporation, Williams Gas/Laurel Mountain Midstream, and Markwest Energy related to health and environmental impacts they say they suffered due to natural gas development operations near their farm in Mount Pleasant, Pa. The family used the money to relocate.But in exchange, they had to agree that they could not comment "in any fashion whatsoever about Marcellus Shale/fracking activities."
…
It was the Post-Gazette that finally got the court to release the transcript in the first place. The paper's reporters were barred from the settlement hearing and had to go to court to get the records unsealed. The paper just now got the transcript, but it still hasn't obtained a copy of the actual settlement agreement, even though it was supposed to be contained in the court record. [Emphasis added]
Range Resources to release gagged children by TXSHARON, August 1, 2013, Bluedaze
Yesterday, we learned that Range Resources so feared what the Hallowich children might say about their gas drilling operations adjacent to their home, they had the two minor children gagged  for life. Today in a statement given to the Post-Gazette, we learn that Range may be issuing an affidavit releasing the gag on the Hallowich children.
Pittsburgh-area shale settlement 'gag' questioned, Legal views differ on its effect on two youngsters by Don Hopey, August 1, 2013, Pittsburgh Post-Gazette
Jessie Allen, an assistant professor of law at the University of Pittsburgh who teaches civil procedure, legal ethics and civil rights, said that while confidentiality agreements are common, involving children is not. "It's right to react to this as strange and the lawyers involved reflect that when they say they've never seen that," Ms. Allen said. "My reaction is it's kind of over the top." …
Harry Flechtner, a Pitt law professor, said Wednesday that enforcing such an agreement against minors raises questions. "They are children and can't be bound by such an agreement, a contract, but the wild card is the court approval of the agreement," he said. Matt Pitzarella, a Range Resources spokesman, said Wednesday that the comments by Mr. Swetz are "not something we agree with" and added "we don't believe the [Hallowich] settlement applies to children." He also said that Range has entered into no other nondisclosure agreements that bar children from speaking.
Mr. Swetz could not be reached for comment. But Mr. Villari said Wednesday that Mr. Swetz told the court he "had the full authority to speak on his client's behalf," and all of the defendant shale gas development companies insisted that the Hallowich non-disclosure agreement "extended to the minor children," and are "still insisting on the full extent of those obligations." "It's news to me that they say they are now releasing the children," he said, "but I'd appreciate it if they'd put that in writing. It would be very nice to do that." …
Mr. Villari said that the settlement "would not have gone forward" if the Hallowichs refused to sign the document. "The defendants required certain language. It was insisted upon," he said. [Emphasis added]
Gag order imposed on two kids in Marcellus fracking case by Susan Phillips, July 31, 2013, State Impact Pennsylvania, Newsworks
Stephanie Hallowich with her two children, who are banned by a court order from ever discussing fracking or Marcellus Shale drilling. (Mark Schmerling, for Protecting Our Waters)
Two young children are forbidden from speaking about Marcellus Shale or fracking for the rest of their lives. The court action stems from a settlement in a high-profile arcellus Shale lawsuit in western Pennsylvania. The two children were 7 and 10 years old at the time the Hallowich family settled a nuisance case against driller Range Resources in August 2011. The parents, Chris and Stephanie, had been outspoken critics of fracking, saying the family became sick from the gas drilling activity surrounding their Washington County home. …
"I, frankly, your Honor, as an attorney, to be honest with you, I don't know if that's possible that you can give up the First Amendment rights of a child." Villari tells StateImpact that it's the first time he's seen this in his 35 years of practicing law. "That someone would insist on confidentiality of a minor child," he said, "or that it would be discussed within the context of a proposed settlement was unusual. I have not encountered it before and I have yet to encounter it again." …
Range Resources seems to now be distancing themselves from their lawyer's remarks, insisting the gag order applies only to the parents. "Those comments are not accurate from our former outside counsel and are not reflective of our interpretation of the settlement," wrote spokesman Matt Pitzarelli in an email to StateImpact. The seven and ten year olds are free to discuss whatever they wish now and when they are of age." The Hallowich case against Range Resources, MarkWest Energy, and Williams Gas settled for $750,000. The Hallowich's have since moved. Their attorney says their health has improved significantly. [Emphasis added]
New details on gas drilling lawsuit gag order by Don Hopey, July 31, 2013, Philly.com
UPDATED: The mouths of babes: Range Resources fears the children's truth by TXSHARON, July 31, 2013, Bluedaze
UPDATE: Matt Pitzarella, Range Resources spokesperson and psyops specialist has spoken. He claims Range does not agree with suing children.
Don Hopey, July 31, 2013

Mr. Pitzarella said today that Mr. Swetz's comment about enforcing the nondisclosure agreement "is not our understanding, not something we agree with." Mr. Swetz could not be reached for comment.
If you believe that, I have something for you HERE.
Firstly, I know a little something about how Range operates legally and they are a very hands on outfit. If I had to bet, I would bet that someone at the very top wrote every word of the non-disclosure agreement including whate ever the "illegal words" are.
Secondly, note in the transcript that most of the time was spent talking about the children's gag. Mr Villari took great pains to carefully explain to the family what they were signing.
Thirdly, why would a gag be carefully constructed to include the children and their "illegal words" if the company had no intention of trying to enforce it? If they didn't agree with the court order gagging the children, why include that?
Lastly, I remembered something that Don Hopey had written previously on the day the Hallowichs signed the agreement–Allison's 7th birthday. It only took me a few moments of Googling to find it.
Ms. Hallowich has been a vocal critic of the drilling industry, but on Tuesday as she left the judge's chambers with her husband and children and their attorney, Peter Villari, she said she was sorry but couldn't comment.
This is not the normal way a family celebrates a 7th birthday. If I had to bet, I would bet that the children were commanded to attend.
Confidential agreement should have been part of Washington County Marcellus Shale case record, Newly released transcript also reveals details of lifetime gag order on Hallowich family by Dan Hopey, July 31, 2013, Pittsburgh Post-Gazette
A just-released Washington County Common Pleas Court transcript of a 2011 settlement hearing in a Marcellus Shale damage case shows the case records should have included a confidential settlement agreement and reveals details of an unusual lifetime "gag order" that covers two children involved in the case. According to the 16-page transcript, then-Washington County Judge Paul Pozonsky approved sealing the court records with the settlement agreement "attached thereto" during a private hearing held to settle the claims of Chris and Stephanie Hallowich against Range Resources, Williams Gas/Laurel Mountain Midstream and Markwest Energy.
The Hallowiches, long-time critics of shale gas drilling, claimed that Marcellus Shale gas development — including four wells, gas compressor stations and a 3-acre water impoundment — adjacent to their 10-acre farm in Mount Pleasant, Washington County, damaged the family's health and the value of their property. The Hallowiches signed an affidavit as part of the settlement that stated their family's health was not damaged by the gas operations. Matt Pitzarella, a Range Resources spokesman, said today that the family was not forced to sign the affidavit. "All of the reports done at the time indicated no exposure (from the gas development) and they never produced evidence of any health impacts," Mr. Pitzarella said.
"We did say that clearly the Hallowiches were not in an ideal situation in terms of their lifestyle. They had an unusual amount of activity around them. We didn't want them in that situation."
The Pittsburgh Post-Gazette and the Washington Observer-Reporter successfully petitioned the court to unseal all of the Hallowich case records, but when more than 900 pages of records were released in March, the confidential settlement agreement was missing from the file. "This shows clearly the settlement agreement was part of the record," said Frederick Frank, an attorney representing the Post-Gazette.
The hearing transcript, which provides details of the $750,000 settlement paid to the family, shows the Hallowiches reluctantly agreed to the terms of the settlement to remove their children from what they considered an unhealthy environment.
They also raised questions about how a lifetime "gag order," as the judge called it, included in the settlement that required the entire family to never discuss Marcellus Shale or fracking would be enforced against their then 7-year-old daughter and 10-year-old son.
According to the transcript, the Hallowiches' attorney, Peter Villari, said that in 30 years of practicing law he never had seen a nondisclosure agreement that included minor children.
And, although he advised the Hallowiches to accept the settlement, he questioned whether the children's First Amendment rights could be restricted by such an agreement.
Judge Pozonsky, who has since resigned, responded that he didn't know, adding, "That's a law school question, I guess."
James Swetz, the attorney representing Range Resources at the settlement hearing, then is quoted as saying, "I guess our position is it does apply to the whole family. We would certainly enforce it."
The release of the transcript does not settle the case. Range and Markwest have appealed, to state Superior Court, the order unsealing the records. [Emphasis added]
French Translation: Gaz de schiste – Ce que l'industrie ne veut pas que vous sachiez… by Ami(e)s du Richelieu
Lifetime Fracking Gag Order On Children by Chip Northrup, July 31, 2013, Shaleshockmedia
Comes from an out-of-court settlement between a fracker, Range Resources, who I am truly embarrassed to say is from Fort Worth. And a Pennsylvania family with small children. Wherein the settlement agreement imposes a lifetime gag order on the family fracked – and their children.
Among other things, the 7 and 10 year old children cannot say anything negative about Range Resources (who made Texas Sharon famous) or fracking. 
William Huston July 31, 2013:
Now you don't want to get mommy or daddy in trouble, do you?
No, I didn't think so.
So you're going to keep quiet about your black water?
Yes, good.
What about your nosebleeds?
Good.
What about the noise and the explosions?
Do you double-secret promise?
You going to tell anyone what happened to your dog?
Cross your heart?
Swear to God?
We're going to take your mom and dad away
to a very bad place if you squeal.
Got that? Good.
[Refer also to: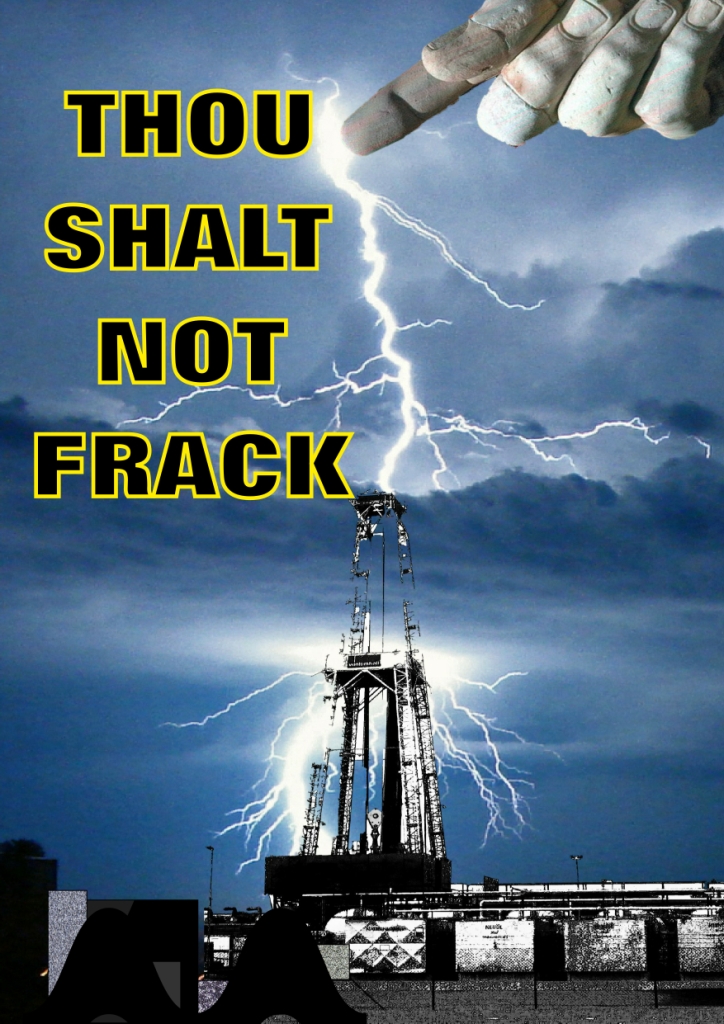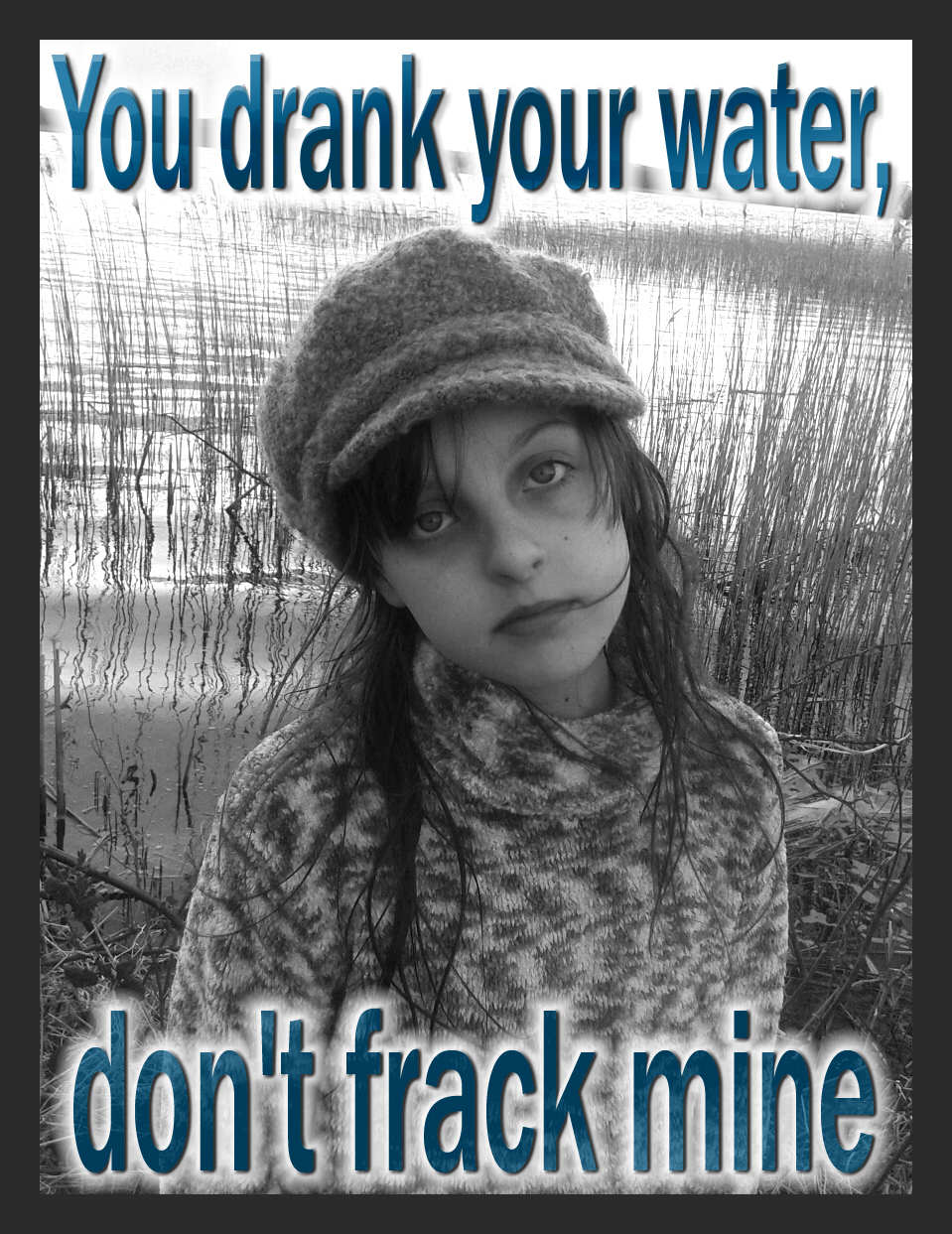 Source of images: North West Network Against Fracking
Former Washington County judge Pozonsky faces theft, drug charges by Moriah Balingit, May 23, 2013, Pittsburgh Post-Gazette
Open Letter to Chief Justice Neil Wittmann by Robin Mathews, June 28, 2013, canada citizens news network, News By and For Thinking Canadians
To: The Honourable Neil Wittmann, Chief Justice Court of Queen's Bench (Alberta)
Calgary Courts Centre
601-5 Street SW
Calgary, Alberta, T2P 5P7. ]