Access Denied, How the government of Alberta obstructs requests for public information by Paul Haavardsrud, January 5, 2014, Alberta Views
Don Scott is late. He's supposed to be at a Holiday Inn off Deerfoot Trail, but he might be caught in traffic. Maybe the late spring weather got him. It's a rainy day and Calgary drivers aren't built for wet roads. It might also be a metaphor. In the 2012 election, Premier Alison Redford vowed to bring the inner workings of Alberta's government into the light. Voters around the world are well used to such campaign-trail rhetoric. Transparency! Accountability! Open government! … A month after winning she created a new department, the Ministry of Accountability, Transparency and Transformation. To lead the charge, she tapped Scott, a lawyer and rookie MLA from Fort McMurray-Conklin. Scott's start, at least on this day, is less auspicious. A handful of people are clumped together in a room full of empty tables, waiting. Scott is halfway through a 12-day provincial tour, part of a review of Alberta's Freedom of Information and Protection of Privacy Act, or FOIP. Most of these sessions are designed for the public, but this one is specifically for journalists. The turnout isn't promising. Four members of the media are here—a pair from Shaw Cable and two from this magazine. An interest group has sent a representative, and a few concerned citizens have come out.
Once Scott arrives, he dutifully delivers his spiel on the FOIP Act review. Other presenters do their bit, questions are fielded, there's some milling around and then it's back out the door and into the rain. All told, Scott's summer barnstorm across Alberta drew about 150 people. The online portion of the FOIP consultation, which lasted roughly six weeks, garnered 400 responses and another 30 written submissions. In theory, Alberta's disclosure law says government is a caretaker of information that belongs to citizens. In practice, however, those that actually seek information under the FOIP Act—journalists, opposition MLAs, watchdog groups, academics and others invested in keeping tabs on our leaders—say the system also has built-in features that allow for as much obstruction as access.
That politicians can be unscrupulous is, sadly, a given. Conflicts of interest, illegal donations, influence peddling, Mike Duffy and Nigel Wright, Pamela Wallin, Mulroney–Schreiber, Shawinigate—the list goes on. A legislated right to know what takes place behind closed doors can help bring skeletons into the light. Better still, the mere presence of a strong disclosure law can deter corruption before it happens, curbing the number of skeletons hidden in the first place. The right to know what government is up to is considered a pillar of democracy. The job of upholding democracy, it bears noting, feels out of place amidst the bad coffee and free plastic pens of a Holiday Inn. But if Redford and Scott are sincere in their pledge to openness, public consultation is just the beginning. Much needs to be done to overhaul a FOIP system that stacks the deck in favour of opaqueness.
…
Access to information in a modern sense is relatively new. The US adopted the Freedom of Information Act in 1966 following years of public pressure. The groundbreaking legislation served as a model for a handful of other countries, which implemented disclosure laws over the next few decades. Canada waited until 1982 to adopt its Access to Information Act. The fall of the Iron Curtain in 1989 saw a spike in the number of freedom of information (FOI) laws on the books. Now, more than 90 countries have some form of disclosure legislation. Among Canadian provinces, Nova Scotia blazed the trail, implementing its Freedom of Information Act in 1977. New Brunswick followed a year later. Alberta didn't adopt its FOIP Act until 1995. That still beat Prince Edward Island, which took until 2002 to proclaim legislation.
Alberta's FOIP Act covers a lot of ground. It deals with protection of privacy: what information can be collected about citizens, who uses it, and for what, and how it can be disclosed. It also grants Albertans the right to information held by public bodies—government ministries, school boards, municipalities, police and others. In its first General Assembly in 1946, the United Nations called freedom of information a fundamental human right. In 1995 the UN further explained: "Freedom will be bereft of all effectiveness if the people have no access to information. Access to information is basic to the democratic way of life. The tendency to withhold information from the people at large is therefore to be strongly checked."
If governments are indeed hard-wired for secrecy, then freedom-of-information legislation can be thought of as a counterbalance. Information gives citizens the tools to scrutinize government decisions, to know what questions to ask and to make educated decisions at election time.
How does Alberta's FOIP system stack up to other places? [Emphasis added]
[Refer also to:
Federal government losing data that should be available to public, watchdog warns
Harper government's new tactics to keep information secret troubles Suzanne Legault, Information Commissioner of Canada
Alberta privacy commissioner pushes for even more openness
Feds dispute Canada's dismal ranking in report on freedom of information
Corbella: Transparency is empty talk in Redford's world
Edmonton man wins dispute for water info
Alberta Office of the Information and Privacy Commissioner Order F2012-14 Alberta Health Case File Number F5460
LISTEN: New report says Alberta's FOIP laws worst in country
Woman wins hard fought battle for information
Office of the Information and Privacy Commissioner Orders Alberta Innovates to release baseline testing and water contamination investigation information, including draft reports
Alberta Innovates Technologies Futures (previously Alberta Research Council) refused to comply with the order, claiming Alberta Environment was unable to release the public water well records claiming the records were "client-solicitor privileged"  because of my lawsuit even though none of the public water well records I had requested were on my water well or related to my lawsuit.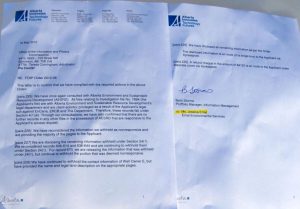 Alberta among worst in responding to queries
Energy and Utilities Board (now AER) found in contravention of FOIP
New FOIP documents confirm the EUB (now AER) hired Private Investigators in past EUB proceedings
The Office of the Information and Privacy Commissioner Investigation Report into AEUB hiring Private Investigators ]