Gillian Hnatiw speech at the 20th Toronto Lawyers Association Awards Gala March 5, 2020, Legal Matters

The following speech was delivered by Gillian Hnatiw at the 2020 Toronto Lawyers Association Annual gala, as she accepted the Honsberger Award, given to a lawyer who exemplifies knowledge, community and advocacy.
My thanks to the Toronto Lawyers Association for recognizing me with this incredible honour.
I learned in early October that the Toronto Lawyers Association would be presenting me with this award tonight. Yet somehow it was only this morning that I put pen to paper and tried to make sense of all the thoughts that have been rattling around my head since that time.
While I am a lifelong and highly accomplished procrastinator, it was something more than mere avoidance that was inhibiting my efforts to write this particular speech. Simply put, I could not figure out what to say. This event is a celebration, and these award recognize work that should give us, as lawyers, pride in the profession and hope for the future.
But there is something fundamentally unsettling in the zeitgeist right now, that makes it a challenging time to be a woman in public life, never mind an outspoken feminist working at the boundaries of the law.
As many of know, when I got that call from TLA president Marg Waddell last October, I was at a turning point in my career. I had just decided to leave my second firm in as many years and follow in her footsteps, by founding my own firm. My reasons for doing so were both deeply personal and garden variety: I felt undervalued and under-supported by my partners. More importantly, I lacked the power and autonomy to build the career I wanted, or to do the work I believe needs doing.
So it was time to strike out on my own – to be my own boss, and to stop giving away my power to others without getting enough in return.
Fundamentally, the law is about power – who has it, who gets it, and how they are allowed to wield it. If you want to drive social change, you're probably going to need to push or change the law. And if you want to change the law, you are going to need power to make it happen.
It is an oddly disorienting time to be a woman trying to wield her own power in this world. On the one hand, feminism – or "feminism" – has become wildly fashionable. Public figures are enthusiastically embracing the term. You can buy a thousand different "Smash the Patriarch" T-shirts from Amazon. Every firm has a Diversity and Inclusion Committee – even the ones without any real female partners. Every other day, someone is claiming that someone new has smashed the glass ceiling.
Yet evidence of misogyny remains all around us. Lest anyone forget, there is a self-confessed sexual predator in the White House. Just this morning, Elizabeth Warren – possibly the most perfect combination of brains, compassion and persistence ever to manifest in human form – dropped out of the US Presidential race. It is thus guaranteed that the next president will be another old white guy with a questionable track record on issues of gender and sexual misconduct. The glass ceiling is still very much intact.
In Canada, we're not faring a whole lot better these days. All of our political leaders are men. The gender pay gap is still $0.21 for every dollar. Women's health and safety remain low priorities – just yesterday, Ontario cut a million dollars in funding to the province's front-line sexual assault crisis centres. Reproductive rights are constantly under attack. And before we get too uppity about the political mess south of the border, let me remind you that we have never elected a woman to run this country either.
In the legal profession, study after study demonstrates that law firms are still expecting women to outwork and outperform their male colleagues in order to advance. The recent trend of encouraging women to 'Lean In' to their careers just reinforces this idea – as though it is somehow our failure to work hard enough, rather than the patriarchal structure of traditional law firms, that is holding us back. It's of little surprise that, by simply adding committees and tinkering with existing power structures, we not making much headway in the fight for gender parity in the profession.
I confess that there are days where I am so consumed by a mixture of rage, frustration and despair at all of this that I lose sight of the big picture.
So let me remind you – and myself – that incremental change happens incrementally. It can often only be seen in hindsight. But it is almost always made by those who refuse to tacitly support the status quo and dedicate themselves to altering systems of power.
I began advocating for victims of sexual violence during my articles in 2002. At that time, civil claims for sexual assault were governed by a strict two-year limitation period. This meant that a large part of every lawsuit was spent fighting over the question of whether the victim could sue at all. When claims did proceed, you did well if you could secure a low six figures for your client – less, probably, than you would get if you slipped and fell and broke your arm.
In the interceding 18 years, the law in this area has evolved exponentially. Limitation periods were relaxed in 2005, and then eliminated completely in 2015. Victims no longer face the blame-laden question: why did you wait so long? Just as importantly, damage awards now regularly exceed seven figures.
The law in this area did not evolve accidentally, but as the result to the smart, tenacious advocacy of lawyers who dedicated themselves to the cause advocating for the disempowered and educating the courts on the true, equality-impairing damage wrought by sexual violence.
If the MeToo movement has shown us anything, these issues are far from solved; this work is far from done. I will continue to do what I can to contribute to the evolution of the law, as a means of empowering the women who need its protection, and to the advancement of gender issues within the profession, as a means of redistributing power to achieve true equality.

Refer also to:
No wonder Canadian "justice" is so often misogynistic, racist &/or abusive. Looking in the mirror: Harassment in legal workplaces
Remembering the Montreal Massacre, "an act of terror against women."
Non-Disclosure Agreements "are, indeed, an ugly instrument."
"Unf*ck the system." Alberta's Neanderthal "Justice" system assaults sexual assault victims. "The judge in this troubling case was none other than former Deputy Justice Minister Ray Bodnarek, a PC loyalist appointed as a judge by former PC Justice Minister Jonathan Denis who himself resigned under troubling allegations of domestic violence." Commenter: "So who exactly is the crown protecting by blocking the publication of the victim's name?" Another commenter: "My guess…..the 'system'. It stinks and it's all because of the judges & lawyers."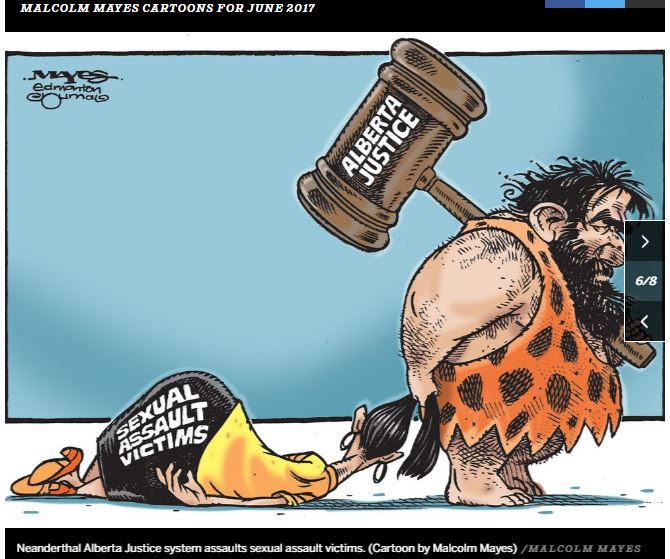 Disgraced ex-judge Robin Camp said he's learned his lesson. Really? "Knees Together" Camp Accompanied Ezra Levant On Trip To Train UK Rebel Staff, Camp stood by his comments about sexual assault, ex-Rebel employees say
No wonder Canada's legal system slithers around in Hell: 'Knees together' ex-judge Robin Camp should be able to practise law again, his lawyer argues
Legal scholar Joshua Sealy-Harrington "totally eviscerates" Murray Klippenstein's arguments. It revolts me that my public interest lawsuit is being destroyed by Klippenstein pissing on Law Society Rule 2.09 to enable racism. After abruptly quitting my lawsuit more than 500 days ago, he *still* has not sent me my case files. What tune would Klippenstein sing if all the bias/prejudice was directed at Mennonite lawyers?
"Klippenstein, admittedly, 'would not be the person' he is 'without freedom of thought and expression,' so where's his outrage at the legal suppressing of those freedoms – aka gag orders? And who would he be then, with his mouth legally taped shut?" Comment to Andrew Nikiforuk's article in The Tyee on Klippenstein & Wanless quitting
"[Joshua Sealy-Harrington] deconstructing Jordan Peterson's latest, also dropping knowledge on intersectionality and hierarchy." … "Brilliant how @joshuasealy eviscerates him. Can we now all finally recognize what a hack @jordenpeterson is please?" … "Not retweeting the original shite article by charlatan of an academic because it's racist garbage and click bait anyhow."
Recognizing multiple legal systems: Decolonizing our understandings of "The" Law with Val Napoleon, indigenous scholar and law professor, being reminded to never think of Canada legal system as "the only" legal system.
Ontario Bar Association reaffirms commitment to promoting equity, diversity & inclusion, "speaks as a united voice." Compare to Law Society of Ontario's white supremacists squabbling childishly trying to hold onto power. How does a litigant get fair legal representation with shit like this going on?
"Hey look Ma!! Racists won!!" Ontario Law Society's Statement of Principles (SOP) abolished by dinosaurs. "Shows how corrupt our legal (definitely not justice!) system is. May all White supremacists rot in hell." … "It is from this circus of clowns we choose our judges, and it shows in our injustice system."
"Law Society of Ontario taken over by 'right-wing, fundamentalist religious zealots?'" Taken over by the catholic church to better protect and feed its sex-crazed, child-abusing "celibate" priests? Do white privileged people think loading up on religious self-righteousness and the church will hide the law society's pedophilia? It's not working.
All the world's not a stage, it's a pedophile ring! Is Rod MacLeod's ungagged legal victory against basilian pedophile priest why catholic/extreme right white lawyers took over Ontario's law society a year later? To keep vatican's Pedophile Ring & "Silent Shuffle" busy? Jury was blunt: "Put children in harm's way – grossly negligent. … Betrayal of trust with the community." Meanwhile in Australia, the ultimate court-ordered gag order betrays the public's trust
Do you want fairness, equality, diversity, inclusion in Canada's legal profession? In 2019, 85% of the legal profession in USA is white and mostly male. No wonder so many sexual assault victims are re-victimized in court by judges and known convicted pedophiles are granted licence to practice law! No wonder our environment is underrepresented and unjustly served with vile demented gag orders.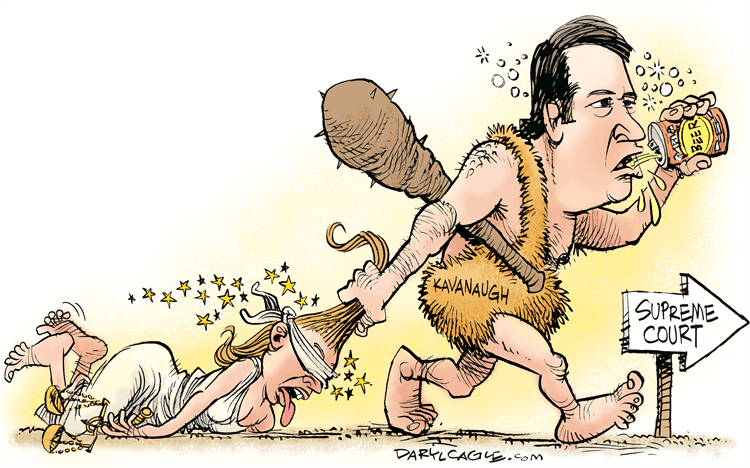 How prevalent is racism (and misogyny) among Canadian lawyers & judges?
Humanity on a roll – backwards: 91% of men, 86% of women hold at least one bias against women in relation to politics, economics, education, violence or reproductive rights. Almost one third of men and women think it's OK for a man to beat his wife. How many think it's OK for men to rape & murder women? Too many judges do.
Time to Boycott Rape Culture Alberta! X-Site ('Excite') Energy Ltd. decal depicting rape of Greta Thunberg printed, distributed *without her consent,* posted to X-Site's Facebook, Instagram; denied after public outrage; next a feeble apology. Canada's oil patch collared RCMP, as expected, say the decal is acceptable. Gotta let the oil boys satisfy their penis' wants, no matter how abusive or violent, to keep profits rolling in for the rich.
"It's the judges!" enabling rape and murder of women. No kidding. In Canada too.
Know my Name. A Memoir. Chanel Miller. Horrific Sexual Assault. "Rape is rape." Another Judge Protecting the Rapist. Magnificent Courage. Magnificent Writing.
Victim blaming and shaming must stop. So many rapists and pedophiles; too many judges enabling them. 'Un Violador en Tu Camino, The rapist is you!' Why a Chilean protest chant is being sung around the world
Canadian misogynistic "justice" ensures rapist paradise. Accused serial rapist Paul Batchelor, let off by Justice Beaudoin (elevated to the bench by Harper gov't), arrested after three new rape charges; now awaits trials involving nine women who don't know one another.
Why wasn't Nova Scotia legal profession's most infamous sexual predator and Premier, Gerald Regan, disbarred? Simple: 1) He was a man in Caveman Canada; 2) He was a lawyer in Caveman Canada; 3) He was in a position of power in Caveman Canada; 4) "Justice" is not available for raped women (or the environment) in Caveman Canada, just expensive lawyers.
The legal games rape on, enabled by judges & lawyers; Weinstein reaches $25m settlement with more than 30 women, he won't have to pay anything to his accusers or admit any wrongdoing. That's a great deal, for him (and the lawyers).
Bullying Canadian Caveman seeks judicial review to stay on the bench. Ex-Alberta-judge, Donald Norheim, appointed to the bench 27 years ago, seeks judicial review of losing his job because of his "completely inappropriate" beliefs, behaviours involving his views on Indigenous people and women, notably victims of domestic and sexual assault.
Violation of court order in Trans Mountain appeal 'attack on the rule of law,' judge says. Rule of Law in Caveman Canada? What Rule of Law? Oh Ya! For the Rich! Oh Ya! Industry's! Oh Ya! Law-violating politicians'! Oh Ya! Charter-violating regulators! Oh Ya! Protecting rapists and pedophiles while re-victimizing victims making how many boners under the bench?
To enable profit-raping & pollution by the oil & gas industry, Canada's politicians pimp the rule of law, while they, industry, the rich, our courts and regulators piss on it, us, our rights, our families and communities.
Pissing on Reconciliation, Alberta Premier Jason Kenney calls First Nations "Fringe Groups" and spews rule of law while he remains under investigation for breaking it. Law Prof Heidi Matthews: "'Rule of law' is a conservative talking point."
How many Canadian women and children must endure rape and or physical abuse and sexually transmitted diseases to keep the oil patch rolling?
Imagine if law-violating, polluting, community, family, health and home harming oil and gas companies were persecuted the same way women are! The "Rule of Law" is a misogynistic caveman's ass.
Megan Brown: "This is how abuse of power works."
This 2019 photo gives me nightmares, what a hideous Canadian Caveman legacy; these old white men appoint our provincial court judges: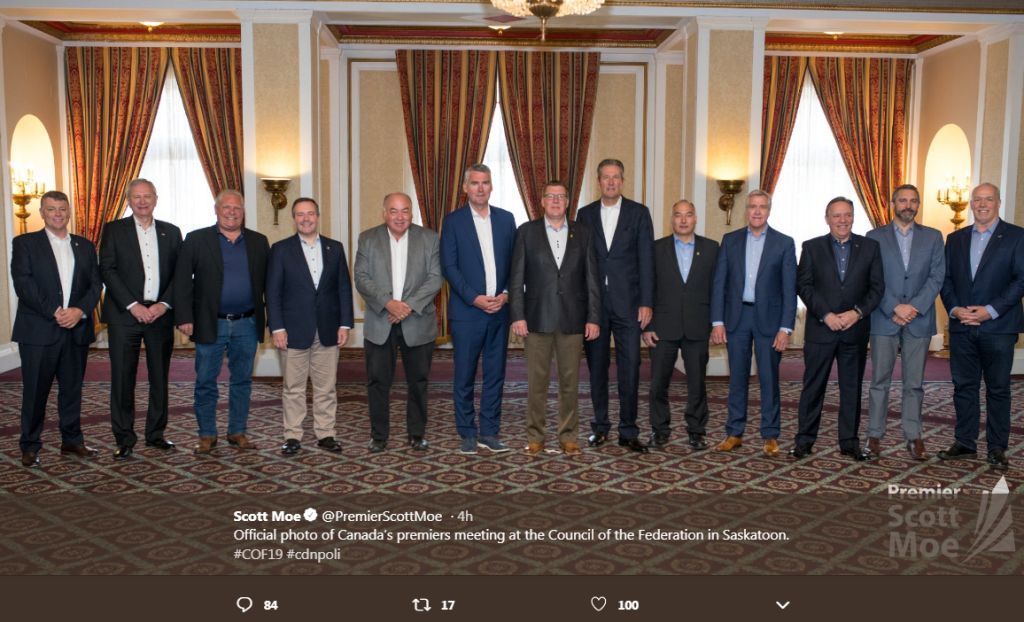 Official photo of Canada's premiers meeting of the Council of Federation in Saskatoon
2016: BARRISTERS' BRIEFS Aspiring to Highest Standards of Civility: Excerpt from speech on importance of civility and truth in legal profession by Alberta Court of Queen's Bench Chief Justice Neil C. Wittmann
Pfffft! Judicial Old White Man Hogwash! A few years earlier, when he was Chief Justice (put there by another old white man, Steve Harper), Neil C Wittmann let Glenn Solomon, AER's outside counsel, get away with knowingly lying in briefs and in court, smearing me, likely to prejudice future judges against me (calling me a terrorist without any evidence, thus I have no Charter rights). A few years later, nine Supreme Court of Canada judges (7/9 put there by Steve Harper) intentionally published lies in their ruling in Ernst vs AER, smearing me with the nastiest judicial smear a civil litigant can get, seemingly to discredit and punish me, and protect the law-violating AER (100% oil and gas industry funded).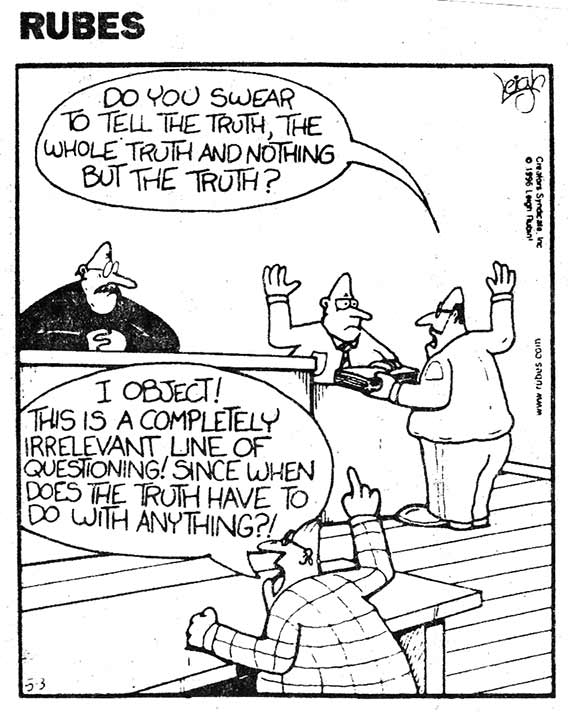 The truth rarely shows her face in Canada's Caveman rule-of-law-when-it-suits-them; Lady Justice shows up even less.