Think about Andrew Scheer's horrid white supremacist statements in Parliament today, as you read these tweets first:
JK@jkaldestad Replying to @PnPCBC and @AndrewScheer
A white male, in a position of power, preaching privilege on matters related to Indigenous people. I can't even.
JC@JCCWhyte
White guy living off the tax payer his entire adult life says what?
[oh ya, happy love hearts valentine's day, if you can imagine it in caveman canada!]
Power & Politics@PnPCBC
"These protesters, these activists may have the luxury of spending days at a time on a blockade, but they need to check their privilege," said @AndrewScheer. "They need to check their privilege and let people whose job depends on the railway system…do their jobs."
Canada 2020: Indigenous people checking their privilege while having to boil their water in order to drink it.
Canada 2020: Indigenous people checking their privilege while being only 4.5% of the population while being 26.4% of federal prison population.
Canada 2020: Indigenous people checking their privilege while having our children be 52% of all children in foster care.
Canada 2020: Indigenous people checking their privilege while our women and girls are at least 6x more likely to be murdered than non-Indigenous women and girls.
Canada 2020: Indigenous people checking their privilege while 47% of our children live in poverty, which is 2.5x the national rate
Canada 2020 :Indigenous people checking their privilege while the federal government ignores Human Rights Tribunal orders to treat our children equitably.
Canada 2020 :Indigenous people checking their privilege while we are at least 3x more likely to commit suicide than non-Indigenous people.
Canada 2020 :Indigenous people checking their privilege while having a life expectancy 15 years shorter than non-Indigenous people.
Canada 2020 :Indigenous people checking their privilege while having an infant mortality rate 3x that of non-Indigenous people.
Canada 2020: Indigenous people checking their privilege while having diseases such as diabetes at 4x the rate of non-Indigenous people.
Canada 2020: Indigenous people checking their privilege while reserves (a creation of the state) have $30 billion infrastructure deficit.
I'm going to stop now, but not because I couldn't go on, but because I'm going to make my kids dinner, which is a privilege.
I am so furious right now.
Our communities have given everything to this country, and this is what we get in return.
Shame.
Vanessa Jaye@vanessajaye Replying to @jessewente and @SusannaKearsley
The Scheer audacity of the man! Privilege is the "alleged" misuse of party funds to pay for your kids private school while still believing you hold the moral ground to publicly make pronouncements on others' so-called privilege!
***
New Study: Again, frac'ing linked to increased sexually transmitted disease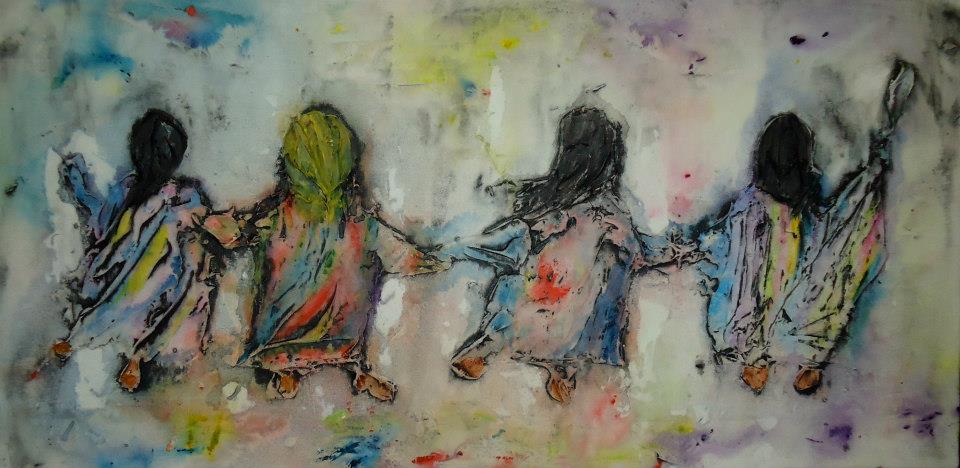 Study: Counties with fracking have increased rates of sexually transmitted infections; Another study shows link between B.C. extraction industries, domestic abuse
"When judges don't know the meaning of rape, there is little hope of justice" never mind that some (one is too many) are racist misogynistic bigoted troglodytes in society's "Upside Down of Patriarchy."
International Human Rights Court Recommends Worldwide Frac Ban. Will rape & pillage enabling Canadian authorities listen?
What's with so many judges not keeping their lips together? Protecting rape & pedophilia rings? How are citizens to trust & respect judges with so many bad lips on the bench? "That judge didn't care about me," Julie Kirby, 23, one of Keith Vallejo's victims said Friday. "He only cared about the person he was convicting, and I think that is really kind of despicable."
Why does Canada not sack bad judges? Do bad judges fill a niche that Rape & Pillage Canada Needs?
Must Read, Robin Mathews' Best Yet: British Columbia And Imperial Globalization. Happy Rape Canada Day!
Two sets of laws in Canada – Indigenous law and settler law. "That's why BC Premier John Horgan's appeals to 'law and order' are so off-base."
Nikiforuk writes his most powerful: Wet'suwet'en Raids: Canada Chooses Colonialism Again, A future of reconciliation is now squandered along with our billions propping up LNG.
All Eyes on Wet'suwet'en: International Call for Week of Solidarity! Canada's "Rule of Law" exposes it's public interest harming, corporate interest protecting, dark underbelly – again. Thank all that is good: ***Unist'ot'en evict Coastal Gaslink from their Territory*** and Hereditary Chiefs of all 5 Wet'suwet'en clans reject BC Supreme Court Justice Marguerite Church's decision, which criminalizes Anuk 'nu'at'en (Wet'suwet'en law)!
Violation of court order in Trans Mountain appeal 'attack on the rule of law,' judge says. Rule of Law in Caveman Canada? What Rule of Law? Oh Ya! For the Rich! Oh Ya! Industry's! Oh Ya! Law-violating politicians'! Oh Ya! Charter-violating regulators! Oh Ya! Protecting rapists and pedophiles while re-victimizing victims making how many boners under the bench?
How prevalent is racism (and misogyny) among Canadian lawyers & judges?
"The [legal] system's not broken; the system was built this way." Of course it was! Just like it was built to piss on the poor, women, the environment and the Rule of Law itself
***
The former chief commissioner of the Truth and Reconciliation Commission has described Coastal Gaslink Pipeline Ltd.'s community-benefits agreements with elected Indigenous chiefs and councils as a "promise payment for silence".
"The argument that Chiefs and Band Councils along the route may have signed Benefit Agreements can hardly be said to be proper consent, for I have seen some of them," Sen. Murray Sinclair wrote in a blog post.
He added that the "failure to recognize the traditional law of the Wet'suwet'en" in these deals "is a fatal flaw" to anyone who argues otherwise.
Twenty elected chiefs and councils along the 670-kilometre pipeline route have signed agreements—a fact often cited by pipeline proponents.
The former Manitoba judge also questioned whether Canada has complied with its own legal requirements in the dispute over the Coastal GasLink pipeline.
"Canada's obligation to resolve this jurisdictional dispute is clear from the case law, but it has failed to do so, mainly because it has declined to negotiate," Sinclair declared. "Injunctions are supposed to be issued only to those 'with clean hands' and Canada would likely fail on that point."
According to Sinclair, the courts have recognized that traditional chiefs "have an overall say over unceded territory".
Wet'suwet'en hereditary chiefs oppose the Coastal GasLink project, which has been given the green light by the B.C. government.
"Let's say the United States wanted to run a pipeline from Alaska to Texas and got the BC Government to sign off, through promises of jobs and financial payments," Sinclair wrote by way of analogy. "Could Canada not rightfully say: 'You need our consent too'? Such is the nature of the role of traditional chiefs."
He noted that in the past, he's warned that ramped-up Indigenous resistance has the potential to paralyze the national economy. And he brought up a Simon & Garfunkel hit to illustrate where things could go from here.
"Indigenous people must feel the way that Paul Simon expressed in his song 'The Boxer':
"I am just a poor boy though my story's seldom told
"I have squandered my resistance for a pocketful of mumbles,
"Such are promises,.."
"Positive acts of resolution will be needed," Sinclair stated. "Police and military enforcement will only serve to inflame matters.
"Frankly, given Canada's intransigence, and the rising sense of injustice felt by Indigenous leadership throughout the country, I do not like where this is heading."
AN UNSIGNED AGREEMENT between a Wet'suwet'en First Nation and Coastal GasLink along with financial documents obtained by Yellowhead Institute provide reinforcement to Yellowhead's assessment of the ways these private contracts can dramatically undermine First Nation rights and jurisdiction.
The Impact and Benefit Agreement (IBA) and other documents were drafted in 2016, two years before the first payments were made to the First Nation.
Because official agreements are not available to the public due to confidentiality clauses, these documents provide a valuable record of Coastal GasLink's negotiating objectives.
In light of present RCMP raids, these documents provide important insights that support an emerging analysis around how resource extraction companies work with provinces to limit the scope of the Aboriginal and treaty rights.
One of the most alarming clauses in the document positions the band as paid informers to quell internal dissent within the First Nation against the project at the cost of "financial consideration" or payouts.
[DID THAT HAPPEN HERE: CAPP write this patronizing synergy crap? Did KKKenney's War Room pay for it? ]
The document also introduces the possibility of future negotiations with the band on the pipeline's conversion to crude oil.
Operating on unceded lands
The pipeline, a natural gas project by Coastal GasLink owned by TC Energy, has been approved by the B.C. government, but it is being opposed by Wet'suwet'en Nation hereditary leadership in the region.
It has been criticized by Amnesty International, B.C.'s Human Rights Commission and the UN Committee for the Elimination of Racial Discrimination who say all First Nations affected by the pipeline should give free, prior and informed consent before it can proceed.
Provincial and federal governments, industry and the First Nations LNG Alliance have responded to criticism about the contentious project by citing the consent of elected band councils along the route. Coastal GasLink has signed agreements with 20 First Nations, including with each band council in the Wet'suwet'en Nation.
But the terms of consent this unsigned agreement seek to secure should raise serious concern for those watching the conflict unfold.
Irrevocable consent
According to the IBA, Coastal GasLink aims to secure "irrevocable consent" for the project from the First Nation.
The First Nation must also act to dissuade band members from engaging in any internal dissent within the First Nation against the project. The unsigned agreement reads:
"[The First Nation] will not take, and will take all reasonable actions to persuade [First Nation] members to not take, any action, legal or otherwise, including any media or social media campaign, that may impede, hinder, frustrate, delay, stop or interfere with the Project's contractors, any Authorizations or any Approval Processes." [F*cking Evil anyone, especially corporate lawyers, coercing FN to sign this.]
Experts on IBAs have been warning for years that serious issues can arise when commercial law is used to interpret Aboriginal constitutional rights. With these agreements, we now see how. The draft agreement states:
"[this is the] full and final satisfaction of any present or future claim by [the First Nation]… against Coastal Gaslink… for any infringement by the Project of [the First Nation's] Section 35(1) Rights." [aka, we escape responsibility for any pipeline explosion and massive crude oil spills in the "future" on your lands and your heirs' and their heirs' lands because we had the foresight to screw you upfront.]
The extent of constitutional Aboriginal rights is being defined here by a private energy corporation, specifically limiting the exercise of Aboriginal rights. A separate provision affirms that the band can take legal action against British Columbia. [Make taxpayers pay, even though they won't see a penny from this project]
Future protection is granted to Coastal GasLink in the case that Aboriginal rights are expanded to the nation through legal or policy means. The draft agreement states:
"If [the First Nation] obtains any interest in land including Aboriginal title or ownership or jurisdiction over lands used by the Project… [the First Nation] affirms the Authorizations … will continue" and that these changes will not affect the Agreement.
Dayna Nadine Scott, a law professor at York University, has interviewed lawyers with experience drafting IBAs for a research project, due out in the spring.
She says this language is highly problematic and is often referred to as "gag orders," preventing communities from raising concerns when new issues come to light.
Therefore, the unsigned agreement restricts the band from challenging any of the company's legal rights of development, even in the case of changes to the First Nation's legal rights, as recognised by courts or governments.
Possibility for natural gas to crude oil conversion?
The unsigned agreement also raises the issue of the possibility of converting the pipeline for other uses.
Previously, First Nations in the region were almost unanimously opposed to the Northern Gateway pipeline proposed by Enbridge, because it carried significant environmental risks, such as oil spills in coastal waters. Coastal GasLink garnered significantly more support, in part because of its pipeline would carry natural gas, not bitumen.
The unsigned agreement says: "Coastal GasLink will not convert the pipeline component of the project to use for transportation of crude oil, bitumen or dilbit without the consent of [First Nation]." [Are you kidding me? If the company wants to ship oil and the FN says no, the company will file for an injunction and most likely win. Because the "agreements" are really just legally binding permanent gags, the FN would not be able to use their "agreement" in court but the company would argue in court that the FN gave up all their rights by signing the "agreement." ]
That line, "without the consent of First Nation," means the subject of conversion was very likely raised in negotiations between the parties. The First Nation protected itself by confirming this change would require an amendment or a new agreement altogether to obtain consent for the change.
However, Wet'suwet'en Hereditary Chiefs who oppose the project have not consented and signed an agreement. Therefore, it remains to be seen if Wet'suwet'en Hereditary Chiefs who oppose the project would be afforded the same opportunity.
Though B.C. introduced a regulation in 2015 against the conversion of LNG pipelines, it has yet to be tested and could be repealed.
A once-shuttered energy corridor could re-emerge if the LNG pipeline is built. Hydrocarbons are Canada's biggest export commodity, with $129 billion CAD in exports in 2018. Enbridge was unable to secure a corridor through the region previously, but TC Energy, the owner [Alberta's AIMCo and an American firm own 65%] of Coastal GasLink, is aiming to succeed.
Subsidizing dispossession
LNG Canada is already subsidized by the province of B.C. for $5.35 billion. A further $1 billion in estimated subsidies will be provided by the federal government in exemptions from tariffs on steel imports.
The provincial funding arrangement puts B.C. Premier John Horgan in a conflict of interest with Wet'suwet'en hereditary governments opposing the project.
Horgan has expressed concern about First Nations experiencing "systemic poverty" and characterized the Coastal Gas Link investment into First Nations as "a pathway to prosperity," according to recent statements in the press.
But a substantial amount of financial support to First Nations are derived from public coffers. Rather than alleviate "systemic poverty" in communities directly, the B.C. government is channelling these dollars through energy companies. Therefore, making First Nation funding contingent upon support for pipeline deals.
The summary of financial benefits obtained by Yellowhead shows that B.C. will put up $1 million to the band in signing payments, $5 million in construction and in-service payments, and an estimated $40 million total in annual operation payments over 40 years.
These numbers confirm amounts committed in a Natural Gas Benefits Agreement signed between the parties.
Raid
As the RCMP descend on Wet'suwet'en territory it is worthwhile to reflect on how social license is achieved by industry to access Indigenous territories.
The provincial government has downloaded its constitutional obligations to energy companies to determine the scope and assertion of Aboriginal rights.
A hand-in-glove system, the B.C. government has supported the current raids through financial incentives that have forced communities apart.
With upwards of $7 billion on the line in government subsidies, the interests of Coastal GasLink's viability appears to have been put far ahead of Wet'suwet'en rights, title and justice.
This article originally appeared in The Conversation Canada.
Refer also to:
Where is the money going to come from to put product in the line? Alberta pensioners via AIMCo?
"Effectively, the shale boom is over." Colorado's 8 largest public oil & gas producers spent $27 Billion more than they made in past 5 years. Is that why Alberta gov't wants our pensions? To feed the bleed via AIMCo?
"Global oil and gas industry is automating and digitizing heavily to cut costs." Around 7,000 fewer workers on Alberta oil and gas drilling rigs compared to 2018: ATB Financial
Shale Is Doomed No Matter What They Do: "More bankruptcies are all but certain as oil and gas borrowers must repay or refinance **several hundred billion dollars** of debt over the next six months"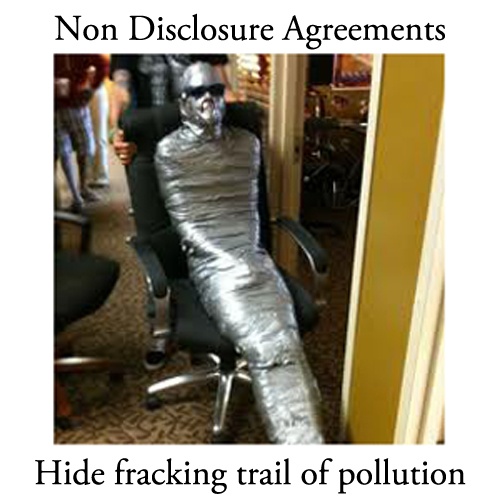 How is settle and gag a "big win" for anyone but the human rights violating company eager to reopen their mine?
"Justice" rears its farcical head, yet again. Radio reporter obtains judge-ordered frac harm settlement 'n gag, but court stifles him! $3M settlement accidentally made public for 8 plaintiffs against Range Resources & ten other codefendants. Two plaintiffs feel "angry and defeated" by their settlement.
Drilling, Frac'ing, Mining, Spills, Corporate Law Violations & Toxic Waste Dumping Everywhere with Water Gone or Gone Bad Everywhere too. Where are the courts? Busy gagging the harmed, protecting the water abusers and their enablers – the "regulators."
Doug Hendren: Fracking is Everywhere; We've got gag orders, no tape recorders, … 'Cause the judge says that it ain't legal, Walking 'round, talking to people.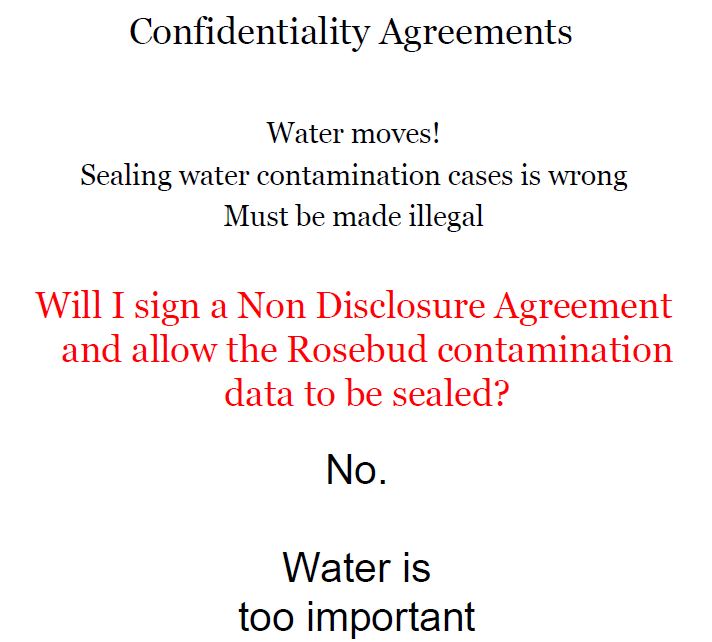 Non-Disclosure Agreements "are, indeed, an ugly instrument."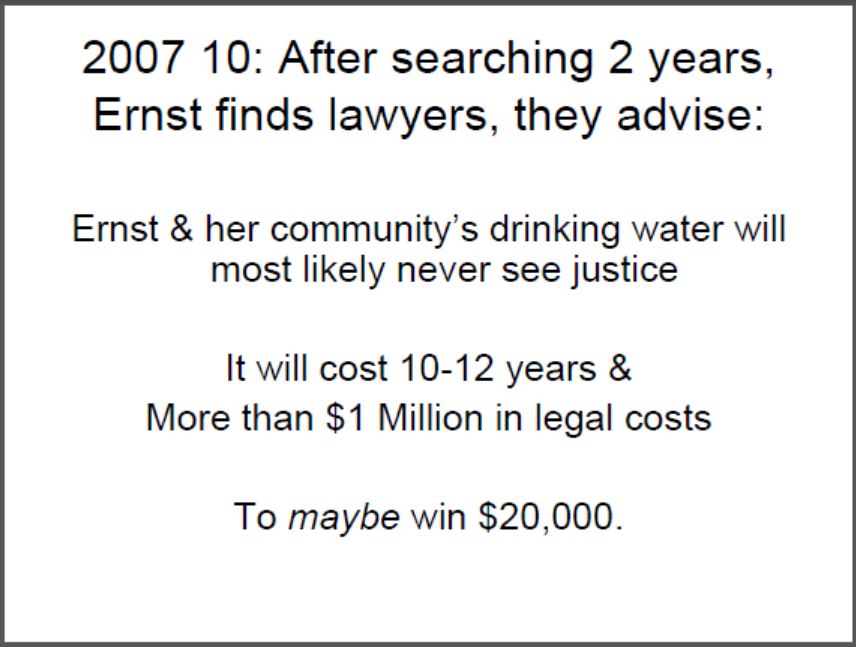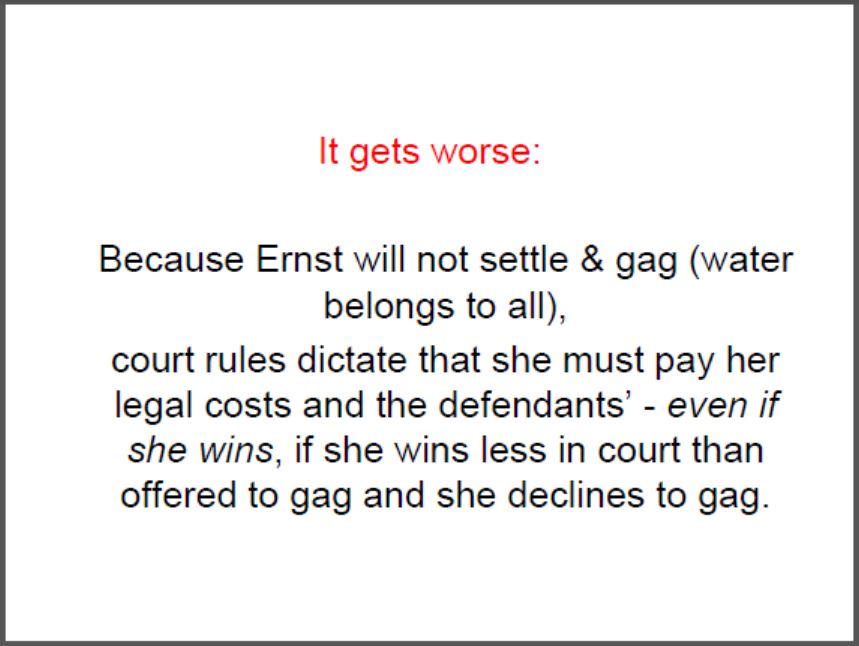 Slides from Ernst presentations.
Gag orders used in the oil and gas industry, before, during and or after their activities, must be made illegal, even those ordered by judges.