Jeffrey Epstein's death: 4 unanswered questions, From the sex trafficking investigation to victims' compensation, the story is far from over by Steven D'Souza with files from Associated Press, August 13, 2019, CBC News
Jeffrey Epstein's death may close the book on his criminal case, but it will do little to bring closure for the victims and leaves myriad unanswered questions.
Epstein, a financier and convicted sex offender, was facing two federal charges — one count for sex trafficking a minor and one count of conspiracy to sex traffic involving underage girls — and potentially up to 45 years in prison.
He had pleaded not guilty and was awaiting trial when he was found unresponsive in his cell on Saturday and later died in hospital.
It will never be known what more a criminal trial might have revealed about the horrible crimes he's alleged to have committed. But there is a chance we may yet learn about the wider network that influenced and enabled his actions, and what connection it has to the rarified halls of power, money and influence in which Epstein lived.
Here are four key questions that arise from Epstein's death.
How did he die in federal custody?
The most serious question around the 66-year old's death is how it could happen at the Metropolitan Correctional Center, one of the most secure facilities in the U.S.
"I was appalled, and indeed the whole department was, and frankly angry to learn of the MCC's failure to adequately secure this prisoner," U.S. Attorney General William Barr said Monday. [Intentional failure? Planned all along if tossed in prison?]
Barr said the Department of Justice is looking into "serious irregularities" at the facility that are "deeply concerning and demand a thorough investigation." He said the FBI and the DOJ Inspector General are doing just that.
The MCC is an imposing 12-storey building in lower Manhattan that routinely houses high-profile defendants being tried in New York. Among the infamous inmates who've spent time there were crime boss John Gotti, convicted financier Bernie Madoff, Sheik Omar Abdel Rahman, convicted in the 1993 World Trade Center bombing, and most recently, drug kingpin Joaquin "El Chapo" Guzman.
The results of an autopsy on Epstein have so far not been made public. Epstein's apparent suicide comes about two weeks after he was found unconscious in his cell with bruising on his neck from an apparent suicide attempt or possible assault. [The establishment, including legal, seem willing to do anything, no matter how vile, to protect their supply of children to rape]
The multimillionaire had been placed on suicide watch on July 23, but according to the Wall Street Journal, sometime before the end of the month his lawyers had requested he be taken off it.
Epstein was reportedly in "special observation status," which required checks at 30-minute intervals and a constant cell-mate. Reports suggest neither of those protocols were followed leading up to Epstein's death and that he hadn't been checked for several hours.
"We will get to the bottom of what happened and there will be accountability," Barr said. [Pfffft! Who believes that?]
… One of the new details provided by people familiar with the Metropolitan Correctional Center was that one of Epstein's guards the night he died in his cell wasn't a regular correctional officer.
Serene Gregg, president of the American Federation of Government Employees Local 3148, told The Washington Post that one of the guards was a fill-in who had been pressed into service because of staffing shortfalls.
What does this mean for the investigation?
While the criminal case against Epstein goes to the grave with him, the larger investigation around sex trafficking and who enabled him will continue, federal prosecutors at the Southern District of New York said over the weekend. [Big money & sexual favours will be given to authorities behind backs, and it all be quickly quietly dropped]
Epstein's charges included a conspiracy count, which prosecutors promised to continue to investigate. The SDNY statement also included a call for any victims to come forward.
"It's very clear that [Epstein] didn't do this alone, and the Southern District, I do believe, will be indicting other people who helped him run this sex trafficking ring, and those people will face justice," Elie Honig, a former state and federal prosecutor, told CBC News. [Justice my ass. Authorities keep letting the most vile pedophiles off. Just look below, to what they gave Epstein!]
"It may not be quite as satisfying as seeing Jeffrey Epstein himself face justice, but these other people are not going to escape, and we will have more information about [Epstein's] operations," Honig said.
The attorney general also promised to pursue "anyone who is complicit, any co-conspirators." [Ya, and give them nice deals like they gave Epstein and his network before, in exchange for what personal favours?]
One of the key targets could be Ghislaine Maxwell, a British socialite and daughter of newspaper magnate Robert Maxwell. She's been accused of being Epstein's co-conspirator and allegedly recruiting young girls for him.
There are also lingering questions about Epstein's financial dealings. Last week, the billionaire behind Victoria's Secret, Leslie Wexler, accused Epstein of misappropriating "vast sums" of his fortune while managing his personal finances more than a decade ago.
What happens to Epstein's accusers?
For Epstein's accusers, his death snatches away their chance to face him in open court, but a number have said they'll continue to seek justice through civil lawsuits against his estate. [And do the vile legal usual? Take money 'n gag with bigger money to the lawyers doing the gagging?]
"They are disappointed that once again they have been cheated out of an opportunity to see Jeffrey Epstein held appropriately accountable by the criminal law for his actions," lawyer Jack Scarola told CBC Radio's As It Happens. He represents five women who say they were abused by Epstein.
"They certainly do not grieve his passing, but they regret that information that he has that may contribute to holding others responsible for their participation in his crimes may have died with him," Scarola said, adding his clients hope Epstein's death may allow others to feel safe to come forward.
How much of Epstein's estate may be available to victims is still an open question. A recent court filing listed his assets at more than $559 million US. [Room for heaps of legal invoicing to complete gag orders]
That included cash and investments, as well as properties in New York, New Mexico, Florida, France and his private island in the U.S. Virgin Islands.
Sigrid McCawley, an attorney representing one accuser, said in a statement that "the reckoning of accountability begun by the voices of brave and truthful victims should not end" with Epstein's death.
New York state prosecutors had already signalled in their indictment of Epstein that they would seek to forfeit his $56-million New York apartment — a process that can continue, says former federal and state prosecutor Carl Bornstein.
Jeffrey Epstein's death: The conspiracies and the fallout
The federal government could also forfeit other properties used in the commission of the crimes of which Epstein is accused. Bornstein says that money could be available for Epstein's accusers to pursue in a civil case.
"I think the U.S. Attorney would want to make what's recovered part of a fund for the victims to proceed against," said Bornstein, now a professor at the John Jay College of Criminal Justice in New York.
Will we ever learn the full scope of Epstein's activities?
The key to learning more about the accusations around Epstein can be found, in part, in documents released last Friday from a now-settled defamation case involving Maxwell and one of his accusers, Virginia Giuffre.
Giuffre alleged that when she was 15, she was a victim of sex trafficking and abuse at the hands of Epstein and Maxwell that went on between 1999 and 2002. More than 2,000 pages of documents from that case were unsealed, and they include disturbing allegations of abuse involving Epstein and others. [Lawyers who agree to settle and gag orders ought to go to jail along with the pedophiles/rapists/polluting corporations they protect and enable]
U.S. Labour Secretary Alex Acosta defends Jeffrey Epstein deal
The documents also contain accusations involving high-profile names like New Mexico Gov. Bill Richardson, former U.S. senator George Mitchell, Prince Andrew and lawyer Alan Dershowitz. All have denied any wrongdoing. …
Epstein apparent suicide raises questions about how such a high-profile detainee could die in custody FBI and Department of Justice launch investigations into circumstances surrounding jail cell death by The Associated Press, Aug 11, 2019, CBC News
A law enforcement source told The New York Times that financier Jeffrey Epstein was alone in his jail cell the night of his apparent suicide.
The Times spoke to the official on the condition of anonymity. The Associated Press has not independently confirmed the information.
An official with knowledge of the investigation told the Times that Epstein's cellmate was transferred. The official says the Justice Department was told Epstein would have a cellmate and be monitored by a guard every 30 minutes.
He was found unresponsive in his jail cell Saturday and the Bureau of Prisons says he was later pronounced dead of an apparent suicide.
Epstein's death weeks after he was indicted on sex-trafficking charges, has raised a range of questions about how such a high-profile detainee could die in custody.
The city's former mayor, Rudy Giuliani, now a lawyer for U.S. President Donald Trump, tweeted out several questions about Epstein's death.
"Who was watching? What does camera show? … Follow the motives," Giuliani tweeted Saturday afternoon after news broke that the multimillionaire businessman's body had been found in his jail cell in the morning.
Epstein, 66, had been taken off suicide watch at the end of July, sources told U.S. media outlets. He was reportedly placed temporarily on a suicide watch after he was found July 23 in his cell with marks on his neck.
Hours after the Federal Bureau of Prisons announced that Epstein was found unresponsive in his cell at the Metropolitan Correctional Center (MCC) and then pronounced dead in hospital, #EpsteinMurder was trending worldwide on Twitter, and the U.S. president joined Twitter speculation around Epstein's death while under the federal government's watch.
Trump, who rose to conservative prominence by falsely claiming Obama wasn't born in the U.S., retweeted unsubstantiated claims about Epstein's death.
Other politicians also took to social media to question the circumstances.
Republican Sen. Rick Scott of Florida, the state where some of Epstein's alleged sexual abuse crimes took place, suggested the possibility that others might have been involved in Epstein's death when he called on corrections officials to explain what happened.
"The Federal Bureau of Prisons must provide answers on what systemic failures of the MCC Manhattan or criminal acts allowed this coward to deny justice to his victims," he tweeted.
The FBI and the U.S. Department of Justice's Office of the Inspector General will investigate the circumstances surrounding Epstein's death, Attorney General William Barr said.
"Mr. Epstein's death raises serious questions that must be answered," Barr said in a news release in which he said he was "appalled" to learn of the apparent suicide.
'Every single person' knew about suicide risk
Joining those demanding accountability is Sen. Ben Sasse, a Republican from Nebraska and chair of the Senate judiciary oversight committee who had asked the U.S. Justice Department to investigate the handling of the Epstein case.
"Every single person in the Justice Department — from your Main Justice headquarters staff all the way to the night-shift jailer — knew that this man was a suicide risk, and that his dark secrets couldn't be allowed to die with him," Sasse wrote Saturday in a letter addressed to Barr.
Given Epstein's previous attempted suicide, he should have been locked in a padded room under unbroken, 24/7, constant surveillance," Sasse wrote.
"Obviously, heads must roll," he added.
Epstein's suicide was likely recorded by jail cameras, according to Preet Bharara, the former federal prosecutor in Manhattan.
"One hopes it is complete, conclusive, and secured," he tweeted, referencing video he said should exist.
Epstein's arrest on July 6 launched separate investigations into how authorities handled his case initially when similar charges were first brought against him in Florida more than a decade ago. U.S. Labour Secretary Alexander Acosta resigned last month after coming under fire for overseeing that deal when he was U.S. attorney in Miami.
The New York City medical examiner's office, the FBI and the inspector general's office of the U.S. Justice Department have all launched investigations into why Epstein had not remained under special monitoring.
Epstein sexual abuse probe will proceed despite death by apparent suicide, U.S. attorney says Epstein's removal from suicide watch would have been approved by both the warden of the jail and the facility's chief psychologist, said Jack Donson, a former prison official who worked for the Bureau of Prisons for more than two decades.
Epstein's abrupt death cuts short a criminal prosecution that could have pulled back the curtain on the inner workings of the high-flying financier with connections to celebrities and presidents, though prosecutors have vowed to continue investigating.
Alleged Jeffrey Epstein victims urge judge to keep him locked up until trial
Epstein had been denied bail and faced up to 45 years behind bars on federal sex-trafficking and conspiracy charges unsealed last month. He had pleaded not guilty and was awaiting trial.
His lawyers had maintained that the new charges in New York were covered by the 2008 plea deal and that Epstein hadn't had any illicit contact with underage girls since serving his 13-month sentence in Florida.
What happens next for Epstein's accusers
Several of Epstein's accusers said Saturday that they're disappointed that the financier won't have to face them in court or serve a long prison sentence if convicted. They called on federal authorities to investigate associates of Epstein for any role in his activities.
Sigrid McCawley, an attorney representing one accuser, said in a statement that "the reckoning of accountability begun by the voices of brave and truthful victims should not end" with Epstein's death.
Another accuser, Jennifer Araoz, who came forward after the new charges were filed, said she was angered by Epstein's suicide. Araoz alleged that Epstein raped her in his New York mansion in the early 2000s when she was 15.
"We have to live with the scars of his actions for the rest of our lives, while he will never face the consequences of the crimes he committed, the pain and trauma he caused so many people," she said.
Brad Edwards, a Florida lawyer for nearly two dozen other accusers, said that "this is not the ending anyone was looking for."
"The victims deserved to see Epstein held accountable, and he owed it to everyone he hurt to accept responsibility for all of the pain he caused," Edwards said in a statement.
Lisa Bloom, a lawyer representing some of Epstein's alleged victims, tweeted after his death that civil cases wibll proceed against his estate. She added that her clients would have liked him to live to "face justice."
She later added a statement from an alleged victim who says, "I will never have a sense of closure now."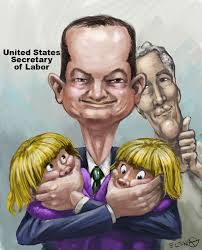 Jeffrey Epstein is in 'a world of trouble' this time, says former U.S. federal prosecutor The multimillionaire is not likely to get another 'sweetheart deal' on new sex abuse charges by Sheena Goodyear with files from The Associated Press, interview (listen at link) by Elie Honig, As it Happens, CBC Radio, Jul 08, 2019
Jeffrey Epstein will likely go down for his alleged crimes this time around, says a former U.S. federal prosecutor.
Epstein, a multimillionaire hedge fund manager, has pleaded not guilty to charges of sex trafficking and conspiracy for allegedly sexually abusing dozens of underage girls, some as young as 14, between 2002 and 2005.
The Southern District of New York indictment accuses Epstein of running a sex trafficking network in which he allegedly paid underage girls for sex, then tasked his employees, associates and victims with finding and luring other girls for him to abuse.
The arrest comes 11 years after Epstein avoided a potential life sentence on similar allegations by signing what lawyer Elie Honig calls "a sweetheart deal" with Florida prosecutors.
Honig, a former state and federal prosecutor, spoke to As It Happens guest host Robyn Bresnahan about why he thinks Epstein won't get off so easy this time. Here is part of their conversation.
What do you make of these new charges against Jeffrey Epstein?
Jeffrey Epstein is in a world of trouble…. Epstein is looking at an awful lot of time behind bars. For a guy who's 66 years old, as Epstein is, it could be really the rest of his life.
This is not the first time he has faced criminal charges.
Eleven years ago, Mr. Epstein signed a secret deal with prosecutors.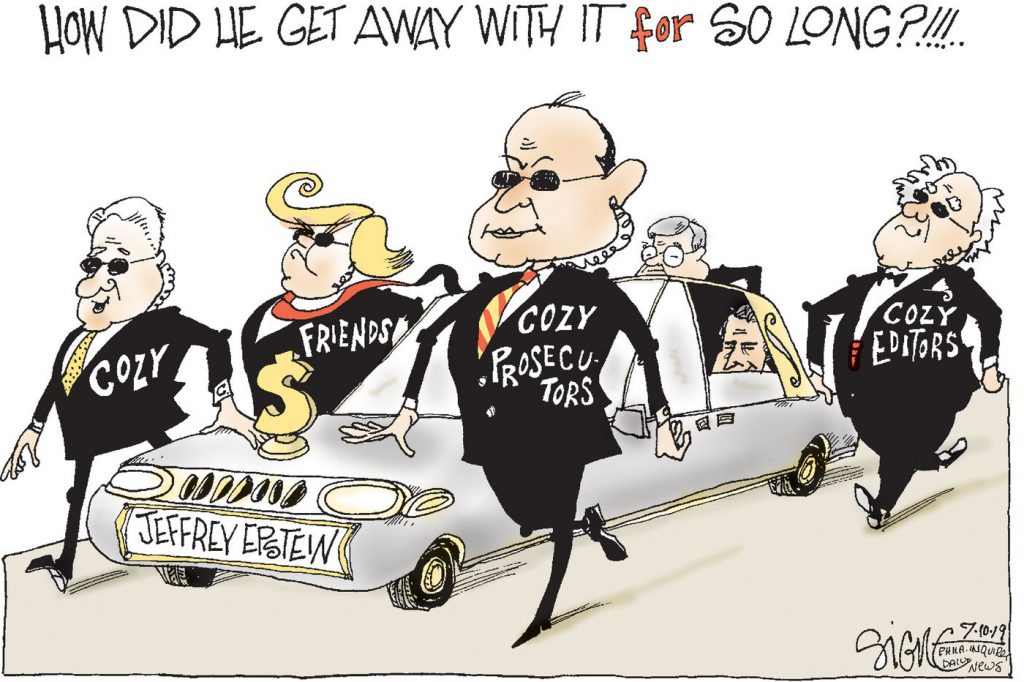 And in that deal, which is called a non-prosecution agreement, Mr. Epstein pleaded guilty to two prostitution charges in state court. He ultimately served 13 months. In exchange, he received immunity from all federal criminal charges. What does that immunity mean for this case and these new charges?
First of all, the deal that Epstein got in the Southern District of Florida years ago is really unconscionably unjust. I've seen all manner of plea deals, non-prosecution deals. I've done hundreds of thousands of them myself. I don't think I've ever seen a deal that was this generous to a defendant.
There's so much wrong with the deal. The fact that he only got 13 months. And, by the way, he spent most of that on work release so he wasn't actually behind bars for much of it.
The fact that they didn't notify victims. You were required as a federal prosecutor to at least notify victims. The fact that they did not do that tells me they were trying to keep it quiet.
The fact that the deal even purported to immunize Epstein's co-conspirators, other people involved in running this organization or this network with him, that is also absolutely unheard of. [Is that way pedophiles are licenced as lawyers?]
Now, fortunately, that agreement is only binding on the district that entered into the agreement with him, which is the Southern District of Florida. It is not binding on any of the other 92 U.S. attorneys organized geographically around the country, including the Southern District of New York. So it really does not do anything to preclude the indictment that we heard today.
The deal that we're just talking about, according to the Miami Herald, which has really been at the forefront of newspapers investigating this, it was brokered by the former U.S. attorney Alexander Acosta, who now serves as [U.S.] President [Donald] Trump's labour secretary. Where does this all leave Acosta?
Acosta is in a very tough spot. I think he is going to have a really hard time defending his actions. Now, is he in criminal trouble? Almost certainly not, unless some brand new evidence pops up.
But I think Congress needs to investigate him. I think it's going to be really hard for him to stay in his position as a cabinet secretary in this administration.
I think if he did the right thing, he would resign. And if he doesn't, then I think Congress has a real obligation to dig in to find the facts and perhaps to consider impeachment [against him.]
Jeffrey Epstein had friends in high places. He was friends with [former U.S. president] Bill Clinton, Donald Trump, even Prince Andrew. What do you think is the potential political fallout here?
That remains to be seen. I do think there obviously were more people than Jeffrey Epstein involved in running this network and more people participated in the sexual abuse. I think that's clear from the reporting and the indictment itself. We don't know who those people are.
What we will learn, I think, will depend on how this case plays out. If it goes to trial, ultimately we probably will learn those names— but that's many, many months down the road. If it does not go to trial, I don't think we'll learn who else might have been involved unless and until there are other indictments that are brought.
In an article you wrote for CNN, you said that Mr. Epstein dodged justice the first time, but this time you say he is "likely cooked." What convinces you of that?
It's the Southern District of New York now on the case, not the Southern District of Florida. There are plenty of competent and then some prosecutors on the case versus Secretary Acosta, who I think was incompetent in the way he handled this case.
Also as a practical matter, you have a very bright media spotlight on the case now. And I don't think there's any way this case gets sort of shuffled away in the shadows as it was down in Florida.
On top of that, it seems like the Southern District [of New York] has taken the evidence that Florida had and built on it further, and like I said, today they even announced they had found potentially child pornographic images on his computer, which further buries him.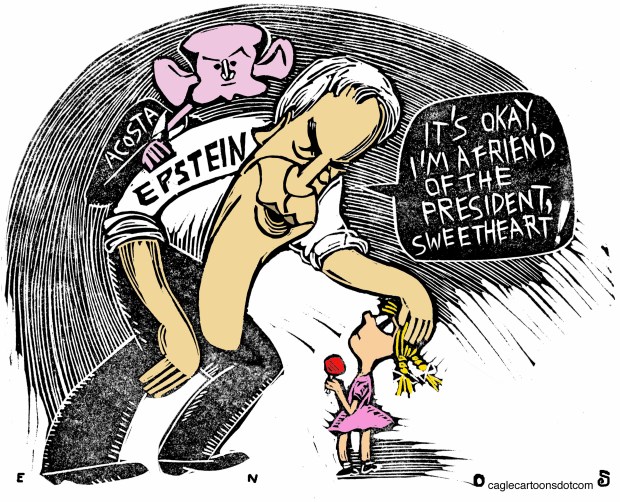 Refer also to: