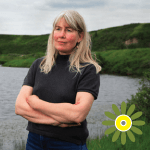 Living frac'd by Gwyn Morgan-led Encana is horrendous hell.
ROB Magazine: Who killed Encana?: Inside the mess that crushed Canada's energy icon, It was supposed to be a Canadian champion too big to fall into foreign hands. Now it's gone. Who's to blame? by Tim Kiladze and Jeffrey Jones, April 23, 2021, The Globe and Mail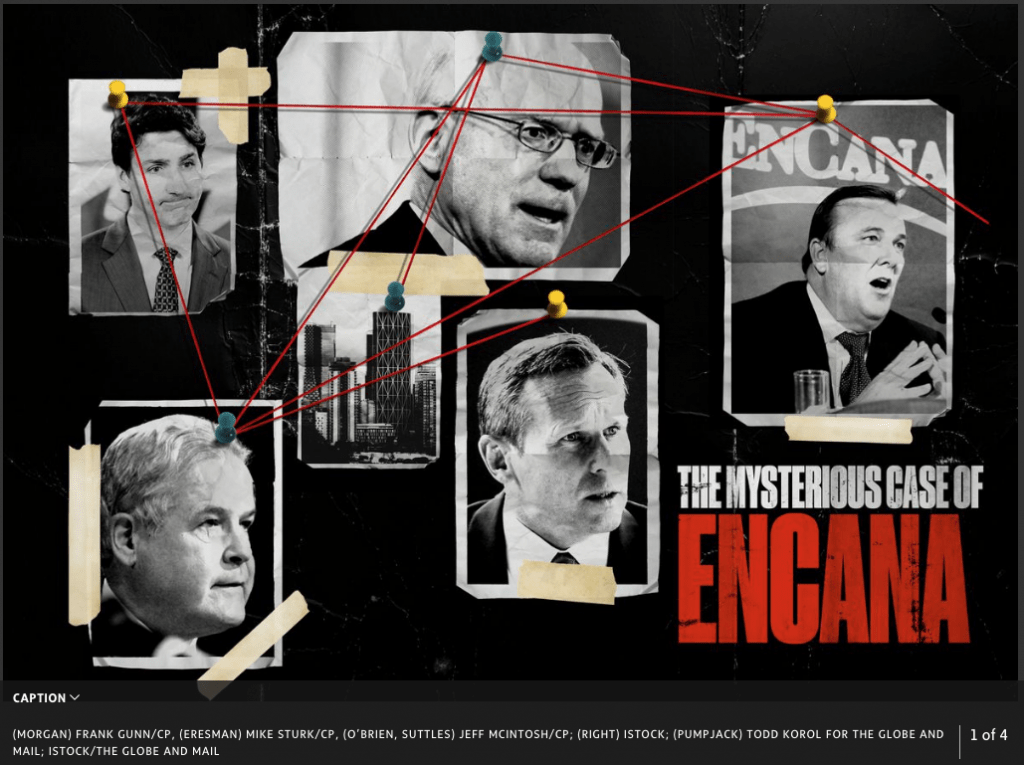 It took Gwyn Morgan 30 gruelling years

Gwyn Morgan was given many riches that belonged to Albertans via Alberta Energy Corporation thanks to Premier Peter Lougheed and later Ralph Klein; the merger with Pan Canadian came with a massive land grant totalling 25 million acres

to build Encana Corp. into Canada's flagship energy producer and only one email to upend his life's work.
Everything came crashing down during a trip to Israel in late 2019, when a newspaper asked him to comment on Encana's latest news. At first, he wasn't sure what the fuss was about. But sitting on a bus en route to the Dead Sea, he learned the company was changing its name—to Ovintiv, of all things—and, more jarring, abandoning Calgary for Denver. "That was pretty much the worst day of my career," says Morgan.
By then, he hadn't been close to Encana for over a decade—he retired as CEO in 2005—but it was still his baby.

Encana was not Morgan's baby. Much of the riches Encana blew, belonged to Albertans, not Morgan

He'd spent three decades toiling over unconventional oil and gas assets to create what he called a "global super-independent," and he was the driving force behind a 2002 merger to create a company big and strong enough to be protected from U.S. suitors desperate to get their hands on Canadian energy assets.
Gwyn Morgan Reality Check: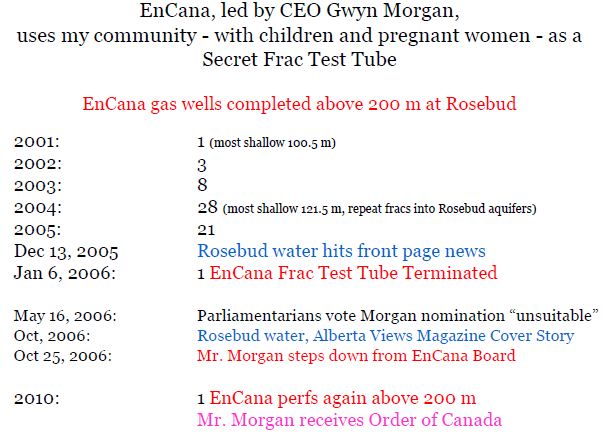 Slide from Ernst presentations
Front Page Edmonton Journal Tainted water lights fire under gas fears
Cover story Alberta Views: Trouble in the Fields: Is our water safe?
End Gwyn Morgan Reality Check
Morgan and his wife, Pat Trottier, had even named the company themselves, settling on Encana—a portmanteau of "energy" and "Canada"—while cross-country skiing. So the rebrand felt like a twist of the knife. "There was no need to do that," says Morgan. "That really pissed me off."

Felt like a twist of the knife? I doubt Morgan knows what that feels like, he's been given so much ultra rich privilege and protections by regulators looking the other way when the bully company he led broke the law again and again and again. I often wonder how he'd feel having his drinking water supply illegally frac'd and experience his skin and eyes, and those of his loved ones, burn in the shower from insanely high concentrations of methane in his water. Learn about Morgan's knife-twisting character in Andrew Nikiforuk's Slick Water and Saboteurs (the film Wiebo's War was made based on Nikiforuk's book), Nadja Drost's film Between Midnight and the Rooster's Crow and in the references end of this post.

Blessed with all the advantages an energy firm could want, including some

5.2 million acres!

royalty-free acreage and a reputation as a low-cost producer, Encana once seemed unstoppable. For a time, it was Canada's most valuable company, worth more than even Royal Bank of Canada. Its crescent-shaped skyscraper, the Bow, was designed by some of the world's top architects, signalling Calgary as a global energy power.
Yet, starting in 2009, Encana spun off its oil sands assets (at an unfortunate time) under the direction of Morgan's hand-picked successor, Randy Eresman; brought in American executive Doug Suttles, who paid premium prices to shift the company's centre of gravity south of the border; wrote down US$20 billion in assets; and changed its strategy so many times that no one really knew what it stood for anymore. Since December 2009—when it hived off its oil assets into Cenovus Energy—Encana's shares have lost 80% of their value (meaning RBC is now 20 times larger by market cap).
Something had to give. But ditching Calgary altogether? In the words of Cenovus's CEO, Alex Pourbaix, it was a "tragedy for Canada." Encana's raison d'être was to be the energy giant that could never fall into foreign hands. "The driving force behind the merger, the driving force behind my career, the driving force behind everything, was a great Canadian-headquartered company that would never move," Morgan says from his home on the Saanich Peninsula, north of Victoria.
When the news broke, everyone wanted to blame someone else for the pending loss of an Alberta icon. It was all Justin Trudeau's fault for turning investors off Canadian oil and gas, or Eresman's for splitting off the oil assets, or the board's for hiring an outsider, or Suttles's for ignoring the company's Canadian roots.
But in January 2020, Encana—soon to be Ovintiv—won shareholder approval for its plan to relocate stateside. Then COVID-19 hit, and the company slipped south with no further debate.
And so, a little over a year later, the mystery remains: Who really killed Encana?
The gas giant formerly known as Encana used to be two companies. PanCanadian Energy, once part of the Canadian Pacific empire, controlled swaths of royalty-free acreage given to CP through an 1880s land grant from Ottawa. In fall 2001, the oil and gas unit was spun off in the "starburst" deal that also saw the conglomerate's railway, hotel, shipping and coal-mining operations set free as stand-alone businesses.
Rival Alberta Energy Co., meanwhile, started out as a provincial Crown corporation with drilling rights to massive military ranges in the eastern part of the province. AEC, as it was known, went public in 1975 under Premier Peter Lougheed, and its shares were sold to Alberta residents for $10 each. The goal was for moms and pops to own a piece of the Western dream. Morgan was one of AEC's first employees.
The two companies came together on a Sunday in late January 2002, when Morgan and David O'Brien, PanCanadian's chair and interim CEO, heralded the formation of EnCana (the "C" was originally capitalized) at the Palliser Hotel in downtown Calgary. They billed it as a "Canadian-headquartered, world-class independent oil and gas company." And with an enterprise value of $27 billion, it instantly became a national champion that could show off its technological know-how in oil and gas basins around the world.
Besides its dominance in Western Canada, Encana had operations off Canada's east coast and in the U.S. Rockies, the Gulf of Mexico, the North Sea and Ecuador. It controlled Canada's main gas storage and trading hub in southeastern Alberta; a promising offshore gas project off the coast of Nova Scotia, Deep Panuke; and two state-of-the art steam-driven oil sands projects near Fort McMurray, Foster Creek and Christina Lake.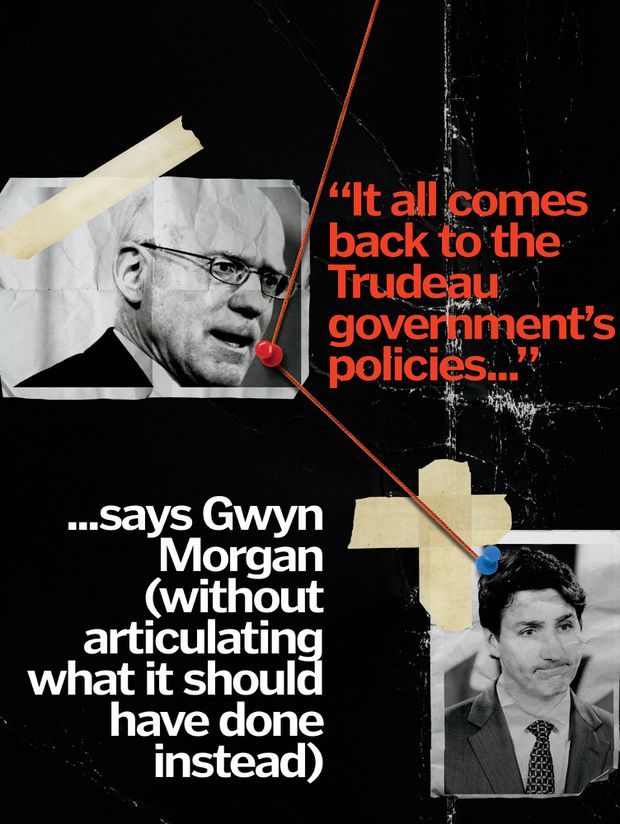 Encana's creation was a relief to many in the oil patch. With the loonie so cheap, there had been a simmering worry that Canada could lose its best-known players to U.S. rivals. That fear was well-founded: Within a five-month span in 2001, Gulf Canada Resources, Anderson Exploration and Canadian Hunter Exploration were all swallowed. And after the abrupt resignation of PanCanadian's CEO, David Tuer, in October 2001, the standalone company had a target on its back.
With Morgan as CEO and O'Brien as board chair, Encana expanded by drilling in the U.S. and plunking down billions of dollars for natural gas assets in Colorado and Texas. Then, little by little, it divested its international assets, with Morgan choosing to focus on what the company did best: coaxing more oil and gas out of the ground in Canada and the U.S. for less and less money.
The timing couldn't have been better—for both Encana's shareholders and for Morgan's legacy as CEO. Oil prices were starting an unprecedented run toward US$150 a barrel, and the price of natural gas began its surge beyond US$10 per million British thermal units (BTUs) amid fears of a continent-wide shortage.
…
Soon, Calgary saw Encana as part of the corporate home team, much like WestJet Airlines and CP Rail. Albertans who didn't even work there took it as a point of pride when, in 2005, Encana's market value on the TSX surpassed that of long-time top dog RBC, accounting for about 5% of the S&P/TSX Composite Index. (Coincidentally, O'Brien was the chair of RBC's board at the same time.)
…
By late 2005, Encana looked invincible, and Morgan decided the time was right to hand the reins to Eresman. Not only was the outgoing CEO turning 60, it was also the 30th anniversary of AEC's public market debut. Besides, his legacy was all but assured. On the day he announced his retirement, Morgan told The Globe and Mail: "You don't put your life and your passion behind something unless you know you have the right kind of person to carry it on."
Within months, however, Morgan's former protégé was contemplating what the founding CEO considered unthinkable: breaking up Encana.
Investment bankers, armed with sum-of-the-parts calculations, were pitching Eresman on the idea of splitting it into two companies: one producing gas, the other drawing crude from the oil sands. So-called pure plays were becoming the new holy grail, as investors clamoured for simplicity and the ability to focus on a single commodity.
…
The calls to break up Encana grew louder. Advisers salivating over the fees they could earn from negotiating the split talked up how much the two divisions could be worth separately, since investors would supposedly be better able to value each business. …
… (Morgan went on to become board chair of SNC-Lavalin, where his tenure was tainted after a top executive admitted to paying bribes to Saadi Gaddafi in order to land contracts in Libya. Morgan has always said the bribes were disguised as part of normal project costs, and there was no way for board members to detect them.)
The split didn't happen immediately, however. First, Eresman flirted with turning Encana into an income trust to avoid paying corporate tax (a move Morgan also objected to). But with other heavyweights like Telus and BCE contemplating the same move, Ottawa kiboshed trusts altogether. That put the bifurcation back on Eresman's priority list.
For Encana, the goal was to make investors realize its gas potential, partly because gas was seen

propagandized (the world now knows natural gas has never been clean, and never will be, especially not frac'd gas; fortunately, investors are growing leery of the lies)

as more environmentally friendly than oil—and far cleaner than coal. "Everyone thought natural gas was the fuel of the future," says O'Brien, adding the company was constantly questioned about its substantial exposure to the "dirty" oil sands.
Eresman was similarly convinced natural gas prices were bound to rise. Demand was surging, and the conventional producers couldn't keep up because their wells were generally small and dried up quickly. Encana, meanwhile, was focused on unconventional gas plays deep

Bullshit! Many of Encana's fracs were super (insanely) shallow! The company frac'd hundreds of unconventional gas wells around my community alone directly into fresh water zones (including injecting 18 Million litres of frac fluid on one gas well illegally frac'd right into our drinking water aquifers), and many more elsewhere

underground. That made its wells more expensive but also more prolific. As gas prices rose, Eresman bet Encana's technical prowess would allow it to beat its rivals by pumping more fuel at a lower cost than they could.
Encana's Deep vs Shallow Unconventional Gas Plays Reality Check: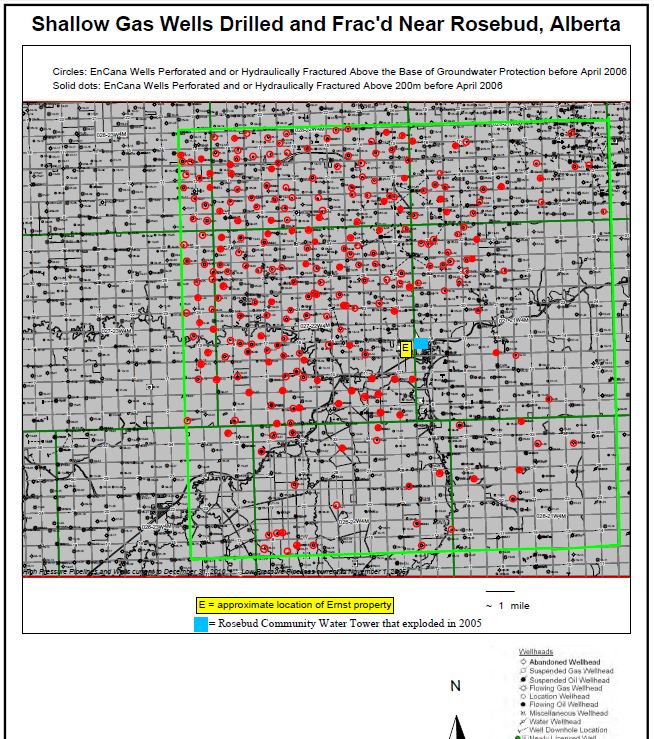 End Encana's Deep vs Shallow Unconventional Gas Plays Reality Check.
With the price of natural gas soaring toward US$13 per million BTU, Encana announced its split in May 2008. Management had given its oil sands unit a strong foundation to go it alone, having formed a US$15-billion joint venture with U.S. oil major ConocoPhillips that secured access to refineries in Illinois and Texas. Just four months later, however, the global financial system nearly imploded, sending both oil and gas prices plummeting. Encana's share price dropped by 55% in four months, and management was forced to focus on simply staying afloat. By late 2009, the worst was over, and 99% of Encana shareholders approved the spinoff of the oil assets into a new company, called Cenovus.
This should have been Eresman's time to shine. A native of Medicine Hat, he'd joined AEC after graduating with a degree in petroleum engineering from the University of Wyoming, and he'd spent his entire career under Morgan's wing. (Eresman declined to comment for this story.) Now that Encana was focused on gas extraction, he was eager to implement his growth strategy, built around an operating model dubbed "the gas factory"—the idea that the fuel could be produced almost as a repetitive manufacturing process.

With how many families, communities, water supplies, lands, small businesses severely harmed in the process?

… The bigger issue for Eresman was that gas prices fell into a funk. They'd clawed their way back to US$6 in January 2010, when everyone was high on the post-crisis recovery, but within two years, they'd dropped to US$2, a low not seen since 2002.
In a way, Eresman had been right about unconventional gas. The old-school stuff had become problematic, and competing producers were getting more sophisticated with their technical expertise. The problem was they used these newly honed skills to tap vast quantities of so-called shale oil and gas in the United States, which never used to figure into reserve estimates. As Encana touted its gas factory, rival shale producers such as Pioneer Natural Resources and EOG Resources became masters of fracking—shooting sand, water and chemicals into rock and forcing it to fracture, allowing oil or gas to escape through the cracks.
Fracking spread through Pennsylvania, Louisiana, the Bakken in North Dakota and the Permian Basin in Texas. The U.S. was suddenly awash in oil and gas, which spelled big trouble for Encana and many other Canadian producers because it meant their biggest export market morphed into their biggest competitor.
Eresman tried to expand the North American market by promoting natural gas as a less expensive transport fuel and investing in technology to make that happen. He also touted its environmental edge over gasoline and diesel. Still, the deluge of gas pushed prices down.
"I remember back when Encana announced they were going to double their gas production within five years," says New York–based equity analyst Phil Skolnick, who is now with Eight Capital. "This was around 2010, and I actually downgraded the stock." Because plans to build liquefied natural gas plants to export the fuel abroad were still in their infancy, the newfound supply was landlocked in both Canada and the U.S. "So that scared me," Skolnick says.
It scared the market, too. Over two years, Encana's stock dropped by 52%, wiping out any gains made after the crisis.
The company started promoting its natural gas liquids—condensate and commodities like propane and butane, which are byproducts of gas production. It even talked up its remaining oil production, all while trying to calm investors by reminding them it had hedged a large chunk of its natural gas output around US$6 through 2012.
Eresman also went hunting for joint ventures, hoping to accelerate development of Encana's reserves in the Montney Formation in northeast British Columbia while splitting the development costs. He snagged a big one: PetroChina bought half a project for $5.4 billion. At the time, Chinese interest in Canadian energy seemed limitless. But a few months later, the deal fell apart because of a disagreement on its structure.
With writedowns piling up—including a US$4.7-billion impairment charge in 2012—Encana finally struck a $2.9-billion joint venture with Japan's Mitsubishi Corp. to develop a massive field in Western Canada. Then PetroChina came back at the end of 2012, paying $2.2 billion for a 49.9% stake in a gas project in Alberta's hot Duvernay Formation.
A month later, however, Eresman was gone, effective immediately. His so-called retirement at age 54 was announced late on a Friday. The company later said he was "fatigued."

Why does the Globe leave out Encana's criminal charges in Michigan for dirty activities under Eresman's leadership and reportedly directly involving him? Why did/does Canadian main media enable Encana's many hanky pankies?

Randy Eresman "fatigued" reality check:
2014 10 22: After paying 5 times maximum fine to escape criminal charges and finding it "could not develop the necessary techniques to drill and complete Collingwood wells…to obtain a favorable rate of return," Encana leaving Michigan
2014 07 25: Encana vows to fight Colorado offset vote, CEO Suttles says move to separate homes and wells is 'detrimental'
2014 06 06: Encana settled criminal charges by paying 5 times the maximum penality
2014 05 10: After Encana agrees to pay $5Million fine in antitrust case, Michigan's Attorney General dismisses second criminal charge against Encana
2014 05 05: Encana and Chesapeake Criminal Anti-trust Hearing in Michigan: Encana pleads "no contest" and buys its way out on the first day with $5 Million Settlement
2014 03: Attorney General Bill Schuette: Encana and Chesapeake Energy criminally charged with colluding to keep oil and gas lease prices artificially low in Michigan; Also face separate, federal antitrust investigation by Department of Justice
2013 01 14: Encana CEO Randy Eresman retires suddenly, News release confirms top executive stepping down after 35 years
2013 01 13: DEQ-approved spread of EnCana's toxic frack flowback in Michigan worse than originally thought
2013 01 11: Down goes Encana's Eresman! Natural gas giant's president and CEO abruptly announces his retirement
2012 11: How Encana under Eresman's leadership deals with toxic waste: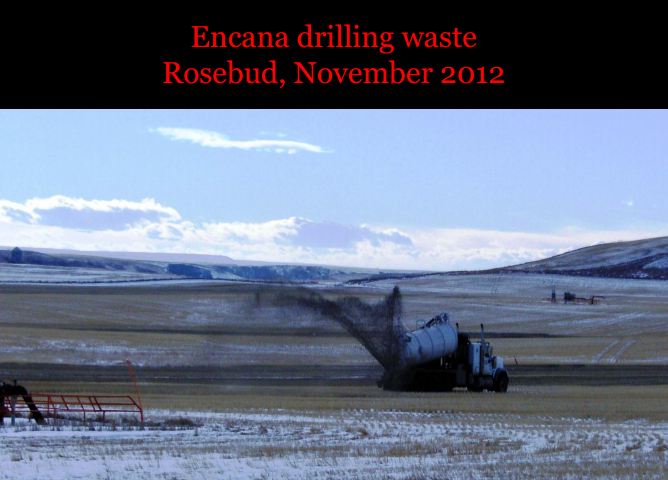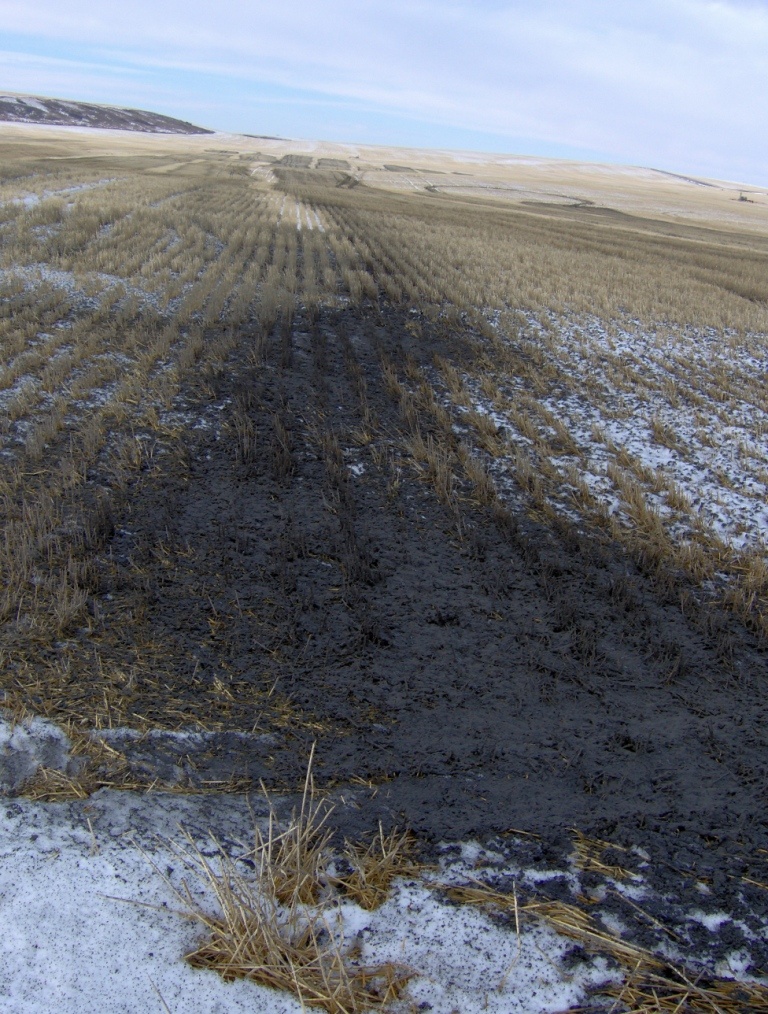 2012 09 07: Ewart: Encana's in-house exoneration only goes so far
2012 09 05: Encana's denial of collusion charges leaves many questions unanswered
2012 06 26: Encana's troubles widen with collusion allegations
End Randy Eresman "fatigued" reality check.
In the early months of 2013, Calgary was rife with rumours about who would take the reins at Encana. The wrong boss could push the company into the hands of a foreign buyer, as had just happened with struggling oil producer Nexen Inc., which was snapped up by the Chinese.
The search for Eresman's successor was led by Clayton Woitas, an oil patch veteran and Encana director who stepped in as interim CEO. By June 2013, he and the board had decided on an oilman with no emotional attachment to Encana's history—one who could deliver a badly needed shakeup.
Doug Suttles wasn't well-known in Canada, but he'd gained enormous profile in his previous role. As chief operating officer of BP Exploration & Production, he was the point person as BP struggled to stem the flow of crude gushing from the Macondo oil well into the Gulf of Mexico in 2010.

The Globe again protecting/enabling our lying oil patch?

Doug Suttles "Point Person" Reality Check:
2016 06 13: BP to Pay $175 Million to settle claims to US investors that "its managers lied about" size of 2010 Gulf of Mexico oil spill; Current Encana CEO Doug Suttles was one of those managers
2013 10 01: Investors sue BP's ex-CEO Tony Hayward and Doug Suttles, now Encana CEO; Encana chops executives, five senior managers gone
2013 06 11: Battered Encana taps former BP exec Doug Suttles, who reportedly covered-up the extent of the Deepwater Horizon disaster, as new CEO
End Doug Suttles "Point Person" Reality Check.
Suttles's first order of business was a four-month review to see which of Encana's assets could be kept and which could be sold off. He ended up chopping 27 operating areas down to five to accelerate the shift to oil and gas liquids. He also slashed 800 jobs—about 20% of the company's workforce—including several top executives; closed its office in Texas; and reduced the company's dividend by more than half. "I remember early on asking him what had been the secret, if you will, to his success," says McRitchie, "and he said, in a word, 'focus.'"
Suttles also zeroed in on Encana's royalty-free lands as an unexploited source of cash. Woitas—who'd replaced O'Brien as chair when Suttles took over—backed the idea of a royalty division that would see Encana essentially play landlord to other drillers and harvest the rent. Woitas knew the business well, being a proprietor of a similar company himself.
In 2014, Encana announced the $1.5-billion initial public offering of PrairieSky Royalty. A few months later, Encana sold off its remaining stake for $2.6 billion. PrairieSky also bought Range Royalty LP—of which Woitas was chair and CEO—for $699 million. (Woitas declined to comment for this story, as did Suttles and Ovintiv.)
The changes kept coming. In the same year, Encana paid US$3.1 billion for a position in the red-hot Eagle Ford shale fields in Texas, then spent another US$5.9 billion in cash for Athlon Energy, giving it a sizable stake in the state's oil-rich Permian Basin. To cover the cost of the deals, Suttles put the PrairieSky proceeds to work, and also unloaded infrastructure assets such as gas plants and other non-core properties. The sell-off included its Jonah natural gas assets in Wyoming for US$1.8 billion; last year, the company that bought them defaulted on its debt and had to be restructured.

Just another Encana sale to a company with insufficient financing and assets to clean up the massive liabilities caused by Encana's Pavillion aquifer fracs and profit-raping, letting Encana walk from clean-up? Like Encana did selling it's "royalty-free" Frac'd to Shit, manufacturing process in the Horseshoe Canyon play to Ember Resources?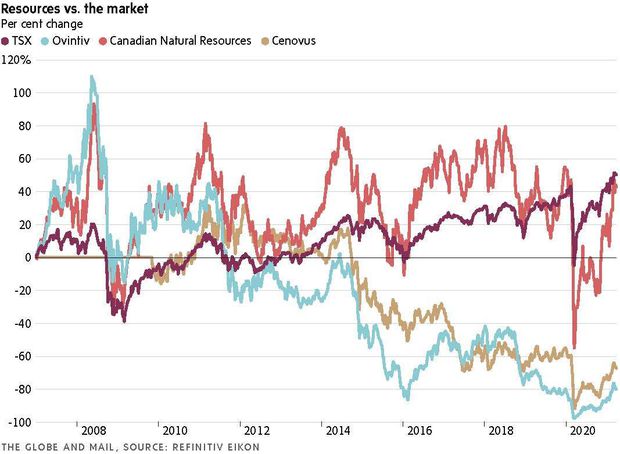 …
Encana and its peers dealt with the "lower for longer" era by slashing capital spending, laying off staff and issuing stock to keep debt ratios in check. By mid-2016, Encana's share price, which had been hammered during the worst of the oil-price rout, began to recover thanks to internal austerity, along with the company's focus on its Permian and Eagle Ford assets in the U.S. and its Montney and Duvernay plays in Canada.
That is, until late 2018, when Suttles surprised investors with the US$5.5-billion acquisition of Newfield Exploration. The deal provided an entry into what had been seen as a promising shale play in Oklahoma, but the fervour had already started to fade by the time Encana arrived. The takeover also increased Encana's debt (again) because Newfield had US$2.2 billion in net debt on its books.
To Encana's credit, the deal prompted multiple debt-rating agencies to upgrade its credit profile, expecting that the additional geographic diversification and heavier skew to oil would help its balance sheet. But many shareholders felt blindsided, and the stock tumbled by more than 12% on the day of the deal. It has yet to recover.
At the same time, Suttles's compensation was becoming an issue. From the time he took over to the end of 2020, Encana's stock lost more than 80% of its value. Yet, Suttles was paid US$92 million over the same period (though some of his shares and options have lost value as the stock price dropped).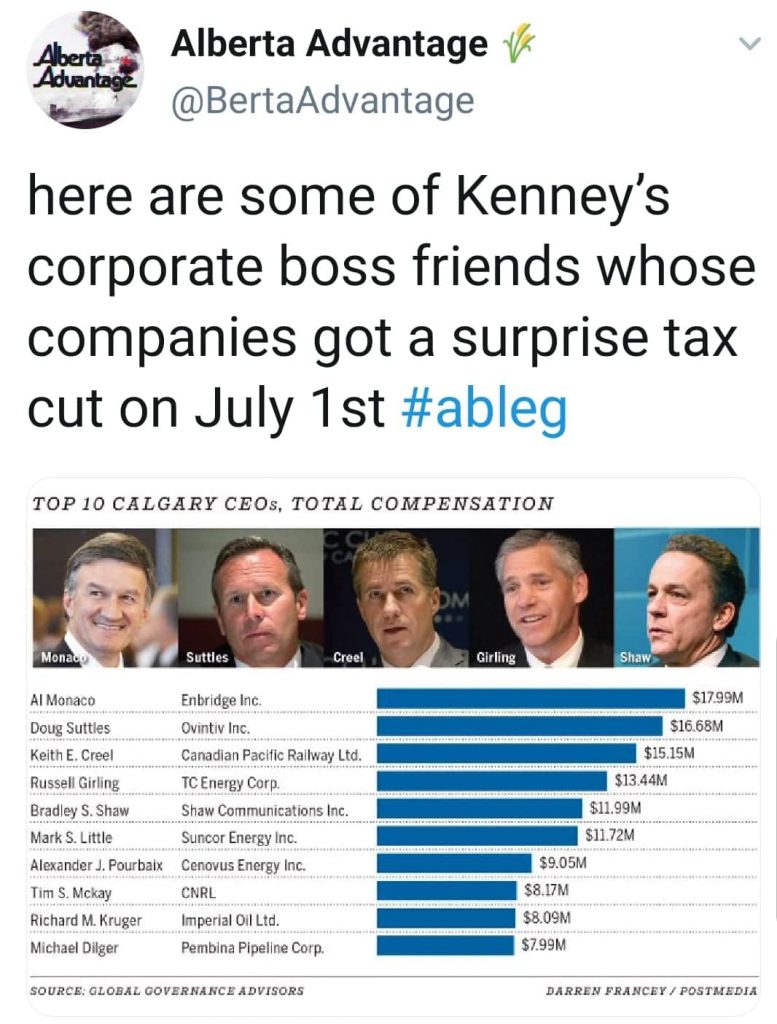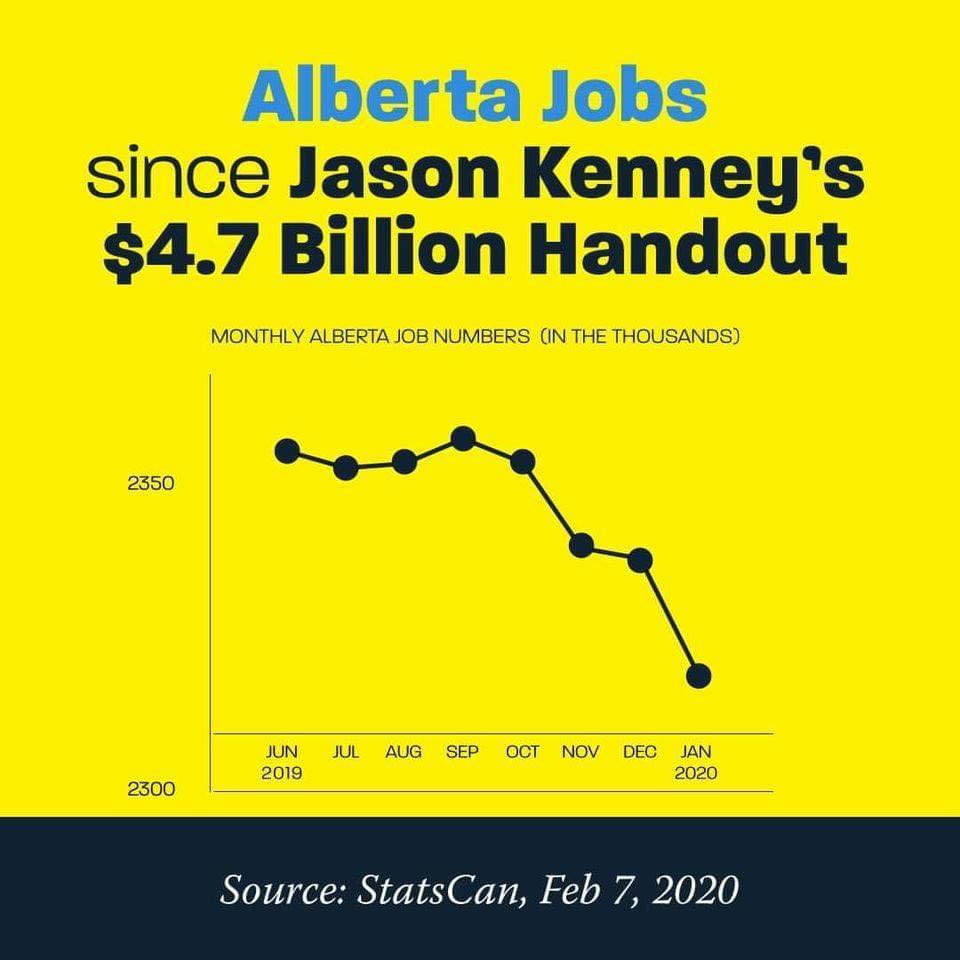 With investors losing hope, Encana floated the idea of relocating to the U.S. Suttles had already done it himself. In March 2018, the CEO informed Encana staff he was moving to Denver, where the company had an office, citing personal reasons. Half its employees were already based in the U.S. anyway. When Encana was asked if this portended something bigger, officials were adamant a full-blown relocation wasn't in the cards. "The answer to that is, absolutely not," a spokesperson said at the time. "We're a Canadian company. We're headquartered in Calgary. This decision doesn't change that in any way."

Dear investors and staff (soon to be purged for your loyalty enabling Encana's many crimes, more and more and more of you): Welcome to Encana's dishonest reality; I've lived with it for decades, the company even lied in its Statement of Defence in my case, claiming the company didn't frac the wells that frac'd our fresh water supply, rather "stimulated" them, even though the company's related perf and frac data on file with the AER, all say "fractured."

A year and a half later, Suttles went for it—and tacked on the name change for good measure. Executives explained that, as a Canadian-based company, Encana was missing out on much of the passive shareholding its U.S. peers were enjoying, and that put pressure on the share price. Suttles said the company's entry into a host of new stock indexes, such as the S&P MidCap 400, would mean US$1 billion in new investment as the shares got scooped up into exchange-traded funds.
Some Canadian shareholders, including Letko Brosseau & Associates, which held 4% of the stock, raised a fuss, saying the company might actually lose Canadian investors. Nonetheless, shareholders approved the redomicile strategy. And Encana was no more.
So who killed Encana?

Easy answer: Encana killed Encana (with callous disregard for the law, communities, environment, families, drinking water, public health, banks and investors, topped with CEO greed, arrogance & ego).

Gwyn Morgan and David O'Brien—the company's co-founders, once like brothers—are at odds.
"It all comes back to the Trudeau government's policies," says Morgan, an avowed conservative who can barely say the Prime Minister's name without seething.

OMG! Too funny. We have one thing in common! I can barely say or write Steve Harper's name without seething!

He never quite articulates what the government could have done differently, but his argument generally suggests Liberal policies put a chill on investment dollars, sealing Encana's fate.
O'Brien doesn't buy it. A Montrealer and former corporate lawyer at Ogilvy Renault, he moved to Calgary in the late 1970s to become general counsel at Petro-Canada. "I tend to have a more pan-Canadian view of things, as opposed to an Alberta view. And I don't think the government had anything to do with what happened to Encana, frankly," he says. "I'm an investor in a couple of private oil companies, and of course the lack of market access has been an issue, but that was an issue that happened during the Conservative regime, as well."
If anything, O'Brien says, government is the reason Encana had a fighting chance in the first place. …
As for the decision to turn Encana into a pure play, Morgan is adamant: If the company had kept its oil assets, "Encana would still be in Canada."
Once again, O'Brien isn't so sure. … "Cenovus has been terrible. Encana has been terrible," O'Brien says.

Ovintiv is flopping around in failure too.

… Yet over the past three years, the U.S. shale industry itself has been decimated, and numerous companies have filed for bankruptcy. While the supply is monumental, the fundamentals aren't, because the wells decline so quickly. "It is so short-cycle," says Robert Fitzmartyn, an equity analyst at Stifel FirstEnergy. "Thirty-five to 40% of your return is captured in your first year." Drilling rights must also be negotiated with hundreds, sometimes thousands, of land owners, who grant short-term permits. In the Montney in B.C., meanwhile, "you can hold your land for far longer, on less capital invested, than in the United States."
The problem for Ovintiv is that its current structure doesn't allow for enduring a decade-long disruption.
"They got seduced by the valuations of the pure play," Fitzmartyn says. …
As for the future of the company formerly known as Encana, in March Ovintiv sold its Eagle Ford assets—the ones Suttles spent US$3.1 billion to acquire in 2014—for US$880 million. Just a few weeks earlier, it let go of its Duvernay holdings in Alberta for US$263 million, cutting one more thread to Canada. …
As for Morgan, he's made some peace with the unravelling. "I knew they were ultimately going to go to the U.S.," he admits. "I've always said: If you want to have your company move, make sure you hire an American CEO. The writing was on the wall."
But there's still something he'll never get over, something so personal he just can't shake: "Why would they get rid of the Encana name?"

Easy! Because Encana has an incredibly nasty reputation for contaminating and or blowing up people's/community water supplies and making a dreadful mess on lands where they operate (in Canada, USA, and Ecuador; Encana wanted to frac France too but the people there protested by the thousands, loving their wine and cheese too much, leading the county to ban frac'ing – phew) as well as dividing communities with bribes to keep the abuses going strong. I always thought Encana was a stupid name, loaded with Morgan arrogance. I contracted for many years for Pan Canadian. Alberta Energy Corporation (Mr. Morgan's baby, mostly given to him on the backs of Albertans) tried to contract me to get them out of some serious NEB (federal regulator, now CER) fisheries and river crossing troubles in the north. I met with their "environment" management to see what they needed; I walked out when they told me I was to fabricate a way out of the regulatory mess they had created. The men's jaws on the floor made the sordid experience worth it.

A few of the comments:
Cuevas:
As usual the corporate bankers had their fingers in the pie and did their level best to break up a company so they could generate some good fees.
Sconezone to Cuevas:
Agreed…Morgan picked the wrong replacement and skipped town….he has to own that! It's interesting when you compare Morgan to Murray Edwards. That graph says it all!
Sumaco:
Biggest looser in my portfolio for sure! I decided to hang on to a few thousand shares as a reminder to get out earlier and lesson learned to ditch bad CEO's lip service. Hopping someone will just buy this dog out. Still pays a small dividend but it's a write off for sure.
JT1216:
Morgan made up his mind it was the fault of one political party and wants no further information. Not exactly a formula for success in a changing world. No wonder this company failed.
CookeV:
I agree with many others that the name change from "Encana" to something reminiscent of that chocolate drink mix made no sense. And this from a CEO so focused on value.
So my question to him is: "What was the total, additional, top-line revenue the name change brought in?".
Tom111:
Morgan was on the board of SNC Lavelin who got caught for paying bribes for contracts with foreign companies. I wonder how that makes him feel? He likes to blame others for the failure of his former company, not taking any responsibility himself. He neglects to mention that due to government his company was protected and allowed to thrive. He also presided over the biggest oil boom in history when the money was gushing and one could do no wrong. Funny how they don't mention that favourable conditions such as oil trading over $100/ barrel helped them grow, yet when oil prices tank they blame oil prices.
gupta:
Mr. Morgan seems to be unable to own responsibility for Encana or SNC's problems. His default position is to blame Liberals, especially Trudeaus. Unfortunately that can be a common tendency among certain sections of Alberta oil and gas folks.
Anybody can make money and look like a genius when the governments hand over scads of good land for near free and prices leap up. Good business people show their stuff in difficult, unpredictable markets.
retired juggie:
That self-dealing by Woitas seems almost criminal. O'Brien looks pretty shabby also.

In my view, they all look identical, including Gwyn Morgan.

stillwindswept:
The bankers talked fancy and Morgan et al fell for it and took ECA's shareholders for a ride.
Bike Bank:
I'd blame the investment bankers who sold the notion of splitting the oil and gas businesses into Encana and Cenovus to the executives and the board of Encana. The transaction likely did not result in the discovery/production of any material new oil or gas. But the investment bankers and lawyers made lots of fees.
Galatic Hero:
AS I remember it, at the time of the split, the shale gas revolution was already under way. Eresman, along with the CEO's of Nexen and Talisman, all decided that betting on gas was the way to go. … Unfortunately they were late to the game and overpaid disastrously for shale plays. All three ended up losing badly.
TW:
Ovintiv? Sounds like something you use to treat constipation….Try Ovintiv for occasional irregularity, now available in Citrus!
And what happened to Gwyn Morgan, we studied this guy in University, long considered a smart engaging leader in the O&G industry and an unabashed champion for Canadian energy independence who retired at the top of his game. Impressive stuff, now he's the proverbial old man yelling at the clouds, with increasingly shrill columns at FP, NP etc. blaming Trudeau.Liberals and ignoring it was his handpicked successor who started the long decline downward nine years before the Liberals gained power.
THE GLOB:
Bad management with the lack of vision killed the company by breaking a diversified company into its component parts out of greed.
Then bringing on board a US CEO as a hatchet man. It was only a matter of time before it was chopped up and the parts shipped off to the US.
Kinda like the US CEO that chopped up Nortel.
Mark Shore:
I might feel a tiny twinge of sympathy for Gwyn Morgan were it not for the fact that over the past decade he has written numerous anti-environmental and climate change-denying op-ed columns appearing in Postmedia papers and even in the Globe and Mail.
ctstudn:
My impression when the Cenovus/Encana split was announced was that it was motivated entirely by greed and desire for short term payoffs – at the expense of long term vision for the company. Nothing since then has changed this first impression.
pmoffat2 to ctstudn:
Agreed
app_71592866:
Albertans always want to blame someone else for their own mistakes.
What happened to Encana? A whole bunch of incompetent CEOs happened to Encana and nothing else. It started slipping in 2006 the same year Harper took over. It finally slipped away in 2020. Trudeau did not to that, and fact is neither did Harper. The clowns running the show at Encana did.
Typical Con mentality. It is always a Liberals fault. Funny, Doug Ford things the same thing. Apparently a Liberal forced him to try and turn Ontario into a police state.
Yes who needs clean drinking water anyway.
buggsy2u:
Who cares!!
It's just another dinosaur on the way to extinction.
Sweet Red Dog:
The dye was cast for EnCana well before Trudeau became PM.
Barb22c:
One of the most disturbing parts of the story is the advisors who saw loads of money in fees to break up Encana. That is all we need to know. Greed killed Encana. Who were the advisors. Would like to see their names in lights so we can thank them properly.
SteveWilliams3:
"And so, a little over a year later, the mystery remains: Who really killed Encana?"
No mystery really. It was suicide.
And Ovintiv is the worst company name since commerce was invented.
Alberta First Cdn Federalist:
… One of their projects, Cabin Gas Plant, north of Fort Nelson BC, saw more than $1 billion of equipment, engineering and construction sunk into a project that sits there to this day: and not a molecule of gas has ever moved through it.
The old boys network rode to the rescue however – Encana off loaded that white elephant to someone else, and the "team" found life elsewhere. You scratch my back, someday I'll….
Now, the survivors wait for the inevitable…
Arbogast:
Ask your doctor about Ovintiv
The Glob:
Isn't that a good nasal decongestant?
old taxpayer:
Buy high, sell low. Leave town. Blame others when things go wrong. The story keeps repeating in itself. Is there something in the water in Calgary that affects oil company CEO's?

Some Gwyn Morgan reality:
1975-2002 Gwyn Morgan at Alberta Energy Corp (2002 it merged with Pan Canadian to become EnCana, then, Encana)
1999: Alberta Energy Corporation, became Encana, CEO Gwyn Morgan defends company conspiring with RCMP for staged bombing of a gas well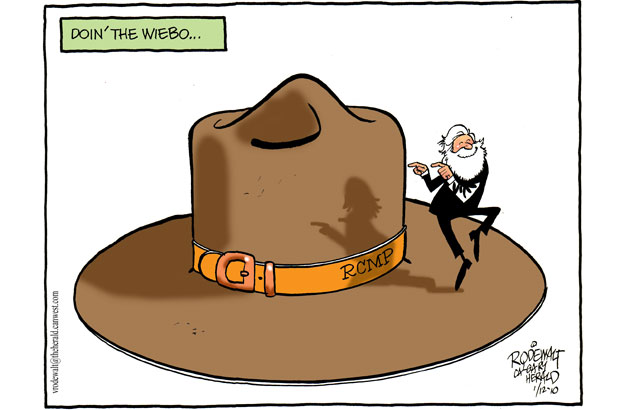 2004: Divide Creek Seep that resulted in the Colorado Oil and Gas Conservation Commission issuing a record fine against EnCana
2004, Under Gwyn Morgan's leadership: Alleged Violations of the rules and regulations of the Colorado Oil and Gas Conservation Commission (COGCC) by EnCana Oil & Gas (USA) Inc. Cause No. 1V, Order No. 1V-276 before the Oil and Gas Conservation Commission of the State of Colorado
The COGCC staff hand-delivered a Notice of Alleged Violation ("NOAV") to EnCana on April 23, 2004. …The NOAV cited Rule 209., failure to prevent the contamination of fresh water by gas, Rule 301., failure to notify the Director when public health or safety is in jeopardy, Rule 317.i., failure to pump cement 200' above the top of the shallowest producing horizon, Rule 324A., impacts to water quality and Rule 906.b.(3), failure to report a release to the Director.
2004: Encana CEO Gwyn Morgan pushes federal gov't to deregulate; Natural gas has become a 'manufacturing operation'
2004: Encana, under Gwyn Morgan's leadership illegally intentionally frac'd Rosebud's drinking water aquifers, covered-up by Alberta Health, Alberta Environment and AER (then EUB)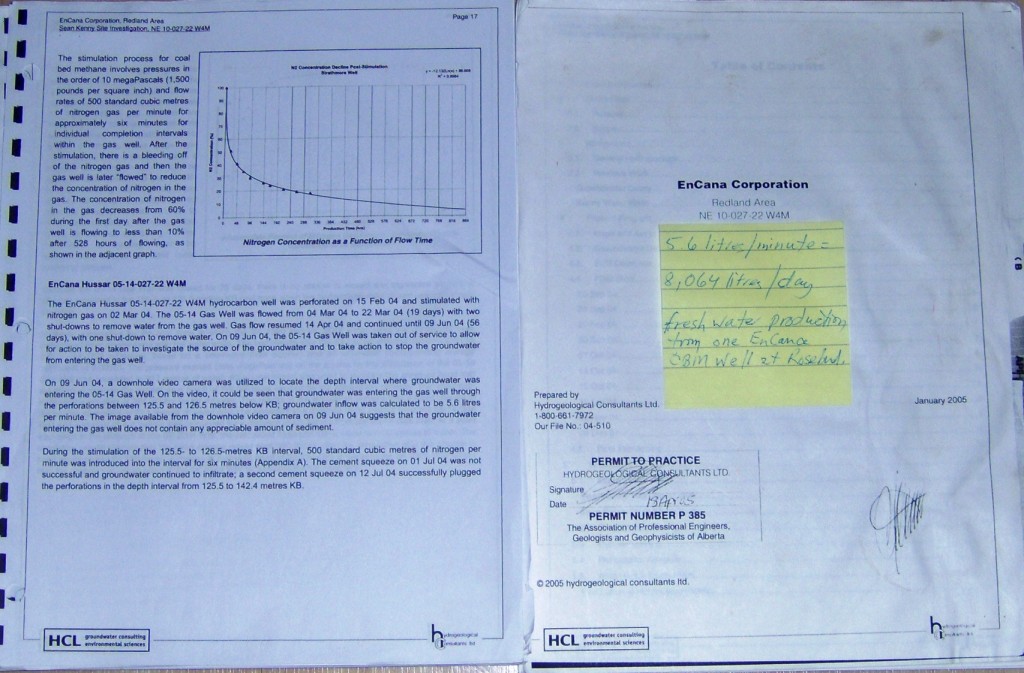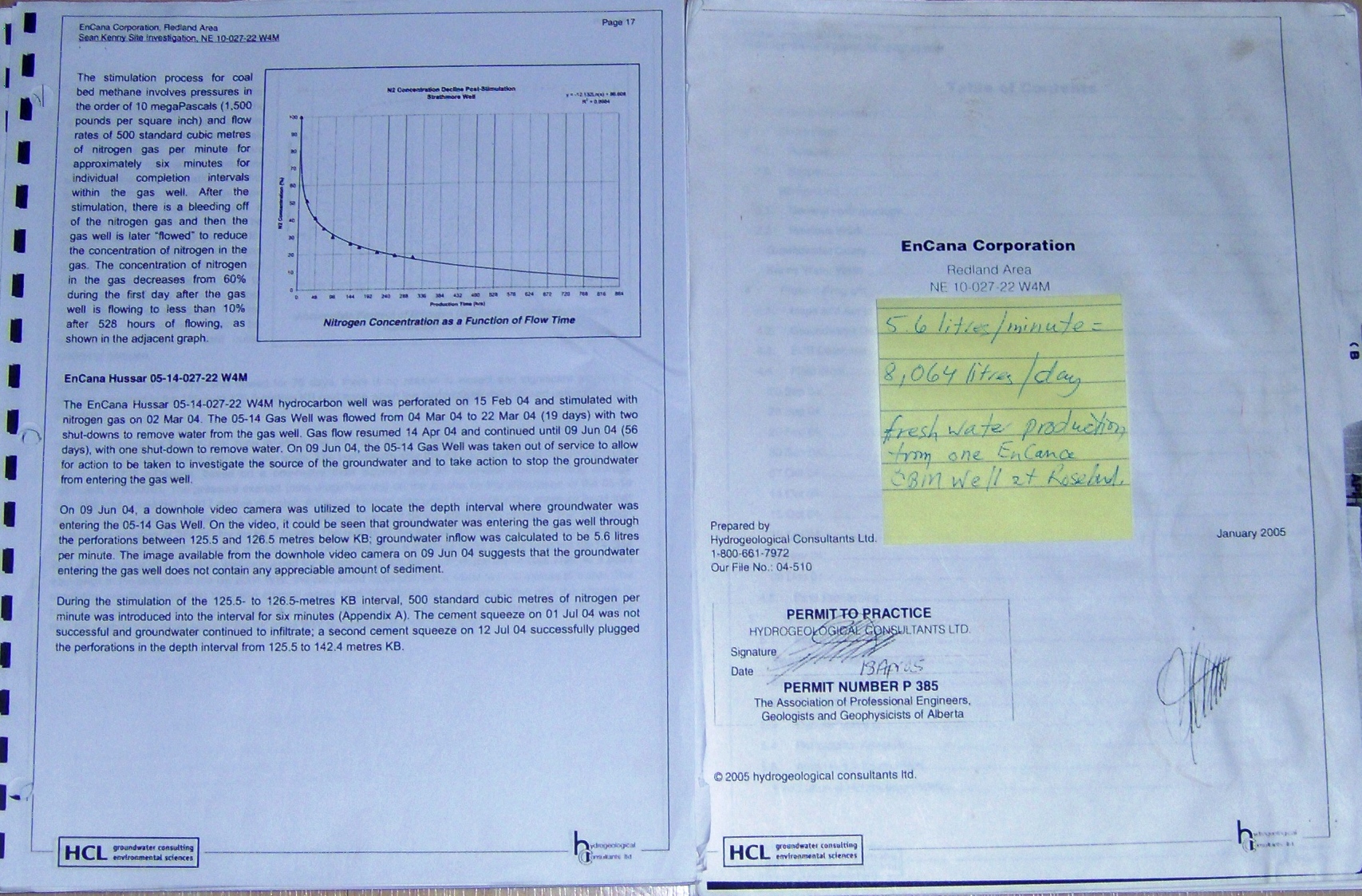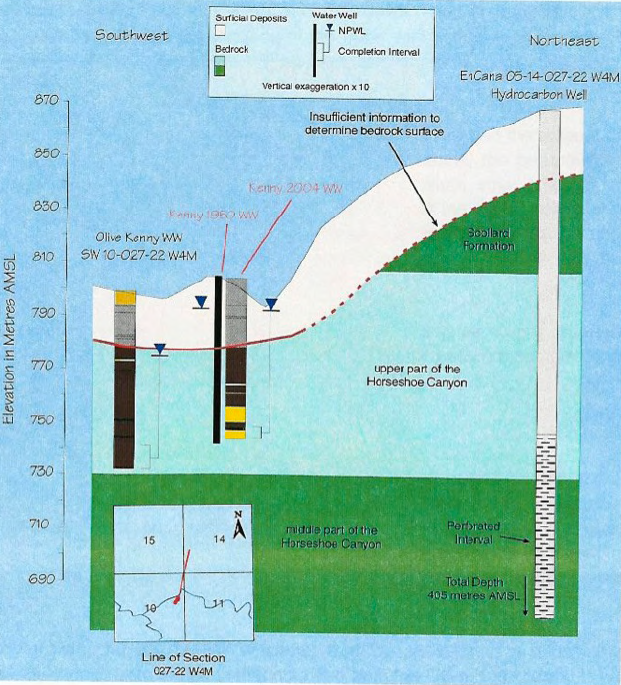 Image above from 2005 HCL Hydrogeological investigation and report for Encana admitted the company frac'd multiple Rosebud aquifers, and diverted 8,000 litres of fresh water from them daily (without the mandatory permit under the Water Act)
2004: Encana CEO Gwyn Morgan made $11.5 Million the year the company illegally frac'd Rosebud's drinking water aquifers; 2005: Encana made $3.5 Billion record earnings frac'ing us to hell
2005 Nikiforuk: Life Inside a Science Project
2005: Investigators say an accumulation of gases appears to have caused the explosion that destroyed the Rosebud water tower and sent a Wheatland County employee to hospital
2005 Presenting Partner, Law firm Bennet Jones: Top CEO Award to Gwyn Morgan
2005 12 13: Front Page Edmonton Journal, Tainted water lights fire under gas fears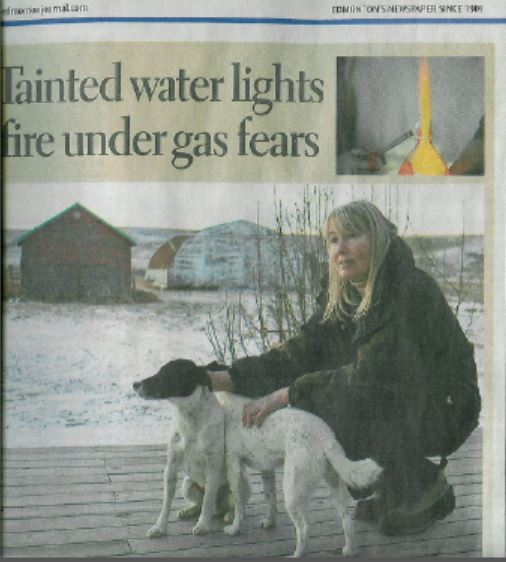 2006: How low can Canadian politicians go? Steve Harper gov't picks CEO of illegal aquifer frac'er, evil Encana empire builder, Gwyn Morgan, to Chair new Public Appointments Commission. Fortunately, Opposition MPs voted Mr. Morgan "unsuitable" because of nasty racist remarks he made publicly
2006: Film Review: Midnight and the Rooster's Crow (2005, Nadja Drost)
In Between Midnight and The Rooster's Crow (2005), a determined first-time Canadian filmmaker Nadja Drost gets up close to the domination of the natural environment of Ecuador and its beautiful people. Her documentary, which was filmed in Ecuador in 2003, gives the viewer a piercing glimpse at how the Calgary based EnCana Corporation tries to portray itself as a good corporate citizen, while at the same time behaving as a shameless oil and gas giant that has lost its moral compass. …
The habitual capitalist pattern of make-a-quick-buck-and-run continued in 2005 when EnCana—whose 2004 earnings were a whopping $3.5 billion (U.S.)—sold its assets in Ecuador to the Chinese for $1.42 billion (U.S.). … As Between Midnight and The Rooster's Crow demonstrates, the environmental impact on the local people is truly appalling. … Drost documents crude oil leaking into the now noxious rivers, and interviews locals swearing that eating river fish tastes like eating pure crude. It appears as though while the oil companies have reaped their record profits, skyrocketing cancer, broken promises, miscarriage, and skin disease have been the dividends paid to the local populace.
When the Amazonian locals decide to take direct action to ensure that their interests are not overlooked, the military and police step in with an excessive amount of force to ensure that nothing stops corporate profit (oil) from flowing. Drost—giving the viewer a candid glimpse at the seedy underbelly of corporate globalization—interviews a man who, while peacefully protesting at a roadblock with a group of locals who were demanding clean water, sewage, electricity, and jobs, was shot by Ecuadorian soldiers. Given that the soldiers who shot him were flown into EnCana's private airport, picked up by EnCana trucks who were driven by EnCana drivers, one must wonder how Gwyn Morgan (President and CEO of EnCana—and before that President and CEO of AEC since 1994) keeps a straight face when he comments, at the end of the film: "People fail to understand how little influence companies have on government."
… The viewer gets the full flavor of bureaucratic crony capitalism when a local man gives Nadja contaminated water from a recent EnCana spill. He laments that EnCana—who claims it wants to be a good corporate citizen—placed the community in harm's way by failing to notify the local residents after the spill. Drost then takes the polluted water to the Ecuadorian Ministry of Environment, but is told that they no longer handle such spills and that she should go to the Ecuadorian Ministry of Energy and Mines. When Drost interviews an official at the Ministry of Energy and Mines, she is told that there are sanctions that could be given, but that the Ministry of Energy and Mines cannot enforce them.
… Not only is the Ecuadorian wilderness being despoiled by EnCana, the frustrated citizens do not have any real legal channel available to defend themselves from the corporate leviathan. …
2005: EnCana's denial doesn't deter Laura Amos Her family's water was frac'd too.
2005: EnCana's 'field of dreams' has Colorado locals crying the blues
… "And how did they poison my water and hay by drilling for gas in the ground?" goes a twangy line on the website of the local Garfield County Democratic Party. The mp3 of EnCana Bluegrass Blues sits alongside a parody of EnCana Corp.'s slogan, twisting "energy for people" into "pollution for the people."
… Gwyn Morgan, EnCana president and chief executive officer, said the company is a quality operator, adding that there are naturally occurring gas seeps "all over" what those in the energy business call the Piceance Basin. Mr. Morgan further added that the company's seep in 2004 happened in an unusual geological situation. "We ended up with a seep in a creek," Mr. Morgan said in an interview at EnCana's Calgary headquarters.
2005: EnCana & Colorado Mtn College make an odd couple
….EnCana, a relative newcomer to Colorado. In just a short period the Canadian supercorp has had numerous violations and racked up record fines with the Colorado Oil and Gas Conservation Commission. EnCana has polluted water supplies, caused evacuations of homes, talked of outsourcing Colorado jobs to Chinese workers and has been blamed by residents for tumors and other sudden ailments. Most recently, a gas leak in San Miguel County was so extensive it created a no-fly zone with a 10-mile radius. The problems of a Silt woman dealing with an EnCana gas leak were so severe that her story made it to the floor of the U.S. Senate. Along comes a $3 million donation to the beloved CMC. Boy, is EnCana slick. …
2006: Harper picks EnCana founder Gwyn Morgan to vet appointments Morgan was CEO when Encana illegaly intentionally frac'd Rosebud's drinking water aquifers in 2004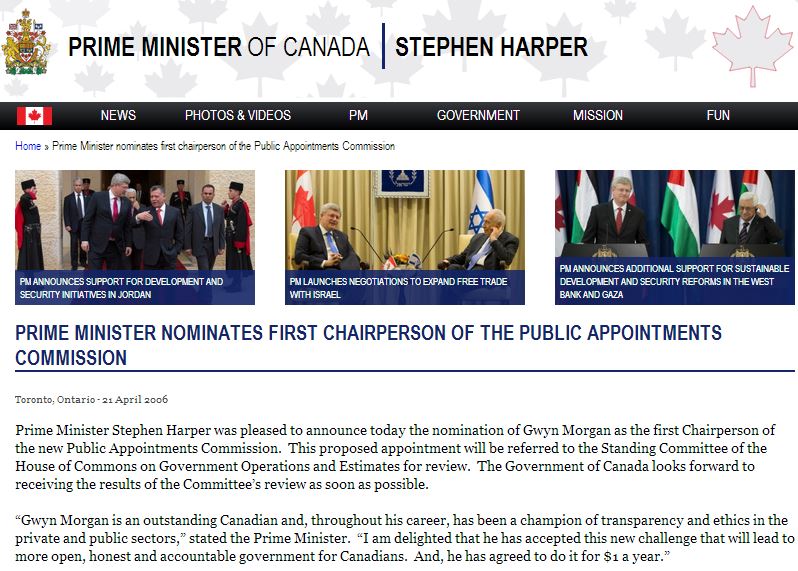 Source: http://www.pm.gc.ca/eng/news/2006/04/21/prime-minister-nominates-first-chairperson-public-appointments-commission No longer online
2006: Jeremy Klazsus: Gwyn Morgan is hardly a champion of ethics, Former EnCana CEO not the right person to bring integrity to government. Harper "could have done a better job of it by choosing someone other than Morgan to lead the new commission – someone, for example, with a bit of human compassion and decency."
2006: Eminently Unsuitable Nikiforuk on Gwyn Morgan
2006: POETIC JUSTICE Minority Interests: A poem about Ex-Encana CEO Gwyn Morgan
Forgive our best-loved CEO
Whose best-laid plans were soon laid low
By MPs who smelled some disgrace
In his home truths on crime and race.
Gwyn Morgan knows of what he speaks:
Vacations that can last for weeks
Show smart men all the skills you lack
When you're a poor, Jamaican black.
And if you're Asian, so much worse:
While you live off the public purse,
And claim to be a refugee
(Though business titans clearly see
Their empires threatened by your knives),
Right-thinking white men give their lives
To fear-filled warnings we won't hear,
Not even for a buck a year.
The wisdom gained from piping gas
Should give you licence to kick ass,
And help root out each off-white foe
Who might dilute your status quo.
How can they term your rants uncouth?
When you've been gifted with the truth,
You have to call a spade a spade
And show that you are unafraid
To tell the Fraser Institute:
"Beware the man who shuns a suit."
Tough talk's your thing, you always say,
Which makes it strange you ran away
When all those PC nags you hate
Declined to let you set us straight —
So different from the glowing raves
You're used to from your workplace slaves.
***

Did Gwyn Morgan order EUB (now AER) to violate Ernst's Charter rights and try to scare her silent? Did he order EUB lawyer Rick McKee to threaten and bully Ernst, also to try to scare her quiet?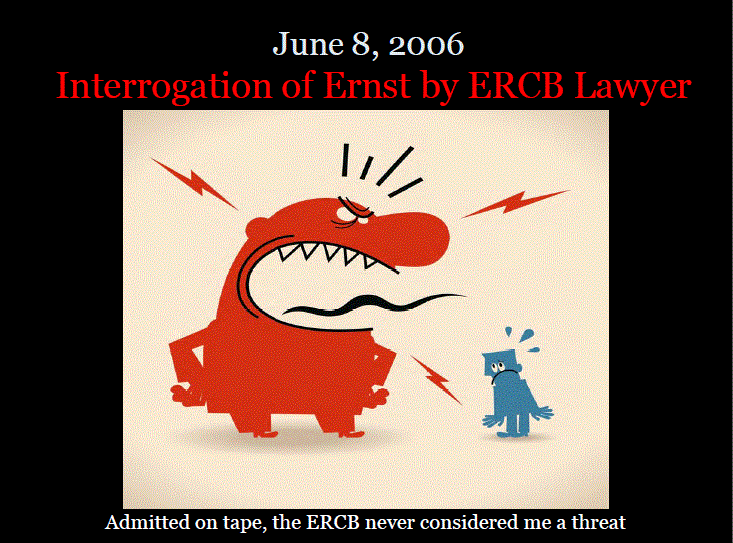 June 8, 2006 interrogation and attempted intimidation of Ernst by ERCB (now AER) lawyer & bully Rick McKee, Ernst presented these questions: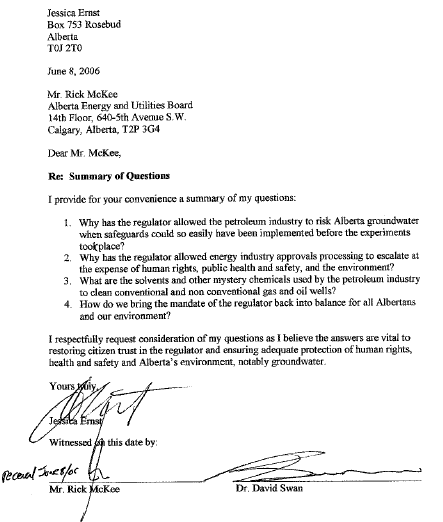 None of Ernst's questions have yet been answered, not even by Dr. John Cherry and his Council of Canadian Academies' Fraudulent Frac Panel in 2014.
2006: Trouble in the Fields: Is our water safe?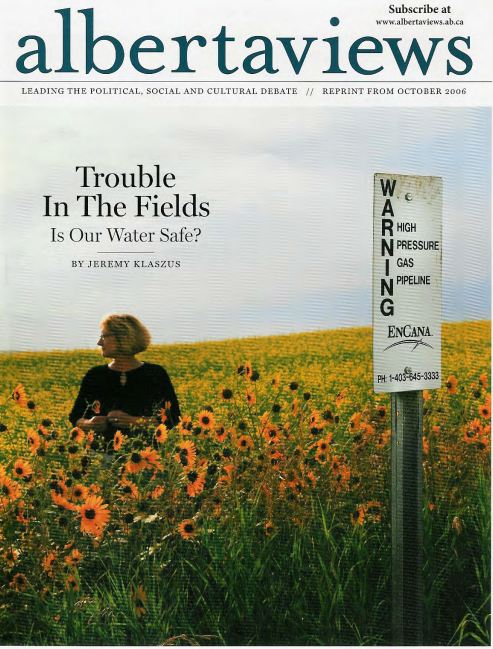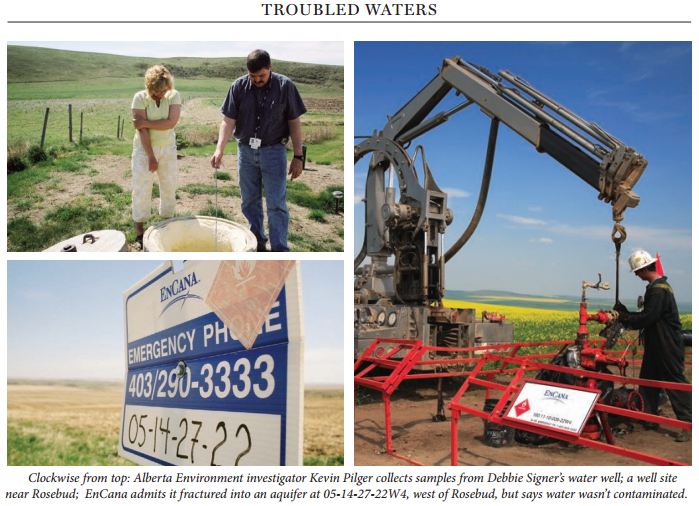 Encana's own data the company filed with Alberta Environment and AER (when it was EUB) shows the company frac'd mulitple aquifers, not just one. The purpose of frac'ing is to force methane and other hydrocarbons like ethane to release from formations that gases naturally do not want to let go from (which is why they are called "tight"). Where else would all that nitrogen, secret toxic chemical additives (TBA, Tert Butyl Alcohol, was found in my water after Encana illegally frac'd the aquifers, it's a suspected thyroid carcinogen), and methane and ethane go but into the water? Elon Musk's rockets?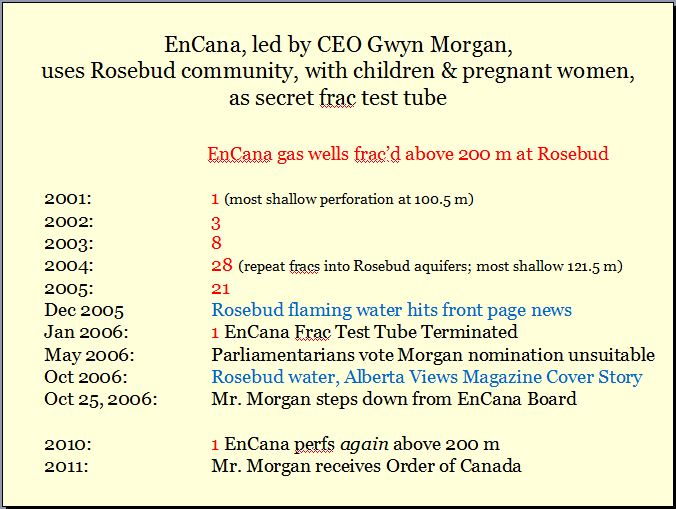 2006: EnCana's "far from flawless" CEO Gwyn Morgan retires, leaves environmental disaster. "The way the media told it, you would have thought Jesus Christ had announced he was stepping down from the right hand of God. The Calgary Herald, in particular, was shameless in its worship."
2006: Ernst's drinking water (not BBQ fuel) after Encana illegally frac'd the aquifers that supply her well, led at the time by CEO Gwyn Morgan. Still to this day, no apology from him or anyone at Encana (or Bennet Jones Law Firm)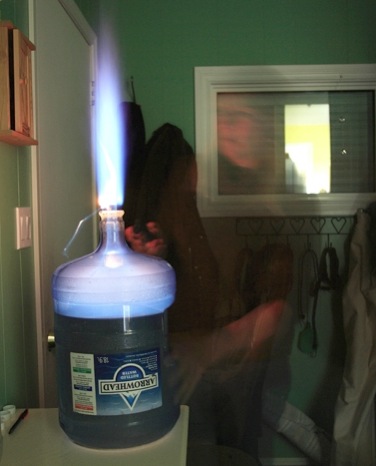 2006 12 01: Who's in Charge? The Secret Standoff in CFB Suffield
2006: Top ten newsmakers of 2006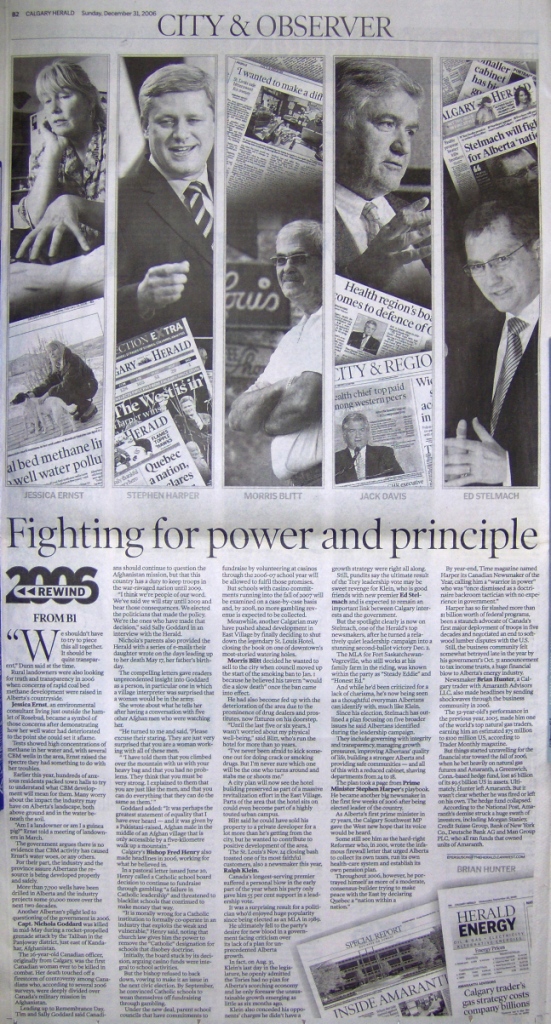 2007 02 28: Suffield Files Reveal Disturbing Story of Environmental Degradation, Non-compliance by Energy Companies and Industry Giant EnCana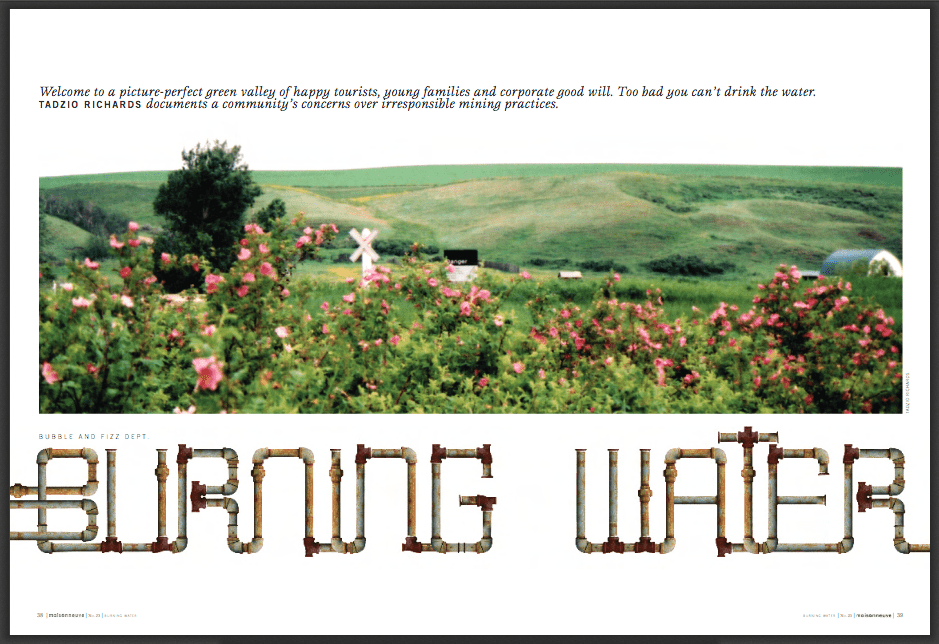 L'eau qui brûle translation of Burning Water
2007: I file my lawsuit against Encana, AER and Alberta Environment. Details on the lawsuit page of this website.
2008: Musicians' ribs about rigs limit their gigs
The song, "EnCana Bluegrass Blues" by the Good Old Guard Gospel Singers from the Glenwood Springs area has attracted the ire of both EnCana and oil-and-gas workers because the lyrics are none too kind to the industry. … The tune also describes a 2004 drilling mishap when one of EnCana's wells leaked benzene, a carcinogenic chemical, in West Divide Creek about 20 miles west of Glenwood. … The Good Old Guard Gospel Singers are really four musicians –- Don Kaufman, Don and April Paine and Dustin Micheli. … Micheli said he has been elbowed and shoved by oil and gas workers since the song was publicized. "We don't play in Rifle bars," he admitted.
2008: Glenwood quartet sings drilling blues, BBC World News features 'EnCana Bluegrass Blues' by Pete Fowler, Front Page Aspen Times
A video of local musicians – including a workers' compensation attorney – singing a less-than-flattering song about EnCana may have been viewed by some 350 million people in various parts of the world.
Clips of the song were featured in a 10-minute BBC World News America television segment on natural-gas drilling in Colorado. … The BBC reportedly approached Kaufman after hearing an original recording and requested to film it on location on the banks of Divide Creek in Garfield County. The song was written after one of EnCana's wells leaked into West Divide Creek in 2004. The seep was found to contain the carcinogenic chemical benzene, and the Colorado Oil and Gas Conservation Commission fined EnCana a record $371,000.
"But the cancer risk at or above the acceptable range under EPA Guidelines. Isn't that worrying?"
"I'm not going to respond to that."
"The energy companies are making billions of dollars in Colorado, yet there's not enough money to comprehensively research the effect they're having on the people who live here."
2008: EnCana Bluegrass Blues / BBC World News America Preview
David Willis took you to West Colorado where small towns there are experiencing a natural gas boom. During filming, a group of local residence played a bluegrass song that Encana took them to court to stop singing and it was thrown out of court.
2008: Encana Passes the Buck on Contamination in Pavillion, Wyoming
2008: Citizen EnCana The double life of Calgary's greatest corporation, Good Corporate Citizen or Evil Empire

Is that Gwyn Morgan drawn in the Bow Building with the Devil by his side on Fast Forward's 2008 cover above? Why did Bennet Jones not demand the link to the Devil and cover drawing be removed, and for Fast Forward to hand over it's website to Gwyn they way they did the creator of www.gwynmorgan.ca? (Refer to 2013 post by Laila Yule below)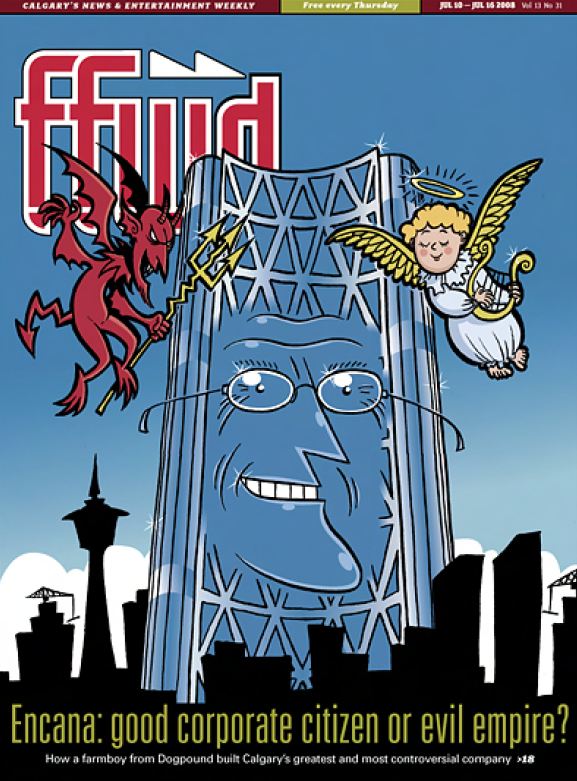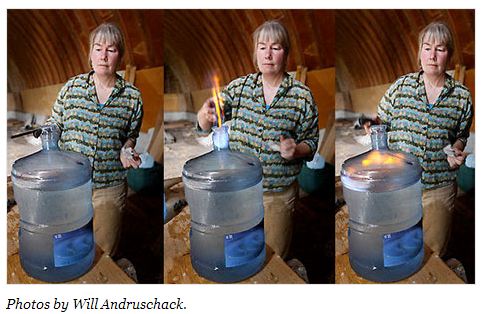 2009: "If it looks like a rat and smells like a rat…." No wonder it's nearly impossible to find a law firm willing to sue Encana for its crimes. Bennet Jones law firm (serves Encana, and gives the company awards!) with note to Gwyn Mogan gives $70,000 (largest single donation any law firm had ever given to a political party) to Alliance Party of Canada after getting $400,000 "windfall" defending Stockwell Day: A fundraiser, a Lawsuit and a Questionable Contribution
2009: The Intimidation of Ernst: Members of Harper Government's RCMP Anti-terrorist Squad Intimidate and Harass Ernst after her Legal Papers were Served on Encana, the EUB (now AER) and Alberta Environment
DID GWYN MORGAN ORDER THESE GOONS TO HARASS AND SCARE ME? Why didn't he come himself? Corporate chicken? I asked the squad who sent them, they refused to answer, shuffled their feet instead. Video clip detailing how I handled the squad at link above.
Steve Harper's squad invaded, lied to me, intent trying to scare me even though I broke no laws, Encana and the regulators did. What a frac'd shit show. I might laugh about the absurdity of it, but I was terrified at the time and for weeks afterwards, and no longer feel safe anywhere.
A fascinating detail to me now is that I told my lawyers then I wanted to file an official complaint to start a paper trail because it was so inappropriate what the RCMP had done. My ex lead lawyer, Murray Klippenstein (Cory Wanless was then fresh out of school), pressured me not to. I trusted him then and didn't question it although I found his advice bewildering.
Now, after my lawyers abruptly quit my case in 2018 (pissing on the rules of their profession), lied to me in writing, are still refusing to send me my files, for a long time withheld my trust account funds and website from me with Klippenstein ignoring my correspondence, and lying by omission about me in a sworn Affidavit filed in court in 2021 (lawyers and judges sure lie a lot), I now wonder if he took my money while serving the other side, and was protecting Encana/Gwyn Morgan/Steve Harper and their taxpayer financed thugs.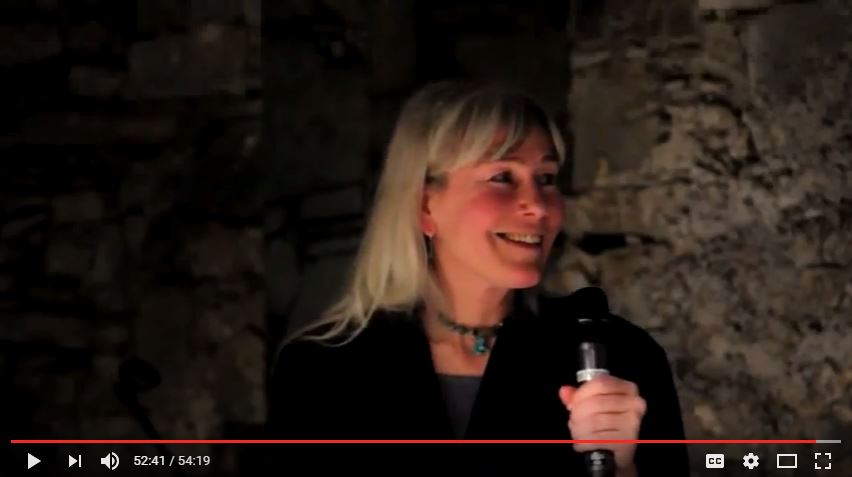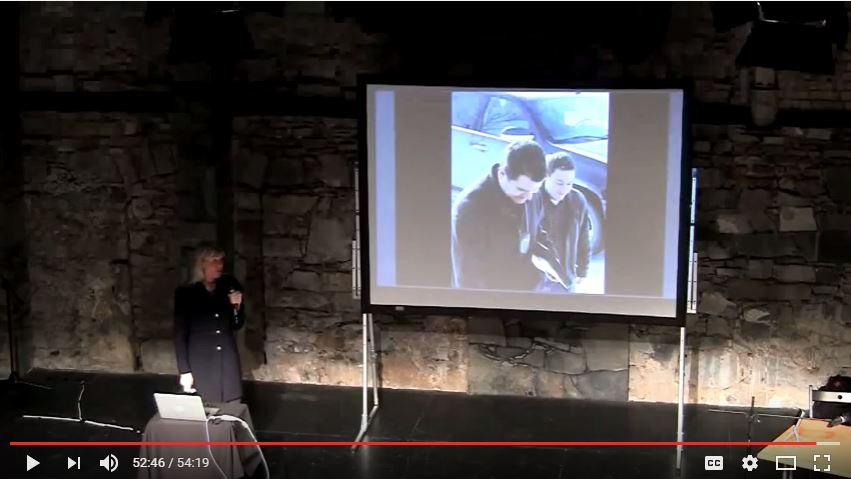 Above photo: Harper's anti-terrorist squad on Ernst's doorstep. On hearing my camera snapping, they orderd me not to take photos of them because they were "undercover."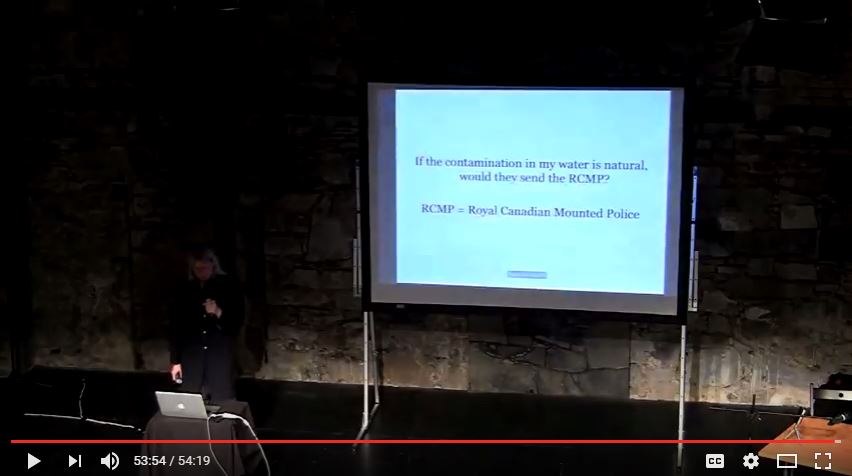 Above images: Ernst presenting in Dublin, Republic of Ireland a few years later
2010: EnCana Corporation facing criminal charges
2010 07 19: US Congress Investigating EnCana's hydraulic fracturing practices asking about all allegations of water contamination caused by their fracing

Ernst requested the company's response to Congress. Encana lawyer Jayana Flower refused, claiming the investigation had nothing to do with the community-wide drinking water contamination at Rosebud, including Ernst's drinking water (after Encana broke the law and hydraulically fractured into the aquifer that supplies Ernst's water well!)

The 2010 Congress letter to companies, including Encana
2010: Encana buys silence of communities the company fracs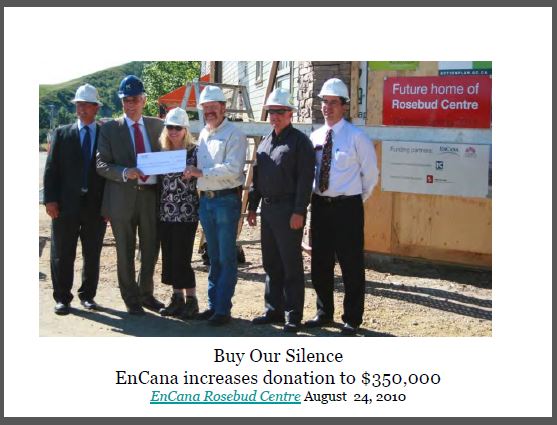 2010: Pavillion, Wyoming-area residents told not to drink water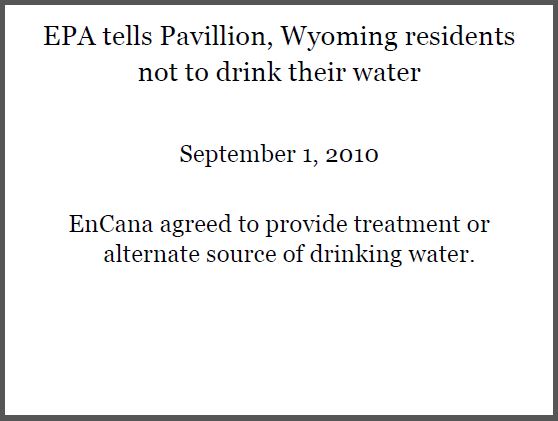 2011: A toxic practice, a poisonous relationship: what's the connection between water for fracking and SNC-Lavalin's Chair Gwyn Morgan, past CEO of Encana?
2011: Order of Canada rewards evil: Encana Gwyn Morgan's (was CEO when the company illegally frac'd Rosebud's drinking water aquifers and lied about it to the community) nominated to Order of Canada by buddy Dick Wilson (then VP Public Affairs, Encana)
"I nominated him," Wilson said with a laugh.
2011: Nikiforuk: The Gwyn Morgan File: Rise of a Shale Gas Baron, Christy Clark picked the EnCana empire builder to guide her into power, and that says volumes about who's shaping BC's future. Part one of two.
2011: The Gwyn Morgan File: EnCana's Grip on BC, How Christy Clark's advisor steered his Alberta petro giant to become the most powerful corporation in this province. Second of two.
2011 10 08: US EPA Releases Draft Findings of Pavillion, Wyoming Ground Water Investigation for Public Comment and Independent Scientific Review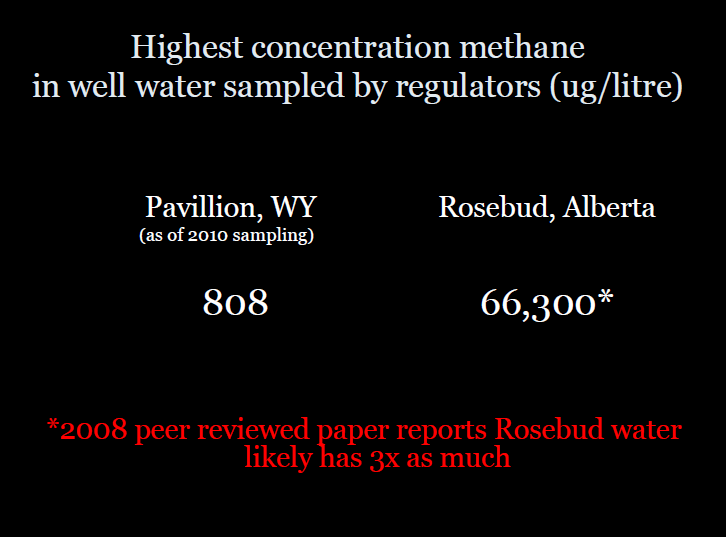 Later testing by Alberta Environment, after accidentally properly purging the Signer water well (I witnessed it), showed 110,000 ug/l. The "regulator" nastily refused to give Ms. Signer these damning test results.
Regulators and frac'ing companies like to avoid proper purging of contaminated water wells because it results in sampling water in the well (instead of water in the aquifer) where much of the methane has exsolved. Dirty sneaky buggers.

2012 09 12: $250,000 in community safety projects following Encana deadly sour gas leak
2012 05 01: Review blames fracking for water contamination in Pavillion
2012: HSBC is expected to pay US authorities a record $1.9bn (£1.18bn) to settle allegations that its failure to enforce anti-money laundering rules, Swiss Probe $139M SNC-Lavalin Laundering Case, Gwyn Morgan SNC-Lavalin Chair says company aiming at improving compliance
2012: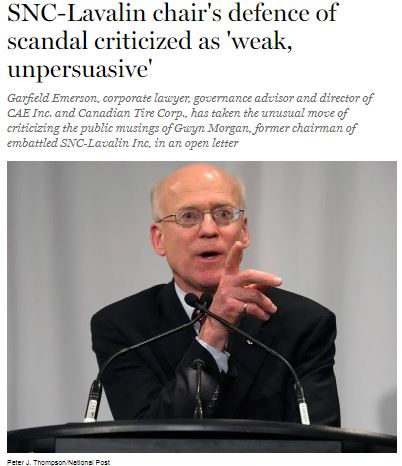 2012 06 28: Lawsuit against former SNC-Lavalin executives (includes ExEncana CEO Gwyn Morgan) linked to Gaddafi escape plot can continue: judge
2012 04 16: Biggest (Only) Ernst Legal Victory — Ernst completed without the help of any lawyers (in fact her lawyers advised her not to proceed with the inquiry, because they would get the records for her via document exchange, but nearly all the 1000s of case-related pages Ernst obtained via her inquiry were missing in Encana's documents exchanged with her): Office of the Information and Privacy Commissioner Orders Alberta Research Council (ARC, later changed to Alberta Innovates) to release baseline testing and water contamination investigation information, including draft reports

AND I WAS ORDERED ALL OF MY MONEY BACK, which I received.
Many deliberately and wrongly withheld records – including the draft reports and uncensored emails proving Steve Wallace with Alberta Environment secretly edited Research Council Dr. Alexander Blythe's "independent" reports dismissing Zimmermans, Lauridsens, Signer and Ernst's contamination cases – were finally, 4 years too late, released to Ernst.
Thousands of pages of other records that were ordered released remain withheld by Alberta Environment shittily claiming client solicitor privilege, including the "public" baseline water well testing records used to dismiss Ernst's case, and others in Alberta (Zimmermans, Campbells, Lauridsens, Signers):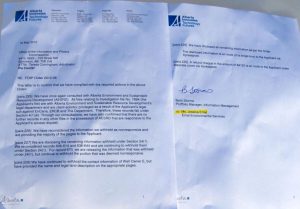 Those "public" water well testing records must be phenomenally damning for Alberta's "research" council, Alberta Environment and Encana to refuse to release them to Ernst.
Where are the authorities in Canada that are supposed to protect drinking water and enforce our laws?
No courage in any authority including our judges? Controlled by Gwyn Morgan? He's such a little person, I'll never understand why so many are terrified of him.

2012 10 01: USGS Fracking Study Confirms Methane Contamination of Drinking Water in Pavillion, Wyoming
2012 12: Alberta Court of Queen's Bench: AER officially names me a terrorist in their court filing prepared by outside counsel Glenn Solomon with no evidence, no affidavit, nothing but dishonesty. Law Society rules in Alberta prohibit lying to the court and or public by lawyers, intentionally or accidentally, yet the only one the courts punished was me. This defamation by Solomon/AER was apparently to prejudice judges against me and used to claim I have no charter rights. (Filing on the lawsuit page.)
2013: Will the real Gwyn Morgan please stand up?
2013: What's the real lesson from Gwyn Morgan's SNC-Lavalin experience? "Corporate corruption and scandal will continue for exactly as long as the people at the top fail to take responsibility for it. As chairman, Morgan was one of the most influential and powerful forces at SNC. When he fails to claim responsibility for the fraud and corruption that took place on his watch, in my opinion, he is enabling it."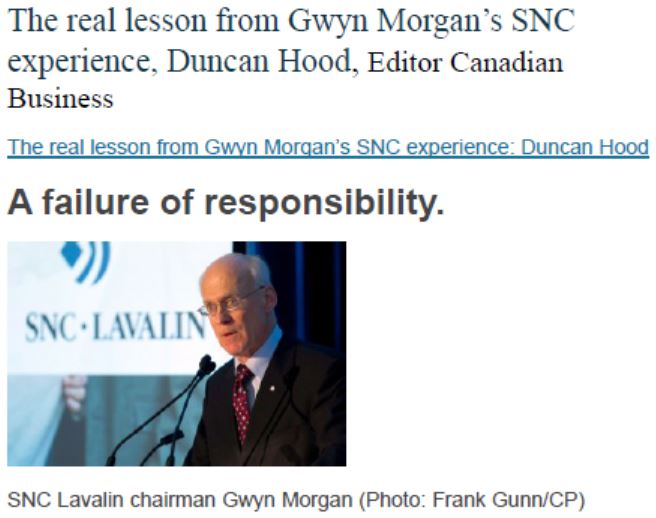 AN INCREDIBLE READ:
2013: From fracking to SNC-Lavalin: The truth about corporate kingpin Gwyn Morgan
… As AEC flourished, Morgan worked his way up the chain of command. In 1993, a year before Morgan became CEO, Premier Ralph Klein decided to more or less give AEC to the private sector to cover Alberta's deficit. "Without so much as a public evaluation of the company's true net value," writes Nikiforuk, "Klein gave away the province's remaining shares for less than $500-million … Just five years later the company was earning $2-billion a year and was worth more than $6-billion in the market place." In 2002, Morgan led the campaign to bring together AEC and other energy companies into one giant one — Encana. Then in 2004, Morgan got another huge gift, this time from the U.S. government. When the company bought a large U.S. gas firm, it was given $14-billion in tax relief by the oil-friendly Bush administration. With the added bonuses of the Lougheed and Klein "gifts," and the huge U.S. tax deduction, Morgan was able to "earn" a whopping $36.5-million between 2002 and 2006. It seems that this "self-made man" wasn't all self-made after all.
Encana's billions in fracking profits has a downside for the public
It's well known within the energy industry, but not by the general public, that Gwyn Morgan was a pioneer of fracking. "As a young engineer in 1975," Morgan wrote in a Vancouver Sun column. "I directed the fracking of the very first well drilled by the company that eventually grew to become Encana Corporation. Since then, Encana has safely fractured tens of thousands of wells on its way to becoming North America's largest natural gas producer."
Millions of people throughout the Canadian and the U.S. west disagreed with him. While the company and Morgan made millions of dollars from fracking, the profits came at the cost of water contamination, air pollution, and hundreds-of-thousands of nauseated and unhealthy families.
Encana broke the law and violated regulations hundreds of times when Morgan was at the helm.
In 2004, in just one Colorado county, the company violated laws in connection with 17 wells and was fined $454,200. It was found guilty of drilling a well without a permit and recompleting seven wells without permits. (Elsewhere in the state, gas bubbled to the surface of a stream after Encana fracking.) …
A Board member of HSBC? What gives?
….Morgan's most puzzling adventure has been his involvement with one of the most corrupt and immoral banks in the world — and that's saying something. The Hong Kong and Shanghai Banking Corporation (HSBC) has admitted to laundering billions of dollars for Colombian and Mexican drug cartels, and moving tainted money for Saudi banks tied to terrorist groups. Morgan served as a Director on the Board of the HSBC Bank Canada from 1996 to 2006, and as its Lead Director. Then, from 2006 until last May, he was as an Independent Non-Executive Director of London-based HSBC Holdings. While there is no indication that Morgan himself did anything wrong, it is surprising that a person who so strongly claims he guards his reputation and the character of those he works with, would have his name associated with HSBC in any way.
Bad adventures in the political world
Morgan is friends with many of Canada's right-wing politicians, including Stephen Harper.
… Too many of Canada's corporate elites have a dossier similar to that of Gwyn Morgan. They are heralded as heroes, when in actual fact, they are wreaking havoc on the rest of us. These powerful men are running our economic and political

And thereby, judicial

agenda.
2013: In Alberta And B.C.: Stephen Harper Destroying The Rule Of Law
… Madam Justice Veldhuis will be replaced. Her replacement will automatically be questionable – suspected of being a "plant" to prejudice the case in favour of Stephen Harper and Encana, one of Canada's largest natural gas producers. Readers need to know that the judge on a case is usually – for very obvious reasons – bound to that case. The judge is said to be "seized" with the case – meaning responsible for all aspects of it from beginning to end. Being "seized" usually means not to be interfered with, not unnecessarily delayed, NOT REPLACED without very sound reason – because the judge knows most about the complications of the case. The judge is "seized" also because law and courts have a long history of powers of all kinds wanting to get rid of judges in order to tamper with, change, and/or redirect the judgement in cases. That is one of the reasons a judge is "seized" – so that any meddling by power can be seen for what it is, an action intended to violate the fair administration of justice.
Jessica Ernst is fighting Encana. and was close to getting a ruling from Madam Justice Veldhuis that she could sue "Alberta's energy regulator … for failing to uphold provincial rules, protect groundwater, and respect the constitutional rights of Canadians". …
The Harper Junta interference is, I suggest, mischievous, prejudicial, scandalous, and stunning in its obviousness.
… In both cases, in B.C. and Alberta, the Stephen Harper Junta has used the courts and the administration of justice, I believe, to violate trust, to support alleged wrongdoers who might be found to be in serious fault or even criminally responsible, and to make justice in Canada a plaything of corrupt power. I suggest that only a government powered by a psychopath could so viciously and openly attack the rule of law in Canada.
2013: SNC-Lavalin (Gwyn Morgan is Chairman SNC Lavalin and Director of Encana) paid $160-million in Libyan bribes, RCMP says; SNC-Lavalin hires former Watergate investigator to advise on anti-corruption
2013 04 04: SNC-Lavalin replaces chairman, 3 directors, Gwyn Morgan to step down as board chairman in May
***
2013: Legal counsel for SNC Lavalin chairman Gwyn Morgan, issues cease and desist letter to website bearing the same name (www.gwynmorgan.ca) by Laila Yule
"The truth has no agenda."
Documents forwarded to me anonymously yesterday, indicate that a law firm in Calgary, Bennett Jones LLP, has issued a legal letter to Tucows Inc, to shut down the website www.gwynmorgan.ca, on behalf of their client, Gwyn Morgan.
Upon opening this webpage, the viewer is immediately assaulted with an image of a demon under the broad caption "Gwyn Morgan – The Devil is in the details -". This imagery alone constitutes a defamatory publication. It suggests that Mr. Morgan is analogous to a devil in hiding.
The banner at www.gwynmorgan.ca in 2013:

The banner was removed after the blogger received the Bennett Jones letter
A full copy of this letter can be read via this PDF file Gwynmorganceaseanddesist

Ms. Yule's uploads were hacked too. Hundreds of my uploads (media, data and regulator reports – many not publicly available, legal files on my case, FOIPed records, etc.) were removed after my lawyers (Cory Wanless and Murray Klippenstein) abruptly quit and Klippensteins withheld my website from me (for nearly a year). It was a devastating discovery. After getting the website under my control in June 2019, I've spent many days re-uploading files. I still regularly find files missing and re-upload them when I have the time and energy. Access the Bennet Jones/Gwyn Morgan cease and desist letter here.

Whois domain registration does not reveal the identity of the website author, showing only that it was registered in February of this year. A quick check shows the site is currently down, however a cached version lists the site as: "Gwyn Morgan: The devil is in the details – an unofficial compilation of news stories relating to Gwyn Morgan (and the Fraser Institute by association)".
A review of the cached site reveals a catalogue like structure of news and media links all relating to SNC Lavalin investigations and allegations, or Gwyn Morgan.
This news came ironically, on the same day the World Bank announced that SNC Lavalin Inc., had agreed to be banned from bidding on any World Bank financed projects, globally, for 10 years following investigations into allegations of bribery on a World Bank financed project. http://business.financialpost.com/2013/04/17/snc-lavalin-bribery/
Gwyn Morgan has served as the chairman of SNC Lavalin Inc for many years, but it was announced recently that he was stepping down and being replaced following the AGM in May.
Shareholders have been critical of Morgan and the board, because as one shareholder stated: "the board failed in its oversight duties as certain members of senior management hatched agent payment schemes that should have come to light sooner." http://business.financialpost.com/2013/04/04/snc-lavalin-says-chairman-three-other-directors-to-be-replaced-at-may-meeting/
Gwyn Morgan has also been an advisor to Premier Christy Clark, a role that has been the subject of much controversy because SNC Lavalin had ongoing business contracts and bidding opportunities outstanding with the province of British Columbia.
… Bennett Jones and Gwyn Morgan demanded (and violated a Canadian's Right to Freedom of Expression guaranteed under the Charter?) but do nothing to fix Encana illegally fracturing Rosebud's drinking water supply and contaminating it, and secretly fracing hundreds more gas wells into the fresh water zones around the community while Gwyn Morgan was CEO of the company? …
***
2014: Brookfield Capital Partner's Ember Resources buys most of Encana's "fee-lands" (royalty-free) in Alberta's Horseshoe Canyon play; Ember will be one of Prairie Sky's biggest payees, paying 5 percent overriding royalty

And, best, Encana gets to walk from clean-up in its massive flea-bitten dog drilled super shallow frac'd gas play.

2014 07 12: Pavillion citizens with contaminated groundwater file state records request for draft investigation reports, object that Encana can review them and make comments, but harmed citizens and the public can't
2015: Home Wrecker? Three Weeks After Encana Oil Well Explosion in Karnes County Texas, Families Still Can't Go Home
2016 03 30: Why did no Canadian media or blogs, other than The Tyee, report on Digiulio & Jackson's damning new study confirming Encana frac'd & contaminated drinking water aquifers at Pavillion, Wyoming?
2016 03 31: No Canadian Mainsteam Media Reported on Standford Peer-Reviewed Study Proving Encana Frac'd, Contaminated Aquifers at Pavillion, Wyoming. In Germany, Mainstream Magazine, Der Spiegel, Did! How Corrupt Did Harper Frack Canada?
2015: Andrew Nikiforuk's Slick Water

Mr. Nikiforuk told me he wrote Slick Water to give me a trial because he expected Canada's politicians and courts would never allow me one.

2016: Andrew Nikiforuk's Slick Water Reviewed in Publishers Weekly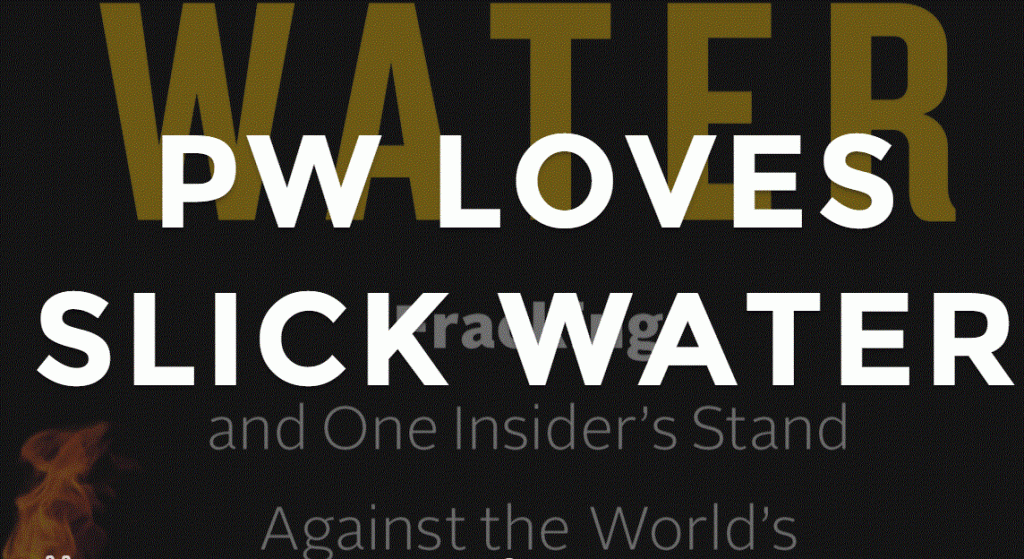 2016 12 13: US EPA Releases Final Frac Report: Rosebud Alberta drinking water aquifers frac'd, water wells contaminated with gas.
2017 09 05: Cheapskate Aquifer-Fracker Encana, sitting on $Billions, kills $50,000.00 annual "corporate partnership" funding to Rosebud Theatre, blames economy. Greed & nastiness more likely reasons.
2017: Now it's oilmen who say fracking could harm groundwater
2017: Heaven Help Our Drinking Water: How many frac hit damages when Encana fracs multi-stacked, 60 wells per section?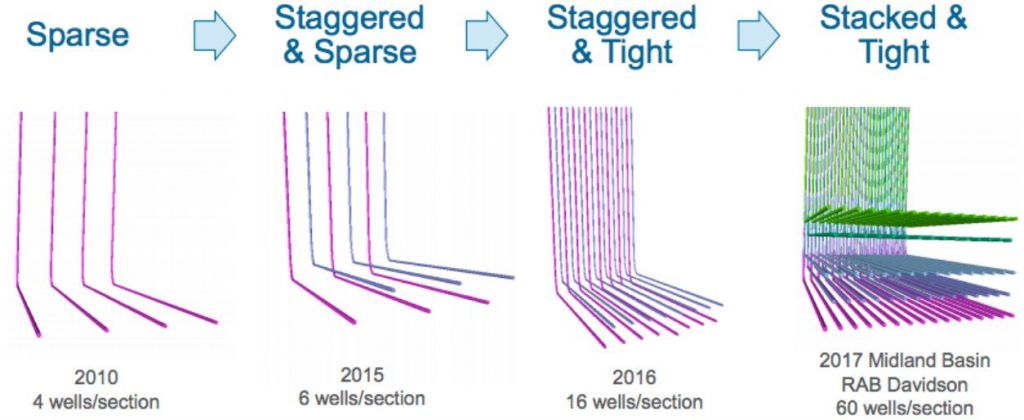 2019: SNC Lavalin happily pleads guilty to escape most charges. *Justice* is pissed on again. When will Gwyn Morgan (ex SNC Lavalin Chair, ex Encana CEO) be held accountable for the crimes under his leadership? And why is Canadian media glorifying perfidious ex-AG Jody Wilson-Raybould?
2019: Encana's mess is of its own making – and a gut punch to Alberta
2019: Top 100 People Killing the Planet, Includes Encana's CEO Doug Suttles
2019: Nikiforuk: The Coddling of the Alberta Mind, In the current provincial election, no politician wants to saddle up and tell the truth.
… According to former Encana CEO Gwyn Morgan, another whiner of the highest order, Alberta's most important industry has been stomped on by bad people.
(As every adherent of identity politics knows, life is a constant battle between good and evil people. God forbid that Canadians see each other as brothers and sisters.)
Morgan, who chaired SNC-Lavalin during the Libya scandal and boldly took no responsibility for that fiasco, recently argued in the Financial Post that the "drastic decline" of Canada's oil industry is due to "a combination of ideological antagonism to fossil fuels and tunnel vision."
Apparently, ideology caused oil prices to crash in 2014, and the overproduction of bitumen and tight oil had nothing to do with that bitter event, which left 40,000 Albertans jobless.
Art Berman, a respected Houston oil analyst and no greenie, has a much higher respect for the truth. …
2019: A new drug in town: "In an unprecedented burst of honesty, Encana renames itself Ovindictive!"
"Their logo looks like investors fleeing a frac hole."
Albertan: "can't believe encana changed their name to ovarytit … the herald has like 10 articles about it. gwynny all whiny and cryee …"
Texan: "I despise them."
Albertan: "It really is terrible. I hate them even more. If that is possible. It's actually funny watching them all scramble and blame …"
To a CBC article on the day of the name change news: "the new name sounds like a pharmaceutical for erectile dysfunction … too much!"
2019: "Canada" becoming a dirty word or has "Encana" been a dirty word for years? Name change to Ovintiv brings investors 9.3% drop, biggest drop in a year. Erectile Dysfunction?
2019: Encana fleeing Canada in Scheer desperation? Shares drop 9.2%! Illegal aquifer-frac'er, caprock buster, poisoning bully of families and briber/divider of communities running to USA, changing its spots to Ovintiv Inc. Erectile Dysfunction drug or cross between Ovaltine in vintage container and a vagina?
2019: Gwyn Morgan whines over the top? Blames Canada for Encana slinking off with Ovarytits (aka Ovintiv) to the USA. Why does Morgan live here if he hates it so much? Too many $Millions in freebies?

Is Mr. Morgan whining because of the company changing to a stupid name and running away, or because he will lose a pile of money as the Bull-in-a-China-Shop crumbles? If he has to sell his $8 Million (likely worth much more now) home in Victoria, he can live in my barn with my contaminated water well. I share.

2019 12 23: Christmas shit show in Wyoming: State "regulator" report, funded by Encana, says no evidence Pavillion drinking water contaminated by fracking. We could have saved Encana $1.5 Million, told the state we knew years ago they'd let Encana off with a fat, wordy (4,228 pages!!) blame nature report (just like Alberta did)
2020 01 05: What are the connections between law-violating CSIS, law-violating Encana, propagadist big oil lobby group CAPP, law-violating EUB/ERCB/AER and the big banks?
2020 03 10: Living with Encana (Ovintiv) in Pavillion, Wyoming. Sue Spencer, hydrogeologist: "There's this veil of secrecy about everything they do. … The oil industry went nuts. ….[the oil lobby] was just like, 'you can't say that groundwater was impacted by the fracking industry.'"
2021 01 28: "FixOvintiv!" Addicted to debt "Environmental Laggard." "Failure of Governance, No Alignment or Accountability." Shareholder Kimmeridge Energy Management Co. LLC: "Ovintiv: A Track Record of Value Destruction." Sure sums up my experiences living invaded by frac'er Encana-Ovintiv.
2021 03 31: Eagle Ford: Ovintiv/Encana sells leases for less than one-third of $3.1 billion it paid for them in 2014
2021: Plainsmen Energy Inc v. Ovintiv Mid-Continent Inc: Suit alleges frac'ing by Ovintiv/Encana decreased oil production and flooding of frac fluids damaged property.
… Newfield Exploration Company merged with a wholly owned subsidiary of Encana Corporation, which is based in Canada. … After removal, Encana Corporation was reorganized. … The result was that Newfield Exploration Mid-Continent Inc. became known as Ovintiv Mid-Continent Inc. and Newfield Exploration Company became known as Ovintiv Exploration Inc. Ovintiv Mid-Continent Inc. is wholly owned by Ovintiv Exploration Inc., which in turn is wholly owned by Ovintiv USA Inc., which in turn is wholly owned by Ovintiv Inc. … The current status is: (1) the presumed real party in interest, Ovintiv Mid-Continent Inc., is the successor of named Defendant Newfield Exploration Mid-Continent Inc. and, like its predecessor, is incorporated in Delaware and has its principal place of business in Texas…; and (2) Defendant's ultimate parent, Ovintiv Inc., was incorporated in Delaware and now has its principal place of business in Colorado….
…
Lawyers at McAfee & Taft on Tuesday removed a lawsuit against Ovintiv Mid-Continent to Oklahoma Western District Court.
The suit alleges that fracking by defendant has caused a decrease in oil production and property damage caused by flooding from fracking fluids.
The complaint was filed by Puls Haney Lyster on behalf of Plainsmen Energy. The case is 5:21-cv-00171, Plainsmen Energy Inc. v. Ovintiv Mid-Continent Inc.
***
"You cannot pick up a turd by the clean end."