Alberta Moves to Strike Down Ernst's Fracking Lawsuit, Landmark case could spark a flood of litigation against the province, lawyer argues by Andrew Nikiforuk, April 18, 2014, TheTyee.ca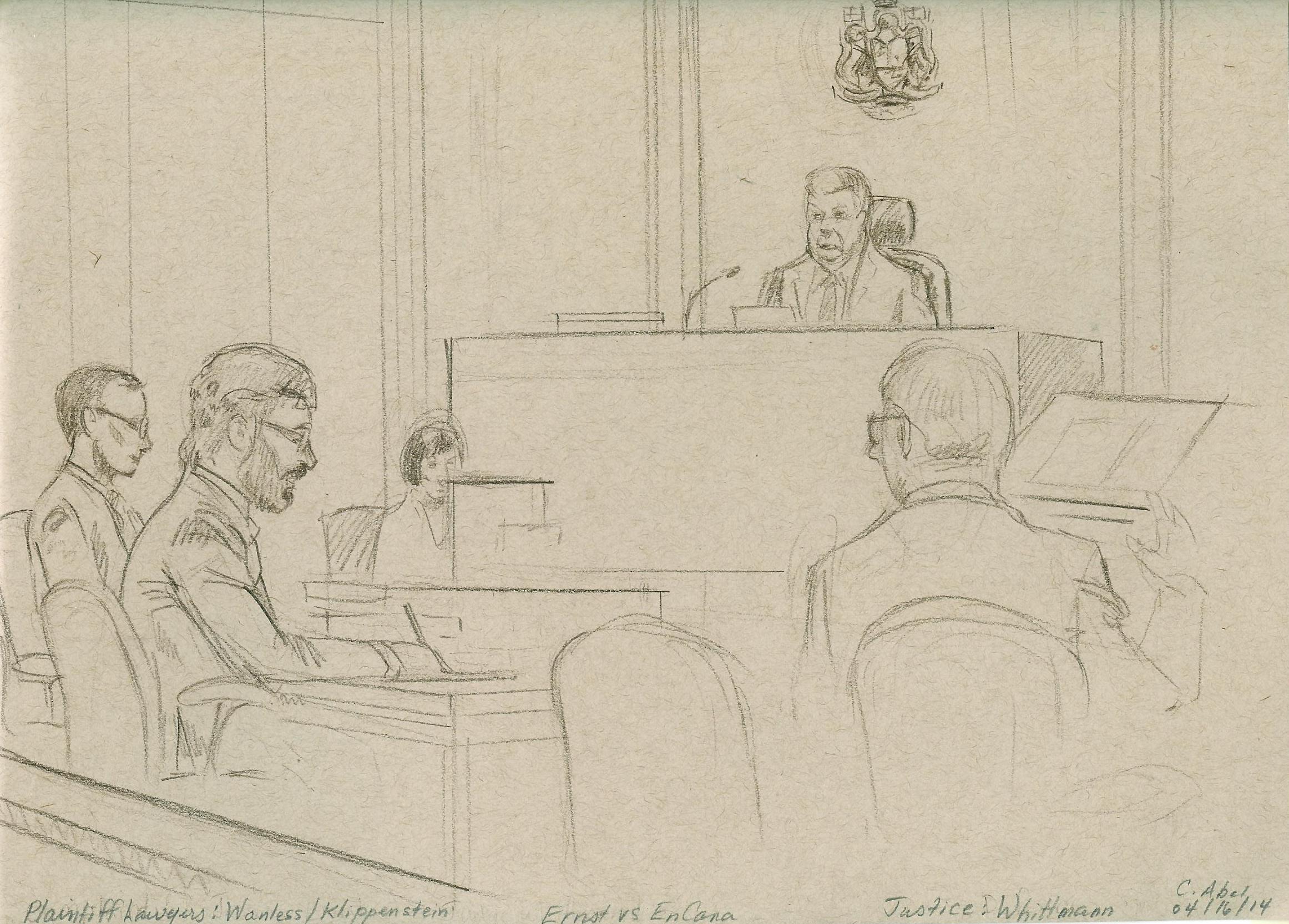 Court sketch, Ernst v. Alberta Government.
Crown counsel argued that Alberta landowner Jessica Ernst's case could inspire 'millions or billions of dollars worth of damages' in subsequent lawsuits against the province.
An Alberta government lawyer argued in court this week that Jessica Ernst's lawsuit on hydraulic fracturing and groundwater contamination should be struck down on the grounds that it would open a floodgate of litigation against the province.
"There could be millions or billions of dollars worth of damages," argued Crown counsel Neil Boyle.
Seven years ago, oil patch consultant Ernst sued Alberta Environment, the Energy Resources Conservation Board and Encana, one of Canada's largest shale gas drillers, over the contamination of her well water and the failure of government authorities to properly investigate the contamination.
The $33-million lawsuit alleges that Encana was negligent in the fracking of shallow coal seams; that the ERCB breached Ernst's freedoms under the Charter of Rights and Freedoms, and that Alberta Environment performed a problem-plagued investigation in bad faith.
The case, which effectively puts the performance of the province's oil and gas regulators on trial, has drawn international attention.
The Alberta government made the application to strike the entire claim after Chief Justice Neil Wittman ruled last fall that that lawsuit against Encana and Alberta Environment could proceed, but that the ERCB (now Alberta Energy Regulator) was exempt from civil action due to an immunity clause.
In Jan. 2013, Alberta Environment tried unsuccessfully to delete the word "contamination" as well as several clauses from the lawsuit that specifically mentioned other polluted water wells in central Alberta.
Courtroom drama
Justice Wittman had trouble following the coherence of the government argument to strike the claim in the crowded Drumheller courtroom.
He noted that Boyle's line of reasoning, which argued that the Crown owed no private duty of care to landowners, suggested that Alberta Environment would have to be negligent all the time before it could ever be found liable.
Boyle also argued that immunity clauses in the Environmental Protection and Enhancement Act and the Water Act shielded the province from any civil action. But questions from Wittman made it clear that these immunity clauses were not strong and only included actions taken "in good faith."
Justice Wittman also questioned Ernst's lawyer Murray Klippenstein about the government's filing of a report by the Alberta Research Council that dismissed Ernst's water well case as insignificant. The government claimed the report was an independent review that proved there was no merit in the Ernst case.
Klippenstein argued that such a filing of evidence was inappropriate at this time. He also submitted a collection of Alberta Environment emails obtained through freedom of information legislation that he argued show the Alberta Research Council report was edited by Alberta Environment and not an independent review.
Justice Wittman allowed the submissions in the event of an appeal.
Read entire article at The Tyee
French Translation L'Alberta veut faire invalider la poursuite de Jessica Ernst by Les Ami(e)s du Richelieu with photo of the Ernst v Encana team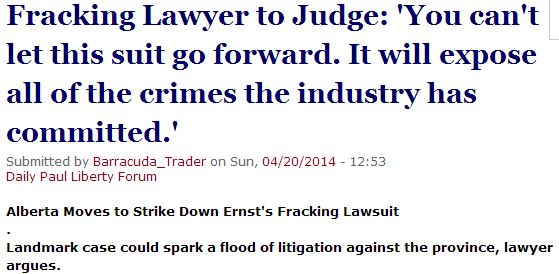 Snap from: Dailypaul.com
[Refer also to: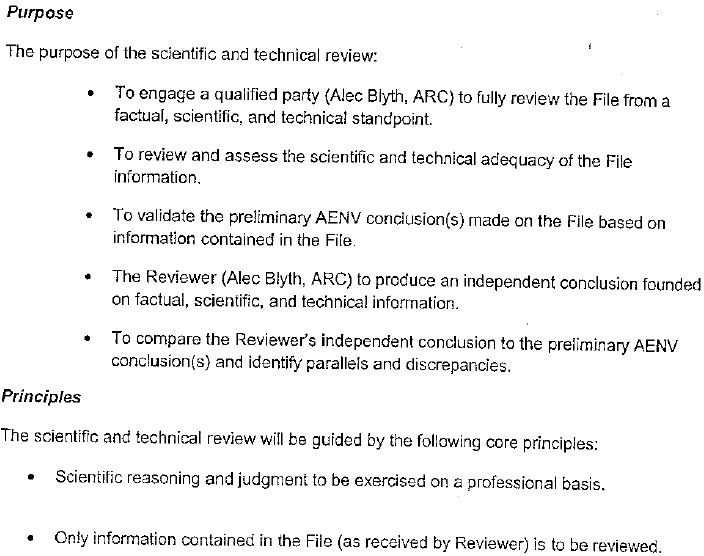 Above from official 2007 Terms of Reference (obtained by Ernst FOIP request to the ARC) of Alberta Environment retaining Dr. Alec Blyth with the Alberta Research Council (ARC) to review Alberta Environment's investigation of Ernst's contaminated water well. Note the last bullet.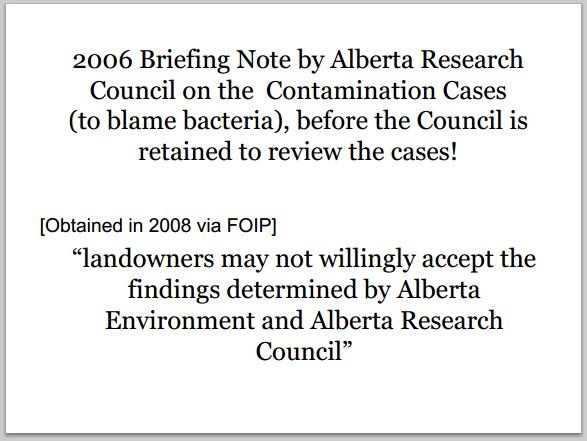 Slides from Ernst presentations
Statement below "meeting the priorities of industry" from the Research Council website before the government changed it to Alberta Innovates-Technologies Futures: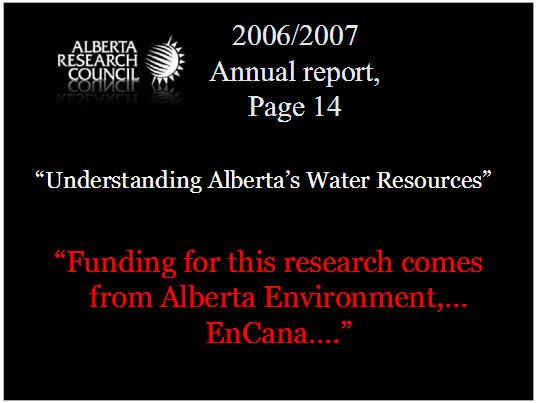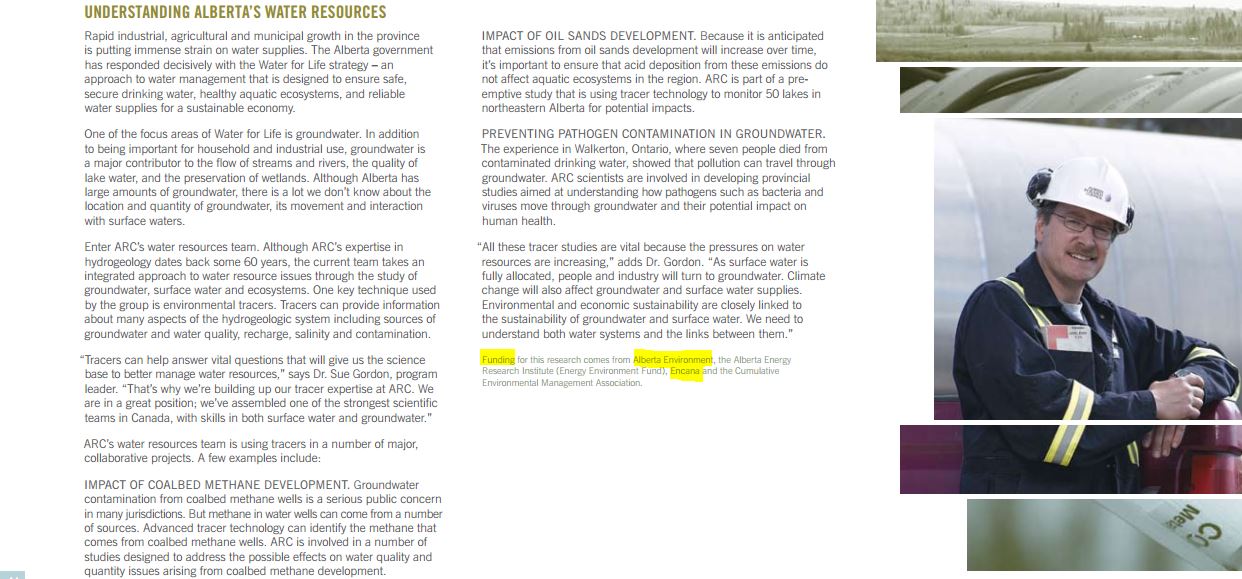 Page 14 Alberta Research Council's 2006/2007 Annual Report, see yellow hilite: funding from Encana and Alberta Environment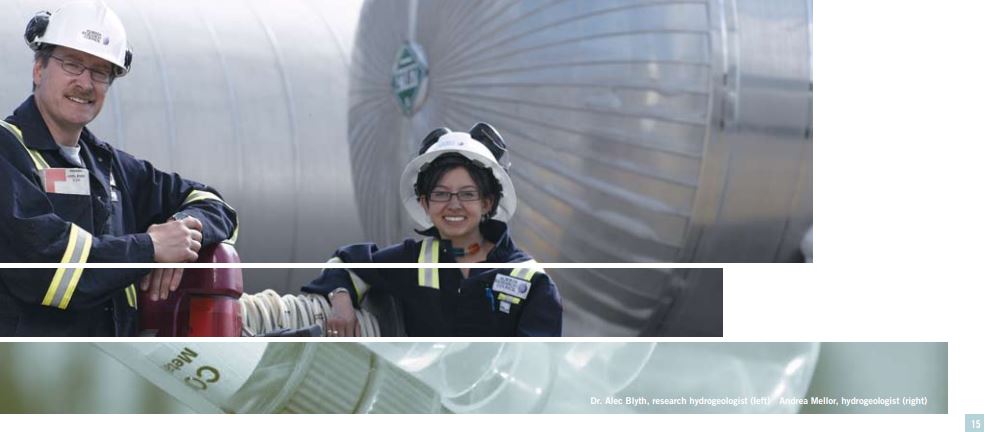 Page 15 Alberta Research Council's 2006/2007 Annual Report, Dr. Alec Blyth, research hydrogeologist and Andrea Mellor, hydrogeologist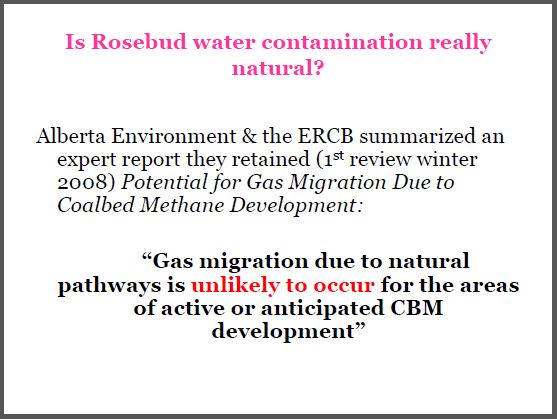 The above quote by the Alberta regulators is regarding the expert report that Alberta Environment's Steve Wallace edited out of  Dr. Alec Blyth's Alberta Research Council review on the Ernst case (in embed above):
Pg 8, 2nd para – a study of the potential for methane migration…is currently under investigation by AENV. We plan to mention this study when we roll out the complaint review findings, so perhaps we should leave it out of this report.
2012: Ruling advances Jessica Ernst's tainted water lawsuit, documents must be released, says Alberta information boss Date of original FOIP by Ernst to the Alberta Research Council, June 2008
Many documents ordered released remain withheld (as of April 19, 2014). 
March 30, 2012: Office of the Information and Privacy Commissioner Orders Alberta Innovates to release baseline testing and water contamination investigation information, including draft reports Alberta Innovates Technologies Futures (previously Alberta Research Council) refused to comply with the order, claiming Alberta Environment was unable to release the public water well records claiming the records were "client-solicitor privileged" because of the Ernst lawsuit even though none of the public water well records Ernst had requested were on her water well or related to the lawsuit.
There are no shortcuts to any place worth going.
Beverly Sills