Encana reaches agreement to sell Clearwater assets to Ember Resources for C$605 million by DrumhellerMail, October 8, 2014
Encana Corporation announced today that it has reached an agreement with Ember Resources Inc. (Ember) to sell the majority of its Clearwater assets, located in southern and central Alberta, for approximately C$605 million, although much of the assets in the Drumheller area will remain in with Encana. …
"This divestiture continues to advance our strategy. We are unlocking additional value from non-core dry gas assets as we focus on liquids rich growth areas. Our growth portfolio now includes the top two resource plays in Canada, the Montney and the Duvernay, and the top two resource plays in the United States, the Eagle Ford and, by year-end, the Permian Basin," says Doug Suttles, Encana President & CEO. "Through this transaction, Ember is acquiring a high-quality asset along with a tremendously talented team." …
Encana retains approximately 1.1 million net acres in Clearwater, including around 480,000 net acres along the eastern edge of the Horseshoe Canyon Fairway.
Encana operations will continue in the Rosebud, Rockyford, Standard area, as well as in Crossfield and on Siksika lands. …
Ember, together with its shareholder Brookfield Capital Partners, has recently through several acquisitions, consolidated a significant land and production base in the Horseshoe Canyon CBM fairway in Alberta. With this acquisition Ember will own interests in 2.2 million net acres of lands, with combined gross production of 290 mmcfe/d of natural gas. Coalbed methane production is characterized as a low-cost, long-life natural gas resource. [Emphasis added]
Buying Encana CBM Will Boost Ember's Output To 290 Mmcfe A Day by Pat Roche, October 8, 2014, Daily Oil Bulletin
When Ember was privatized in June 2011, its production was about 20 mmcf a day. Once the Encana acquisition closes, Ember will have production of 290 mmcfe a day and 2.2 million net acres. Post-acquisition, Ember's gas output will be about 280 mmcf a day, said president Doug Dafoe.
That would make Ember Canada's 13th-biggest gas producer, based on the second-quarter results of public companies, according to DOB records. As a gas producer, that would put Ember ahead of Penn West Petroleum Ltd., which reported second quarter gas output of 231 mmcf a day, and Imperial Oil Limited, which reported second quarter gas volumes of 199.4 mmcf a day.
The purchase will make Ember by far the biggest CBM producer in Canada, said Dafoe.
Ember has done two other acquisitions since going private. In the summer of 2012, it struck a deal to buy coalbed methane assets from Fairborne Energy Ltd. for roughly $31 million. And last year Ember bought assets from Houston-based Apache Corporation for $214 million. (DOB, Oct. 4, 2013).
About 99 per cent of Ember's shares are held by Toronto-based private equity firm Brookfield Capital Partners and the rest is held by Ember's management, a Brookfield spokesman said.
The three acquisitions consolidate a significant land and production base in the Horseshoe Canyon CBM fairway in Alberta.
Ember's strategy
Ember decided to focus solely on dry gas at the same time as nearly all other producers were shedding those assets. The fact that Ember not only survived, but grew dramatically, during a long stretch of devastatingly low North American gas prices suggests the strategy is working.
What does Ember see that other producers apparently missed?
Ember's Horseshoe Canyon CBM wells have average productivity of about 75 to 100 mcf a day—the exact opposite of what most companies want in the wake of the U.S. shale gas revolution.
But the biggest advantage may be the low-cost, long-life gas resource.
Ember's CBM wells have a decline rate of less than 10 per cent, Dafoe said. They cost less than $200,000 to drill and he estimates operating costs are in the range of $1.25 to $1.35 an mcf.
Another advantage is low royalty rates. Ember will own 100 per cent working interest in the lands it is buying from Encana while PrairieSky Royalty Ltd., the publicly traded spinoff of Encana's royalty interests, will continue to own the royalty interest.
"We're going to be one of Prairie Sky's biggest payees. All of the fee lands and the royalties that Encana rolled into Prairie Sky—we've just bought the working-interest portion of that," Dafoe said.
So on the bulk of the lands Ember is buying from Encana, it will pay a five per cent overriding royalty to Prairie Sky—an extremely attractive rate.
Dafoe estimates the average royalty rate for Ember, which also holds some Crown leases, will be somewhere around eight per cent after the Encana acquisition.
He said Ember has about two tcf of proved plus probable reserves, nearly half of which are on production. "We make a lot of money on $4 gas," he said.
Ember plans to drill about 150 wells this year on its pre-acquisition lands. Next year the company will probably drill about 250 wells, Dafoe said.
But the company also has several hundred wellbores producing from conventional sands that have not been completed in the CBM zone. Those re-completions cost about $80,000 each. In effect, the company will get new CBM wells for about $80,000 apiece, Dafoe said.
Ember expects to have about 250 employees after the acquisition. Asked about whether the company plans to go public, Dafoe said the focus now is on closing the Encana acquisition in the first quarter.
Encana repositioned
For Encana, meanwhile, the sale continues of the shrinkage of what was once one of North America's biggest gas producers. After the sale to Ember closes, Encana's growth portfolio will consist of the Montney and the Duvernay in Canada and the Eagle Ford and the PermianBasin in the U.S.. The latter will be added when the acquisition closes by year's end.
"This divestiture continues to advance our strategy. We are unlocking additional value from non-core dry gas assets as we focus on liquids rich growth areas," Encana president Doug Suttles said in a press release. [Emphasis added]
Encana Continues Gas Purge With $541M Alberta Asset Sale by Keith Goldberg with Editing by Emily Kokoll, October 8, 2014, Law360
For Calgary-based Ember, whose backer is Brookfield Capital Partners — part of Brookfield Asset Management Inc.'s private equity platform — the deal boosts its holdings in the Horseshoe Canyon Fairway with 2.2 million net acres of lands, with combined gross production of 290 million cubic feet of gas per day. "This acquisition establishes Ember as the leading producer of coalbed methane in Canada," Ember President and CEO Doug Dafoe said in a statement Wednesday. …
Meanwhile, Encana continues to shed gas assets at a healthy clip. Prior to the Ember deal, the company said last month that it will sell its remaining stake in gas royalty-focused PrairieSky Royalty Ltd. through a C$2.6 billion ($2.3 billion) secondary offering. … Counsel information for the parties wasn't immediately available Wednesday. [Emphasis added]
Ember Resources to buy Alberta gas properties from Encana for $605 million by The Canadian Press, October 8, 2014
The deal will more than double Ember's land and production holdings in Alberta, which are concentrated on coalbed methane lands in the Horseshoe Canyon area.
The Clearwater assets going to Ember include about 485,600 hectares of land and wells that produce the equivalent of 180 million cubic feet of natural gas per day. Encana will retain about 445,000 hectares of its Clearwater assets, including 194,000 hectares along the Horseshoe Canyon Fairway. The Ember deal is the latest major transaction for Calgary-based EnCana, which has been diversifying to include more oil and natural gas liquids. … It has also been selling Canadian assets, including through the spinoff of some of its assets into PrairieSky Royalty Ltd. (TSX:PSK) and the recently completed sale of its Bighorn assets in Alberta to Jupiter Resources.  [Emphasis added]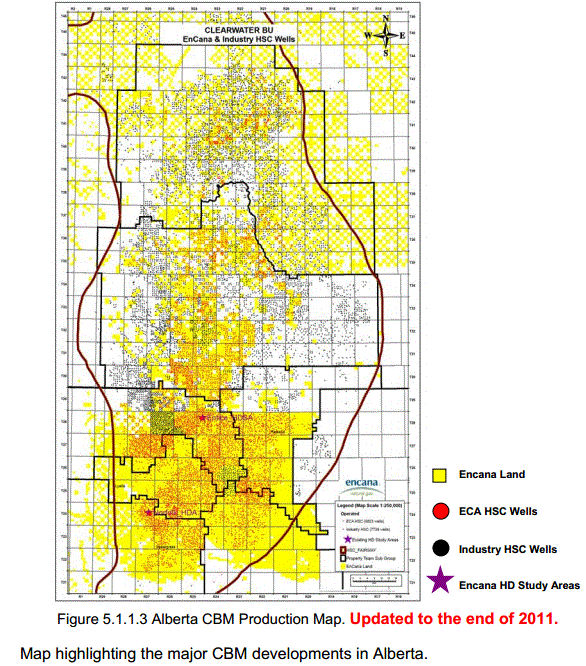 Map above from Encana Corporation "Horseshoe Canyon Coal Bed Methane
High Well Density, Reservoir Continuity Study" 2011 Annual Report. Alberta Energy
Innovative Energy Technologies Program. Project Approval No 04-074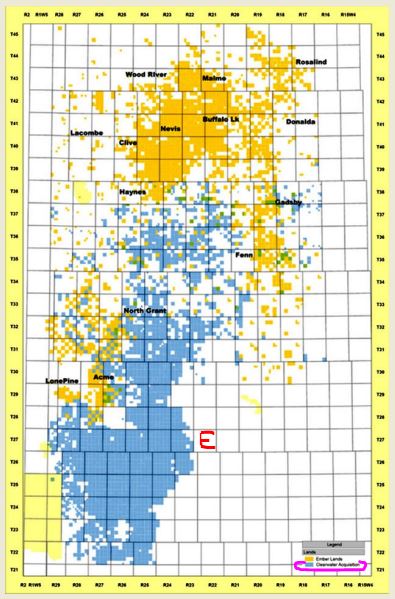 Map accessed from Ember Resources Website on October 20, 2014
E = location of where Encana fractured Rosebud's drinking water aquifers in secret in March 2004
Ember lands in dark yellow
Ember Clearwater acquisition in blue
Doesn't Brookfield Capital Partners/Ember want Encana's 5-14-22-27-W4M?
FOIP documents from the Alberta Research Council show that Encana injected 18 million litres of frac fluid into Rosebud's drinking water aquifers (the 6 zones perforated into the aquifers were filed in Alberta's Groundwater Database). In total, more than 70 million litres of frac fluid were injected into Encana's 5-14 gas well under high pressure.
When water wells began to go bad, the regulators, Alberta government, Alberta Health, Wheatland County and the Alberta Research Council (now Alberta Innovates Technology Futures) helped cover up the law violations and frac harms. The chemicals Encana injected into drinking water zones at Rosebud remain secret.
Does Ember Resources' February 2006 frac data indicate Encana-like disregard for Alberta's groundwater protection requirements?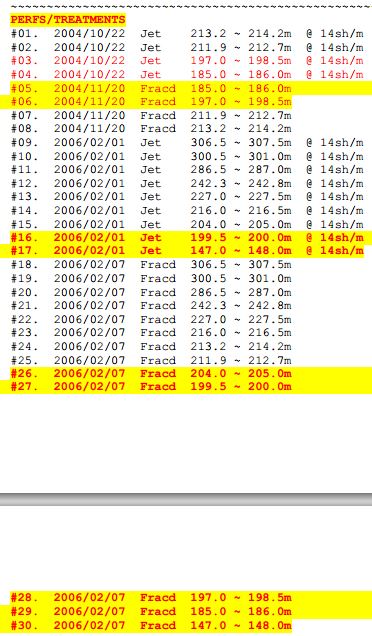 Alberta's Original Shallow Frac Directive 027 went into force January 31, 2006
[Refer also to:
2014 10 05: What's Encana up to this time? Faruqi & Faruqi, LLP Announces Investigation of Athlon Energy Inc. Over Proposed Sale of Company to Encana Corporation
2014 05; Encana spinoff PrairieSky Royalty Ltd. surges in Toronto Stock Exchange debut
2014 08 14: What took so long for this to be reported? Oil companies fracking into drinking water sources, new research shows on Encana fracturing Pavillion Wyoming's drinking water sources
Some companies are fracking for oil and gas at far shallower depths than widely believed…according to research released Tuesday by Stanford University scientists. …
"Thousands of gallons of diesel fuel and millions of gallons of fluids containing numerous inorganic and organic additives were injected directly into these two formations during hundreds of stimulation events," concluded Dominic DiGiulio and Robert Jackson of Stanford's School of Earth Sciences in a presentation Tuesday at the American Chemical Society conference in San Francisco.
2013 11 06: Isn't frac'ing supposed to create massive prosperity and jobs? Encana proves it isn't so!
[Encana] owns more than three million hectares of "fee lands," on which it holds subsurface rights. In those areas, which were originally granted to the Canadian Pacific Railway in the late 1800s, Encana pays no royalty to the Crown. Instead, it can charge royalties to other companies – a strategy it is now pursuing on lands that lie in some of Western Canada's most prominent new oil plays, including the Viking, Cardium and Alberta Bakken. Encana has agreed to allow other companies to explore some of its lands in exchange for a royalty of anywhere between 30 and 38 per cent.
2011 11 29: Alleged gas-drilling contamination of Wyoming well water scraps EnCana sale
The Canadian oil and gas company EnCana, which at one time held the record for the highest state fine for a gas-drilling spill case in Colorado, has been stymied in its attempt to sell a Wyoming gas field where hydraulic fracturing has allegedly contaminated groundwater. …
EnCana had trucked in replacement drinking water to some residents. The company faced increasing controversy when the EPA announced in late 2009 that it had found hydrocarbon contaminants in residents' drinking water wells. The agency advised residents not to drink their water and to ventilate their homes when they showered or washed dishes. ProPublica began reporting on concerns about water contamination in Pavillion in 2008.
2011 11 29: Legacy Reserves backs out of deal to buy Encana's controversial Wyoming assets
Steven Pruett, president and chief financial officer of Midland, Texas-based Legacy Reserves, said Tuesday the company had reached an agreement with Encana to terminate an agreement for Legacy to buy the assets in Fremont County, Wyoming. … 
Pruett cited "the ongoing groundwater investigation undertaken by EPA" as Legacy's primary reason for killing the deal. "This investigation has gone on for some time. The November 9 report elevated the perception of these issues," he said. "Our plans to further develop those gas resources would have been impaired."
2011: Citizens Call for Investigation and Halt to Encana's Proposed Sale of Pavillion Gas Field
"EnCana has made huge profits in our community and is in the middle of a superfund investigation that has already found oil and gas contamination in our drinking water, when will our government stop the oil & gas industry from poisoning us, taking our resources and walking away from the huge mess they've created?"
2011 : Encana sale in Pavillion area raises concerns
"So we continue to believe that whatever groundwater contamination people are claiming that they have in their wells is naturally occurring,"
2008 01 08: Encana Passes the Buck on Contamination in Pavillion, Wyoming
With all the crafty calculation of an O.J. Simpson defense lawyer, EnCana's "geology consultant" found all kinds of other explanations for the degradation of the groundwater the Meeks and Locker families used to rely on. On contract to the developer, Anthony Gorody pointed his finger at the families' neighbors––and the families themselves. [Emphasis added]
2014 10 Disowning Contamination After the Frac