Encana doesn't even have the corporate courage or stamina to heed Alberta's Rules of Court. The fleeing company still has not released all relevant documents to Ernst for her lawsuit, as ordered by Court of Queen's Bench Chief Justice Neil C. Wittmann in July 2014.
'Canada' is becoming a dirty word in the oil patch by Bloomberg, Nov. 1, 2019
Canada's beleaguered energy sector suffered another morale blow as Encana Corp. — one of its marquee companies that was born out of the 19th-century railway boom — announced plans to move its headquarters to the U.S. and drop the link to Canada from its name.
The Calgary-based company said Thursday that it will establish a corporate domicile in the U.S. early next year, pending various approvals, and rebrand under the name Ovintiv Inc.
The shares fell as much as 9.3% in Toronto, the biggest drop in a year. …
"Canada is no longer viewed as a world-class destination for capital, both generally and specifically for oil and gas," Mac Van Wielingen, founder and partner of ARC Financial Corp., a Calgary-based private equity firm focused on the Canadian energy industry, said in an interview. "There's a whole combination of factors at work that are really working against Canada." [And ARC et al are spewing masses of progandizing misinformation that is much more harmful to Canada and Canadians. Who needs Encana anyways? No one, except maybe liar Doug Suttles.] …
For Encana, the move is a logical shift since Doug Suttles, a Texan, took over as chief executive officer in 2013. Suttles soon set about selling Canadian assets and building a major position in the U.S. through the purchase of Permian driller Athlon Energy and the acquisition of Freeport-McMoRan Inc.'s Eagle Ford shale assets. The company moved into the Scoop and Stack shale fields in Oklahoma, the Bakken region of North Dakota and the Uinta play in Utah with its purchase of Newfield Exploration, which closed in February.
Encana now gets about 80% of its production from U.S. plays and invests a roughly equal portion of its capital spending in them.
Suttles himself has already left Canada, moving to Denver in March of last year. In November he said he envisioned Encana as a "headquarterless" [or headless?] company. Last quarter, he lamented on the company's earnings conference call that Encana shares hadn't yet achieved the valuation worthy of a "premium" exploration and development company.
… Less than 10% of Encana's stock is owned by passive accounts, less than the 30% average for its U.S. peers, executives said on a conference call Thursday.
Suttles said no job cuts are planned and there won't be any decrease in Canadian investment.
Encana's "exciting and engaging" new name [???? Roaring laughter !!!!!] isn't meant to denigrate Canada or its policies and politics, he added, and that the recent federal election, in which the pro-energy Conservative Party failed to unseat Prime Minister Justin Trudeau, wasn't a factor in the move.
"We don't want people to see this as some negative reflection on Canada," Suttles said in an interview with BNN Bloomberg television.
… Both stocks have underperformed since then, with Encana down about 78% including dividends, while Cenovus has dropped 48%. Canada's benchmark stock gauge has doubled in the same period.
As part of the corporate shift, shareholders will get one common share of Ovintiv for every five shares of Encana. The move needs the support of two-thirds of votes cast at a shareholders meeting early next year.
… ARC's Van Wielingen declined to speculate on whether other companies may follow Encana's lead and decamp from Canada, but noted that investors already are asking the country's remaining large producers some tough questions.
"Some of the ones that are left are under a lot of pressure, trying to justify their existence to their shareholders and their commitment to Canada," Van Wielingen said.
Refer also to:
Encana fleeing Canada in Scheer desperation? Shares drop 9.2%! Illegal aquifer-frac'er, caprock buster, poisoning bully of families and briber/divider of communities running to USA, changing its spots to Ovintiv Inc. (Cross between Ovaltine in vintage container and a vagina)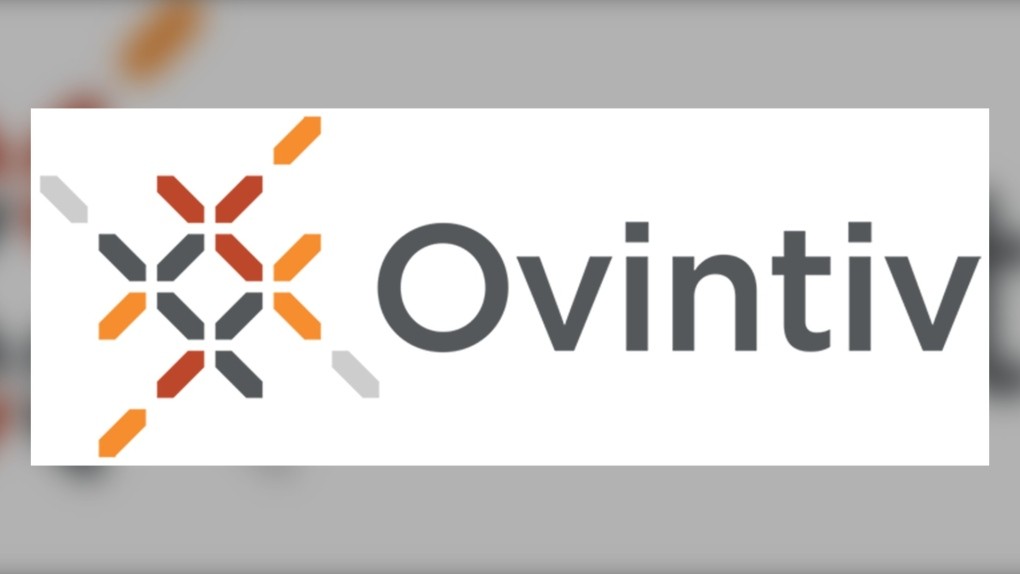 Looks like a vagina!
Encana so desperate, they need subliminal advertising in name and logo to perk things up?
A few comments in:
Albertan: "that's a digital vagina for sure."
Manitoban: "Hey Jessica … They're running away from you!"
Albertan: "can't believe encana changed their name to ovarytit … the herald has like 10 articles about it. gwynny all whiny and cryee …"
Texan: "I despise them."
Californian: "NOOOOOOO"
Californian: "Good work! Fleeing industry creates hope for the end of the fossil fuel devastation. The U.S. is rallying for clean energy and a less is more mentality (at least started) so, no pushovers here…but for Trump and cronies."
Albertan: "It really is terrible. I hate them even more. If that is possible. It's actually funny watching them all scramble and blame …"
To the Oct 31, 2019 CBC article:
"the new name sounds like a pharmaceutical for erectile dysfunction … too much!"
British Columbian in response to comment above:
"Imagine … the drilling towers … collapsing."