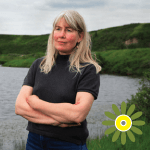 In my view, Kenney is doing whatever it takes, including abusing and stealing from Albertans by slashing health, education, parks and recreation, snatching pensions, etc., to give more and more billions to the ultra rich (mostly foreign, eg Mr. Koch), so that they make Kenney head cheese (PM) of Canada.
A few tweets:
marymaryFlag of Canada Victory hand@mmofcan
These people should be plagued by boils and cockroaches. Lightning strikes. Locusts. Evil entities. etc etc
Kevin Kent@KnifeNerd Mar 3
What a time to be alive. My provincial gov't is closing or stopping services like garbage pickup at 20 provincial parks but have just given $100million dollars to clean up garbage left by oil companies who should be forced to clean their own garbage.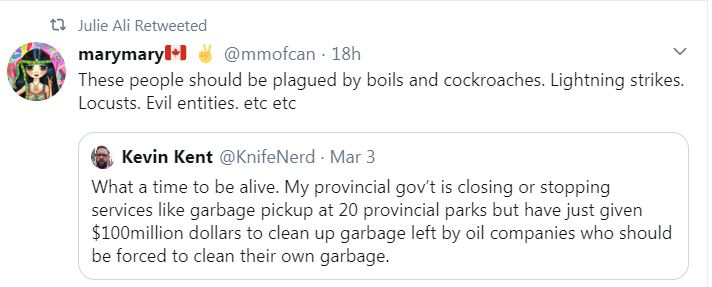 A few comments to the article below:
Mark Blain
Hey kids here is a hundred million to clean your room, pay me back when you get a chance.
Claude DeRoche
The Petroleum Services Association of Canada says there are 75,000 inactive wells in the province of Alberta requiring downhole wellbore abandonment and surface reclamation.
They say cleanup could cost as much as $82 billion.
Calgary Herald, march 15, 2016
The oilsands tailing ponds cleanup will be over a trillion dollar !
Canadian taxpayers will eventually pay.
Thomas Conway
"Loan". Right. I forgot it is unpopular to admit to massive subsidies to the oil and gas sector these days. Chance of getting that "loan" repaid? Well, zero, of course. Duh. Where are you from? This is the industry captured Alberta government your talking about here.
Ken Hale
So we can kiss another 100 million goodbye because industry is too cheap to do the job when prices are high and just shuffle the dept to the taxpayer??
Time to revisit the rules and actually use them, this is 60 years of procrastination by government, regulator and industry coming to roost on my tax dollars now.
Geoffrey Pounder
"Energy Minister Sonya Savage said the $100-million loan is an example of how the government is ensuring the oil and gas industry can be successful and responsible."
…
Interest-free loans, a form of subsidy, teach industry to be irresponsible and stick taxpayers with the bill for their mess. Polluter pay? Not in Alberta.
Mervin Bamber
How about a loan to our educational facilities so they can keep their employees? Oh I forgot they are not the big business to which Kenny caters .
peter duncan
Wow can they pay to clean up my construction sites that would really help with my profit margin.The subsidies and low royalty rates for the oil industry in Alberta has kept us in the red for years this is very bad resource and fiscal management where is the money?
Earl Richards
The Alberta taxpayer does not owe the Alberta oil industry anything. They already received $4.5 billion in a tax giveaway.
CNBC's Jim Cramer: "I'm done with fossil fuels … they're just done. We're starting to see divestment all over the world. … It's going to be a parade that says, 'Look, these are tobacco and we're not going to own them.' … Younger people don't want to own them. The dividends are great…but you can tell that the world's turned on them. It's actually happening really quickly."
Big Oil's NDP-Tory Dream Team "Free Market" Plan: Give $billions in loan (interest free?) from Canadian taxpayers to negligent, law violating companies to clean up $billions in messes intentionally left behind (intentionally ignored by the "No Duty of Care" AER) after taking $billions in profits, while causing $billions in pollution more; A loan that'll (intentionally) never be paid back
Greedy Sods in Alberta Beg Trudeau for Half a Billion Dollars to Clean Up Oil's Dirty Underware but Not One Penny to Help Frac'd Families & Fix Frac'd Aquifers
Prosperity Alberta style: Record numbers of farmers being ripped off by the oil and gas industry, seeking lapsed payments
"Unconscionable!" Diana Daunheimer on Rachel Notley's NDP giving $50 Million from education taxes paid by Albertans to municipalities to cover oil & gas companies not paying their taxes (after years of massive profit taking)
2017: Alberta offers $235M loan to clean up a few orphan wells – CAPP et al laughing all the way to the bank because they know they'll never pay it back, Federal govt steals $30 Million of our money to pay industry's interest on the loan.
Alberta to give $100-million loan to decommission orphan wells by Lauren Boothby, March 2, 2020, Edmonton Journal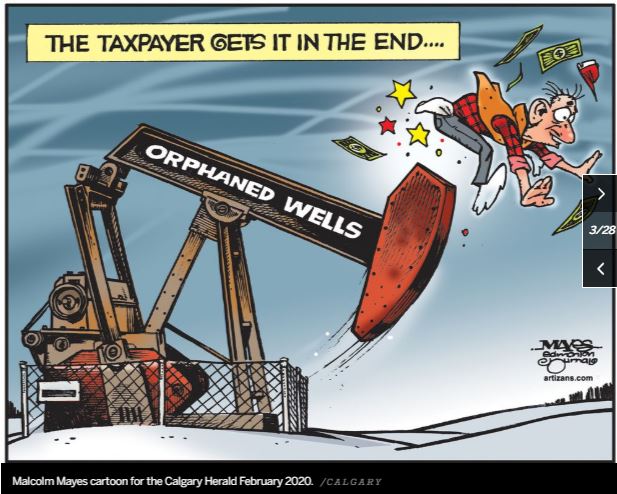 Alberta is offering a $100-million loan to decommission 800 to 1,000 orphan wells, a move that is expected to create 500 direct and indirect jobs in the oil services sector.

I expect, with high certainty, those "expected" jobs won't happen because this money isn't for clean up, it's to pay back companies for getting Kenney elected, and keeping the RCMP off his back and his ass out of jail. The Alberta gov't is a money laundering operation, no better than the mob. Or maybe this $100 Million will be given to Encana (Ovinitiv) for moving expenses to run away like chicken shit to the USA.

The investment to the Orphan Well Association (OWA) will help the non-profit start 1,000 environmental site assessments that aim to return the land to its condition before the wells were built. The details on the loan will be finalized by April 1.
Premier Jason Kenney said the funds will provide a "lifeline" to oilpatch workers hit by layoffs.

Bullshit, those funds will not help dumped workers. Industry is automating to get rid of workers because they eat up profit. The quote ahead is just money laundering lingo.

"This is a very important announcement about getting oilfield workers back to work right now when we need it, there is more investment coming into the oilpatch. And we believe there's a path forward through pipelines,"

Fairy tales Mr. Kenney, tall tarshit fairy tales. Investors don't want our highly polluting abusive products. No pipeline is going to change their wise minds. They've lost too many billions on the shit industry already.

Kenney said at Savanna Well Servicing in Leduc on Monday morning.
In 2017, Alberta gave the OWA an interest-free $235-million loan to clean up orphan wells across the province. The Financial Post reported in December that there are still more than 15,000 wells drilled before 1964 that have not been remediated. The OWA sent a letter to the Alberta Energy Regulator in January, saying the province's rules around reclaiming abandoned oil and gas wells are inadequate.

More tall tales. The rules are ample adequate. The problem is that companies ignore the rules, and "No Duty of Care" AER and our industry-controlled "Piss on the Rule of Law" courts and gov't let them.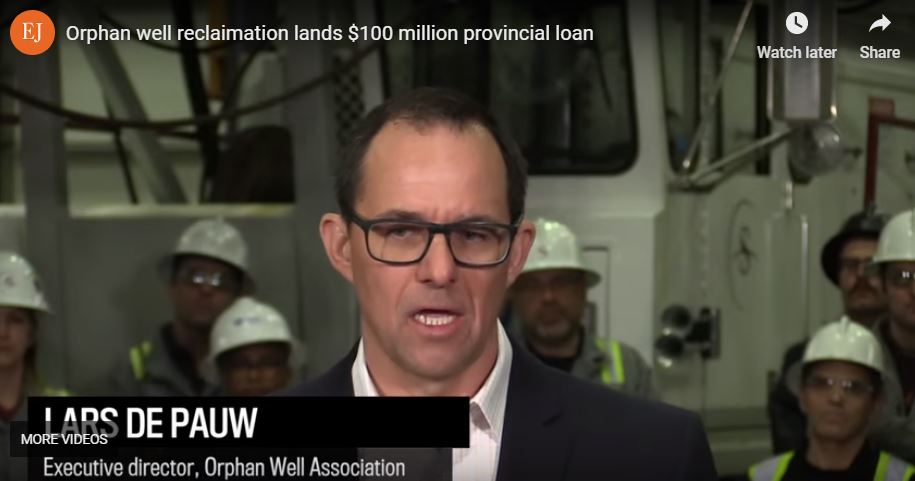 Lars De Pauw, executive director of the association, said at the news conference Monday the organization has about 6,500 abandoned sites in its inventory. He said the loan will help speed up reclamation and reduce the impact to landowners hosting abandoned wells.
Energy Minister Sonya Savage said the $100-million loan is an example of how the government is ensuring the oil and gas industry can be successful and responsible.

If you believe that crap, you need a new lobotomy

"Meeting their obligations includes bearing the cost of cleaning up inactive and orphaned wells. Because of recent challenges, orphan wells are becoming a growing concern in Alberta. And to be frank, it's a situation that needs to be addressed,"

We can thank ALDP and Dorin for that spin. This deliberate theft of Albertans by the oil and gas industry, enabled by the "regulator" and fraud of an Orphan Well Association, is decades in the making, not recent.

she said. "Our government recognizes the pressing need to turn the tide on growing oil and gas liabilities."
Savage said the funds would also create indirect jobs with suppliers, equipment and service providers, mechanics, and concrete manufactures, as well as local businesses as cleanup crews visit different communities. She also reiterated the government's plans to release a suite of new laws that would address

further enable (make it legal) companies orphaning facilities and

wells in the next few weeks.
Irfan Sabir, NDP's critic for energy and natural gas, said he's glad to see funding to clean up wells, but questions the party's decision to frame the investment as a job-creating tool.
"It's not a long-term solution. They're saying they will create 500 direct and indirect jobs, but since they took office we have lost 50,000 jobs," he said. "I think they need to invest more in diversification, of creating, refining, opening new markets so Alberta can get back to work."
Major oil and gas investment to be announced this month
Last week, Kenney hinted the province may invest in a major oil and gas project. On Monday, he said details on that project would be announced by the end of the month that show "the government of Alberta's commitment to getting pipelines built, the key part of infrastructure for the future."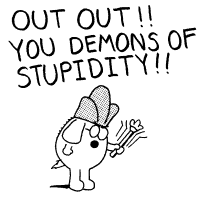 The premier also unveiled the party's "Blueprint for Jobs" at the news conference.
As part of its short-term strategy to support business, the government plans to develop a rare-earth and mineral resource strategy to diversify the energy sector, create new investment policies for tech start-ups, and "demonstrate national leadership" in renewable energy.
Refer also to:
Canadians wait a long time, usually forever, for petroleum industry leaks, spills and damaging fracs to be appropriately cleaned up. Regulators nowhere to be seen, except lying to the public and in Synergy Alberta meetings with AER execs like Gerard Protti and Jim Ellis schmoozing synergy girls at the pub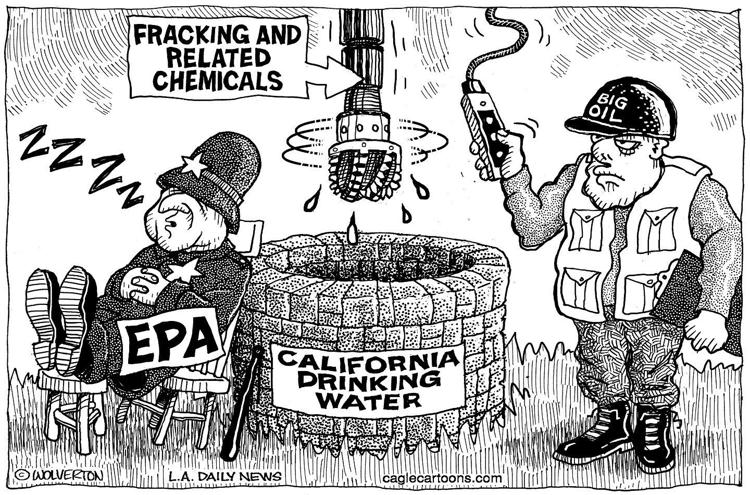 Never mind orphaned wells. Who pays to fix frac'd drinking water aquifers and water towers destroyed by oil and gas companies in Alberta?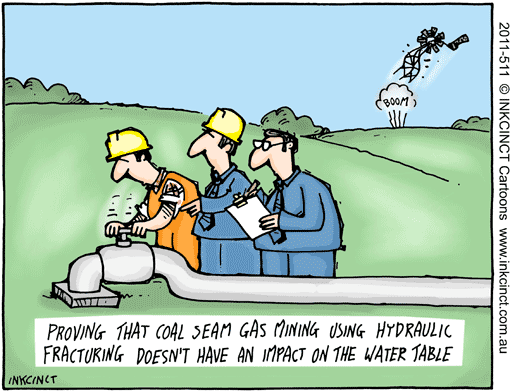 Canada, the world's stupidest "petro" (fascist) state: Oil giants pay billions less tax in Canada than abroad ya, thanks to Canada's incredibly stupid tar-soaked politicians.
And the scam goes on and on and on, decade after decade, across Canada: B.C. energy regulator faces possible $90-million tab for orphan wells (it's going to cost much more than that)
Frac industry is damaging the oil & gas economy. When flipping for a profit fails, frac companies file for bankruptcy, which in turn deters lenders. "Wall Street has basically completely turned its back on the industry right now." Is there anything frac'ing doesn't damage?
End game of AER/CAPP/Alberta's putrid hundreds of billions in oilpatch liabilities stench has been known for decades
Why commit to spend a billion to take on $billions in US Oilfield liabilities? Destroy the retirement of hardworking Canadians, burden us with US oilfield's toxic legacy? Canada Pension Plan arm commits up to $1 billion to buy oil assets in U.S.
Diana Daunheimer sums up AER's "industry likes it" Lexin & Orphan Well Association mega million dollar fraud, intentionally set up decades ago
Alberta oil companies walk from their responsibilities; Thousands of wells sit orphaned on people's land with trees growing out of pump jacks and no reclamation in sight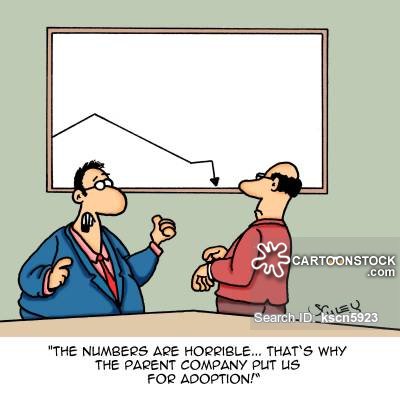 Frac'in' farce 'n shit show! AER tells landowners (ripped off by oil and gas companies) to reach out to Alberta Surface Rights Board and the gov't even though AER knows full well that ASRB and Kenney/UCP only further harm Albertans harmed by oil and gas, and never come to our aid.
$147M to be cut in fees industry pays to AER. In addition to the $103M Kenney already cut from money industry pays AER?
AER too corrupt to stay alive? Slithering down fracs to meet Glenn Solomon (AER's outside counsel) in Hell with $100M in budget cuts? Or, just another Kenney/AER/CAPP scam to take more money from Alberta taxpayers?
Frackers have spilled billions of dollars in red ink. Fracked oil & natural gas have been financial disasters. "Cash flows from fracking-focused oil and gas companies across the US have been negative for decades — even when oil and gas prices were higher than they are now."
World's Biggest Fund Manager, BlackRock, lost $90 Billion investing in fossil fuel companies over last decade
BNN Interviews Alberta Oil Patch Consultant Brent Nimeck on Lexin and AER's Orphan Wells: "This problem is 30 years in the making. … I would call it a Ponzi Scheme…. This is an orchestrated fraud from multiple angles: Industry, CAPP and the Alberta Energy Regulator have enabled this to happen. … Through our independent analysis and we've confirmed this at multiple sources within the energy regulator, the liabilities are over $300 billion. That's what's on the hook for Alberta taxpayers right now – $300 billion."
Kenney's $4.5 billion in corporate tax cuts obviously not enough to feed the greed.
Cenovus (split from Encana after Ernst lawsuit papers served on the company) continues hoarding with $3.7B cash
Cenovus Energy sells royalty lands for $3.3 billion in cash after illegally fracturing Rosebud's drinking water aquifers (then Encana), and getting away with it
Calgary Executive Million Dollar Bonuses Increased 40.6% in 2016, Comparatively Nothing Paid to Clean Up Liabilities/Abandoned Wells/Facilities
Will Albertans ever learn? Canada's biggest oil producers, including Cenovus, hoarding near-record pile of cash
2014: Trouble Beneath Our Feet: Leaking Energy Wells a Burning Issue; Big problem, Expensive to Fix, Impossible to Completely Stop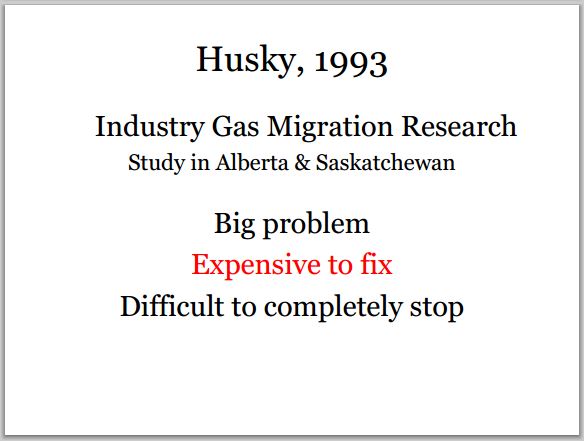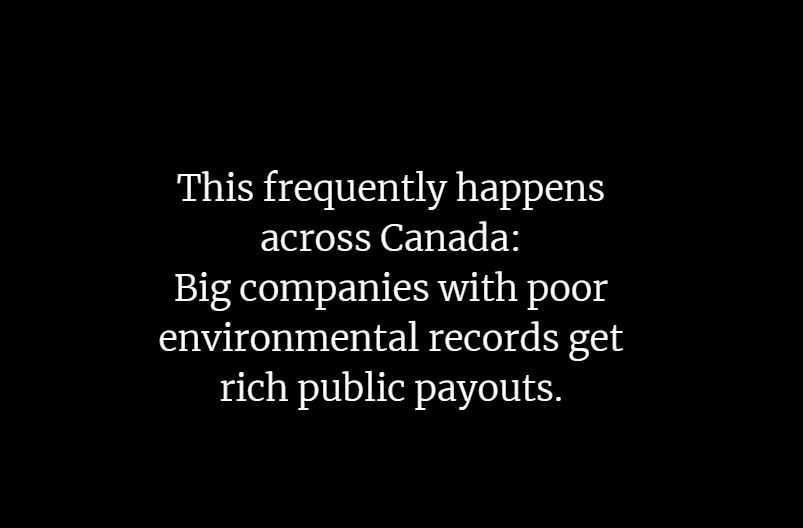 2015: Why does the "No Duty of Care" AER, legally immune, even for failing to protect Albertans and water from hydraulic fracturing, need a Liability Management Coordinator?
2015: Alberta faces growing backlog of abandoned oil and gas wells, Billions needed to clean up sites and mitigate environmental risk
2015: Special Report: Uncovering abandoned oil and natural gas wells
2016: "Prosperous" Greedy Alberta: Bankrupt energy firms add to abandoned well problems, Nearly 150,000 oil wells are inactive or abandoned
2016!! Really? "Tougher Alberta rules convince oil & gas producers to accelerate well cleanups." What good does "accelerating" zero do? Why not just clean up now and quit the pathetic whining? Why then did the oilpatch dump their unpaid bills on farmers? The worst is yet to come.
2016: Just more AER hot air or a slick devious plan? Alberta looks at different ways of making sure companies clean up old wells (Who is to fix the aquifers Encana frac'd?), AER warns it could go after directors & executives to ensure proper reclamation Comment in 2020: Yup, 'twas just another smelly lying fart by AER.
"Poor" Cenovus (Encana spawn) buying most of ConocoPhillips Canadian Assets for $17.7 Billion
EUB/ERCB/AER's Charter-Violating, Abusive, Cowardly McCarthyism expands to UCP Party: War room set for Calgary to attack courageous citizens concerned about Alberta's deregulated frac-frenzied polluting, health-harming free-for-alls
Set-up extraordinaire to burden Canadians with cleaning up billion-dollar profit-taking oilfield's dirty underwear? Alberta landowners fight for enforcement by "No Duty of Care," legally immune (even for Charter violations, gross negligence, acts in bad faith) regulator. Law violations ignored by AER, as usual.
Alberta Energy "Regulator" allowing more than 22,100 oil and gas wells to violate the rules for years. What other law violations is the AER allowing?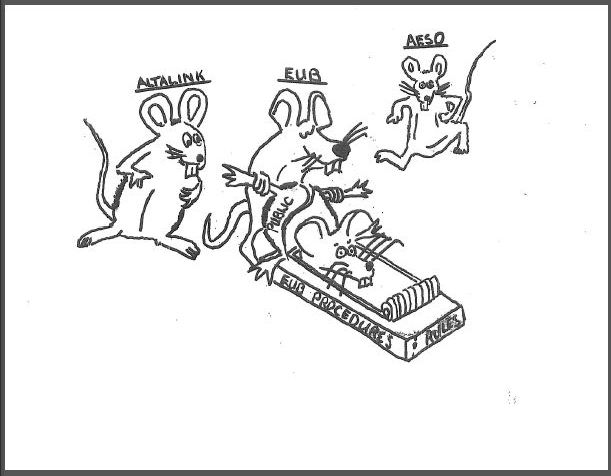 Cartoon from past Justice Perras report on lying, spying "repulsive" EUB, now AER.
Jason Kenney gives multi-billion dollar profiting companies a taxpayer-funded war room to abuse citizens concerned about industry's rampant life-threatening pollution: Suncor tarsands revenue up from $11.2 to $12 billion between 2017 and 2018 when companies whined about how hard it was to operate in Canada; CNRL boosted its revenue from $7.1 to $11.5 billion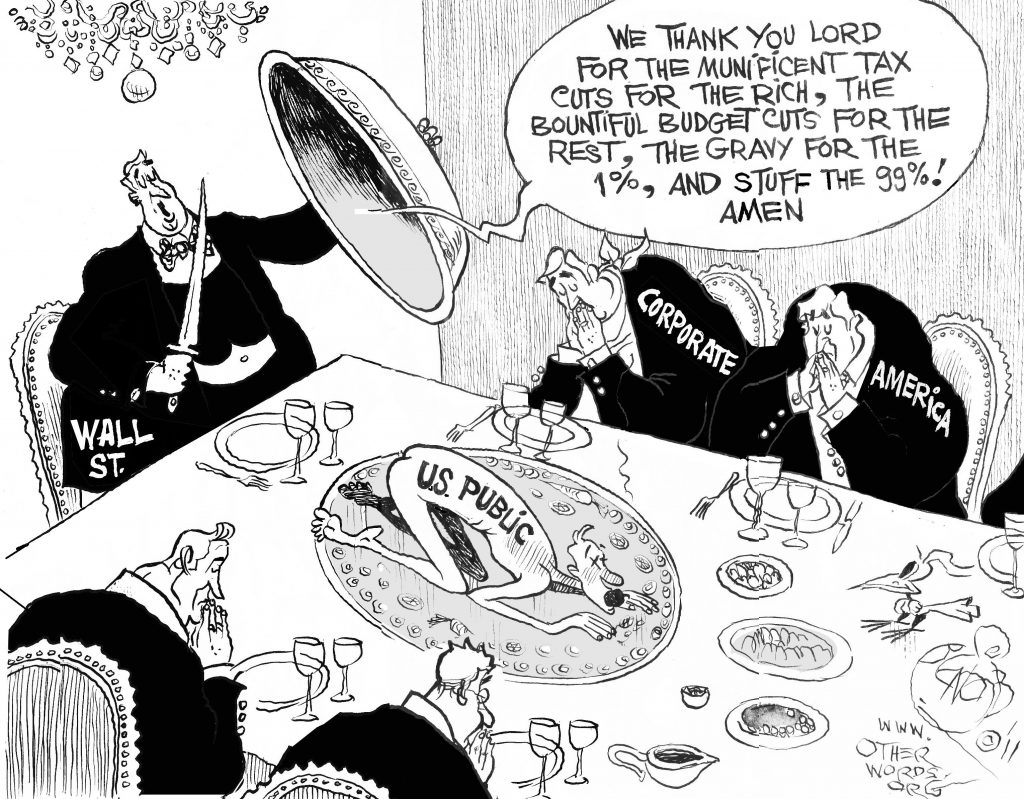 Kenney warns Albertans to brace for major cuts while giving massive tax cuts to rich corporations. CitizenWhoPaysTaxes: "Mom… how come we can't have any nice things? Shut up son and wave to the nice Mr Kenney."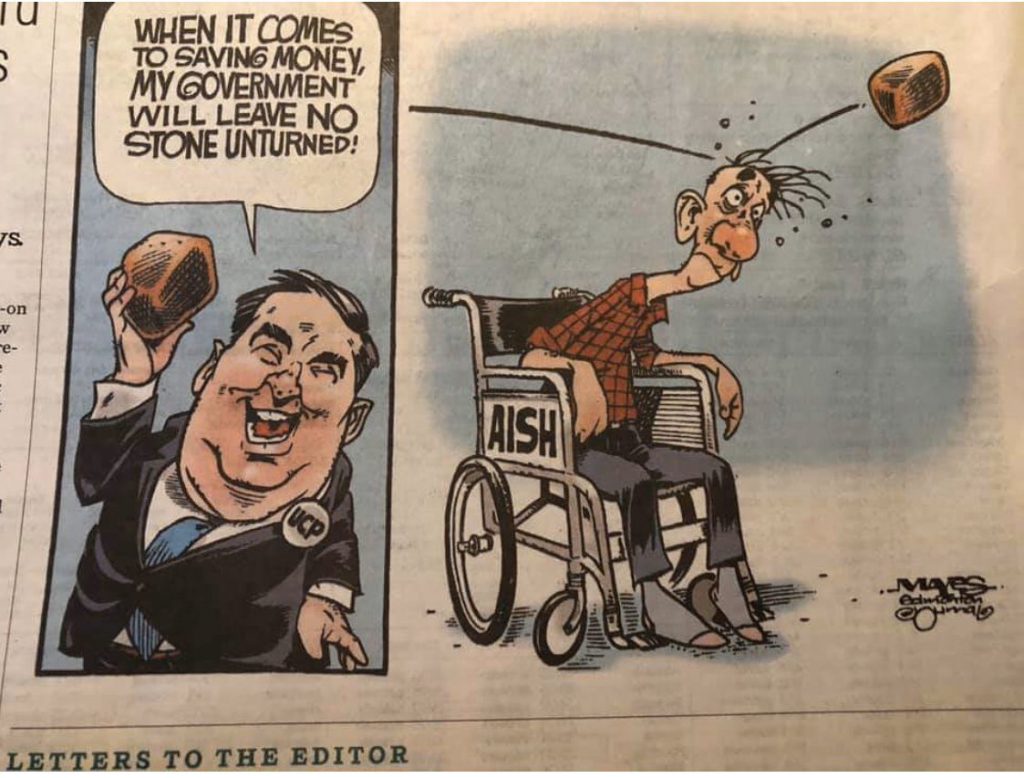 Kenney goes a beggin' to Trudeau (while blaming him for Alberta's decades of oil patch mismangement) for mega cash & tax cuts to give yet more $billions in corporate welfare to billion dollar profit raping oil patch; Kenney & CAPP want Canadians (and their heirs and their heirs and their heirs, etc.) to be forced to pay for oil & gas industry's rape & pillage & pollution of Alberta.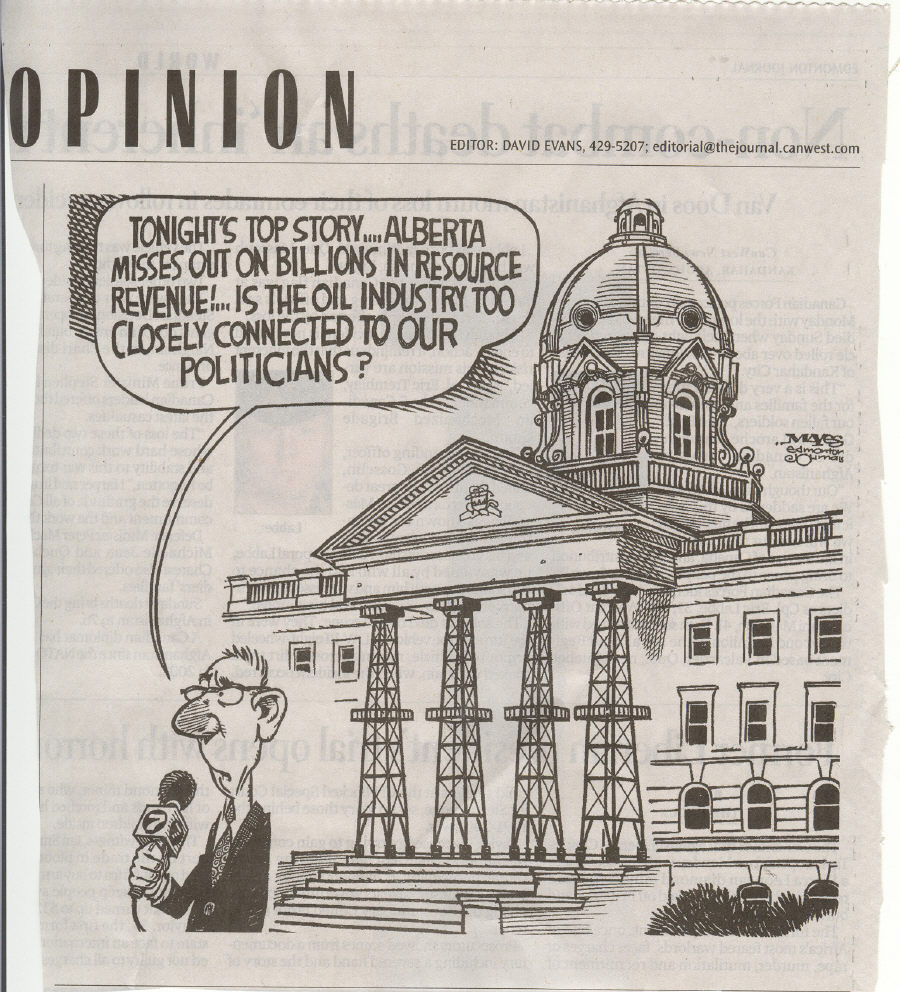 Kenney stealing $16.6 Billion from Alberta teachers to give yet more corporate welfare to polluting oil & gas & frac bankrupters via AIMCo? Includes revealing comments by Diana Daunheimer.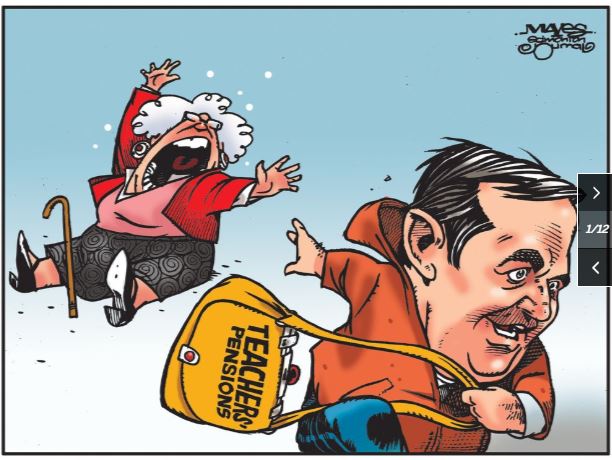 The orchestrated fraud & corporate welfare stench grows! Alberta municipalities abused by Petro-Pussy Premier Jason Kenney (Steve Harper/Koch Bros spawn?) to feed industry's insatiable greed "now own what they voted for!"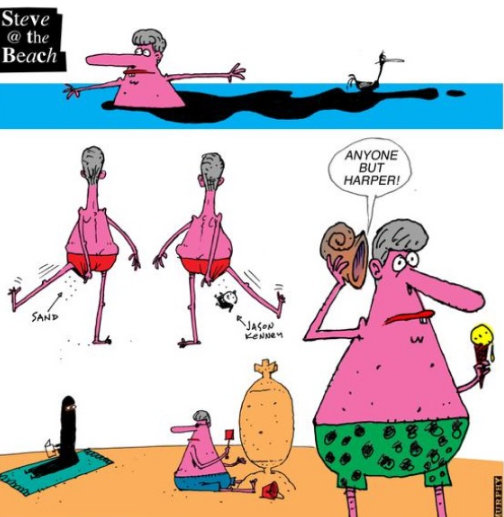 Jason Kenney's corporate welfare war room launches $2.5M inquiry into magic land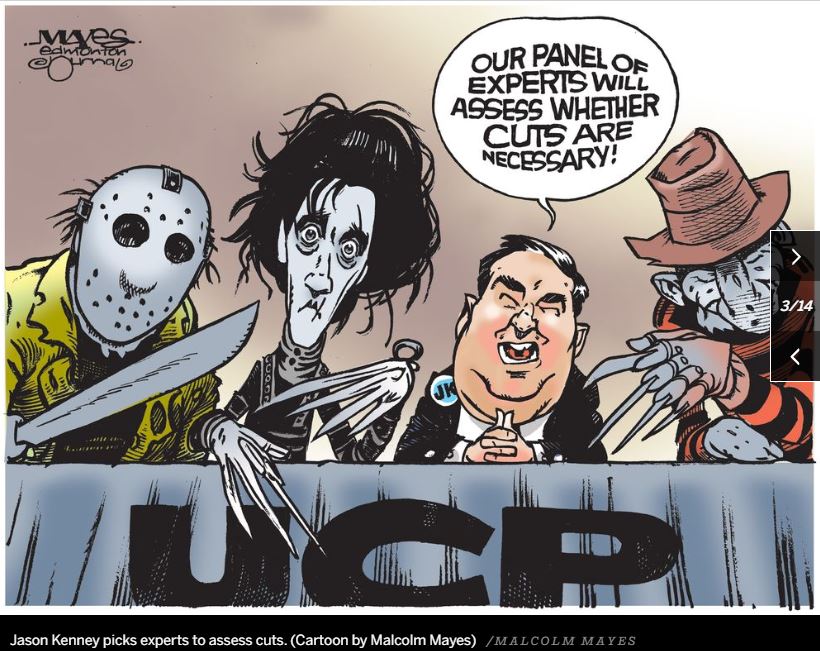 UCP Filthy Lucre Lust: Hands off our CPP! We don't want AIMCo rendering our pensions into "a pork barrel to convert into welfare payments for fossil fuel billionaires."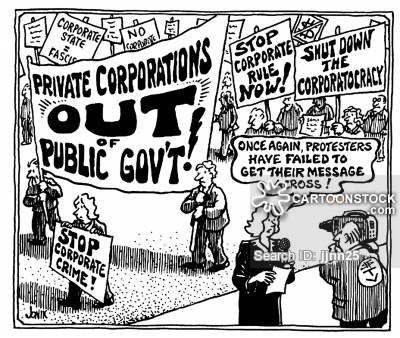 Alberta's Never Ending Corporate Welfare Will Bite You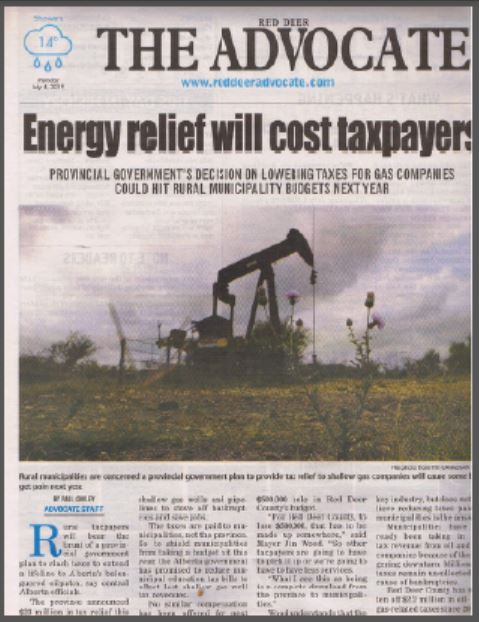 More corporate welfare stench! 65,000 shallow gas wells qualify to get more than $23M in freebies from taxpayers. Again, not a penny for Albertans suffering frac quake damages, drinking water loss/contamination, health harm, loss of livestock etc.
Brilliant mural by AJA Louden on "Crooked Cuttin' Kenney." Alberta UCP ("United Clown Posse") & KKKenney Economics 101: Steal from the poor to fatten the already fat rich polluters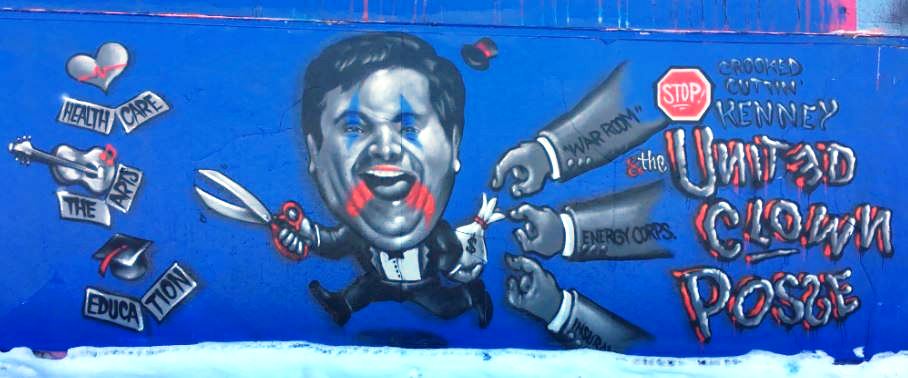 Alberta senior to Jason Kenney: "Keep your criminal little fingers off my CPP pension!!"
Premier Jason Kenney's 30 Million Dollar War Room Fails: The New York Times reports on global financial giants swearing off funding especially dirty fuel – Made in Alberta Tarshit!
Hey Kenney! Grant Collies: "Tom Olsen from this point onward shall be known as Stupid Goebbels." Arthur Vandalay: "It's not a war room against anti-oil types. Its a war room against truth." Claude DeRoche: "$30 million! Enough to hire 500 nurses!"
Unpaid taxes from oil & gas companies "refusing" to pay their bills in Alberta doubles. $173M in property taxes currently owed to rural municipalities, a $92M increase from last March.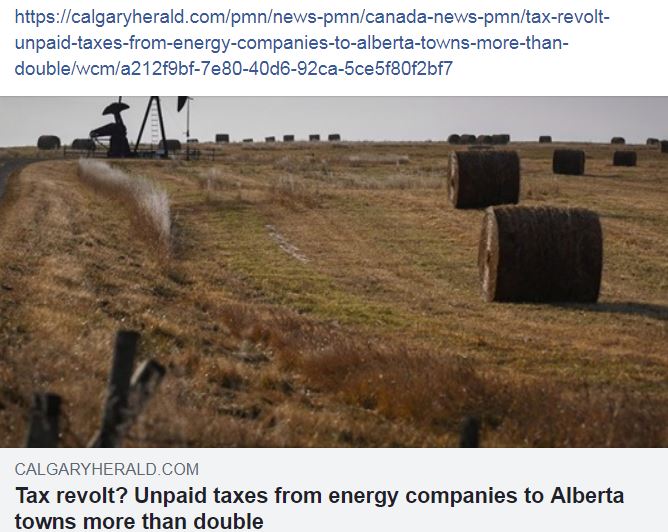 Jason Kenney's (CAPP et al's) War Room swamped by fightin' mad Albertans falling for lies & propaganda instead of looking honestly at industry's greed-induced "de-manning" killing jobs & causing their suffering
Quebec: 700 abandoned energy wells remain unattended to. Canada's *multi-billion dollar* abandoned oil & gas well problem exponentially increasing. Where are the authorities? AER execs busy eating two-steak lunches, Judges knowingly publishing lies in rulings