CEO bonuses in Calgary rebound along with oil prices by Amanda Stephenson, June 15, 2017, Calgary Herald
For executives of Calgary's largest publicly traded companies, 2016 marked not only the beginning of the oil price recovery but also a return to the days of healthy CEO bonuses.
While many occupiers of the city's C-suites saw their bonuses slashed and salaries frozen in 2015 following the collapse in oil prices, pay packages began to rebound in 2016, according to Postmedia's annual survey of executive compensation. While the median base salary for the city's top executives rose just 1.8 per cent year-over-year, the median annual bonus increased by 26 per cent. In the energy sector specifically, annual bonuses awarded to executives increased 40.6 per cent in 2016.
Some of the biggest bonuses in 2016 were awarded to former Canadian Pacific Railway Ltd. CEO Hunter Harrison — who received a $10.1 million bonus in 2016, a year-over-year increase of 68 per cent — and Encana Corp. CEO Doug Suttles, who received a $3.3-million bonus, an 89 per cent increase from the previous year.
TransAlta Corp. CEO Dawn Farrell collected a $2.7-million bonus in 2016, a nearly 200 per cent increase from 2015. Al Monaco, president and CEO of Enbridge Inc., received a $2.4 million bonus representing a 40 per cent increase year-over-year.
The improved fortunes of the city's CEOs coincided with a significant uptick in the price of West Texas Intermediate crude oil, which began 2016 at about US$37 a barrel and ended the year at $53 a barrel. As a result of the improved market conditions, 87 per cent of the 100 companies surveyed delivered positive returns to shareholders in 2016, while 62 per cent saw positive net income growth.
"I think within companies, there's some element of trying to get back to normal pay levels," said Arden Dalik, senior partner with Global Governance Advisors, who conducted the survey on behalf of Postmedia. "The oil price has gone up and stabilized and we are seeing comparable changes reflected in the compensation packages themselves."
Some of the larger bonus increases went to executives at exploration and production companies, many of which cut their costs and successfully strengthened their balance sheets in 2016.
At Canadian Natural Resources Ltd, for example — which saw net income growth of 68 per cent in 2016 and outperformed most of its peers in terms of total shareholder return — executive pay packages increased on average 62 per cent year-over-year. Executive chairman Murray Edwards was awarded an annual bonus of $1.6 million, compared to $714,000 in 2015, while company president Steve Laut took a bonus of $1.2 million, up from $529,000 in 2015.
That's in contrast to 2015, when CNRL reduced salaries across the board, including for executives, to avoid layoffs. As a result of the belt-tightening, Laut tumbled from fifth place on the Herald's top-paid CEO list in 2014 to 12th in 2015. He rebounded to 7th place in 2016, bringing in $8.2 million in total compensation.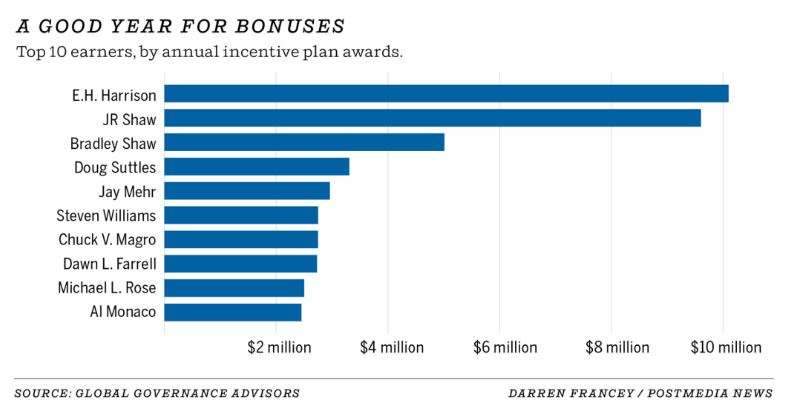 Pay increases are coming in the form of bonuses rather than base salary increases, Dalik said, because they are a good way to cautiously reward short-term performance and recognize the work CEOs have done to get their companies through a difficult couple of years.
"There's a sense of, 'you really did preserve shareholder value and start to move us out of this really tight recession, so we are going to reward you for that,' " Dalik said.
In the energy services sector, however, executives did not fare as well. That sector has been slower to feel the impact of the uptick in oil prices and as a result, more than half of energy services executives did not receive a bonus at all in 2016 — compared to just 17 per cent of executives at production and exploration companies. Total compensation for executives at energy services companies declined 6.9 per cent year-over-year.
The top-paid CEO in Calgary in 2016 was Hunter Harrison, the former head of Canadian Pacific Railway who departed the company in January to take the top job at a U.S. railroad. The larger-than-life railroader — now the head of Florida-based CSX Corp. — raked in $18.8 million in total compensation, earning him the number one spot on the Herald's highest-paid list for a third consecutive year.
While Harrison is credited with orchestrating a rapid turnaround at CP — taking the company from one of North America's least efficient railroads to one of its most efficient during the course of his four-year tenure — he has also been criticized for his sky-high paycheques.
After narrowly losing a say-on-pay vote at its annual general meeting in 2015, the company made a number of changes to its executive compensation strategy, including cracking down on the use of company aircraft and putting more weight on safety and operating income when calculating CEO pay.
Still, at CP's 2016 AGM, only 71 per cent of shareholders voted in favour of the company's revised approach to executive pay. Harrison's successor, Keith Creel — who earned $8.9 million as president and chief operating officer last year — said that number isn't high enough.
"Obviously we'd like to have 100 per cent," Creel told reporters, adding he believes the company is moving in the right direction with the changes it has made. "I can fully expect next year, with the changes we've made, we'll see a dramatic improvement on say-on-pay."
Creel said it will always be important to reward executive teams for results.
"You're not going to attract and retain top level talent to produce top level performance if you don't pay them fairly. They're going to leave — they're not going to stay here," he said.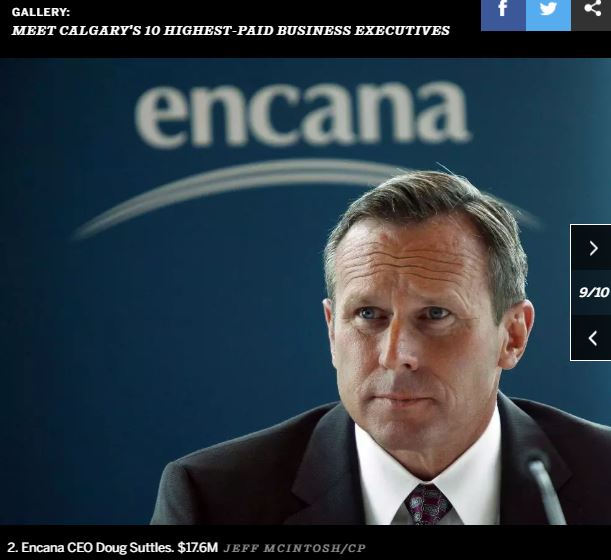 [Doug Suttles Reality Check:
2016 06 13: BP to Pay $175 Million to settle claims to US investors that "its managers lied about" size of 2010 Gulf of Mexico oil spill; Current Encana CEO Doug Suttles was one of those managers
End Doug Suttles Reality Check]
After Harrison, the second highest-paid CEO in Calgary last year was Encana Corp.'s Doug Suttles, who earned total compensation of $17.6 million — a dramatic increase from the $11.2 million he earned in 2015.
Third was Chuck Magro, of Agrium Inc., who took in $11.5 million. Steve Williams of Suncor Energy Inc. was fourth, earning $11.5 million.
Enbridge Inc.'s Al Monaco went from eighth place in 2015 to fifth place in 2016, the result of an increase in overall compensation from $8.9 million to $11.4 million. Russ Girling of TransCanada Corp. also rose through the ranks, going from 10th place with $8.8 million in 2015 to sixth place with $10.1 million in 2016.
Canadian Natural Resources Ltd.'s Steve Laut was the seventh-highest paid CEO in 2016, while Brian Ferguson of Cenovus Energy was eighth, earning $8.0 million.
Ninth place went to Rich Kruger of Imperial Oil Ltd., who earned $7.6 million. Dawn Farrell, CEO of TransAlta Corp., cracked the top 10 list for the first time with her pay package of $7.4 million. However, in a non-binding say-on-pay vote, TransAlta shareholders expressed disapproval by voting just 47 per cent in favour of the company's approach to executive pay.
Other executives (non-CEOs) who ranked among the top paid in 2016 include CNRL's Edwards, who took in $11.9 million in total compensation, and Shaw Communications executive chairman and founder J.R. Shaw, who was paid $11.2 million.
Compensating executives in Alberta has become Olympic-sized undertaking by Arden Dalik, senior partner, Western Canada, with Global Governance Advisors, June 15, 2017, Calgary Herald
Alberta's hard-hit and complex business environment has resembled an Olympics competition in recent years. Determining appropriate executive compensation is as complex as judging events like figure skating or rhythmic gymnastics.
Chief executives have had to become endurance athletes, striving to preserve long-term shareholder value while making difficult tactical decisions to survive in the short-term and stay ahead of the pack. Their performance is judged and rewarded annually through changes to their compensation package.
The official judges of CEO performance are the boards of directors who assess achievements relative to specified targets and in comparison to the rest of the field (i.e. their peers). Their task, complex in relatively stable times, becomes Olympic-sized in an environment like Alberta's more recently, with 2016 the most difficult year yet.
Alberta has turned the corner toward a cautious recovery and growth. You would think this would have made recent executive compensation decisions easier, right? Sadly, the answer is no.
Executive compensation decisions related to 2016 performance required a complex balancing act. Directors had to determine how to reward — for example — strong short-term recovery/results in 2016 while share prices, despite year-over-year improvements, were still well below pre-mid 2014 levels.
The annual Postmedia/Global Governance Advisors (GGA) study of the top 100 publicly traded Calgary companies, saw a huge swing in total shareholder return (TSR).
While over 80 per cent of companies reported negative TSR in 2015, last year saw a large turnaround, with more than 80 per cent showing a positive TSR.
How did this affect compensation decisions? In short, it depended on a lot of factors, including a company's own compensation and business strategy. Trican, for example, had market-leading TSR in 2016. Its board seemed to take a fairly conservative approach, installing modified work schedules, maintaining salary rollbacks from 2015 and declining cash bonuses for a second straight year while better aligning executives with longer-term company performance by generally increasing the value of long-term incentives.
Conversely, TransAlta's board took a more aggressive approach, particularly on short-term compensation, with substantial increases, including a large 'special award' payment to several executives for "outstanding achievement and recognition."
While its results were quite strong in 2016, TransAlta received one of only a few failed say-on-pay votes in Canada this year from its shareholders. The result was consistent with the growing movement in the Canadian governance community against "one-time special awards."
Though not as strong, Encana received a similar message from its shareholders when close to 40 per cent voted against the company's 2016 executive pay decisions despite the company's improved performance related to total shareholder return.
Shareholders appear to be sending a message that one year in a row is not a long-term trend.
That said, the decisions of Encana's and TransAlta's boards are not necessarily wrong. Directors have to balance many factors, in addition to shareholder preferences, to determine executive compensation. This includes the market they're competing within, the organization's talent needs, along with recruitment and retention efforts for perceived high performers.
The challenges of Alberta's business environment in recent years has seen a strong emergence and evolution in shareholder engagement. The process of connecting and communicating with shareholders has really come to the forefront of good governance practices at leading publicly traded companies. Once a primarily one-way communication to comply with mandatory disclosure requirements, shareholder engagement has become a proactive, targeted, two-way dialogue.
The risk of not reaching out to shareholders is that they will wield their significant power to express their disapproval by either voting against a company's executive compensation program through a Say on Pay vote and/or withholding their votes for particular directors (usually members of the human resource/compensation committee).
Neither of these actions will win a public company a governance 'medal' and if not properly responded to could lead to even more aggressive actions like a proxy battle for control of the company such as the CP Rail saga from a few years ago.
The bottom line is that Alberta's economy and executive compensation both seem to be in 'recovery mode. [But not for cleaning up the $300 billion in liabilities that the executives made/make their mega millions from]
If boards follow a thorough and appropriate regimen when making compensation decisions — while considering shareholders' views — 2017 may bring more podium-worthy results for Alberta's corporate teams.
[Refer also to:
2017 02 17: BNN Interviews Alberta Oil Patch Consultant Brent Nimeck on Lexin and AER's Orphan Wells: "This problem is 30 years in the making. … I would call it a Ponzi Scheme…. This is an orchestrated fraud from multiple angles: Industry, CAPP and the Alberta Energy Regulator have enabled this to happen. … Through our independent analysis and we've confirmed this at multiple sources within the energy regulator, the liabilities are over $300 billion. That's what's on the hook for Alberta taxpayers right now – $300 billion." ]