Rural Alberta claims oil and gas companies owe $173 million in unpaid taxes by Dustin Cook, Jan 20, 2020, Calgary Herald
Unpaid property taxes from oil and gas companies spiked by 114 per cent within the last year, claims the group representing rural counties and municipal districts.
Roughly $173 million in property taxes is currently owed to rural municipalities from oil and gas companies, the Rural Municipalities of Alberta (RMA) determined in a survey of its members.
That's a $92-million increase from last March when a similar survey found municipalities were at an $81-million loss from unpaid property taxes.
The spike in unpaid dues has the RMA calling on the province to help them recoup the money.
"Many oil and gas companies are unable or unwilling to pay municipal property taxes due to the ongoing downturn in the price of oil and Alberta's challenges in market access and receiving a fair price for its resources," [CREATED BY INDUSTRY'S AND ALBERTA'S GREED] said a Monday RMA news release. "Rural municipalities also have little recourse to recover unpaid taxes from companies that have declared bankruptcy, as municipalities rank below the Alberta Energy Regulator in priority for seizing the assets of a bankrupt company."
RMA president Al Kemmere said the association has concerns with how the province collects taxes and the recent tax supports offered to gas companies.
"Rural municipalities are proud of their role as partners and supporters of Alberta's oil and gas industry. However, municipalities require property taxes to provide the infrastructure and services that industry relies on to access natural resources. If Alberta's property tax system is not amended to prevent oil and gas companies from refusing to pay property taxes, many rural municipalities will struggle to remain viable," Kemmere said in the news release. [Don't worry, Kenney will scream rape and demand that Canadians pay industry's back and future taxes]
The UCP government introduced a gas tax relief initiative in July 2019 to support struggling shallow gas companies by allowing municipalities to provide a 35 per cent reduction on property tax bills, which would then be reimbursed by the province. [Which means ordinary Alberta taxpayers who are struggling to feed and house their children, with education and health rotting from budget cuts while Kenney gives more and more billions of dollars in freebies to billion dollar profitting companies walking from clean up, and refusing to pay their bills (not rent to landowners, not taxes to municipalities, etc)]
But the RMA said municipalities aren't expecting to receive the top-up from the province in 2020 and must absorb the reduction if they choose to offer the tax credit.
The survey found that some municipalities offering the tax relief attribute up to 98 per cent of their unpaid taxes to the shallow gas industry. [Ha, never mind the unpaid taxes and rent. How many billions of dollars will it cost to fix aquifers illegally frac'd by shallow gas companies – notablly big bully Encana, pipeline safe alternate water to harmed communities and farms, haul water to communities and farms that will not get water piped in, and clean up companies' intentionally dumped toxic oilfield waste on farm lands because of the shallow gas industry?]
"The assessment and taxation model for shallow gas infrastructure is not the cause of or solution of the industry's challenges," Kemmere said. "Until government and industry are successful in making fundamental changes rather than blaming long-term, fixed costs such as municipal taxes for the industry's struggles, this uncertainty will continue."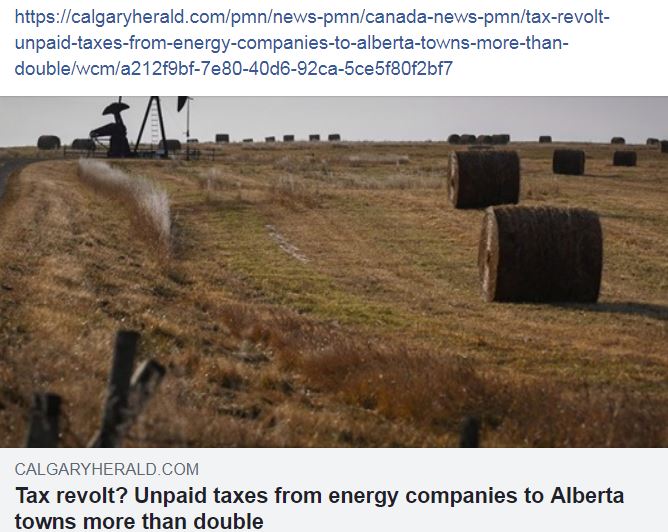 Oil taxes: Rural communities claim $173 million owed in unpaid property taxes by Dustin Cook, Jan 20, 2020, Edmonton Journal
Comment by Anne Bouscal
Very reasonable points from the RMA. But since it doesn't directly affect the province's bottom line, Jason is unlikely to do anything to help in his quest for the balanced budget.
Refer also to:
Kenney goes a beggin' to Trudeau for mega cash & tax cuts to give yet more $billions in corporate welfare to billion dollar profit raping oil patch; Kenney & CAPP want Canadians (and their heirs and their heirs and their heirs, etc.) to be forced to pay for oil & gas industry's rape & pillage & pollution of Alberta.
The orchestrated fraud & corporate welfare stench grows! Alberta municipalities abused by Petro-Pussy Premier Jason Kenney (Steve Harper/Koch Bros spawn?) to feed industry's insatiable greed "now own what they voted for!"