B.C. energy regulator faces possible $90-million tab for orphan wells, Province shifting from orphan well tax to liability levy to meet obligations by Jeremy Hainsworth, Feb 22, 2019, Glacier Media
An energy company operating in B.C.'s northeast and now in receivership has left 300 to 500 wells facing possible designation as orphan — or abandoned — at a potential cost of $40 million to $90 million to the B.C. Oil and Gas Commission (BCOGC).
The figures were delivered in the provincial energy regulator's 2019-20 to 2021-22 service plan released as part of the provincial budget Feb. 19.
The company in question is Calgary-based Ranch Energy Corp. Alberta Court of Queen's Bench appointed Ernst & Young receiver for the company July 19, 2018.
BCOGC spokesman Graham Currie said there have been no orphan well designations yet.
"The commission will continue to regulate all assets owned by the company and take steps as required to protect public safety and the environment," Currie said.
But, according to the service plan, "given the uncertainty about the timing of these orphan designations, there is no provision built into the financial plan."
How the province deals with such wells and the generation of funding to deal with them has shifted in the past year.
B.C. has an orphan well tax, aimed at covering costs of abandonment and restoration of orphan wells, test holes, production facilities and pipelines. The current tax is $0.06 per cubic metre of oil production and $0.03 per 1,000 cubic metres of marketable gas.
This spring, Currie said, that tax will be eliminated and a liability levy phased in over three years. That levy is to be figured out using an equation where permit holder projected liability is divided by total liability for all regulated wells. The resulting fraction is multiplied by the total amount to be raised by the levy to arrive at the individual levy.
"The 2019-20 fiscal year will see 50 per cent of orphan funding come from the new liability levy, increasing by 25 per cent in each subsequent year," Currie said. "By 2021-22, the liability levy will provide the entire estimated $15 million per year required to sustain the orphan fund."
A January Supreme Court of Canada ruling that put environmental remediation ahead of creditors could have application in the case.
The court ruled in favour of the Alberta Energy Regulator, which had argued that capping of orphan oil and gas wells and land reclamation should take precedence over creditors when a company goes bankrupt and leaves behind orphan wells.
BCOCG welcomed the ruling as the province has more than 300 orphan wells of its own.
Refer also to
Greedy Sods in Alberta Beg Trudeau for Half a Billion Dollars to Clean Up Oil's Dirty Underware but Not One Penny to Help Frac'd Families & Fix Frac'd Aquifers

Planet Sludge: Millions of Abandoned, Leaking Oil Wells and Natural-Gas Wells Destined to Foul Our Future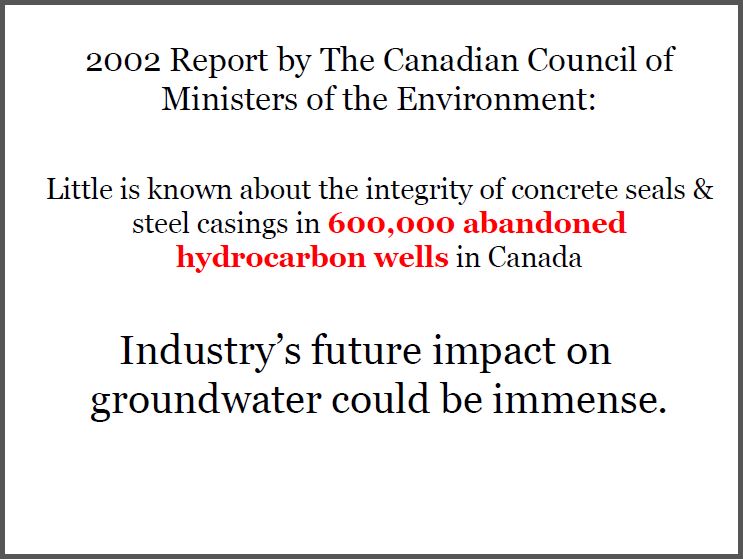 Slide from Ernst speaking events