Subject: Just Put In A Little Extra For The "War Room" And $30 Million Annual Budget!! In Calgary It's Called Coyboy-Up!!
Date: Thu, 4 Jul 2019 09:05:02 -0600
From: Stewart Shields email hidden; JavaScript is required
To: Alberta NDP email hidden; JavaScript is required, email hidden; JavaScript is required, goodale email hidden; JavaScript is required
CC: Doreen Mueller email hidden; JavaScript is required, innisfail email hidden; JavaScript is required, Lacombe Ponoka email hidden; JavaScript is required, email hidden; JavaScript is required, letters email hidden; JavaScript is required, Liberal Canada email hidden; JavaScript is required, Ministerial Unit email hidden; JavaScript is required, Ministre / Minister (EC) email hidden; JavaScript is required, raitt email hidden; JavaScript is required
Here is a story I'm unable to pull off of Google for some reason?? Anyway we now can gage how farmers that voted for these Conservatives must feel!! This is a direct dump of responsibility by the Kenney government onto the farmers of Alberta who have a huge hole in their budgets to fill!! I suspect that since the Red Deer Advocate is the only provincial paper I can find making this a front page issue that the only thing left is to "cowboy-up" and pay –up so Kenney can ride the public to help the rich oil Oligarchs !! Since it was rural folks that voted strongly for the known criminal maybe they are very happy to pack the shallow gas industry on their backs?? In any case they certainly got what they voted for!!
Perhaps it is only the farmers in the Red Deer area who are howling aloud about this very very stupid move since it is only the Advocate to make it front page news?
It appears the central Alberta farmers feel that the government were attempting a good thing—but on discovering they were completely dumped on in an effort to help a rich industry—they have reacted very very negatively to what is good news for gas producers!! To suggest that the government didn't realize how it would hurt Counties would be to suggest the government is even more "low brow" than many expected!! I'm going to ask the Alberta land owners that voted for Criminal Kenney to throw in a little extra in tax payments to help to cover the cost of Alberta's "War-Room" and the $30 million per year for the war room's annual budget!! Kenney is taking the very same road as Ontario's Bozo premier—in hurting those that supported him—thinking they will pay-up and remain mute about what he has done to them!! That almost worked in Alberta—save the central Alberta farmers feeling properly dumped on!!
Stewart Shields [Lacombe, Alberta]
Energy Relief will Cost Taxpayers on Front Page, by Paul Cowley, July 4, 2019, Red Deer Advocate [Not available online at this time]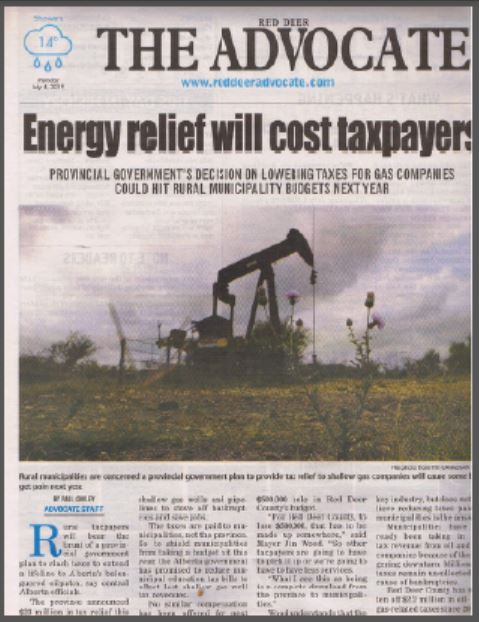 Above photo of Front Page sent with Stewart Shields' email.

Refer also to
2016 03 16: Will Albertans ever learn? Canada's biggest oil producers, including Cenovus (Encana), hoarding near-record pile of cash