Careers: Liability Management Coordinator (14-330)
Alberta Energy Regulator
Date Posted  Jan 06, 2015
Profession Specialist (SP)
Experience Level(s) Not Specified
Job Type(s) Permanent [What? Isn't the massive deregulation and legal immunity taking care of the $ billions in lawsuits waiting in the wings?]
Education Level(s) University – Bachelors, College – Diploma
Job ID job-1654
Position Summary
Join the Alberta Energy Regulator and Be In Great ["No Duty of Care"] Company!
A career should fulfill many needs. While job security and financial reward are important, some careers, like the ones at the AER, can provide more than a living – they can provide meaning to life. [Lying to and abusing Alberta families while covering up law violations, health harm and frac'd aquifers?] In a team of world-class thinkers who [de]regulate how energy resources are discovered, developed and delivered, your reward can go beyond a job well done. It can go to the pride and recognition that you're doing something that matters.
The Alberta Energy Regulator ensures the [legally immune, constitutional rights violating, "No Duty of Care"], [un]safe, [in]efficient, [dis]orderly, and environmentally [devastating] development of hydrocarbon resources over their entire life cycle. For 75 years, Alberta's oil and gas regulator has [deregulated and] adapted to meet innovations in technology, new industry activity, and changing social expectations. The Alberta Energy Regulator builds on this foundation and prepares the province to take on the next era in energy regulation.
We are seeking, diverse team members with strong [door slamming and] technical skills to join us in this exciting journey. Be everything you want to be, by helping us build a legacy of excellence Albertans can count on.
Manager, Liability Management
DESCRIPTION OF BRANCH/GROUP/TEAM
The Closure and Liability Branch of the AER is responsible for full life cycle responsibilities including liability management, abandonment, reclamation, and remediation activities related to energy development. The Closure and Liability branch includes four main sector groups: in situ, oil and gas, mining and pipelines with the operations group leading strategic initiatives and providing business support.  For additional information, please refer to AER Bulletin 2014-22: AER Closure and Liability Organization and Contacts – on the aer.ca website.
PURPOSE OF ROLE:
To coordinate Liability Management programs. Support in managing work load and ensure work in the areas of mineral administration, audits, surface rights administration, license transfers and D 067 applications is conducted in accordance with established business rules.  Provide outreach to internal and external stakeholders with respect to Liability Management Programs.
RESPONSIBILITIES/ DUTIES:
Management of monthly Liability Management Rating (LMR) monthly run, including verification of security deposit amounts, drafting of letters, issuing of Notices, and addressing licensee inquiries.
Providing outreach to Licensees on Liability Management Programs administered by the AER.
Coordination of the annual Orphan Fund Levy, issuing letters, and addressing related licensee inquiries.
Review Letters of Credit and manage security deposits.
Audit multiwell pads and ensure liabilities are appropriately accounted for.
Review Ground Water Protection and Vent Flow appeals to ensure requirements are being met.
 The AER testing the Campbell's methane, ethane, propane, butane, pentane contaminated water, again.
Resourceful, basic trouble shooting, manage and resolve non routine issues.
Ability to work collaboratively and support a team of individuals to ensure work in the areas of Directive 067 application review processes, license transfer administration, records management, mineral and surface rights administration is complete.
Ensure files are escalated in a timely manner to Enforcement.
Assist in project work and in other areas of the business.
QUALIFICATIONS:
University degree or technical diploma with a minimum of 4 years' related energy industry experience.
Proficient with Microsoft Office programs with an emphasis on Word and Excel
Exceptional oral and written communication skills.
Strong research and analytical skills. [Efficient and deceptive door slamming a must.]
Ability to understand and prioritize business needs.
Highly motivated, self-starter, ability to work either as a team member or independently and without direct supervision.
Strong team player with commitment to individual and team development.
Proven ability to handle sensitive and confidential information. [Like covering up illegal aquifer fracing and other law violations?]
Familiarity with AER Directives 006, 011, 024 and 075.
Time management skills with an ability to work in an environment with changing priorities [aka, constant deregulation every time an Albertan presents documented evidence of non-compliance or law violations?]
Excellent customer-service attitude and skills. Responsiveness when responding to and following up with service requests and when facing new challenges is essential.
Please note: Should an individual with the required qualifications not be available, applicants with closely related qualifications may be considered. As a result, the position may be redesigned and reclassified and offered without reposting. Relocation costs covered by the AER will be considered on an individual basis.
Applications are being accepted until January 25, 2015
A Career at the AER
The AER is a world-class [de]regulator which must attract talented and engaged people to carry out our critical ["No Duty of Care"] role in Alberta.
As an organization committed to 'doing the right thing', we make a difference in Alberta's energy sector through [de]regulatory initiatives and decisions that serve the interests and safety of Albertans. We provide a positive work environment that fosters challenging and rewarding careers. This includes:
flexible work options including none, one or two flex days a month, part time or telecommuting,
competitive compensation, benefits, and workplace programs,
pension and retirement savings plans,
a respectful and diverse workplace,
in house courses for professional and personal development

[and how best to further the legally immune "No Duty of Care" philosophy]

.
Message From the Human Resources Vice President
The reality is that the AER competes for the same talented people as industry; our approach to this challenge has been to focus on improving our overall work environment for employees. The AER strives to create a positive and meaningful experience for our employees, offering compelling reasons for people to join or stay with us.
We view employment as a mutually beneficial partnership between an organization and its employees and strive to reach the right balance of meeting employee needs while still meeting the needs of the organization. The AER offers employees a superior work-life balance with benefits such as two earned flex days per month and flexible work schedules. We provide employees with a competitive compensation package and support our people in achieving their career and professional development objectives.
There are lots of opportunities for people interested in meaningful ["No Duty of Care"] public service work to pursue their career aspirations at the AER. As you read through these pages, you will see that our employee programs, perks, and benefits packages are designed to provide a rewarding work experience for our employees. …
Are You Looking For…
a challenging and rewarding career with a world-class regulator
an opportunity to make an impact on diverse projects in Alberta's major energy sectors?
an organization with a positive and challenging environment that is committed to "doing the right thing"?
an energized, dedicated, and committed team?
a chance to make a difference in regulatory initiatives and decisions that serve the interests and safety of all Albertans?
continuous learning and professional growth with support and sponsorship from an employer?
a balanced lifestyle?
pensions, benefits, and pay programs that are flexible, comprehensive, and competitive?
a healthy and supportive work environment?
choice in employment terms that accommodate flexible and variable work schedules?
If you said .yes. to any one of the above, then consider joining the AER.
To learn more about working [in a "No Duty of Care" environment] at the AER, please contact Human Resources at 1-866-217-8333 between 8:00 am and 4:30 pm MST, Monday to Friday.
Jul 09, 2014
Effective March 29, 2014, the Alberta Energy Regulator (AER) assumed responsibilities for remediation and reclamation under the Environmental Protection and Enhancement Act (EPEA) in addition to its previous responsibilities for suspension and abandonment. The term "closure" refers to all end-of-life activities, including abandonment, remediation, and reclamation. This bulletin provides stakeholders with information on the AER branch, groups, and teams that regulate closure and liability management.
The Closure and Liability Branch of the AER is responsible for liability management, reclamation, and remediation activities related to energy development. The Closure and Liability Branch includes three main groups: in situ, oil and gas, and mining; the operations group provides additional business support. The information below describes areas of responsibility. Key contacts within each group can be found on the AER website, www.aer.ca.
In Situ Group
The In Situ Group consists of the following teams.
Land Conservation and Reclamation Team
The Land Conservation and Reclamation Team is responsible for setting authorization conditions for land conservation and for reclamation of facilities requiring an EPEA approval. The team addresses the full life-cycle planning within all energy development sectors requiring EPEA approvals, including oil and gas plants, pipelines, coal mining, oil sands mining, and in situ oil sands developments. The team reviews EPEA applications, conservation and reclamation plans, and annual conservation and reclamation reports, and it is involved in field assessments and inspections to support EPEA authorization processes. The team also reviews applications for reclamation certificates at the end of a project's life and issues certificates if the site meets the appropriate requirements. …
Reclamation Programs Team
The Reclamation Programs Team manages land conservation and reclamation requirements for well sites and facilities throughout the entire life cycle of energy development, from planning to abandonment.
The team manages the Upstream Oil and Gas Reclamation Certificate Program. Once an upstream oil and gas development is decommissioned and abandoned, the operator (as defined in EPEA ) is required to obtain a reclamation certificate. The team issues reclamation certificates when its technical review confirms that the site meets regulatory requirements. The team provides conservation and reclamation compliance by working closely with landowners and industry to resolve public complaints throughout the life of the project and on reclamation-certified sites. It also conducts surface and subsurface audits of reclamation-certified sites to verify that remediation and reclamation requirements have been met. …
Oil and Gas Group
The Oil and Gas Group consists of the following teams.
Mine Financial Security Program (MFSP) Team
The Mine Financial Security Program Team manages liabilities associated with coal and oil sands mine operations, which includes the following activities:
quantifying liabilities for all facilities, as well as the assets dedicated to the management of those liabilities;
regularly and appropriately reporting and reviewing that information;
reporting on ongoing reclamation; and
collecting financial security.
The team assesses the adequacy of the information provided by approval holders in their annual submissions and audits approval holders to verify that they are meeting program requirements. …
Liability Management Team
The Liability Management Team administers programs that support responsible energy development by having licensees abandon and reclaim wells, facilities, and pipelines while they have adequate resources. Liability management programs, including the Licensee Liability Rating Program, help ensure that Albertans do not bear the costs of abandonment and reclamation when licensees go defunct. These programs work to have liabilities addressed by the responsible licensees. The industry-funded Orphan Fund pays for abandonment and reclamation costs arising from defunct licensees. …
Abandonment Team
The Abandonment Team administers directives that specify how wells are suspended and eventually abandoned at the end of their lives in a manner that protects the public and the environment. The team provides guidance and technical information to licensees on repairing, suspending, and abandoning wells and on requirements for monitoring wells. The team reviews all nonroutine submissions to verify that well integrity issues have been repaired, zones isolated, and groundwater protected. The team also reviews all nonroutine well abandonment requests. …
Aging Infrastructure Initiative Team
The Aging Infrastructure Initiative Team manages the requirements of Directive 079: Surface Development in Proximity to Abandoned Wells to locate, test, and, if necessary, reabandon all applicable wells. The team also leads and coordinates work on aging wells, facilities, and pipelines. …
Mining Group
The Mining Group consists of the following teams.
Drilling Waste and Contamination Management Team
The Drilling Waste and Contamination Management Team is responsible for monitoring compliance with Directive 050: Drilling Waste Management requirements for the treatment and disposal of drilling waste. The team reviews the following materials to verify that waste management practices meet requirements that protect the environment and enable sites to be reclaimed:
notifications;
reports;
monitoring, mitigation, and remediation plans; and
applications for alternative drilling waste management methods.
The team also answers inquiries related to drilling waste management and environmental assessments. …
Remediation and Contaminated Sites Team
The Remediation and Contaminated Sites Team manages requirements for contaminated sites that protect the public and the environment and help return sites to other productive uses once energy development activities are completed. The team provides technical expertise for spill response, reviews related reports, and evaluates applications to assess the adequacy of the site investigation and the proposed remediation or risk management options. The team also reviews applications, plans, and reports for facilities that require approvals under EPEA, including oil and gas plants, coal mines, oil sands mines, and in situ oil sands developments.
The team also manages the remediation certificate program. The remediation certificate program allows operators to obtain regulatory closure when contaminated sites have been remediated to meet regulatory requirements. The team reviews applications and issues remediation certificates if it determines that a site meets the appropriate requirements. …
Operations Group
The Operations Group supports the Closure and Liability Branch, leading strategic and operational planning and delivering regular reporting on activities and achievements through performance metrics. The team supports the whole branch through process-mapping and documentation; facilitating access to data and information; assessing risk; and identifying, analyzing, and facilitating successful implementation of continuous improvement initiatives.
Questions and inquiries related to closure and liability can also be directed to [email protected] or 1-855-297-8311.
<original signed by>
Brenda Cherry
Vice President
Closure and Liability Branch Operations Division
[Refer also to:
CRASHING AN AER BOOZE AND SMOOZE AND GIVING PROTTI [Ex-Encana VP, now Chair of the AER] A PAINTING OF TREES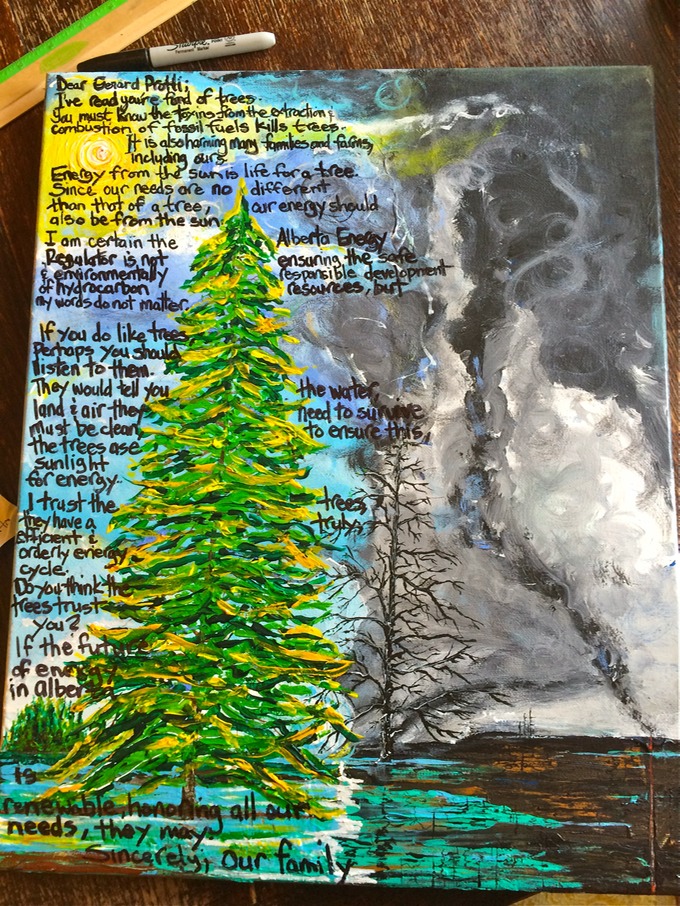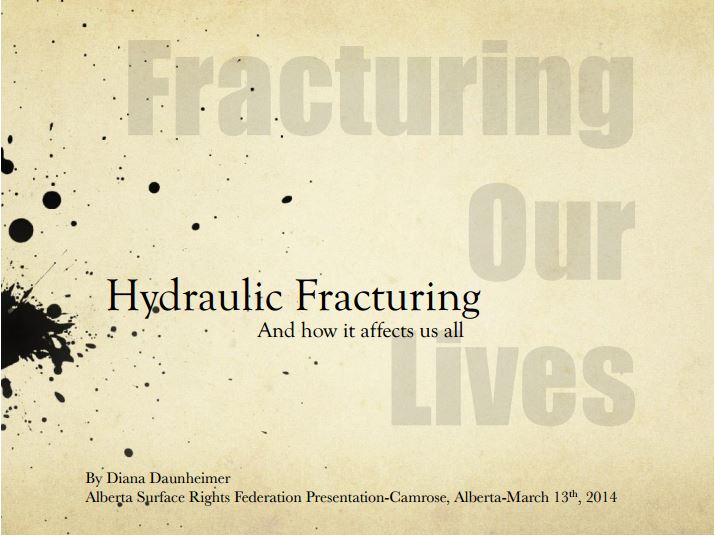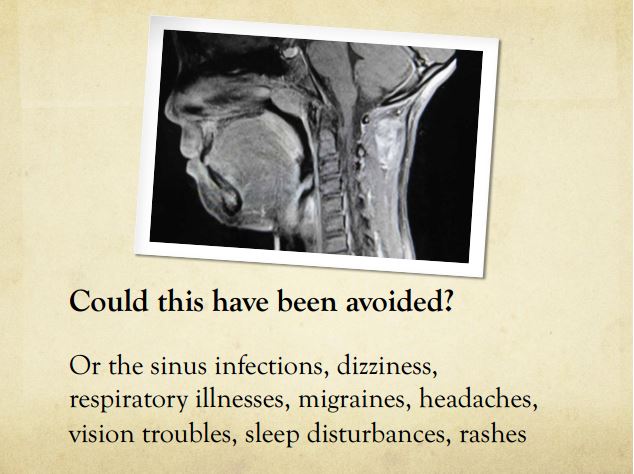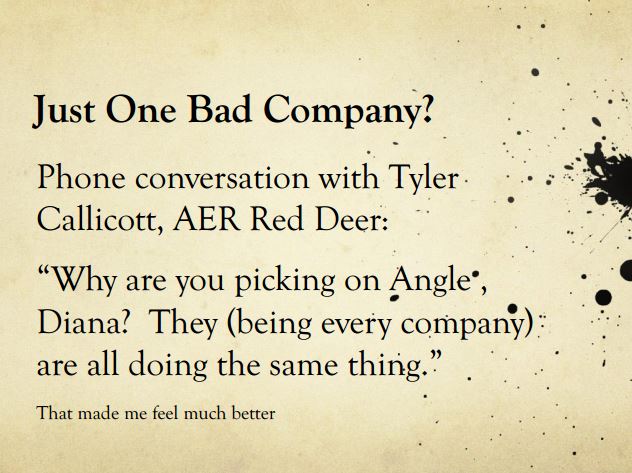 Slides above from Diana Daunheimer presentations