I don't want Kenney taking my CPP either. It will most likely end up going to AIMCo to invest in bankrupt frac companies poisoning communities and our environment.
Subject: What's This Kenney Government Costing Us In Honoriums ??
Date: Wed, 15 Jan 2020 11:12:01 -0700
From: Stewart Shields email hidden; JavaScript is required
To: bill morneau email hidden; JavaScript is required, chrystia freeland email hidden; JavaScript is required, email hidden; JavaScript is required, Liberal Canada email hidden; JavaScript is required, Ministre / Minister (EC) email hidden; JavaScript is required, Prime ministre email hidden; JavaScript is required
CC: Brian Jean email hidden; JavaScript is required, email hidden; JavaScript is required, Doreen Mueller email hidden; JavaScript is required, ENV Minister email hidden; JavaScript is required, Facebook , fishcreek email hidden; JavaScript is required, email hidden; JavaScript is required, innisfail email hidden; JavaScript is required, Julie Ali email hidden; JavaScript is required, Lacombe Ponoka email hidden; JavaScript is required, letters email hidden; JavaScript is required, Liberal Correspondence email hidden; JavaScript is required, Ministerial Unit email hidden; JavaScript is required
Has any scribe with little to do—ever thought of discovering just how many "Blue Ribbon Panels" exist in Alberta? How many Conservatives are employed by these government panels—and what the cost is to the Alberta public- when our government must "farm-out" descion- making—rather than using their own heads?? Why are we paying for an Alberta Government that hasn't the abilities to do their prescribed work– as governing Alberta- but returning to "Toryland" and being governed by Panels required by Klein- who was incapable of actual work?
Keep your criminal little fingers off my CPP pension- is very good information to offer Kenney!!
And don't start using my federal tax dollars to pay for the energy industries environmental messes– is very good information for Finance Minister Bill Morneau??
I'm not about to buy that the richest industry in Canada is incapable of keeping their promises to every land owner in Alberta about leaving their leased land in the same condition it was found — prior to drilling!! A cursory review of energy companies state of financial health contained on Sedar filings—simply does not suggest the same destitute described by our Premier—who's word is suspect ever since he used a gang as a ATM machine– to win the UCP leadership election in Alberta in 2017!!
Stewart Shields, Lacombe Alberta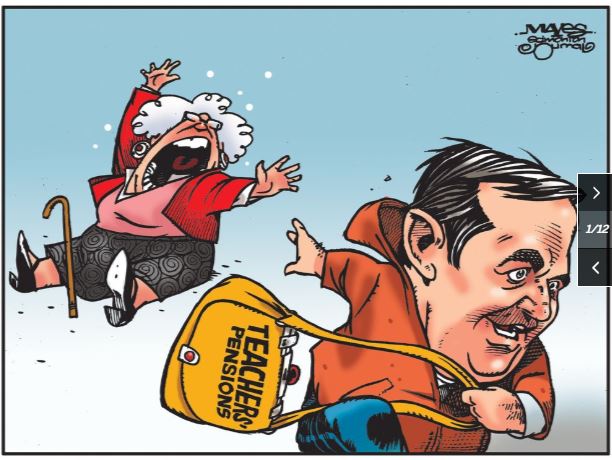 Malcolm Mayes cartoon in Edmonton Journal, November 2019
Don't you dare touch my pension.
It's the one message that is resounding loud and clear as Premier Jason Kenney seeks to make Alberta more independent of the federal government.
As Neil Rudiger told a public meeting in Edmonton: "Keep your hands off my CPP. I wouldn't trust the UCP government with the proceeds from a bingo let alone my retirement."
Like Rudiger, most Albertans are not interested in giving up CPP in favour of taking their chances with a provincial pension plan, one of Kenney's suggestions for getting a better deal for Alberta. [That's what he spouts, but it appears likely that he wants to give our CPP to AIMCo to give to bankrupt frac firms to feed the oil and gas industry's greed bleed]
They especially don't want anyone fiddling with their pension when Alberta's economy is as rocky as it is now.
In order to bolster his case for such Alberta breakaways Kenney established the Fair Deal Panel whose nine members include former Reform leader Preston Manning, three UCP MLAs and one former PC MLA.
Only three of the nine are women. [Of course, misogyny and patriarchy stink is stong in Caveman Canada, most so in Alberta]
The panel has been conducting public hearings across the province since early December. The agenda has been carefully crafted to include only discussion points designated by the government. Any discussion of the recent budget, which has upset many because of cuts to health, education and social services, is verboten.
Creating an Alberta pension plan is one of the discussion points. Others include a provincial revenue agency that would collect provincial and federal taxes; a provincial police force instead of the RCMP; opting out of federal cost-sharing programs with full compensation; and Alberta representation at international treaty negotiations.
It was anticipated that the hearings would become a platform for Albertans so frustrated by the results of the federal election, which saw the Liberals returned to power, that they want Alberta to go it alone.
And those Albertans have certainly been out in full force.
"We don't need to subsidize pensions of other Canadians," [We don't.The rest of Canada subsidizes crazy greedy bankrupting Alberta, with the province and AER still enabling the oil and gas industry to rape and pillage and leak methane without cleaning up. The plan is to make Canadians pay to clean up Alberta, which will bankrupt Canada. Perhaps the royal family will give industry's billionaires a trillion dollars with which to clean up. Ya right, the family sucks on Canada's teats just like the oil patch, CAPP and Alberta] a man in Calgary told the crowd of about 350. "We need to turn off the taps until Elizabeth May gets a job as a pipeline layer."
In Fort McMurray, the centre of oil sands operations, Martin Pallard told about 100 people: "Do we control our own destiny in Alberta or are we controlled by someone else? I believe we don't fundamentally control our own destiny and Canada is likely just too flawed." [Nope, sorry to bust your bitumen bubble, it's Alberta that's frac'd]
Even though the equalization formula is not on the agenda, some have called for an immediate referendum that would sort out, and possibly restrict, Alberta's contributions to the rest of the country.
But despite the open anger and frustration on the part of many – mostly older [likely ultra conservative, bigoted, misogynistic, anti-environment, anti-public health, anti-community, racist, white] men – there is considerable pushback from people alarmed at the thought of Alberta building a firewall around itself and weakening ties with the rest of the country.
In Lethbridge, retired teacher Greg Hales said he was surprised at the variety of views expressed given that "southern Alberta is a kind of hotbed for conservatism."
Hales also made it clear the idea of Alberta creating its own pension plan should be taken off the table. "It makes no sense financially, it would cost us a fortune compared to what we would get out of it," he said. [That's Kenney and the oil patch's plan! When people get their pensions stolen, they bend over more]
In Edmonton, about half the speakers were concerned about the "combative nature" of the panel. [Ha, too funny!]
"I think we are on the wrong track," said one speaker who noted that other provinces that had fallen on hard times have not reacted so dramatically. Several people cheered.
RELATED STORIES
Opinion | Gillian Steward: Alberta's 'war room' can't stop growing disdain for fossil fuels
Alberta Pension, police force and provincial revenue agency all on the table for new government panel
Alberta is considering starting its own pension program. Here's why economists say that won't be easy
In Calgary, by my count, about two-thirds of the speakers supported one or more of the points put forward for discussion by the government.
As for that idea about Alberta creating its own pension plan: A recent Nanos poll found that in the Prairie provinces where Conservatives swamped Liberal candidates – Alberta, Saskatchewan and Manitoba – 55.2 per cent opposed such a move.
Jason Kenney might have to rethink that one.
Exploiting people's anger and frustration over the economic troubles that have beset Alberta may score political points.
But threatening to fiddle with hard-earned pension funds on which so many people depend is a risk most people aren't prepared to take, especially during hard economic times.
Refer also to:
UCP Filthy Lucre Lust: Hands off our CPP! We don't want AIMCo rendering our pensions into "a pork barrel to convert into welfare payments for fossil fuel billionaires."
Look out Albertans whose pensions Kenney gave to AIMCo. Crazy Days in Alberta: The Poison Wells File. The province let oil and gas firms create a $100-billion disaster. New example? Shell Pieridae Briko Ikkuma Alberta Foothills Sour Gas Marriage financed by AIMCo and about $10Billion in liabilities.
Happy New Year! "Merriest fossil fuel stories" of 2019 show frac industry melting down. Roaring 20s speed into "tragedy on the horizon" where investments could "go to zero quickly." Vital warning for AIMCo by Bank of England Governor Mark Carney: Pension funds could be hit by 'worthless' fossil fuels
If AIMCo were independent, trustworthy and believable would its CEO need to boast so loudly and dishonestly in the media? Will King Kenney fire Mr. Uebelein if he refuses to give bankrupting oil and gas frac'ers a billion more dollars here and a billion more dollars there?
Kenney goes a beggin' to Trudeau for mega cash & tax cuts to give yet more $billions in corporate welfare to billion dollar profit raping oil patch; Kenney & CAPP want Canadians (and their heirs and their heirs and their heirs, etc.) to be forced to pay for oil & gas industry's rape & pillage & pollution of Alberta.
Alberta oil patch corporate welfare escalates: County of Barrhead writes off more than $2 million in taxes and penalties accumulated by three companies, Sequoia Resources Corp, Trident Exploration (WX) Corp and Trident Exploration (Alberta), in two short greedy years.
Art Berman: Shale Plays Have Years, Not Decades & The way of greed: Oil and gas companies face their creditors as Fracking Bubble Bursts (FUNNY!)