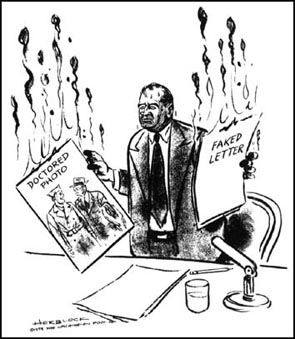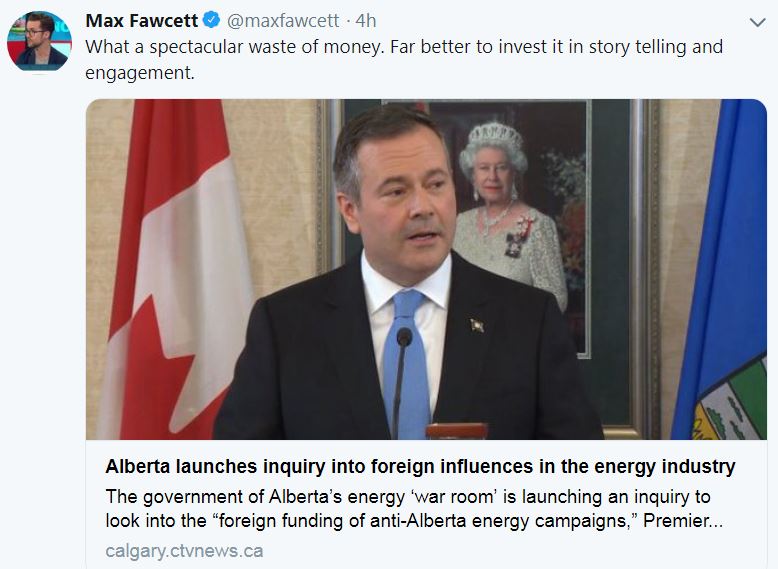 Tweet above from https://twitter.com/maxfawcett
Alberta launches inquiry into foreign influences in the energy industry by Jordan Kanygin, July 4, 2019, CTV News
[News clip at link above]
Premier Kenney announced Thursday the province is launching an inquiry into foreign funding of anti-Alberta energy campaigns.
The government of Alberta's energy 'war room' is launching an inquiry to look into the "foreign funding of anti-Alberta energy campaigns," Premier Jason Kenney announced Thursday.
The year-long public inquiry will include witness interviews and research [All by Rebel Media & CAPP?], followed by a public hearing.
Accountant Steve Allan, who is the executive chair of Calgary Economic Development, will head up the inquiry and present a report to the Alberta government by July, 2020.
Premier Jason Kenney made the announcement Thursday.
Kenney made the announcement at the McDougall Centre in Calgary, standing beside Energy Minister Sonya Savage and Justice Minister Doug Schweitzer.
The government's $30-million war room was established to lobby on behalf of the province's oil and gas sector, Kenney said, adding this step will help fight the "well-funded foreign campaign targeting our energy industry."
The cost of the inquiry is $2.5 million.
"The campaign to landlock Alberta oil has caused over a decade of reputational harm to Alberta's energy sector," Schweitzer said in a news release.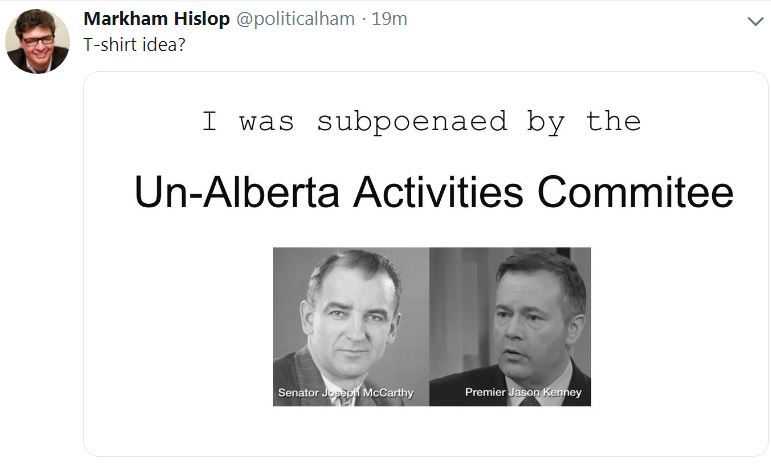 Tweets above and below snapped from: https://twitter.com/politicalham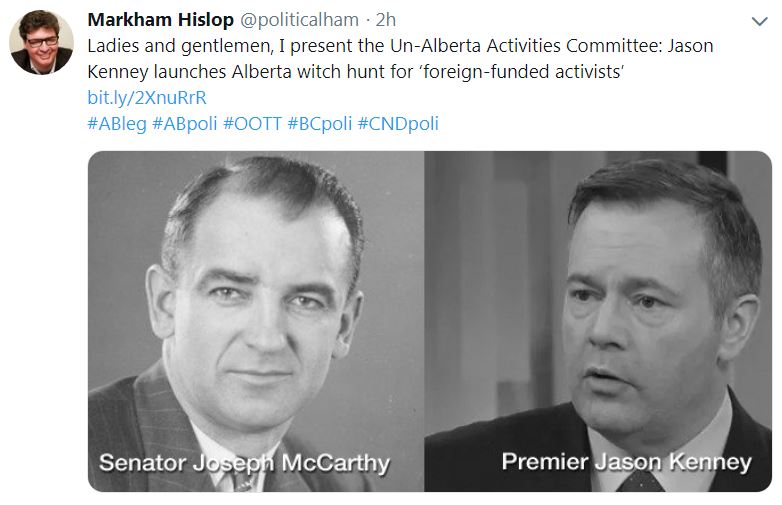 ***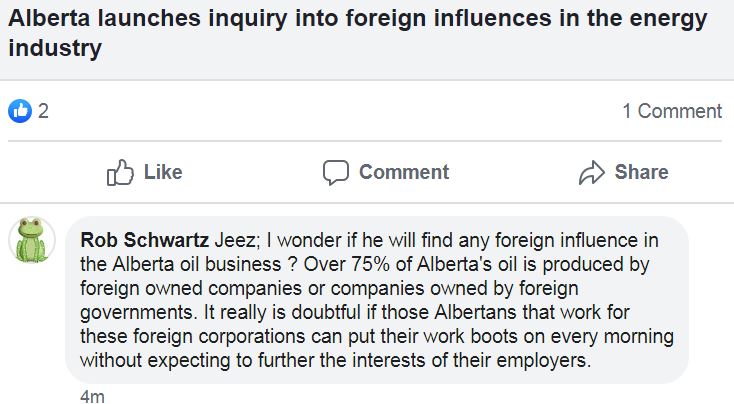 Snap above from: ASRG FB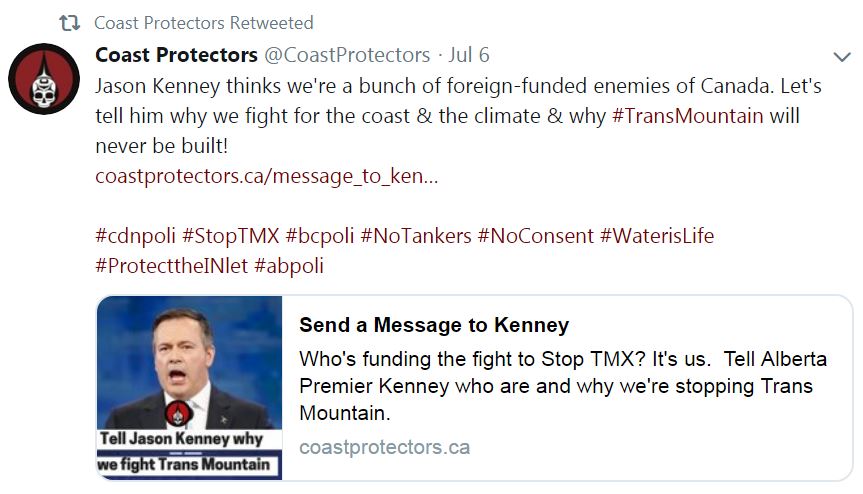 Snap above from Coast Protectors
Jason Kenney, Doug Ford and the ugliness of conservative governments investigating their opponents by The Globe and Mail, July 7, 2019
There's a trend in Canadian politics, for the moment confined to conservative parties, and it is to put into motion, on winning an election, some sort of government investigation into your opponents.
It is nefarious, petty and a waste of taxpayers' money, but it is catching on like wildfire. [Super Creepy Stevie Harper did it too]
Alberta Premier Jason Kenney became the latest to embrace this fad when he announced last week that his United Conservative Party government will hold an inquiry into the finances of environmental groups that oppose the oil sands.
It's long been Mr. Kenney's contention that opposition to the oil sands has gone past the bounds of free speech and morphed into "a premeditated, internationally planned and financed operation to put Alberta energy out of business," as he said Thursday.
It's not clear what this investigation is supposed to find that isn't already obvious. Alberta's struggles stem from a lack of pipeline capacity and a drop in the global price of crude oil. Perhaps the inquiry will discover the shocking truth that supply, demand and Mideast countries influence oil prices, or that environmentalists oppose pipelines. Maybe it will learn, from reading news reports, about how the Trans Mountain pipeline expansion was delayed by a failure to fully consult with Indigenous groups. Or how several export pipeline plans have been hamstrung by U.S. regulators.
Mr. Kenney's inquiry will do nothing to solve the real problem, but it plays well to frustrated Albertans who see their greatest resource struggling to get to market.
Ontario's Progressive Conservative Premier, Doug Ford, played the same game when he came to power last year and immediately launched a committee hearing into what he called the "worst political cover-up in Ontario's history."
The alleged scandal was the move by the previous Liberal government to fudge its budgetary bottom line. The issue had already been examined by the provincial auditor-general and in an independent report, but the Premier felt it needed a third going-over by a Queen's Park committee with the power to call witnesses and subpoena evidence.
In the end, all this produced was the sight of former premier Kathleen Wynne gamely answering questions asked by the stacked government committee, and being hectored by PC MPPs demanding that she apologize to the people of Ontario. In short, a kangaroo court.
Mr. Ford's attempt to turn a political disagreement into a quasi-legal allegation also led to his supporters yelling "lock her up" in reference to Ms. Wynne, an episode reminiscent of the polarized politics of U.S. President Donald Trump.
In both the Ontario and Alberta case, there was zero evidence that any criminal activity occurred, or that any grand conspiracy was at work.
In the case of Alberta, it is already well known that some environmental groups accept foreign funding, and there doesn't appear to be anything illegal about that. In any case, magnitudes more foreign money flows into the development of the oil patch than it does to groups opposing the industry.
Given these facts, it is hard to know what Mr. Kenney is trying to achieve by bringing the weight of a government investigation to bear on the activities of advocacy groups. He denies he is attacking their freedom of expression, but last week he couldn't offer a coherent defence of that position, saying only that the groups' opposition to the oil sands had become "obsessive" and "political" and therefore merited investigation.
What this all really amounts to is an ugly new political credo that says it is not enough to beat your opponents at the ballot box. Once in government, you also have to crush them under the weight of official investigations.
Mr. Kenney's supporters may love his willingness to use the levers of power to go after those standing between him and his political agenda. But he should look eastward to see how that worked out for Mr. Ford.
The Ontario Premier's attacks on his predecessor are already long forgotten, and he is now the one in the crosshairs, thanks to a series of hasty budget cuts and inappropriate patronage appointments.
Some voters may get a frisson watching their political leader throw around the weight of government, but what they really should want is for him or her to govern wisely and within the bounds of civility and honest disagreement, and not to settle invented scores.
Refer also to:
Alberta: More corporate welfare stench! 65,000 shallow gas wells qualify to get more than $23M in freebies from taxpayers. Again, not a penny for Albertans suffering frac quake damages, drinking water loss/contamination, health harm, loss of livestock etc.