War room swamped by fightin' mad Albertans by Rick Bell, July 12, 2019, Whitecourt Star
It's war!
Not the war of tanks and planes and battleships.
For Sonya Savage, walking point on this province's hot potato energy file, the war is one of words, fighting the lies about the Alberta oilsands and Alberta energy, falsehoods being peddled by outfits bankrolled at least in part by American greenbacks.
The Kenney government already told us they were setting up a war room, probably in energy department offices in Calgary and likely next month.
They're looking for a few good people. Six.
Well, so far roughly 4,000 Albertans have offered to sign up, a brigade of would-be recruits for the front line, pumped and ready for action.
The response was so hot Savage, who worked in the oilpatch and grew up on a farm near Standard, was getting emails to every email address she ever had.
Folks tried to get in touch on Twitter and Facebook and LinkedIn.
Albertans also buttonholed the other United Conservative members of the legislature.
"They wanted to help. It was just: How can I help? Here's my resumé. Here's my background on how I can help. We've had a huge, huge interest."
People offered to organize events, put groups together, rallying support for the oilpatch every which way they could.
"Albertans want to fight. They've had enough. They've paid their taxes, they've worked hard, they're proud of their province, they're proud of their industry," says Savage, who sounds pretty stoked herself.
"They've been picked on. They've been defamed. They're out of work. Their friends, their neighbours are out of work and they've had enough."
The war room will do social media, write speeches, talk to think tanks and other groups, speak to influential people, the press. Do everything you can imagine to get out the pro-Alberta oil word out while correcting the record distorted by those with an axe to grind.
Savage says Albertans are strong supporters for fighting back. Some are so strong they thought the war room would somehow be a force you could deploy, kind of a rapid-response special ops.
Problem with a pipeline? Send the war room out there.
Speaking of problems, the now-green-lighted Trans Mountain pipeline expansion is set to get going in September.
But Savage thinks sometime when they're in B.C. they'll find some illegal [Since when is it illegal to protest pollution risks in Canada?] protests, some blockades, some occupations.
"We're going to have to test the resolve of the federal government. How are they going to handle all that?"
Is she confident the Trudeau government will handle it, if it's still around?
"I think there are some in there who would," says Savage.
"But can you imagine Justin Trudeau wanting to clear a group of environmental protesters off a pipeline right-of-way using the army? Think about it."
I'm thinking about it and the word gutless comes to mind.
By the way, why are they picking on Alberta? Why is Alberta slimed as Evil Oil, Big Oil, Dirty Oil?
First off, Savage says the oilsands is an actual place.
"They could post some visuals and distort them," says Savage.
Yes, pictures not telling the truth and nothing but the truth, pictures not worth a thousand words.
And then Canadians are easy pickings. We don't have the strongest spines in the universe.
"We're complacent. We were not going to fight back. We're nice. We're not confrontational. We're a very, very easy target," says Savage.
"This would never have happened in Texas. Can you imagine this happening to Texas?"
Actually, no. Don't think The Lone Star State would have as high a tolerance level.
Now most Albertans are willing to take off the gloves, realizing Notley NDP's kid-glove approach, complete with a carbon tax and playing ball with Trudeau, didn't do Albertans any favours.
There's one loose end. Who could forget the prime minister? He's in Edmonton Friday and is expected in Calgary Saturday.
What could he possibly say? What could he possibly do? He pushed a ban on oil tankers off the north coast of B.C. and a law making it tooth-pulling hard to get a thumbs-up for more pipelines.
Savage is very surprised Trudeau would show up in these parts at this time.
"He's got a lot of nerve coming here during Stampede," says the energy minister.
"I don't think he understands even remotely how harmful his policies are to Alberta."
Then again, he may just not give a damn.
Refer also to:
annie_fiftyseven to onemansopinion
"I'm sticking with the current model and will argue to regulate the hell out of industry."
Industry is admittedly "de-manning" the "current model," so you can kiss the jobs goodbye.
"Representatives of Canada's oil and gas industry like to talk about jobs and all the people they employ. In particular, Tim McMillan, who represents all the oil and gas industry as CEO of the Canadian Association of Petroleum Producers, seems to talk about jobs at every opportunity. Jobs his industry has created. Jobs supposedly at risk from government policy.
And yet oil companies are working hard to eliminate work done by actual people.
There's even a term for it, popularized by Cenovus Energy executive-VP Kiron McFadyen : 'de-man' the sector to achieve 'zero manning.' In other words, Cenovus and other companies want to get rid of as many employees as possible in order to maximize profits."
https://www.nationalobserver.com/2018/09/05/opinion/why-do-we-listen-oil-execs-when-they-talk-about-jobs
"EXECS LOOK TO 'DE-MANNING' TO TAKE WORK FORCE OUT OF THE TAR SANDS/OIL SANDS
… In March, meanwhile, Digital Oil & Gas cast automation as one of several lifeboats that could extend the operating life of the tar sands/oil sands.
'Despite the relatively few jobs in oil and gas, the industry is still designed around people, and the presence of people in a dangerous industry drives a high overhead cost in safety, training, equipment configuration, and housing, and the work force commands high salaries as a result,' the industry blog stated. With time, equipment, plant, and vehicles all on the way to being automated, 'anything with a chair in it today (and anyone whose job is to sit in that chair) is on a sunset path.' The blog adds that 'taking people out of the office is another de-manning goal,' courtesy of robotic process automation technology that mimics human keystrokes."
https://theenergymix.com/2017/06/27/execs-look-to-de-manning-to-take-work-force-out-of-the-tar-sandsoil-sands/
"FOSSILS MOVE TOWARD JOBLESS RECOVERY AS OIL PRICES INCH HIGHER
… 'We're seeing changes around, is there a better way of doing this? Is there a better way of organizing how we get work done?' said Lance Mortlock, EY's Canadian oil and gas strategy services leader. With options like robotics and process automation on the table, he added, fossil executives are looking at 'different ways that you can do work—better, faster, cheaper—with fewer people involved.'"
https://theenergymix.com/2017/02/24/fossils-move-toward-jobless-recovery-as-oil-prices-inch-higher/
"Precision coming closer to de-manning directional drilling
Directional drilling technology is one of the foundations of North America's current oil and gas abundance, enabling both hydraulic fracturing for conventional wells and in situ reservoir drainage in the oilsands.
… By next year Precision Drilling expects to have achieved a major change in the way that directional wells are drilled, enabling de-manning of the process using intelligent algorithms and digital infrastructure.
The company's directional guidance system (DGS) creates a coordinated workflow between the rig driller and a remote directional driller, the company said in a presentation given at its annual investor day in Houston this week. And that can be taken even further, the company says, extracting the directional driller from the process."
https://www.bloomberg.com/news/articles/2018-08-21/fracking-robots-in-the-works-as-halliburton-digitizes-oil-field
"Fracking Robots in the Works as Halliburton Digitizes Oil Field
Rack up one more thing robots can be used for: Fracking for oil.
Bots already are used to vacuum floors, build cars and do heart surgery. Now, Halliburton Co. wants to add fracking to the to-do list."
https://www.bloomberg.com/news/articles/2018-08-21/fracking-robots-in-the-works-as-halliburton-digitizes-oil-field
"Tens of thousands of oil and gas workers laid off during the downturn have been waiting for the patch to get back on its feet, but many of the jobs could be gone for good.
… Take shale drilling, where just a few years ago you could find 30 rig hands operating diesel pumps, using headsets to synchronize the throttle and pressure needed to break apart the rock formations and free the trapped crude.
Today, that job can be done by two people sitting inside a control van, monitoring the automated, electrified systems, said Mark Salkeld, head of the Petroleum Services Association of Canada.
… Looking ahead, Salkeld said he sees a continued push towards robotics with a crew of two or less, both for costs and increased safety.
He said that future is already arriving, having recently seen a new type of automated rig online.
'It was a video of this massive, automotive assembly-line type, Star Wars-type robot, that was picking up the pipe, drilling it, and there wasn't a person in sight.'"
https://www.cbc.ca/news/canada/calgary/oilpatch-downturn-technology-advances-replace-jobs-automation-1.4004855
"Oil's New Technology Spells End of Boom for Roughnecks – One of the last industries where blue-collar laborers can earn high salaries is being transformed as artificial intelligence and automation replace workers
… U.S. production has topped record levels, hitting 10.9 million barrels a day in the last week of June, according to the U.S. Energy Information Administration, compared with its high of 9.6 million in 2015. But as of May, nationwide oil and gas employment is down 21% since 2014, according to state and federal data compiled by Karr Ingham, an economist for the Texas Alliance of Energy Producers, an industry group."
https://www.wsj.com/articles/oils-new-technology-spells-end-of-boom-for-roughnecks-1531233085
"Union outcry as automation eats up 400 oilsands jobs – and it's just the beginning"
https://globalnews.ca/news/4000125/suncor-union-outcry-automation-oilsands-jobs/?fbclid=IwAR2QaVUFgmoPJ7ted2ieFk7pnw_FzH9r_Ugkauf3fbJMyIrMnvxNiF68xTY
In 2016 the Houston Chronicle was already documenting signs of automation's impending effect.
'These new rigs, using sophisticated software and robotics, could reduce the number of people working in the oil patch by up to 40 percent over the next few years.'
Scott Santens, writing in the online publication Medium, spells out these trends in a 2017 article titled, 'The Real Story of Automation Beginning with One Simple Chart.'
The one simple chart, which can be seen here, shows that while the oil industry has experienced a recent boom in the number of drilling rigs, the number of employees has remained flat. Santens goes on to predict that 'of the 440,000 jobs lost in the global downturn, as many as 220,000 of those jobs may never come back.' The industry is getting closer to 24/7 unmanned every day.
However, while good for profits, this is bad for workers and thus is a problem for the industry's public relations efforts. [Enter Kenney's (aka CAPP's) war room] The oil and gas industry historically has pushed new fossil fuel developments as a source of high-paying, blue collar jobs.
Now, many of those jobs are disappearing, and in an era when President Trump's energy plan is proclaiming how many jobs the shale industry will bring, declining workforce numbers are not a point the industry is seeking to publicize.
James West, an energy analyst for investment bank Evercore ISI, explained to Bloomberg how the industry was likely to spin the impending reductions in the oil and gas industry workforce.
'They'll more likely brag about the automation rather than these head counts,' said West.
… Another panelist, Robert Clarke, research director for energy analysts Wood Mackenzie, recounted conversations he had with industry executives about future production and the workforce:
'I sit with a lot of executive teams and I simply ask them, "You're talking about doubling production, does that mean doubling headcount?" They politely respond, "No, that means halving headcount."'
The fracking industry, despite its growth and promise, has not reached profitability and to do so these companies are going to have to start removing what Ingram described, in response to a question about automation replacing labor, as 'structural inefficiencies.'
'There are large structural inefficiencies to be extracted from this industry that will drive a nice cost advantage situation … ' Ingram said. 'Looking forward to it.' [Canadians concerned about pollution or greedy, mostly foreign investors, killing jobs?]
High-paid industry executives and Wall Street analysts are 'looking forward to' improving the economics of fracking, but in a move that will cost many blue collar workers their jobs.
The oil and gas industry appears primed to follow in the footsteps of the coal industry, where automation has been eating away jobs for decades. While the executives at the top of these firms will continue to prosper, many of the workers — or 'structural inefficiencies' — are quickly becoming the latest casualties to advancing technology."
https://www.desmogblog.com/2018/06/29/rise-machines-fracking-shale-oil-gas-profits-automation-workforce
April 4, 2019 USA – "Layoffs hit highest level for a first quarter since 2009: report
… 'Companies appear to be streamlining and updating their processes, and workforce reductions are increasingly becoming a part of these decisions. Consumer behavior and advances in technology are driving many of these cuts,' Andrew Challenger, vice president of the outplacement firm, said in a statement.
'Another major driver of the uptick in job cuts is economic uncertainty and fears of an upcoming downturn. Companies are reacting to market conditions as much as consumer demand,' he added.
Auto manufacturers led the layoffs with 15,887 jobs cut. Energy companies followed, with 10,548.
'Both Auto and Energy companies are pivoting in response to advances in technology and consumer demand for more efficiency. Companies in these sectors are attempting to attract talent who can compete with tech companies, like Apple and Tesla, which are beginning to compete in this space,' said Challenger."
https://thehill.com/policy/finance/437404-layoffs-hit-highest-level-for-a-first-quarter-since-2009-report
****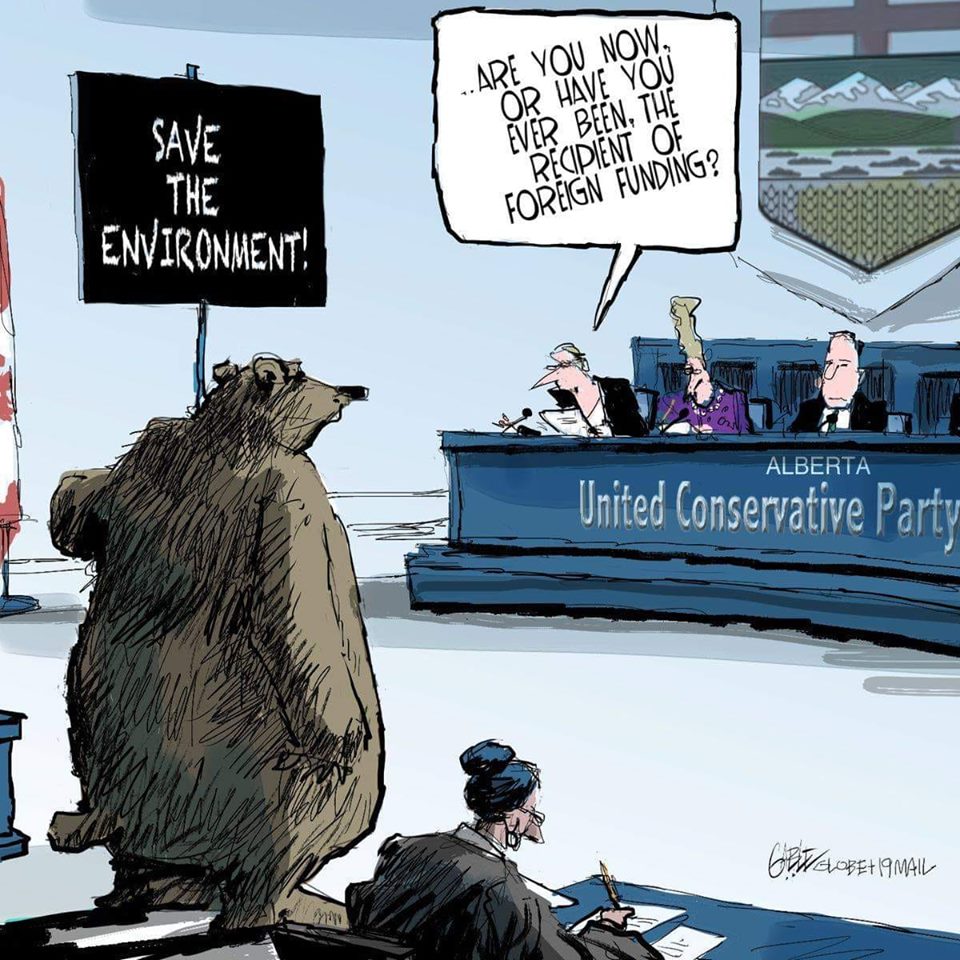 Brian Gable cartoon in The Globe and Mail, July 1, 2019
AER too corrupt to stay alive? Slithering down fracs to meet Glenn Solomon (AER's outside counsel) in Hell with $100M in budget cuts? Or, just another Kenney/AER/CAPP scam to take more money from Alberta taxpayers?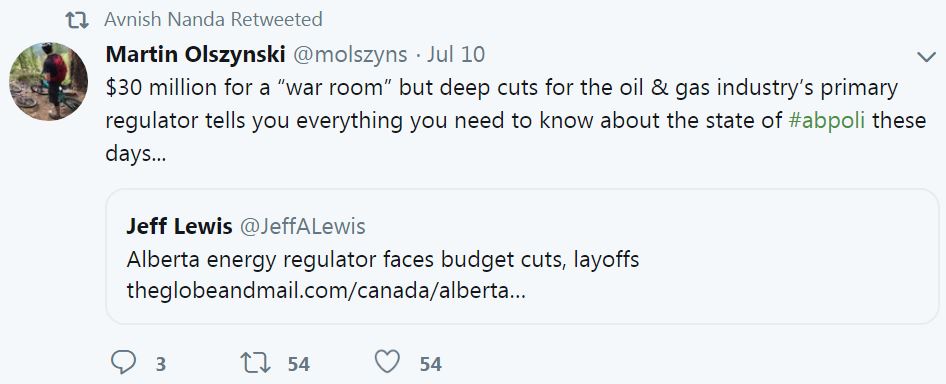 Alberta's Never Ending Corporate Welfare Will Bite You: Energy Relief will Cost Taxpayers, Front Page Red Deer Advocate
Another one bites Alberta's Greedy Dust: Trident's demise has far-reaching ramifications. Did AER's Synergy Meeting address concerns?
Falling for AER/ERCB/EUB (industry)'s scam, decade after decade: AER, Surface Rights Board, Orphan Well Association bamboozling (synergizing) Albertans about Trident Exploration walking from it's environmental and financial obligations in CMAG Synergy meeting, June 25, 2019