In 2014, the Alberta government demanded to Court of Queen's Bench Chief Justice Neil Wittmann that Ernst's lawsuit against them be thrown out because they have legal immunmity like the AER and to prevent future claims by other harmed Albertans: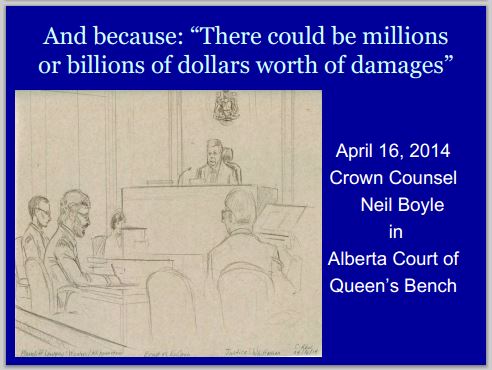 Slide from Ernst presentations
Farmers on the hook for oilpatch's unpaid bills, Relationship fraying between Alberta farmers and energy companies by Tracy Johnson, November 15, 2016, CBC News
Related Stories
Last June, Alberta's Farmers' Advocate Office got a surprising phone call from a rural landowner. The farmer had noticed something strange on his power bill from the utility company Epcor.
He had leased a portion of his land to an energy company that had drilled a well, but the company hadn't paid its power bills. And now the farmer was getting dinged for the bill. [What else can one expect when blindly trusting crooks – liars & fraudsters in government, Synergy Alberta, SPOG, "regulators" and corporations?]
"Epcor was attempting to collect payment for the three-phase electric power to that site and attempting to collect it from the landowner, because the company was no longer in existence," said Jeana Schuurman, rural engagement officer with the Farmers' Advocate Office.
Schuurman said the office got a number of these complaints over the past few months, and Epcor seemed to be relying on a clause in its terms and conditions that allowed it to charge the owner of a property if the tenant defaulted on its bills. However, that rule was intended to apply to residential situations, not to rural landowners and energy companies.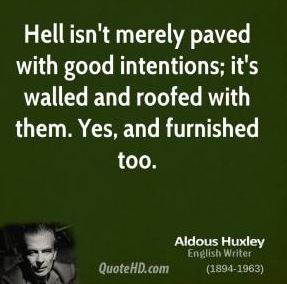 "The Alberta Utilities Commission is working to correct [Make them worse for landowners in the usual Alberta deregulate-way to benefit only corporations?] the way those [terms and conditions] are drafted so that in the future these issues don't come up again," said Schuurman.
"What we don't know is if this is happening somewhere else, and we are asking if anyone has spotted anything unusual on their bills to check with us, and we'll pursue that on their behalf."
Epcor's response
After being contacted by the Farmers' Advocate Office, Epcor is working to refund landowners who were overcharged. [!!! Why is the CBC belittling the seriousness of this corporate abuse? The landowners ought not to have been charged anything for industry's bad greed ruled behaviours]
"We know it's tough out there for farmers, it's tough for a lot of people, and we understand they should not be charged for somebody else's activity on their land," said Epcor spokesman Tim LeRiche. "And in cases where we've been notified this has happened, we've credited the farmer and we will continue to do that."
The worst of the oil price downturn is over, says ATB 

[That remains to be seen. Wait 'til the costs for the massive environmental "millions or billions" in unremediated oilpatch damages start adding up, with the greedy corrupt politicians and corporations and their enabling, grossly overpaid reglator staff running for the hills their over-filled pockets and fists tightly shut.]
Alberta's power market is deregulated, so Epcor acts as the retail agent for Fortis Alberta, which provides the electrical wires and meters. As a result, LeRiche said, when the bills were unpaid, it wasn't clear to Epcor that it was dealing with rural landowners and energy companies. [Sounds like "the dog ate my homework" excuse. Cowardly and pathetic!] He said the company is now checking all its customers' bills for the past two years to make sure no landowner was overcharged.
Tough times in rural Alberta
The past two years have been challenging for rural Albertans, particularly those with oil and gas sites on their land. [What happened to the endless frac promises of infinite riches? Oil and gas companies, politicians, SPOG and Synergy Alberta, regulators, and even churches, promised endless riches for all  if landowners would just shut up, and sign what ever the oil companies demanded, including Encana demanding that landowners sign unexplained blanket approvals!]
The number of abandoned and orphaned oil and gas wells in the province has shot up sharply. As well, some farmers are not being paid for the use of their land. Alberta law requires landowners to lease their land to energy companies for the purpose of exploration and production. [You get what you vote for]
If the rent isn't paid, the provincial government is supposed to step in and help the landowners recover the money. Ultimately, it has the responsibility to cover the payment. The number of applications to the Alberta Surface Rights Board for rental recovery is up more than 700 per cent in the past four years, with 1,966 applications so far in 2016. [Wasn't this the plan all along by the Alberta government, regulators and companies? To rip off as many blind faith Albertans as possible to enhance foreign corporate investor profits, while leaving behind the costs to clean up the toxic pollution and messes?] According to the Farmers' Advocate Office, other companies are unilaterally decreasing the amount of rent paid to landowners.
As CBC News reported last summer, many municipalities are suffering as energy companies do not pay their education property taxes. Earlier this year, Canadian Natural Resources appealed to municipalities where it operates, asking for a break in taxes as it tried to cut costs. The company said it was partially successful in its appeal. Notably, Canadian Natural Resources raised its dividend to shareholders earlier this month.
Lawyer Keith Wilson said that he also has represented clients who have had liens filed against their land for unpaid work done by oil company contractors.
"There's a need to rethink the system," said Wilson. "It wasn't designed for what's happening now [with the economic downturn]. And as it becomes more endemic, it underscores how Albertans have expected this one sector of our society to bear all these risks and hassles." [Or is it rather ordinary citizens bearing all the risks and hassles, and for zero profit? And when lawyers represent Albertans (but in reality protect oil and gas companies and the AER and enable the law violations and poisoning of innocent families, farms and livestock?) settling and gagging with the oil companies that poison them and many others harmed but ignored by the private "settlements," are those lawyers helping create the problem by shoving the mountains of damning evidence of oil patch wrongs under the carpet sealed in secret vaults? Emphasis added]
Oilfield companies facing 'wall of debt,' hiking risks of bankruptcy, report says by Reid Southwick, November 8, 2016, Calgary Herald
Drillers and other companies that service the Canadian oil and gas industry are facing a "wall of debt" that poses major risks to their books during a prolonged period of low commodity prices, a new report warns.
Companies with sagging debt loads have struggled to keep up with interest payments throughout the rout, leading to a steady pace of bankruptcies that has not abated, according to the report by AltaCorp Capital Inc.
"It's going to sneak up on people faster than you think," said analyst Aaron MacNeil, who wrote the report. "A lot of companies today don't have free cash flow sufficient to pay down or reduce debt."
[Corporate Greed Reality Check:
Will Albertans ever learn? Canada's biggest oil producers, including Cenovus (Encana), hoarding near-record pile of cash ]
Oilfield services companies provide critical roles in the oil and gas industry, from drilling and fracking to well site consulting and specialized trucking.
According to the Texas law firm Haynes and Boone LLP, 109 oilfield service companies across North America have declared bankruptcy with a total debt of more than $18 billion since the beginning of 2015.
Most of the cases are American, though there have been plenty of Canadian bankruptcies, including the failure of Sanjel Corp., the country's largest privately held fracking company. Sanjel's assets were sold to Calgary-based Step Energy Services Ltd. and Liberty Oilfield Services LLC, of Denver.
Calgary's Tervita Corp., saddled with an estimated $2 billion in debt, has also struggled to make payments while prices remain stubbornly low. It has sold off assets and drafted a restructuring plan while maintaining control of its operations, under a process that doesn't require a court-ordered monitor or receiver.
Crunching the Haynes and Boone data, MacNeil said the number of bankruptcies has increased at a steady pace, despite oil prices improving from a trough of roughly US$26 per barrel in February, to US$44.
Drillers and other service companies have complained oil and gas producers are enjoying the returns of improved commodity prices but have not, with some exceptions, increased what they are willing to pay service companies. [Anyone surprised by that?]
"You just have an environment of predatory pricing, which limits your margins, even though activity levels have recovered a little bit," MacNeil said.
The analyst said high debt loads can be toxic when prices are low. He estimates 38 oilfield services companies that are either based in Canada or operate primarily in the country are facing $8.6 billion in debt over the coming years.
MacNeil noted Precision Drilling Corp., one of Canada's largest drilling companies, recently refinanced its debt due in 2019, which he said was a prudent move so far in advance.
"We expect that more companies will follow Precision's lead and restructure current debt if the opportunity presents itself," MacNeil said in his report. "We applaud Precision's foresight in identifying and addressing corporate risks."
Canadian drillers face a subdued outlook in 2017, when 4,200 oil and gas wells are expected to be drilled, roughly a third of the activity recorded in 2014, according to the Petroleum Services Association of Canada.
Drilling in Alberta is expected to remain relatively unchanged over 2016 levels as a glut of oil and gas supply keeps prices low, the group that represents oilfield service and supply companies said last week.
South of the border, the outlook is rosier. According to Texas-based Baker Hughes Inc., an average of 544 rigs were actively exploring and drilling for oil and gas in the United States last month, a big improvement from the 408 that were operating in May.
In Canada, MacNeil said there is a risk bankruptcies will continue without any improvement to commodity prices, given concerns many companies are already struggling to pay down debts. [Or refuse to, because of their greed and arrogance? Emphasis added]
Tougher Alberta rules convince oil and gas producers to accelerate well cleanups by Dan Healing, The Canadian Press, October 30, 2016, The Calgary Herald
CALGARY – Farmer Tony Nichols says he has mixed feelings about news that oil and gas companies in Alberta are accelerating voluntary reclamation of old well sites and pipelines.
The handful of wells on his east central Alberta farm make navigation challenging for his farm equipment, but they've also been valuable contributors to farm income, paying between $2,000 and $3,000 each per year.
"Yeah, they're a nuisance," says the 75-year-old. "You have to go around them. But you get something for it."
Energy companies are obligated to eventually restore land and return subsurface Crown leases to the province, though many find it's a difficult decision to spend money to take an asset off the books.
That's now changing, industry observers say, in part because legacy wells are depleted and commodity prices are low. But it's also thanks to new rules imposed last spring by the Alberta Energy Regulator to prevent financially shaky companies from running up reclamation liabilities to unaffordable levels.
The AER rules, in short, say that if a proposed oil and gas transaction results in the estimated value of a company's assets falling to less than twice its future reclamation liabilities the province may require payment of a deposit to ensure cleanup. If the deposit isn't made, the province can refuse to transfer the Crown licence to the new owner, essentially scuttling the deal.
To determine if a company will be required to pay a deposit, the AER calculates its licensee liability rating or LLR — and the higher the rating, the better the chance of being free to buy and sell oil and gas properties.
Previously, companies were allowed to have an LLR as low as 1.0 before being restricted. Now companies must have an LLR of at least 2.0.
"Regulations have become a lot more stringent with respect to the LLR … and specifically the amount of unfunded liability the companies are carrying," said Dave Humphreys, vice-president of operations at Calgary-based intermediate producer Birchcliff Energy (TSX:BIR), which boasts a high LLR of about 12.0.
"Companies are going to have to get with the program or not be able to do deals."
Humphreys said it can take two to five years to obtain a provincial reclamation certificate after the company decides to abandon a well, depending on the cleanup work required. Birchcliff expects to receive six certificates this year and nine next year after receiving none in 2015 and six in 2014.
According to the AER, the average LLR among 775 licensed companies as of Oct. 1 was 4.36. It says 349 licensees — 45 per cent — had LLRs below 1.0, which will make it difficult for them to buy assets.
The LLR for Canadian Natural Resources (TSX:CNQ), Canada's largest natural gas producer, is listed as 3.13. The drive to increase that LLR rating is part of the reason it, too, is accelerating its reclamations, said spokeswoman Julie Woo.
"Our 2016 year-to-date number of reclamation certificates submitted to the regulator has increased 37 per cent compared to the total submitted in 2015," she said in an email, adding that translates into about 490 reclamation applications so far this year, versus 357 in all of 2015.
RBC Dominion Securities oil and gas analyst Shailender Randhawa said in a recent research note he believes producers are budgeting to spend more on reclamations.
RBC estimates there are more than 93,000 oil and gas wells in Western Canada that have been inactive for six months or more as producers turn off the taps rather than sell at current low prices.
About half of the 60,000 active conventional oil wells produce less than 10 barrels per day, accounting for 11 per cent of oil production, says the RBC report.
Nichols, meanwhile, said one well on his farmland has been producing cheques for 23 years despite never actually producing commercial volumes of oil or gas for its owner, Apache Canada.
"We're not pushing them. That one there, we farm right over it," he said. "Right now there's swathed barley on top of it."
Apache spokesman Paul Wyke said three of the company's five wells on the Nichols land have been scheduled for reclamation over the next two years, including the one drilled in 1993 that has failed testing and therefore never been produced.
According to the AER, only 24 per cent of the nearly 450,000 provincially regulated oil and gas wells in Alberta have been certified reclaimed, which means the well has been cleaned and capped, the land has been restored to original condition and the lease given back to the government. [Emphasis added]
***
Perhaps this is why companies won't "clean up" their billions in liabilities and dangerous pollution after sucking billions in profits out?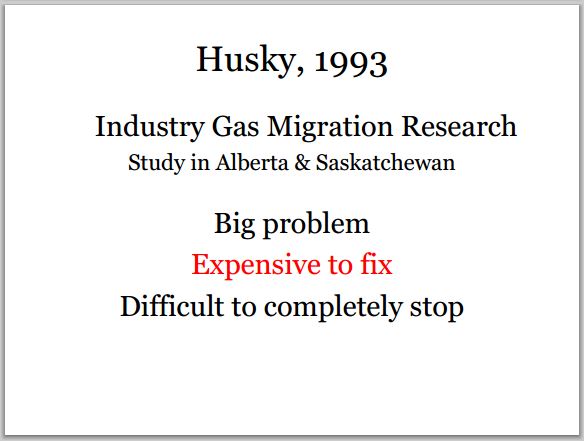 Slide from Ernst presentations
[Refer also to:
2012 08 28: The Natural Gas 'Ponzi Scheme'
2013 03 27: 'The Shale Gale Is a Retirement Party', So concludes an expert analyst of the natural gas boom. Brace for bust
2015 03 05: Art Berman: Shale Plays Have Years, Not Decades & The way of greed: Oil and gas companies face their creditors as Fracking Bubble Bursts (FUNNY!) ]