Dear Mr. Alfred Sorenson:
If LNG and carbon capture were economical and clean, no oil and gas company would need the public's money. Keep your grubby greedy mitts off our money and pensions, and stuff your zombie project into the cancel box if it's unable to lure investors.
Sincerely, Jessica Ernst
Dear Prime Minister Trudeau and Natural Resources Canada Minister Seamus O'Regan:
In my view, LNG is an oil patch con job that will never make economic or environmental sense. It's a high risk deadly polluting bomb that seems to be mostly about laundering taxpayer money into oil patch CEO pockets. Pieridae, Shell, AIMCo and AER have proven they are untrustworthy and suit their sour marriage well.
Our tax dollars are better used to assist the harmed Canadians, fish and wildlife by oil patch rape and pillage and deal with the industry's toxic contamination dumped across our country (including in drinking water aquifers). Do not throw away more of our money on more rape and pillage of Canadians and our environment. You must say NO to Pieridae and I request that you file a complaint with the appropriate law society regarding the company's lawyer's bullying tactics that in my view are out of bounds and anti-democratic.
Sincerely, Jessica Ernst
Foreshadowing for Pieridae?
2021 03 24: 52% of Quebecers reject planned LNG project: poll
"… There is no doubt that support for GNL Quebec continues to melt away and that the project does not meet the criteria of social licence," said the groups in a statement.
"The survey results also show that the more people know about the project, the more they are opposed to it. The Legault government must take note of this and categorically reject GNL Quebec."
It's not just the public that's speaking out against the project. The Quebec Liberal Party, the Parti Québécois and Québec Solidaire, representing 58 per cent of the electorate, have all voiced their opposition.
2021 03 24: Risks from LNG Quebec project far outweigh benefits: environmental review board
2021 03 24: LNG Quebec would not reduce global GHG emissions, according to BAPE
… The 500-page report by the BAPE (Bureau d'audiences publiques sur l'environnement) states there is already significant global competition for LNG production and exportation, so the Saguenay project may not even be needed by the time construction is finished and the plant is up and running. The report goes on to state the GNL Québec project has garnered the greatest response of any BAPE review, with more than 2,500 briefs presented at last year's hearings. … But the BAPE report is recommending the government take extra care to consider the risks to marine life, specifically the area's beluga whale population, before making any decision about the project.
2021 03 23: Frac'd Annova LNG project bites the dust
Reuters reports liquefied natural gas developer Annova LNG said it will immediately discontinue work on the Brownsville export terminal "due to changes in the global LNG market." … "No LNG export terminal has any place in our communities or our energy future, and today's news is a step in the right direction to putting an end to exporting fracked gas across the world"
President European Investment Bank, Dr. Werner Hoyer: "Gas is over."
Oilprice: Fossil fuels are driving global warming; "it's rather ironic that higher temperatures are now battering gas markets" into "Gasmaggedon."
2020 01: CNBC's Jim Cramer: "I'm done with fossil fuels … they're just done. We're starting to see divestment all over the world. … It's going to be a parade that says, 'Look, these are tobacco and we're not going to own them.' … Younger people don't want to own them. The dividends are great…but you can tell that the world's turned on them. It's actually happening really quickly."

Who is going to pay to clean up Chevron's greedy LNG mess at Kitimat? Taxpayers? Pensioners? AIMCo? Who is going to pay to clean up Shell-Pieridae's sour mess in Alberta? Who will pay to clean up Goldboro LNG if it gets built? I expect taxpayers will be hung with it, as usual. This incessant rape by corporations of the common good, enabled by politicians, must stop!

Chevron Corp. is halting funding for the Kitimat LNG joint venture in northern British Columbia after no buyers surfaced for the much-delayed project that revamped its designs in a bid to meet British Columbia's climate goals.
California-based Chevron, through Chevron Canada Ltd., is behind the liquefied natural gas project that it co-owns with Australia's Woodside Petroleum Ltd.
New designs for the export terminal, unveiled in mid-2019, promote electric-motor technology in an effort to comply with British Columbia's clampdown on carbon emissions.
The Chevron-Woodside site is at Bish Cove, located on Haisla Nation reserve land near Kitimat, B.C.
"….Chevron engaged in a process to divest while continuing to work with its joint venture partner, Woodside, on agreed project activities that brought value to the asset or were required for regulatory and operational compliance," Chevron said in a statement posted on its website. "At this time, it is Chevron's intent to cease Chevron-funded further feasibility work for the proposed Kitimat LNG project."
Various owners have poured hundreds of millions of dollars into site preparation at Bish Cove, but the project been effectively stalled for the past four years. Chevron and Woodside said in 2019 they would pursue "an all-electric plant powered by clean, renewable hydroelectricity from BC Hydro."
Kitimat LNG's proposed Pacific Trail Pipeline sought to transport natural gas from the Summit Lake area in the B.C. Interior to the terminal at Bish Cove.
Chevron couldn't find buyers for its 50-per-cent interest in the Bish Cove project nor its 50-per-cent stake in Pacific Trail.
Pacific Trail has the backing of all 16 elected First Nations councils along the 475-kilometre route while the Haisla Nation supports Kitimat LNG.
By contrast, Wet'suwet'en Nation hereditary chiefs and their supporters oppose Pacific Trail and a separate natural gas pipeline, Coastal GasLink.
In December, 2019, Chevron announced its plan to divest its interest in Kitimat LNG, but this week, the company said no further funding is in the offing for Bish Cove. "Chevron's other assets in Canada are not included in this decision," it said.
… While Kitimat LNG is stalled, work has been continuing on the Coastal GasLink project, where more than one-quarter of the pipeline's total construction is already complete. The $6.6-billion Coastal GasLink line will transport natural gas from northeastern B.C. to LNG Canada's $18-billion export terminal being built in Kitimat.
LNG Canada has vowed to operate at 0.15 carbon-dioxide equivalent tonnes for each tonne of LNG produced, a level below British Columbia's limit of 0.16 for emissions intensity. LNG Canada will use natural gas in the liquefaction process in which high-efficiency turbines supercool gas into liquid form, while using hydroelectricity

The real reason for $billions over budget, unstable Site C dam? Just more corporate welfare for foreign companies frac'ing NEBC to bits with methane-contaminated community water wells and zero help for the many health-harmed families and impacted farms?

for a supporting role, including auxiliary power.
Chevron and Woodside said in 2019 that their Bish Cove terminal might be able to run at less than half of the 0.16 limit for emissions intensity.
One of the comments:
Joe Calgarian:
LOL. Even when the natives support something it still can't get built. The irony is delicious. "but the project been effectively stalled for the past four years." …
End Foreshadowing for Pieridae.

Rankin, natural gas, and the democratic right to criticize
This weekend, delegates at the Conservative Party of Canada's national convention rejected a motion that called for the party to acknowledge that "climate change is real."
Some of the no votes were more nuanced than others, but the gist is that party members don't want to adopt policies — support for the Paris Accord and carbon taxes, better regulation of emissions from the oil and gas industry — that are necessary to confront the problem. If it means losing votes in the oil fields, they're against it, the future of the planet be damned.
It's a reprehensible attitude, but hopefully will have little real-world impact: the CPC is out of power, not even a bit player in the governing minority government, and by voting against the motion, delegates made it that much harder for the party to get back in power.
But it's an entirely different matter when Iain Rankin, the Liberal premier of Nova Scotia, who is presiding atop a majority government that is setting energy policy for the next several decades, embraces the natural gas industry. Unlike the now powerless CPC, Rankin's actions can contribute materially to humanity's failure to confront climate change.
Goldboro
A detailed map of the Goldboro site from Pieridae's Environmental Assessment.
Let's back up and examine Pieridae Energy's proposed Goldboro LNG plant, which is the subject of Joan Baxter's two–part investigative series, "The Goldboro Gamble."
Last week, I explained the project like this:
The Pieridae proposal envisions Shell's deadly sour? natural gas sourced in Alberta being delivered via new and enlarged pipelines to Nova Scotia, where it will be liquified at the Goldboro plant. That LNG would then be pumped into giant LNG carriers that will carry the LNG across the Atlantic to a new terminal to be built by the energy company Uniper in Wilhelmshaven, Germany; there, the gas will be regasified and distributed to German homes and businesses.
Turns out, that's not exactly right. Since I wrote that, I've learned two things.
First, I exchanged emails with Nantje Zimmermann, an energy policy analyst and member of the Bundestag representing the Green Party of Germany. Zimmermann explained to me that Uniper put the Wilhelmshaven plant on hold in November. "The company has decided to do this because of market players' reluctance to make binding bookings for import capacities at the planned terminal in the current circumstances," reads a company statement.
"It is true that the planning process for the LNG-Terminal in Wilhelmshaven has been put on hold," Zimmermann told me, "but I'm not aware that this has any implications on the LNG Terminal in Goldboro — unfortunately. The only connection that I could come up with is that Uniper is involved in both terminals and might have planned to import the Canadian LNG via the Wilhelmshaven Terminal. But Europe has quite a few import terminals for LNG that are not fully occupied and therefore would have plenty of import-capacities for more LNG from abroad. Therefore I don't think that Wilhelmshaven could be a show stopper for Goldboro."
The second part of my explanation for the project that I didn't fully comprehend was the source of the natural gas that would come into the Goldboro facility.
I've had some off the record and background conversations with people in the gas industry who explained to me that Pieridae is planning on buying three natural gas plants in Alberta — at Waterton, Jumping Pound, and Caroline — as well as several hundred sour gas wells and thousands of kilometers of sour gas pipeline from Shell Oil. The regulatory process is too complicated to get into here, but suffice it to say that there is considerable opposition from Albertans, because they've seen this before: the big oil and gas companies heave off older facilities to under-capitalized junior partners so the big companies can avoid the environmental clean-up costs; after the sale, the smaller companies eventually go bankrupt, leaving the public with the environmental bill. I'm told Shell's environmental liability for the assets it proposes to sell to Pieridae could be as much as $3 billion.
From what I understand, Uniper's contract with Pieridae requires that any natural gas purchased not come from fracked natural gas supplies. But something like 70% of the gas produced in Alberta comes from fracked sources, and all the gas enters the same pipelines commingled, which presents something of an accounting absurdity.
And last night, activists in the US alerted me to yet another possible gas source for the Goldboro plant — natural gas produced by fracking in Western Pennsylvania.
At issue is a now-operating natural gas compressing plant in Weymouth, Massachusetts. As WBUR, the NPR station in Boston, explained it in October:
The 7,700-horsepower Weymouth compressor is part of a larger gas pipeline plan called the Atlantic Bridge Project. The purpose of the project is to make it easier for "fracked" natural gas from the Marcellus Shale of Western Pennsylvania to get to northern New England and Canada, and it does this by connecting two existing pipeline systems: the Algonquin Gas Transmission, which flows from New Jersey into Massachusetts, and the Maritimes & Northeast Pipeline, which flows from Massachusetts to Nova Scotia, Canada.

…

As is often the case with big energy projects, there are a few companies involved including Algonquin Gas Transmission, Maritimes & Northeast Pipeline, Maritimes & Northeast Pipeline Limited Partnership and Spectra Energy.

But the important name to remember is Enbridge.

Enbridge Inc., a $170-billion energy company based in Canada, is the parent company to all the smaller companies involved in the Atlantic Bridge Project.

Enbridge makes most of its money by transporting Canadian crude oil into the U.S., but natural gas is also a big part of its business. According to the company's website, it has about 23,850 miles of gas pipelines in North America, and transports "about 19% of all natural gas consumed in the United States."
German and American environmentalists are convinced that the plan is to use the Atlantic Bridge Project to supply the Goldboro LNG plant. If they're correct, then it means that the Canadian government is being asked to give $925 million in support of the Goldboro project, in part to underwrite fracking operations in Pennsylvania.
Climate change
I asked Rankin Thursday if he was supportive of the Goldboro plant, and he said he is:
Bousquet: Pieridae Energy asking the federal government for over nine hundred million dollars in assistance. I realize the province doesn't have a say in that, but are you supportive of that Goldboro project? And if so, what do you say about how it will affect the province's greenhouse gas emission targets?

Rankin: I am supportive. I think that it's important that we look at economic development in the province. I'm encouraged to see an agreement with the Mi'kmaq. They benefit from employment and it does help the international community get off coal. I've said that was my priority as well in this province. So to help Germany and others with natural gas as we transition, there would be an uptake of carbon here in the province. But internationally, it makes sense environmentally and it makes sense economically for our province. That Sierra Club et al transition bridge-to-a-cleaner-world bullshit was debunked years ago. Big frac'er Chesapeake gave the NGO $26 million to spew propaganda and enable frac harms to many.

…

Bousquet: You just referred to natural gas as a transition fuel. Environmentalists would very much disagree with you. They say that's dated language to begin with, more corporate PR than than reflecting reality, especially given the lowering costs of renewables. Might you revisit that opinion?

Rankin: Well, I think that's debatable. Pfffft. Just another oily politician pimping for frac'ers, enabling them stealing billions from the public purse as investors flee the money losing polluting industry? Far more toxic chemicals are released by frac'ing than coal and more emissions. Then, there are the endless other impacts, not safely or responsibly mitigated by any regulation: contaminated drinking water; health harms; divided communities and families; noise and more noise; road and other public infrastructure damages; air pollution; land pollution and soil devastation (much of it permanent); food pollution; dust; lies, spin, lies and more spin and lies; endless fabulous commitments and promises that rarely if ever materialize; jobs that are grossly over stated and extremely unhealthy and dangerous; reserves that are also grossly over stated; billions in losses for investors; and the constant evil of companies buying out wells and facilities from major multinationals so as to eventually file bankruptcy after pocketing as much taxpayer money via gifts, freebies, and subsidies as possible, to the grand finale of judges giving the polluters what they want, dumping all the clean-up burdens, leaking methane, sour gas, and other hydrocarbons on taxpayers, etc. I'm focusing on renewables where possible. So wind, solar. You're going to see a lot more on our grid. But the reality is coal is the most carbon intensive fuel to be burned. It has more particulate matter, mercury and so on down the line. That's why Canada has been working to get off coal. That's why I want to get off coal 10 years earlier. So this facilitates the world getting off coal. And I think it's a very important environmental initiative to be part of and impacts our economy here and allows us to bring in more revenue to spend on fighting climate change, transitioning to electrifying our transportation system, bringing our buildings to net zero. So I acknowledge there's differences of opinion and natural gas is something that is cleaner than coal.
This is starting to feel like the "difference of opinion" between COVID deniers and the entire scientific community — hey, you elitist scientists have your opinion, but some guy on the internet has his opinion, and I believe the guy on the internet.
But environmentalists

and many ordinary citizens and scientists

make no bones about it: natural gas is not a transition to a greener future. There should be no "bridge" or "transition"; rather, we should

dramatically reduce our use of everything, and especially reduce our rampant waste of energy – this alone would wipe out LNG and frac'ing, but of course corporations want unlimited rape and pillage (and subsidies, freebies, and gifts, notably the court-given ability to walk from clean up via bankruptcy) and politicians no longer serve the public that pays their way, they serve themselves and enable polluters, so they do not urge citizens to stop wasting energy. Wasted energy makes CEOs big money.

switch entirely to renewables as quickly as possible, and given the dramatic decreases in the costs of renewables (especially in solar) and improvements in battery and other storage technologies, a true renewable power system is much closer than we could imagine even a few years ago.
One of the problems with building billions of dollars in new natural gas infrastructure is that you can't easily "transition" away from it — it becomes a stranded asset unless you fully use it, and that means fully using the wells that supply the system, which in turn means that you've committed yourself to burning so much fossil fuel that it becomes impossible to meet any of the reduced greenhouse gas targets.
The "natural gas is a transition fuel" nonsense is part of a gigantic energy industry PR campaign that dates back decades, as explained recently on the On The Media podcast and by reporter Rebecca Leber in a Mother Jones article, "How the Fossil Fuel Industry Convinced Americans to Love Gas Stoves." Writes Leber:
Yet the popularity of gas may soon begin to wane. Americans are waking up to the fact that natural gas is a powerful contributor to climate change and source of air pollution — and that's not even counting gas pipelines' tendency to leak and explode. Climate emissions from gas and oil-powered buildings make up a full 12 percent of US greenhouse gas emissions. Just a couple of decades ago, electricity wasn't the obviously cleaner choice. Now it's the main strategy for cleaning stubborn sources of pollution. If homes are fully electric, they're bound to rely increasingly on renewable energy like solar and wind, but every new home that connects to the gas grid today will still be using fossil fuels in 15 years, no matter how much we clean up the electricity sector.

Already at least 42 municipalities across the United States have strengthened building codes to discourage expanding gas hookups in new construction, and the pace is picking up. New York City may soon join that number, while Seattle has settled for a compromise that bans gas appliances in commercial and multifamily homes without technically banning the stove in new construction. In 2021, Washington state will propose bans for gas furnaces and heating after 2030. California regulators have faced pressure to pass the most aggressive standards in the nation to make all newly constructed buildings electric by 2023. Biden's campaign promised to implement new appliance and building-efficiency standards. Even with all the gas industry lobbying on the state level, more stringent federal rules could motivate builders to ditch the gas hookups for good in new construction.
In response, the industry has created a well-funded campaign to push back, going so far as to hire social media influencers to TikTok the virtues of cooking with gas.
The Halifax Examiner played a tiny roll in the PR battle, when last week we published a PowerPoint presentation Pieridae had made before Canadian federal officials last December, in meetings in which the company asked for the $925 million in financing. This is basic journalism — a company is asking for nearly a billion dollars in public money, so of course the public has a right to know about it. I had zero qualms about publishing the PowerPoint presentation.
But then Pieridae turned around and threatened legal action — not against the Examiner or me (I'd tell them to fuck off), but against environmentalists who the company thinks leaked the document to the Examiner.

Pieridae, in my view, like most oil and gas, frac and LNG companies are cowardly bullies and pick on the smallest and weakest to attack and try to frighten into silence – I've been experiencing it for nearly two decades now, from Encana/Ovintiv, Alberta gov't, the AER and past water regulator (Alberta Environment), the feds, their pawns of aggression the RCMP, the courts lying about me in rulings and making me pay costs when it's clear my case is in the public interest, neighbours (always men, always money lovers), and even my own lawyers, Cory Wanless and Murray Klippenstein, trying to scare me into letting them wind me down and kill my lawsuit.

As Joan Baxter reported Saturday, the company argued the environmentalists "used and disclosed the information to 'other persons (including news publications) for the express purpose of damaging Pieridae's commercial prospects of developing and constructing the Goldboro LNG Facility.'

Ya sure, blame concerned citizens. The real culprit is the economy and the fact that LNG is uneconomical and begs massive taxpayer financing. Investors and banks have learned their lessons painfully (eg Chesapeake investors made to eat $7 billion because of a bankruptcy judge giving the company more than it asked for in court-ordered protection).

… on August 6, 2020, a 'multi-party no-disclosure agreement' was "executed by Pieridae Energy Limited and the governments of Canada, Alberta and Nova Scotia. Such an agreement 'imposes on the recipients of any Confidential Information of Pieridae an obligation to treat that information as confidential and to not disclose the Confidential Information to any third party without the Pieridae's prior written consent.'"

Pieridae! Show us the gag order! Make it public, please. I want to read it.

Well, no.
I'm not saying who leaked the PowerPoint presentation, but I'll note that environmentalists were not in the room. They didn't sign any nondisclosure agreements, nor did the Halifax Examiner. We can do whatever we want with the PowerPoint presentation, like, say, publish it again: See the PowerPoint presentation here.

BRAVO! I love citizens and media with courage and integrity, and an understanding of serving the common good.

But this fits into a pattern of natural resource companies bullying their critics. If Pieridae does take legal action, it would be a perfect example of a SLAPP suit — Strategic Lawsuit Against Public Participation. As the Canadian Civil Liberties Association explains:
In essence, SLAPPs are lawsuits, or the threat of a lawsuit, directed against individuals or organizations, in order to silence and deter their public criticisms and advocacy for change. Although SLAPPs can take a variety of forms, many come in the form of a legal action for defamation or libel or for other civil claims including interference with contractual relations. SLAPPs generally lack merit and are not likely to succeed in court. The goal of the party bringing the lawsuit is generally not to win a case, but to silence their critics.

The lawsuit is started by a plaintiff which may be an individual or group (including a corporation) in order to intimidate those who criticize or question the plaintiff's behavior or stance with respect to certain public interest issues. The critics (defendants in the lawsuit) have to redirect their energies to defending the lawsuit. In light of the time, resources and stress that can accompany being sued, the defendants may be encouraged to simply stop expressing their views and critical assessments of the plaintiff(s). The lawsuit may also have the effect of dissuading others from speaking out and exercising their own rights to express themselves and participate in the democratic process. This is sometimes referred to as the "chilling effect".

…

CCLA believes that public participation is important and should not be discouraged by those with greater means and resources. Targets of SLAPPs (i.e. defendants) should have a quick and inexpensive way of having a Court assess whether the lawsuit in which they have been named is abusive or aimed at silencing legitimate and legal expression. That's why CCLA supported efforts to introduce and pass the Protection of Public Participation Act, 2015 in Ontario, and would support similar efforts across Canada. The Ontario legislation enacts new procedural rules so that defendants can have an early determination of the validity of the lawsuit against them. In some cases, where a lawsuit is found to impact public participation, the plaintiff may be penalized with a costs award. These kinds of measures aim to guard against abuse.
So far as I'm aware, Ontario is the only province with Anti-SLAPP legislation, although plenty of US states have such laws.
By sending the legal threat to its critics, Pieridae has demonstrated that it seeks to undermine democratic consideration of its Goldboro proposal, and doubly so since it is seeking public money for that proposal. It is a bad corporate citizen.
Rankin should rethink his support for the Pieridae project, and he should

must

introduce Anti-SLAPP legislation to prevent such abuses from happening in the future.
A few of the comments:
Peter Eglin says:
Great stuff, Tim, on the Goldboro crime. Keep on pushing out those powerpoint presentations.
Bradley Toms says:
A little bit of caution around language re: the environment/science. When telling the premier that "environmentalists say x" he can easily brush that off because environmentalists = activists who are often not subject experts. Environmentalists are usually attempting to echo what is out there in the academic literature but they are often not one in the same.
If you instead say to the premier, "current scientific consensus is x" that's a lot harder for him to brush off because it has more credibility and because he has touted himself as being pro science and pro-evidence based decision making.
Current scientific consensus is that we should not be building more fossil fuel infrastructure and that we should not be shooting for a bar as low as a "transition fuel" but rather going for the gold standard of decarbonizing the economy.
Peggy Cameron says:
Thanks for the excellent coverage-what a gang. Also for raising the matter of SLAPPs.
Aside- Does anyone else find this ironic? Advisory Committee on Accessibility in HRM (Monday, 4pm) —
!virtual meeting; dial-in or live broadcast not available!
Darrell Varga says:
The push to sell natural gas to Europe from North America is part of the American opposition to the Nordstream pipeline from Russia to Europe. The empire is using its power to boost the cash flow/gas flow of its corporate donors/bosses and also to continue its cold war with Russia. Nova Scotia is a bit player in this (as is the vassal state that is Canada), and the term sacrifice zone is very appropriate. So far, Rankin has made some good gestures to distinguish himself from bad dad MacNeil, but the real test will be Goldsboro, Owl's Head and Open Pit gold mining. These are all massive long-term disasters for the environment, for the air we breath and the water we drink.

Pieridae Energy, the Alberta-based company that is seeking $925 million from the Canadian government to jumpstart its proposed Liquefied Natural Gas (LNG) plant in Goldboro on Nova Scotia's Eastern Shore, is threatening legal action against five signatories to an open letter to Prime Minister Trudeau, Premier Iain Rankin, and a long list of elected federal and provincial government ministers and officials, which asked that they not provide any financing for the plant.
In a March 19 letter to the five signatories, Pieridae general counsel Thomas Ciz writes that they are "in receipt of Confidential Information, including a power-point presentation" and that this was "unauthorized."

Thomas Ciz and Alfred Sorenson Pay Interlude by ca.wallmine.com:
Last updated: 1 March 2021 at 11:00am EST
Thomas Ciz biography
Thomas Dmitro Ciz serves as General Counsel, Corporate Secretary of the Company. Mr. Ciz has been General Counsel to Pieridae Energy Limited since August 1, 2015. Mr. Ciz has extensive experience in corporate, commercial and taxation law which was gained through over 20 years of practice including nine years as an associate and partner of a national Canadian law firm. Thomas is a member of the Law Society of British Columbia as well as being a Chartered Professional Accountant (Chartered Accountant).
What is the salary of Thomas Ciz?
As the General Counsel and Corporate Secretary of Pieridae, the total compensation of Thomas Ciz at Pieridae is CAD$243,228. There are 4 executives at Pieridae getting paid more, with Alfred Sorensen having the highest compensation of $600,530.
Is that enormous compensation why Mr. Sorensen is demanding nearly a billion dollars from the people? To fill his pockets for 10 years? He needs to cut his pay to $100,000 annually, before getting a penny from investors or us.
End Thomas Ciz and Alfred Sorenson Pay Interlude.

See the PowerPoint presentation here.

Some sample slides from Pieridae's galling presentation are included below, with a few comments.
Noteworthy: Nowhere on any of the slides (not even the title) do I see "confidential" or "not to be shared with the Canadians we want money from." In my experience working for many big oil and gas companies, confidential documents are slathered with the word "confidential." I think Pieridae is the only entity at fault here. But, even with "confidential" written on the slides, because the company is demanding so much of our money, confidentiality is absurd and inappropriate.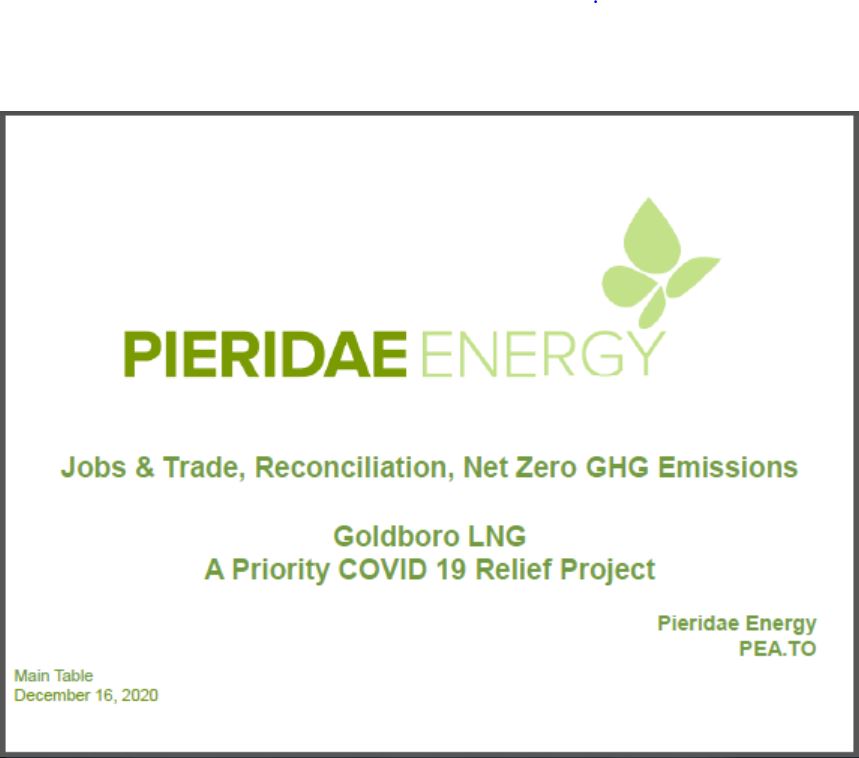 I think using "reconciliation" to try to pressure public money from the feds is a new low blow for the oil patch. I am beyond disgusted.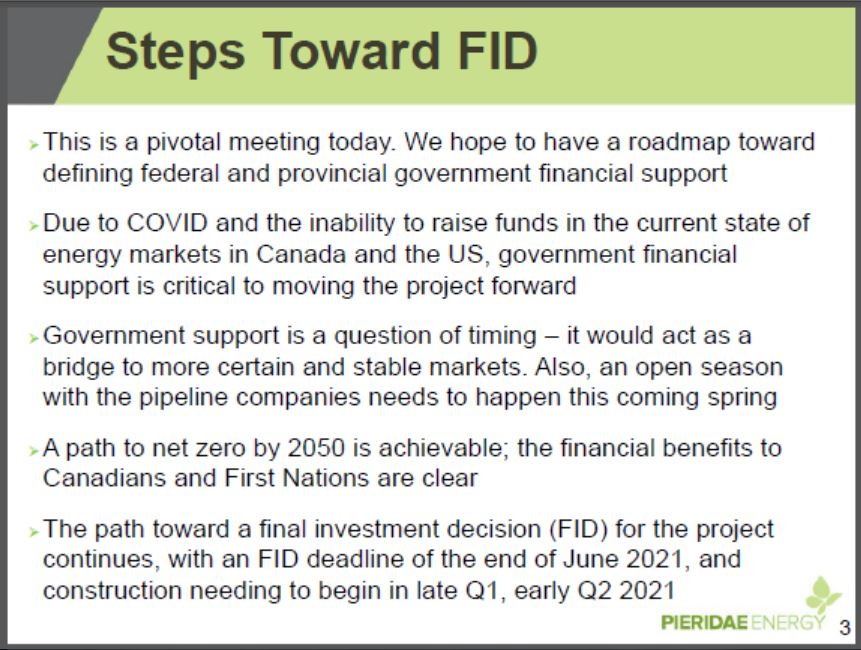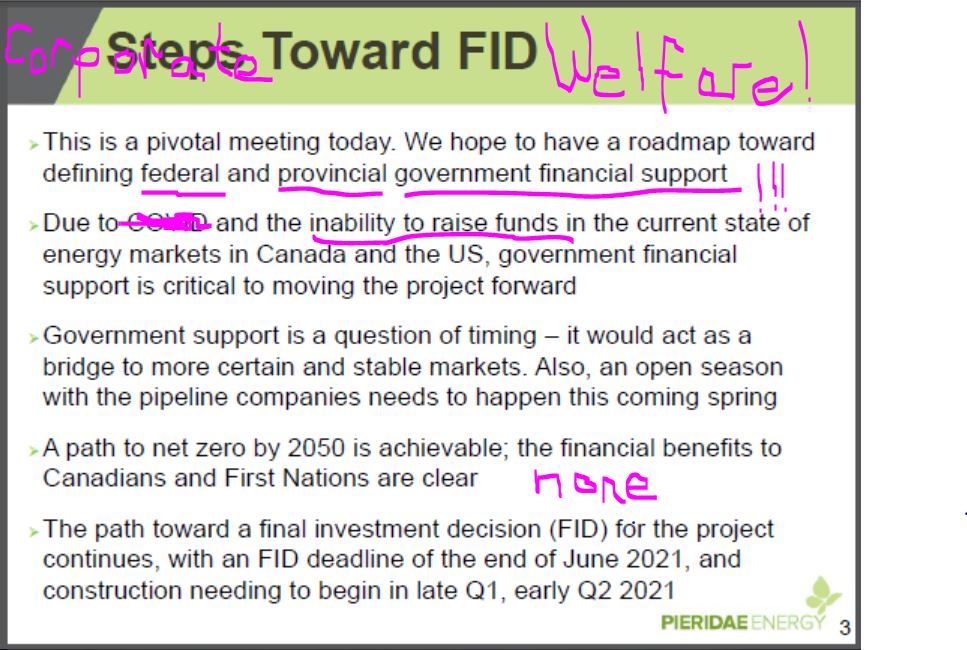 I am a tax paying Canadian. It's clear there will be no benefit to me or my loved ones from Pieridae's creepy Shell sour gas marriage in Alberta or what appears to be an LNG money laundering scheme in Nova Scotia. I do not want my taxes to be given in corporate freebies (aka welfare) to any oil and gas company, including Pieridae, until all abandoned wells and profit-raping messes and mines are fully, honestly, appropriately cleaned up and or repaired across Canada and paid for entirely by the profit-rapers, not taxpayers – including my community's drinking water aquifers that were illegally frac'd (raped) by Encana/Ovintiv.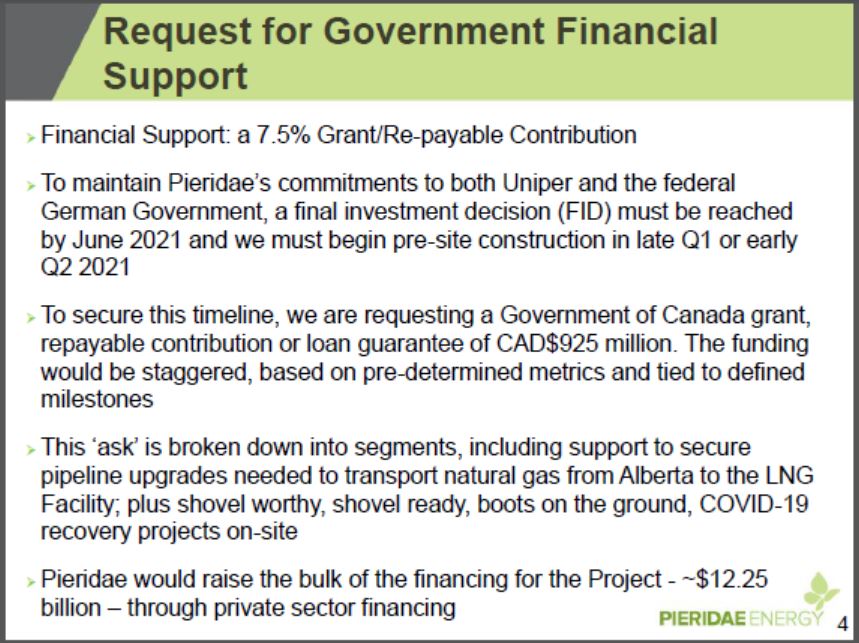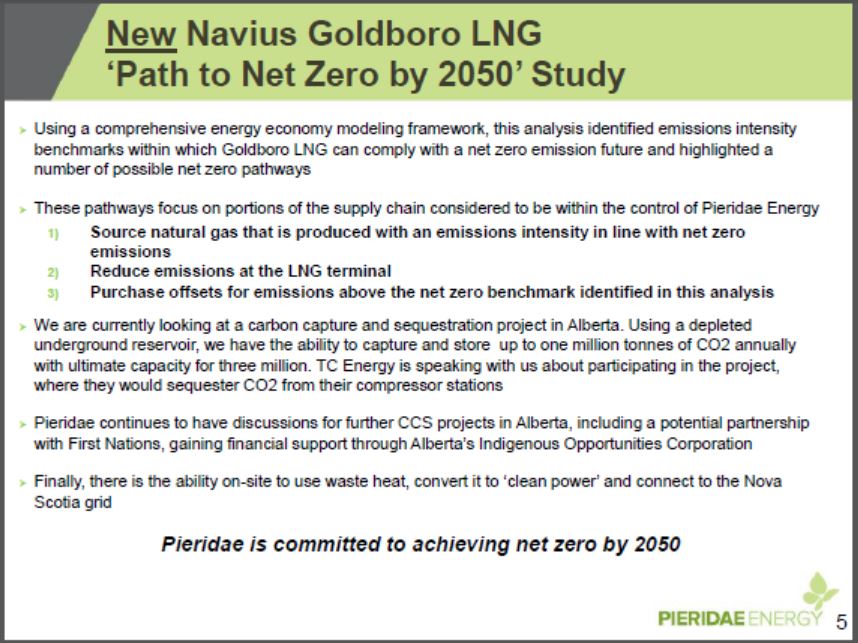 There's that evil oil and gas and frac patch con word again: "committed to"
In my view, oil industry commitments (and promises) are empty words to con impacted communities and the public into accepting unacceptable projects.
Carbon capture and sequestration is incredibly risky, polluting, expensive and just another oil patch scam to get yet more money from taxpayers, provincially and federally, under the guise of pollution control, but to enhance more oil recovery. There are academic and regulator studies showing that CO2 injected underground by the industry, leaks back up, contaminating aquifers on the way, and even killing wildlife at the surface.
Besides, 2030 is way too late for humanity and other species, never mind 2050.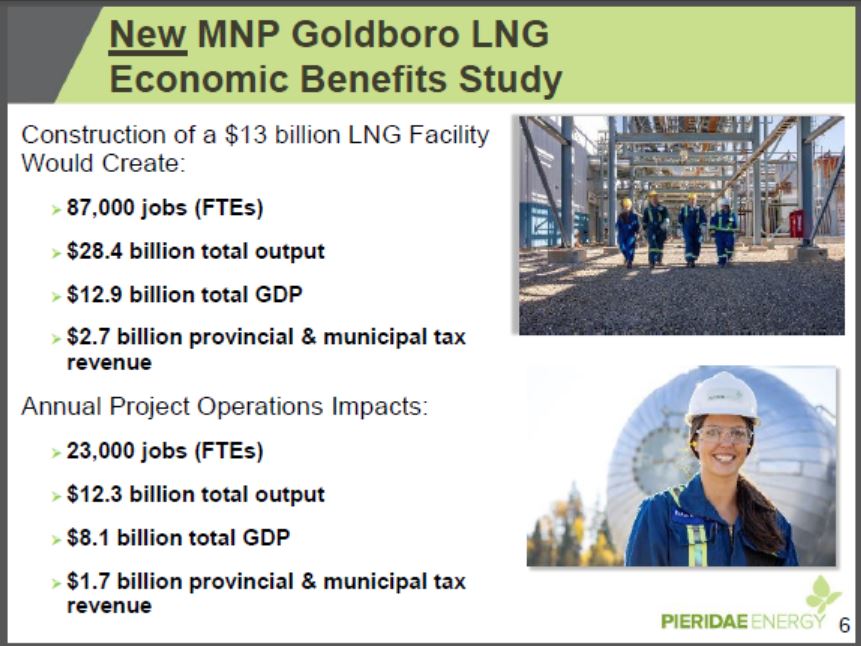 It will be fascinating to see Pieridae's jobs forecast spin down to near nothing, after the CEO gets his big cheque from us.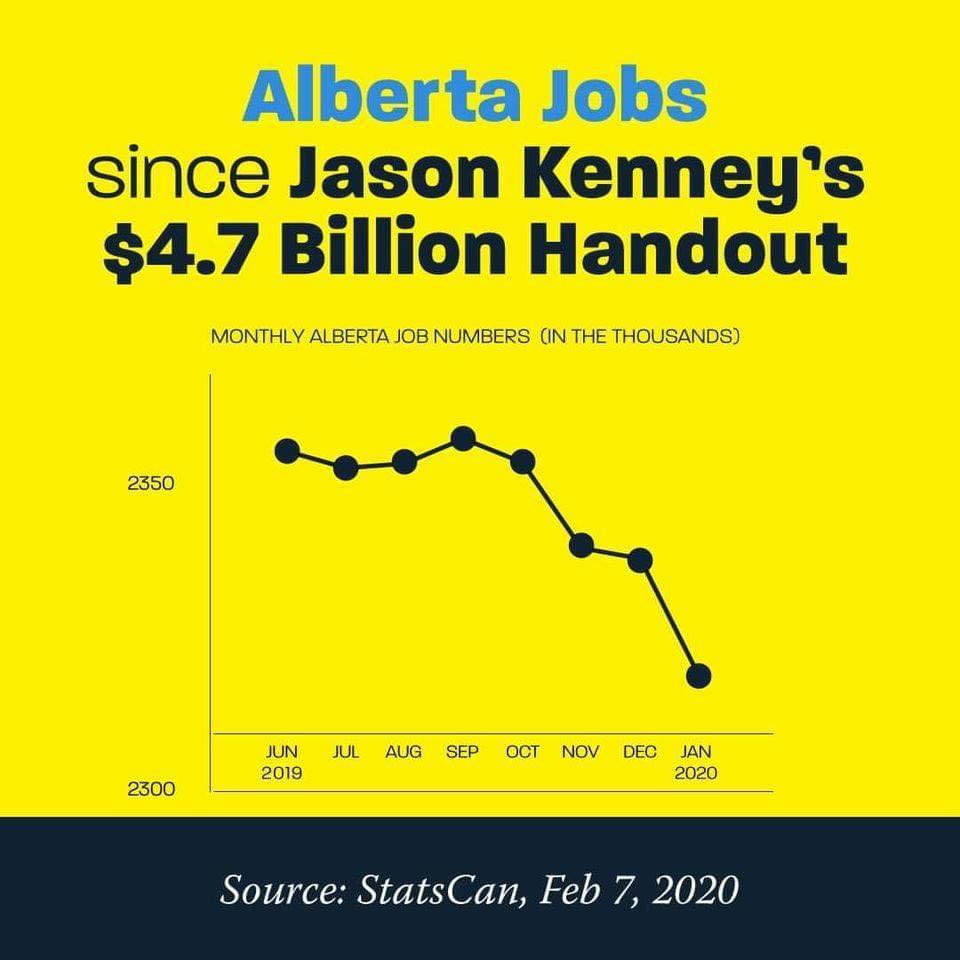 Oil companies promise heaps of jobs while laying off thousands because of greed and promising riches in taxes, which many companies refuse to pay to the tune of a quarter of a billion dollars in municipal taxes currently owed in Alberta alone. Encana promised in writing that all residents with water gone bad from frac'ing would get safe water, after the company illegally frac'd my community's drinking water aquifers in secret. Encana lied; 17 years later, I still do not have safe water.
Sorry Pieridae, experience is a great teacher – I trust nothing your people say; you do not deserve any of the public's money.
If your LNG project is viable, money will come from banks and investors, as the free market dictates and how it should be, not corporate welfare from Canadians.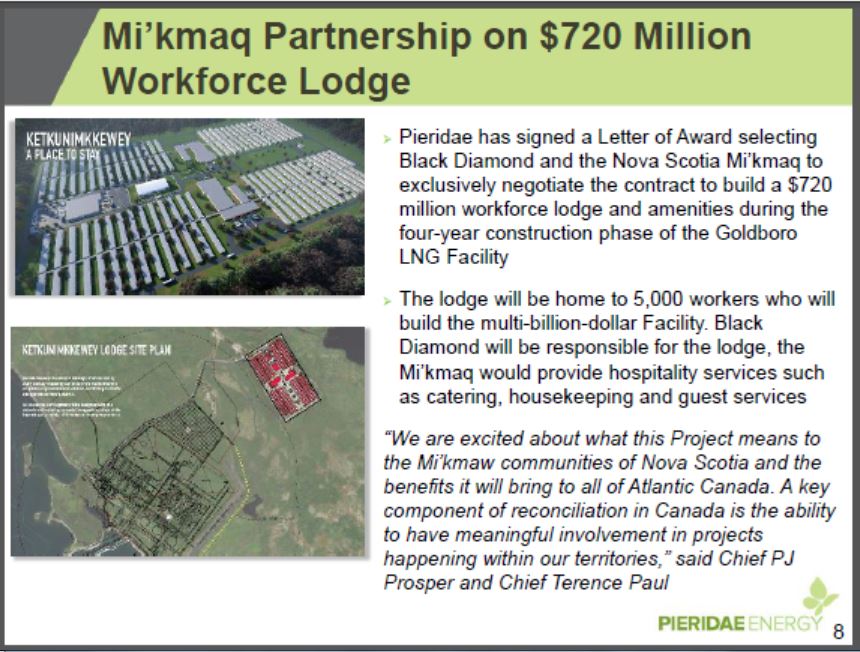 Further, Ciz says, they used and disclosed the information to "other persons (including news publications) for the express purpose of damaging Pieridae's commercial prospects of developing and constructing the Goldboro LNG Facility."

In my view with 30 years experience working in the oil and gas industry in Canada and many years living frac'd, the Halifax Examiner and citizens urging the feds to say no to Pieridae, provide a vital public service working to protect all Canadians and citizens globally from the horrors ahead and already happening because of climate change, much of it caused by the oil and gas industry. I do not see anyone trying to harm anyone or any corporation; I only see Pieridae harming us and the environment. It's the industry's own greed causing it to commit suicide and making wise investors and banks flee. If Pieridae was trustworthy, the company would have made public their presentation and demand for our money – before they made it, so as to allow us to voice our views – for or against – and without retaliation of legal action if against.

The Power Point in question is a leaked document that Pieridae presented to federal officials in December 2020, in which it requested $925 million from the Canadian government as a grant, or repayable contribution or loan guarantee to help it secure pipelines from Alberta to the site of the proposed plant in Nova Scotia.
Ciz writes that on August 6, 2020, a "multi-party no-disclosure agreement" was "executed by Pieridae Energy Limited and the governments of Canada, Alberta and Nova Scotia." Such an agreement "imposes on the recipients of any Confidential Information of Pieridae an obligation to treat that information as confidential and to not disclose the Confidential Information to any third party without the Pieridae's prior written consent."
The letter to the signatories continues:
You and the organizations which you represent and others have unlawfully used and disclosed that Confidential Information knowing, or which you reasonably ought to have known, was protected from any use and disclosure by unauthorized persons, and that you did so with the express purpose of causing economic damage to Pieridae.
Ciz writes:
I have been instructed by Pieridae to bring your unlawful actions to your attention and to demand that:

1. you cease and desist immediately from disclosing the confidential information of Pieridae to any person;

2. you cease and desist immediately from using the confidential information of Pieridae for any purpose; and

3. you immediately notify me as Pieridae's legal counsel of (a) the identity of each individual from whom you received the Confidential Information and circumstances under which you received that information, and (b) the identity of each individual to whom you have disclosed the Confidential Information and the circumstances under which you disclosed that information; I obtained the presentation – that does not say confidential anywhere – via the media and

4. you take action immediately to mitigate the damage that you have already caused, and which is continuing to be caused, to Pieridae including retracting the Communication and you immediately notify me as Pieridae's legal counsel of your mitigation efforts. What galling arrogance, bullying and disrespect! But, nothing surprises me from Canadian lawyers anymore. Perhaps a complaint needs to be filed to the appropriate law society, requesting that they reign Mr. Ciz in.
The Pieridae lawyer gives the signatories of the letter until 5 pm Calgary time on March 23, 2021 to respond to these "requests," saying:
Pieridae is taking legal advice and will be commencing proceedings to redress your unlawful actions to the fullest extent of Pieridae's rights under the law including seeking injunctive relief and seeking full restitution from each of you personally and from the organizations that your [sic] represent for all damage caused by your actions. Why isnt Mr. Ciz bullying and threatening Canada, Alberta and Nova Scotia? Oh ya, Pieridae wants a billion of our dollars! Not wise to attack the hand that gives. So, let's attack ordinary concerned citizens instead – they're sure to be intimidated by our legal threats, bullying and oil patch power and they don't have a billion dollars! Cowardly legal industry crap at its worst.
"Govern yourselves accordingly," Ciz writes at the end of the letter.
Reaction from Germany
One of those who received the letter from Pieridae's legal counsel is Andy Gheorghiu, a "campaigner and consultant for climate/environmental protection, energy policy & further development of democratic processes" in Germany.
In an email to the Halifax Examiner, Gheorghiu wrote that he only supported the letter to Canadian government officials "in solidarity" and that he can't comply with Pieridae's demands because he "cannot delete links, articles, Uploads, etc."
Gheorghiu emailed this statement in reaction to the letter:
I am a German citizen and — together with many groups on both sides of the Atlantic — I oppose the climate hostile stranded asset LNG Goldboro project.

As an activist and campaigner, I've co-signed (in solidarity and support) the open letter to Prime Minister Trudeau and Premier Iain Rankin. This was just another open letter we've sent to officials to highlight the negative impacts of this project and the high financial risk for state officials and ministries who've been approached by Pieridae to co-finance this 8-year-old-zombie-project because it can't lift off without public funding (see for example https://environnementvertplus.org/open-letter-to-finland-your-involvment-in-the-goldboro-lng-terminal-project/).

The Canadian company also wants to have a loan guarantee from the German government which they haven't received yet — despite somewhat different communications about this in the Canadian press (see for example https://www.bmwi.de/Redaktion/DE/Parlamentarische-Anfragen/2019/10-260-262.pdf?__blob=publicationFile&v=2).

Now, I (together with the other signatories) have received a threatening letter in relationship the proposed Nova Scotian funding for the LNG Goldboro plant (see attachment). This is outrageous and shows how desperate the company must be in its attempt to shut up climate activists and the truth about a climate hostile stranded asset project.

I will also inform the German Ministry for Economy who still has to decide over the loan guarantee. I don't want to see my taxpayers money being wasted for the LNG Goldboro project and I don't think any private company has the right to stop me from raising these issues. We live in the 21st not the 19th or 20th century and global warming is increasing by the hour because of projects such as Goldboro. These companies owe us compensation for the damage they've already done to the climate and we will most certainly not let them do more harm. The fossil fuel industry and their addicted supporters must wake up to this reality! Bravo Mr. Gheorghiu! Wisely and aptly said. I agree.
Funding request not really a big secret
The funding request for the proposed LNG plant in Goldboro comes as no surprise to those who have been following the story.
Last October, in part 1 of its two-part series on the LNG project, "The Goldboro Gamble," the Examiner reported that potential loan guarantees for the project from the government of Germany worth US$4.5 billion were just that — potential — and that the Letter of Intent for the loan guarantees as "not legally binding."
That October article also noted that:
In late May [2020], the Examiner asked [Pieridae CEO Alfred] Sorensen about an April conference call the company had, in which he mentioned that Pieridae was lobbying the federal and Nova Scotia government, hoping to get $1 billion in financial help, "a hand up, not a hand out," and whether he was optimistic this would be forthcoming.

"I have no further comment on this at the current time," he said.

However, Sorensen did say he was confident they can "reach the final investment decision provided market conditions improve the [sic] allow for the financing to occur," adding, "We continue to invest in the project and with the cooperation of our partners in the project we believe we can be on stream by Q1 2025."
More recently, the Halifax Examiner reported on the leaked documents and Pieridae's quest for federal funding here, and its lobbying blitz in Ottawa here.
The CBC's Frances Willick has also reported on the power point and the company's ask for federal financing here and here.
Two comments:
Bradley Toms says:
Well if there's one way to show you've got bad intentions it's threatening a SLAPP lawsuit against people who are just repeating things that you've said.
Paraphrased as 'Don't use my words against me'
D Smith says:
I haven't contributed directly to the Examiner's legal fund, though I know some have, except in the form of my subscription. I feel a bit guilty about that given the great work being done. That said, if an oil and gas company sued to get you to reveal sources or take down articles I'd contribute whatever I can spare. It's a cartoonishly evil enterprise.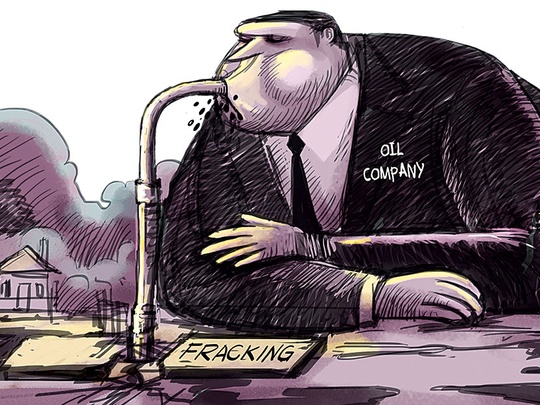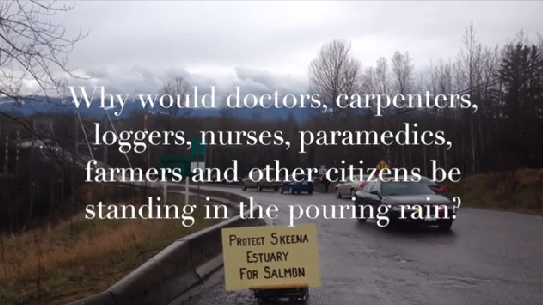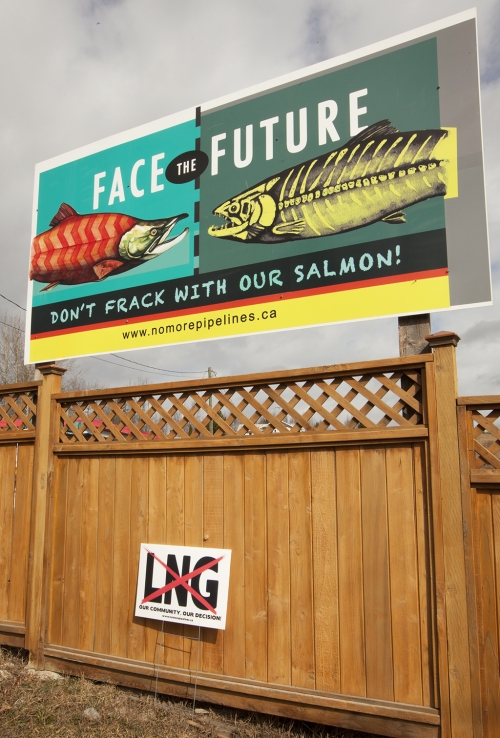 Premier Iain Rankin says he supports the proposed Goldboro LNG project, but the province will not give any money to the proponent to make it a reality.
Pieridae wants to build a $13-billion liquefied natural gas plant in Goldboro, N.S., between Sherbrooke and Canso. The company's plan would see natural gas piped from Alberta to Goldboro, then shipped to Europe.
Pieridae has said it is negotiating with the federal government for funding, but the company won't say how much it's asking for. A leaked document that appears to be a company presentation to the federal government pinpoints that figure at $925 million.
A company spokesperson told CBC News on Wednesday that proceeding with the project would be difficult without cash from Ottawa.
The leaked document notes the company hopes to "have a roadmap toward defining federal and provincial government financial support."
But Rankin said Thursday the province has not been approached for money for the Goldboro LNG plant.
"There hasn't been a financial ask," he told reporters. "We would not be submitting any financial resources to that project.… We would not be giving them any funds."
However, Rankin said he supports the project because it makes sense economically and environmentally.
"Natural gas is something that is cleaner than coal,"

Untrue! And frac'd natural gas in particular is incredibly polluting, invasive, and harmful – an "ignorant brute force" experiment.

he said. "So this facilitates the world getting off coal."
Rankin acknowledged "there would be an uptake of carbon" in the province if the plant is built, but the economic benefits of the project would allow Nova Scotia to spend more on fighting climate change by electrifying the transportation system and bringing buildings to net zero.
Asked whether Nova Scotia would be able to meet its greenhouse gas emission targets if the LNG plant goes ahead, Energy Minister Chuck Porter said, "We're doing lots of good things as we move forward that will show the progress that we have the potential to make in the years ahead."
'We will never be able to reach our targets'
The Ecology Action Centre's energy co-ordinator for renewables and electricity said building a new natural gas plant is not a step in the right direction.
"If we build fossil fuel-based infrastructure, we are potentially locking us into an ancient technology. It's backward-looking," said Gurprasad Gurumurthy. "It's not a part of our future energy mix."
Gurumurthy said while natural gas does burn cleaner than coal

The oil and gas industry and its lobby groups and NGOs propagandize that it does, but it does not burn cleaner.

, once production of the gas is taken into consideration, it is not much cleaner.
Building an LNG plant will add significantly to the greenhouse gas emissions Nova Scotia is trying to reduce, he said.
"We will never be able to reach our targets in time," said Gurumurthy.
Nova Scotia's goal is to reach 53 per cent of 2005 greenhouse gas emissions by 2030, and net zero emissions by 2050.
Dear Prime Minister Trudeau; Finance Minister Freeland; Minister of Crown-Indigenous Relations Bennett; Honourable Jean-Yves Duclos; Minister of Infrastructure and Communities McKenna; Minister of Natural Resources O'Regan; Environment and Climate Change Minister Wilkinson; Heritage Minister Guilbeault; Premier Rankin; and Nova Scotia Climate Change Minster Irving,
The groups writing this letter have been opposed to Pieridae Energy's plans for a Goldboro LNG export terminal for many years and have carefully tracked its progress. Now we are bringing facts and arguments to your attention concerning an appeal from Pieridae Energy to Canada for nearly a billion dollars to underwrite the initial financing of the proposed Goldboro LNG project in Nova Scotia.
Pieridae made its presentation to the Governments of Canada and Nova Scotia on December 16, 2020. [1] Links to the presentation and other numbered references can be found at the conclusion of the letter. Premier Rankin and Minister Irving were not present for the presentation, and were not then members of the Nova Scotia Executive Council. But provincial responsibility is in their hands now.
We would like to call your attention in particular to a number of questionable claims made by Pieridae Energy in the December 16 presentation.
Foremost is that Pieridae speaks of their $925 million request as "bridge" financing. It is anything but that. To consider Pieridae's desperate need for initial funding as a bridge, one would have to assume that there is funding in place at the other end of the bridge.
For eight long years Pieridae has built its pitch around the availability of US $4.5 billion in loan guarantees from the German government. Until recently the company has claimed they 'HAVE' the loan guarantees, only gradually backtracking on that claim when challenged over the last two years.
In June, (and affirmed on Oct 13, 2020) the German Ministry of Economics and Energy replied to our inquiries [2] on this matter by stating that Pieridae has only a legally non-binding 'Letter of Interest'. A final and binding decision on whether a UFK ("untied loan guarantee") will be issued can happen only after an application has been made and a full assessment of the project is completed.
The German government's letter noted that, "An application has not been filed so far and thus the respective due diligence of the respective project has not been initiated and no approval or binding decision on granting a UFK-guarantee has been made". "We have asked Pieridae Energy to avoid ambiguous wordings in this context."
Pieridae has not given either a direct or indirect indication that it has secured even tentative commitments for any other project investment funds.
Canada is actually being asked to furnish the initial investment in Goldboro, a function that is usually performed by private equity. With the risks of the Goldboro project being so great, any private investor would typically have the leverage to demand over 50% ownership of Pieridae Energy
If the Government of Canada is the de facto first investor, and the over $10 billion in necessary additional investment does not follow, Canada would lose all the funds it advanced, perhaps becoming the new owners of a massive denuded site in Goldboro, Nova Scotia. Truly a bridge to nowhere.
A review of Pieridae Financial Statements clearly demonstrates that the company is barely solvent. It loses money every financial quarter. Their cash position is steadily eroding, though obscured by their use of non-standard financial reporting metrics. In their most recent audited Annual Report of 2019 they reveal an effective interest rate of 22.73% on their term loan of $206 million.
That, plus a $50 million "fee," is due in full October 2023, and Pieridae has not repaid this debt or set aside funds to do so. It has remained technically compliant with the loan terms only because the lender has, so far, waived multiple covenants.
That extra high interest term loan allowed Pieridae to purchase Shell Canada's legacy sour gas Alberta Foothill production assets, which Shell had tried unsuccessfully to sell for two years. The application to transfer the operating licenses to Pieridae was rejected by the Alberta Energy Regulator (AER), officially on narrow technical grounds.
But these aging assets come with multi billion dollar environmental and decommissioning liabilities. A new application for license transfers was finally made, but faces an uphill battle, because of Pieridae's obvious and profound financial weakness. Cenovus and Canadian Natural Resources both strongly oppose transfer of the licenses from Shell Canada in Statements of Concern filed with the AER. [3] They fear that Pieridae's profound financial weakness made it inevitable that environmental and decommissioning costs for the Foothill Assets would be borne by their companies, as well as Alberta taxpayers.
Pieridae CEO Alfred Sorensen suggests to you that Pieridae's credibility with pipeline companies requires it to show at least some concrete financial support. This is another example of his glibly minimizing major obstacles.
Pieridae touts that it will use "existing pipelines" and speaks only of "some pipeline capacity expansions being required." They have never publicly acknowledged the need for substantial new construction and pipeline twinning. In Quebec and the state of Maine, just supplying enough gas for Train 1 of the Goldboro LNG plant will require the laying of hundreds of kilometres of new pipe. Furthermore, it is unclear how much of that twinning can be achieved within the existing pipeline right of ways. The Goldboro project will face years of obstacles while navigating newly tightened pipeline approval processes in Canada, the United States, and Quebec, as well as with multiple First Nations.
If Canada is a partner in this project it will also bear the substantial task (and political risk) of convincing Quebec to build a gas pipeline in southern Quebec that provides no economic benefit for Quebec.
Sorensen also spoke to you of Final Investment Decision deadlines for the first half of 2021. Those deadlines are a contractual component of their Sales Agreement with German energy company Uniper SE, which will purchase the entire production of Train 1. For several years those deadlines have simply been rolled forward annually on a pro forma basis. If Pieridae is facing truly hard, compelling and imminent deadlines, it is not disclosing what those are.
Pieridae Claims a Partnership with Nova Scotia Mi'kmaq
To support this assertion the presentation references an agreement, announced in press releases in October 2020 by Pieridae and its partner Black Diamond. These releases are the only publicly available information. The press releases describe the terms as an agreement that all thirteen Nova Scotia Mi'kmaq bands would share a 51% ownership of a prospective "workforce lodge" (man-camp), and have a role in building and running it.
Pieridae cited two Mi'kmaq Chiefs as having made this arrangement. We are not aware, and have not been able to find, any statement about an agreement from any Mi'kmaq First Nations organization or official. Pieridae and Black Diamond press releases in January 2021, merely state that: "Black Diamond was directed to conduct meaningful engagement with the Nova Scotia Mi'kmaq First Nations, which would result in Mi'kmaq companies being hired to provide catering and cleaning services at the camp."
We point out to the governments of Canada and Nova Scotia that this ambiguous language and lack of information provides little transparency.
While we do not claim to speak for the Mi'kmaq people, our contacts with them indicate that many Indigenous rights holders in communities did not hear about this agreement prior to the October Pieridae and Black Diamond press releases.
No Band Council and no Chief is known to have said publicly that they signed on to this man-camp project. Some Chiefs have said privately that their Band has not signed on. In the early days following the media reports, individual Band Councilors said they knew nothing about this arrangement. This would seem to indicate that no substantive consultation took place.
The National Inquiry Into Missing and Murdered Indigenous Women and Girls established the strong links between isolated man-camps and violence against women. Mi'kmaq women have indicated that they were astonished and horrified to learn that their communities would own a 5,000-bed man-camp.
Pieridae escaped scrutiny of this "partnership", because the announcement arrived simultaneously with an existential and violent crisis over Mi'kmaq treaty rights to earn a moderate livelihood through fishing. That issue rightfully monopolized media headlines and the focus of all Mi'kmaq. Now that the still mysterious man-camp deal is being forced into the daylight, we are hearing the voices of Mi'kmaq women.
Pieridae has clearly not discharged its duty to consult. There has not been any actual free and informed consent. Just as in the rest of its presentation, Pieridae uses a bullet point or a quote containing a kernel of truth to obscure all the negative details.
Canada also has its own duty to consult.
Pieridae needs to soon make a substantial down payment before preparations can begin for constructing the proposed man-camp. We remind ministers of the honour of the crown duty to consult about the man-camps; a duty triggered as soon as Canada considers financial support earmarked for Pieridae's required down payment.
"A path to net zero by 2050 is achievable;"
This statement from the presentation is remarkable in that the actual greenhouse gas emissions of the Goldboro LNG project would negate the successful reductions of Nova Scotia to date, and would be an obstacle to reaching net zero climate targets by 2050.
Premier Iian Rankin brought into legislation Nova Scotia's cap and trade emissions trading system when he was the Minister of the Environment. If constructed, the Goldboro LNG plant will be Nova Scotia's largest emitter of greenhouse gases. Rankin's successor as Minister of Environment last year made the understated observation that meeting the provinces reduction targets with the entry of such a large new emitter would be "challenging." It is extremely unlikely that the Goldboro LNG project could play any positive role in meeting the climate change commitments of Nova Scotia and Canada.
The Pieridae presentation offers a vague reference to carbon sequestration possibilities in Alberta. This red herring is belied by the track record of commercial sequestration failures in Alberta, even with well-capitalized operations.
We assume that you are aware that the jobs and benefits figures included in a presentation such as this are simply numbers plucked out of thin air. Given the questionable content and flimsy spin in the rest of Pieridae's presentation, we did not deem it necessary to address these figures in making our case.
There is widespread and growing opposition to Goldboro LNG in Canada, as evidenced by the groups from 4 provinces who have signed this correspondence and the others who endorse it. We also work closely with European organizations opposing this trans-Atlantic, climate change defying LNG project. The lynchpin for the Goldboro project lies in Europe in the aforementioned Sales Agreement with the German energy company Uniper SE.
Due to the combined effects of German public opposition and lack of firm commercial interest, Uniper recently shelved its proposed LNG import terminal at Wilhelmshaven, Germany. The European Union has strongly urged member states to refrain from building new gas infrastructure, and decreed there will be no EU funding for that purpose. The issue of gas as a transition fuel in Germany continues to be controversial and undecided.
Pieridae has asked the Government of Canada to make a substantial and very high-risk financial contribution based on a presentation that glossed over or ignored weaknesses and obstacles of all kinds in finance, regulatory processes, politics, Indigenous rights and consultations, and climate change.
What we hope we have shown you is that any one of these obstacles has the potential to sink this project, leaving Canada on the hook. Pieridae has neither the financial resources nor credible business plan to achieve its goal. It is a far cry from "shovel-ready." It is a house of cards.
For these reasons, and for the simple reason of climate policy, Canada should refuse to become involved with this project. Thank you for considering our arguments, and we would be glad to furnish any additional information you require. We would be pleased to open a dialogue with you on this issue.
We would like for you to tell us the current status of Canada's consideration of this loan to Pieridae, including any investigation and verification of Pieridae's claims; what, if any, deadlines are involved; and what, if any, conditions are being required by Canada.
For a dispassionate view and a look into additional details and the history of this issue, which will also illustrate the size and activities of Canadian and European opposition, we urge you to read the 2-part article, "The Goldboro Gamble", by award-winning Nova Scotia Journalist, Joan Baxter, referenced below. [4]
Sincerely,
Ken Summers, NOFRAC, Nova Scotia
Micheal Sawyer, Executive Director, Citizens Oil and Gas Council, Alberta
Pascal Bergeron, Spokesperson, Environnement Vert Plus, Québec
Jim Emberger, Spokesperson New-Brunswick Anti-Shale Gas Alliance, New Brunswick
Andy Gheorghiu, Consulting, Campaigner & Consultant for climate/environmental protection, Germany
————————————
References :
[1] Goldboro LNG : A priority COVID 19 Relief Project
December 16, 2020, By Pieridae Energy
https://environnementvertplus.org/Pieridae-925M
[2] Letter to German Government with List of Supporting Organizations and Briefing Paper https://drive.google.com/file/d/12UAYENzvBF-Nc4f5GcEUQb6xqDmmWyWx/view
[3] Shell game (Cenovus and Canadian Natural Resources both strongly oppose transfer ) The Tyee, May 20, 2020 By Andrew Nikiforuk
https://thetyee.ca/News/2020/05/20/Shell-Game-Sour-Gas-Wells/
[4] The Goldboro Gamble
Halifax Examiner, October 19, 2020 By Joan Baxter
Halifax Examiner, October 20, 2020, by Joan Baxter
cc:.
Parliamentary Secretary to the Minister of Finance Sean Fraser
Parliamentary Secretary to the Minister of Environment and Climate Change Peter Schiefke Parliamentary Secretary to the Minister of Natural Resources Paul Lefebvre
Parliamentary Secretary for Infrastructure & Communities Andy Fillmore
Parliamentary Secretary for Crown Indigenous Relations Gary Anandasangaree
New Democratic Party Leader and Critic for Crown – Indigenous Relations Jagmeet Singh Leader of Bloc Quebecois Yves-François Blanchet
Green Party Critic for Climate Change Richard Zurawski
Nova Scotia Member of the Legislative Assembly Lisa Roberts
The company behind a proposed $13-billion liquefied natural gas plant on Nova Scotia's Eastern Shore has seemingly requested nearly $1 billion from the federal government to support the project.
Details of Pieridae Energy's apparent plan to request the money are contained in a PowerPoint presentation dated Dec. 16, 2020, that was leaked to an environmental group last month.
"This is a pivotal meeting today," reads one of the slides from the presentation materials. "We hope to have a roadmap toward defining federal and provincial government financial support.
"Due to COVID and the inability to raise funds in the current state of energy markets in Canada and the U.S., government financial support is critical to moving the project forward."
A couple of slides later comes the pitch: $925 million as a grant, repayable contribution or loan guarantee, broken down into staggered payments tied to pre-determined milestones.
Pieridae spokesperson James Millar said he can't confirm the validity of the document, but in an interview, he touched on many points raised in the PowerPoint slides.
Millar confirmed the company is currently in talks with the federal government about financial support.
"But since we're in negotiations, I can't speak to details on any dollar amount," he said.
He also wouldn't say who in Ottawa the company is negotiating with, or what exactly the money would be used for.
If it comes to fruition, Pieridae's project would see the company bring natural gas from Alberta to Nova Scotia through pipelines. The gas would then be liquefied and stored at the Goldboro LNG plant before being shipped overseas to Germany and then to other Western European countries.
Millar said the company has approached the federal government for funding because the capital markets for the energy industry have dried up, in part due to the regulatory hurdles for pipelines.
But time is of the essence.
Pieridae needs to get confirmation of assistance from Ottawa "in the next couple of months," because the company must make a final decision whether to proceed with the project by the end of June.
"We need to deliver first gas to Germany by the end of 2025, beginning of 2026," Millar said. "So if you back things up in order to deliver that first gas, we have to start construction on the ground in Nova Scotia this summer because it's a 54-month process to build the facility."
Asked whether the project could proceed without federal investment, Millar said, "We'll have to cross that bridge when it comes. It would be difficult based on the current climate."
Questions about financial footings
Ken Summers, a Hants County resident who works with the anti-fracking group NOFRAC, received the PowerPoint presentation from an anonymous source.
"It's preposterous," he said of $925 million figure. "That's the very riskiest investment anybody will ever make in this project.… And when they get this money, that won't assure by any means that the project goes forward. It just means they can keep trying to get the other $10 billion."
Summers and NOFRAC, along with environmental groups in Quebec, New Brunswick, Alberta and Germany, sent a letter last week to the prime minister and 18 other federal and provincial politicians to share their concerns about the project.
The letter questions the stability of Goldboro LNG's other financial backers.
The German government has reportedly given a loan guarantee to Pieridae for $4.5 billion, but correspondence from the German department of Economic Affairs and Energy to the letter signatories shows the government has only issued a legally non-binding letter of interest, but it has not approved a loan and support is not guaranteed.
Germany's Federal Ministry for Economic Affairs and Energy did not respond to CBC's request for information this week.
Millar said the company has "confirmation of eligibility in principle of an untied loan guarantee of up to US$4.5 billion from the German government."
Another source of future financial support for the project is the German company Uniper, which has a 20-year contract to receive five million tons of liquefied natural gas from Goldboro LNG.
"The contract is the start of a long-term project with several important milestones still to be achieved by Goldboro LNG during the development phase," a Uniper spokesperson told the CBC in an email.
The letter from Summers and the other groups to the politicians says if other investors do not materialize, "Canada would lose all the funds it advanced, perhaps becoming the new owners of a massive denuded site in Goldboro, Nova Scotia. Truly a bridge to nowhere."
Pipeline problems, climate concerns
Summers said he has logistical concerns about how Pieridae plans to get the gas from Alberta to Nova Scotia. While the company says it will use existing pipelines, Summers says some of those pipelines are already running at near capacity, and the quantity of gas Pieridae would need to bring to Nova Scotia exceeds those pipelines' capacities by six times.
The company would need to twin existing pipelines, Summers said, facing years of potential obstacles amid tightened pipeline approval processes in both Canada and the U.S.
Millar said while some parts of the pipelines Pieridae would use are "pinch points" that would require parallel pipes, much of the pipeline is running under capacity right now.
In addition to financial and logistical concerns, the letter signatories also question whether the company has adequately consulted with Mi'kmaq bands in Nova Scotia, and how the project will affect both Canada's and Nova Scotia's climate change goals.
Summers says the project would "destroy what chance we have with climate change goals."
The PowerPoint says the project could meet net zero targets through sourcing low-emissions gas, reducing emissions at the Goldboro plant, purchasing offsets and carbon sequestration projects in Alberta.
Lobbying efforts
According to the federal lobbyist registry, Pieridae has lobbied staff in several departments, as well as several MPs.
As recently as Feb. 4, a consultant representing Pieridae lobbied policy advisers with the federal department of Innovation, Science and Economic Development about "securing federal support" for the Goldboro LNG project, and about "securing federal recognition of the reconciliation, climate change, and job benefits" of the project.
In January, the same issues were the topic of lobbying with Finance Canada.
Though the PowerPoint presentation is dated Dec. 16, there are no records in the lobbyist registry of lobbying taking place on that day.
However, there is a record of Pieridae consultant Luka Stevanovic lobbying MP Mike Kelloway on Dec. 17 about regional development, Aboriginal affairs, economic development, industry, energy, infrastructure, employment and training, internal trade, international relations, climate, environment, taxation and finance and transportation — all issues that come up in the PowerPoint presentation.
The CBC contacted five MPs who have been lobbied by consultants representing Pieridae.
Sean Fraser, the MP for Central Nova, was not available to speak with a reporter; Sean Casey, the MP for Charlottetown, said through a constituency office staff member that he didn't know enough about the project to comment; and Cape Breton-Canso MP Mike Kelloway, Halifax West MP Geoff Regan and South Shore-St. Margarets MP Bernadette Jordan did not respond to a request for an interview.
Pieridae Energy, the company behind the proposed Liquified Natural Gas (LNG) plant to be located in Goldboro, Nova Scotia, has asked the Canadian federal government for $925 million in grants, loans, or loan guarantees to jumpstart the project.
The ask was made through a PowerPoint presentation last December, and was apparently part of a lobbying blitz Pieridae was undertaking on Parliament Hill. As the Halifax Examiner reported Friday, Pieridae hired Luka Stevanovic, a Senior Consultant at Maple Leaf Strategies, to lobby on its behalf.
Lobbyist registry records show that on December 10, Stevanovic spoke with Deliah Bernard, the regional assistant, Atlantic and Quebec for Indigenous Services Canada, and with Jordano Nudo, a policy advisor with Indigenous Services Canada, discussing "Aboriginal Affairs, Economic Development, Industry, Energy, Employment and Training."
On December 17, Stevanovic spoke with Mike Kelloway, the MP for Cape Breton–Canso, the riding in which the proposed LNG plant is located.
Before December, Stevanovic had repeatedly spoken with Sean Fraser, the MP for Central Nova. The Examiner understands that Fraser is spear-heading the Pieridae effort.
Neither Kelloway nor Fraser has responded to requests for comment. Likewise, Pieridae spokesperson James Millar has not responded to a request for comment. If any of them do respond, we will update this article.
The Pieridae proposal envisions natural gas sourced in Alberta being delivered via new and enlarged pipelines to Nova Scotia, where it will be liquified at the Goldboro plant. That LNG would then be pumped into giant LNG carriers that will carry the LNG across the Atlantic to a new terminal to be built by the energy company Uniper in Wilhelmshaven, Germany; there, the gas will be regasified and distributed to German homes and businesses.
The PowerPoint presentation says that Pieridae wants the Canadian federal government to provide a "grant/repayable contribution" of $925 million — which is 7.5% of the entire project cost of $12.25 billion. The financing is needed, says the PowerPoint presentation, because "to maintain Pieridae's commitments to both Uniper and the federal German Government, a final investment decision (FID) must be reached by June 2021 and we must begin pre-site construction in late Q1 or early Q2 2021."
As Joan Baxter reported in October:
In 2013, Pieridae's Goldboro LNG Limited signed a 20-year agreement with Germany's Uniper Global Commodities that would purchase five million tonnes a year of LNG from the Goldboro plant (In 2020, a Finnish state utility company bought Uniper).

Since Pieridae signed the agreement with Uniper, it has been amended five times because it could not meet the agreed delivery date for LNG. The most recent amendment, in April 2020, puts the first delivery date at between August 31, 2025 and February 28, 2026.
In addition to the repeated delays in the Pieridae project, citing poor market conditions, Uniper has put its Wilhelmshaven regasification project on hold.
Pieridae also says it has secured $4.5 billion in German government financing for the project, but when Baxter contacted the German Ministry for Economic Affairs and Energy to ask about the loan, she was told that:
We can hereby confirm that we do know the respective Goldboro LNG project in Nova Scotia and that a Letter of Interest (LOI) has been issued by the German Government. This LOI is legally not binding and shall only express that the project can be considered as eligible under the assumption that certain criteria are met. An LOI can be issued to support a German offtaker [buyer of the LNG] in the bidding process.

Kindly note that a final and binding decision on whether an UFK can eventually be granted or not requires the prior assessment of the economic, technical and legal aspects in detail and the compliance with internationally accepted environmental, social and human rights standards. This assessment will be performed as part of the regular application procedure once a formal application has been filed.

An application has not been filed so far and thus the respective due diligence of the respective project has not been initiated and no approval or binding decision on granting a UFK-guarantee has been made.

We have asked Pieridae Energy to avoid ambiguous wordings in this context. [emphasis added]
So it appears that both the Uniper and German government financing legs for the Pieridae project are on shaky ground, and that Pieridae wants to firm up that ground with financing from the Canadian government.
In the PowerPoint presentation, Pieridae says it will "raise the bulk of the financing for the Project — ~$12.25 billion — through private sector financing." But private financing is only just barely "the bulk" of the financing, as between them, the German and Canadian governments will be financing over 44% of project costs.
Suspect climate change claim
Also included in the PowerPoint presentation is a claim that the Goldboro plant "can comply with a net zero emission future."
How does mining and burning fossil fuels for 20 years not increase greenhouse gas emissions?
The PowerPoint presentation cites three "pathways" to net zero carbon emissions:
1) Source natural gas that is produced with an emissions intensity in line with net zero emissions

2) Reduce emissions at the LNG terminal

3) Purchase offsets for emissions above the net zero benchmark identified in this analysis
All three claims are suspect.
"Natural gas extraction releases fugitive or run-away methane emissions, apart from releasing carbon emissions during combustion," Gurprasad Gurumurthy, the Ecology Action Centre's Energy Coordinator tells the Examiner. "Carbon Capture and storage technologies do not function with 100% efficiency, and only have maximum effectiveness of 70-80% in large point sources such as thermal plants. Besides, there are other emissions from project operations that need to be factored in. We want to move away from building such infrastructure that perpetuates fossil fuel use in the long run. Overall, fossil fuel-based projects such as the Pieridae project are incoherent with a net zero future"
You can see Pieridae's PowerPoint presentation here.
Two comments:
Bradley Toms says:
925 million for the privilege of them significantly increasing greenhouse gas emissions for the province so that they can then offset and reduce it…that's the kind of bonehead accounting I've come to expect from this bunch.
925 million in loans could support a lot of sustainable initiatives rather than this backwards technology. I would hope the feds can see such an obvious swindle coming from a mile away…but history is not on my side.
David Lewis says:
What's totally nuts about this is that the government is even LISTENING to this crap! It's so far fetched as to seem fantastical…

Refer also to:
Frac fluids and those injected for enhanced oil recovery (including under guise of carbon capture) and gas storage don't stay put either.
Bachu, S., Buschkuehle, B.E., Haug, K. and Michael, K. (2008): Subsurface characterization of the Edmonton-area acid-gas injection operations; Energy Resources Conservation Board, ERCB/AGS Special Report 92, 134 p.
… In March 2004 the operator at Acheson reported that CO2 was detected in 2003 in well 10-22-53-26W4 in the St. Albert-Big Lake Ostracod A pool, located at 3,625 m north from the acid-gas injection well. No H2S has been detected in the produced gas. Since at Acheson the average composition of the acid gas is 87% CO2 and 11% H2S (Table 14), with H2S being denser and more viscous than CO2, it is expected that CO2 would show first at a producing well. In addition, diagenetic processes within the reservoir could have reduced the H2S concentration in the injected acid gas as a result of pyrite precipitation, if an iron source was available. The issue was brought to EUB's attention and was heading to a hearing, but the operator at Acheson has indicated to the regulatory agency that it has initiated an Appropriate Dispute Resolution process

Anyone participating in AER's ADR must sign a gag order as the first part of the regulator's super secret evil "resolution" process

with the operator of the offset producing well to address the issue of CO2 breakthrough, and that this situation "will be addressed pursuant to the terms of the Mediated Settlement Agreement".

and by AER gagging it, I expect, as is standard "regulated" practice in Canada, the leakage continues.

…
Bravo! Alberta Teachers' Association file lawsuit against UCP to try protect teachers' $19.3 Billion retirement fund (about 84,000 members) from sleazy, mega money losing, frac fingers AIMCo
Look out Albertans whose pensions Kenney gave to AIMCo. Crazy Days in Alberta: The Poison Wells File. The province let oil and gas firms create a $100-billion disaster. New example? Shell Pieridae Briko Ikkuma Alberta Foothills Sour Gas Marriage financed by AIMCo and about $10Billion in liabilities.
"Polluter" Shell & "Penny Stock" Pieridae to retry their sour gas marriage, coached by AER, funded by "Loser" AIMCo. Stewart Shields: "Alberta Conservative gov'ts becoming recognized as the worst petroleum managers in the free world—as this story by the famous Andrew Nikiforuk describes so pointedly!!"
Courageous feisty and wise Ireland! "Cork LNG is scrapped!" "Fracking and all of its effects has no place…. Not here, not anywhere."
"Sheer Delight:" After 13 year legal battle, Irish High Court quashes all Shannon LNG permissions; Opens window for ban on imported frac'd gas
European Court of Justice rules against regulator for approving USA New Fortress Energy's frac'd gas import terminal in Ireland; All permits and permissions for Shannon LNG to be quashed. Bravo to Friends of Irish Environment and its unstoppable legal team of James Devlin, John Kenny and Fred Logue (unlike Ernst's quitting lying lawyers, Murray Klippenstein and Cory Wanless, and Canada's lying top court pissing on the Charter to enable law-violating AER).
Down down down goes LNG!~ It "looks to be a damp squib." In Permian Basin of West Texas and New Mexico, gas "prices have slid below zero…that means producers are paying others to take their supply."
Nikiforuk writes his most powerful: Wet'suwet'en Raids: Canada Chooses Colonialism Again, A future of reconciliation is now squandered along with our billions propping up LNG.
UK ruling delivers blow to oil & gas companies claiming natural gas is environmentally friendly. Advertising Standards Authority rules natural gas is 'not a low-carbon fuel.' Equinor should not have implied it was environmentally friendly
Is LNG safe? Three injured, hospitalized, one with critical burns in massive LNG explosion in Westmoreland Co, Pa.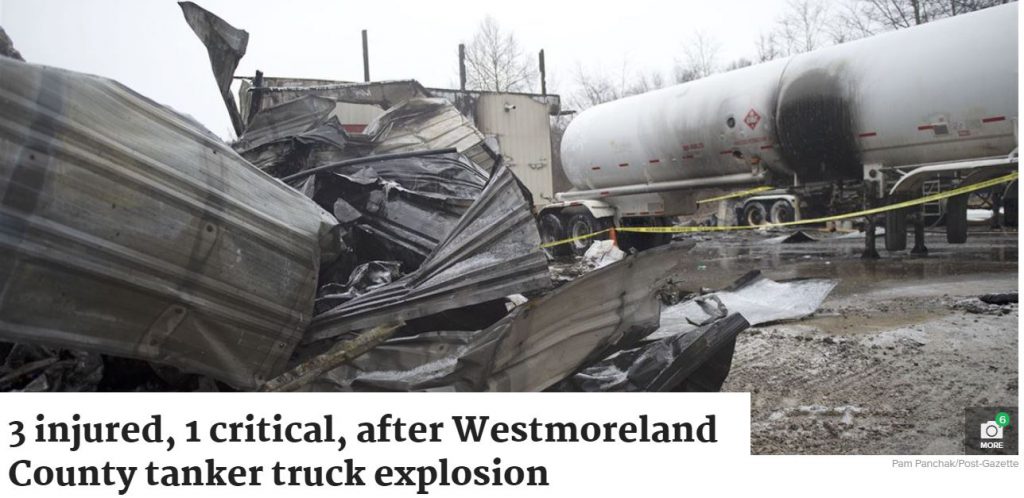 Why is LNG being pimped around the world to the tune of $Trillions as more and more investors & communities say no to frac'ing and fossil fuels? Calls into question motivations of gov'ts and companies–***do they just want to assert power?***
UCP appoints another "dickhead" to direct AIMCo: Nova Scotian Bob Kelly, past CFO of Wachovia (laundered $billions for drug cartels) and fallen from grace exCEO of Bank of New York Mellon.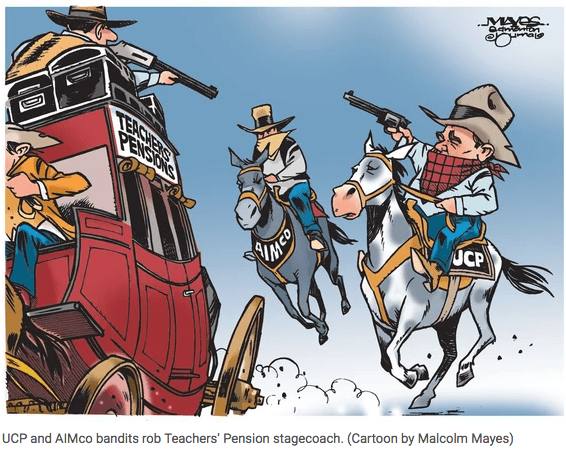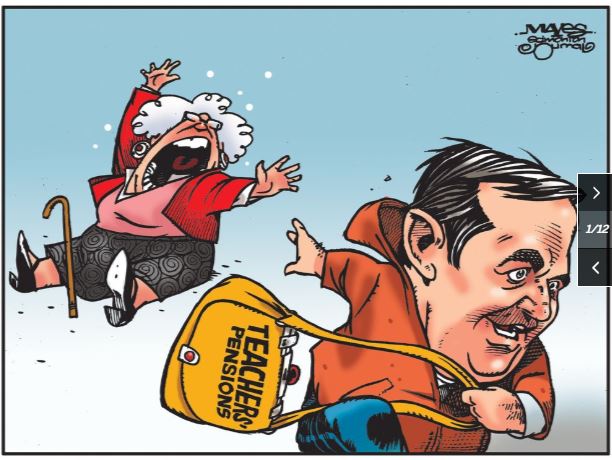 Alberta picks yet another hanky panky "Dickhead." Blackrock (lost $90 Billion in fossil fuel investments last 10 years) rule breaker Mark Wiseman to chair AIMCo (money-losing launderer of funds from pensioners to bankrupt frac firms).
Chevron biting frac 'n LNG dust? Bites 400 more staff in Pennsylvania after cutting 150 staff there in 2014. Frac'ing is going the way Arthur Berman said it would – down into the gutter with tens of billions of dollars in losses; Banks, investors, investment firms running for frac-free hills.
Hanky Panky Power Pimping Codswallop! Canadian & BC gov'ts forcing demand for Site C dam? Why give the failing frac 'n dash industry another near $Billion in corporate welfare? LNG & frac'ing, even electrified, are not green or clean or safe!
Bye Bye Canadian LNG? Bye Bye Need for Site C? China introduces new incentives for domestic production of tight and shale gas and CBM
Greedy Sods in Alberta Beg Trudeau for Half a Billion Dollars to Clean Up Oil's Dirty Underware but Not One Penny to Help Frac'd Families & Fix Frac'd Aquifers
Nikiforuk: Canada's Methane Leakage Massively Under-reported, Studies Find, New data shows 'fracking and LNG industry is a much dirtier industry than it is made out to be.'
Will China's "colossus" green energy growth and Russia's agreement to sell Japan oil & gas kill Canada's grossly uneconomical Fracking, LNG & Bitumen industries?
FrackLNG: Canadian Association of Physicians for the Environment (CAPE) calls on Canadian gov't to conduct Health Impact Assessment on hydraulic fracturing and Pacific Northwest LNG project
British Columbians' views on hydraulic fracturing have "hardened," 61 per cent opposed; Opposition to LNG "up significantly"
Canada: $750,000 Fine For Killing 7,500 Migratory Birds from Direct or Indirect Contact with Canaport's LNG Burning Natural Gas Flare Stack in New Brunswick
The Ultimate Frac Synergy Paradox: Australian Industry Harmed by LNG Export Boom Wants Frac Bans and Watershed Protections Lifted to Frac for More Gas, Claiming this will Decrease Gas Prices set Soaring by LNG Exports
'Over my dead body': northern BC residents overwhelmed by massive LNG, fracking and pipeline push
Christy Clark boasts B.C. will rival Alberta's domination once LNG starts flowing; LNG explosion injured one, 17 workers and residents within 2 mile radius evacuated; Industry, federal and provincial governments lying about labour shortages to drive wages down
New logo for British Columbia: British CoLNGumbia, The Best Fracking Place on Earth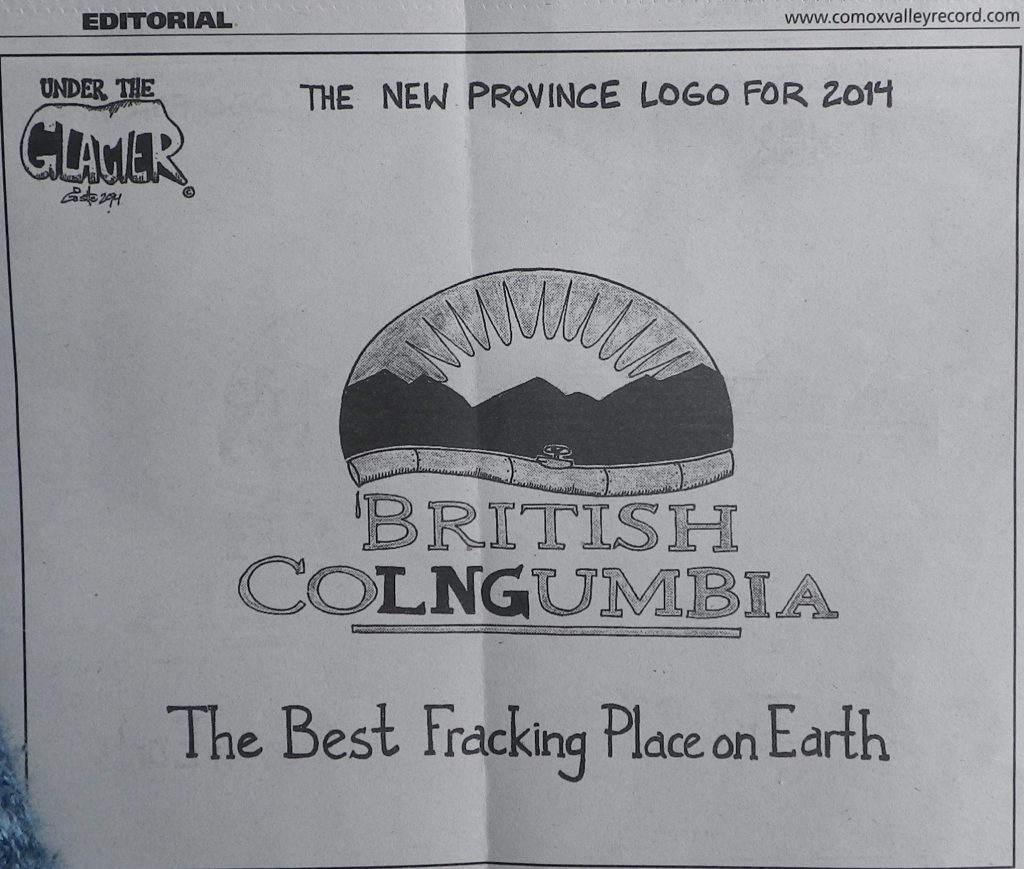 Is LNG fracturing worth its weight in water?
David Hughes: BC LNG – A Reality Check; More and more gas wells and more and more fracking
Oil and gas industry seeks 2 billion-dollar tax break to lure LNG plants
LNG: Oregon Project's court defeat highlights export's image problems
'Natural Gas as a Bridge Fuel' Fraud? Another study: "Considering only physical climate system effects, we find that there is potential for delays in deployment of near-zero-emission technologies to offset all climate benefits from replacing coal energy systems with natural gas energy systems…."
1982 Alberta: Sour gas and sickness; Smelly smelly run-around. Regulators/Health authorities, then and now, lie to the harmed, coddle the polluters. Alberta's Pollution Solution: Discredit the poisoned; call them crazy.