Officials: Three injured in massive explosion are improving by Rich Lord, Jan 18, 2020, Pittsburgh Post-Gazette
Three people injured in a massive tanker truck explosion at a Westmoreland County commercial garage appeared to be out of immediate danger by Saturday afternoon, according to an emergency official.
"As of right now, all three are in moderate condition. They're still at the burn center" at UPMC Mercy, according to James King, assistant chief of the East Huntingdon Township Fire Co. and emergency management coordinator for that community. He said one had been in critical condition, but has improved.
The investigation into the cause of the Friday afternoon explosion continues, and likely won't be complete until some time next week, he said. This morning the state police fire marshal was working with experts from the Occupational Safety and Health Administration and the Department of Transportation, plus the garage owners Grammer Industries Inc., Assistant Chief King said.
He said the explosion on the 1500 New Stanton Ruffsdale Road had no effect on the two nearby residences. No one was evacuated.
3 injured, 1 critical, after Westmoreland County tanker truck explosion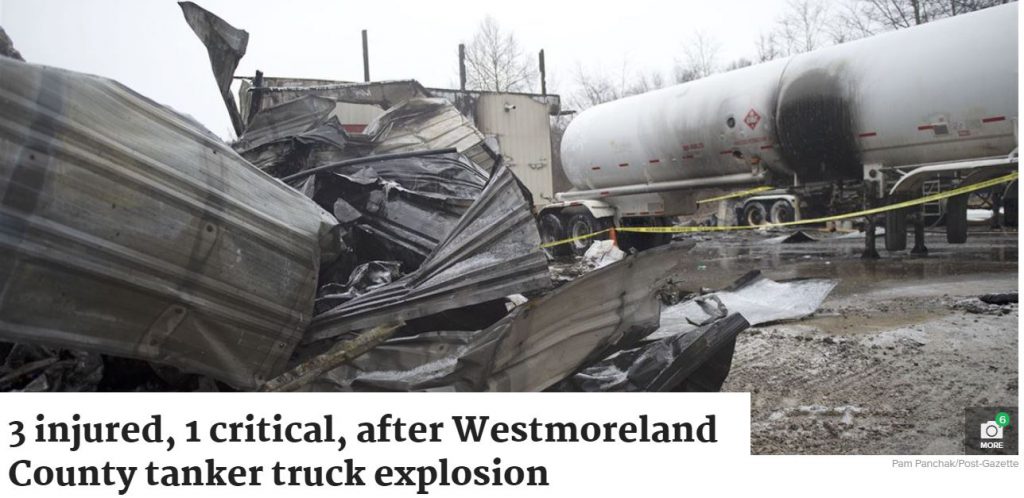 The garage building is "a complete loss," he said. "We tore the whole building apart yesterday and covered it up with foam."
The garage is located roughly 2 ½ miles from the Pennsylvania Turnpike and I-70 interchange in New Stanton.
Its owner, Grammer, is based in Columbus, Ind., and bills itself as "the premier provider of safe, dependable bulk hazardous transportation services in the United States." It specializes in "anhydrous ammonia, liquefied petroleum gases, carbon dioxide, nitric acid, cryogenic liquids and other bulk hazardous materials and liquids" according to its website.
"Grammer's immediate focus is on the well being of all involved, as well as assisting the first responders and authorities involved in performing their respective functions," Grammer CEO Bart Middleton wrote in a statement issued late Saturday morning. "It is too early in the investigative process for additional comments at this time, but please keep our employees in your thoughts and prayers."
Grammer has been growing. Last month, the company bought LiMarCo Logistics, of Houston, according to press releases. In April it acquired former owner North Carolina-based Sterling Transport, a liquid natural gas and dry bulk goods trucking company.
In a December release, Grammer boasted "350 tractors, 850 specialty trailers and over 500 drivers and owner-operators."
Federal investigators have joined the probe of a fuel tanker explosion Friday that leveled an East Huntingdon tanker truck garage and sent three workers to a Pittsburgh hospital, including one with critical burns.
Officials from the U.S. Occupational Safety and Health Administration (OSHA) and U.S. Department of Transportation gathered Saturday morning at the still-smoldering rubble of the garage that was destroyed in the 4:20 p.m. explosion. Also, on-site were a state police fire marshal from Greensburg and officials of Grammer Industries, a Columbus, Ind., based-company that acquired the liquid natural gas hauling firm Sterling Transport of North Carolina last year.
Jorg Kaltenegger, a federal DOT investigator who was on the scene, said OSHA will be taking the lead role in the investigation because the trailer was stationary there and in a workplace when the explosion occurred. The garage is located just over 2 miles south of the New Stanton Turnpike Interchange at 1528 New Stanton-Ruffsdale Road.
"The workers who were injured were performing maintenance on it. … The tanker was stationary, parked just outside of the back of the garage. It's considered a workplace incident, so OSHA will be the lead investigator here," Kaltenegger said.
East Huntingdon Fire Chief Brian Kite said he was told by investigators it likely will take weeks to determine what triggered the explosion. However, he said initial indications are workers were performing maintenance on the tanker that had an 11,000-gallon capacity.
It hauled butane gas, according to a Pennsylvania Emergency Management incident report.
"This isn't going to be an investigation where they'll be able to surmise a cause quickly," Kite said.
He said investigators indicated they are going to be looking at whether a valve in the ventilation process "may have failed" and at the processes workers were using to perform the maintenance work on the tanker.
The explosion left three people with burns. The two most seriously injured were flown by medical helicopter to UPMC Mercy hospital in Pittsburgh, and a third person was taken to a hospital by ambulance, Kite said.
Kite said one worker was reported in critical condition, another was in serious condition and a third had lesser injuries.
They are all employees at Fleet Services, a subsidiary of Grammer.
A Grammer official at the scene declined to comment. However, the company released a statement to the Tribune-Review via email later Saturday.
"Grammer's immediate focus is on the well-being of all involved as well as assisting the first responders and authorities involved in performing their respective functions. It is too early in the investigative process for additional comments at this time, but please keep our employees in your thoughts and prayers," the statement said.
The identities of the workers injured were not released. Kite said that a New Stanton fireman also suffered a minor foot injury battling the blaze and was treated at an undisclosed area hospital.
Kite said East Huntingdon firefighters were wrapping up a vehicle accident call along Route 119 when they were dispatched to a "building fire and explosion."
"We were about 3 miles away and I could see the plume of smoke rising in the sky, so I pretty much knew what it was," Kite said. "I couldn't see the flames yet because of the trees, but because of the heavy smoke, I immediately radioed for more units and the Westmoreland County hazmat team."
Immediately upon arrival, crews began attacking the fire at the building and tanker with water as the injured were treated and transported. Kite said he summoned additional tanker units because of the lack of fire hydrants in the area.
"We had more than 100 firefighters there at one time from multiple area departments. … Some on standby were from as far away as New Haven in Fayette County," Kite said.
Kite said the ceiling of the building collapsed shortly after arrival, and firefighters saw a second tanker parked inside the garage.
"Then there was a second explosion … that's going to be part of the investigation, too. What that (second explosion) was," Kite said.
The second explosion caused an order to pull back firefighters on the ground for safety concerns, he said. However, he said aerial units continued spraying water on the second tanker inside the building "to keep it cooled down" to avoid another explosion, he said.
Firefighters remained on the scene until midnight, Kite said.
Grammer bills itself as the nation's leading transportation and logistics company for specialty and hazardous chemicals.
Refer also to: