Local campaigners in North Kerry in the South-West of Ireland are reacting with sheer delight today at the news that the Irish High Court has quashed all developement consent for the Shannon LNG US fracked gas import terminal on the Shannon Estuary.
The decision by the Irish High Court to quash all development consent for the Shannon LNG fracked gas import terminal has completely vindicated the 13-year campaign position that planning permission should never have been given to Shannon LNG as the environmental assessment was not legally or property completed. We thank Friends of the Irish Environment for taking the case along with their wonderful legal team of solictor Fred Logue, barrister-at-law John Kenny and Senior Counsel James Devlin.
Local campaigners in Safety Before LNG have dedicated this victory against Shannon LNG to the memory of encouraging and tireless activist Tom O'Donovan from Tarbert, who sadly passed away in 2016 and who we know would have been thrilled to have been here with us today to celebrate the victory he always said we would have. We miss him so much today.
The completion of the legal process which has seen Shannon LNG lose all development consents to build a fracked gas import terminal in Ireland, has now opened up a window of opportunity for Ireland to ban the importation of fracked gas. The Programme for Government agreed in June of this year by the coalition partners in the new Irish Government stated "we do not support the imporation of fracked gas and shall develop a policy statment to establish that approach".
The Human Rights Clinic at NUI Galway has already provided legal opinion that legislation to ban the imporation of fracked is fully compatible with EU and International (WTO/GATT) Trade Rules.
A ban on the imporation of fracked gas would also send a clear message that Ireland will not be a market for fracked gas from Northern Ireland, where 2 companies have applied for Petroleum licences to frack Nothern Ireland.
We believe that a ban on fracked gas imports proposed as an amendment to the Climate Bill currently undergoing pre-legislative scrutiny, will provide the government with the perfect opportunity to be the first country in the world to bad the imporation of fracked gas.
Time now for the 3 parties in Government to step up to the plate and implement the agreed Programme for Government by inserting a ban on fracked gas imports into the upcoming Climate Bill making an amendment to the Petroleum And Other Minerals Development Act 1960 to make it unlawful to import fracked gas into Ireland or to sell fracked gas within Ireland.
More to follow later as we soak up this amazing news!!!

Refer also to:
2020 09 09: European Court of Justice rules against regulator for approving USA New Fortress Energy's frac'd gas import terminal in Ireland; All permits and permissions for Shannon LNG to be quashed. Bravo to Friends of Irish Environment and its unstoppable legal team of James Devlin, John Kenny and Fred Logue (unlike Ernst's quitting lying lawyers, Murray Klippenstein and Cory Wanless, and Canada's lying top court pissing on the constitution to enable law-violating AER).
2020 04 29: Bravo Northern Ireland! And then there were none
2020 02 24: Why is LNG being pimped around the world to the tune of $Trillions as more and more investors & communities say no to frac'ing and fossil fuels? Calls into question motivations of gov'ts and companies–do they just want to assert power?
2020 02 13: Legal Wow in Ireland: Plans to fast-track Shannon 'fracked gas' LNG terminal hits legal bump, Friends of the Irish Environment wins right to challenge inclusion of project on 'rapid' EU development list (entitles projects to "most rapid treatment legally possible" including "overriding public interest").
2019 11 04: Shale gas frac'ing wasted 'millions of taxpayers' cash', say scientists; Frac quakes force Tory Gov't to Ban Frac'ing. Fracking Free Ireland Welcomes the Ban in Press Release to all TDs & MPs while industry spins itself silly
2019 08 10: "Klippenstein, admittedly, 'would not be the person' he is 'without freedom of thought and expression,' so where's his outrage at the legal suppressing of those freedoms – aka gag orders? And who would he be then, with his mouth legally taped shut?" Comment to Andrew Nikiforuk's article in The Tyee on Klippenstein & Wanless quitting
2019 07 11: Some courts uphold the Rule of Law (unlike in Canada)! Irish High Court delivers killer blow to US Fracked Gas Imports by 'New Fortress Energy' (Shannon LNG)
2019 06 28: Jessica Ernst Submission to "No Fracking Fermanagh" (Northern Ireland) Petition
2019 07 08: N Ireland citizen letter, with copy Andrew Nikiforuk's Slick Water, to Dept for the Economy, Minerals and Petroleum Branch, lodging objection to Tamboran's application to frac.
2019 09 19: Open letter signed by 450 groups, universities, faith groups and celebrities around the world ask U.N. Secretary General Antonio Guterres to endorse global frac ban
2019 06 08: Who orders a new hearing for a Supreme Court of Canada ruling where 9 justices knowingly published a lie and sent it to the media? Who "slaps" Justice Rosalie Abella for knowingly lying in her ruling and belittling the applicant?
2017: Republic of Ireland, Love Leitrim to Celebrate their Frack Ban on Global Frackdown Day, Sat October 14, Rainbow Ballroom of Romance, Glenfarne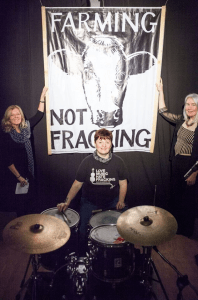 Left to right: Andi, Ger and Jessica at the frac ban celebration at the Rainbow Ballroom of Romance in Ireland
2017 05 13: Ireland "Victory for the long term." Frac bill passed in Dail! "The scientific evidence overwhelmingly shows that permitting fracking in Ireland and Northern Ireland would pose significant threats to the air, water and the health and safety of individuals and communities here."
2017 01 25: Jessica Ernst Open Letter to Chief Justice Beverley McLachlin Regarding False and Seriously Damaging Statements in Justice Rosalie Abella's Supreme Court of Canada Ruling, Ernst v AER
2017 01 21: Damaging the Charter: Ernst vs Alberta Energy Regulator by Lorne Sossin, Dean Osgoode Hall Law School, York University. Comment: "It causes one to question how much both the plurality and the dissent were driven by the desired end-state of the judgment, rather than consistency in applying principles of public law."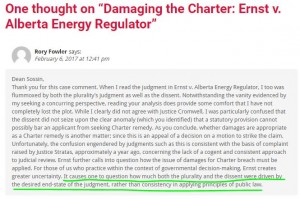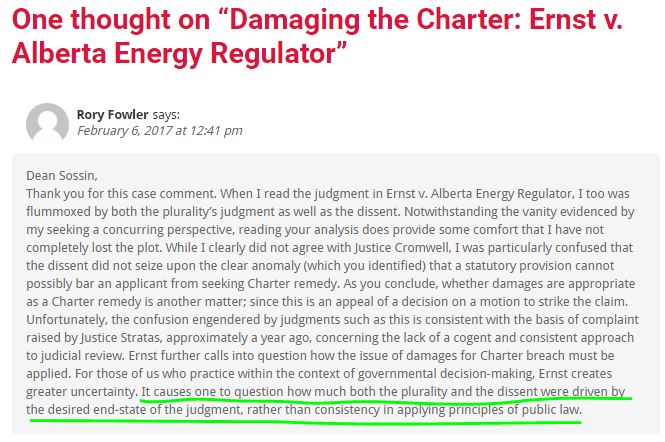 ***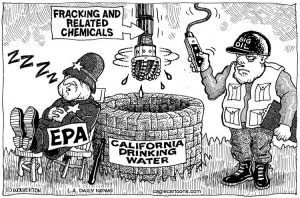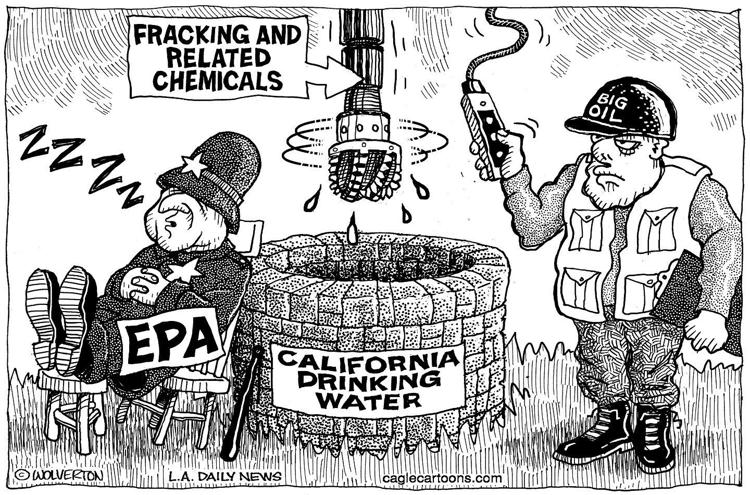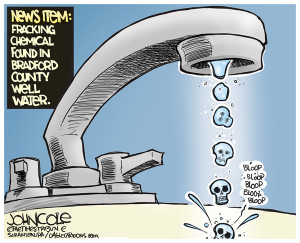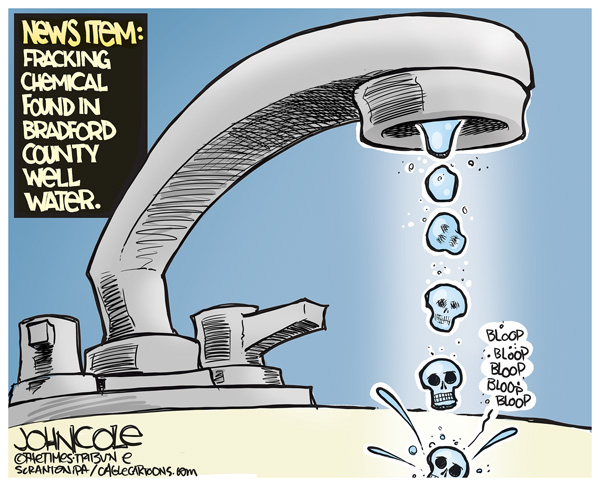 Countries that import frac'd LNG, escalate harms to the people and environment where that gas comes from. LNG must be quashed everywhere.